Potato Breakfast Casserole With Bacon
This post may include affiliate links that earn us a small commission.
This delicious and filling Potato Casserole is made with eggs, cheese and Bacon. Perfect make-ahead breakfast and can easily feed a crowd.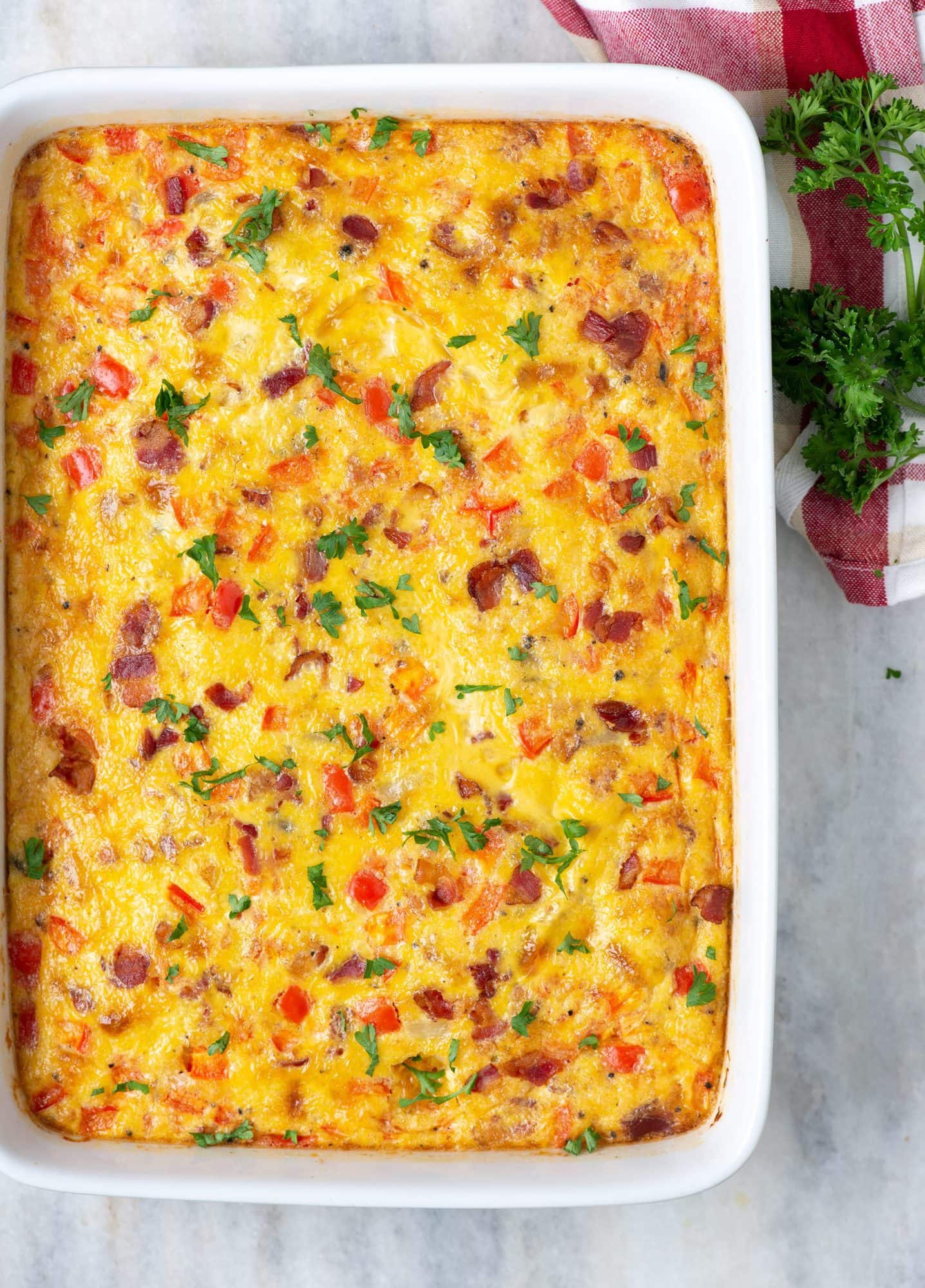 Breakfast casserole is one of the best and easiest recipes that you can make. This casserole has eggs, potatoes, cheese, and crispy bacon. While eggs take care of the protein requirement of the meal, Potatoes make it filling. While it is a perfect holiday breakfast, this can be enjoyed on any day.
Breakfast Casserole is the best
There are so many reasons why breakfast casseroles are the best
Nutritious and filling – has a good proportion of protein, carbs, and fat.
You can easily scale up or scale down the recipe. You can make a big batch to feed a crowd.
Want to prep in advance? Do all the prep and mixing the night before. Keep the baking tray in the refrigerator. Bake it the next day morning.
Very versatile recipe. You can add veggies of your choice.
If you are into meal prep, casserole works best. It freezes and reheats really well.
Fresh vs Frozen Diced Potatoes
I have used fresh potatoes. Peel and cut into 1/2-inch cubes. If using fresh cubed potato I recommend cooking it halfway through on the stovetop and the rest of it will get cooked while baking it.
I have found cooking potatoes directly with eggs, results in overcooked eggs. But by adding half-cooked potatoes, the egg remains creamy and custard-like once it is baked.
But you can skip the process of peeling, cutting, and cooking potatoes, by using frozen diced potatoes. Frozen diced potatoes are already pre-cooked, so it is more convenient to use. Thaw the potatoes for a while, so that you can break any big lumps. Then directly add it to the egg mixture.
Steps to Make Potato Breakfast Casserole
Making potato breakfast casserole is simple. The whole process can be divided into two steps. The first step is to make the egg mixture and the next it to bake.
Start by cooking the bacon. Use kitchen scissors to cut bacon strips into 1-inch pieces. cook until crispy. Darin all the bacon fat from the pan, leaving behind 2 teaspoons of fat. Then reserve a couple of tablespoons of cooked bacon to use later.
Next, cook onion and garlic until soft and aromatic. Then add cubed potatoes.
While the onion-potato mixture is cooling down, make the egg mixture by whisking eggs, milk, salt, and pepper. Mix in potato mixture, cheese, and pepper. Pour into a baking tray and bake.
Make-ahead Instruction
In order to make ahead, after you mix the egg with the potato mix, shift to a baking tray. Cover with a foil and refrigerate. if putting the tray directly from the refrigerator, bake it for 10 minutes extra.
How Long to Bake
This bakes at 350°F for 30-35 minutes or until a knife inserted in the center comes out clean. If you've let it sit overnight, it may need a few extra minutes if it's still quite chilled from the fridge.
Potato Breakfast Casserole -Variations
You can also add the following add-ons to the breakfast casserole
Mushrooms
Ham
Cooked Sausage (crumbled)
Spinach
Cherry tomatoes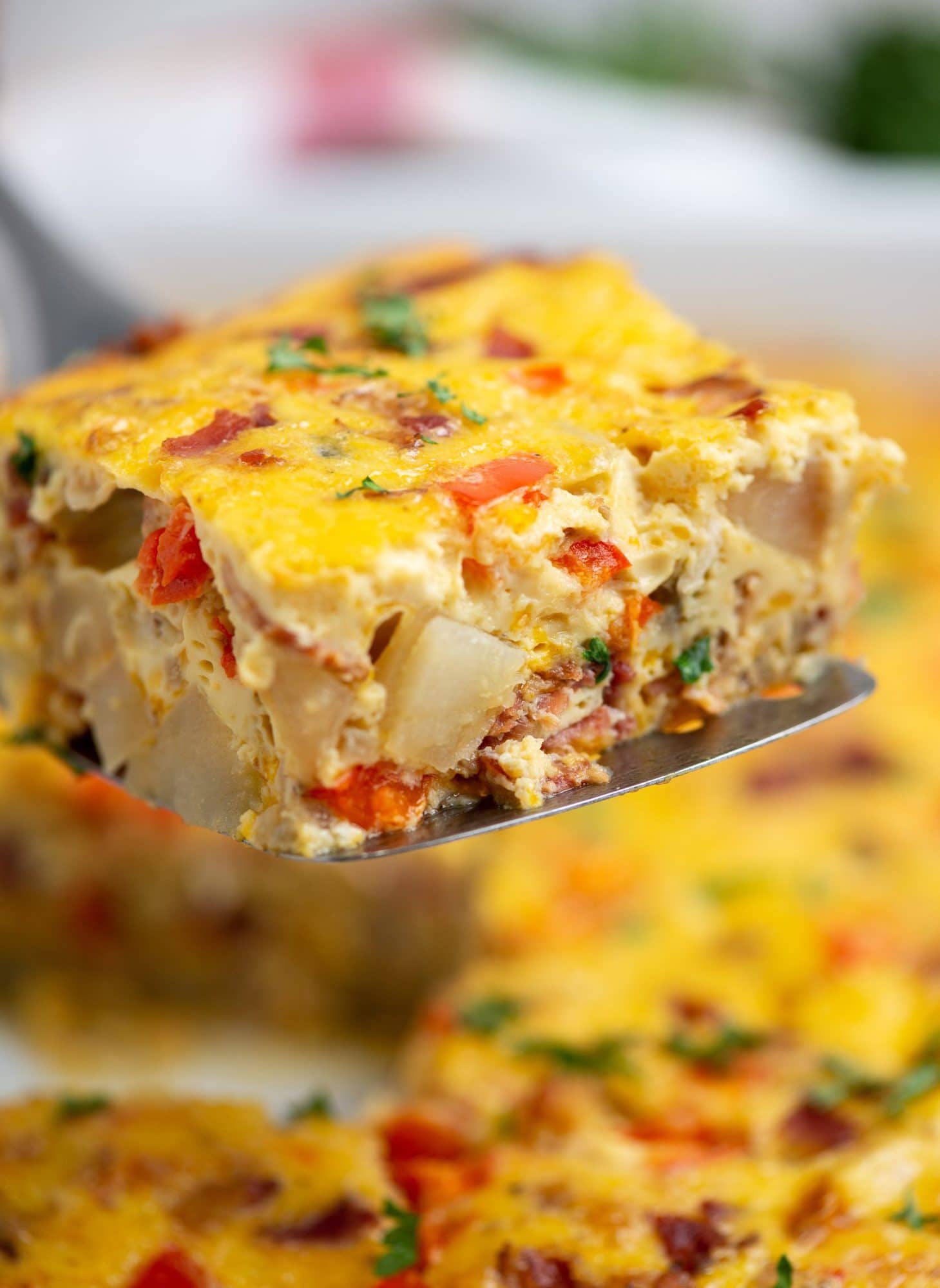 Storage
After baking, leftover egg casserole can be stored in the fridge and enjoyed within 3-4 days. Leftovers are deliciously reheated in the microwave.
Can you freeze breakfast casserole? Yes! This can be stored in the freezer up to four months. Wrap individual and store in freezer bags. Defrost in the fridge overnight and reheat in the microwave or the oven
Flavours In Your Inbox
Subscribe for recipes straight to your inbox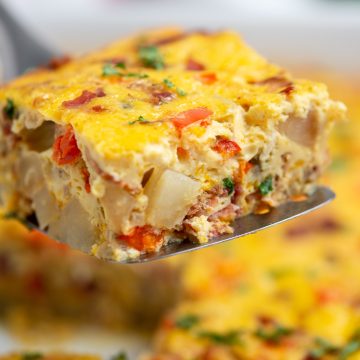 Bacon Potato Breakfast Casserole
Make-ahead breakfast casserole with potatoes, eggs, cheese and bacon is a delicious breakfast recipe. Perfect to feed a crowd or for meal prepping.
Ingredients
10-12 strips Bacon Cut into 1/2 inch pieces
1 Onion diced
½ tablespoon minced garlic
3 large diced potatoes about 3 heaping cups
10 large eggs
1 cup full-fat milk
salt and pepper
1.5 cup shredded cheddar
1 red bell pepper chopped
Instructions
Heat the oven to 350°F. Grease a 9×13 baking dish with nonstick cooking spray and keep it aside.

Cook bacon in a skillet until crispy. Remove all the fat using a spoon leaving behind about 2 tablespoons in the skillet.

Add chopped onion and garlic to the skillet. Cook until onion has softened.

Add diced potatoes. Sprinkle a large pinch of salt. Cook potato on medium heat for 3-4 minutes. When the potatoes are half cooked through and small brown spots. Switch off the flame. Let it cool down a bit.

In a large mixing bowl, add eggs, milk, salt and pepper. Whisk it well.

Add bacon potato mixture, cheese and chopped red pepper. Mix it.

Pour the mixture into the prepared pan and spread it. Sprinkle the rest of the cooked bacon on top.

Bake in a pre-heated oven uncovered for 30-35 minutes.

Let it set for 5-10 minutes, for clean slices.
Nutrition
Serving: 1servings | Calories: 340kcal | Carbohydrates: 23g | Protein: 17g | Fat: 20g | Saturated Fat: 9g | Polyunsaturated Fat: 3g | Monounsaturated Fat: 7g | Trans Fat: 1g | Cholesterol: 221mg | Sodium: 340mg | Potassium: 669mg | Fiber: 3g | Sugar: 3g | Vitamin A: 863IU | Vitamin C: 38mg | Calcium: 196mg | Iron: 2mg