Fluffy Ricotta Pancakes With Strawberry Sauce
This post may include affiliate links that earn us a small commission.
Ricotta Pancakes with Strawberry Sauce is super moist and fluffy. These fluffy pancakes topped with beautiful strawberry sauce is the kind of breakfast you would want to start your morning with.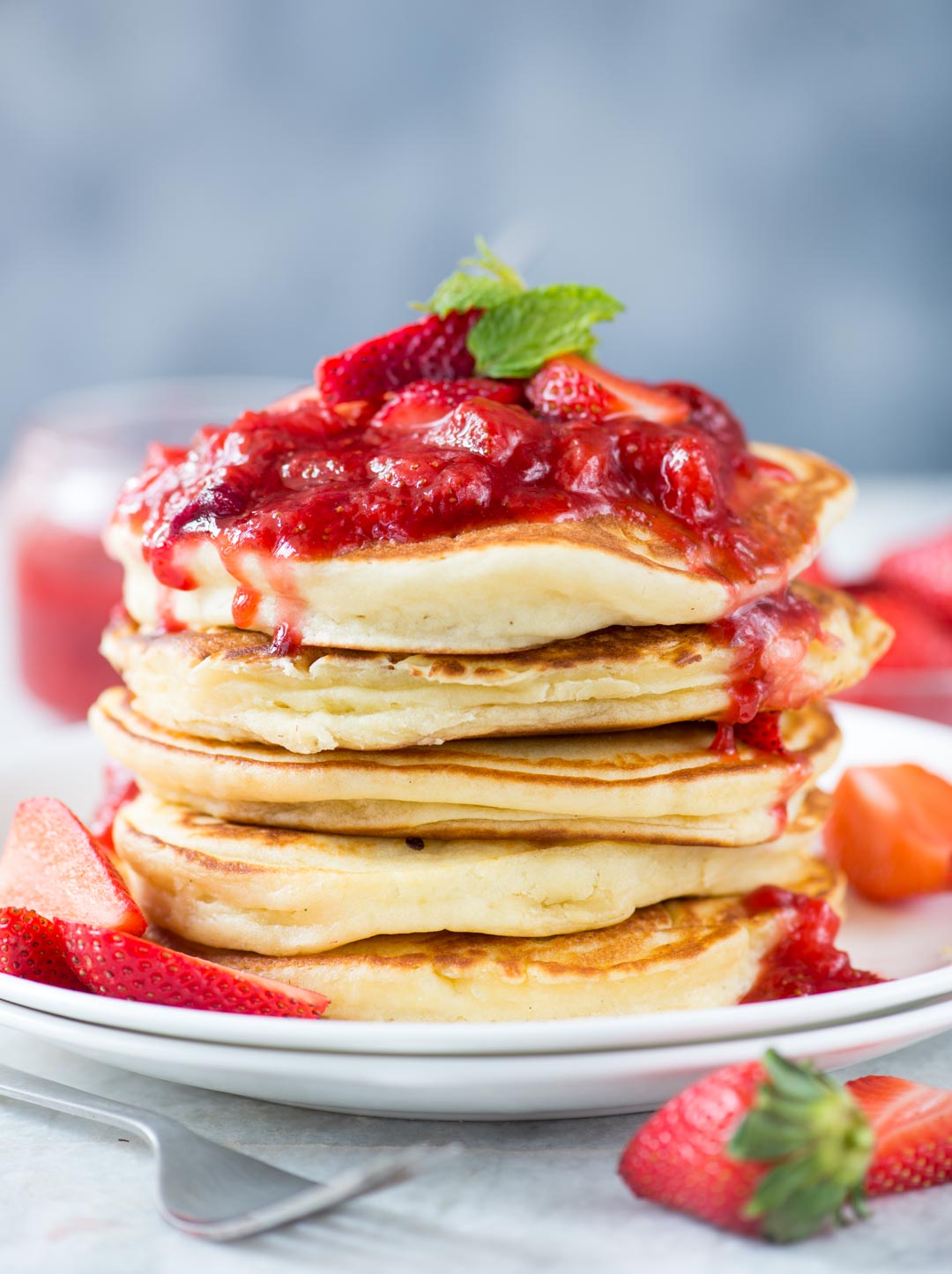 Time to up your Pancake game and make it extra soft. These Ricotta Pancakes are really delicious and easy to make. Adding Ricotta to your regular Pancake Batter not only makes it tender but also adds richness to it.
Cheese in Pancakes?
Ricotta cheese in Pancakes sounds a little odd right? But you should give these amazing Ricotta pancakes a try before getting to any conclusion.
Flavours In Your Inbox
Subscribe for recipes straight to your inbox
Ricotta adds so much moisture to the pancakes. The best part is, you won't even get any hint of cheese in the pancakes as it is not tangy. Also, it gives a soft buttery texture to the pancakes without much butter.
The cheese not only makes a difference in the texture but also increases the nutritional value. Ricotta is a good source of protein too.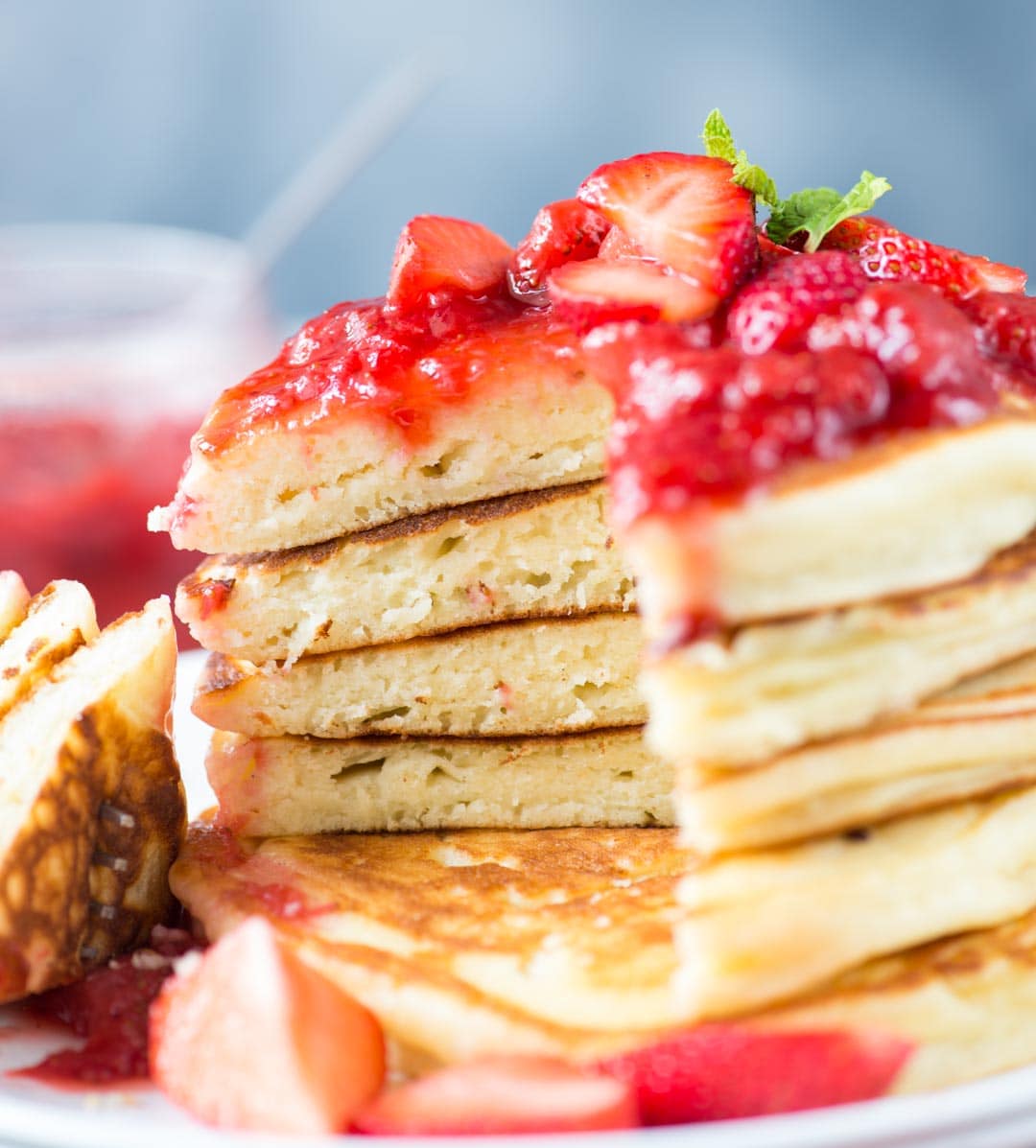 While I love to top my pancakes with oodles of maple syrup, the fruity topping is also great.
When berries are in season I like to make a chunky sauce to top the pancakes, my yogurt bowl, or ice creams. I usually make a big batch of it and keep it in the refrigerator.
It is also super easy to make the Strawberry sauce. Just put everything into a pan and simmer until it thickens.
Strawberries are one of the most beautiful fruits and no wonder the topping on the pancakes make it so pretty.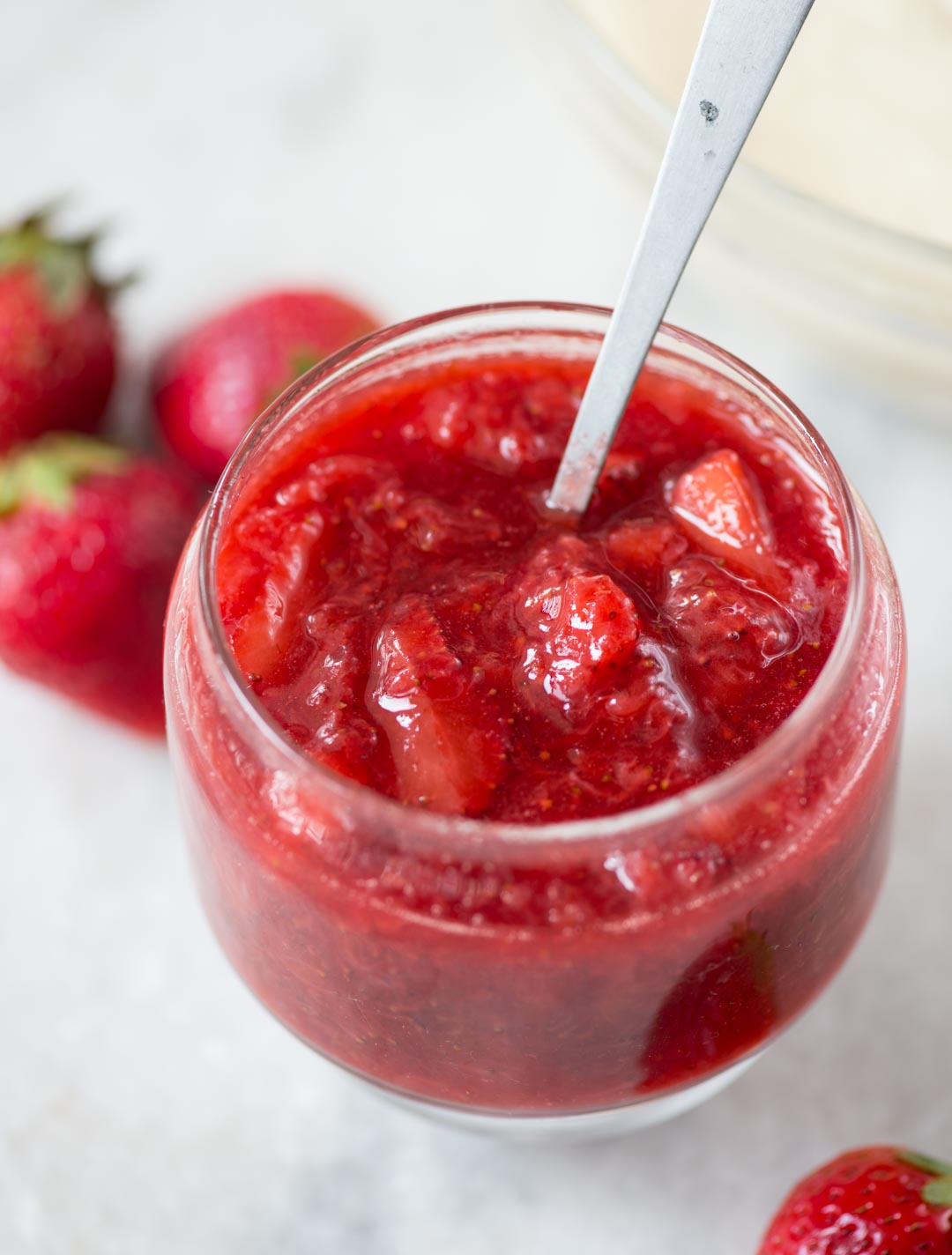 These pancakes are also fitting to be had as deserts with all the sweetness of strawberry.
Ingredients for Ricotta pancake
Usual: Common flour, sugar, salt, eggs, milk.
Cheese: Ricotta added to the batter gives the moist consistency that makes this pancake so soft. It is a substitute for yogurt used in many recipes.
Baking Powder & Baking soda: Common leavening agent required to make the pancake thick and fluffy. It helps in making increasing the volume of the batter and making the cakes lighter by releasing gas bubbles and trapping air in them.
This also helps that you do not have to overbeat the dough to make it airy.
Vanilla Extract: This is required to balance out the strong smell and flavor of eggs in the batter. We wouldn't like an eggy pancake.
Strawberry: Most beautiful fruit to give these pancakes a stunning look. The sauce also adds a zest of tartness and sweetness to the pancakes.
You can choose to go with blueberry or raspberry or even lemon as variations to the strawberry sauce. Any of these would give the tart flavor that goes so well with these soft pancakes.
Want to make it more exciting for the kids? Add chocolate chips while frying it in the pan.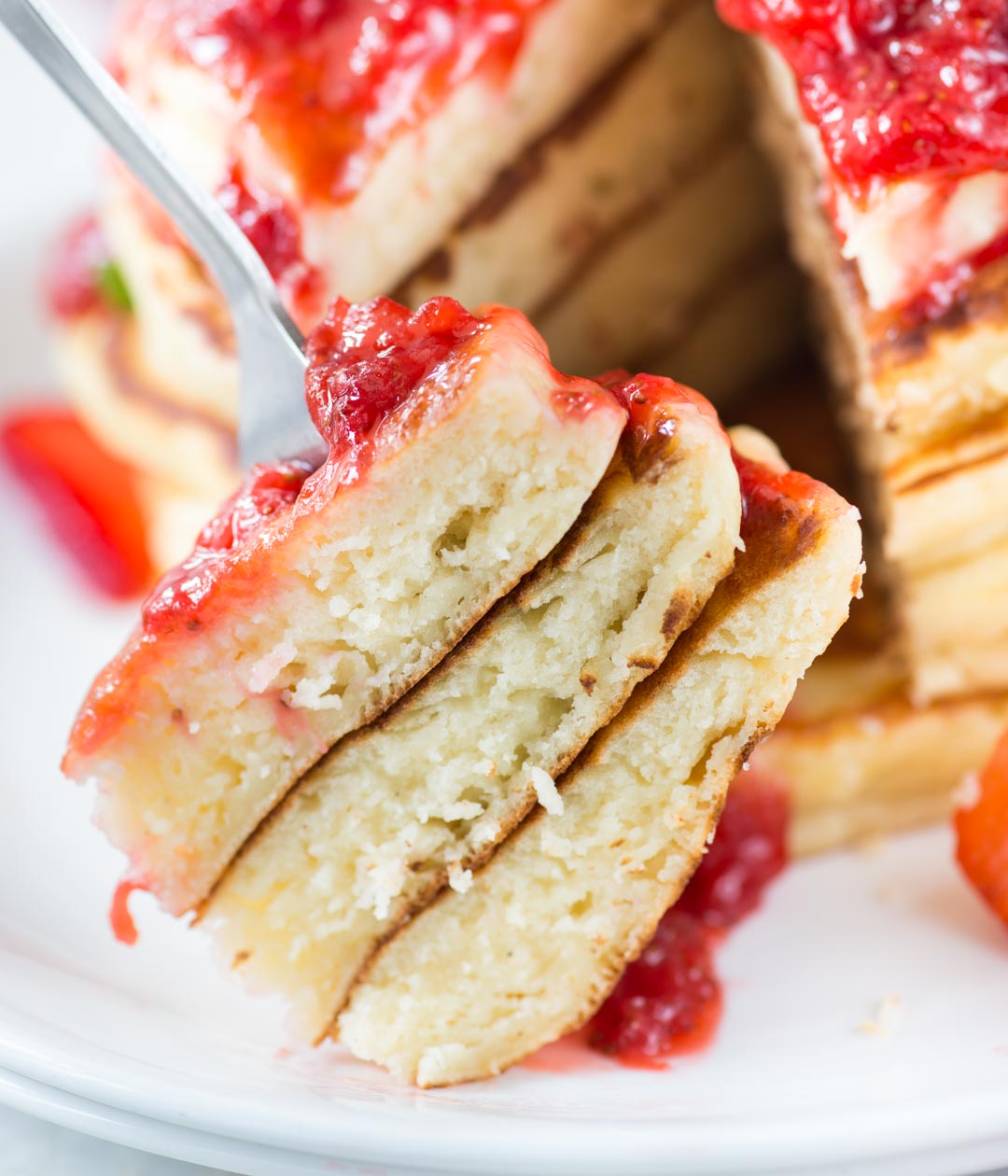 To pre-make & store
This is a make-it & have-it recipe. I would always prefer to make the batter before serving and use it right away.
Why if you ask? This is because this recipe has both baking soda and baking powder. These agents help in aiding the rise and volume of the batter and pancakes. Baking soda doesn't work well when stored. The batter and pancakes ultimately fall flat when stored and use the next morning.
But if you have to make it ahead and store it, read below for a trick to do so and still get those fluffy and light pancakes.
While mixing the ingredients to prepare the batter, leave out baking soda. You can include baking powder to make the batter.
You can store the batter for a week in the refrigerator until you decide to thaw it and prepare the pancakes.
When it is time to take the batter out from the refrigerator, thaw for 15 minutes and then add the baking soda. Remember we did not add it intentionally the first time.
Baking powder is a double-acting agent which means it reacts to other sour ingredients and also reacts when it comes in contact with heat. So it will show its effect when you make the pancakes in the pan. Baking soda when added the second time will help get your old batter to rise up too and thus you will get the same fluffiness in the cakes that you would have got if prepared immediately.
Recipes that might interest you
Zucchini coconut flour pancakes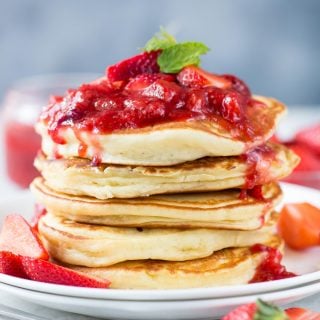 Fluffy Ricotta Pancakes with Strawberry Sauce
Ricotta Pancakes with Strawberry Sauce is super moist and fluffy. These fluffy pancakes topped with strawberry sauce is the kind of breakfast you would want to start your morning with.
Ingredients
1.5 Cups Flours
1 Cup Ricotta
2 Teaspoon Baking Powder
½ Teaspoon Baking Soda
¾ Cup Sugar
2 Eggs
2 Tablespoon Butter Melted
1 Teaspoon Vanilla Extract
Pinch of salt
1 cup Milk More If required
2 Tablespoon Unsalted Butter To grease the pan
For Strawberry Sauce
400 gms Strawberries Fresh/Frozen
½ cup Sugar
1 Teaspoon Lemon Juice
1 Teaspoon Vanilla Extract
Instructions
Drain any extra liquid from the ricotta and then add it to a bowl.

Add egg, sugar, vanilla extract to egg and use a blender to blend until no big lumps of ricotta are left.

Add Flour, Baking powder, Baking soda, salt and milk to the bowl and using a spatula mix just until mixed.

The batter consistency should be thick ( a little thicker than regular pancake batter)

Grease with 1/2 teaspoon butter and heat a non-stick skillet over medium heat.

Pour about 1/3 cup of batter using a ladle to the centre of the pan and with the back of the ladle gently spread the batter.

Cook for on low-medium heat for about 1 minute. The cooking time might vary a little depending on the thickness of the pancake.

Once the edges start to settle, carefully flip and cook for another 30-40 seconds.

Serve with Strawberry sauce topping.
For Strawberry Sauce
Clean strawberries. Roughly chop them.

Add strawberries, sugar, lemon juice and sugar to a pan. Cook on medium heat until strawberry has softened and almost broken down.

Once it has thickened and like a compote consistency switch off the stove. Stir in Vanilla Extract. Let it cool down. Then store in a clean jar.
Nutrition
Serving: 100g | Calories: 392kcal | Carbohydrates: 60g | Protein: 11g | Fat: 12g | Saturated Fat: 6g | Cholesterol: 88mg | Sodium: 195mg | Potassium: 373mg | Fiber: 2g | Sugar: 32g | Vitamin A: 430IU | Vitamin C: 39.5mg | Calcium: 201mg | Iron: 2.3mg