This post may include affiliate links that earn us a small commission.
Creamy and indulgent Tuna pasta bake is a comfort meal that the entire family loves. Canned tuna and pasta tossed in a creamy cheesy sauce and baked until bubbly.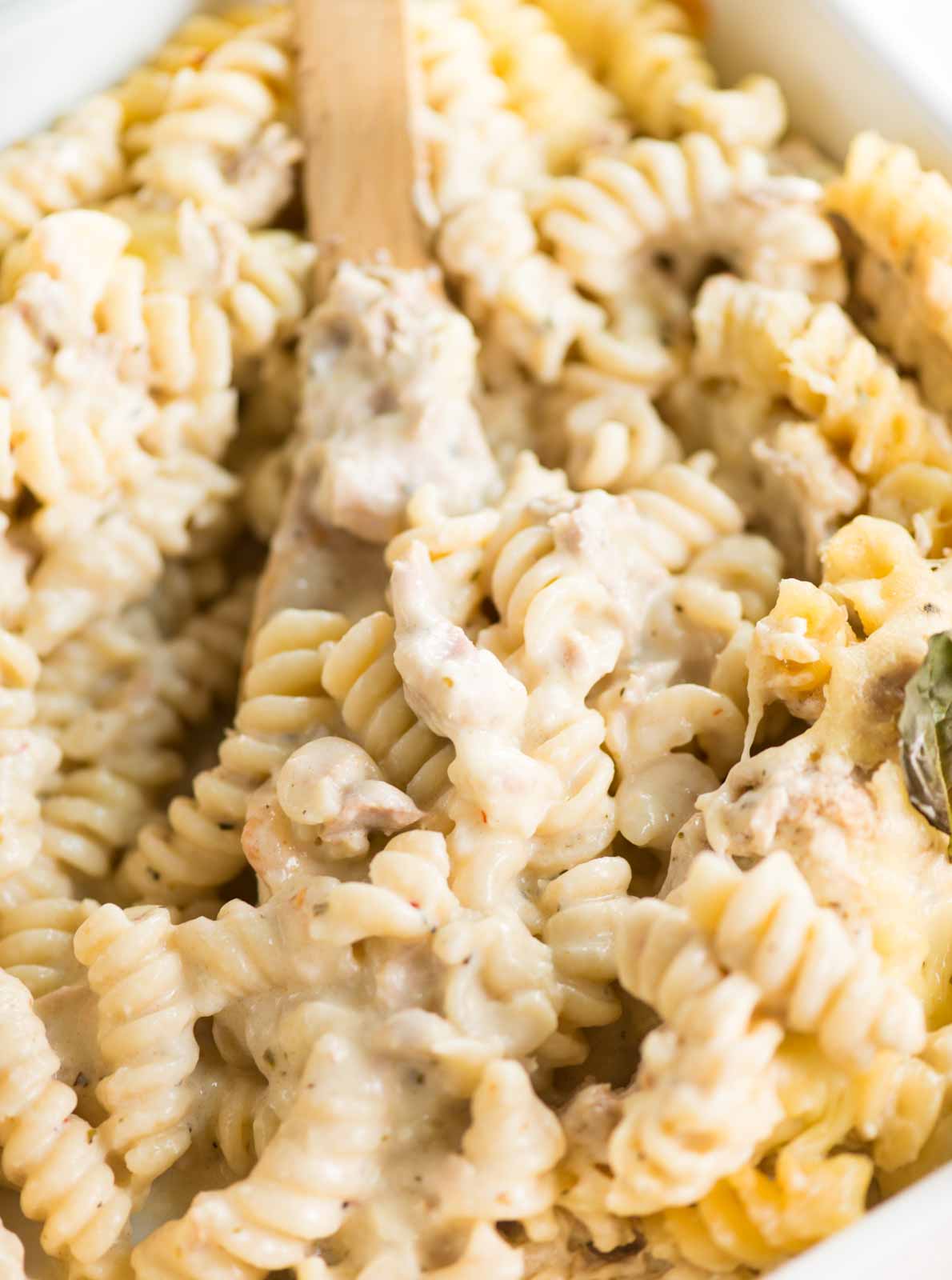 There is something comforting about casseroles, especially when it is cold outside. Digging into a warm cheesy casserole is such a pleasure. This Tuna pasta bake is as delicious as this vegetable pasta bake and Baked Italian Sausage Pasta.
Flavours In Your Inbox
Subscribe for recipes straight to your inbox
A couple of canes of tuna, pasta and a basic white sauce is transformed into casserole in less than 1 hour. This like any other casserole is quite versatile. You can throw in your favorite veggie to make it more filling.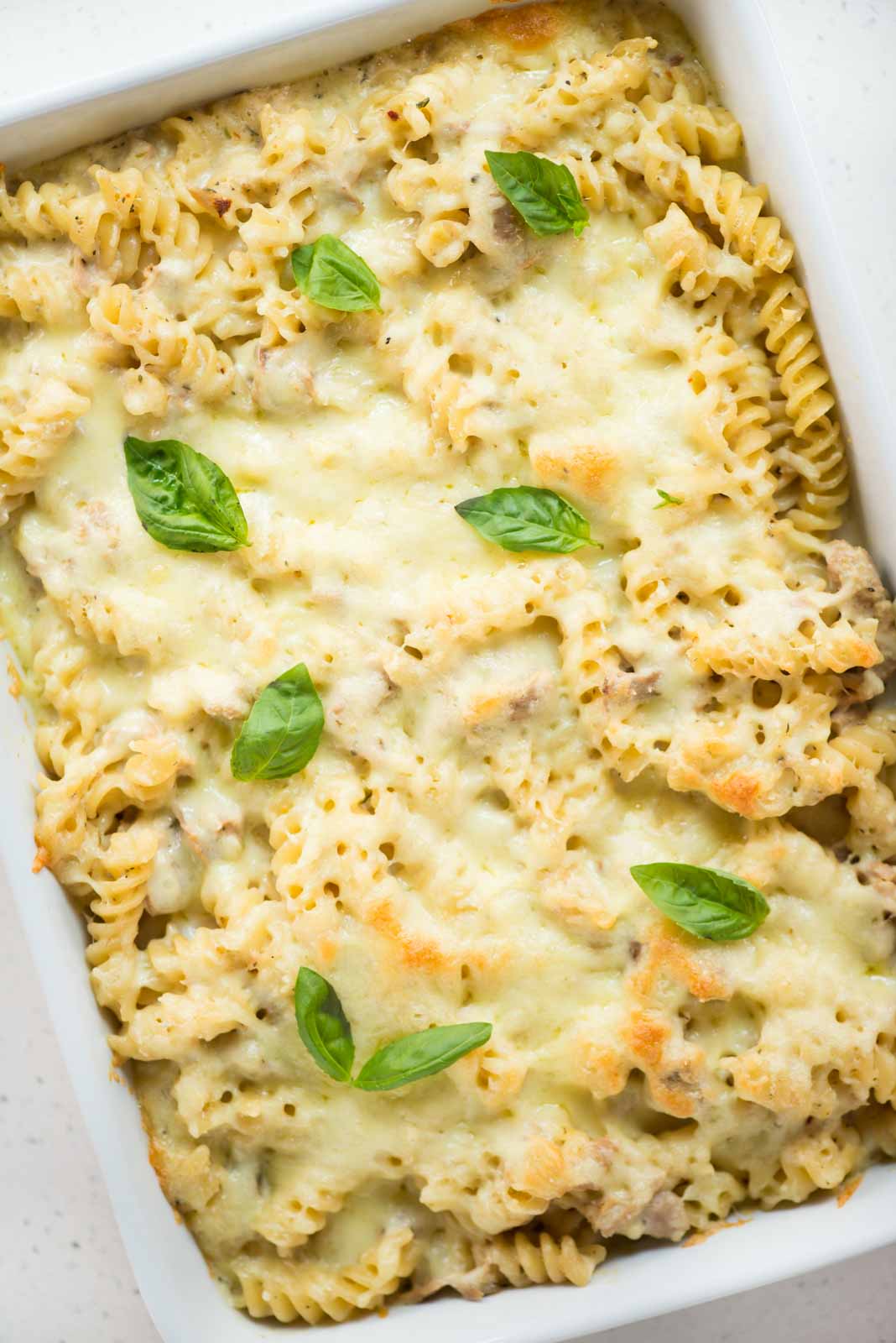 How to Make Tuna Pasta Bake
Broadly we can divide the process of making into three steps. Cook pasta and sauce, assemble, and bake.
Start with cooking the pasta. Generously salt the water. Cook the pasta just 'al dente' since they will continue to cook in the oven and you want to avoid mushy pasta.
While the pasta is getting cooked, make the white sauce. White sauce is very basic, it has butter, flour, milk, and seasoning. Garlic powder, onion powder, herb seasoning, and yellow mustard powder. Mustard powder pairs well with seafood and should not be skipped in this recipe.
When the sauce and pasta are done, it is time to assemble the pasta bake. Toss together the sauce, pasta, and tuna. If you are planning to add veggies like peas, corn, chopped carrot, etc. add now. If adding Mushroom, saute it separately and add.
Put pasta mixture in a casserole dish, top with more cheese ( remember we are talking about comfort food here) and bake.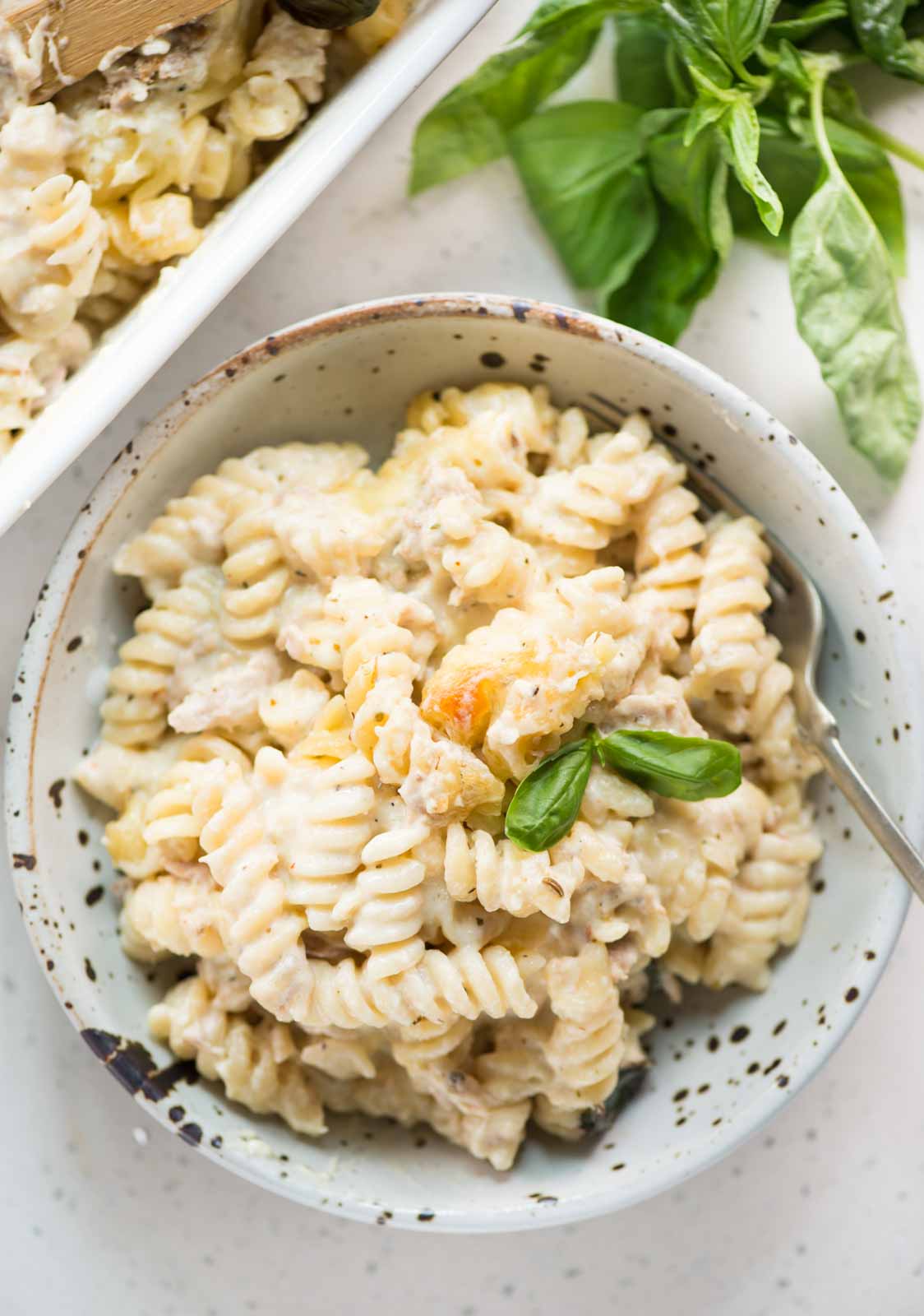 Freezing and Storing Suggestion
Storing any leftover Tuna Pasta Bake is easy. You can refrigerate the leftovers in an airtight container for up to 3 days. While reheating, add a splash of milk to loosen it up a bit.
To freeze, let it cool down completely, tightly cover the casserole dish with foil, and freeze. Let it thaw completely before reheating.
More Pasta Recipes…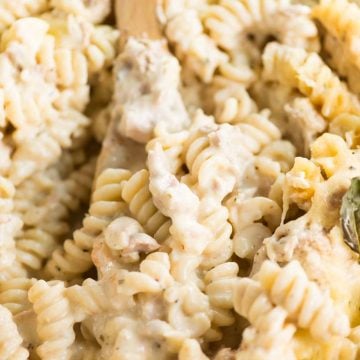 Baked Tuna Pasta
Creamy and indulgent Tuna pasta bake is a comfort meal that the entire family loves. Canned tuna and pasta tossed in a creamy cheesy sauce and baked until bubbly.
Ingredients
1 lb Fusili Pasta
2 6 ounce can water-packed tuna
4 tablespoon Butter
3 tablespoon All-purpose Flour
3 cups milk
1 cup half and half
1 cup cream
1 teaspoon garlic powder
1 teaspoon onion powder
2 teaspoon Italian Seasoning
1 teaspoon ground yellow mustard
salt and pepper to taste
2 cup Shredded Mozzarella Cheese
Instructions
Preheat oven to 375 degrees.

Boil water in a big pot, season generously with salt. Cook pasta as per package instructions. Pasta should be cooked just 'al dente'. Reserve 1 cup of cooked pasta water for later use.

While the pasta is cooked, melt butter in another in a large skillet/pot.

Stir in flour. Let it bubble on low heat for about 30-40 seconds. The raw smell of the flour should be gone but make sure the flour doesn't get brown.

Slowly add half of the milk to the skillet while stirring the mixture continuosly with the other hand.

The mixture will start to thicken quickly. Then slowly add the rest of the milk and keep stirring to avoid any lumps.

Reduce the heat. Add half and half, 1 cup mozzarella cheese, parmesan cheese, yellow mustard powder, herb seasoning, garlic powder, onion powder , salt and pepper. Mix everything well.

Drain tuna well and break any big chunk to medium sized pieces. Add it to above sauce along with cooked pasta.

After mixing if it looks too thick, then add about 1/2 cup pasta water saved to the skillet to get a creamy consistency.

Spray a 9X13 casserole dish with non stick spray. Pour in the pasta mixture to the dish.

Bake casserole for 25 to 30 minutes, uncovered, or until heated through  and the edges start to set.
Nutrition
Serving: 1serving | Calories: 740kcal | Carbohydrates: 69g | Protein: 25g | Fat: 40g | Saturated Fat: 24g | Cholesterol: 131mg | Sodium: 391mg | Potassium: 446mg | Fiber: 3g | Sugar: 9g | Vitamin A: 1409IU | Vitamin C: 1mg | Calcium: 413mg | Iron: 1mg