Chessy Pasta Bake With Sausage
This post may include affiliate links that earn us a small commission.
Our favorite Pasta Bake – tangy tomato sauce, spicy Italian Sausage, and lots of cheese together make this baked pasta dish delicious and super satisfying.
Digging into a bowl of cheesy pasta bake is so comforting, especially when it is cold outside. A perfect meal to make on a busy night or for a crowd. All you need is Italian sausage, a bottle of good quality pasta sauce, seasoning and mozzarella cheese to make this recipe. This recipe can be made in advance and in case of leftovers freezes really well.
Coming up with new interesting dinner recipes is always a challenge. Especially when you have a toddler who demands something new every day. Thankfully she loves pasta and can have it for breakfast, lunch and dinner happily. Pasta with lots of cheese always put a smile on her face. You need only a few ingredients, minimal prep and the outcome is delicious.
Flavours In Your Inbox
Subscribe for recipes straight to your inbox
This holiday season if you are busy baking Christmas Cookies and need to put together a quick dinner, then this recipe is definitely going to be your favourite.
Tips For Making Pasta Bake
You don't need tons of ingredients here. All the ingredients are pantry staple and easily available. For maximum flavour, use the best quality ingredients.
Pasta – Use any kind of short cut pasta. For gluten-free version use gluten-free pasta.
Cook Pasta in well-seasoned water. Reserve around 1.5 cups of water to be used later in the sauce. Using pasta water in the sauce is better than using water. It helps to thicken the sauce
Sausage – Good quality Italian sausage hot or mild would work.
Pasta sauce- Again second important ingredients. Use a good quality pasta sauce for more flavour.
Sauteing garlic and Onion followed by browning sausage is essential for developing flavour.
Italian Seasoning or substitute with mixed herb seasoning. You can also use a handful of fresh Italian basil for freshness.
After Sauteing pasta sausage, onion, garlic add the pasta sauce, pasta sauce, Pasta water, seasoning and simmer for 10 minutes for all the ingredients to blend in.
I have used only Mozzarella cheese here. You can use a blend of Provolone and Mozzarella.
Planning To Make It Ahead?
If you are planning to do the prep ahead to prepare on the same day or for the next day, then here is a small tip. Cook the pasta, toss it in a dash of olive oil, let it cool and refrigerate it. Make the sauce and store separately. While preheating the oven, mix pasta and sauce and put in a baking dish and bake.
The idea behind storing the sauce and pasta separately is, if mixed together and kept for a long time, pasta soaks up all the liquid. And once baked it becomes dry and overcooked. So tossing pasta with the tomato sauce just before baking ensures there is enough sauce after it is baked.
How to Store Left Over Baked Pasta?
This pasta bake freezes wonderfully. Let it cool completely, wrap leftover pasta tightly with cling wrap then cover with foil. Lable and freeze it. When ready to cook, remove from the freezer one hour before and let it thaw. Remove cling wrap, cover it with foil and bake for 30-35 minutes.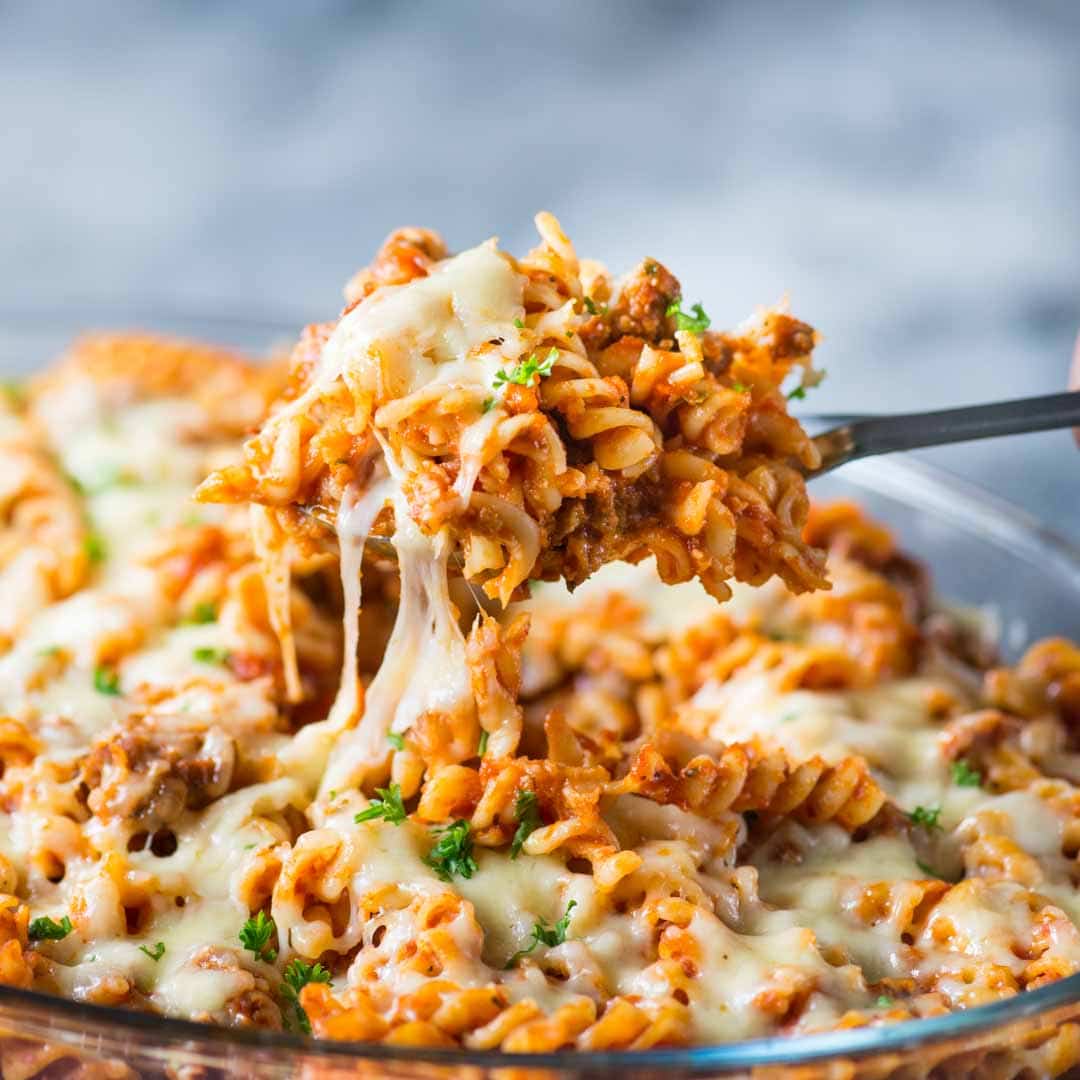 More Family-Friendly Pasta Recipes…
CREAMY CHICKEN TORTELLINI
Pappardelle with Italian Sausage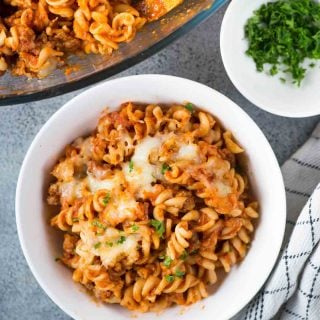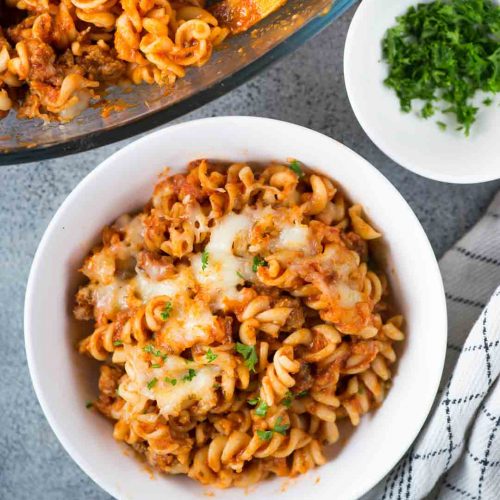 Cheesy Pasta Bake With Sausage
Tangy tomato sauce, spicy Italian Sausage and lots of cheese together make this pasta bake delicious and a perfect dinner. You can make the prep ahead or in case of leftovers, it really freezes well.
Ingredients
300 grams Short Pasta
2 teaspoon Olive Oil
500 grams Italian Sausage
1 medium Onion Chopped
½ teaspoon Garlic minced
1 24 oz Pasta Sauce
¼ cup Tomato Paste
2 teaspoon Italian Seasoning
1.5 cups Mozzarella Cheese shreded
½ teaspoon Salt
¼ teaspoon Pepper
Instructions
Bring a big pot water to boil. Season well with salt. Cook pasta as per package instruction.

Reserve 1 cups of pasta water. Drain pasta and keep it aside.

While pasta is cooking, heat oil in a pan. Add chopped onion and garlic. Saute for 1 minute, until onion has softened.

Add crumbled Italian sausage to the pan. Cook 2-3 minutes.

When the sausage is no longer pink and starts to brown, add pasta sauce, tomato paste, seasoning, 1 cup pasta water, salt and pepper. Stir and let it simmer for 10 minutes

Add half of the mozzarella cheese, cooked pasta to the pan. Gently stir everything.

Transfer into an ovenproof 9×13" (3 quarts) baking dish. Sprinkle rest of the cheese on top.



Cover with a lightly greased piece of foil and bake at 350 degrees F for 20 minutes.

Remove the foil and bake for another 10 minutes until the cheese looks bubbly and small brown spots appear.

Sprinkle fresh parsley on top and serve.
Notes
Prep ahead instruction and freezing instruction given above the recipe in the post.
Nutrition
Serving: 100g | Calories: 588kcal | Carbohydrates: 43g | Protein: 25g | Fat: 35g | Saturated Fat: 13g | Cholesterol: 85mg | Sodium: 1070mg | Potassium: 489mg | Fiber: 3g | Sugar: 4g | Vitamin A: 367IU | Vitamin C: 5mg | Calcium: 186mg | Iron: 2mg