Pappardelle Pasta With Italian Sausage
This post may include affiliate links that earn us a small commission.
Pappardelle pasta in a delicious tomato-based Italian sausage sauce. Think of this as a version of bolognese sauce that is hearty, robust, and takes half the time to make.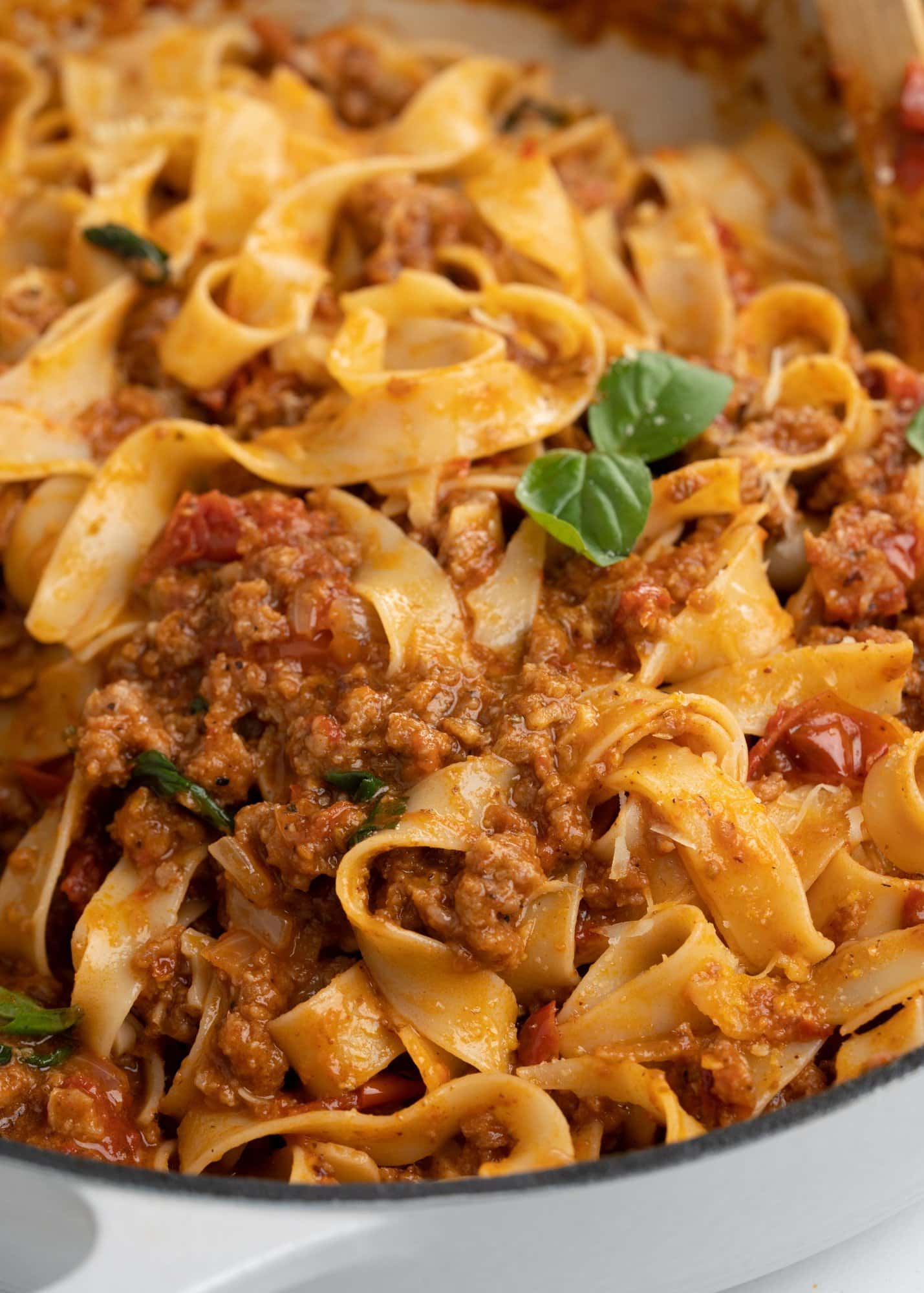 Pappardelle with Italian Sausage – Pasta like this is like a warm hug on cold winter days. It is hearty, comforting, and downright delicious. First browned Italian sausage is simmered in crushed tomato, and aromatics for a rich flavor-packed sauce, and then toss this sauce with chewy Pappardelle for an incredible meal.
Flavours In Your Inbox
Subscribe for recipes straight to your inbox
It might sound like an elaborate recipe but trust me it takes just 30 minutes from start to finish. The usage of aromatics and browning of the sausage add layers of flavor and richness to the sauce.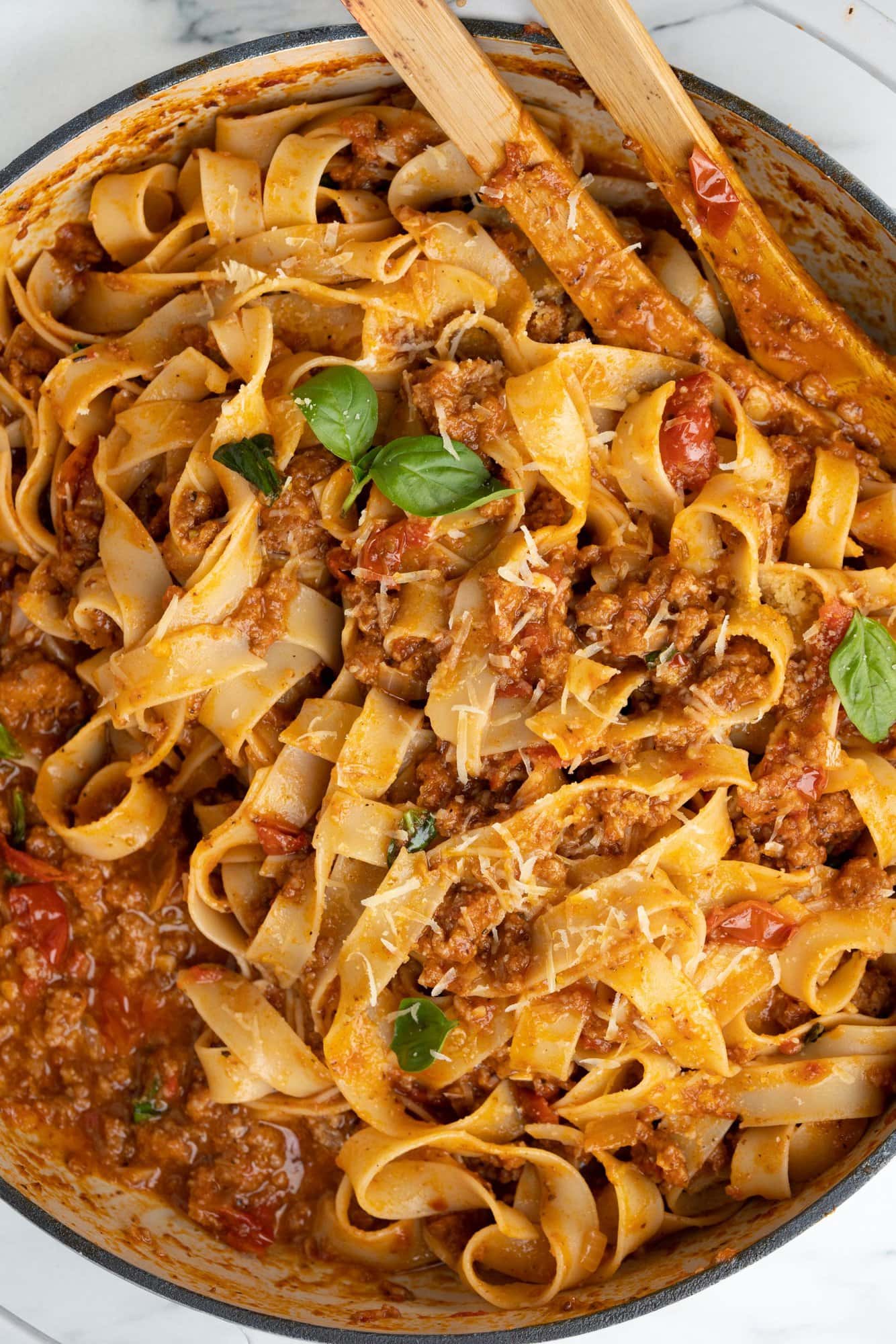 What is Pappardelle?
Pappardelle is a variety of pasta that is flat and wide, similar to fettucini but much wider. Pappardelle pasta belongs to the Tuscany region. It's chewy, hearty, and super satisfying.
It is usually served with chunky meat sauce like ragu, bolognese, etc. Because of its wide ribbon-like shape, it holds heavier sauce well.
Ingredient for Pappardelle with Italian sausage
The Italian sausage sauce comes together in 30 minutes. Unlike bolognese or ragu, there are no long hours of simmering. So to add tons of flavor, below is the list of ingredients you need.
Pappardelle– fresh or dried, either will work.
Italian Sausage – I have used mild Italian sausage. You can also use hot Italian Sausage.
Onion and garlic – Diced onion & minced garlic.
Crushed Tomatoes, Tomato paste – Tomato paste gives a deep flavor and sweetness
Seasoning – Italian seasoning, crushed fennel, chili flakes, salt and pepper
Dry white wine
Olive oil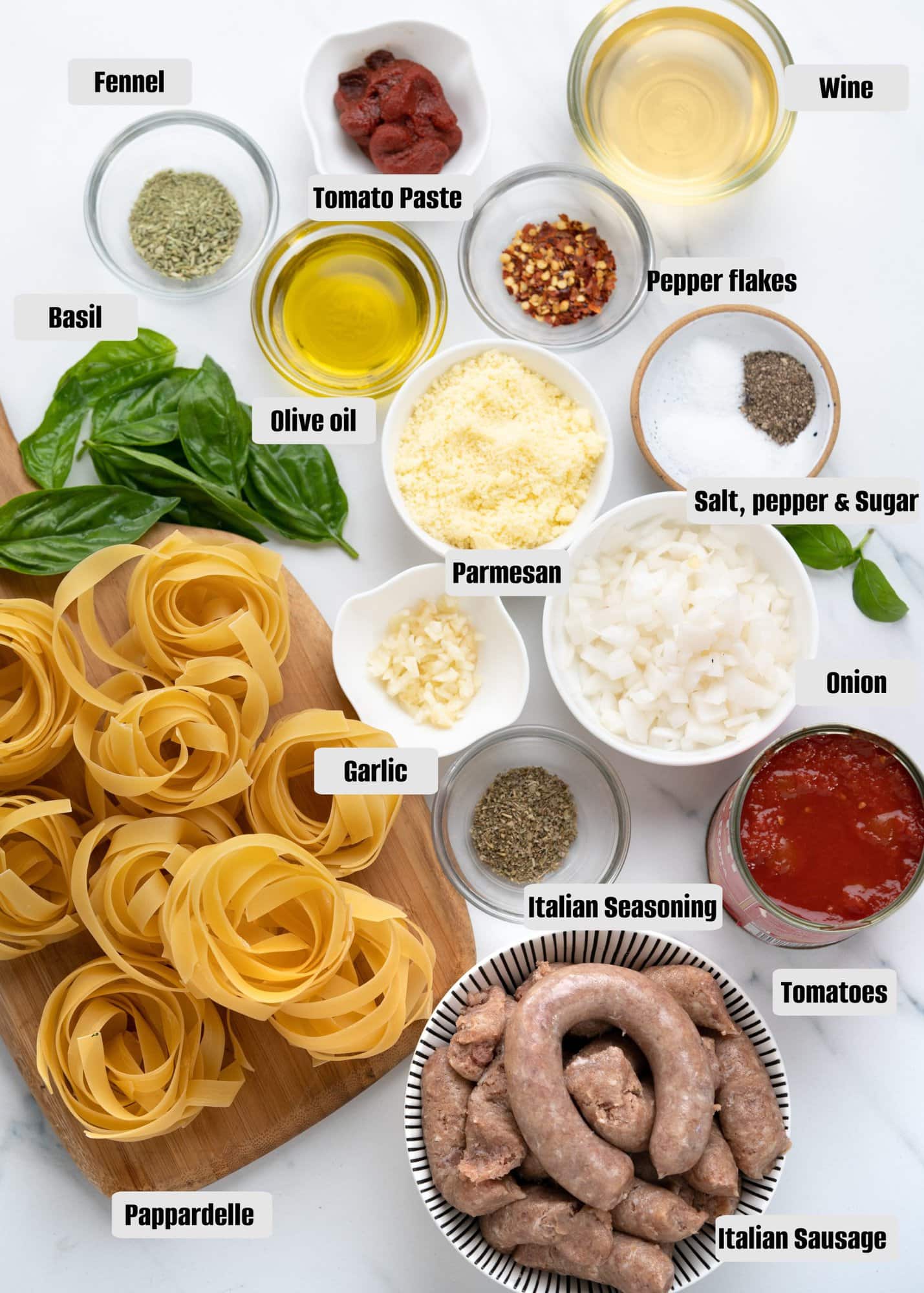 Steps to make the best Italian sausage sauce for Pappardelle
It's a quick recipe with tons of flavor. The trick is to layer the flavors, so even with the shortest cooking time, you will get a robust rich sauce.
Start with browning the sausage. Break any big chunks of meat with the spatula. Saute onion and garlic until the onion has softened and the garlic smells no more raw. Caramelizing the meat, onion, and garlic incorporates a depth of flavor.
To get the best out of spices instead of dumping everything, saute them in the fat along with tomato paste.
Deglaze the skillet with white wine(another flavor enhancer).
Add crushed tomatoes along with salt, pepper, and sugar(to balance the tart tomatoes). Mix everything and simmer for 10 minutes for the sauce to come together.
Then add pasta and pasta cooking water(to thin out the sauce). Toss everything well and serve with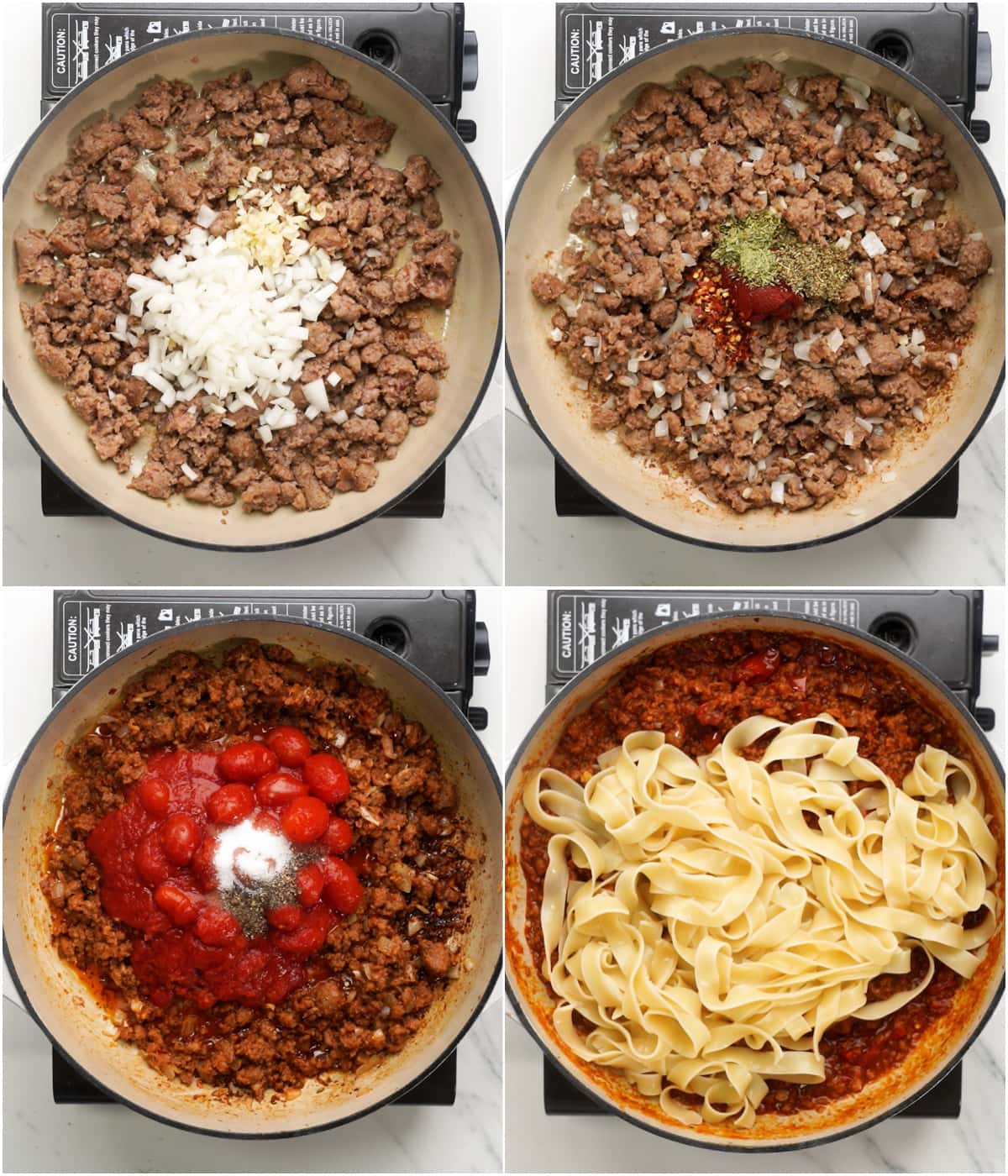 Storing leftovers
Like any other pasta, you can store Italian sausage pappardelle pasta in an airtight container for up to 3 days.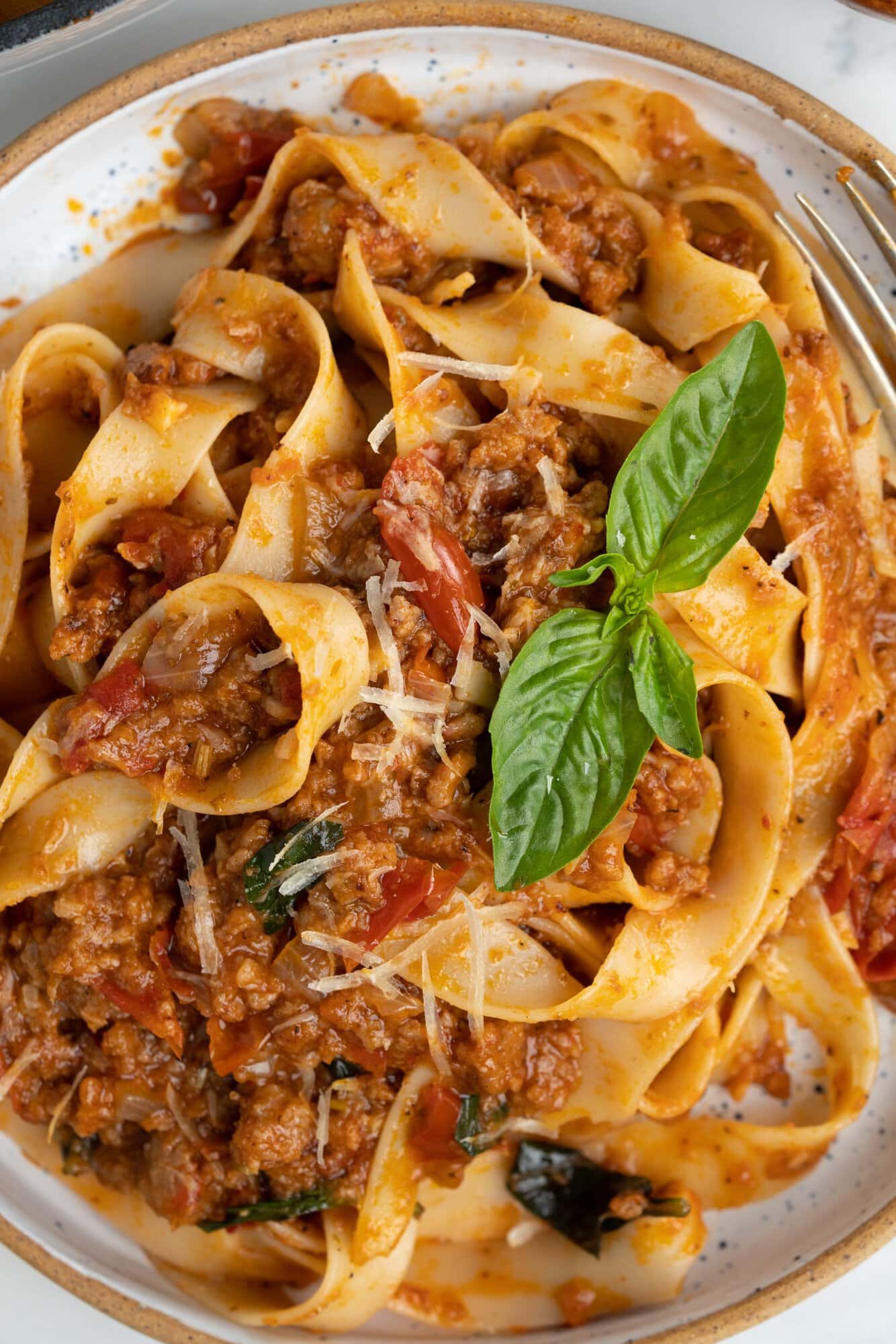 More hearty pasta recipes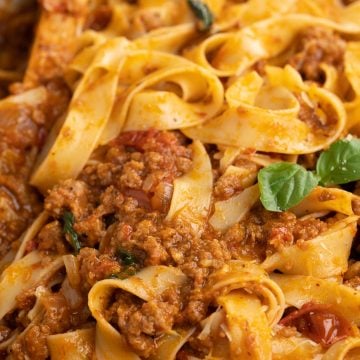 Pappardelle Pasta with Italian Sausage
Pappardelle pasta in a delicious tomato-based Italian sausage sauce. Think of this as a version of bolognese sauce that is hearty, robust, and takes half the time to make.
Ingredients
300 grams Dry Pappardelle Pasta
450 grams Italian sausage
2 tablespoon s Olive oil
½ onion diced
2 cloves Garlic minced
1.5 tablespoon tomato paste
1 teaspoon fennel seeds
1 teaspoon Italian seasoning
1 teaspoon chilli flakes (adjust as per taste)
⅓ cup wine
400 grams crushed tomatoes
½ teaspoon sugar
½ tsp each salt
pepper to taste
1 cup pasta water
⅓ cup grated parmesan more while serving
⅓ cup Italian Basil
Instructions
Bring a large pot of water to a boil to cook the pasta.

While the water is heating up, add olive oil to a large pan/skillet.

Once the oil is hot, add crumbled sausage. Brown the sausage for 3-4 minutes. Break any big lumps of meat with the spatula.

Add diced onion and garlic to the browned sausage. Saute for a minute.

Then add tomato paste, crushed fennel, Italian seasoning, and red pepper flakes. Cook for another minute and let the tomato paste caramelize.

Deglaze the pan with wine and scrap the bottom of the pan to release any brown bits. Let the wine cook to half the quantity and you can't smell the alcohol anymore.

Add tomatoes, salt, sugar, and pepper. If using whole tomatoes, break them with the help of a spatula. Reduce heat, cover, and let it cook for 5-6 minutes.

By now the water would have come to a boil. Add salt to it. Cook pasta as per pacakge instruction. Drain the pasta and reserve 1 cup of pasta cooking water.

The tomato meat sauce would have come together by now and you can see a thin layer of fat on the top. Check the seasoning and add more salt/sugar/pepper as per taste. (remember the pasta cooking water that we will add in the next step also has salt in it).

Toss in the cooked pasta along with 1/2 cup of pasta cooking water. Add roughly torn Italian basil leaves and finely grated parmesan cheese. Give everything a good mix.
Notes
I have used mild Italian sausage in this recipe. 
Adjust the amount chilli flakes as per taste. 
Nutrition
Serving: 1serving | Calories: 784kcal | Carbohydrates: 69g | Protein: 32g | Fat: 41g | Saturated Fat: 12g | Polyunsaturated Fat: 5g | Monounsaturated Fat: 19g | Trans Fat: 0.2g | Cholesterol: 88mg | Sodium: 1059mg | Potassium: 880mg | Fiber: 5g | Sugar: 8g | Vitamin A: 612IU | Vitamin C: 13mg | Calcium: 153mg | Iron: 4mg