This post may include affiliate links that earn us a small commission.
Meatball casserole has perfectly cooked pasta and tender meatballs in a tangy sauce with gooey cheese on top.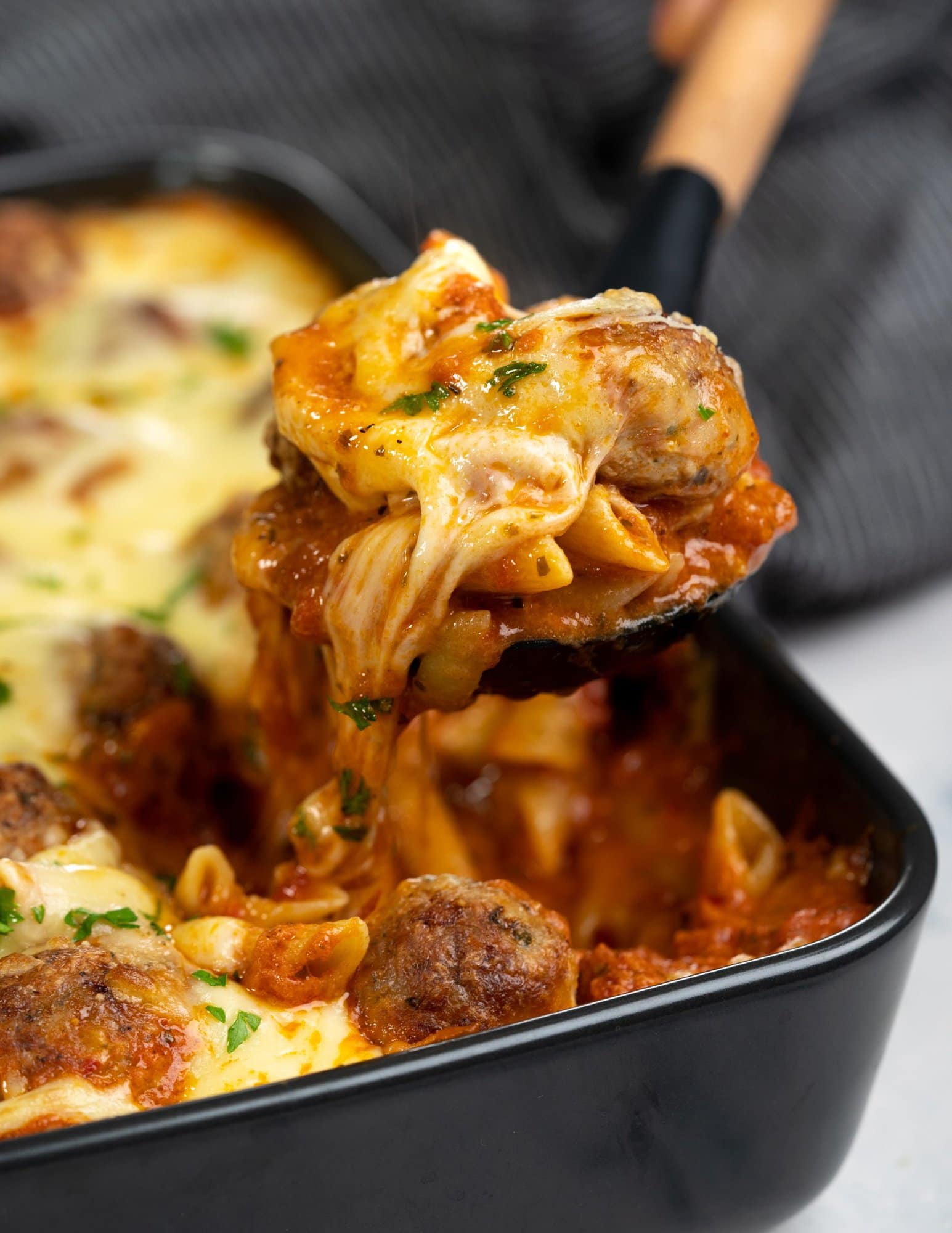 Cheesy and sauce meatball casserole is a dump-and-bake dish that is super convenient and quick to make at the end of a busy day. This dish takes dry pasta and other cooked components like cooked meatballs, and marinara sauce and turns them into a rich and indulgent bake.
Flavours In Your Inbox
Subscribe for recipes straight to your inbox
Long strands of cheese, when you pick a slice from the casserole are inviting. A combination of shredded mozzarella and Parmesan cheese gives the characteristic saucy texture that even browns a bit. Slice it and you see strands of cheese thanks to mozzarella.
You can go versatile with either the choice of pasta, which is preferably short-sized like penne, or with any veggies that you might prefer to add. I had made juicy and tender meatballs at home which I used in this dish. Meatballs can be easily made at home and turn out more flavorful and tender than store-bought ones and you can check out this recipe on how to make them – Chicken Meatballs.
The marinara sauce is a widely available sauce that you may prefer to make it at home too. It would surely be fresh and carry a depth of flavor that bottled commercial versions simply do not have. In addition, it would be healthy when made from scratch and without the overload of preservatives that we get in bottled sauces.
This dump-and-bake recipe is super easy and quick. You just have to pour everything into a baking dish, toss everything around once and bake it in the oven. It is that simple. The total time this takes is mostly the baking time, during which you can carry your other household chores.
With this recipe, you do not have to boil the pasta noodles before baking. It just cooks in the sauce in the oven. It is a great dinner choice at the end of a busy weekday. Casserole dishes are often my go-to recipes on busy days like my Leftover Ham Casserole, Potato Breakfast Casserole With Bacon, Stovetop Chicken Broccoli Rice Casserole, Easy Breakfast Casserole With Bread, or Quinoa Chicken Broccoli Casserole.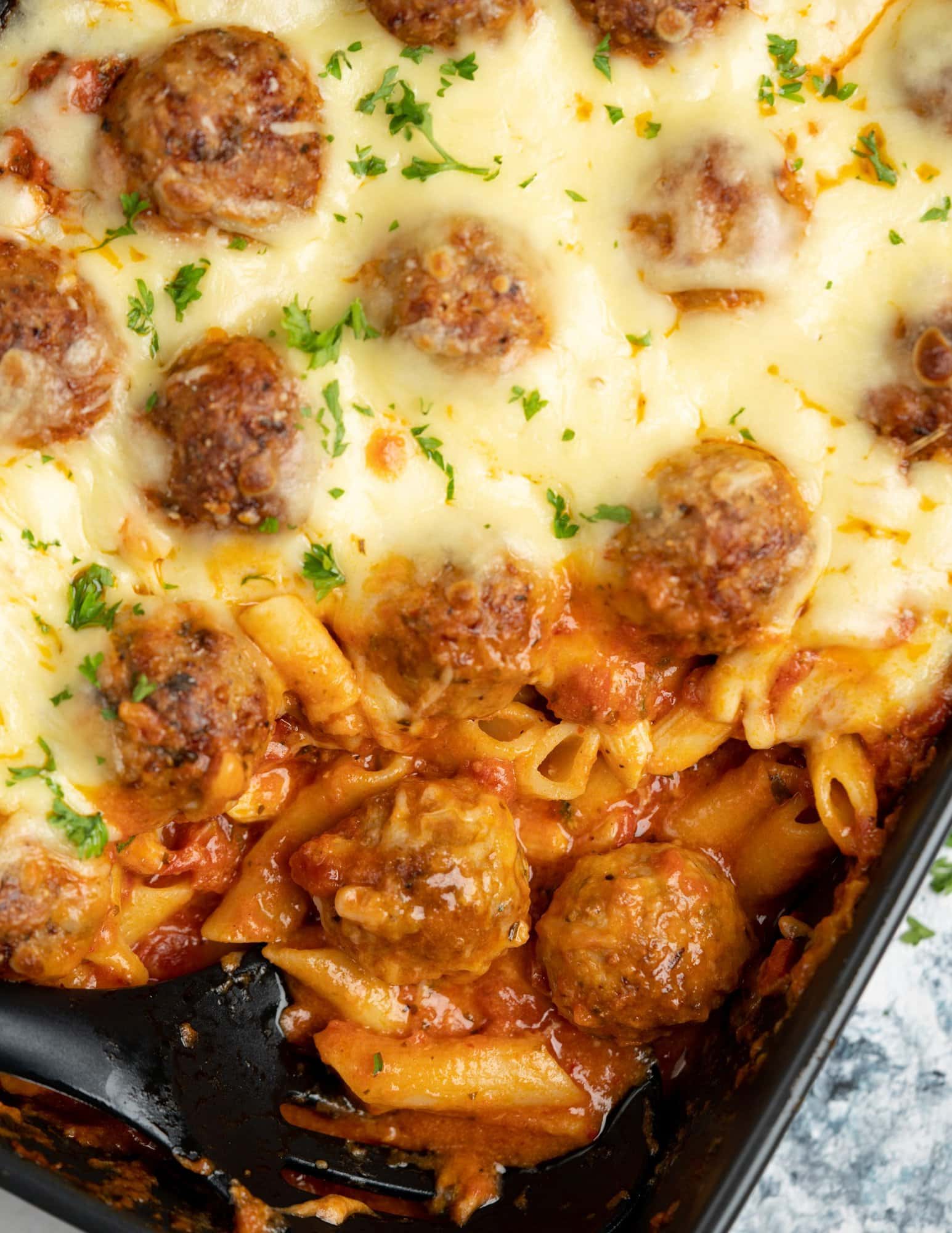 Ingredients
Dry pasta – I have used dry penne pasta. You may use other short-sized pasta like Fusilli or rigatoni instead. Remember, the pasta gets cooked along with the rest of the ingredients when the dish is baked.
Marinara sauce – is a thinner and brighter tomato sauce that is made up usually of four ingredients – red tomatoes, olive oil, garlic, and basil. Some brands would add a few more herbs and chili peppers. You can find marinara sauce in any nearby gourmet store.
Cooked Meatballs (ref notes 2) – Find cooked meatballs in any nearby store and get it from a good brand. You may also make juicy and tasty meatballs at home by following my other recipe.
Chicken stock – enhances the flavor base of the sauce. Homemade stock or broth is equally acceptable and would have more flavor than store-bought ones.
Water – dilute the sauce so that it doesn't get too thick, and gets to the desired consistency.
Milk – adds a creamy texture to the sauce.
Italian Seasoning – is a blend of dried herbs that results in a sweet and savory flavor profile.
Red pepper Flakes (adjust as per taste) – has a bit of heat and hence add as per your tolerance.
Olive oil – the source of fat in this dish that coats all the ingredients and helps them cook during baking.
Shredded Parmesan & Mozzarella – are used to sprinkle over the dish and baked again till they melt. Parmesan is a hard cheese that has a sharp, savory, and nutty flavor. Mozzarella is a soft cheese that results in a stretchy thread of cheese when heated.
Chopped fresh parsley – is sprinkled as garnish when served.
How to make
Prep and bake
Preheat the oven to 425ºF.
In a 9×13 inch baking dish, add all the ingredients – the uncooked pasta, the marinara sauce, chicken stock, water, milk, olive oil, Italian seasoning, red pepper flakes, and salt. Mix everything in the baking dish.
Arrange the cooked meatballs on top. Cover the dish tightly with foil and place it in the oven. Bake for 35-40 minutes.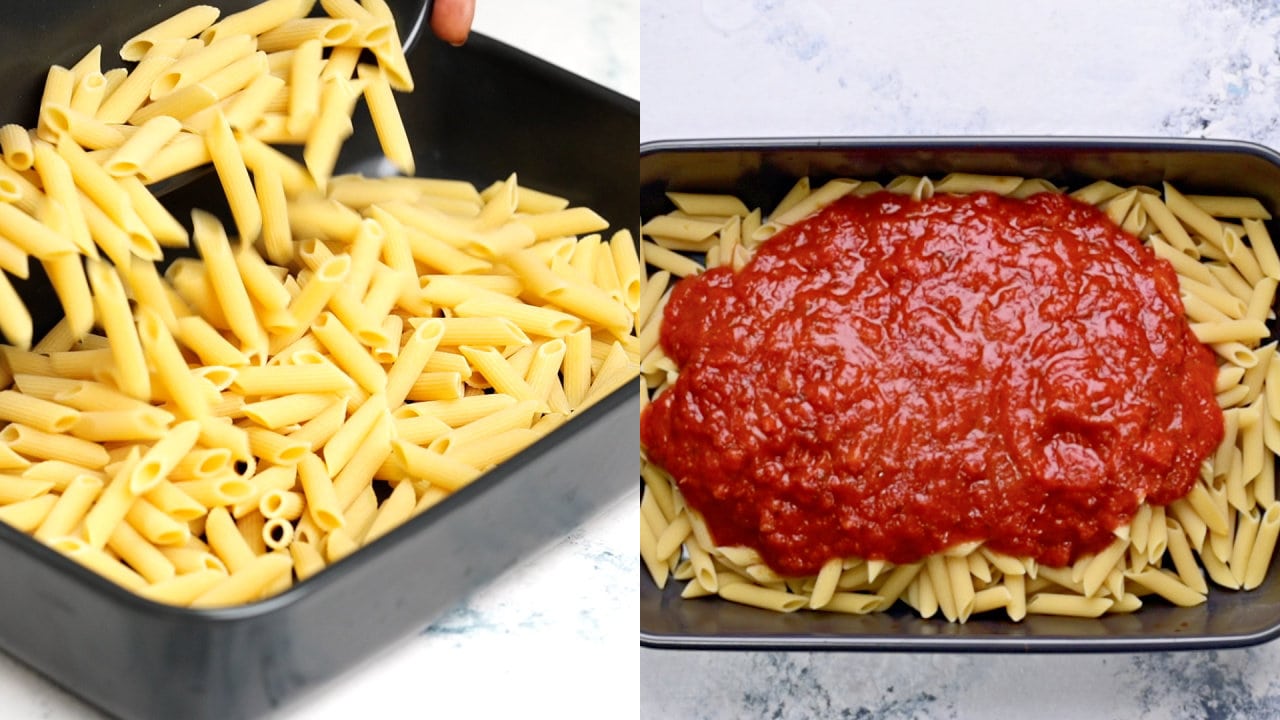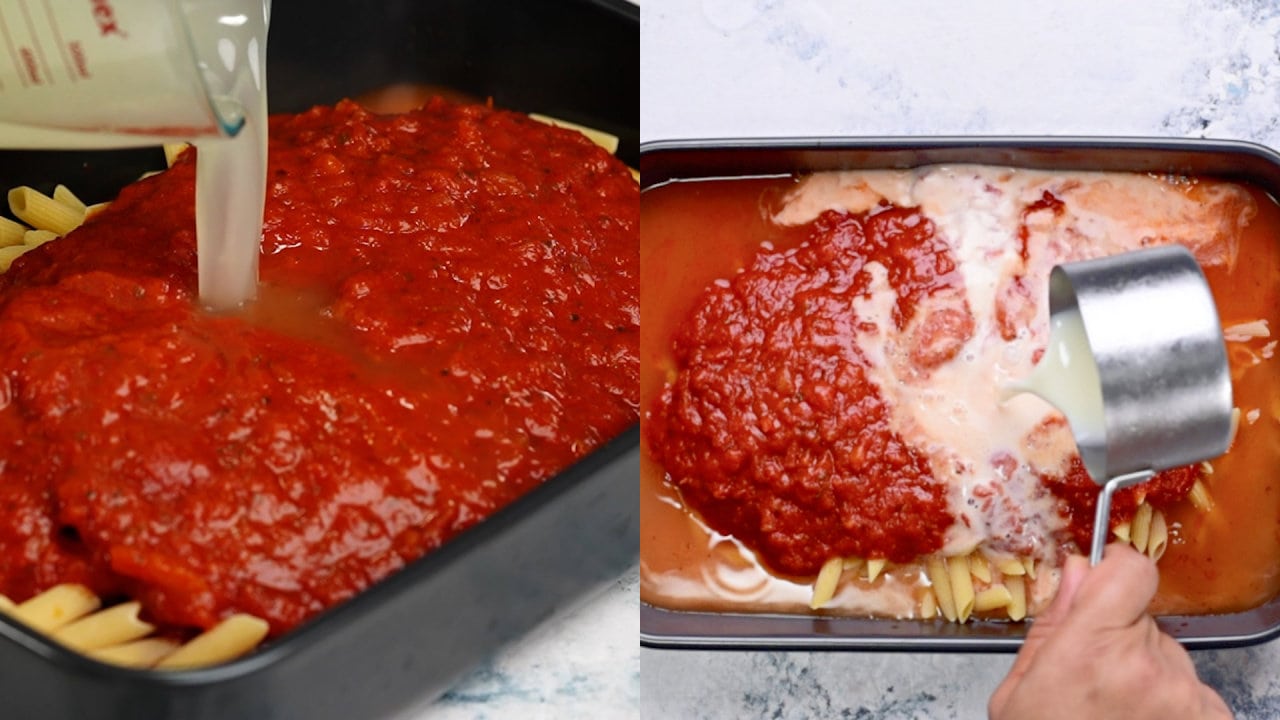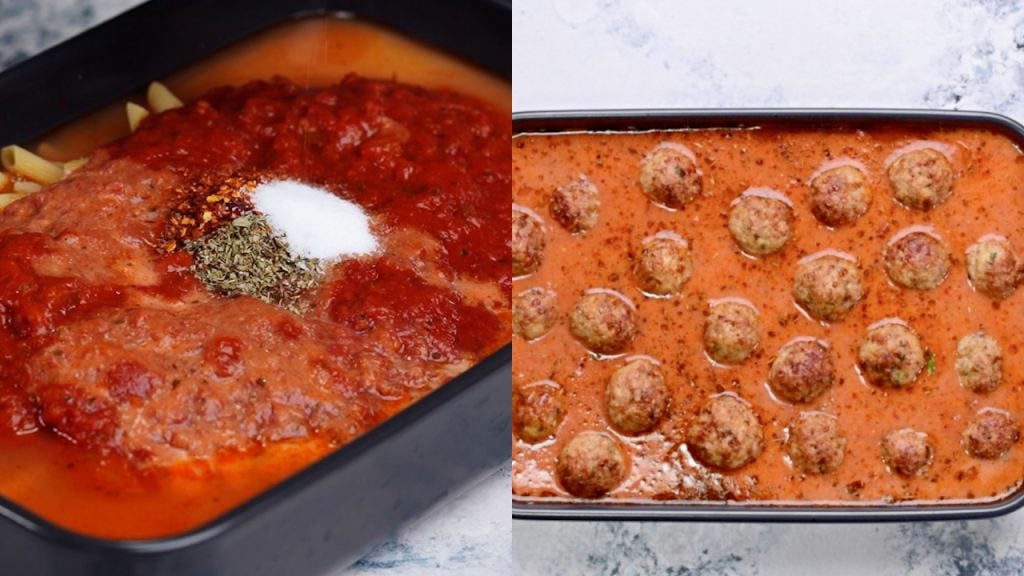 Let the cheese melt
Remove the dish from the oven and the foil. Gently toss everything and check the doneness of the pasta.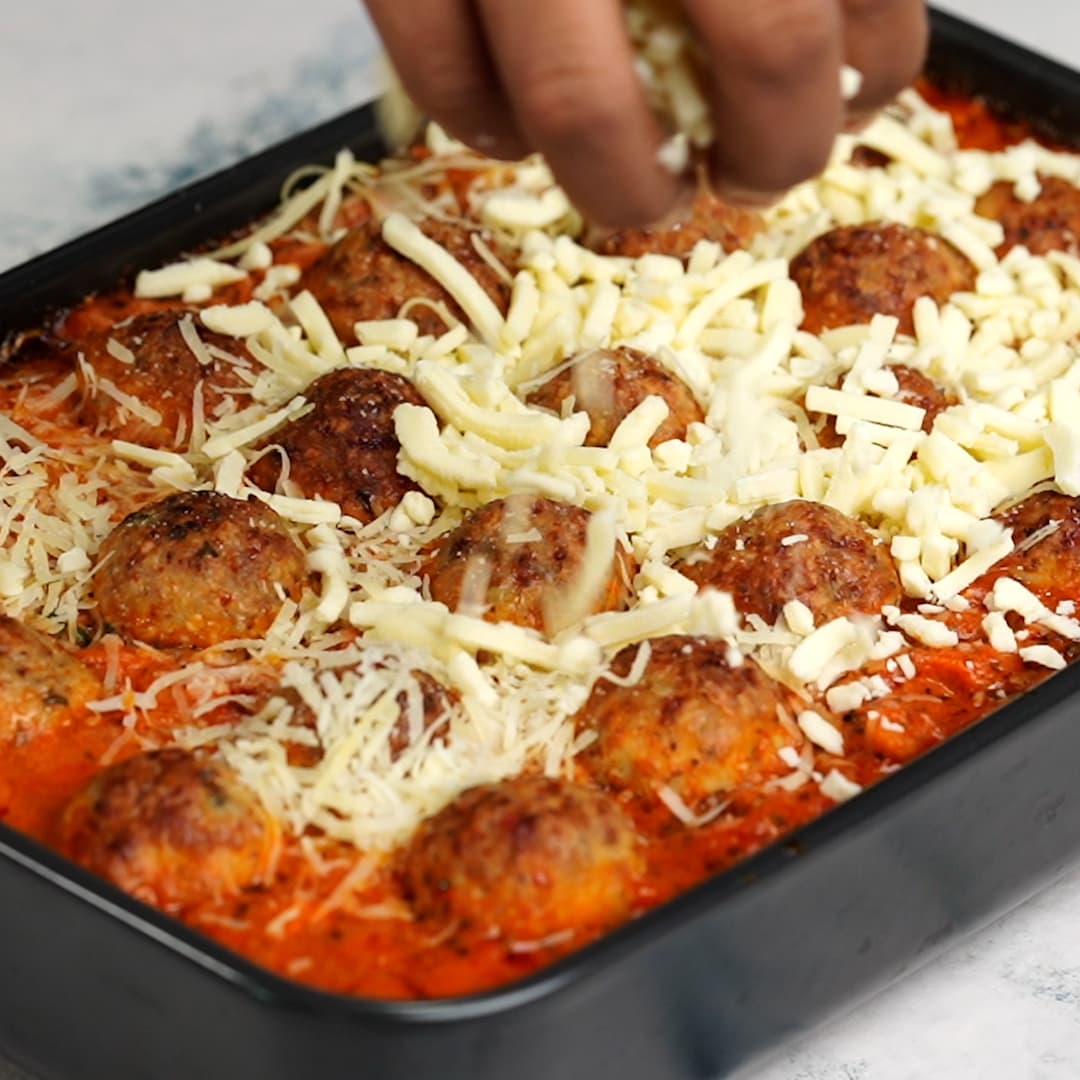 Sprinkle Parmesan and mozzarella over the top. Place the dish back in the oven and bake for another 10 minutes. The cheese should melt and appear bubbly.
Broil for a few minutes until you see brown spots. Remove the dish from the oven and let it cool for 15 minutes, allowing the sauce to thicken up.
Garnish with chopped fresh parsley. Serve and enjoy!
Frequently asked questions
Can I use frozen meatballs in this recipe?
Yes, you can use frozen meatballs. Just thaw them in the refrigerator the night before. That way, they would warm and cook along with everything else in the oven.
Can I use tomato sauce instead of marinara?
Regular tomato sauce is a thicker version of marinara except for a few herbs and spices. You will need to add some water or extra stock along with the tomato sauce to get the desired sauce consistency.
Do I have to make ahead this meatball casserole?
Since this is a dump-and-bake recipe without any extensive prep time I would not recommend making ahead as there is nothing much to do. Just assemble things when you have to make this and bake them. Dry pasta will absorb water and will become soggy while kept in the refrigerator.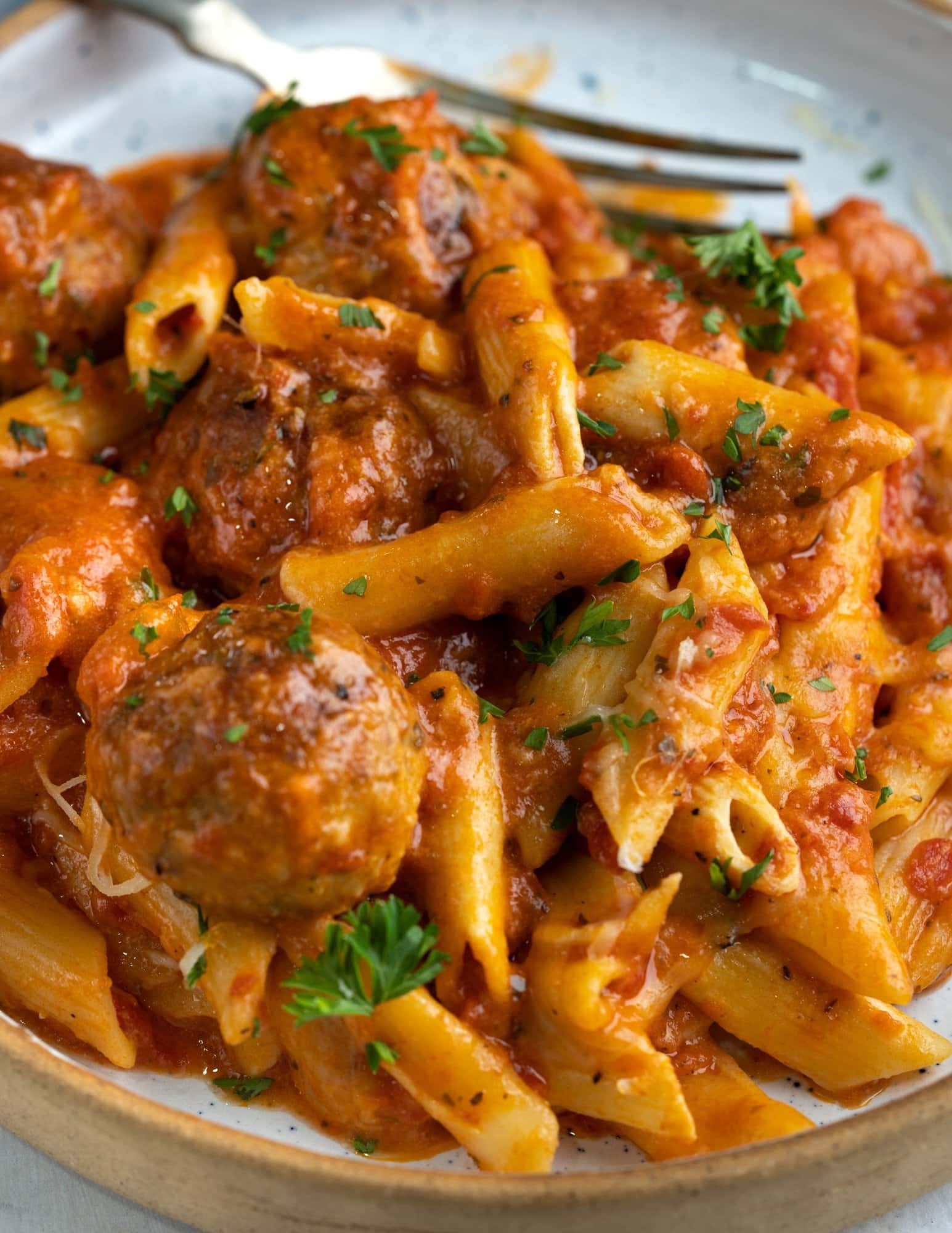 Store
A casserole is great to take from oven to freezer and vice-versa. All you need to do is to wrap it with foil when you want to freeze it. You can freeze the casserole for up to six months. To keep it safe and avoid any freezer burn, recommend to double layer it with foil.
You should not thaw the casserole before heating it. Thawing will release a lot of water and make the dish soggy. Shift it directly to the oven and bake it for double the time i.e. roughly 80 minutes. Take it out and check and reheat it for 10 more minutes if required.
You can also refrigerate it for 4 days. Wrap it with foil and reheat it directly in the oven for 10 minutes until you see the cheese bubble.
Serve with
Meatball casserole can be a meal by itself. It has proteins from the meatballs, carbs from the pasta, and cheese. You may serve with some roasted veggies to up the fiber – like my Oven-roasted Brussels Sprouts Roasted Lemon Pepper Zucchini or Cinnamon Maple Roasted Sweet Potatoes.
You may also serve it with salads, having delicious dressings like – Roasted Beetroot Arugula Salad With Balsamic Dressing, Cucumber Strawberry Salad, or Lemon Dill Potato Salad( No Mayo).
Related Recipes
If you love meatballs, check out two of my favorite meatball recipes – Baked Meatballs In Garlic Butter Sauce and Chicken Meatballs with Asian sauce.
Other recipes having pasta, baked are – Tuna Pasta Bake, Loaded Vegetable Pasta Bake, Chessy Pasta Bake With Sausage, or Chicken Spaghetti Bake.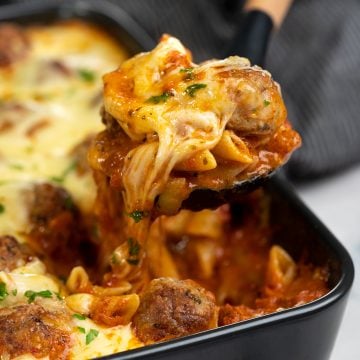 Meatball Casserole
This meatball casserole is a dump and bake recipe. Perfectly cooked pasta in a tangy marinara sauce, tender meatballs, and gooey cheese on top.
Ingredients
500 grams Dry pasta. (16 ounce)
1 jar Marinara sauce (24-28 ounce jar)
24-30 Cooked Meatballs (ref notes 2)
1.5 Chicken stock
1 cup Water
1 cup Milk
1 teaspoon Italian Seasoning
1 teaspoon Red pepper Flakes (adjust as per taste)
2 teaspoon Olive oil
Salt to taste
⅓ cup Shredded Parmesan cheese
1.5 cup Shredded Mozzarella
Chopped parsley
Instructions
Preheat oven to 425 degrees F.

To a 9X13 baking dish, add dry uncooked pasta, marinara sauce, chicken stock, water, milk, olive oil, Italian seasoning, red pepper flakes, and salt. Stir everything.

Arrange cooked meatballs on top. Cover tightly with foil and bake for 35-40 minutes.

Carefully take out the baking dish from the oven( it's gonna be heavy).

Remove foil. Gently stir once and check the doneness of the pasta. (Keep in we are gonna bake it for another 10 minutes )

Sprinkle parmesan cheese and mozzarella over the top. Bake for another 8-10 minutes until the cheese melts and is bubbly. Broil for a few minutes to get brown spots.

Garnish with chopped parsley. Serve.
Nutrition
Serving: 1serving | Calories: 627kcal | Carbohydrates: 71g | Protein: 31g | Fat: 24g | Saturated Fat: 10g | Polyunsaturated Fat: 2g | Monounsaturated Fat: 9g | Cholesterol: 71mg | Sodium: 861mg | Potassium: 777mg | Fiber: 4g | Sugar: 9g | Vitamin A: 892IU | Vitamin C: 8mg | Calcium: 301mg | Iron: 3mg