Chicken Meatballs with Asian sauce
This post may include affiliate links that earn us a small commission.
These Chinese meatballs are juicy, melt in the mouth, and then cooked in a savory Asian-inspired sauce.  Takes 30 minutes to make a meal prep lunch bowl with some veggies.
Follow this recipe and its instructions and you will get one of the juiciest meatballs you have ever tasted. Promise. I will share all the secrets to get the best meatballs and the delicious Asian-inspired sauce to go with it.
Flavours In Your Inbox
Subscribe for recipes straight to your inbox
This would be better than any restaurant takeaways that you do and you will come back repeatedly to doing this as I do.
You can checkout other sauce-based recipes here – Fluffy Ricotta Pancakes With Strawberry Sauce, Baked Tilapia In Lemon Garlic Sauce or Crispy Tofu in Chinese Garlic Sauce.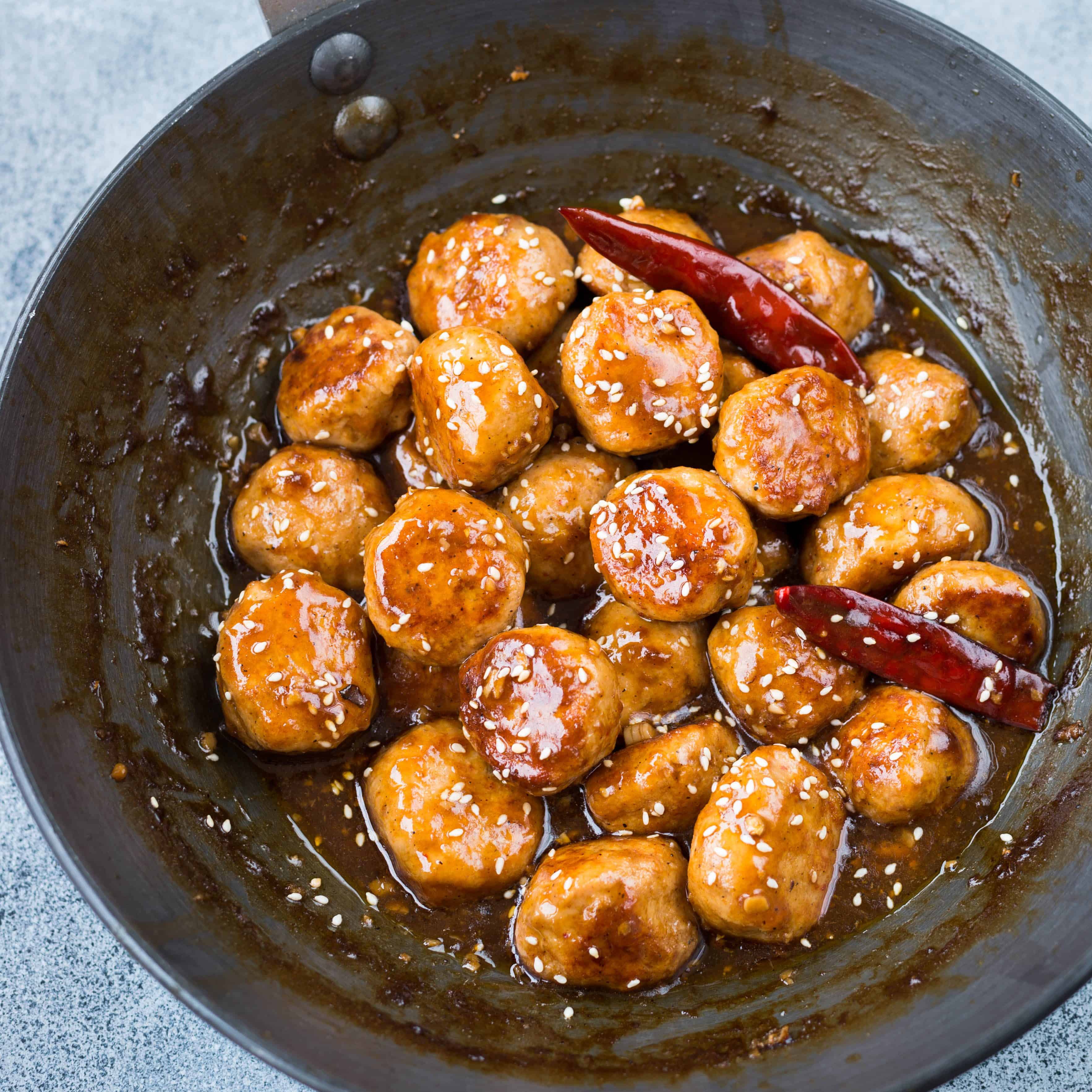 Chicken meatballs in Asian sauce
Juicy, soft meatballs in an equally delicious sauce is a classic. Meatballs are such a different dish in the sense that they are made of many common ingredients and yet texturally so distinct.
The browned texture on the outside and the juicy soft meat in the center when you take a bite are what attract them to me. Stir up a nice flavourful sauce with a little kick and you have a dinner to be smacked up.
I have tried different sauces with meatballs and this Asian sauce is my favourite. It is super easy to do, not too rich to be satiating but has all the flavour and zings that would appeal to your palette.
This sauce just compliments the garlic-ginger flavour of the meatballs so well.
If you have got ground chicken at home, this would be a great use of it to produce a delicious dinner.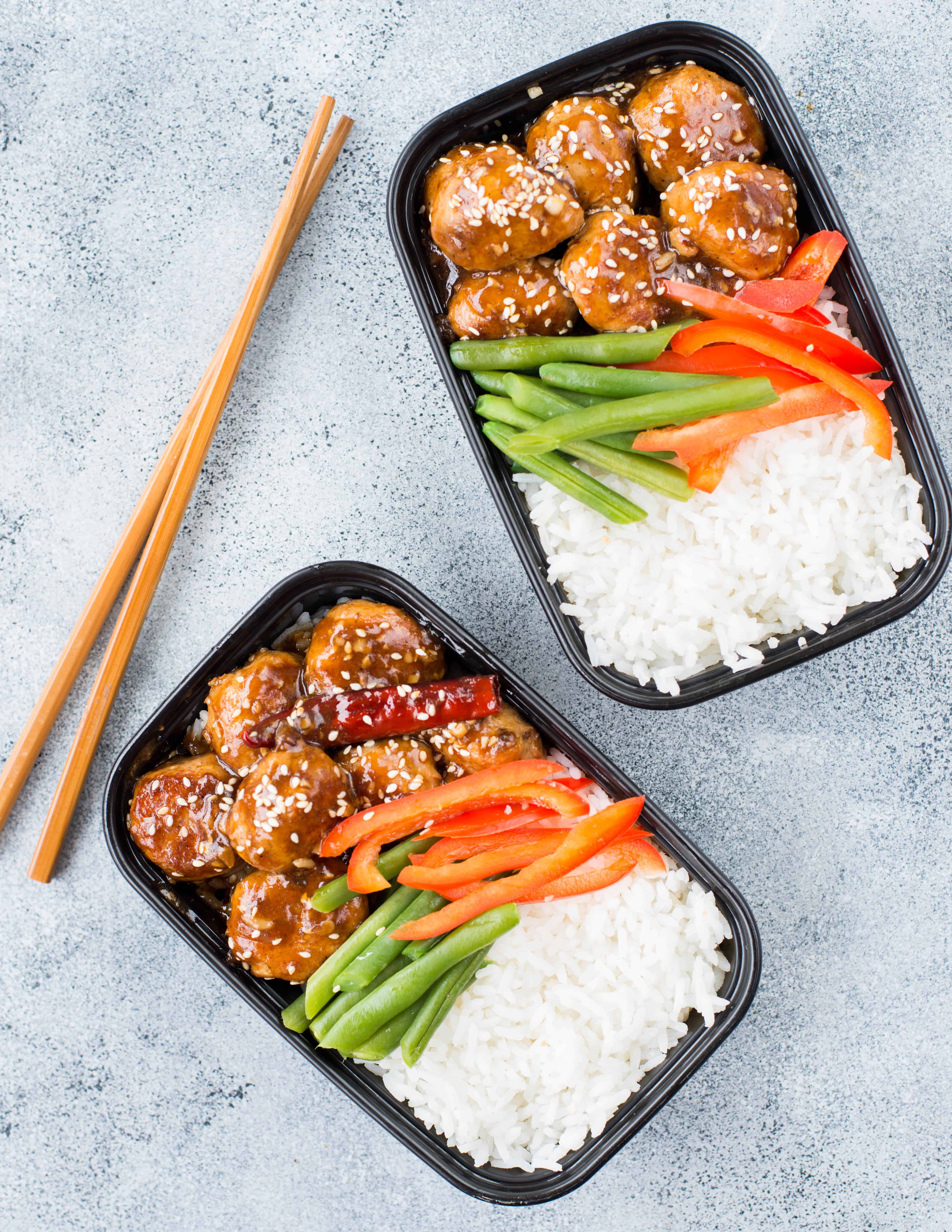 Chicken Meal Prep Idea
I made a big batch of these juicy Chinese chicken meatballs and no way we could have finished them on the same day though they were too yum. 
This dish is an excellent chicken Meal Prep lunch box idea. Cook up a lot of meatballs and a lot of sauce in a big batch. Store them in the freeze and you have your lunch box sorted out for at least a couple of days in the week.
Trust me, you can never have too much of this sauce and meatballs.
Ingredients
To prepare meatballs you will need
Minced Chicken
Garlic & Ginger – To add flavour to meatballs.
Milk
Egg
Onion
Bread Slice
Black pepper
To prepare the sauce you will need
Chicken stock
Soy sauce
Oyster sauce
Sriracha
Honey
Sesame oil
Minced garlic & ginger
How to make
Asian Sauce
Fry ginger and garlic with chillies until the raw smell is gone.
Mix all the ingredients of the sauce with the cooked ginger/garlic and keep it aside.
Chicken meatballs
Soak Breadcrumbs – soak the breadcrumbs in milk.
Mix with ground chicken – Add the soaked breadcrumbs, ground chicken, ginger, garlic, pepper, salt in a bowl and mix them well. Meatballs has to be seasoned and mixing well ensures that they are seasoned perfectly to get that flavour we desire.
Sear the meatballs – Sear the meatballs in little oil over high heat until they brown on all sides.
Add the sauce and chillis – Let the meatballs cook in the simmering sauce for 20 minutes until they reduce to the desired consistency.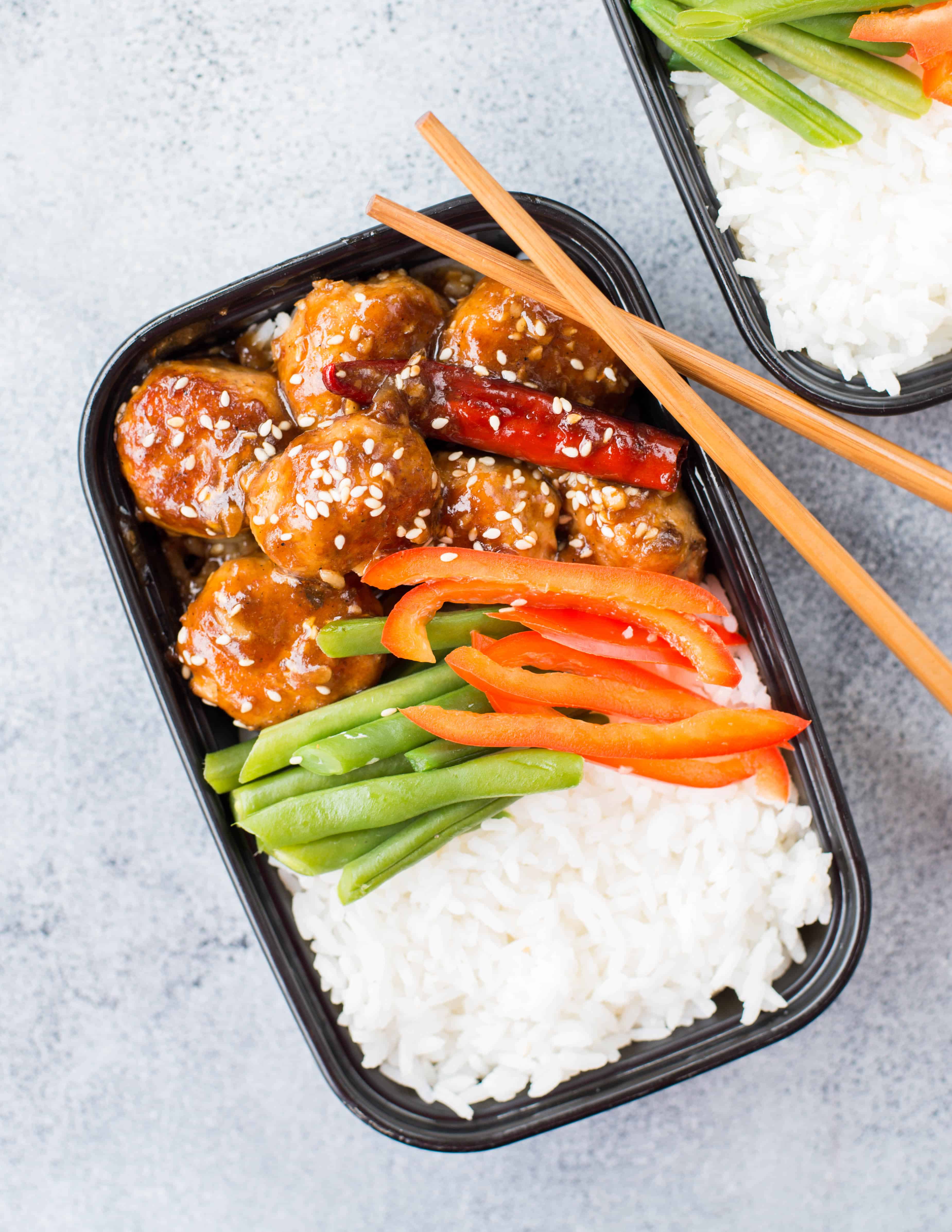 Tips for Juicy and soft Chicken Meatballs
These chicken meatballs were just perfect. With chicken as the protein here, we need to keep a few things in mind. Chicken tends to dry fast if you cook it for too long. So here are the few things that make the meatballs moist
Soaking the bread/bread crumbs with little milk helps to make the balls moist.
Adding raw grated onion to the mixture. When onion gets cooked it releases moisture and helps to keep the protein moist.
Because we are going to cook the meatballs again in a sauce, cook the meatballs little underdone. While resting the meatballs will cook little further. And while cooking in the sauce it will be done.
Sear the meatballs over High heat for a few minutes until you see them browned. Turn them over to the other side and brown them as well. Browning the meatballs gives them a nice crunchy exterior while locking in the flavours.
A couple of other tips while making meatballs are
Drain the minced chicken to get rid of any extra water. Too much water it will make it difficult to shape.
Shape the meatballs with slightly wet hand. Wet hands prevent the mixture from sticking to hand. You can slightly oil your hands to shape the balls.
If you are not sure about the seasoning, make a small ball and cook. Then you can check the seasoning and adjust.
Storage Instructions
The meatballs can be seared and then frozen. You can put them in an air-tight container or zip-lock bag for up to a week. I would not recommend more because they are onions in them which will not hold up.
The sauce can be made ahead too and stored for up to a week again in an air-tight container. You can also freeze them and thaw them when you need to make the dish.
This way this Asian chicken meatball dish works as a perfect make-ahead meal prep for busy days.
Serve it along with
Plain rice or Rice pilaf works excellent with these meatballs. Make a meal prep lunch box with rice and some greens like sliced beans, carrots or peppers.
You can also pair it with other rice or noodles like:
FAQs
Why do you put eggs in meatballs?
Eggs act as a binding agent for the ground chicken, onions, garlic, ginger, and any other herbs or spices you would add. Beware that eggs by themselves do not add moisture to the meatballs because they will dry up during cooking.

Can you cook meatballs in the sauce without frying?
Possible but frying it in a little oil over low heat will give it a nice brown texture on the outside. The inside will still be juicy and soft and this would make for perfect meatballs.
Can we cook frozen meatballs?
Yes, the idea is to put the meatballs in simmering sauce over low heat so that they get heated but not overcooked.
Few more Asian recipes
Save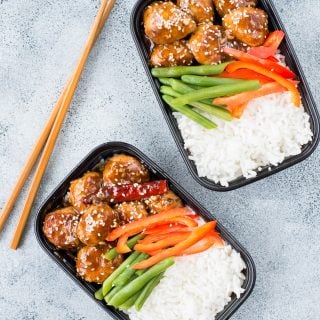 Asian Chicken Meatballs
Ingredients
500 gms Minced Chicken
2 Bread Slices
2 tablespoon milk
½ onion Grated or Finely Minced
1 tsp garlic Finely Minced
1 egg
1 teaspoon salt (or adjust as per taste)
3 tablespoon oil
For the Sauce
1 cup chicken stock low sodium
2 tablespoon soy sauce (see notes 1)
1 tablespoon oyster sauce
2 teaspoon Sriracha or any hot sauce (adjust as per taste)
2 teaspoon honey
1 tablespoon cornflour
½ tablespoon garlic Minced
1 teaspoon ginger Minced
2-3 dry red chili
Toasted Seasame seeds
For meal prep lunch bowl
Cooked white rice
Blanched broccoli,Beans,carrot,pepper
Instructions
Cut bread to small pieces. Soak bread in milk for 10-15 minutes. Then using hand break any bigger pieces and make a smooth mixture.

Drain excess water from minced chicken. Squeeze grated onion to remove excess liquid.

Add all the ingredients mentioned under Meatball except Oil. Add bread milk mixture. Mix everything with hand till well incorporated.

If you feel the mixture is still wet and difficult to make balls then add a couple of teaspoons of bread crumbs to the mixture. But the mixture should not be very dry. It should be smooth and hold shape while making balls

With wet hands make small balls of equal size. (Use a cookies scoop to portion)

Add oil to a pan.

Working in batches place the meatballs in a single layer. Don't overcrowd the pan. Let it cook (on medium-low heat) undisturbed on one side. Then turn and cook further till the ball looks light golden brown in color.

Repeat the above process till all the meatballs are cooked. (Use extra oil if required). Keep the cooked meatballs aside and let it rest.
For the sauce
Mix rest of the ingredients mentioned under sauce.

In the same pan add 1 tbsp oil. Add Whole red chilies followed by chopped ginger and garlic. Fry until the raw smell is gone but ginger-garlic is not browned.

Add prepared sauce to the pan and cooked meatballs. Let the sauce comes to a boil. The sauce will start to thicken a little bit.

Cook on medium heat till the sauce reached the desired consistency and meatballs are well coated with the sauce. ( Because this will be served with rice I would prefer a bit more sauce in the final dish)

Garnish with toasted sesame seeds and chopped green onions while serving.
Notes
I have used Kikkoman soy sauce in this recipe.
Nutrition
Serving: 1serving | Calories: 309kcal | Carbohydrates: 14g | Protein: 22g | Fat: 19g | Saturated Fat: 4g | Polyunsaturated Fat: 4g | Monounsaturated Fat: 10g | Trans Fat: 1g | Cholesterol: 121mg | Sodium: 1211mg | Potassium: 657mg | Fiber: 1g | Sugar: 5g | Vitamin A: 62IU | Vitamin C: 3mg | Calcium: 43mg | Iron: 2mg