This post may include affiliate links that earn us a small commission.
These golden brown meatballs of tender and juicy chicken are a party hit. Chicken meatballs have crispiness on the outside from the browning and tender meat inside. Serve them with marinara or any punchy sauce.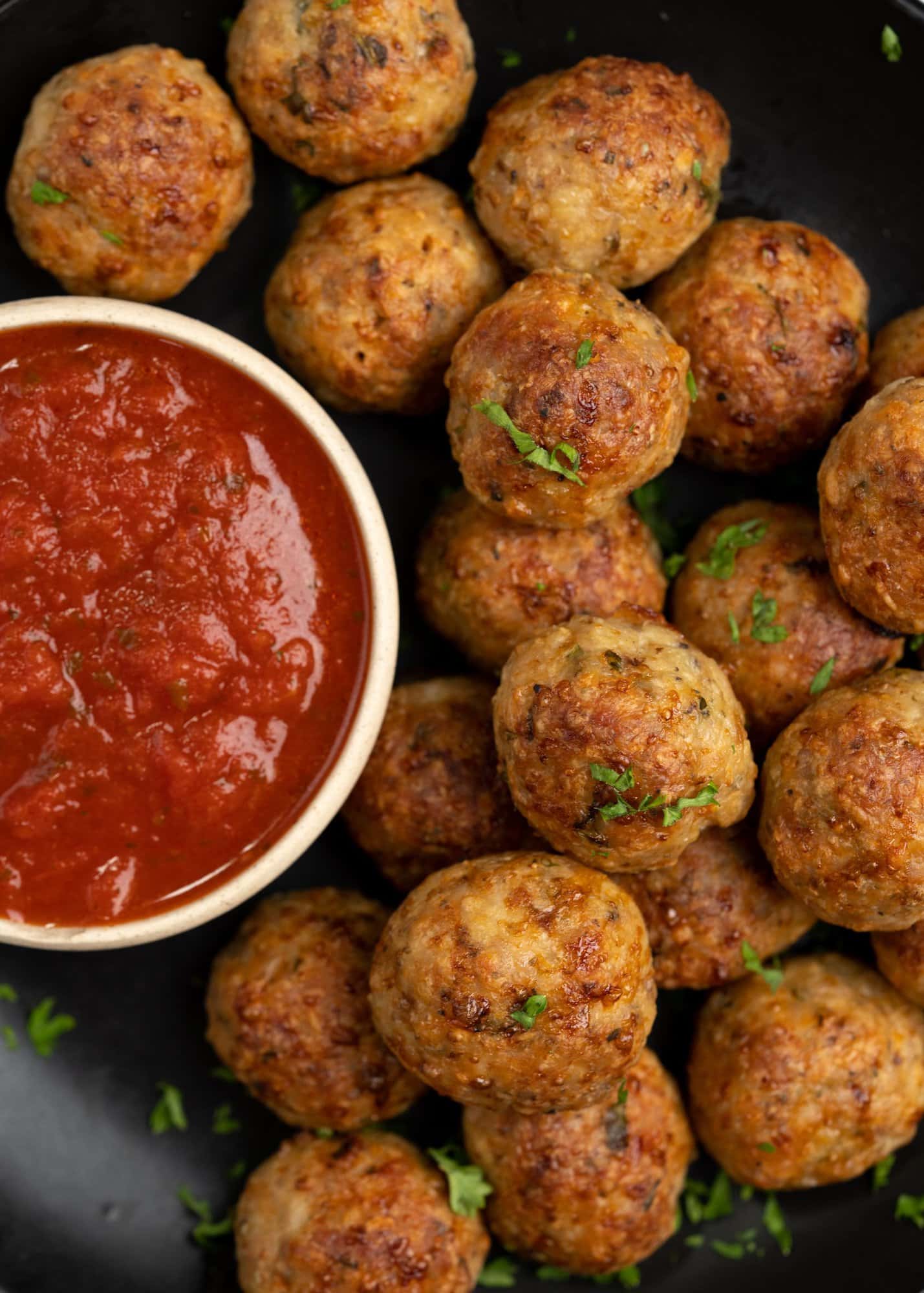 Everybody loves meatballs. Everybody that I have met, for sure! If anyone out there hasn't had a pleasant experience with meatballs, I will urge you to try this baked chicken meatball recipe.
Flavours In Your Inbox
Subscribe for recipes straight to your inbox
The meatballs are browned by broiling in the oven. It gives them a tough exterior and a nice crisp when you eat them. Cut open and see the juicy, tender inside made up of ground chicken and seasonings.
The meatballs that you buy from the store aren't seasoned enough. You can make great chicken meatballs by seasoning them in many ways. I have used Italian seasoning as my primary spice for these meatballs. I have also used herby flavors from parsley and parmesan's cheesiness to produce a soft and savory taste.
Something with these ball shapes attracts anyone who looks at a table full of food. When there's a get-together or party, I often make these baked meatballs. Kids love them, and there's always a race on – who gets it first? These are the perfect appetizers for any occasion. You can even smack on these crisp balls.
Flavorful and savory meatballs can stand alone as a great dish but can also be combined with some great sauces to make a delicious main. Check out these Baked Meatballs In Garlic Butter Sauce. Not to forget, meatballs serve as excellent meal plan options – Chicken Meatballs with Asian sauce.
Baked chicken meatball recipe
These chicken meatballs tick all the right boxes for you to want to make them repeatedly.
Juicy – these homemade chicken meatballs will come tender and juicy with nice browning on top every time.
Flavor – Perfectly seasoned meatballs with garlic, onion, cheese, and Italian seasoning flavors.
Baking saved time – bake them, saving time and making them error-proof.
Party hits – turn up with these golden brown balls and watch them fly off the plate in no time. Pair with a sauce with a kick.
Ingredients for Chicken meatballs
Ground chicken – Forms the bulk of the meatballs. I prefer chicken thighs which have a lot of flavors and are juicy. You can use ground turkey too.
Breadcrumbs – These are used to act as a filler in between all the meat. It also helps absorb the moisture and juice and traps it in the meatball. Juicy meatballs owe some of their juiciness to the breadcrumbs.
Parmesan cheese – Grated cheese adds fat, flavor, and moisture to the protein and helps bind everything together.
Onions – are grated, and the juice is used in the meatballs. I prefer onions over onion powder.
Minced garlic – I have added it makes the meatballs more flavorful. I prefer this over garlic powder which has a milder flavor.
Chicken Bouillon powder – This is dehydrated chicken stock in powder form. It's often made from chicken stock, vegetables, seasonings, and fat. It has a slightly more robust flavor than stock.
Italian seasoning – Italian seasoning makes a difference between a meatball with flavor and a bland meatball.
Red chili flakes – Used for that extra heat to balance the salt and everything else.
Egg – Unlike the misconception, the egg is used as a binding agent to bind ground meat, breadcrumbs, and onion, not for moisture.
Parsley – Adds a herby flavor level to the meatball.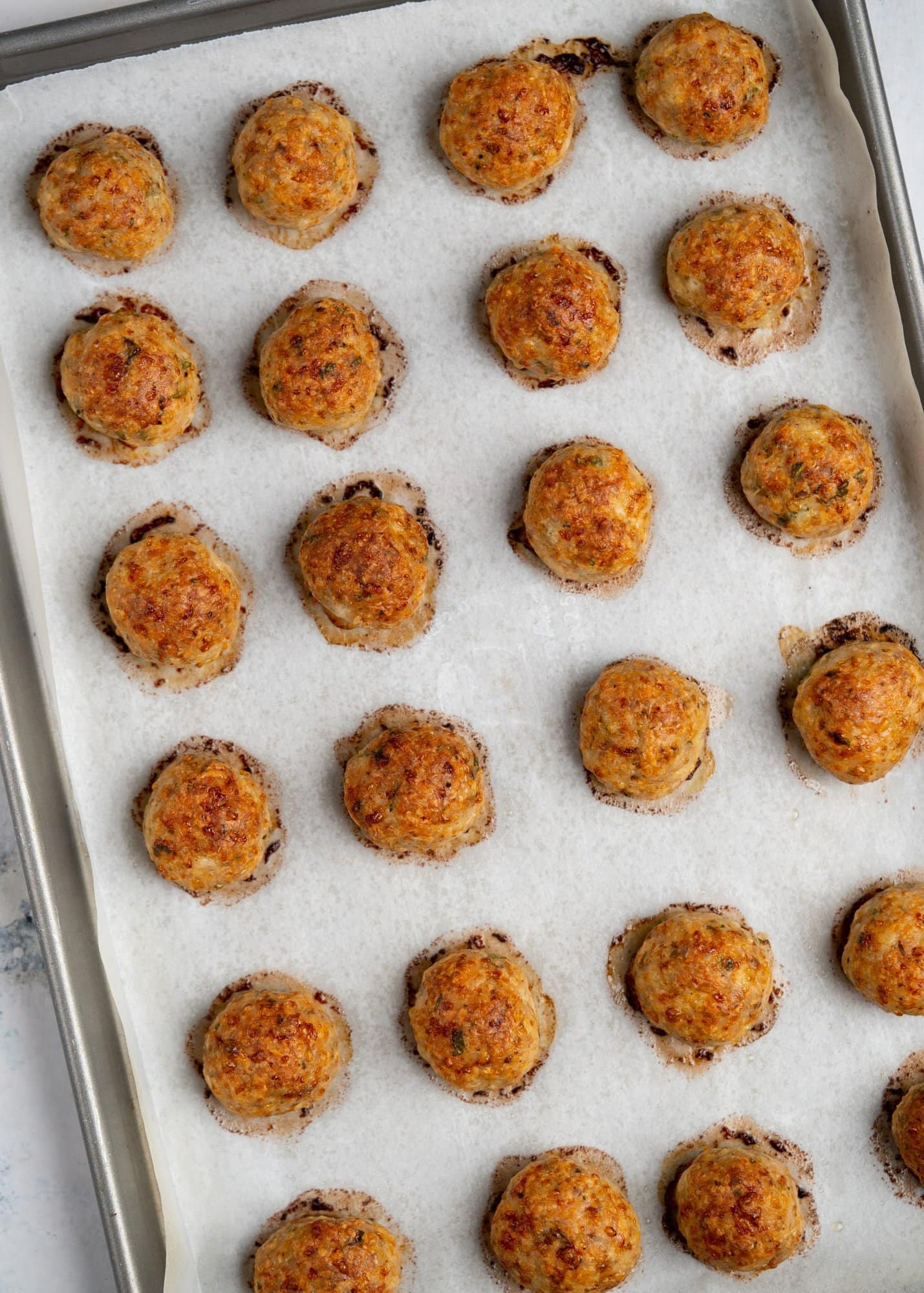 How to make the perfect meatballs
Mix and Rest – Add the breadcrumbs, grated onions, and chicken bullion powder to a large bowl. Mix well. Let it rest for 10 minutes.
Add ground chicken – now add the ground chicken and the other ingredients needed for meatballs. Mix everything well using a spatula. You can use your hands to do so too.
Roll the balls – Place a baking sheet over a tray. Slightly wet your palms with oil or water. Take one and a half tablespoons of the mix in your palm. Press it gently between both palms and roll it circularly. You should be able to roll them to shape them into a ball. Place each on the tray once done.
Bake the meatballs – Place the tray in the oven at 410°F (210°C) for 12 minutes. For broiling, place them back on the upper third rack for a couple of minutes to get that golden brown color.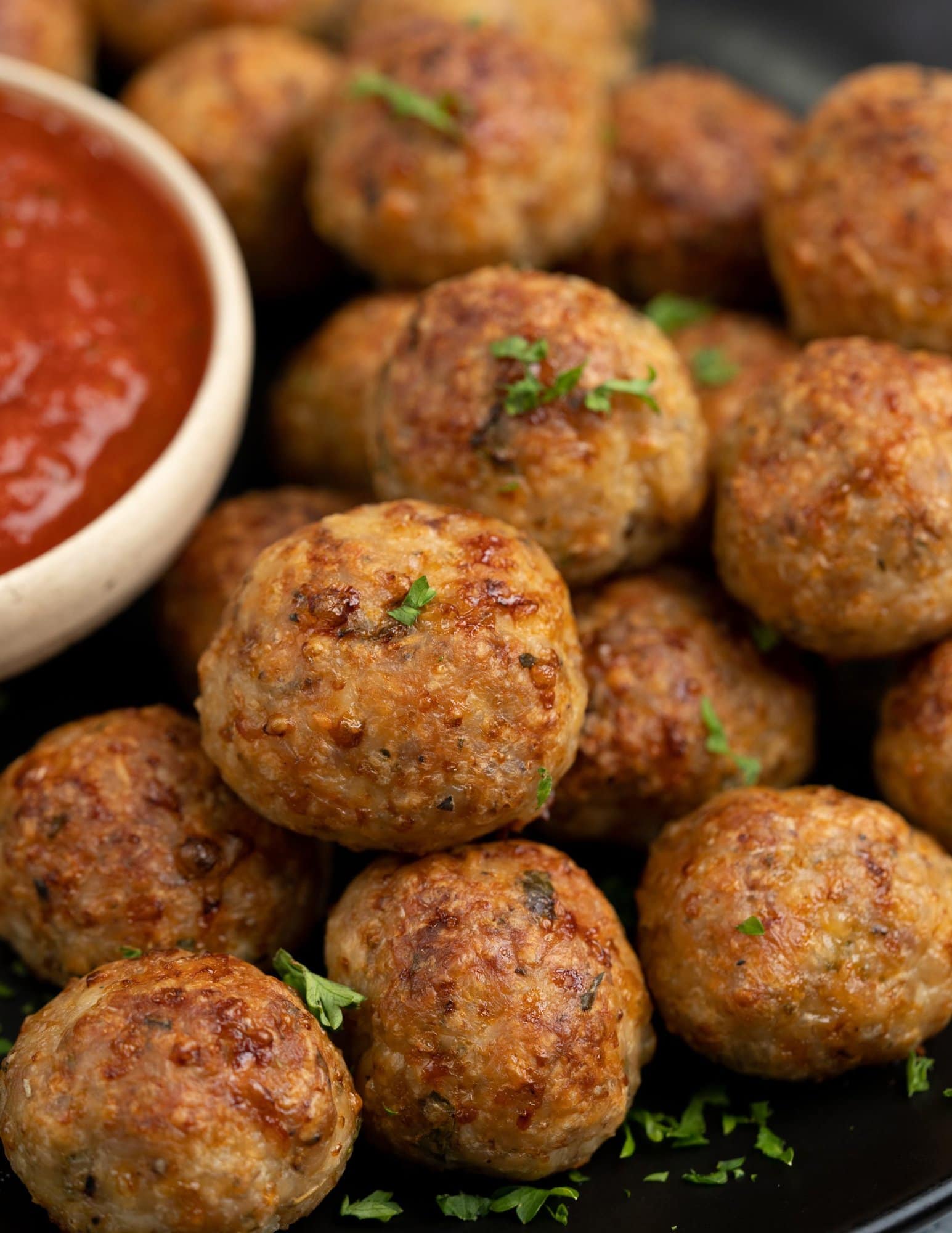 Make ahead & store
Meatballs are one of the most convenient things to make ahead. Bake them beforehand, and you can freeze them for a long time (months) in an airtight container. You can also refrigerate the meatballs and sauce separately for 3-4 days.
When you need to serve them, get them out before and thaw them if it is from the freezer. You can reheat it in the micro-oven for a minute or heat it on a skillet for a couple of minutes.
Serve with
These wonderfully delicious meatballs are best served over spaghetti or zucchini noodles like Garlic Parmesan Mushroom Zoodles. These also go best with mashed potato or mashed cauliflower. The easiest way to snack on them is with marinara sauce.
Frequently Asked Questions
Can you make this with chicken breast?
I prefer ground chicken thigh over chicken breast since chicken thighs have more flavor. Also, they have more moisture in them. As a result, thighs are more forgiving than chicken breasts, which tend to dry out easily and faster.
Can I pan-fry these meatballs?
I have pan-fried meatballs earlier. While I could get equally good juicy and tender meatballs, oven-baked meatballs beat it as it is so convenient. No searing in the pan in which so many things can go wrong. Baking meatballs are entirely hands-free.
Remember, in browning meatballs on a skillet; you must do so in batches. You must toss the meatballs around to get a proper sear. Overcrowding will hinder your efforts thus, batching takes more time unless you have a very large skillet and a wide flame.
Baking them in the oven involves just putting them on a tray. Broiling with the sauce gives them an excellent brown exterior that takes a couple of minutes. It is just so convenient.
How do you tell if baked meatballs are done?
To tell an eye-check does them, you should check if the outside is browned. If it is, then the inside would be cooked too. Another way is to insert a cooking thermometer to measure the internal temperature; the center should read above 160°F. That reading indicates a well-cooked and juicy core.
How long should I bake meatballs in the oven?
Baking meatballs at 410°F (210°C) for 12 minutes is enough to cook the meatballs, and then broiling them for a couple more gives you perfectly cooked and browned meatballs.
Should I brown meatballs before baking?
You do not need to sear them on a skillet before baking them. Baking them in the oven cooks them through, and at the end, you also broil them. Broiling them in the oven top rack gives them an excellent brown outside, similar to a good searing.
Can I bake frozen meatballs directly in the oven?
Yes. You do not need to defrost them. You may directly put frozen meatballs in the oven but take care of a few things. Spread them apart and double the time to bake. Bake them for 25 minutes instead of 12.
As per this recipe, you do not add the sauce until it is half-done, i.e., 13 minutes. Then, add the sauce and follow the recipe from here on.
Other Meat Recipes
Healthy Ground Beef Vegetable Skillet
Stuffed Peppers with Spicy Lamb and Brown Rice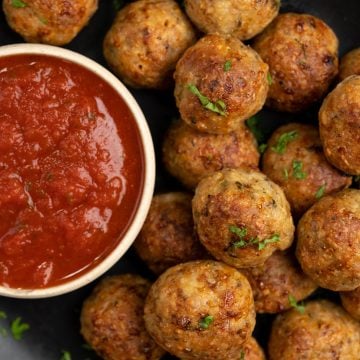 Baked Chicken Meatballs
These golden brown meatballs of tender and juicy chicken are a party hit. Chicken meatballs have crispiness on the outside from the browning and tender meat inside. Serve them with marinara or any punchy sauce.
Equipment
1 Bowl to mix ingredient and shape to meatball
1 Baking Tray for baking in the oven
1 Baking sheet to lay it on the baking tray. ensures that meatballs do not stick to the tray.
1 Spatula to mix all the ingredients
Ingredients
500 grams Ground Chicken
½ cup Panko Breadcrumbs
⅓ cup Parmesan Cheese
1 Egg
1 teaspoon Italian Seasoning
½ tablespoon Minced Garlic
½ Onion, grated
½ teaspoon Chicken Bullion
2 teaspoon Olive oil
1 tablespoon chopped parsley
½ teaspoon Salt
½ teaspoon Pepper
Instructions
Mix all the ingredients in a bowl. Using your hand or a spatula mix everything until just incorporated.

Preheat oven to 400F.

Using a small cookie scoop take out the mixture. Slightly wet your palms and roll the mixture between the palms to make a smooth ball.

Arrange the shaped balls in a lined baking tray.

Place the baking tray on the upper third rack. Bake for 20-25 minutes or until they're cooked through (an instant-read thermometer will indicate 165F). Broil for a few minutes if you want them more browned.
Nutrition
Calories: 46kcal | Carbohydrates: 1g | Protein: 5g | Fat: 3g | Saturated Fat: 1g | Polyunsaturated Fat: 0.4g | Monounsaturated Fat: 1g | Trans Fat: 0.01g | Cholesterol: 26mg | Sodium: 95mg | Potassium: 116mg | Fiber: 0.1g | Sugar: 0.1g | Vitamin A: 21IU | Vitamin C: 0.1mg | Calcium: 22mg | Iron: 0.3mg