Quick Garlic Butter Mushrooms
This post may include affiliate links that earn us a small commission.
Perfectly caramelized mushrooms tossed in butter and garlic are flavourful.Garlic Butter mushrooms work as an appetizer, side dish, or even on toast.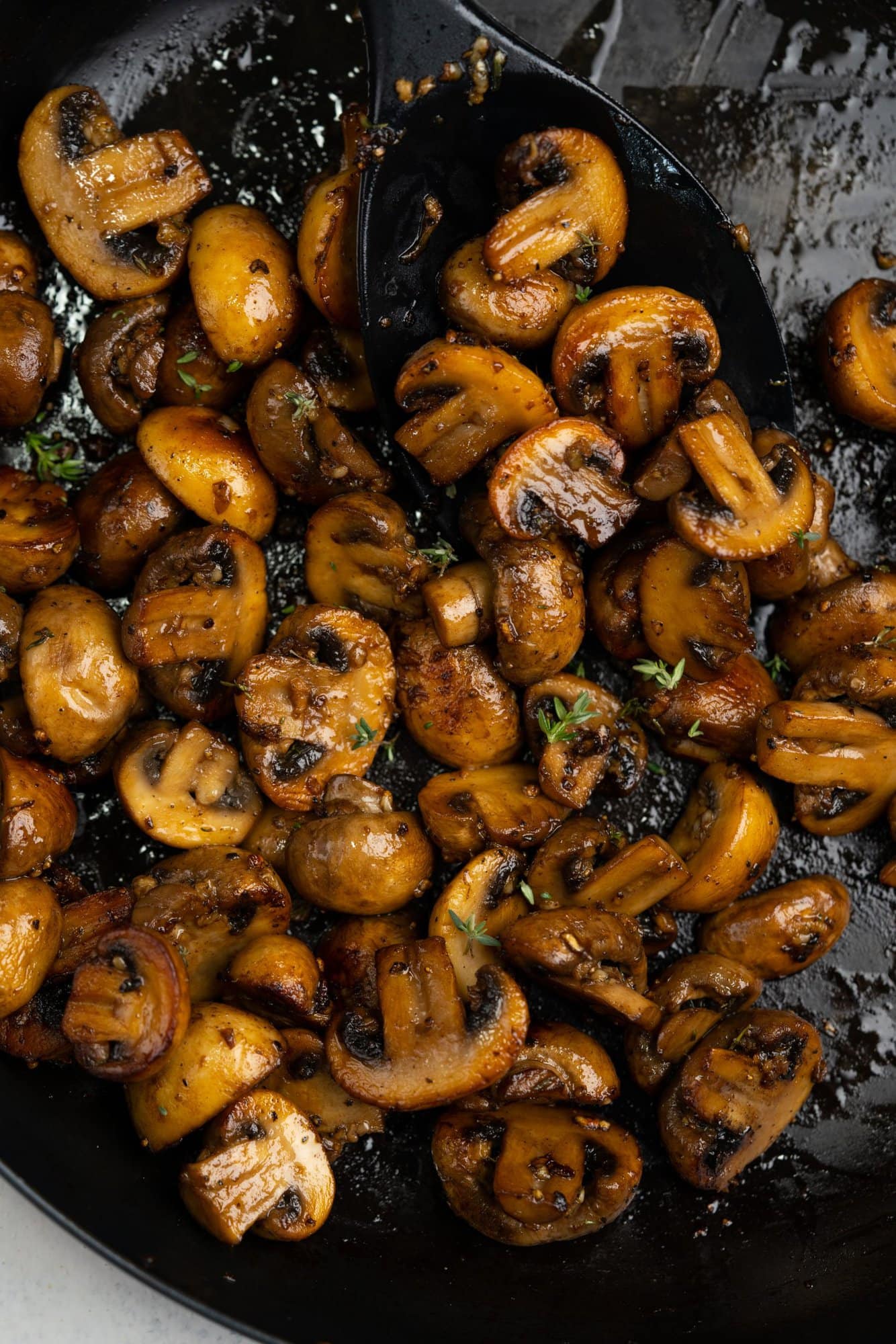 Pan-seared mushrooms are a quick and easy side dish to prepare. These mushrooms are versatile and can be served in breakfast with these Baked eggs, and potatoes, top of Oatmeal, as a side dish to protein or simply serve on toast.
Mushroom always tastes better when cooked in butter and garlic. A few herbs and a dash of white wine will only make these even more delicious.
Flavours In Your Inbox
Subscribe for recipes straight to your inbox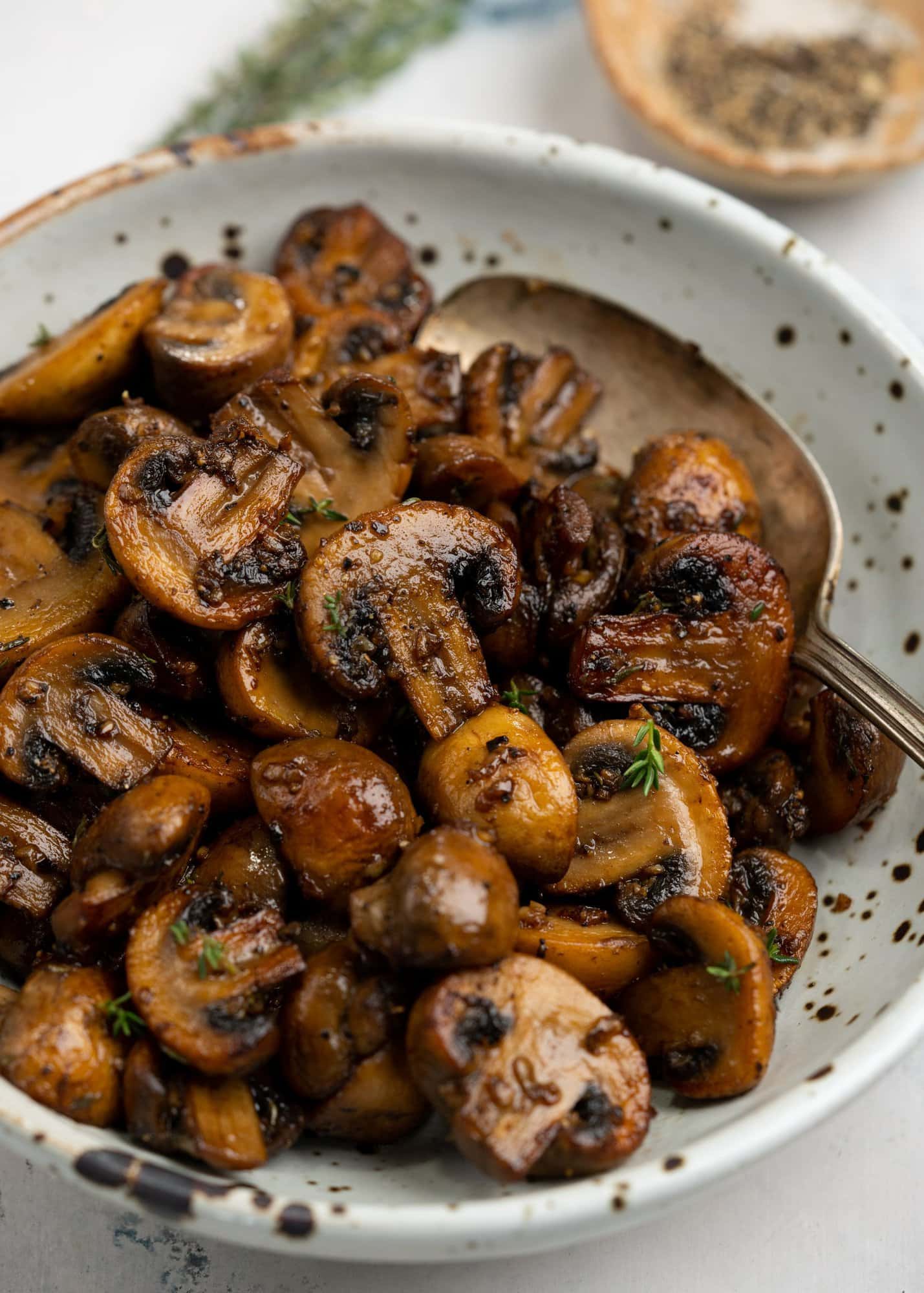 Ingredients
This recipe has possibly the shortest list of ingredients.
Mushrooms: Clean with a brush or damp kitchen towel. Cut it in half. If the mushrooms are small, then you can also keep them whole
Garlic: Fresh minced garlic. Garlic powder will not give the same flavor in this recipe but if that's what you have you can use it.
Butter: The lovely caramelized mushroom that you see, that's all because of butter. We also add a dash of oil to prevent the butter from burning.
Herb: Love thyme here. But parsley and rosemary will also work.
White wine: It is optional but I insist if you have some dry white wine do use it. It ads a
Salt and pepper: as per taste
You can also use finely chopped shallots.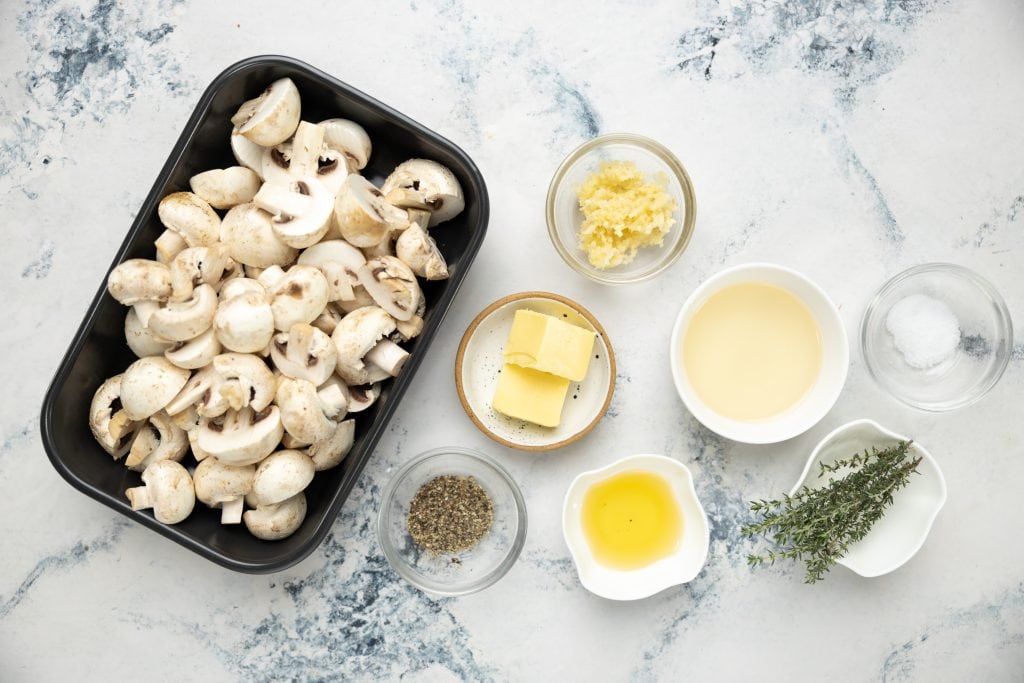 How to make Garlic Butter Mushrooms
For beautifully caramelized mushrooms, the right cooking technique and a bit of patience is the key.
Use a large skillet that can hold all the mushrooms without crowding them. If pan is crowded, the mushrooms would start steaming instead of caramelized.
Crowding the pan = Soggy Sad Mushrooms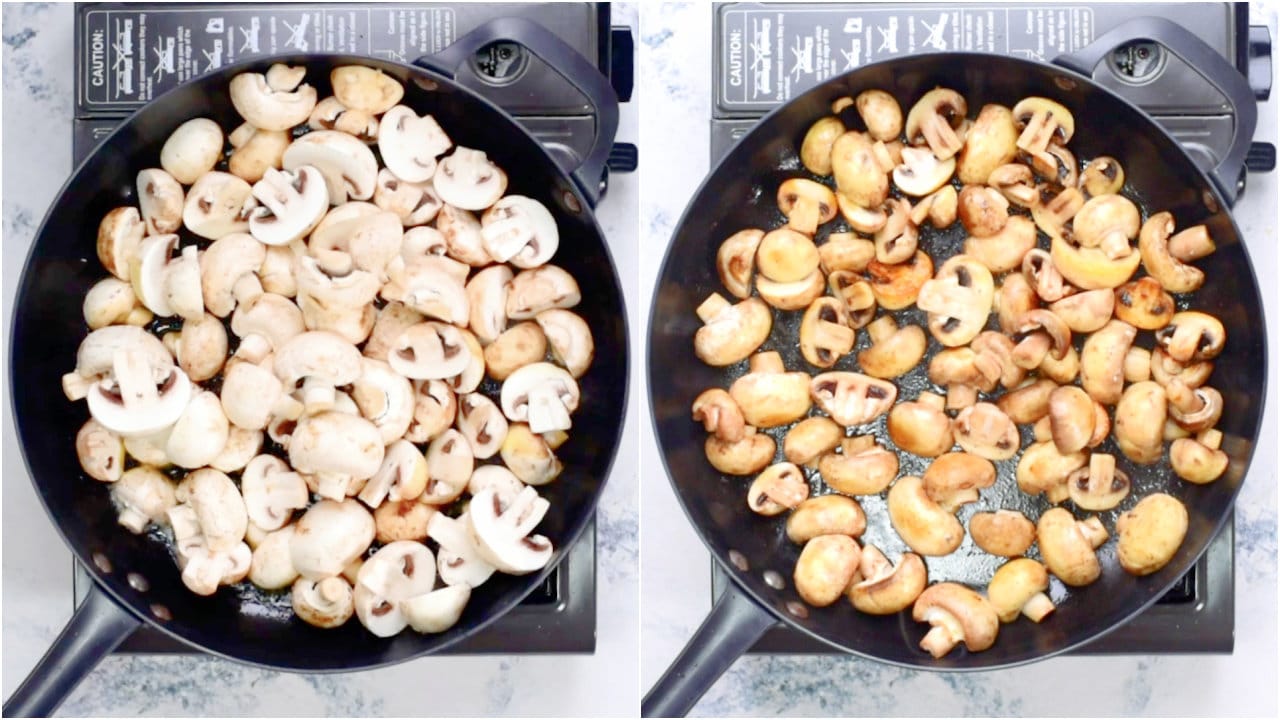 Make sure the pan is hot while adding the mushrooms. Once added let it cook undisturbed for around 4-5 minutes. Then flip or toss and cook until its nicely browned. By now the mushrooms would have reduced almost to half of the total quantity.
Once the mushrooms are done, make little space at the middle and add minced garlic. Garlic once added tendes to stick to the bottom of the pan, so while the mushrooms are cooked garlic might burn. Same with the herbs.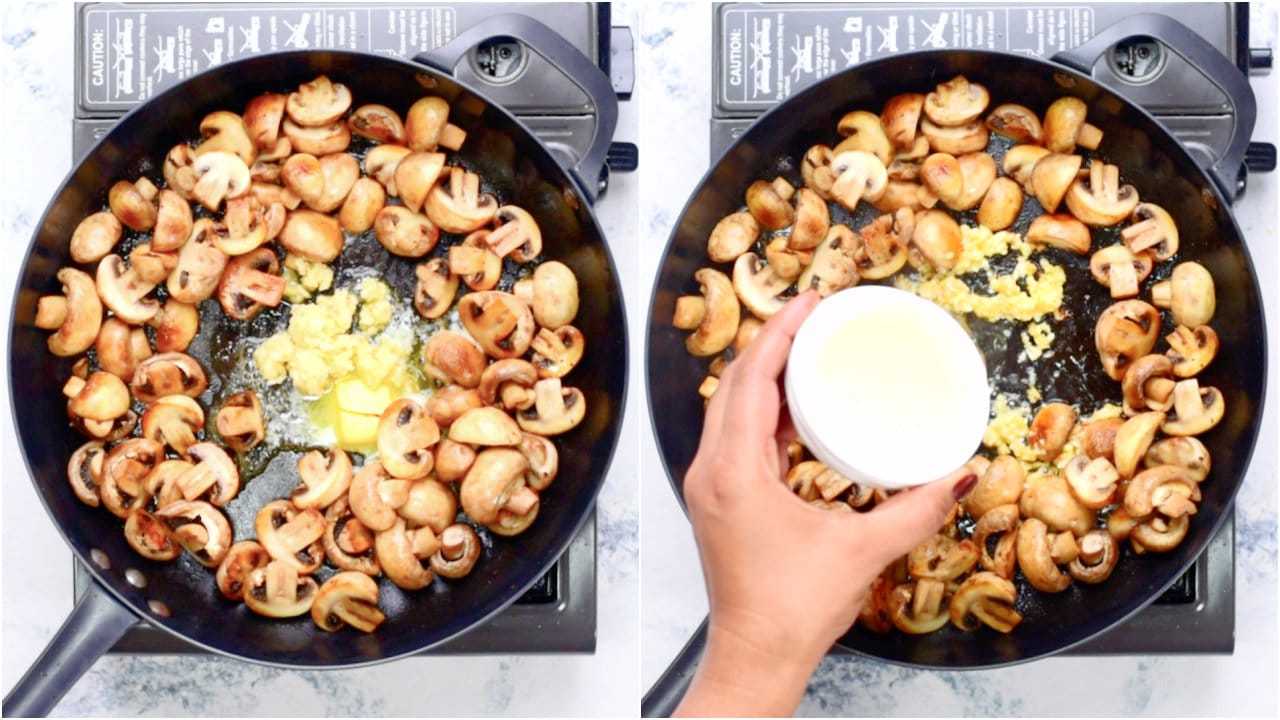 Along with garlic and herbs, season the mushrooms with salt and pepper. As mushrooms once cooked shrinks a lot, its a good idea to add salt towards the end.
After garlic is sauteed, add wine and let it cook until it has reduced completly. Toss everything well and we are done!!!!
Storing Leftovers
Leftovers can be stored in the refrigirator upto 4 days. Just reheat in a skillet to make the mushrooms crispy again.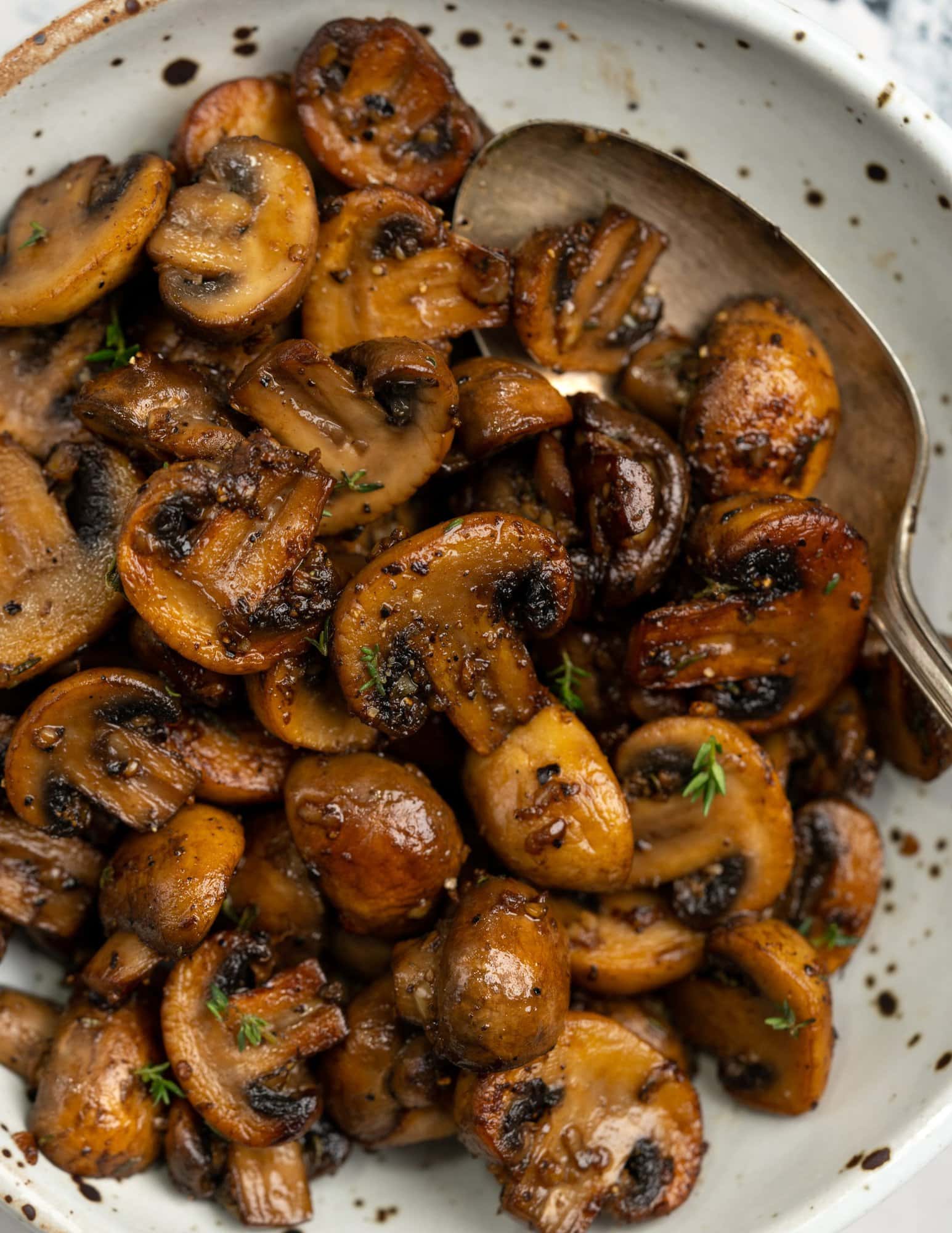 More Side dishes recipes
Cinnamon Maple Roasted Sweet Potatoes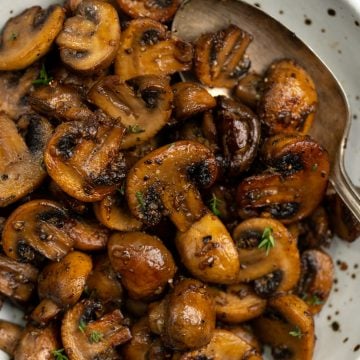 Sauteed Garlic butter Mushroom
Sliced mushrooms sauteed in butter, garlic, and herbs until it is caramelized. You can serve these as a side dish or filling for sandwiches.
Ingredients
500 grams Button mushroom
1 tablespoon Olive oil
2 tablespoon Butter
1 tablespoon Garlic, minced
⅓ cup White wine
1 teaspoon fresh thyme
Salt and pepper to taste
Instructions
With a damp kitchen towel/brush clean the mushrooms. Cut into half

Heat oil and 1 tablespoon of butter in a large skillet.

Add mushrooms to the skillet and quickly toss to coat the mushrooms with butter.

Spread mushrooms in a single layer and let it cook on medium heat undisturbed for 3-4 minutes.

Stir once and again cook it for another 4-5 minutes.

Make a little space in the middle and add another tablespoon of butter and minced garlic. Cook garlic for 30 seconds.

Add wine to the skillet and let it cook until almost reduced to less than half and no more smell of alcohol.

Add thyme, salt, and pepper. Mix everything well.
Nutrition
Serving: 1serving | Calories: 129kcal | Carbohydrates: 5g | Protein: 4g | Fat: 10g | Saturated Fat: 4g | Polyunsaturated Fat: 1g | Monounsaturated Fat: 4g | Trans Fat: 0.2g | Cholesterol: 15mg | Sodium: 53mg | Potassium: 424mg | Fiber: 1g | Sugar: 3g | Vitamin A: 199IU | Vitamin C: 4mg | Calcium: 13mg | Iron: 1mg