Roasted Garlic Mashed Potatoes
This post may include affiliate links that earn us a small commission.
A quick, easy, and fail-proof way to make the best potato mash. Roasted garlic mashed potatoes elevate everyday mash with roasted garlic flavor to a divine side dish to any meat.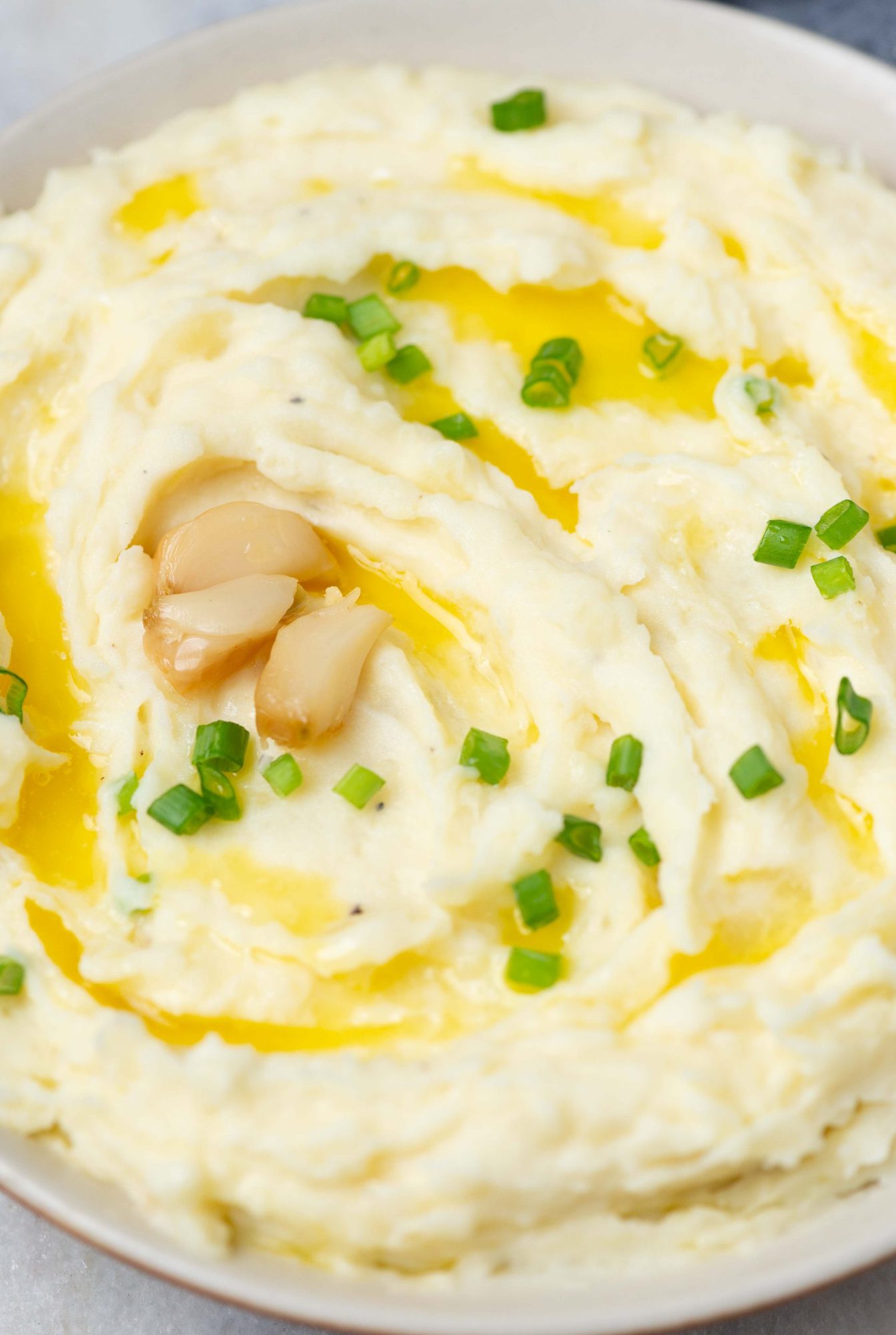 Creamy mashed potatoes are your quintessential English side dish to meat on the plate. They are made by mashing boiled potatoes with milk, butter, salt, and pepper. Making mash is easy to follow the tips and instructions in this recipe post, and you will have creamy, delicious mashed potato every time.
Flavours In Your Inbox
Subscribe for recipes straight to your inbox
It is also a very popular filling used in various dishes worldwide. It can be spiced, fried, or baked to make fillings of various tastes and textures.
Best way to mash potatoes
Potato ricer or masher or a food blender.
A hand mixer is better to get some texture, whereas a ricer or masher will get you uniform smooth consistency in the mash.
Ingredients
The lure of mashed potatoes is an easy dish that can be made with such few simple ingredients. Garlic mashed potato recipes need few ingredients since they are all about potatoes.
Potatoes – Russet or Yukon gold potatoes are most preferred.
Butter – provides flavor and fat.
Garlic cloves – is aromatic to give super flavor to mashed potatoes.
Half-and-half – half portion milk & cream to add creaminess to the dish.
Pepper – the heat balances the garlicky flavor and creaminess.
You will also need salt to generously add to the water before boiling.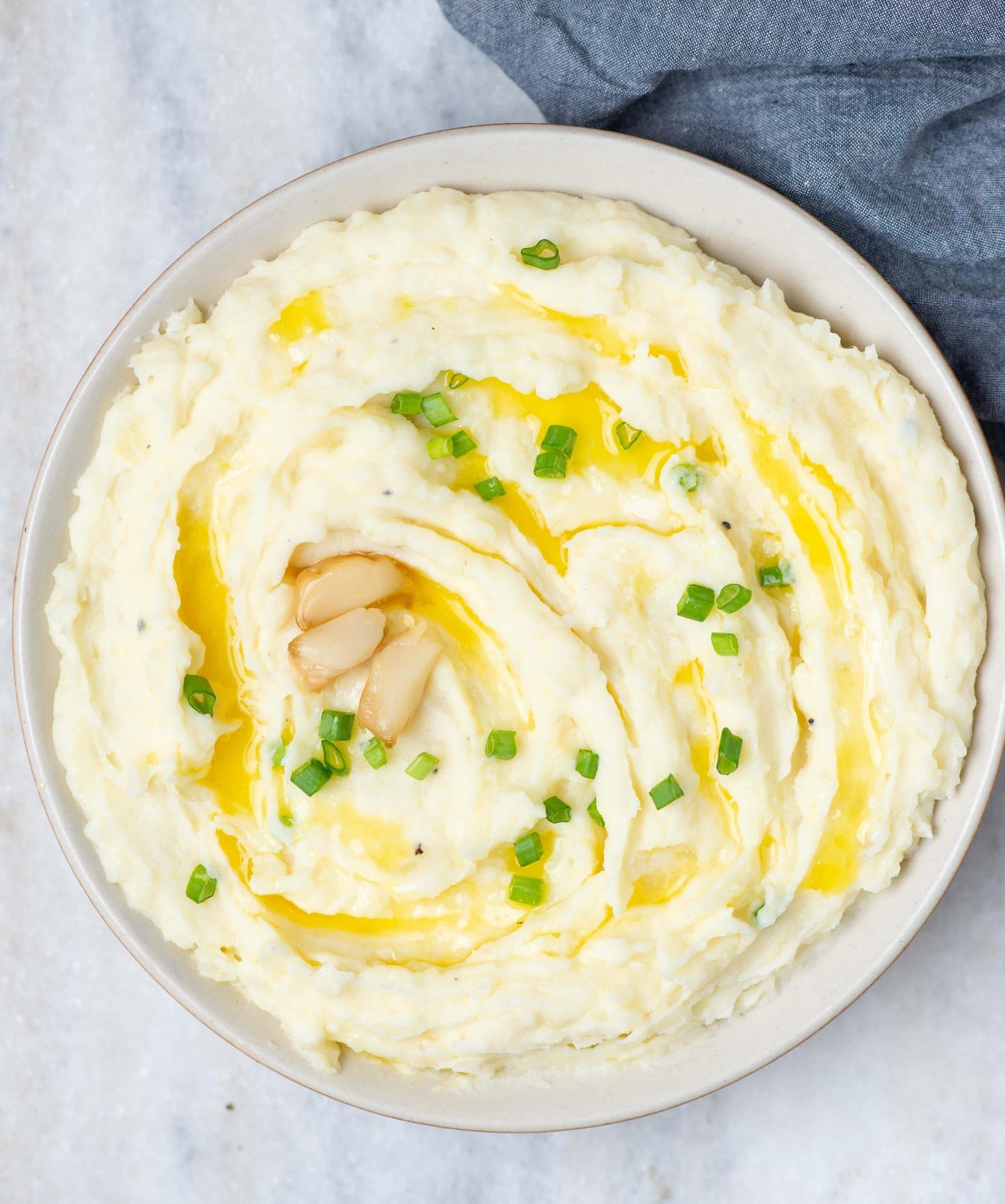 How to make
Trim the top part of the garlic, brush it with olive oil, wrap it in. foil, and cook in the oven.
Let it cool, squeeze out the roasted garlic cloves, and mash it with the back of a fork.
Salt cooking water in a saucepan/ Dutch oven and add potatoes.
Boil the potatoes and test them with a toothpick to determine if they are done. Drain the water.
Peel and cut potatoes to even sizes (cubes).
Use a blender to mix by adding half of the milk with butter, cream, and pepper.
Add the other half while blending it.
Tips
Add Half-and-half partially while mixing it gently. You can add more liquid if needed but cannot take it out if it becomes runny. You can do it in two parts at the most. Add half of the milk at the start and while you whisk it, add the rest.
If your mashed potato has become runny, refer to the FAQ section below.
Don't go light on the salt. Be generous while salting the cooking water. Do not be worried about excess salt. The leftover salt after the potatoes will not be used.
Start boiling the potatoes along with the water. Please do not add them to boiling water. Doing that will only cook the outside faster and leave it raw on the outside.
Make sure to warm the Half-and-half milk before adding it to the hot-boiled potatoes. Adding it cold will lower the overall temperature and not make it creamy when mixed.
Butter and sour cream need to be at room temperature. Since the potatoes are hot, adding room-temperature butter will melt them fast.
Drain the water well and get the drained potatoes back into the hot vessel to help evaporate any residual water. If water isn't drained well, it will end up in mushy and soupy potatoes.
Storing Garlic Mashed Potatoes
You can both refrigerate and freeze mashed potatoes. You can heat it in a microwave before consuming it.
In case of leftovers, you can make potato cakes. You can also mix it with meat and vegetables to make other dishes.
Frequently Asked Questions
How to fix runny mash or thickened mashed potato?
The simplest way to fix a runny mash is to strain the extra liquid. You may also heat it to dry the liquid or add more boiled potatoes that absorb the extra water or liquid.

Another way to thicken mashed potato is to add a thickening agent like corn starch which I do not prefer over the first method.
How to fix too much garlic?
Now that is a bit difficult because there is no shortcut here. Add more potatoes and increase the volume to compensate for the extra garlic.
What is the substitute for sour cream?
I have added sour cream to enhance the creamy texture and mashed potato taste. You can substitute this with Greek yogurt.
What if potatoes are over-boiled?
Overcooked potatoes with all the additional absorbed liquid become mushy and soupy. Place them on the heat for some time until the extra water dries up, and you get the desired consistency.
Can you steam potatoes instead of boiling them?
Steaming potatoes is another way to achieve the same result, but it needs more time. It also prevents potatoes from becoming mushy if left on long to absorb a lot of water.
What potatoes are right for a mash?
The best potatoes for a mash are the starchy ones. You can check out local stores to get a more starchy variety of potatoes that turn out light and fluffy and do not need too much mashing.
What is half-and-half?
Half-and-half as the name suggests, is half of the milk and the other half of the cream. This results in a thicker liquid than just whole milk and is perfect for giving some thickness to dishes like mashed potatoes while giving a creamy texture and richness like that of milk.
It is the middle ground between milk and cream. It is also used to make sauces, soups, and desserts and is often an excellent substitute for milk in many recipes.
More Side dishes recipe
Creamy Apple Slaw With Cranberries
Serve Garlic Mashed Potatoes with
Come dinners, like Thanksgiving, and you will need to pair your favorite meat dishes with mashed potatoes. Here are a few ideas for dinner meat dishes here –
Sweet and spicy boneless chicken thighs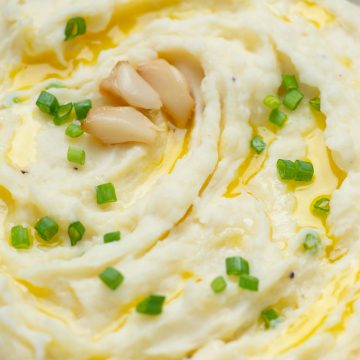 Roasted Garlic Mashed Potato
A quick, easy, and fail-proof way to make the best potato mash. Roasted garlic mashed potato elevates everyday mash with the flavor of roasted garlic to a divine side dish to any meat.
Ingredients
2 pound Potatoes
1 head Garlic
¾ cup half and half
¼ cup sour cream room temperature
4 tablespoon butter cubed and at room temperature
½ teaspoon pepper
salt to taste
Instructions
To make roasted Garlic
Trim the top ¼ inch off the top of the garlic bulb. Place cut-side up on a piece of foil. Drizzle with a teaspoon of olive oil and sprinkle with salt. Tightly wrap the garlic and bake in a pre-heated oven at 350°F for an hour.

Carefully open the foil ( best to let it rest for about 15 minutes before opening). Let it cool down completely.

Squeeze out the garlic flesh. Smash it with the back of a fork.

Roasted garlic can be made a couple of days ahead and refrigerated in an airtight container up to 3 days.
To make mashed potatoes
Clean and peel potatoes. Cut into quarters for quicker cooking or you can leave it whole. Wash in cold water.

Place potatoes in a large pot and fill with enough water to cover the potatoes. Add one heaping teaspoon of salt. Cook until forktender. The time of cooking will depend on how big the potatoes are. Drain and keep aside.

To the drained potatoes, add roasted garlic, sour cream, half of the half and half, butter, a teaspoon of salt and pepper.

Using a hand blender or hand mixer, mix everything until it looks smooth and fluffy.

Check if it needs more seasoning and add more salt. Fold in the rest of the half and half with a rubber spatula.

Serve hot, drizzled with more melted butter and chive/green onion.
Nutrition
Serving: 1serving | Calories: 132kcal | Carbohydrates: 3g | Protein: 1g | Fat: 13g | Saturated Fat: 8g | Polyunsaturated Fat: 1g | Monounsaturated Fat: 3g | Trans Fat: 1g | Cholesterol: 36mg | Sodium: 88mg | Potassium: 76mg | Fiber: 1g | Sugar: 1g | Vitamin A: 401IU | Vitamin C: 2mg | Calcium: 54mg | Iron: 1mg