Garlic Butter Chicken Thighs
This post may include affiliate links that earn us a small commission.
Juicy tender Boneless skinless chicken thighs in buttery garlic sauce are crazy delicious. The garlic butter sauce has no cream and no flour yet is so creamy. Make this easy dinner on the stovetop in just 30 minutes.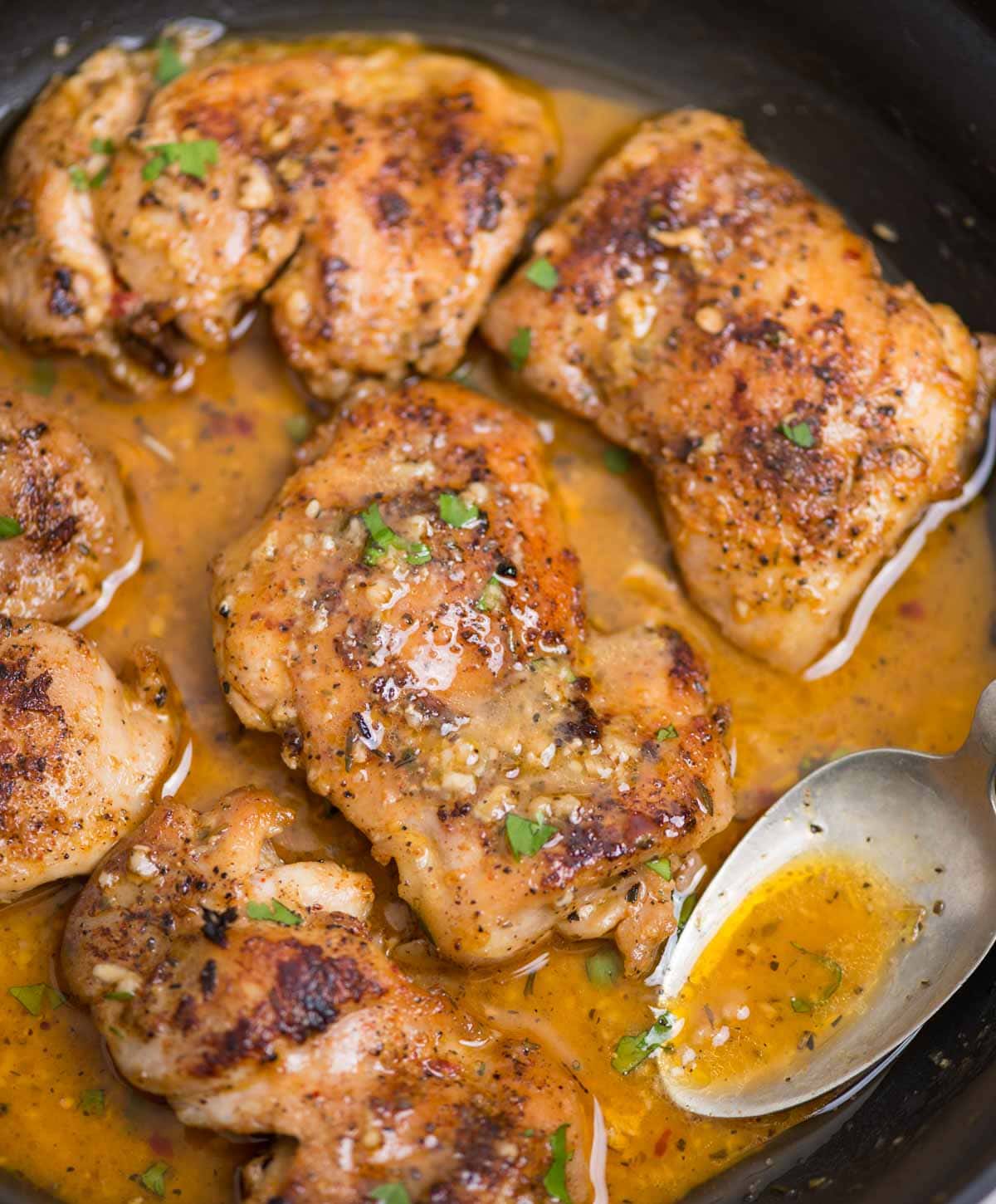 Garlic butter chicken has a delectable garlic butter sauce and is cooked on the stovetop in just 30 minutes. The garlic butter sauce is creamy, packed with flavor but is not loaded with cream or any other thickening. Read along to find the trick to make a creamy sauce without any cream.
Flavours In Your Inbox
Subscribe for recipes straight to your inbox
Boneless or bone-in, chicken thighs are always stress-free to cook with. It always turns out tender and juicy whether you bake it or cook it on the stovetop.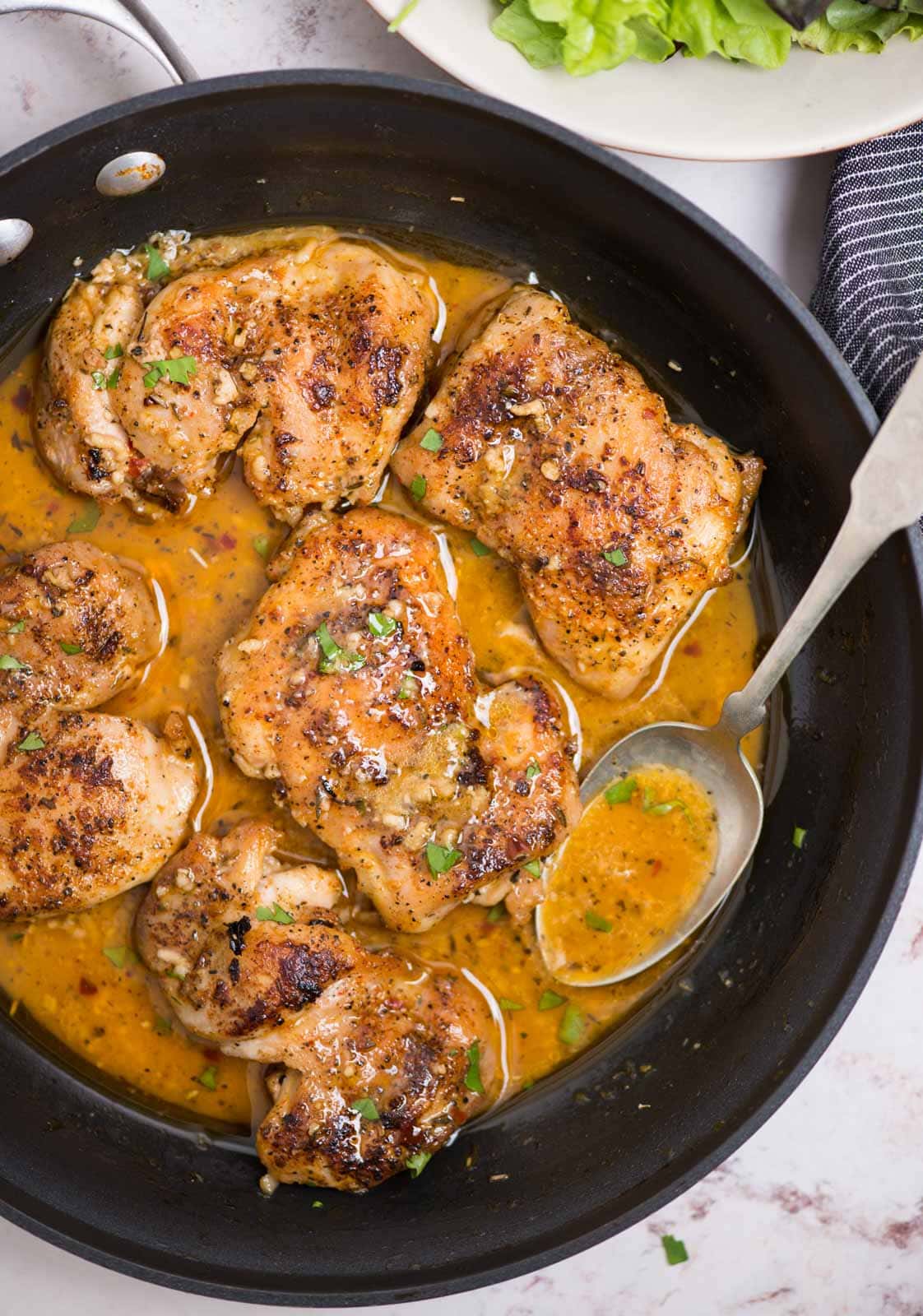 Ingredients
Skinless boneless chicken thighs – recommend boneless thighs as they cook quickly. Plus they are easy to cut and eat. Have to allow some more time for bone-in chicken to cook.
White wine – Adds a fruity flavor and enhances the aroma of the sauce
Chicken stock – Acts as a flavorful base for the sauce and gives it body.
Italian seasoning – Use any good brand of seasoning.
Garlic – The main flavor of the dish and which I love to use most often.
Oil & Butter – Butter is used to make the sauce creamy. Keep on adding till you get your desired consistency. Oil is used to sear the chicken thighs.
Lemon juice – The citrus flavour balances the dish.
Dry-rub chicken
The dry rub allows the chicken top to have a flavor and taste and improves the look.
Garlic powder
Paprika
Pepper
Salt
How to make
Season chicken with garlic powder, paprika, salt, and pepper. Sear on a hot skillet top side down for about 5 minutes undisturbed. When it is perfectly crisp and golden, it will leave the pan easily. Flip and cook for another 3-4 minutes.
How to sear the chicken thighs to get a crispy layer on top? The pan needs to be hot, for getting a perfect golden sear on the top. Once you place the boneless chicken on the pan, reduce the heat to medium.

Creamy Garlic Butter Sauce
Creamy but no cream in the sauce? YES!! The crispy chicken thighs soak up all the flavor from the garlic sauce.
While I love a creamy sauce, considering the calories, sometimes I like to skip it. But that doesn't mean a boring watery sauce. This sauce has a depth of flavor.
All the brown bits from roasting the chicken works as the base of the sauce. Then cook garlic until fragrant. Next, add the white wine, and wait for it to reduce to half. Then add the chicken stock.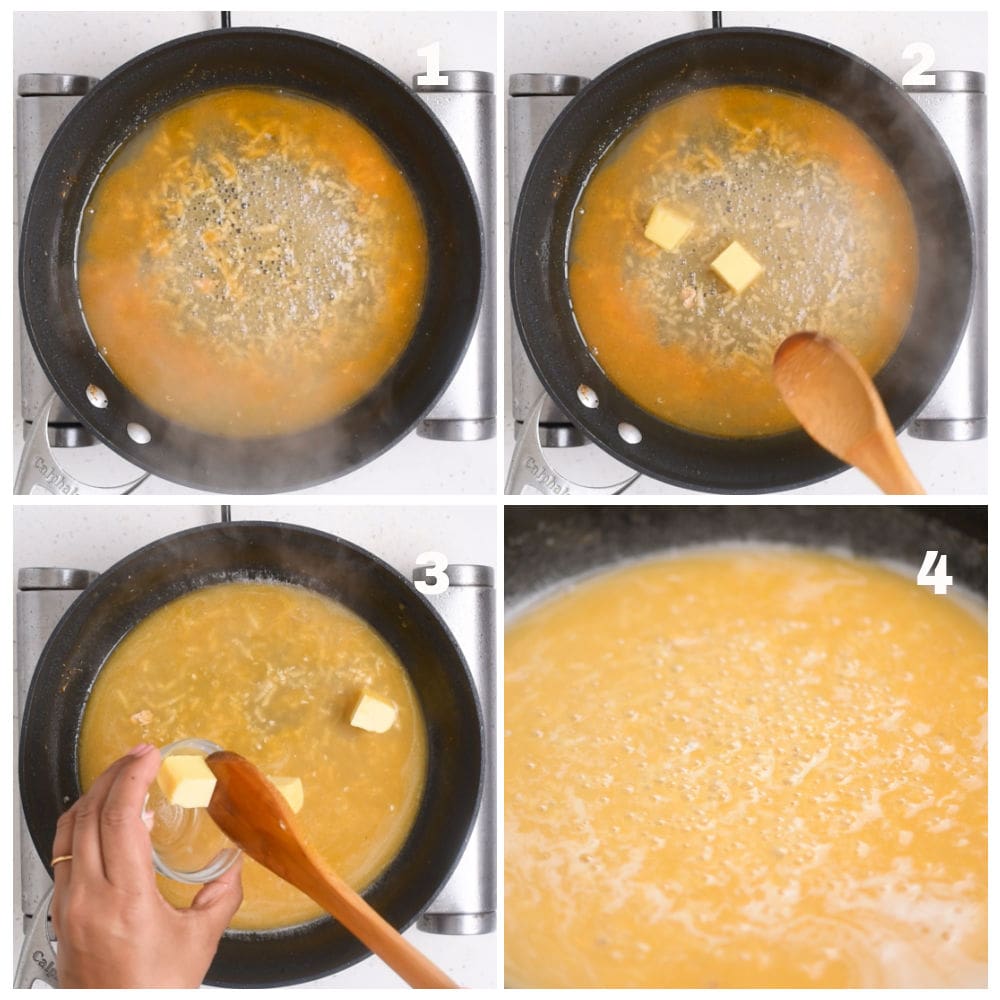 Now is the fun part, making the sauce creamy without any cream. The process is called emulsification.
Cold butter is slowly added to the hot stock and stirred continuously until all the butter has been incorporated. Then add more butter and keep stirring the sauce. The end result is a creamy buttery garlic sauce perfect for topping the crispy chicken thighs.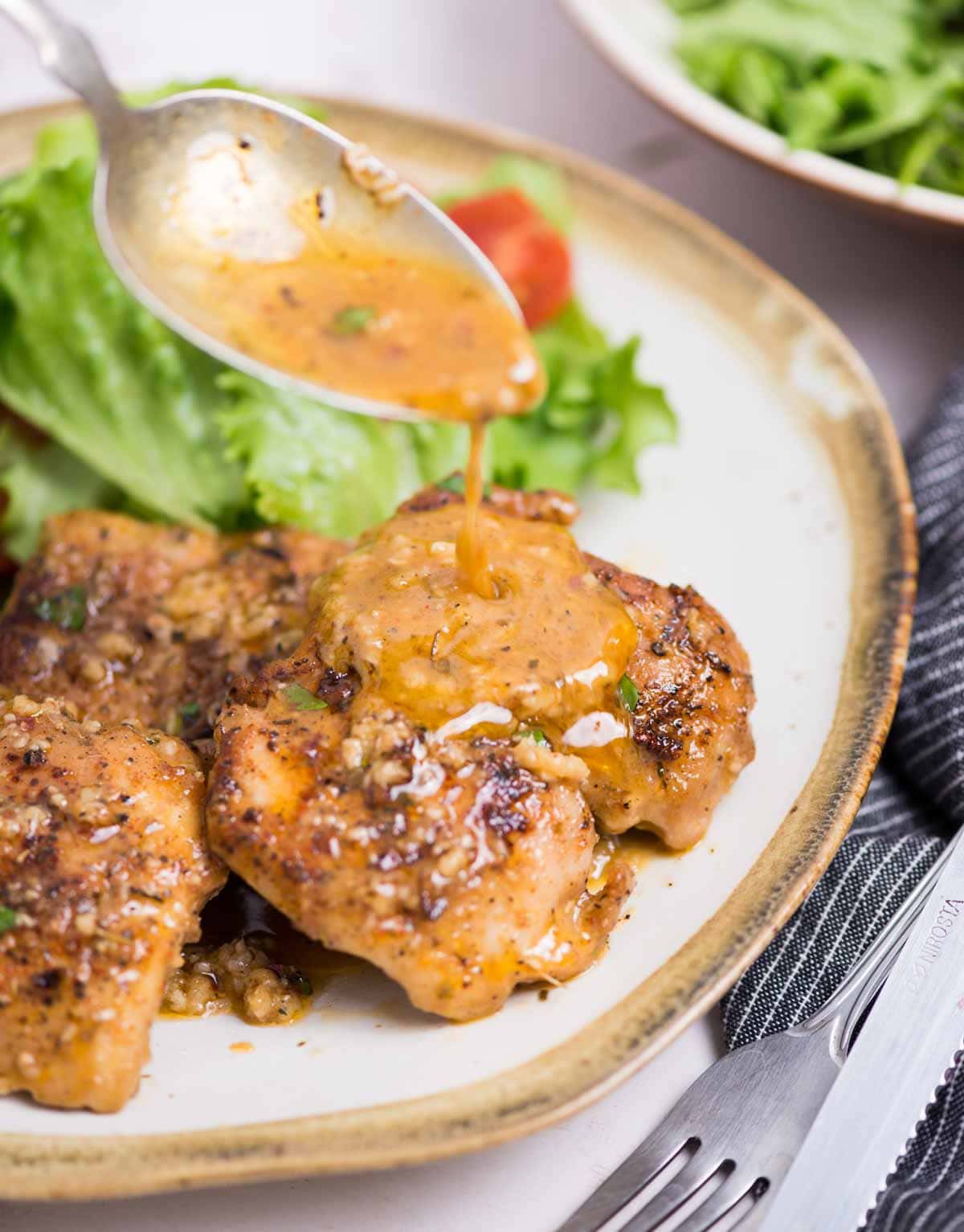 Serve with
Chicken thighs with a golden crispy crust paired with a creamy garlic pan juice is one of my go-to recipes.
Garlic butter chicken is really versatile, pairs well with white or brown rice, salads like Easy and Zesty Quinoa Salad, Roasted Potato Salad or Apple Salad, or some potatoes like this Roasted Garlic Mashed Potato, Maple Bacon Sweet Potato Hash.
Store
You can store this in an air-tight container or zip-lock bag for up to 4 days. You can freeze the sauce separately.
When refrigerated, heat it in the microwave or in a pan. Frozen sauces and the chicken needs to be thawed. You might have to add some chicken stock to get back the desired consistency if this appears a bit watery.
More Chicken Thigh Recipes…
Crispy Baked Chicken thighs in a creamy parmesan sauce
Sweet and Spicy boneless Chicken thighs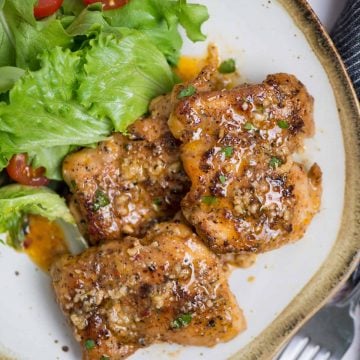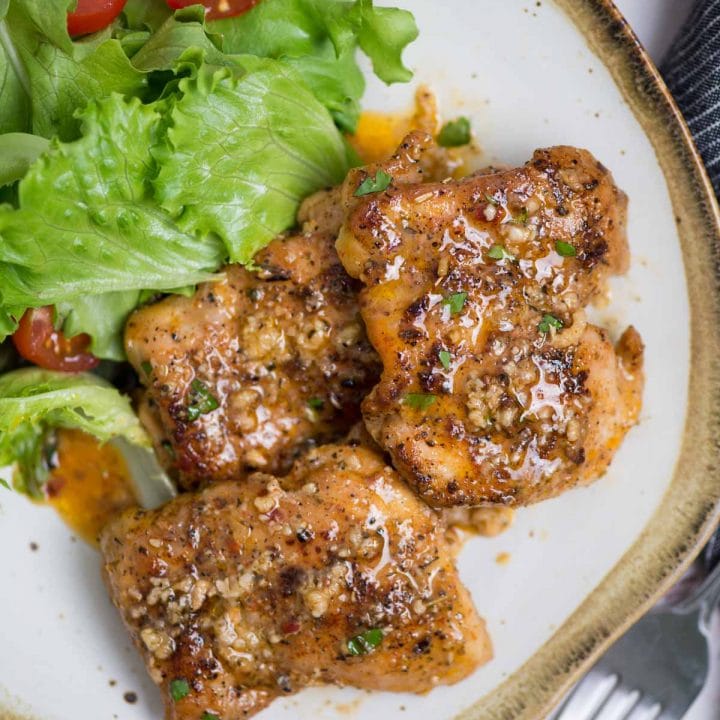 Stove top Garlic Butter Boneless Chicken Thighs
Crispy and Juicy boneless chicken thighs first seared until crispy then cooked in a creamy butter garlic sauce on the stove top in just 30 minutes.
Ingredients
6 boneless skinless chicken thighs
1 tablespoon Olive Oil
2 tablespoon Cold Butter (ref note 1)
¼ cup White Wine
½ cup Chicken Stock
1 teaspoon Italian Seasoning
½ tabelspoon Garlic minced
½ tablespoon fresh lemon Juice
Seasoning
½ teaspoon Garlic Powder
½ teaspoon Paprika
½ teaspoon Pepper
1 teaspoon Salt (or adjust as per taste) (ref note 2)
Instructions
Start with mixing all the seasoning ingredients.

Pat dry chicken with kitchen towel. Sprinkle seasoning on both sides.

Heat oil in a skillet. When hot, put chicken thighs top side down. Sear it got 5 minutes undisturbed until golden and crispy. Flip and cook for a further 2 minutes. Take out the chicken and keep aside covered ( To prevent it from drying).

In the same skillet to the remaining oil add minced garlic, cook until fragrant for about 20 seconds.

Stir in the wine and let it reduce to half. Then stir in chicken stock.

When stock comes to a boil, we will add cold cubes of butter in three parts. (ref note – 3)

Add one part butter to the stock, keep stirring until all the butter has been incorporated.

Add second part of butter, keep stirring until the butter fully melts into the sauce. Then add the 3rd and last portion of butter to the sauce. The sauce by now will be looking creamy.

Mix lemon juice and italian seasoning.

Add the seared chicken back to the pan along with any pan juice in the plate.

Let it simmer for another 4-5 minutes until the sauce reduces a little further and chicken thighs are cooked fully. (ref note -4)
Notes
Butter needs to be cold for the emulsification to take place. 
There is no salt in added to the sauce, as the seasoning has salt and the chicken stock used has salt. I recommend using low sodium stock. Check the seasoning after you add the seared chicken back to the pan and add more salt if required. 
 Don't add all the butter at once. Add butter in three stages only after the butter in the pan is fully incorporated. 
Cooking time depends on how big the chicken thighs are. If it is too big then increase the cooking time accordingly. 
Nutrition
Serving: 1serving | Calories: 412kcal | Carbohydrates: 3g | Protein: 45g | Fat: 22g | Saturated Fat: 8g | Trans Fat: 1g | Cholesterol: 236mg | Sodium: 1102mg | Potassium: 634mg | Fiber: 1g | Sugar: 1g | Vitamin A: 455IU | Vitamin C: 1mg | Calcium: 29mg | Iron: 2mg