Thai Chicken Coconut Soup (Tom Kha soup)
This post may include affiliate links that earn us a small commission.
Thai Coconut Soup, known as Tom Kha Kai or Tom Kha Gai, is a hearty, savory, and sweet soup. This famous tom kha soup is creamy and rich, has coconut milk as a base with chicken and mushrooms, and is more like a curry.
As flavourful as it is, this soup can be made in less than 30 minutes and is a convenient recipe for busy dinners.
Flavours In Your Inbox
Subscribe for recipes straight to your inbox
We love cooking Thai food at home and I have shared many such flavorful recipes – Thai Red Curry, Thai Shrimp Curry, Thai Grilled Chicken, Thai Cashew Chicken Stir Fry, and Thai Chicken Noodle Soup.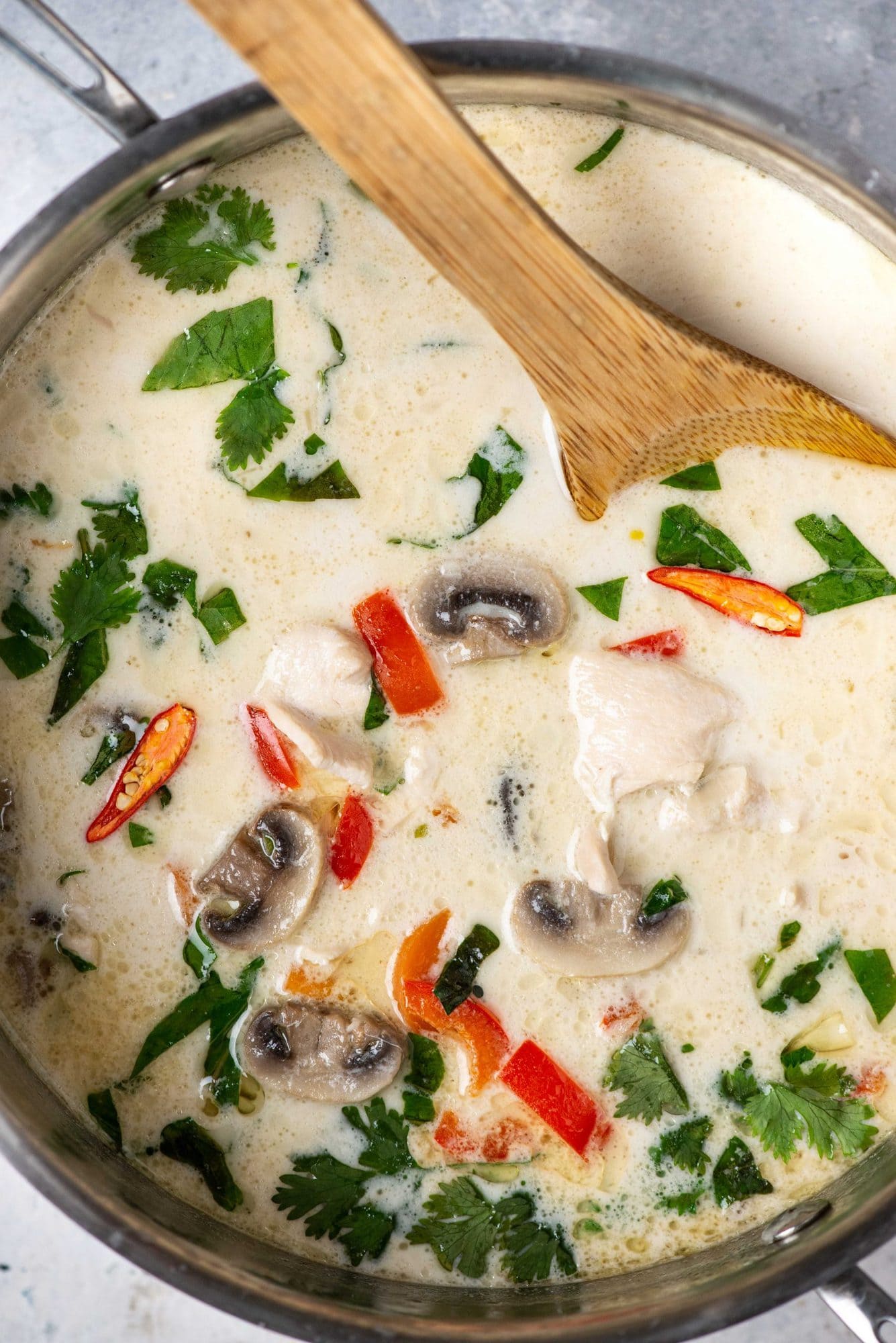 Tom Kha Kai/Gai or Chicken Galangal Soup
Tom Kha Kai/Gai also literally translates to Chicken galangal soup, which shows galangal (in many cases – ginger too) being the primary flavor driver along with coriander.
Traditional tom kha soup is made with chicken and mushrooms, galangal, lime leaves, lemongrass, coriander, Thai chili, fish sauce, and lime juice. I have not used lime leaves in this recipe since I couldn't get it locally at this time.
Kafir lime leaves provide an intense citrus fragrance to the dish, and they usually help in overcoming the pungent odor of seafood. I had lemongrass to make up for the citrus flavor in this recipe.
I was lucky to find galangal in a nearby world-style supermarket, and since I make Thai dishes frequently at home, especially soups, I was sure that I could finish the quantity that I bought. If you think finding galangal would be hard for you, check out the FAQ section below for Where to find galangal and its substitute.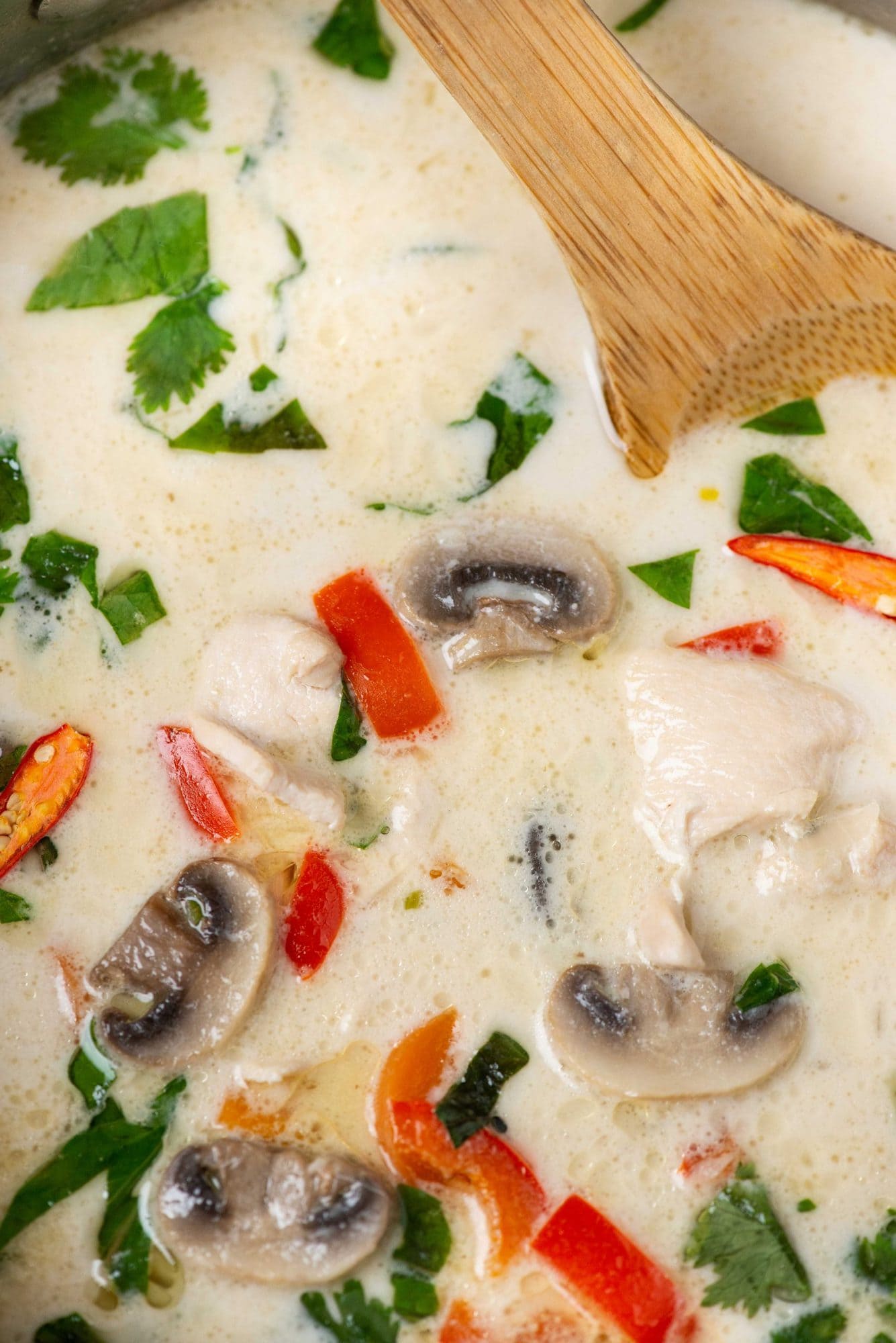 Ingredients
Below, you will find a detailed list of ingredients, what they do to the soup, and their substitutes.
Chicken Breast – Use breast here because one, we need boneless pieces to slice and second, it comes out perfectly tender while the soup boils for a few minutes just.
Mushroom – I have used button mushroom since it is widely available. You may use shitake or other varieties based on availability.
Coconut milk – builds the base of the soup.
Chicken stock – gives body to the soup along with coconut milk.
Galangal – or ginger here defines the flavour of the dish.
Lemongrass – for that citrous flavour.
Shallots – brings sharpness and a slightly sweet taste.
Minced garlic – a big fan of garlic which brings flavour to any Asian dish.
Bird-eye chili – gives heat and a fruity taste. Two should be spicy enough. If you would like to decrease the spice, just use one.
Red bell pepper – used for that fruity flavour and is excellent source of vitamins. The bright red color gives a nice color addition to many dishes.
Asian fish sauce – punches up the taste of many Asian soups and stews by giving a salty, savory and umami flavour.
Cilantro – Minced and added as an essential flavouring in Asian dishes. This is added a bit earlier to flavour the soup.
Sugar – Go for palm sugar if you have it. I have used brown sugar here. Sugar balances the spicy notes in this soup and is widely used in many Thai soups and dishes.
Lime juice – (optional) adds a sour component to balance the sweetness.
How to cook
Slice the chicken – Slice the boneless chicken and keep it aside to be added to the soup.
Heat oil and sauté the shallots, cilantro, chili and garlic.
Boil coconut milk, galangal, lemongrass and chicken stock with it.
Add rest of ingredients and cook for 7 minutes.
Switch off and add fish oil and mix. Garnish with basil.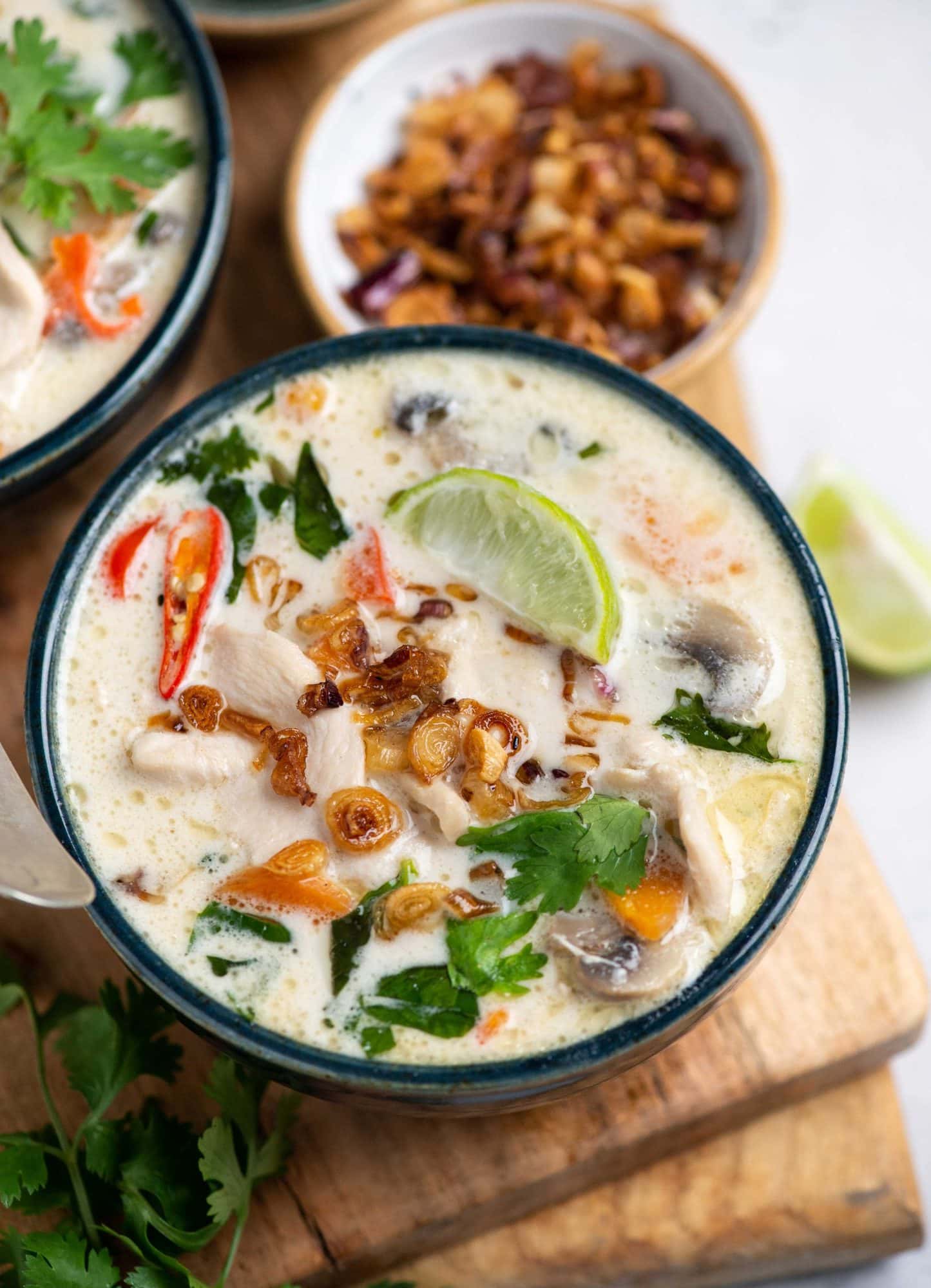 Tips
Wash your hands immediately after cutting chili and peppers
If you use chicken thighs, first add it and let it cook for 5 minutes and then add the veggies. Chicken thighs need to cook longer than breast.
When adding veggies, add them a bit later so as to not over cook them and they lose their shape.
While adding soft vegetables, add them towards the end just a couple of minutes earlier.
Fish sauce is salty enough and you may not need to add salt separately. Do a tasting towards the end and you are the best judge.
Prefer to use full-fat coconut milk to get that rich creamy texture like that of a gravy. If you are using low-fat milk then whisk it with 1 tablespoon of cornstarch. This will help thicken it up.
Serve with
Thai soup can be a light meal by itself as it has chicken, mushrooms, and veggies like carrots. It is often though served with some sides like Grilled Teriyaki Chicken or Chicken 65
Store
You cannot freeze Thai coconut chicken soup as it has coconut milk that might split. You can refrigerate it for up to 3 days.
Frequently Asked Questions
What does Tom Kha Kai mean?
In Thai, 'tom' means boil, 'kha' means galangal, and 'kai'/'gai' is chicken. So this translates to Chicken Galangal Soup.
Since coconut milk forms the base of this soup, this soup is also referred to as Thai coconut soup, or in this case, as it has chicken, it is Thai coconut chicken soup.
Difference between Tom Yum and Tom Kha Kai?
These are the two most popular Thai soups that you will often come across, and it is essential to understand the difference between them. Both differ in their flavor profile and ingredients, and taste.
 
Tom yum is a clear hot and sour soup, whereas Tom Kha is a creamy and curry-like soup. Both use galangal, kaffir lime leaves, and lemongrass and use chicken or vegetable stock, but this is where the similarities end.
 
Tom means boiling-process and is usually referred to as soup or broth. Yum means mixed and denotes the sweet, sour, and spicy notes, which highlight many Thai soups. Its sour profile comes from tamarind paste, and this differentiates it from Tom Kha dishes.
 
Tom yum is usually made with shrimp and is named tom yum goong. It is one of the most popular Thai dishes in the world.
 
Tom Kha Kai/Gai has coconut milk, and this is where it gets its creamy sweetness. Coconut milk also gives tom kha soup a murky white color. The primary ingredient used for flavor in this is galangal, and it's in the name (Kha).

For a detailed description of other Thai soups, refer to this article on the Thai Michelin guide.
Where can I find Galangal?
You may not find galangal in every grocery store. It may be available in Asian stores, health-food stores, or stores having world-market grocery items.
What can we substitute Galangal?
Ginger is an acceptable substitute if you cannot find galangal. Ginger has a similar taste profile as that of galangal though it is slightly less hot and sweeter. In many Thai recipes, ginger is often substituted in place because galangal isn't widely available.
Is Thai coconut chicken soup healthy for you?
Not only is Tom kha gai flavorful, but it is healthy in the proper proportions. It is rich in protein and fiber with chicken stock and slices, mushrooms, and veggies like carrots.
 
Mushrooms are a rich source of fiber, proteins, and anti-oxidants.
 
Thai coconut chicken soup has many calories and fats that come from coconut milk, so having it with other high-carb food might not be too good. It is essential to moderate portions if you are calorie-conscious.
 
Coconut milk is lactose-free, an excellent substitute for milk, and a good source of healthy fats. It is a good choice for people with lactose intolerance.
What are the variations of Thai coconut soup?
You can make a vegetarian version of Thai coconut soup by simply substituting chicken stock with vegetable stock and skipping chicken.
 
This recipe already has mushrooms and carrots, so it becomes a vegetarian coconut soup. Feel free to add green beans, zucchini, or other color peppers.
 
You can also make a shrimp version of this. Just replace chicken with shrimp, and it will be the same creamy texture with shrimp in it, and this is called tom kha goong.
More Asian Recipes
Chicken Meatballs with Asian sauce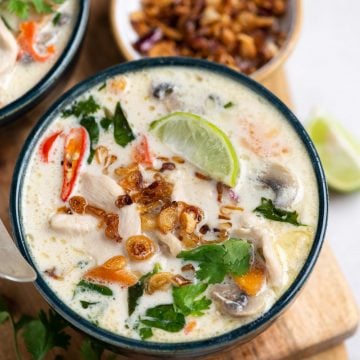 Thai Coconut Soup ( Tom Kha )
Thai Coconut Soup, known as Tom Kha Kai or Tom Kha Gai, is a hearty, savory and sweet soup. This famous tom kha soup is creamy and rich, has coconut milk as a base with chicken and mushrooms, and is more like a curry.
Ingredients
250 grams Boneless Chicken Breast
1 tablespoon Oil
¼ cup Shallots
½ tablespoon Garlic minced
2 tablespoon Cilantro/Coriander root minced
2 Bird-eye Chilli slit lengthwise (optional)
1 inch Galangal Sliced
2 stems Lemongrass only the white part
1.5 cup Chicken Stock
400 ml Coconut Milk
200 grams Button Mushroom sliced
1 Carrot sliced round
1 medium Red Bell Pepper cut
1.5 tablespoon Brown Sugar
2-3 tablespoon Fish Oil
Instructions
Cut boneless chicken breast to thin slices against the grain (Check video on how to cut).

In a soup pot or dutch oven heat oil.

Add finely chopped shallots, minced garlic, birds eye chilli if using and minced cilantro stems. Saute for a minute until aromatic.

Add galangal and lemongrass. Add stock, coconut milk. Let it come to a single boil.

Then add sliced carrot, mushroom, bell pepper and chicken. Season it with salt and brown sugar.

Cover and let it cook on low heat for 6-7 minutes.

Switch off the flame. Add fish sauce and fresh basil.

Serve with a garnish of fried shallot, lemon wedges and fresh cilantro.
Nutrition
Serving: 1serving | Calories: 239kcal | Carbohydrates: 12g | Protein: 13g | Fat: 16g | Saturated Fat: 13g | Polyunsaturated Fat: 1g | Monounsaturated Fat: 1g | Trans Fat: 1g | Cholesterol: 28mg | Sodium: 155mg | Potassium: 590mg | Fiber: 1g | Sugar: 7g | Vitamin A: 2346IU | Vitamin C: 31mg | Calcium: 29mg | Iron: 3mg