Healthy Ground Beef Vegetable Skillet Recipe
This post may include affiliate links that earn us a small commission.
Ground beef, vegetables and Mexican spices tossed in a skillet is a healthy ground beef recipe that is easy to throw together.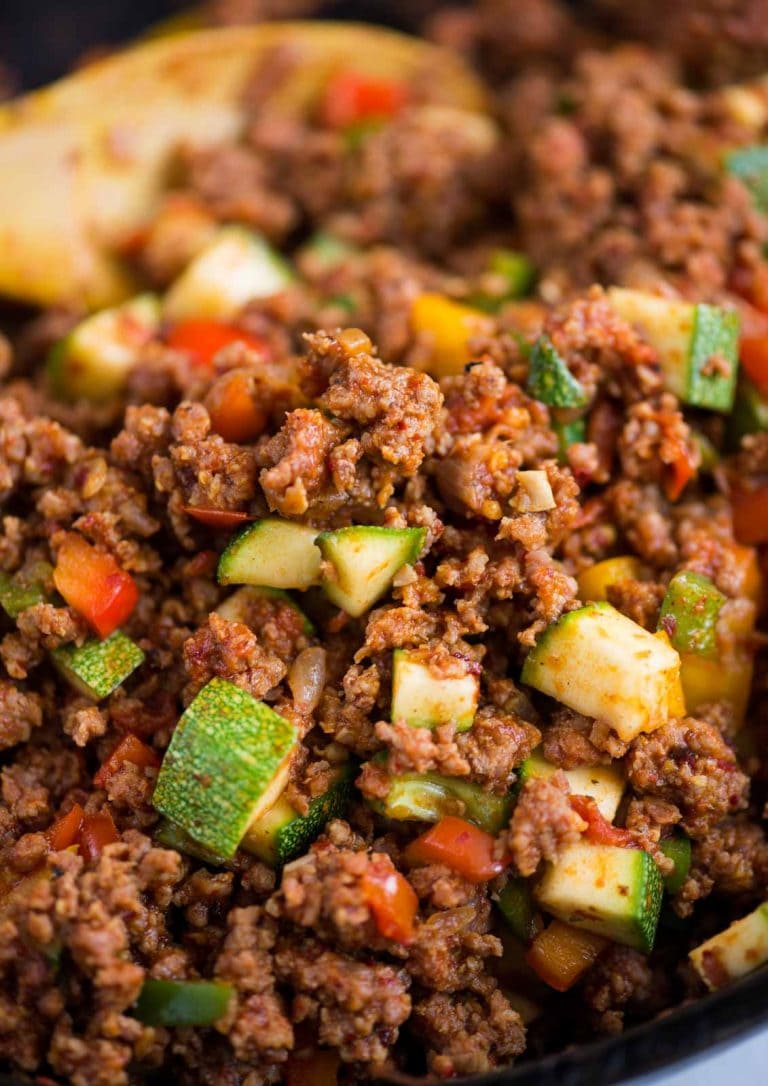 Healthy Ground beef, vegetables loaded with Mexican flavors, made in one skillet under 30 minutes. It is a quick dinner, low carb, and extremely versatile.
Anything Mexican is always a hit at home. Even my little one eats without any tantrum. So I always sneek in veggies into the dish. I end up making this healthy ground beef recipe every time I clean up my refrigerator and want to use leftover veggies.
Flavours In Your Inbox
Subscribe for recipes straight to your inbox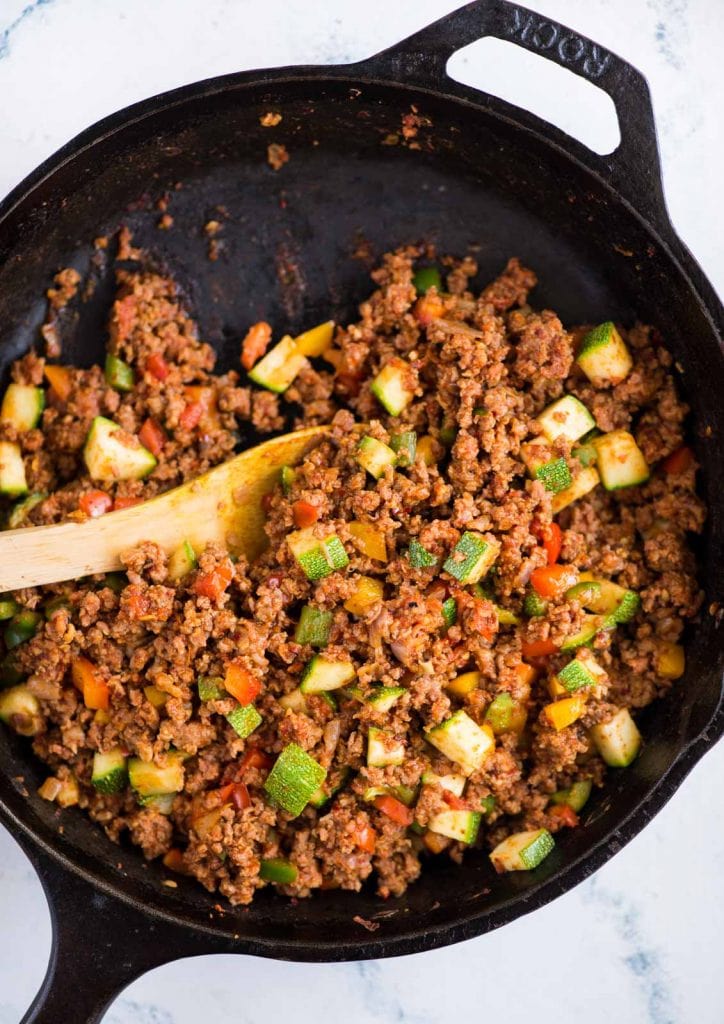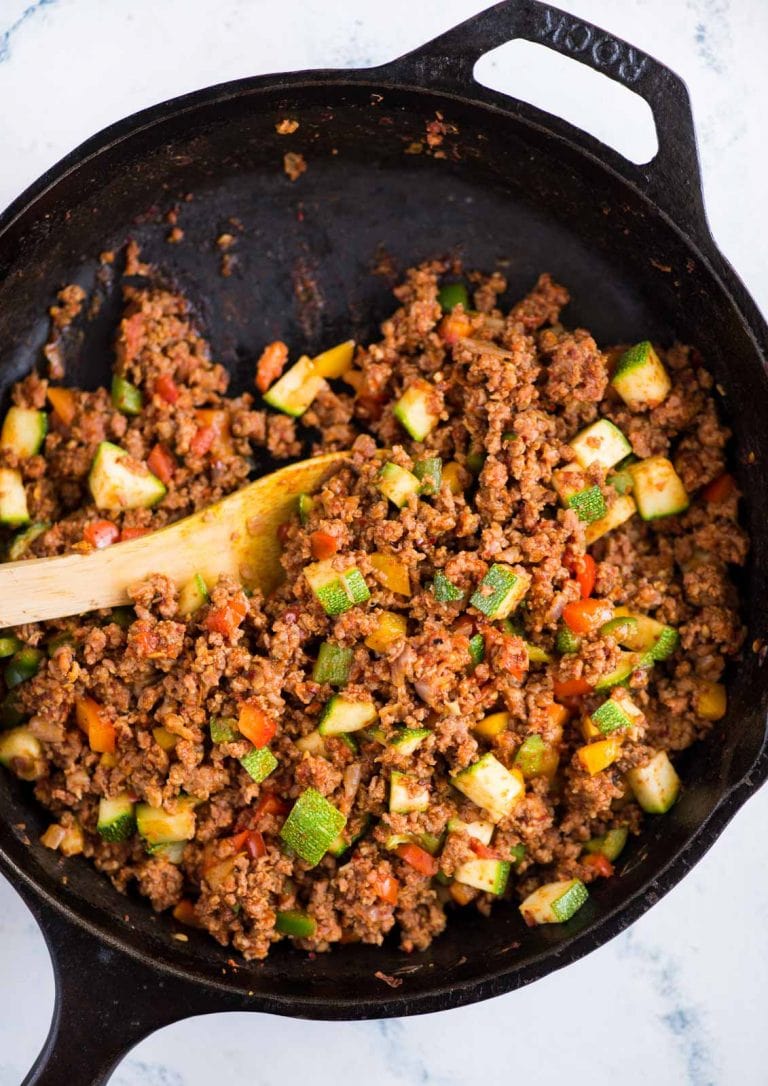 Ingredients for Easy and Quick Ground Beef Skillet
The list of ingredients is not limited to what I have used in this recipe. You can swap or add in what ever you have in hand.
Ground beef: Lean ground beef has a lower fat percentage and considered to be healthy. You can swap ground beef with ground turkey or ground chicken if that's what is available to you.
Veggies: I have added Tomatoes, Bell peppers, and zucchini. I am kind of partial for colored bell peppers, it makes a dish vibrant and appealing. Along with veggies, you can also add corn, beans to it, if you are not on a low carb/keto diet. Veggies and bean not only increase the nutritional value, but it also makes the dish filling.
Seasoning: To keep it simple and easy, I have used Taco seasoning. I am sure most of us keep Taco seasoning handy. If not you can make your own Mexican seasoning blend and use. To maximize the flavour there is onion and garlic as well.
Toppings: I love Cilantro in Mexican dishes. It ads freshness to the dish. Other favorite toppings would be sour cream, cheese, avocado etc.
Steps to make Mexican Ground beef Recipe
Step 1 & 2: Brown the meat and then add onion, garlic, and taco seasoning. Sauté until it is aromatic. Then add tomato and cook until the meat is cooked through.


Step 3: The last step is to add veggies. Cook for 2 minutes. We are not going to cook the veggies all the way through. Peppers and zucchini need to be just tender yet crispy. Just look how colorful and vibrant it looks.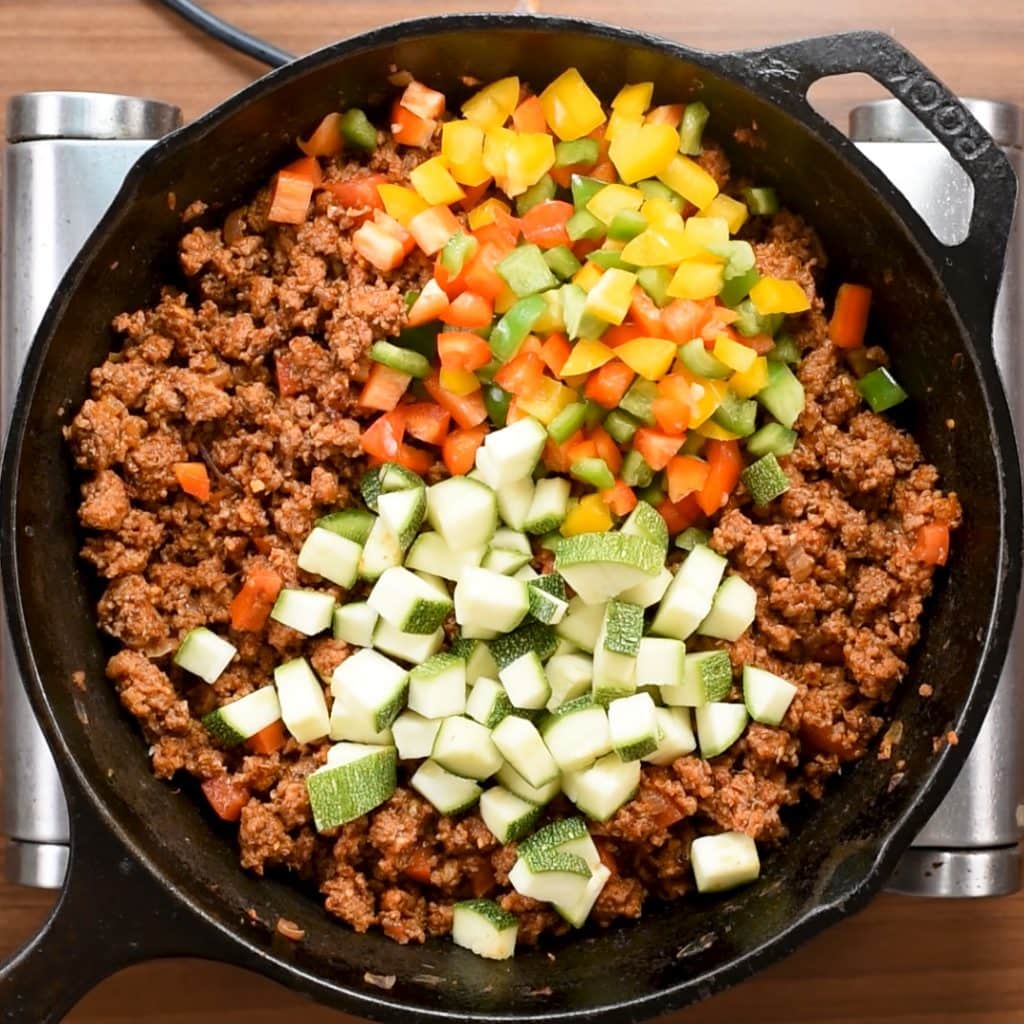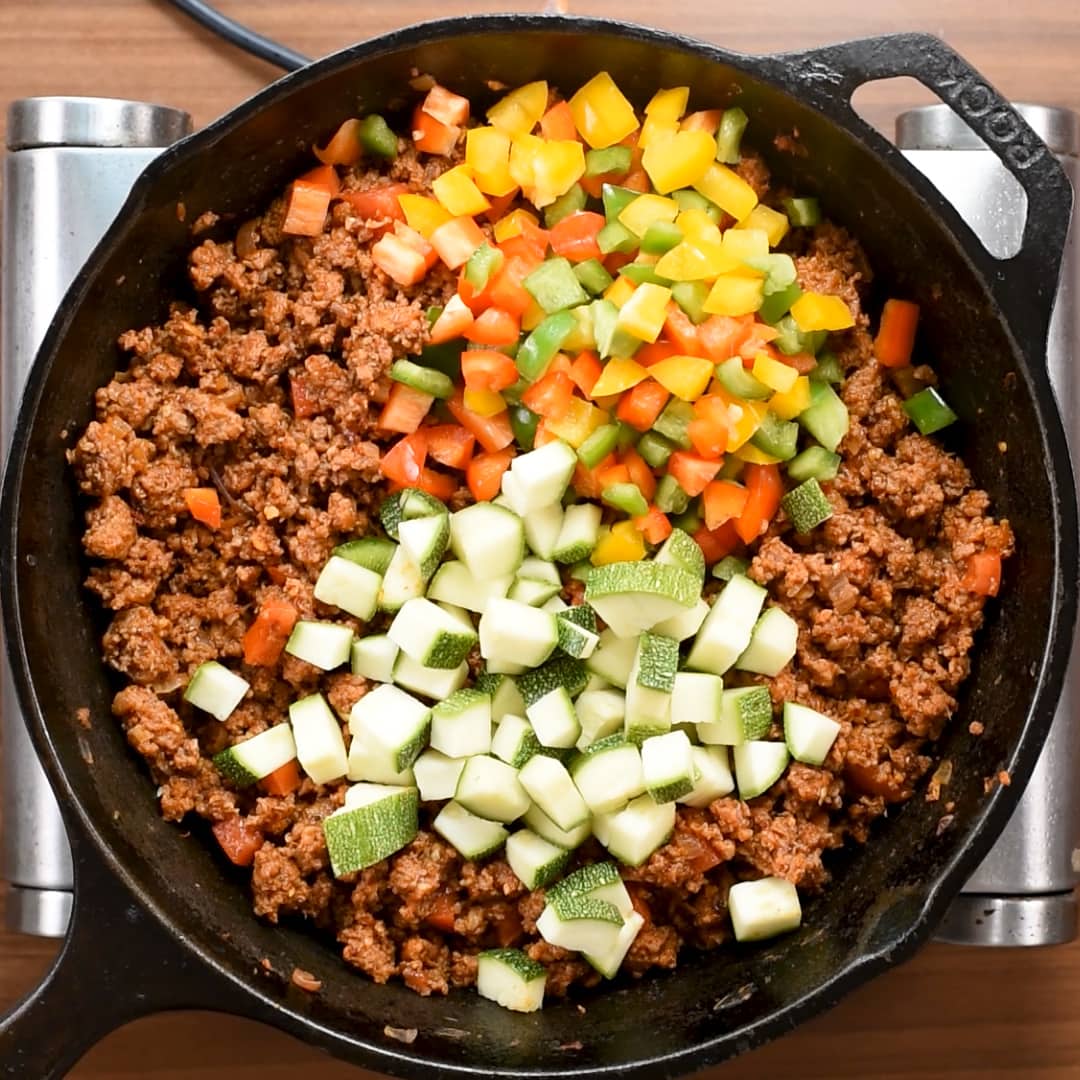 Step 4: Mix the veggies with the beef well and serve it in a bowl with a dollop of sour cream on top. Sour cream adds another dimension when had with the beef.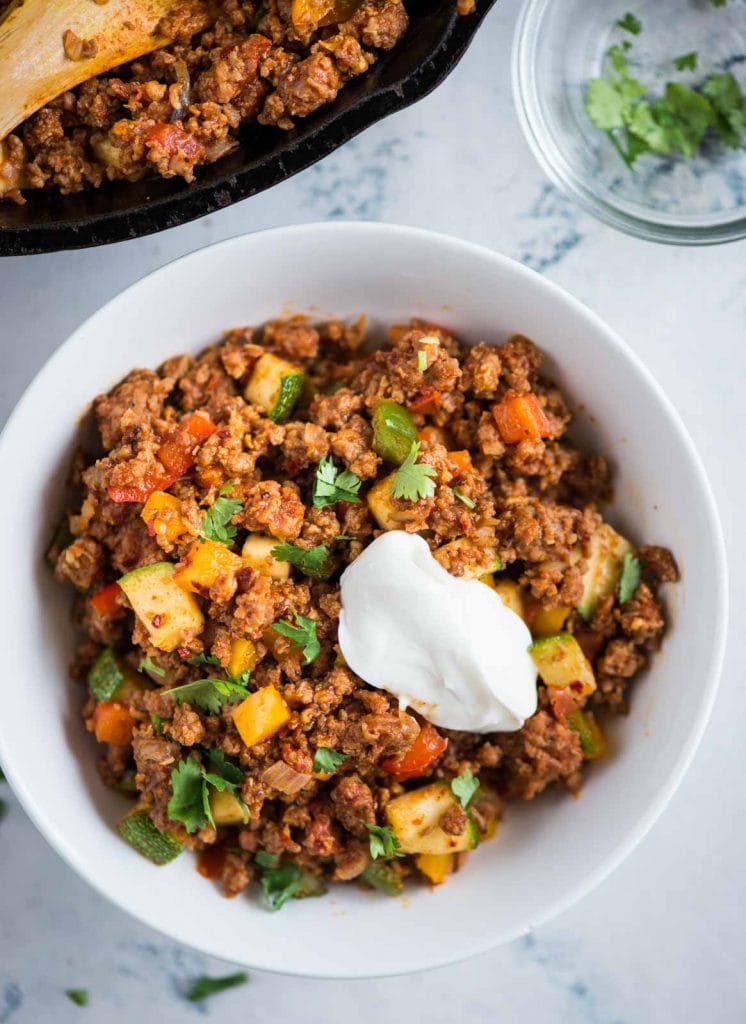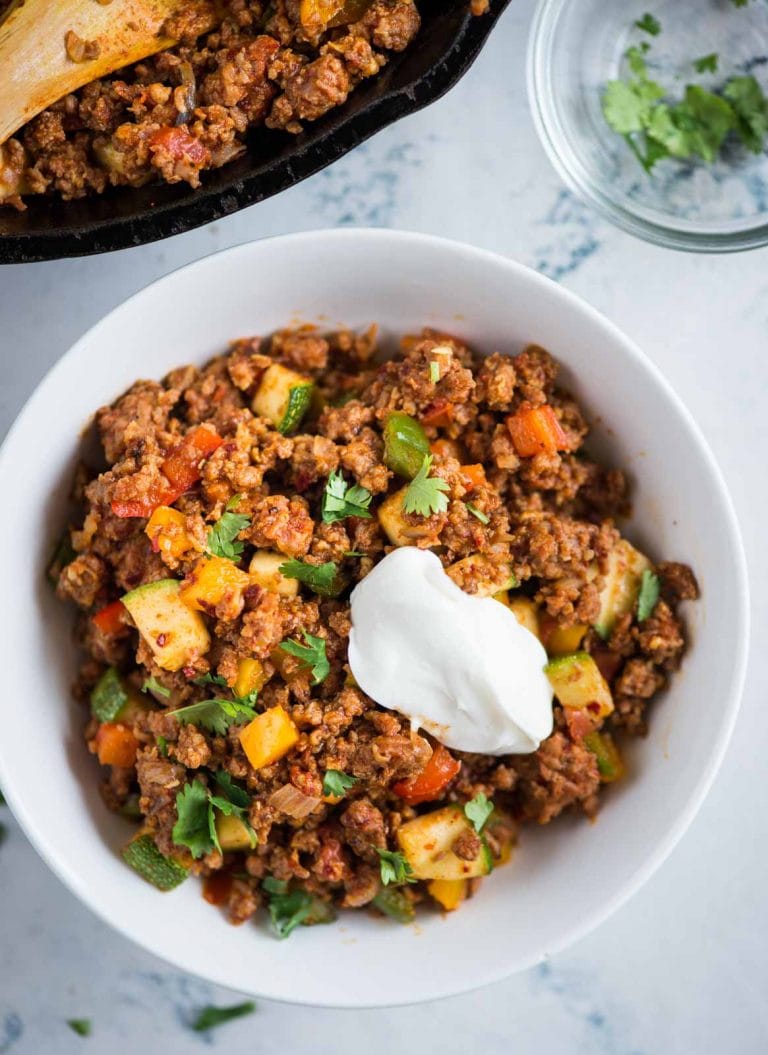 More Healthy Mexican Dinner Recipes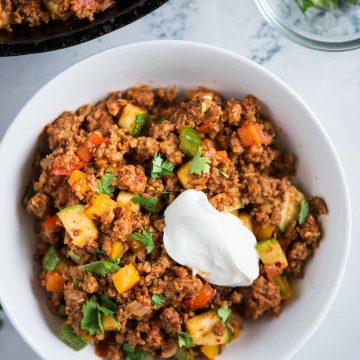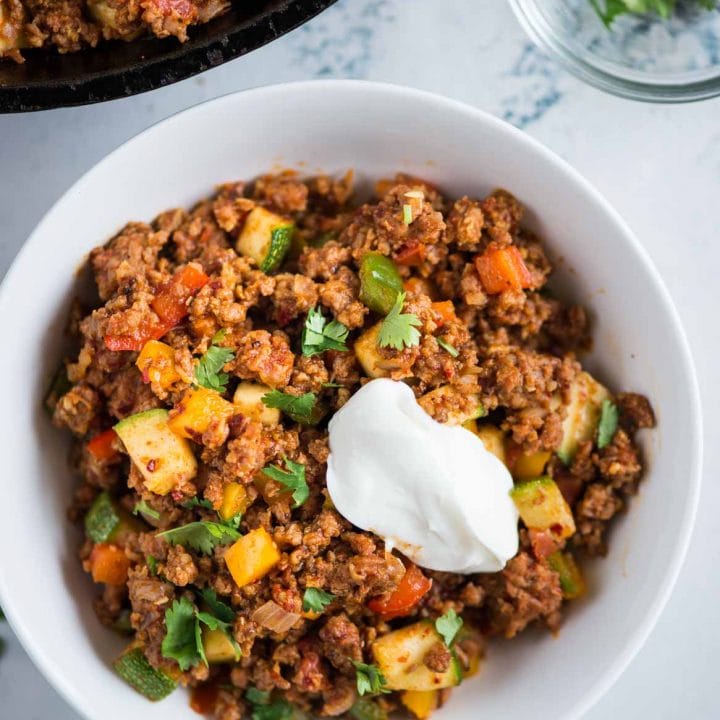 Healthy Ground beef vegetable Skillet
Ground beef, vegetables and Mexican spices tossed in a skillet is a healthy ground beef recipe that is easy to throw together.
Ingredients
500 grams lean ground beef
1 medium Onion Chopped
1 tablespoon minced garlic
2.5 tablespoon Taco seasoning
1 large tomato chopped
1 cup chopped bell pepper (red, green and yellow)
1 cup Zucchini
Fresh cilantro for garnishing
Instructions
Heat a heavy cast-iron skillet. Add minced beef to the skillet and cook, stirring occasionally until cooked through (5 minutes).

Add chopped onion, garlic and taco seasoning. Saute for a minute until the onion has softened.

Add chopped tomato. Continue to cook on low heat until beef is fully cooked and liquid slightly reduced (7 to 10 minutes).

Towards the end of cooking, add chopped peppers and zucchini. Mix well and cook for 2 minutes. Don't cook the veggies all the way through, it should still have a crunch to it.

Serve with fresh cilantro and favourite topping.
Nutrition
Serving: 1serving | Calories: 210kcal | Carbohydrates: 8g | Protein: 28g | Fat: 7g | Saturated Fat: 3g | Polyunsaturated Fat: 1g | Monounsaturated Fat: 3g | Trans Fat: 1g | Cholesterol: 78mg | Sodium: 216mg | Potassium: 740mg | Fiber: 2g | Sugar: 5g | Vitamin A: 1754IU | Vitamin C: 62mg | Calcium: 30mg | Iron: 4mg