Apple Cinnamon Baked Oatmeal
This post may include affiliate links that earn us a small commission.
Easy baked Oatmeal recipe made with crunchy apples, the flavor of cinnamon and topped with raisins. A quick breakfast dish that is sweet and healthy.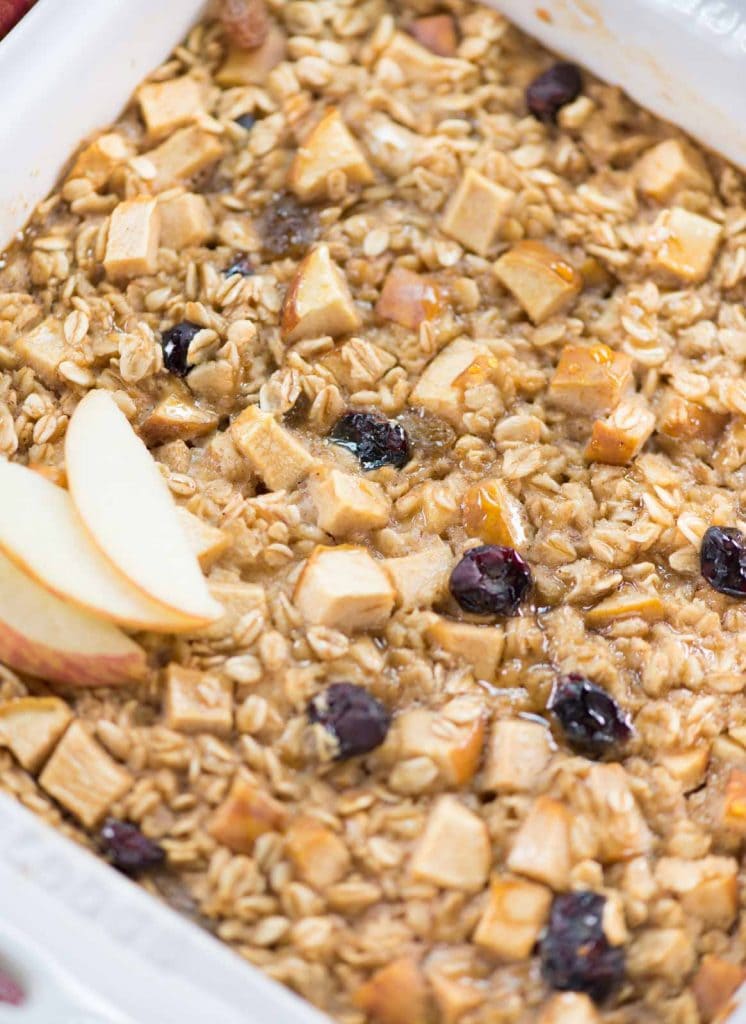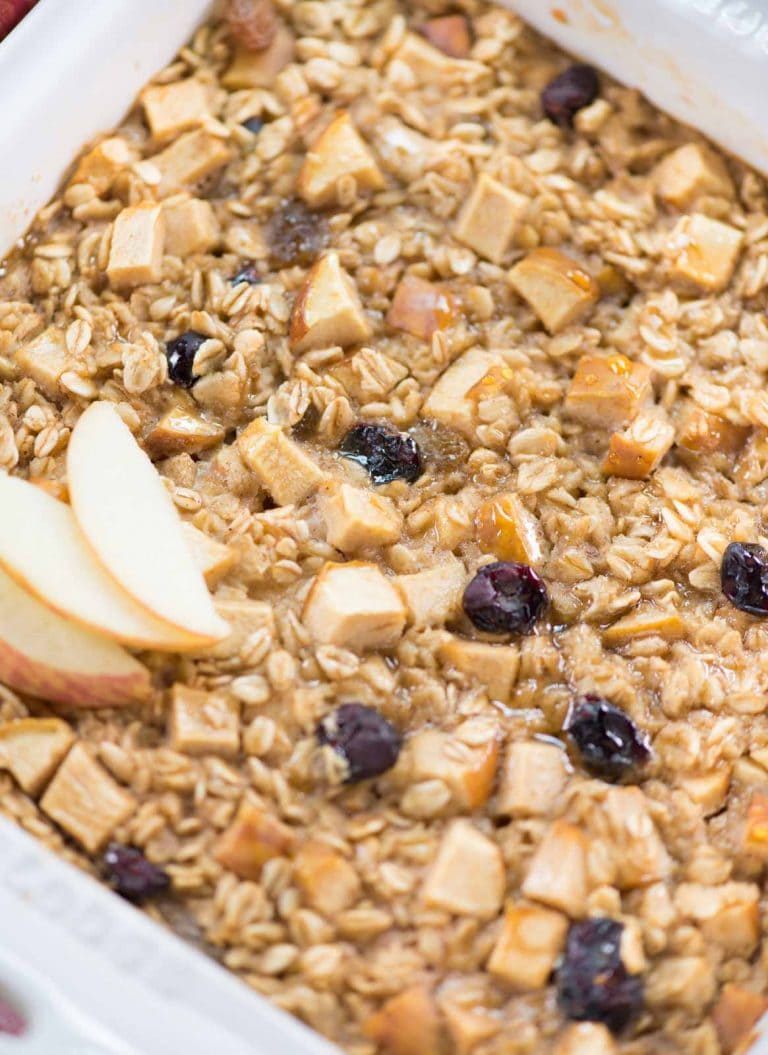 This baked oatmeal recipe is a warm and comforting breakfast. With warm flavor of cinnamon, nutmeg with crunch chunks of apples on a layer of baked and chewy oatmeal. You can make it overnight and bake next morning. You can also make this vegan.
Flavours In Your Inbox
Subscribe for recipes straight to your inbox
Like all oatmeal recipes, there is the freedom to add a variety of ingredients and you can churn oatmeal dishes without being repetitive. And also this is a one-bowl recipe.
Oatmeal being one of the most preferred choices for breakfast, I keep trying different variations to keep it interesting. You would find quite a few recipes on the blog as well that we love like these Breakfast cookies or Blueberry banana Granola bar for busy days.
I like apples and a big reason being they are widely available and can be used in various ways. My daughter loves Apple fritters while we like Cranberry Apple slaw. Apple (be it of any varieties) goes really well in baked oatmeal.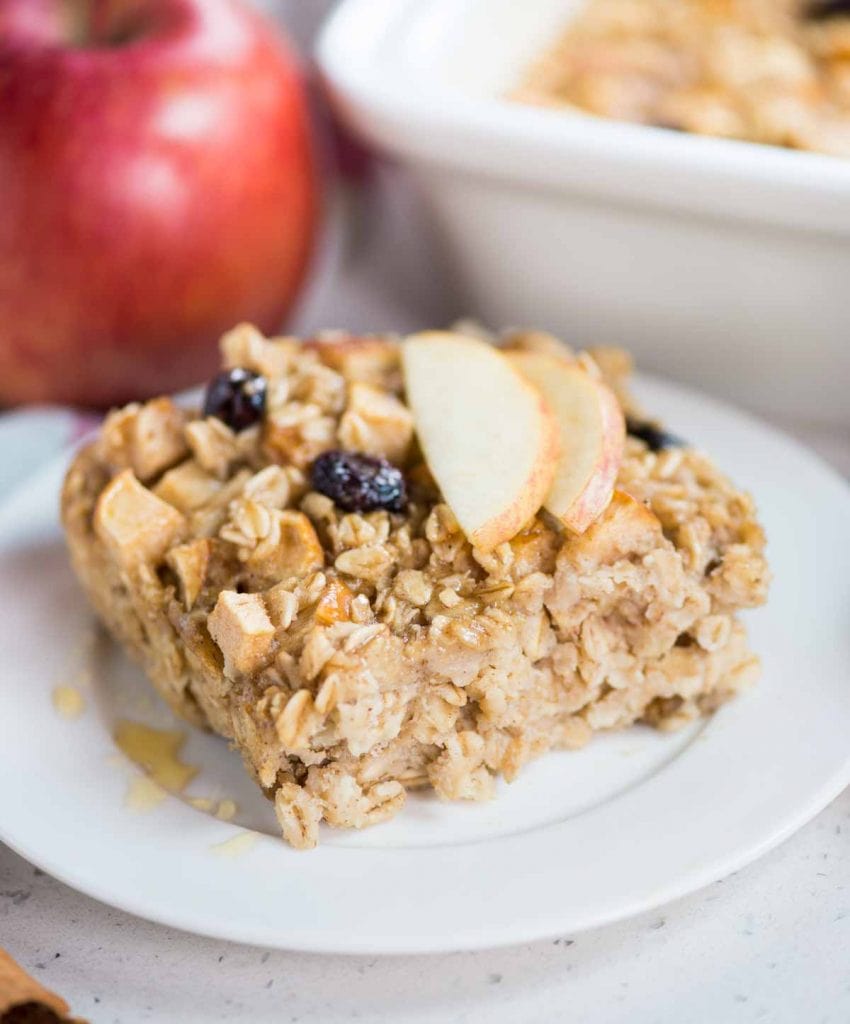 Ingredients & Substitutes For Baked Oatmeal
Apples – Easy to source it from a nearby orchard or market. There are a wide variety of apples available at this time of the year. I have used ____ in this recipe.
Milk of your choice– Used Almond milk but you can choose other types of milk too.
Cinnamon – This is the defining flavor I have gone for this dish because Apple and Cinnamon pairs so well.
Nutmeg – For the spice element
Baking Powder – A teaspoon of it to bind the mix for baking.
Cranberry – You can also go for raisins here. Nuts like walnut, pecan, or almond are also a great addition.
Egg – Used as a binding agent for baking as well as it provides texture and flavor.
Maple Syrup – You can also use honey instead of Maple syrup.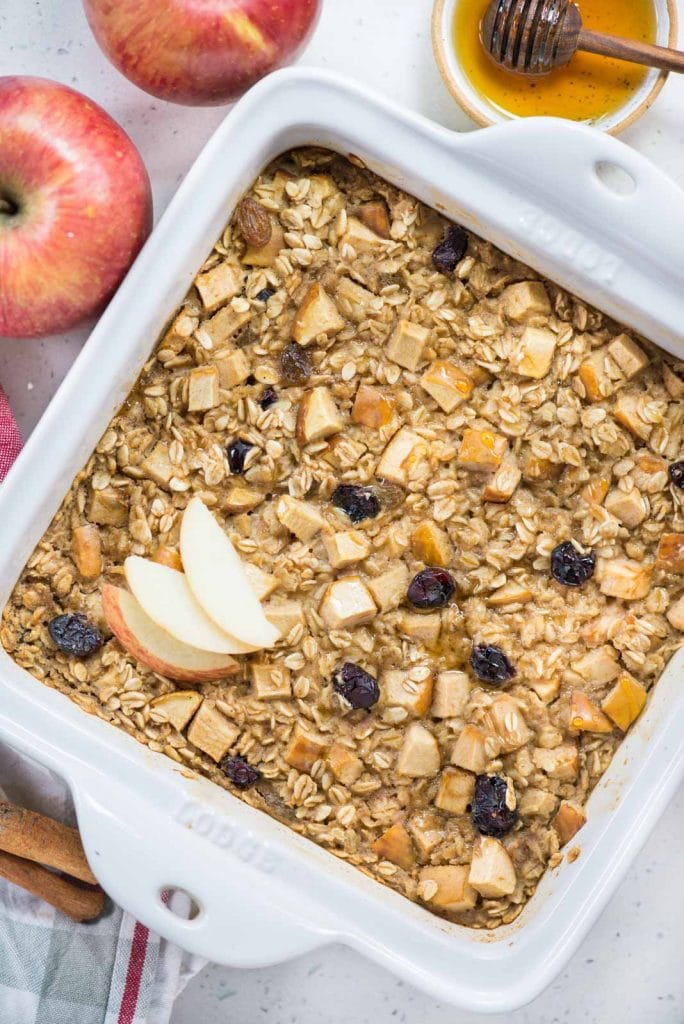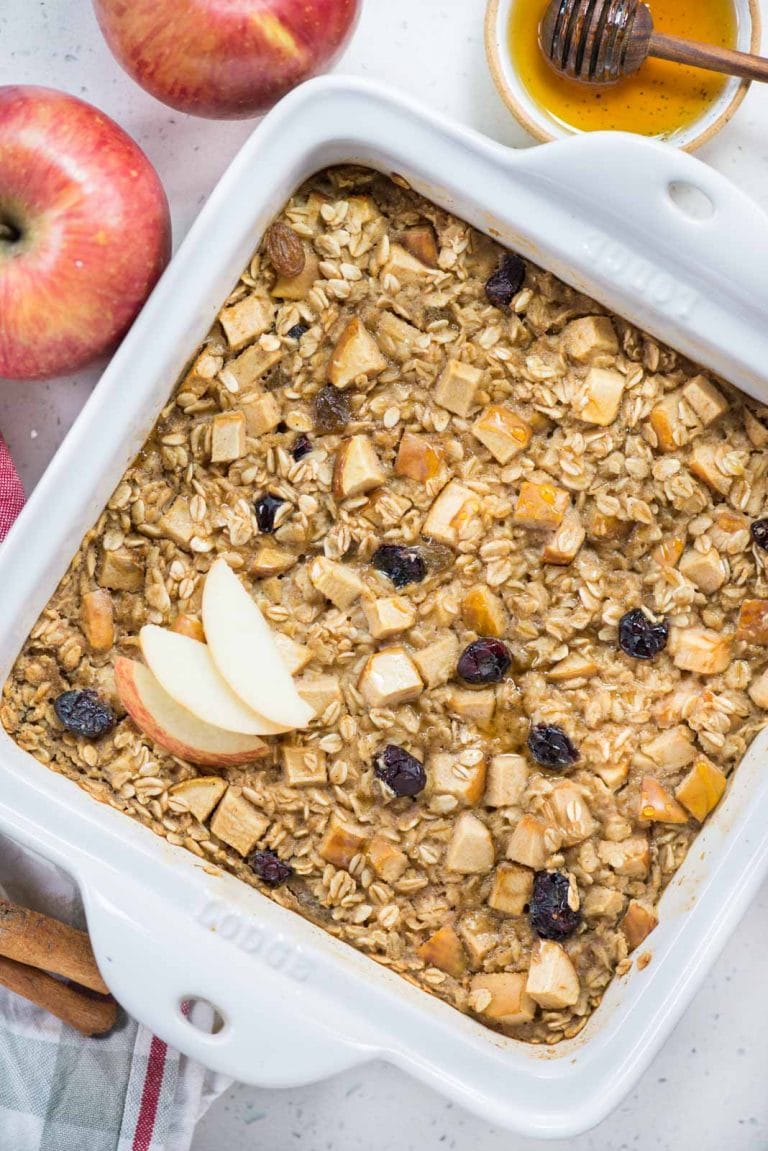 Steps to make Baked Oatmeal with Apple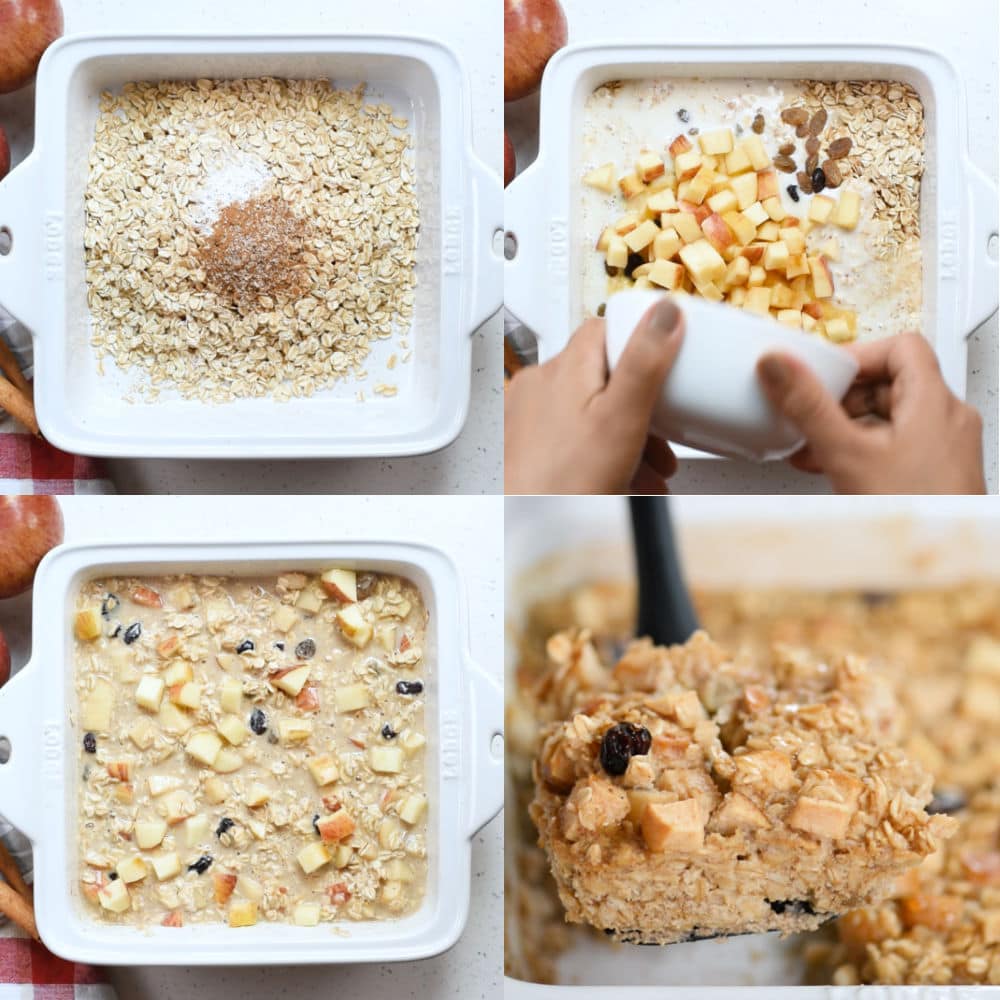 Storing lefovers
I had made a batch that did not finish during breakfast on the first day. Had stored it in the refrigerator for a couple of days and it was gleefully finished the second time.
Put the remaining oatmeal in an air-tight container and you can safely refrigerate it for 4 days. It will taste the same the second time.
This can also be frozen for months and this also reheats well so you can have it either hot or cold. After removing it from the freezer, allow it to defrost outside for around 24 hours. You can reheat it again the same way by covering it with a foil until it is hot.
More Oatmeal Recipes For Breakfast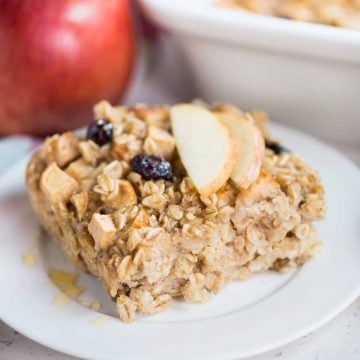 Baked Oatmeal with apple
Warm and comforting baked Oatmeal has chunks of apple, cranberries, raisin, milk, and flavoured with cinnamon, nutmeg.
Ingredients
1.5 cup rolled oats
½ teaspoon Baking Powder
1.5 teaspoon cinnamon powder
¼ teaspoon nutmeg
1 big pinch of salt
1 large egg beaten
2 cups almond milk (or any other milk of your choice)
⅓ cup maple syrup
1 teaspoon vanilla extract
½ cup raisin
2 Apple chopped
Instructions
Pre-heat oven to 350°F (177°C).

In an 8X8 inch baking pan, mix all dry ingredients rolled oats, baking powder, cinnamon powder, nutmeg, and salt.

Add almond milk, maple syrup, vanilla extract, beaten egg, cranberry, and chopped apple to the dry ingredients. Mix everything really well. Scarp the edges to release any dry bits.

Bake for 40-45 minutes or until the center appears set.

Let it rest for 5 minutes and then serve with more maple syrup or almond milk.
Nutrition
Serving: 1g | Calories: 245kcal | Carbohydrates: 49g | Protein: 6g | Fat: 4g | Saturated Fat: 1g | Cholesterol: 31mg | Sodium: 128mg | Potassium: 348mg | Fiber: 6g | Sugar: 18g | Vitamin A: 78IU | Vitamin C: 3mg | Calcium: 165mg | Iron: 2mg