This post may include affiliate links that earn us a small commission.
Slow Cooker Lamb Stew with tender fall apart lamb chunks and hearty vegetables have a rustic flavourful thick broth. This rich Lamb Stew recipe is surely going to keep you warm in the winter.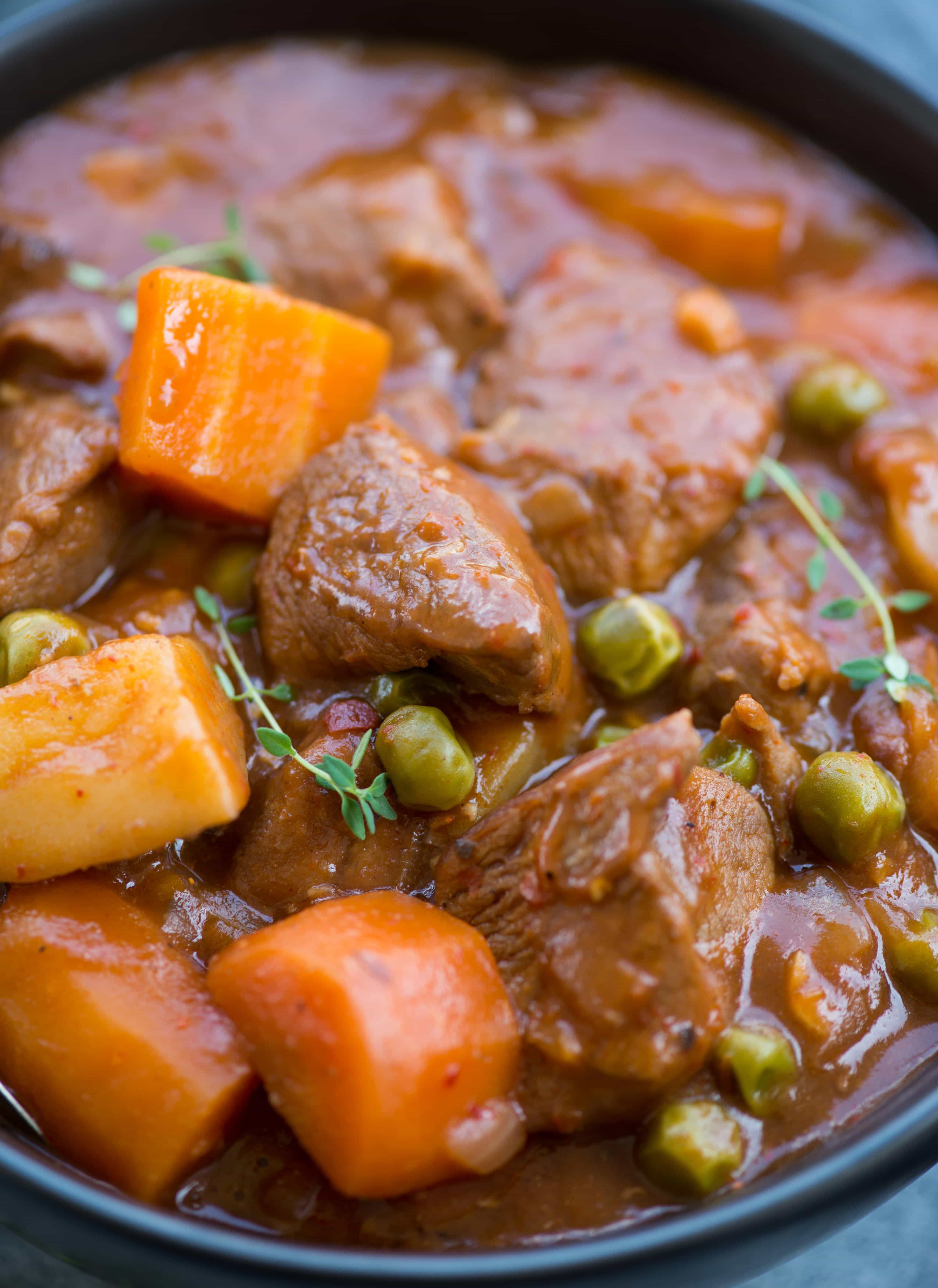 A warm comforting bowl of stew is a winter staple. While Beef Stew is the ultimate stew for the winter, this Lamb Stew is equally delicious. Lamb and vegetables are cooked in the slow cooker until really tender and Juicy.
Flavours In Your Inbox
Subscribe for recipes straight to your inbox
Lamb is cooked in a flavourful broth along with herbs, cinnamon, and bay leaf. I am having a big bowl of this Lamb Stew right now while writing the post. It is so much comforting and satisfying.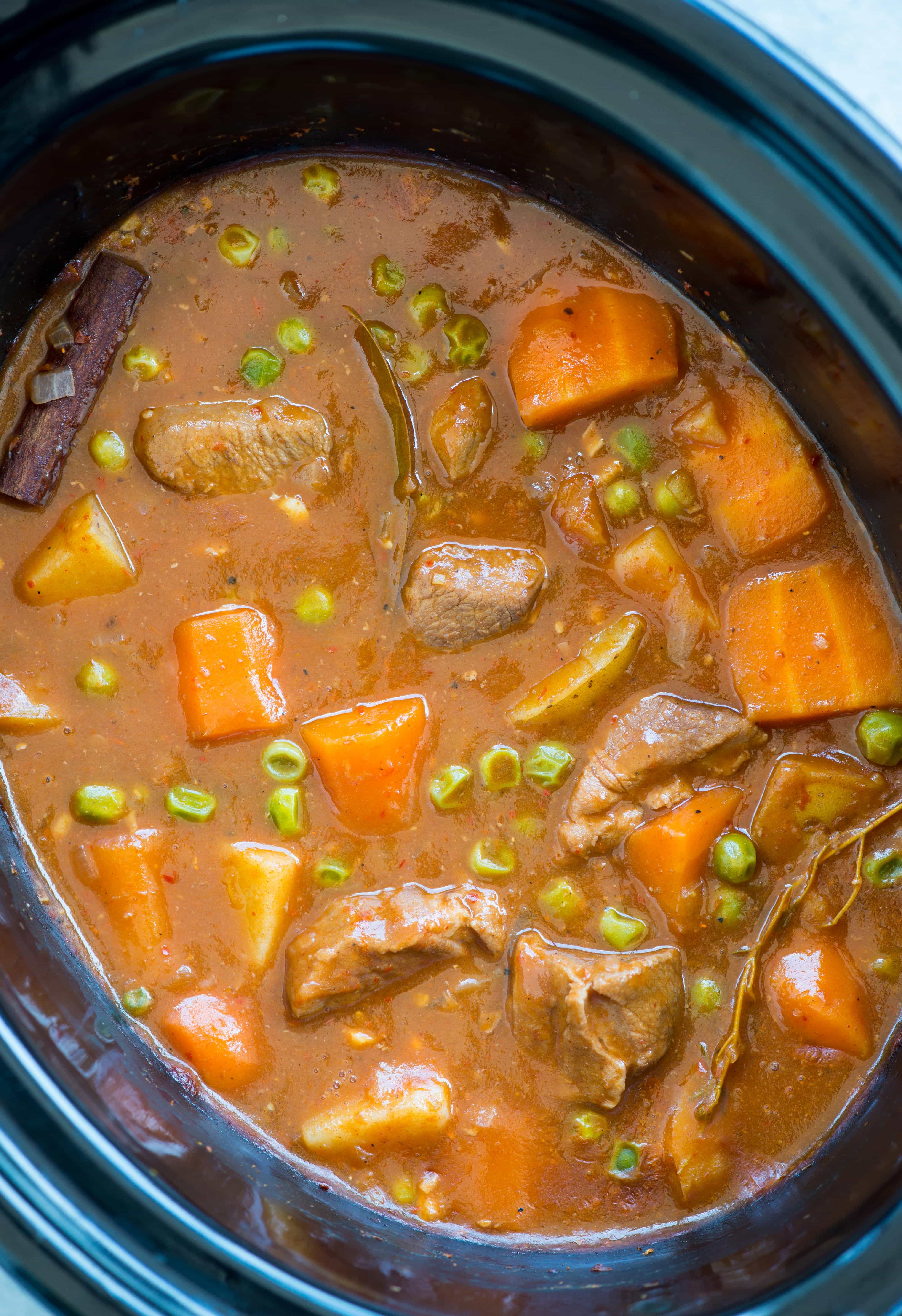 We celebrated Diwali a couple of days back. Diwali is a festival of light. We light lamps, firecrackers and of course, there are loads of food. Ideally, the preparation starts a week ahead. Traditional sweets loaded with ghee and sugar are the highlights.
And believe me, you just can not say NO to those amazing spreads. After all, it is once in a yearly fair. But the downside of having so many sweets is you will be in a food coma for the following week.
I am tired and my legs are numb after a week-long preparation and cooking. After 3-4 days of indulgent eating, I am getting back to simple comfort food. Now is the time to put the slow cooker to use.
Dump everything thing into the slow cooker and you will have a delicious dinner ready. That's the reason I make these slow cooker recipes quite often Mexican Chicken Soup, Quinoa Chicken Broccoli Casserole, Honey Chipotle Chicken Taco and Orange Ginger Chicken.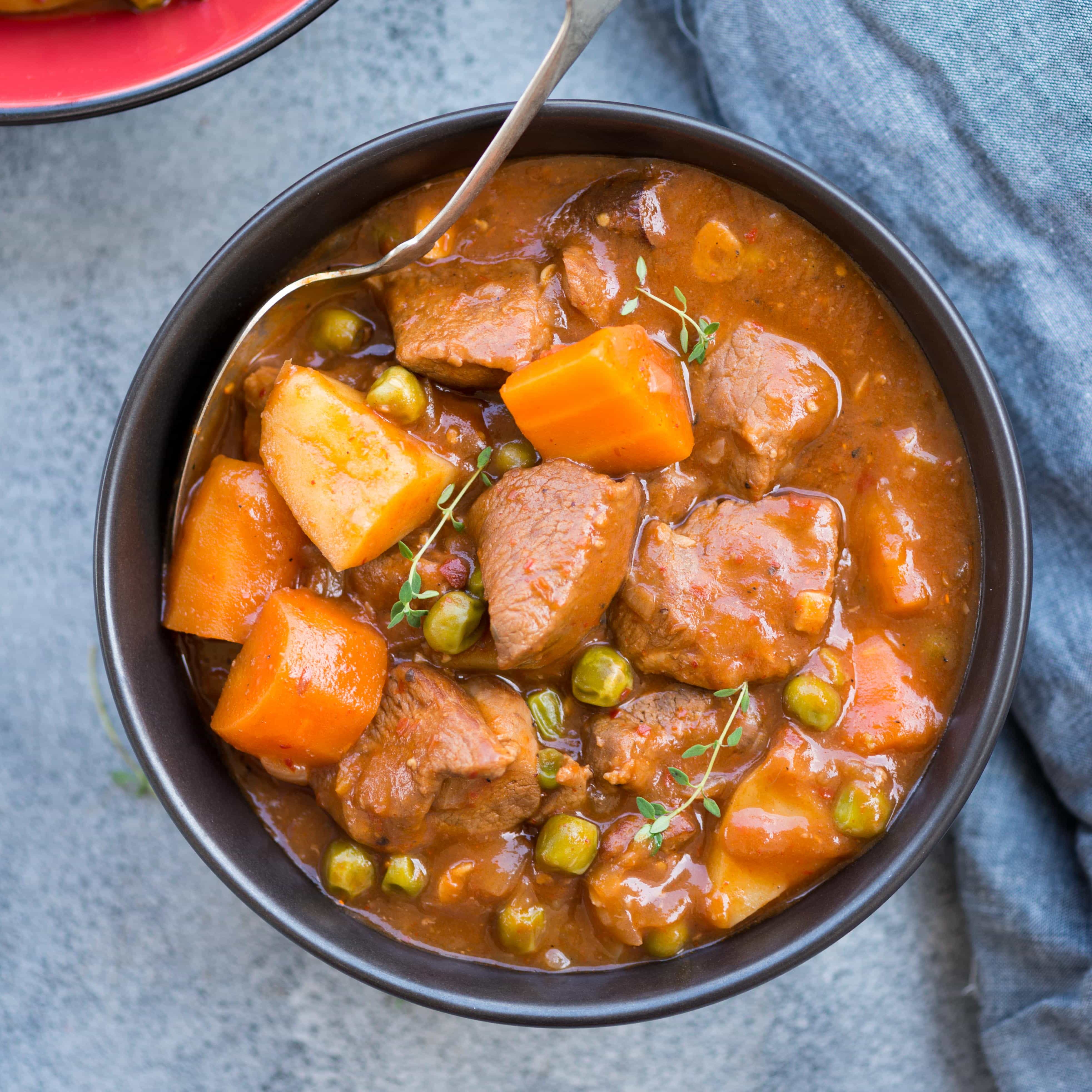 Why This Lamb Stew Is The Best?
Of all the other variations in the lamb stew recipe that I had tried, this is the best. It is very easy to make with minimal preparation.
It starts with browning the Lamb pieces followed by caramelizing Onion and Garlic. The caramelized brown bits of the lamb add so much flavour that this extra step would seem worth the effort.
Once this step is done, just dump all the ingredients into the slow cooker and forget it for some time. The meat and vegetables would cook slowly by absorbing all those flavours.
This Lamb stew is a meal in itself. So make a big batch of it and enjoy the rest of the week. The flavours really intensify when the stew is one day old. So a perfect meal that you can make ahead and store.
With the right proportion of meat and vegetables, it is a well-balanced meal. You can customize it and add or remove vegetables as per your choice. Mushroom would be a good addition to the stew.
Ingredients
Boneless Lamb and you can read below about the best meat for lamb stew
Salt & Pepper to season the chunks of lamb.
Minced garlic, Onion & Tomato paste to saute and make a flavourful broth for the stew.
Carrots, potatoes, green peas to make the body of the stew. You can add mushrooms too if you like.
Cinnamon, Bayleaf, Celery, Fresh thyme provide the flavour to the broth.
Red Wine / White Wine to give umami and it adds a mild acidity and complex flavours to the stew. I always prefer adding wine to the stock.
What cut of lamb is best for stew?
There are different cuts of lamb available with your local butcher or retail stores. Each cut has different characteristics and suits a different style of cooking.
For stews, I would always go for lamb shoulder cuts, since they have got a lot of connective tissue, more fat, and flavour. Rib cuts would be a great choice too.
Shoulders and Rib cuts are more worked out muscle groups containing more collagen. We need collagen breakdown into gelatin to give us that rich luxurious feel.
The best cuts for making Lamb Stew
Even though lamb leg parts look meatier and would do fine, I believe the shoulder cuts win with flavour and get tender a tad easier.
Boneless Lamb Shoulder or Rib cuts work best for this Stew. Trim any extra fat while getting it from the local shop.
Can we use Frozen Lamb for stew?
The trick with any frozen meat is to let it thaw so it comes to room temperature. When all parts of the lamb are at around the same temperature, it cooks evenly too. This is essential because if you use frozen meat as it is, the outer surface would get cooked much earlier than the inner parts.
It takes longer for the inner parts to arrive at the right tenderized temperature. By the time the inner parts get cooked, the outer surface would be overcooked i.e. chewy and dry. We surely do not want that.
If you are using frozen meat, then thaw overnight for even cooking. You have two options here. Leave it on the kitchen counter for a maximum of two hours. Else, you can also thaw it in the fridge (not the freezer) section of your refrigerator overnight.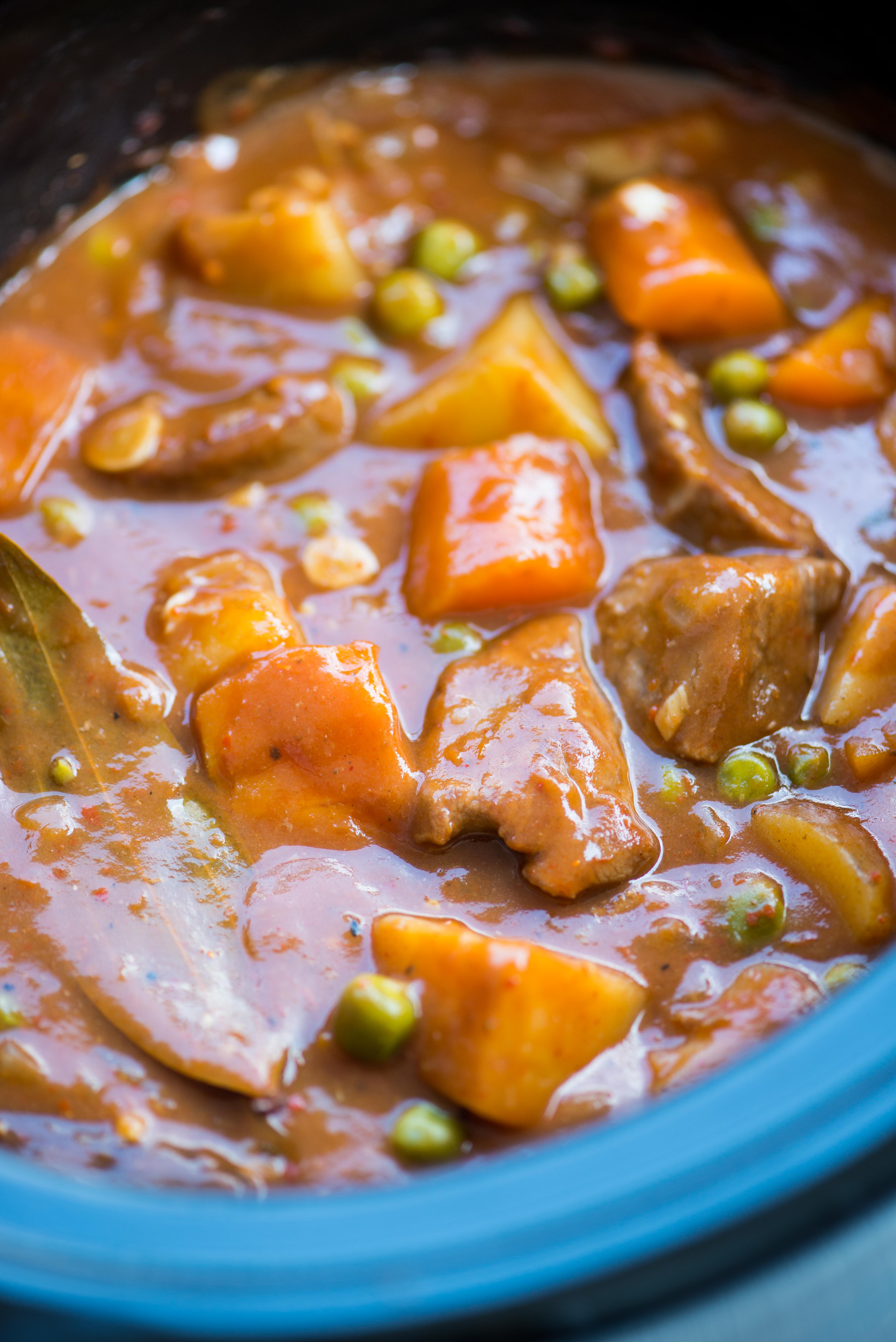 How To Make On The Stove Top / In Instant Pot?
If you are sort of time or don't own a slow cooker, you still can enjoy this incredible Lamb Stew. You can either use a heavy bottom Soup Pot or Instant Pot to make this stew.
To make on Stove Top:
Take a heavy bottom Dutch Oven. Heat Oil and brown seasoned Lamb chunks. Add chopped Onion and Garlic. Saute along with Lamb until onions have softened.
Then add the rest of the ingredients. Once everything comes to a boil, simmer and let it cook on very low heat for 2 hours. You might need a little bit more stock because of more evaporation while cooking on the stovetop.
To make in Instant Pot:
When you are really sort of time, the magical Instant Pot will make your life easy. It is remarkably easy to make this Lamb Stew in the Instant Pot.
You can either brown lamb in batches in the Instant Pot or do that in a pan and add it to the Instant Pot. Then add all the ingredients. Cook on high pressure for 10 minutes, followed by natural pressure release.
How not to overcook lamb stew ever?
The basic rule behind stews is to let them simmer for a long time at low heat. The "low heat" part is the key here. We do not want to put it on medium/high for a long time. This makes the chunks lose all the moisture and dry up. The end result would be that the pieces would be chewy and grainy to eat.
Lamb meat has got strands like any other meat. At the end of the cook, the pieces should fall apart to reveal the strands but if you see strands getting separated, know that it has been overdone.
Just put it on low heat and leave it for 8 hours.
How long to cook lamb for stew?
For making stews with fall-apart tenderness of lamb chunks in it, I would recommend for 8 hours on Low or 4 hours on medium heat.
Initially, while cooking, you would notice the lamb chunks getting firmer. Do not worry for there is science behind it. The meat has water and connective tissue in them. The connective tissue forms gelatin on cooking and this makes it appear firm initially.
Let it simmer and the meat would slowly break down and becomes tender to the touch.
What stock should you use with lamb?
Beef stock is what I have gone with. You can opt for Lamb stock if it is available. If neither of the above is available, Chicken stock would work too.
The best in terms of imparting flavour would be lamb stock or beef stock. It would be great if you can make beef/lamb stock at home but it takes a lot of time mind you.
When it comes to buying beef stock, make sure that the stock is not made of artificial flavours and so get one from a well-trusted brand. Many brands do not go for the long-simmering process of making stock by breaking down joints/cartilage and go for artificial flavours.
If you are not sure, a chicken stock made at home from scratch or one from the store would be fine, as chicken stock is not that difficult to make so brands would be honest at that.
Storing Lamb Stew
Stews and curries taste so much more delicious the next day. The more you reheat and it thickens, it just extracts so much aroma. I would always save a bit of stew and have it thick and rich with a plate of rice the next day.
You can store this safely for 4 – 5 days in the refrigerator or keep it in the freezer for upto 3 months.
When you need to take frozen stew for serving, just take it out, thaw outside for an hour. While heating it, stir very gently so that it doesn't break the lamb chunks.
What to serve with lamb stew?
Serve this Lamb Stew with Crusty bread or with a fresh green salad. You can also serve this along with rice, noodles, or pasta.
Enjoy…
More Stew Recipes…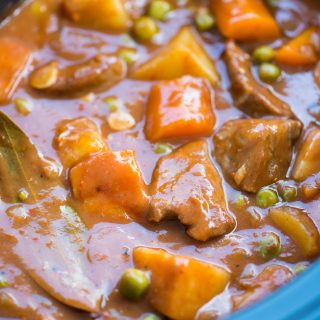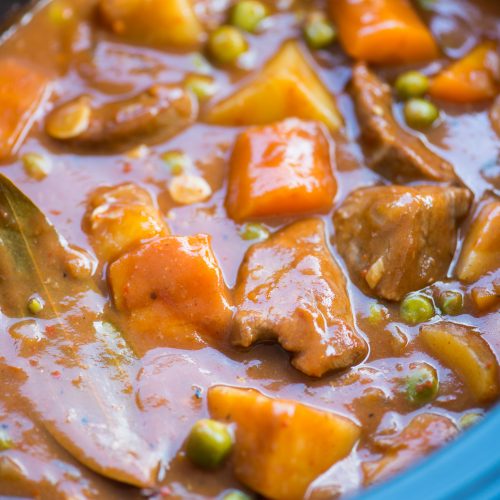 Slow Cooker Lamb Stew
Slow Cooker Lamb Stew with tender fall apart lamb chunks and hearty vegetables have a rustic flavourful based gravy. This Lamb Stew is definitely going to keep you warm in the winter.
Ingredients
500 Grams Boneless Lamb
2 tablespoon Oil
1 large Onion
1 tablespoon Minced Garlic
⅓ cup white wine
2 large Carrots
250 grams Potato
½ cup Green Peas
1.5 tablespoon Tomato Paste
⅓ cup Celery
1 Bay Leaf
1 inch Cinnamon Stick
3 Cups Beef Broth
2 Sprigs Fresh Thyme
¼ teaspoon Chilli Powder
¼ cup Flour
Salt and pepper
Instructions
Pat dry Lamb Chunks to remove any extra water. Season with salt and pepper. Sprinkle flour and toss well lamb pieces are well coated.

Heat 2 tbsp oil in a heavy bottom pan. Add Lamb chunks. Brown lamb chunks in two batches, without crowding the pan.

Keep aside the browned lamb pieces aside, covered so that they don't get dry.

To the same pan add chopped onion and garlic. Saute until onion has softened and no more raw smell.

Deglaze the roasting pan with 1/3 cup of wine. Scrap any brown bits stuck at the bottom.

Once the wine has reduced, add 1/2 cup of stock(out of total of 3 cups) to the pan and mix.

Add browned lamb chunks, sauteed onion and garlic, rest of the ingredients, remaining stock to the slow cooker. 

Check the seasoning. Slow cook on low for 8 hours or on medium for 4 hours. 

Towards the end of the cooking before 30 minutes, add green peas.

Serve with crusty bread.
Nutrition
Serving: 100g | Calories: 296kcal | Carbohydrates: 11g | Protein: 17g | Fat: 20g | Saturated Fat: 9g | Cholesterol: 61mg | Sodium: 547mg | Potassium: 433mg | Fiber: 2g | Sugar: 3g | Vitamin A: 4203IU | Vitamin C: 10mg | Calcium: 37mg | Iron: 2mg