This post may include affiliate links that earn us a small commission.
This Lasagna Soup has all the flavours of traditional Lasagna but is way easier to make. This one-pot soup loaded with ground beef, tomato base, and Lasagna noodles is the ultimate winter comfort food.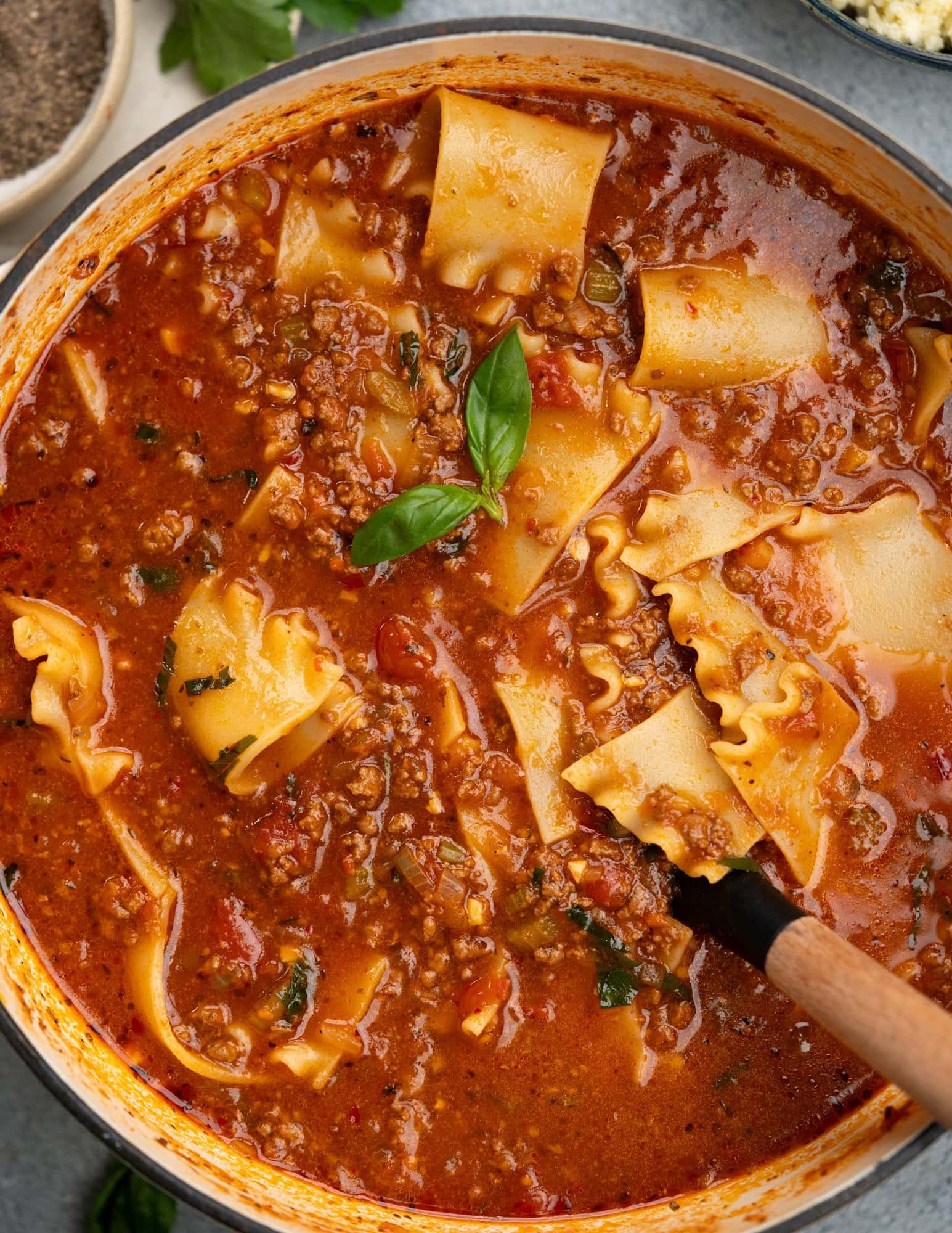 There is no doubt that lasagna is one of the most loved foods. Layers of pasta, rich meat sauce, and cheese sauce, are always a crowd favorite. But let's be honest, making Lasgna needs time and patience. This Lasagna soup tastes exactly like lasagna but in soup form. There is ground beef, rich tomato sauce, tender lasagna noodles, and topped with cheese mixture.
Days when you crave lasagna but don't have time for the layering of the dish with precision, this Lasagna Soup is the answer. This is a one-pot recipe, with cheesy, saucy deliciousness is ready in under 40 minutes.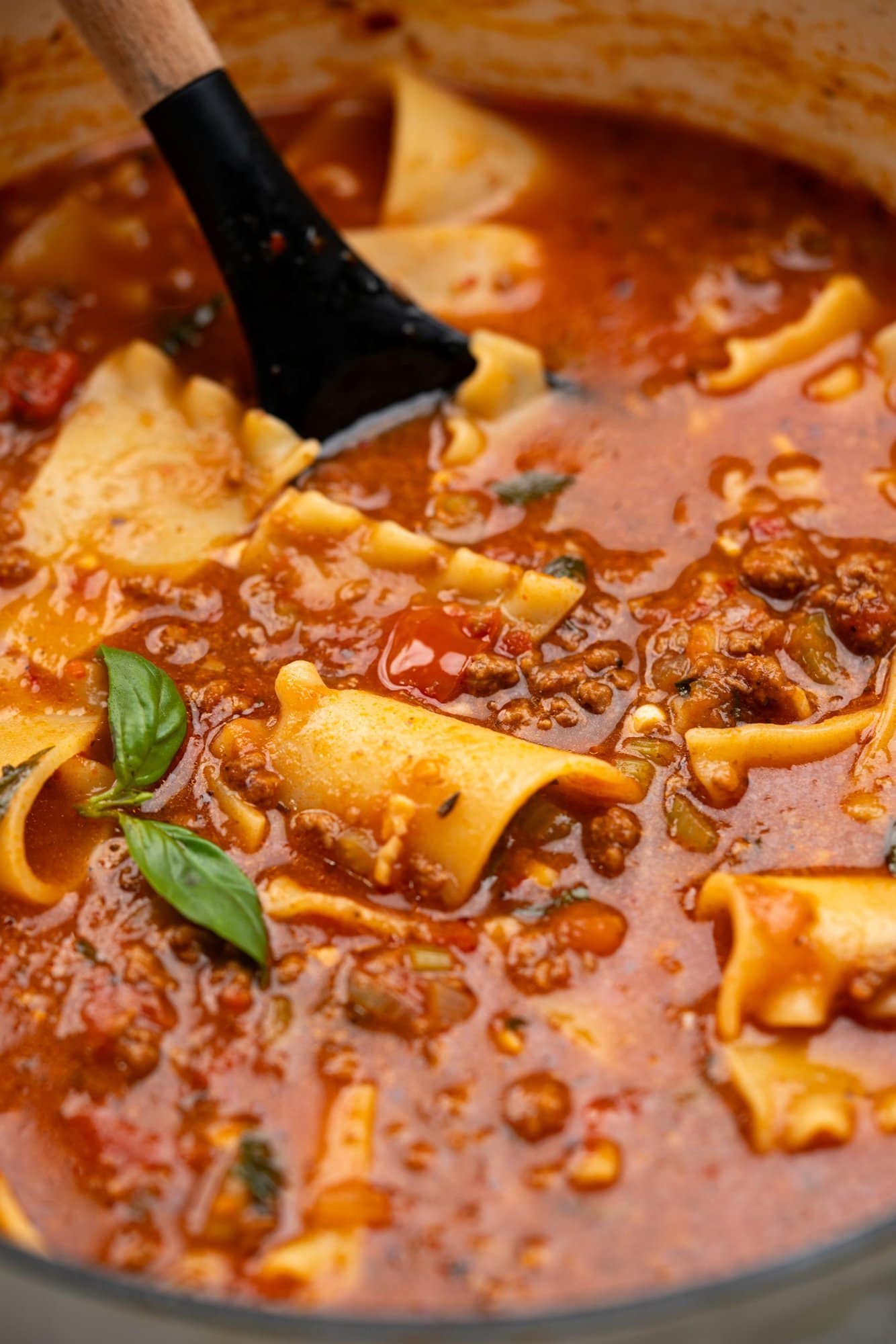 Ingredients For Lasagna Soup
The ingredients are more and less the same as Lasgna, just that the ratio would vary. The list might look long but most of them are easy to find.
Ground beef – I have used lean ground beef. You can also use a mix of ground beef and Italian sausage/pork.
Onion, Garlic, and Celery – Flavour enhancers for any dish. Chop it really small or run it through a food processor if you don't want to have a chunkier sauce.
Crushed Tomato, Tomato paste– Canned crushed tomatoes. Tomato paste for that intense sweet tomato flavor.
Seasoning– Bay leaves, Italian seasoning, salt, pepper, and chili flakes.
Chicken Stock– Good quality low sodium chicken stock.
Beef bullion- I love using Beef bullion for that extra depth of flavor.
Dry Lasagna noodles – Lasagna Soup, so it makes sense to use dried Lasagna Pasta sheets. But if you are not specific about the look of it, then use any kind of pasta.
Cheese – No Lasagna without cheese. We are using a blend of three cheeses here. Ricotta, parmesan and strechy mozzarella.
Basil and Parsley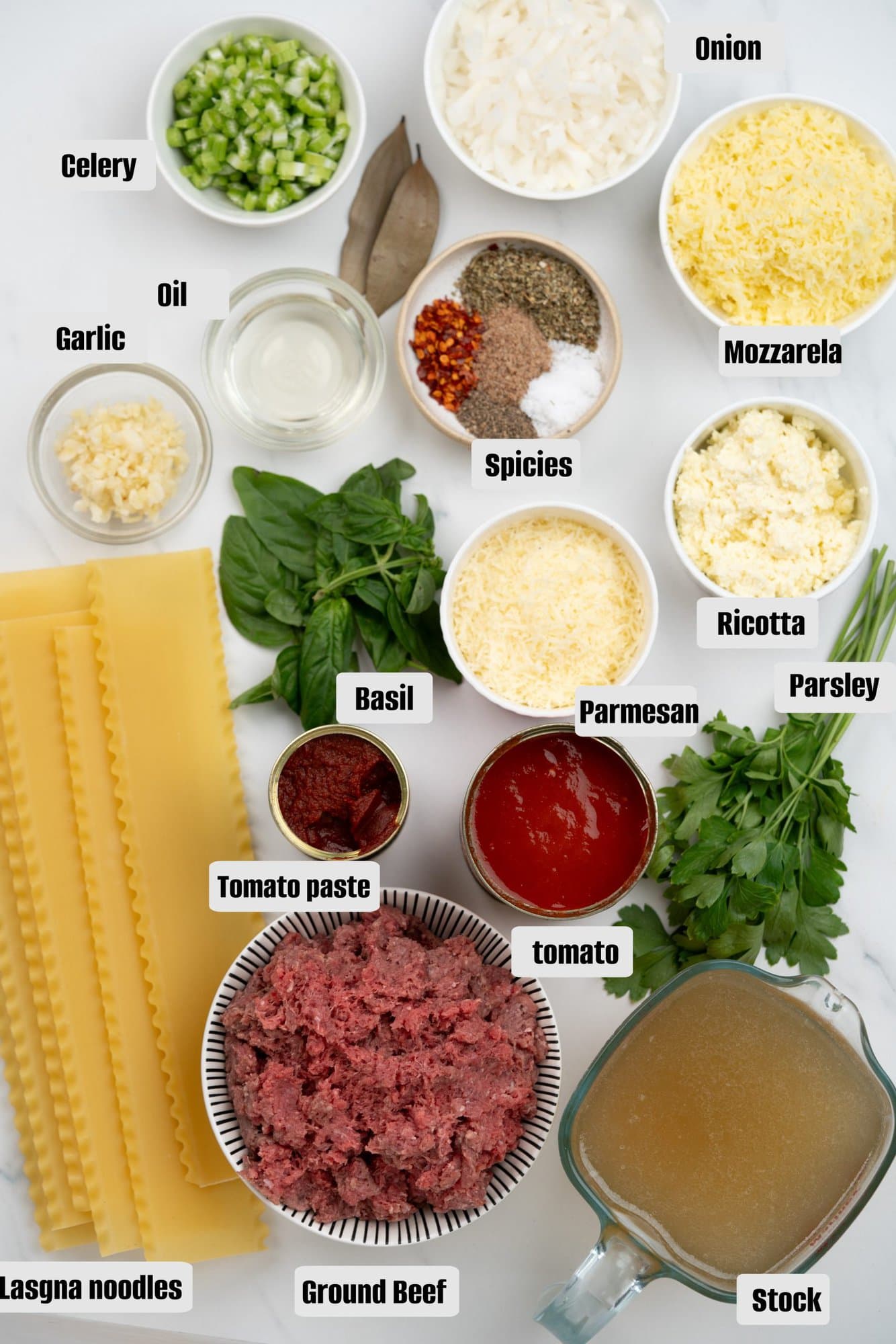 How to make – Step-by-step instructions with Photo
This one-pot soup is really easy to make. Make sure you spend a little time browning and caramelizing the ingredients before adding the next. This step helps in developing layers of flavor without spending hours.
Begin with browing the beef. If not using lean beef, drain excess fat. Cook it until the meat is no longer brown and is slightly caramelized.
Add bay leaf. Saute onion, garlic, and celery until softened and smells no more raw.
The next step is to cook tomato paste, Italian seasoning, chili flakes, and pepper.
Add crushed tomato and warm chicken stock. Deglaze the pan to scrap the bottom of the pot.
Bring the mixture to a boil. If you can spare 10 more minutes, simmer and let the soup base cook.
Add beef bullion. Check seasoning and add more salt if needed.
The Last step is to add the broken lasagna noodles and cook until al dente.
Stir in chopped basil.
To make the cheese mixture, mix together shredded mozzarella, parmesan, and drained ricotta.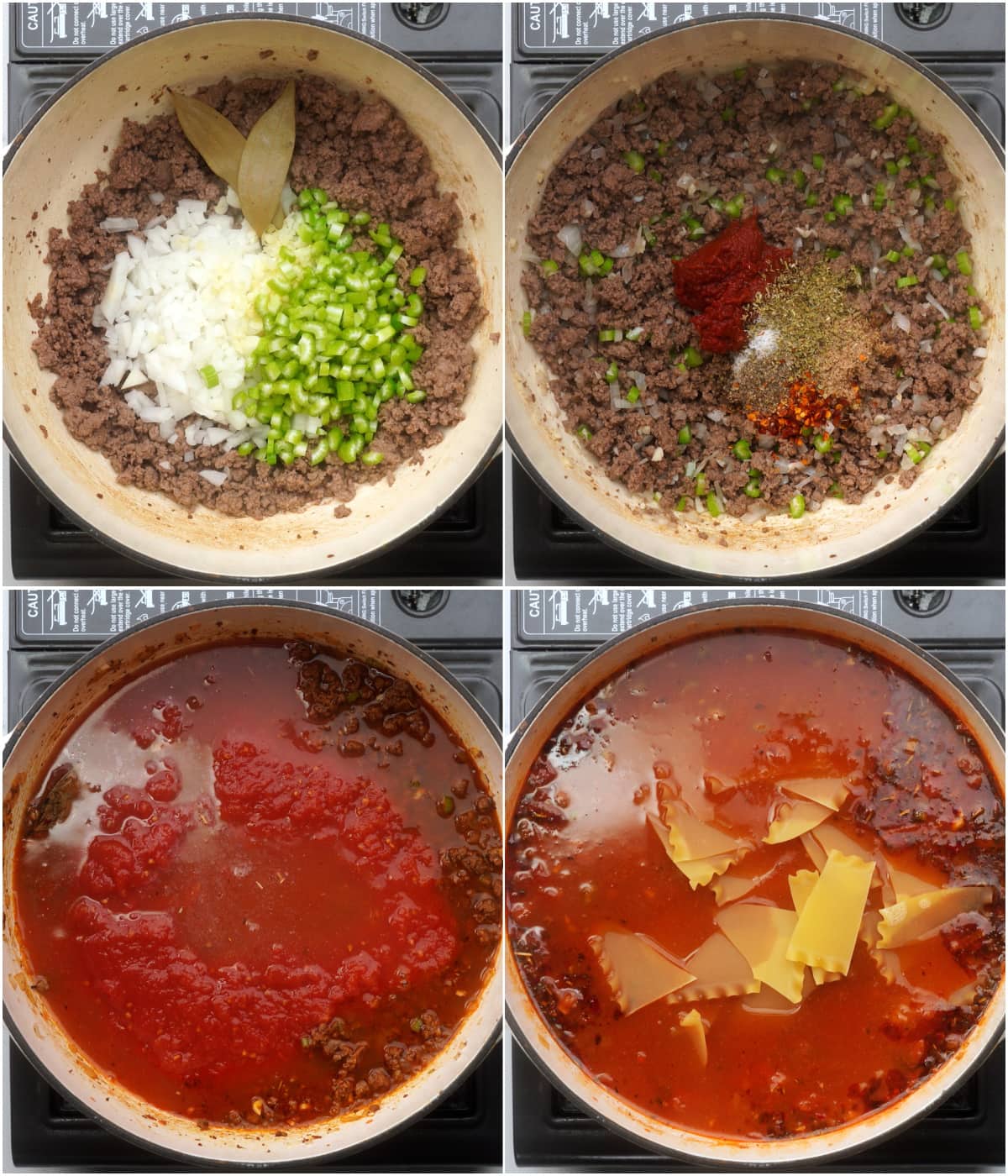 Tips for the best Lasagna Soup
Use a large heavy bottom soup pot/dutch oven to avoid burning while caramelizing the meat.
Simmer the soup base for about 10 minutes before adding the noodles. It will make a huge difference.
If the soup base is on the tart side, add a pinch of sugar to balance.
Use good quality cheese and avoid pre-shredded cheese. Drain the ricotta well.
Top the cheese mixture while the soup is still hot, so that it melts and gives the gooey cheesy sauce feeling of traditional lasagna.
Can we make Lasagna Soup ahead?
You definetly can make this soup well in advance. Make everything as instructed just don't add the noodles. Before serving heat the soup base , once it comes to a low boil, add noodles and cook until al dente.
You can also freeze the soup base in portions. Thaw overnight in the refrigerator and before serving follow the above steps.
Storage
In case of leftovers, it can be stored for a couple of days in the refrigerator. But do keep in mind, that the noodles tend to soak the liquid and turn mushy when stored. If you know there will be no to very little leftovers, then add the noodles right away. Else you can always add the noodles just before serving.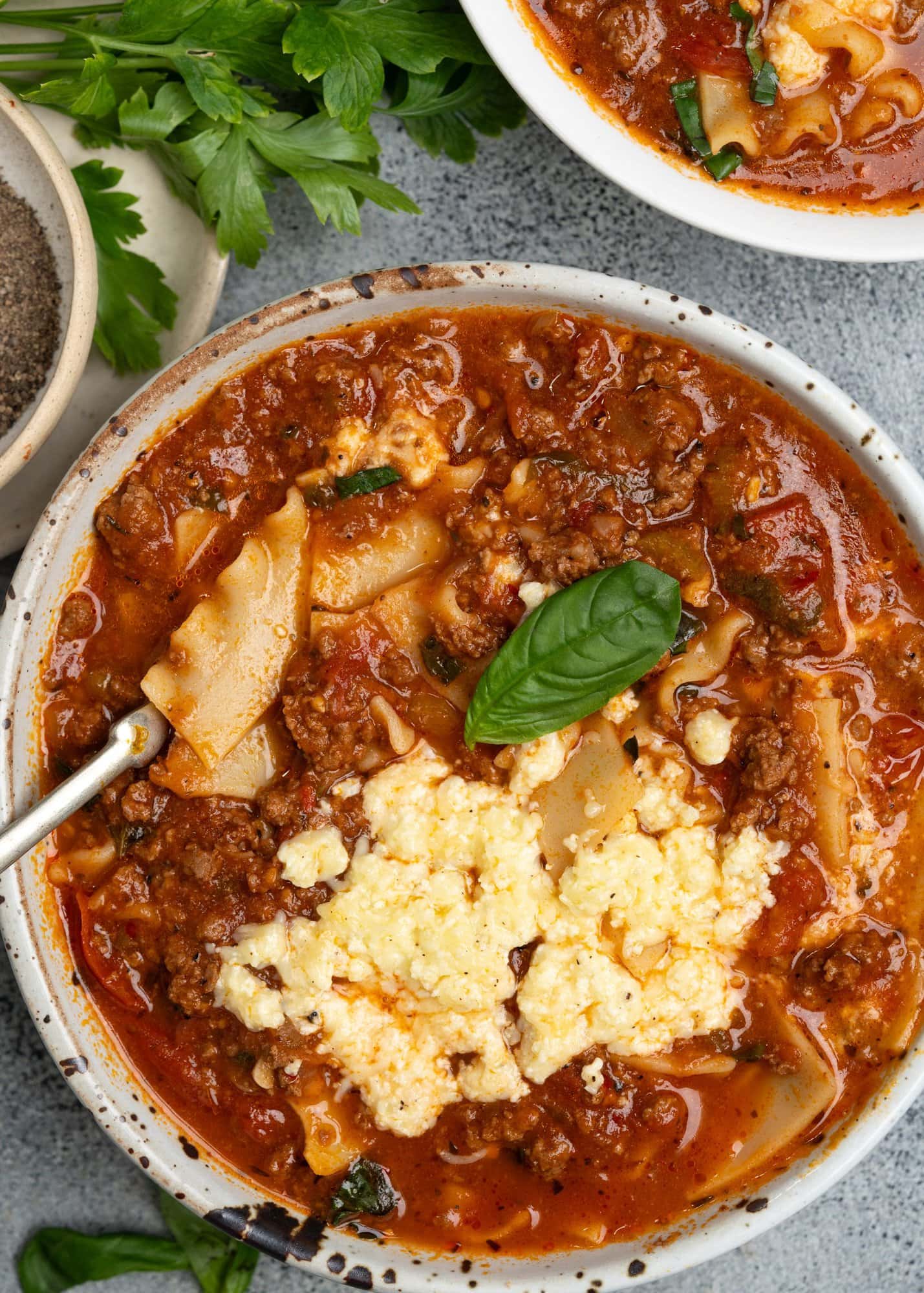 We have a lot more comforting soup recipes to try
Flavours In Your Inbox
Subscribe for recipes straight to your inbox
Lasagna Soup
Lasagna soup has all the flavours of classic lasagna but in a soup form. No hassle of layering the sheets, it is a simple one-pot recipe that is comforting and delicious.
Ingredients
500 grams lean ground beef
2 teaspoons Oil
1 cup diced onion
1.5 tablespoon garlic cloves minced
1 stalk celery chopped
2 bay leaves
¼ cup tomato paste
2 teaspoons Italian seasoning
½ teaspoon chilli flakes
1 beef bouillon cube crushed
1 teaspoon salt
½ teaspoon Pepper
2 14.5 ounce cans crushed tomatoes undrained
4 cups chicken broth
6 uncooked lasagna noodles sheets broken into 1 1/2 inch pieces (about 6-8 ounces; see Note)
2 tablespoons chopped fresh parsley
2 tablespoon Fresh basil
CHEESE TOPPING:
½ cup ricotta cheese drained
⅓ cup grated Parmesan cheese
1 cup shredded reduced-fat mozzarella cheese
¼ teaspoon salt
Instructions
To make the cheese topping, add all the ingredients to a bowl and mix well. Keep aside.

Break the lasagna sheets into small pieces.

Heat oil in a dutch oven or heavy bottom pot.

Add ground beef and brown it for 3-4 minutes. Drain and bring it back to the stove.

Add diced onion, garlic, celery, and bay leaves. Saute for 2 minutes until it is aromatic.

Stir in tomato paste, chili flakes, Italian seasoning, and pepper. Saute for another 2 minutes. Then add crushed tomatoes and stock. Stir well and scrap the bottom to release any stuck brown bits.

Add crushed beef bullion. Check the seasoning and add more salt if required. Stir it well. When it comes to a slow boil, reduce heat, cover, and cook on low heat for 7-8 minutes.

Open the lid. add broken lasagna noodles, let it cook for 7-8 minutes more until the noodle are cooked al dente.

Switch off the flame, stir in chopped basil and parsley.

While serving top it with cheese topping and let it sit for 5 minutes for the cheese to melt. Stir to mix and enjoy!
Nutrition
Serving: 1serving | Calories: 382kcal | Carbohydrates: 29g | Protein: 33g | Fat: 14g | Saturated Fat: 7g | Polyunsaturated Fat: 1g | Monounsaturated Fat: 5g | Trans Fat: 0.3g | Cholesterol: 85mg | Sodium: 1474mg | Potassium: 599mg | Fiber: 2g | Sugar: 4g | Vitamin A: 515IU | Vitamin C: 5mg | Calcium: 313mg | Iron: 3mg