This post may include affiliate links that earn us a small commission.
These crispy Air fryer Eggplants are probably one the best ways to enjoy the humble vegetable. Snack on these or you can use these crispy eggplants in an array of other dishes.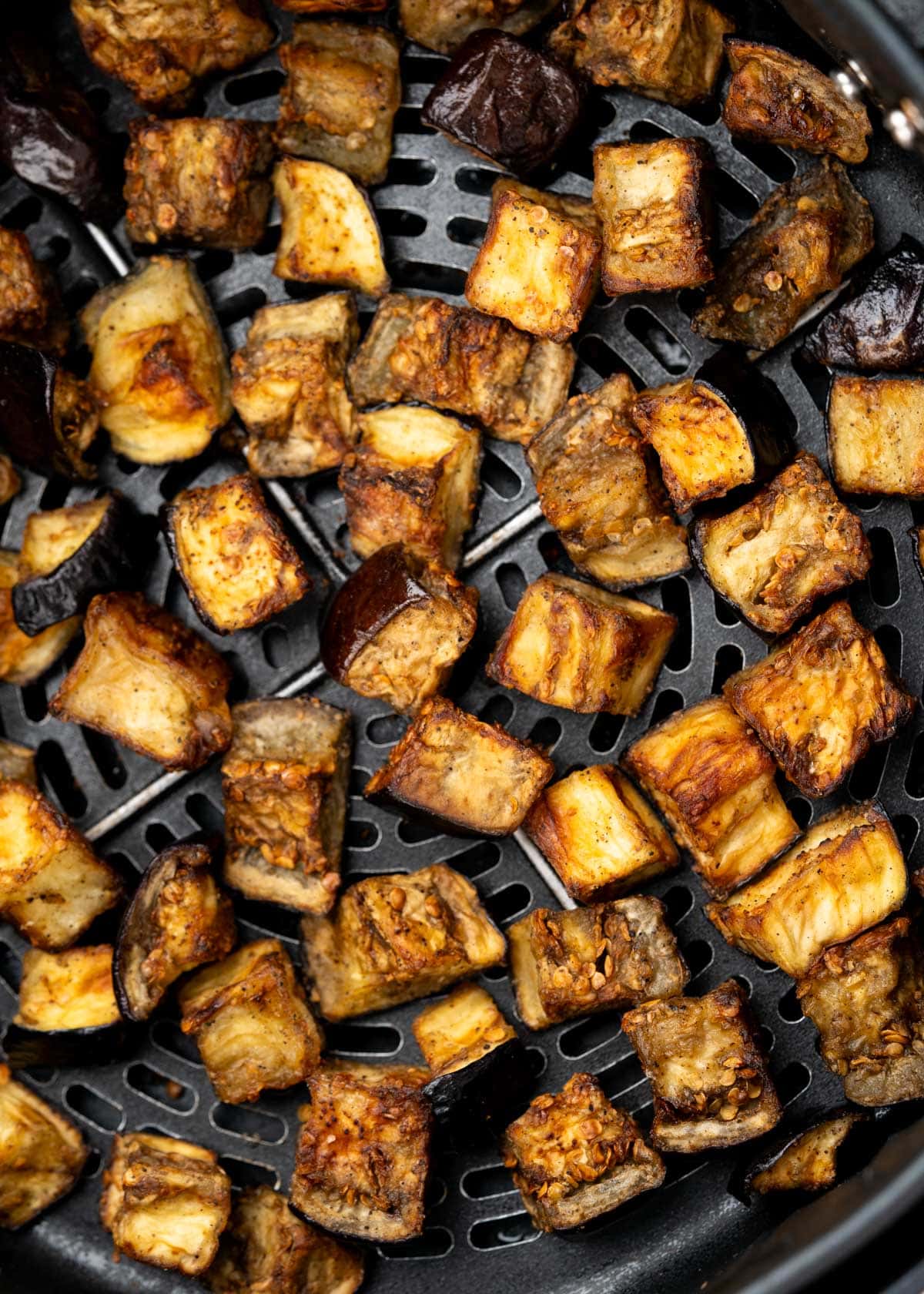 These Airfried Eggplant bites are crispy on the outside and have a creamy texture inside. These are seasoned with just oil, salt, pepper, and cornstarch. But you can up the game by dressing these eggplant bites with different seasonings. I love these with Asian flavors, so I made a quick Chilli oil dressing to drizzle on top and it was so so good.
Flavours In Your Inbox
Subscribe for recipes straight to your inbox
Apart from serving as a side dish use these in curries. Making Pasta Alla Norma will become a lot quicker with these air-fried Eggplants.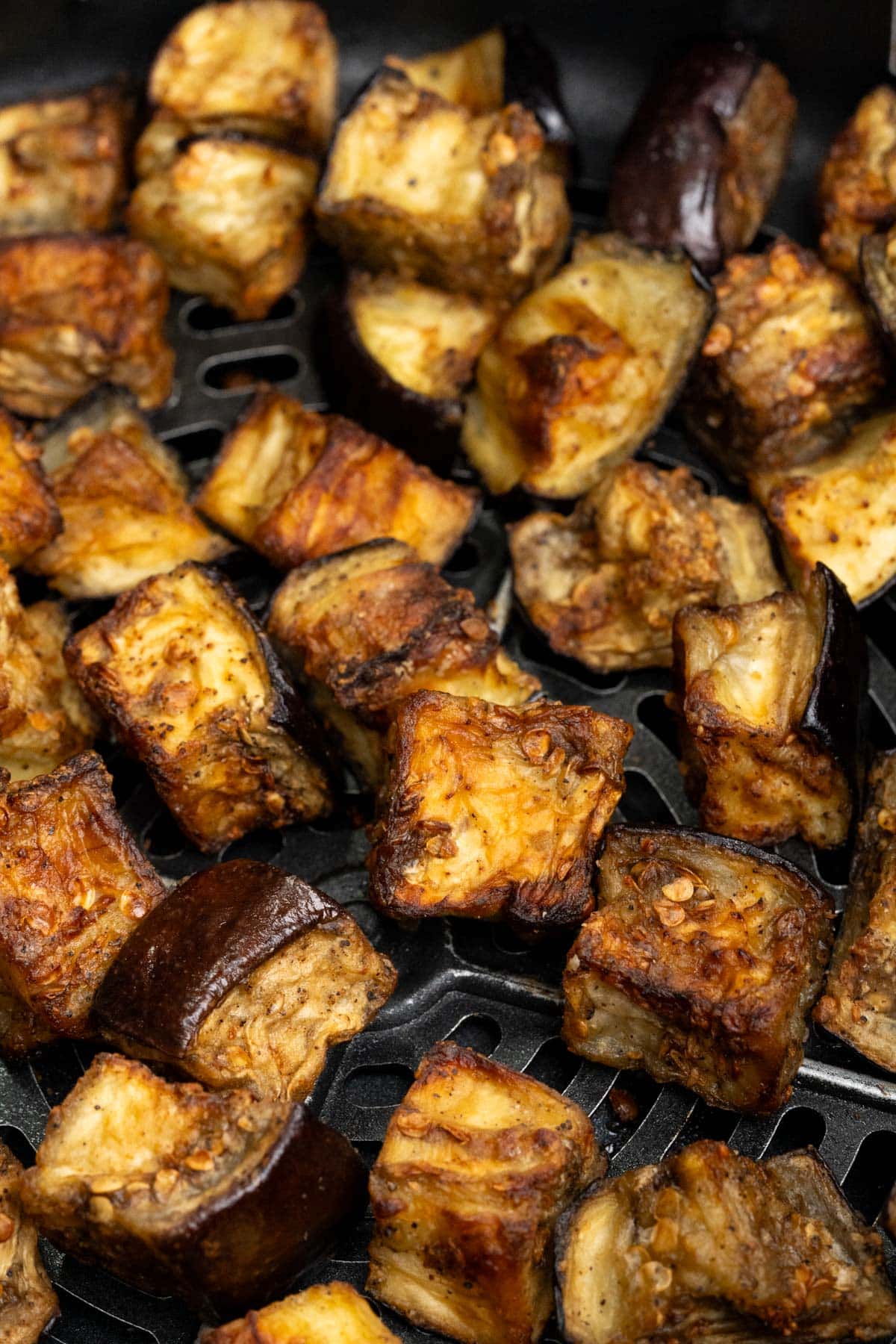 Ingredients You'll Need for Air-Frying Eggplant
For the base recipe, you just need basic pantry ingredients. I have also included a super quick and delicious chili oil dressing to drizzle on top.
To Air fry Eggplant
Eggplant – American or Globe Eggplants are large deep purple varieties, fleshy, and are available around the year. Look for firm ones while buying. Italian Eggplants are another great option.
Oil – Any neutral vegetable oil, as these will be air-fried at high temperatures.
Cornstarch – Cornstarch helps to crisp up.
Seasoning – salt, pepper, and garlic powder.
For Chilli oil dressing
Chilli oil- Chilli oil with the crisp
Soy sauce
Green onion
Water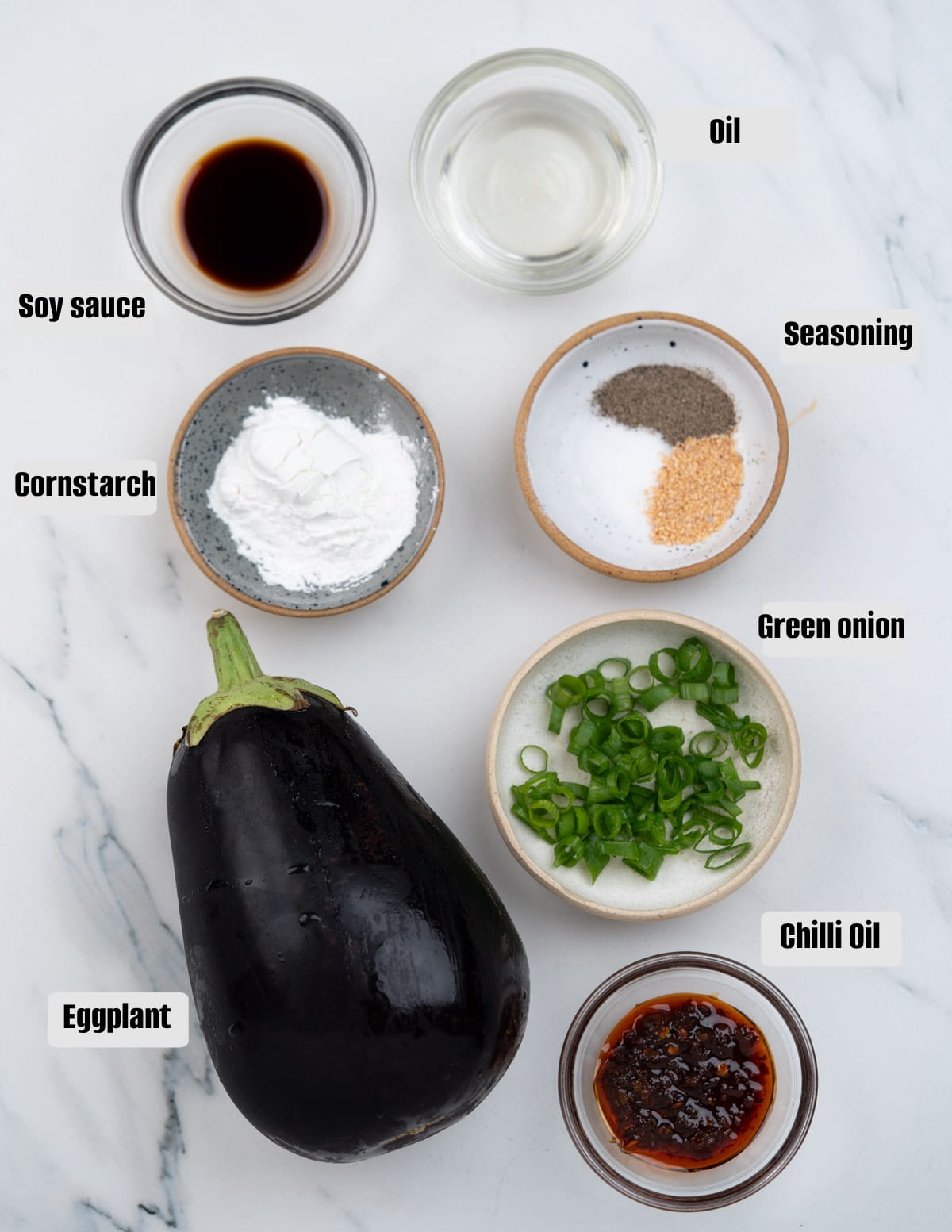 How To Cook Eggplant In Air Fryer?
Air frying eggplants or any other veggies for that matter is the easiest way to roast them. Air frying at high heat makes the outer edges crispy without overcooking the veggies. It takes very less oil making it way healthier.
Clean and cut the eggplants. I like to cut them into bite-sized cubes. First, cut them into roundels and then into 1-1.5 inch cubes as shown below (steps 1, 2). As they will shrink a bit once cooked, don't cut them too small. Alternatively, you can keep them around.
Many recipes call for salting and squeezing the water before cooking eggplants. But unlike baking, air frying uses high heat and roasts them in less than half the time. So, I really don't see any need for an extra step.
Season the eggplants – For the dry seasoning to stick well, toss eggplant cubes first with oil then dust it with cornstarch, salt, pepper, and garlic powder.
How long to cook eggplant in the Air Fryer- Set the air fryer to 400 degrees F. Place the coated eggplants in the air fryer and Air fry them for 12 minutes, tossing them halfway through.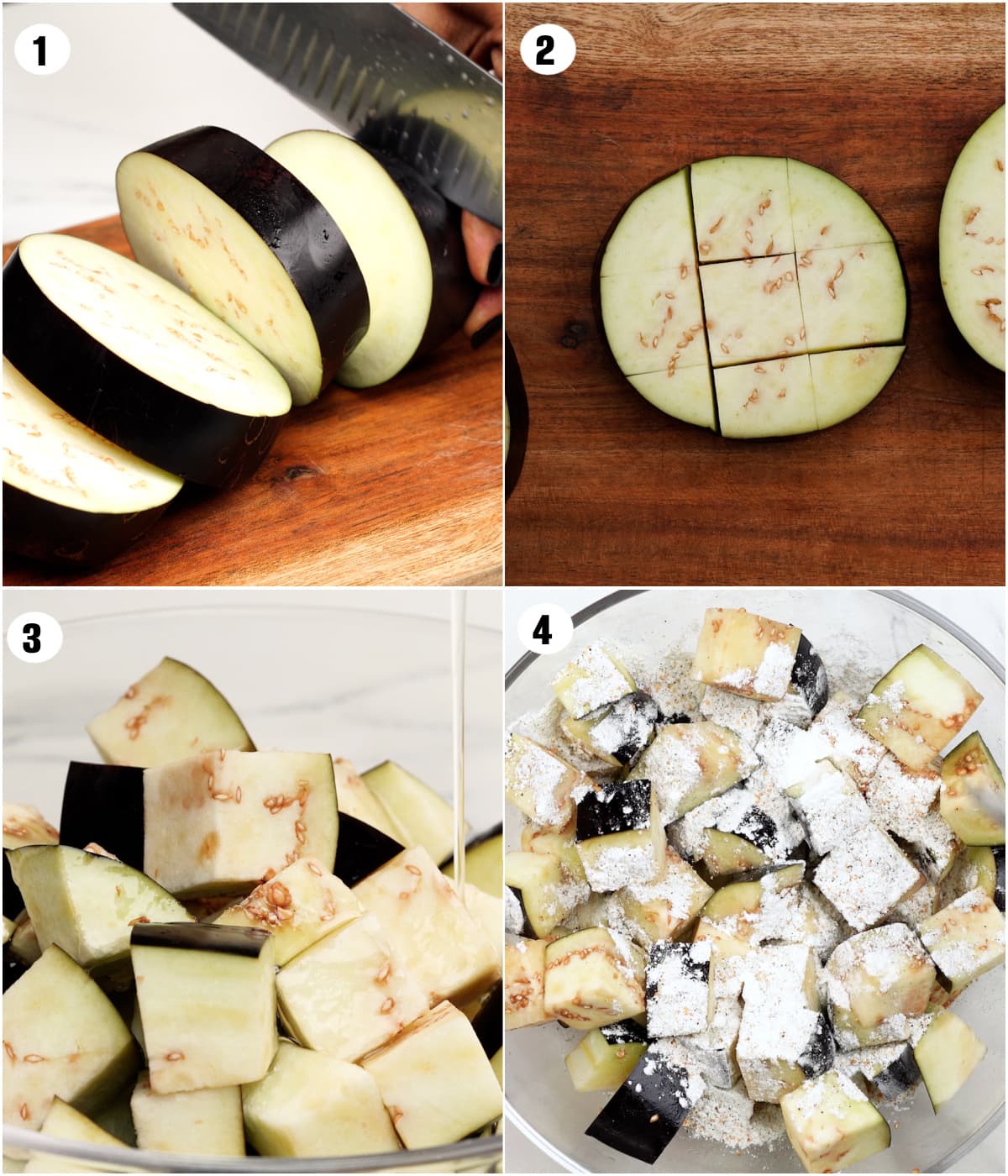 Tips for the crispy Eggplants
Eggplant will turn brown once you cut it. So if not cooking it right away, put them in salt water. Drain and dry them thoroughly before seasoning.
Don't overcrowd the basket. If making a large quantity, cook them in batches. A good hot air circulation ensures evenly cooked crispy eggplants.
Once you add the salt to the eggplants, air fry them immediately. Otherwise, the vegetables will start getting soggy.
Flip halfway through to ensure they are getting cooked evenly and crisp up well.
These eggplants tend to get a bit soggy after they cool down. So it is best to serve immediately out of the air fryer.
Flavour Variation
Salt, pepper, garlic powder, and cornstarch are basic seasonings. There are plenty of variations to season the eggplants.
Add some paprika, and Italian seasoning to the above mix to spice up the eggplants.
Finely grated parmesan, Italian seasoning, and pepper is perfect for some umami.
You can also toss them with Taco seasoning or Cajun spice mix.
Other options would be to air fry with the base seasoning of salt, pepper, garlic powder, and cornstarch. Then drizzle the crispy eggplants with tahini sauce, chimichurri sauce, or Chiili oil dressing(recipe below).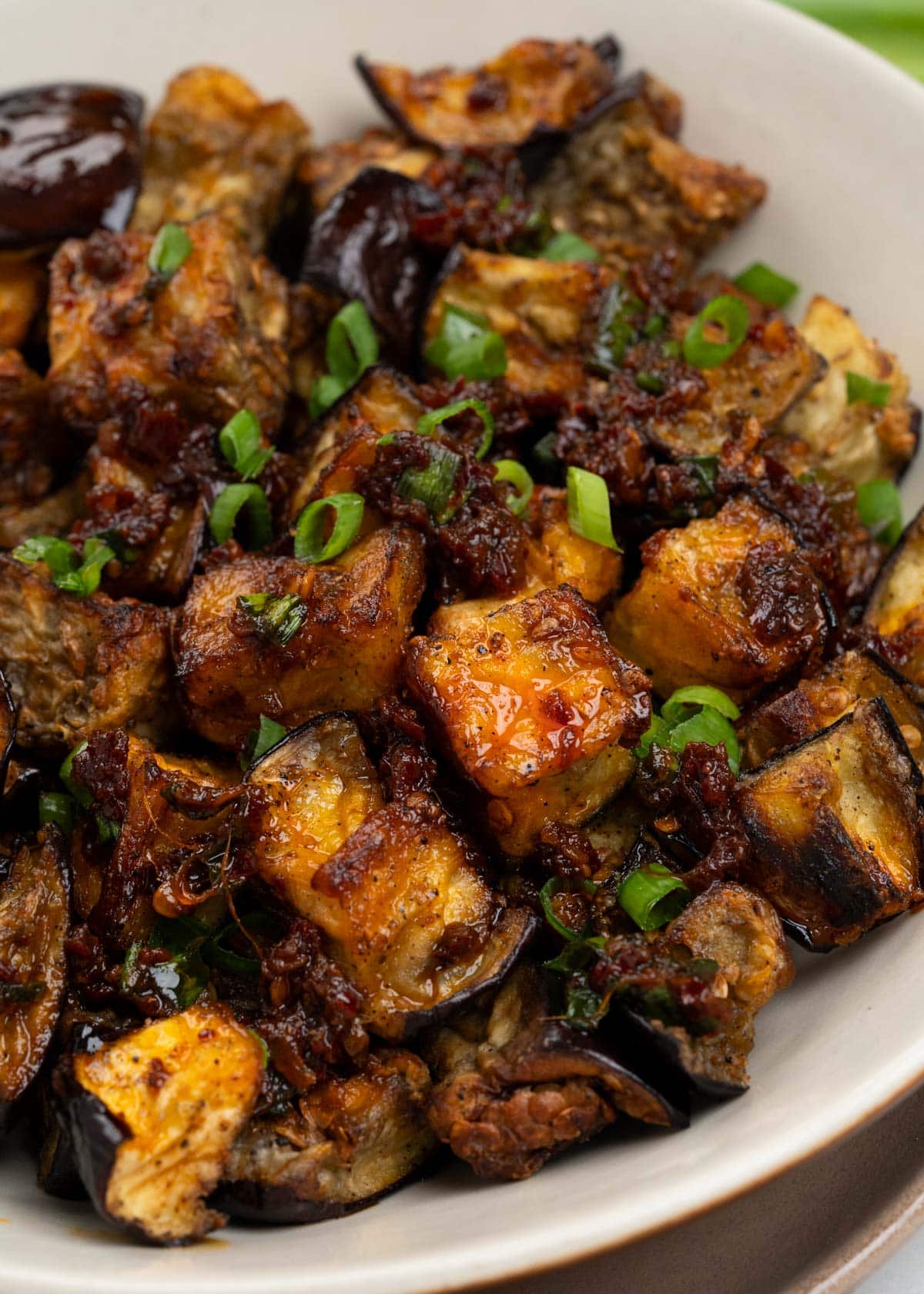 Storage Instruction
Storage – Once cooled down, line the air tight container with a kitchen tissue and store these cripsy eggplants in the refrigerator for up to three days.
Reheat- Best way to reheat and get back that crispyness is to put it back in the air fryer and cook for 2-3 minutes at 400 degrees F.
More Air Fryer Recipes To Try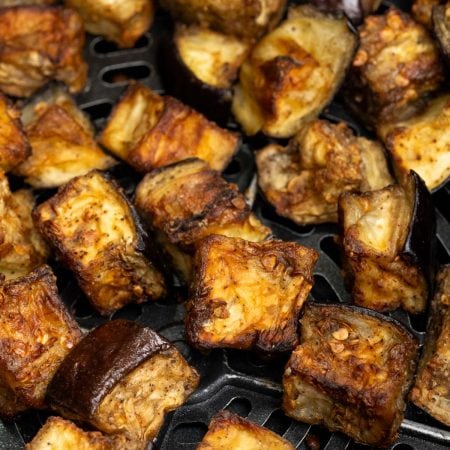 Air fryer Eggplant
Seasoned with just salt, pepper, and garlic powder these air fryer eggplants can be served as it is or use it in any other recipes that call for roasted eggplants.
Ingredients
1 large Globe Eggplant about 1 pound
2 tablespoon Oil
3 tablespoons Cornstarch
1 teaspoon Garlic powder
½ teaspoon salt
¼ teaspoon Pepper
Chilli Oil Dressing
2 tablespoon Chilli Oil with crisp
1 teaspoon Soy Sauce
2 tablesoon Chopped green onion
Instructions
Mix all the ingredients mentioned under chilli oil dressing. Keep aside.

Cut roundels of Eggplants, then cut into 1-inch – 1.5-inch cubes. Mix Cornstarch, garlic powder, salt and pepper.

First coat the eggplant pieces with Oil. Then sprinkle dry mixture(made above) to coat

Preheat the air fryer to 400 degrees F.

Place Eggplants in a single layer without overcrowding the basket. If you wish, spray with nonstick spray( this is optional). Air fry for approximately 10-12 minutes flipping the eggplant halfway through the air-frying process. You can add 1-2 minutes more if you want more crispy.

Transfer the eggplants to a plate. Drizzle with chili oil dressing and serve immediately.
Nutrition
Serving: 1serving | Calories: 179kcal | Carbohydrates: 13g | Protein: 1g | Fat: 14g | Saturated Fat: 2g | Polyunsaturated Fat: 3g | Monounsaturated Fat: 10g | Trans Fat: 0.03g | Sodium: 378mg | Potassium: 276mg | Fiber: 4g | Sugar: 4g | Vitamin A: 27IU | Vitamin C: 3mg | Calcium: 12mg | Iron: 0.4mg