This post may include affiliate links that earn us a small commission.
It's winter, and you long for something comforting. Want to have something soupy and are a rice lover too? This chicken wild rice soup presents you with the best of both worlds.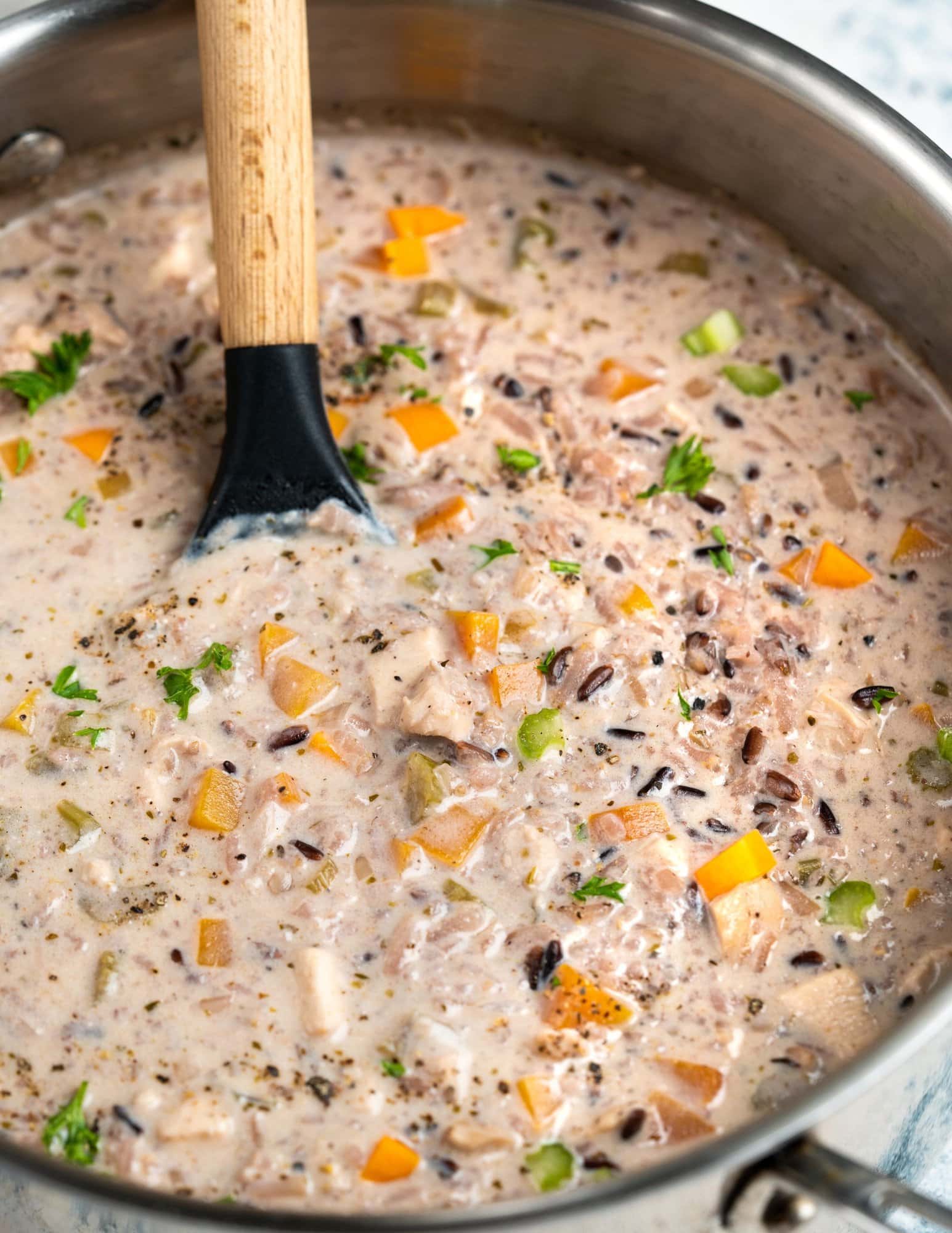 Wild rice soup with chicken is a super comforting dish in cold winters. It takes a bit of time, but the flavor you end up with is worth it. The rice is cooked with chicken, chicken stock, veggies, and spices, making it creamy and thick. Italian seasoning gives it the perfect spice flavor.
Flavours In Your Inbox
Subscribe for recipes straight to your inbox
While some recipes call for adding cooked rice, maybe to use up any leftover rice, I would strongly urge you to use uncooked rice. Let the rice cook with all the base of the soup, the chicken stock, and the spices. The grains, while getting cooked, shall absorb the flavor and taste delicious.
This is an excellent way to use up your leftover chicken, whether it be rotisserie or grilled chicken that you couldn't finish and have put in the fridge. While using leftover cooked chicken, add it towards the end. This way, we do not overcook the chicken, allowing it to lose its moisture and end up dry and tough.
The creamy texture of the soup comes from the heavy cream. The thickness and richness of the soup come from the roux we make while the rice cooks. You can substitute the roux with a cornstarch slurry to make it gluten-free. Mushrooms are optional, but you can add extra texture and umami.
What is wild rice?
Wild rice is a wild grain that is native to North America. It grows in small lakes and streams. The outer sheath has a chewy texture, while the inner grain is tender. The flavor can be described as earthy.
Wild rice is rich in nutrients and is preferred as a healthier choice. It is rich in protein, amino acids, and vitamins and contains a good percentage of the daily requirements of many minerals. It does have a good amount of fiber, like white rice, but the latter is rich in carbohydrates and does not claim to have significant amounts of the nutrients mentioned above.
A wild rice blend is usually formed by mixing brown rice with long grains of brown rice. It may include basmati rice too. Brown rice is preferred as it shares the characteristic chewy texture of wild rice. Wild rice holds its shape upon cooking and does not become sticky.
Can we substitute chicken with turkey?
Yes, this will taste good with leftover turkey too. Do you have thanksgiving turkey left in the fridge? Defrost it and add it to the soup to best use the turkey.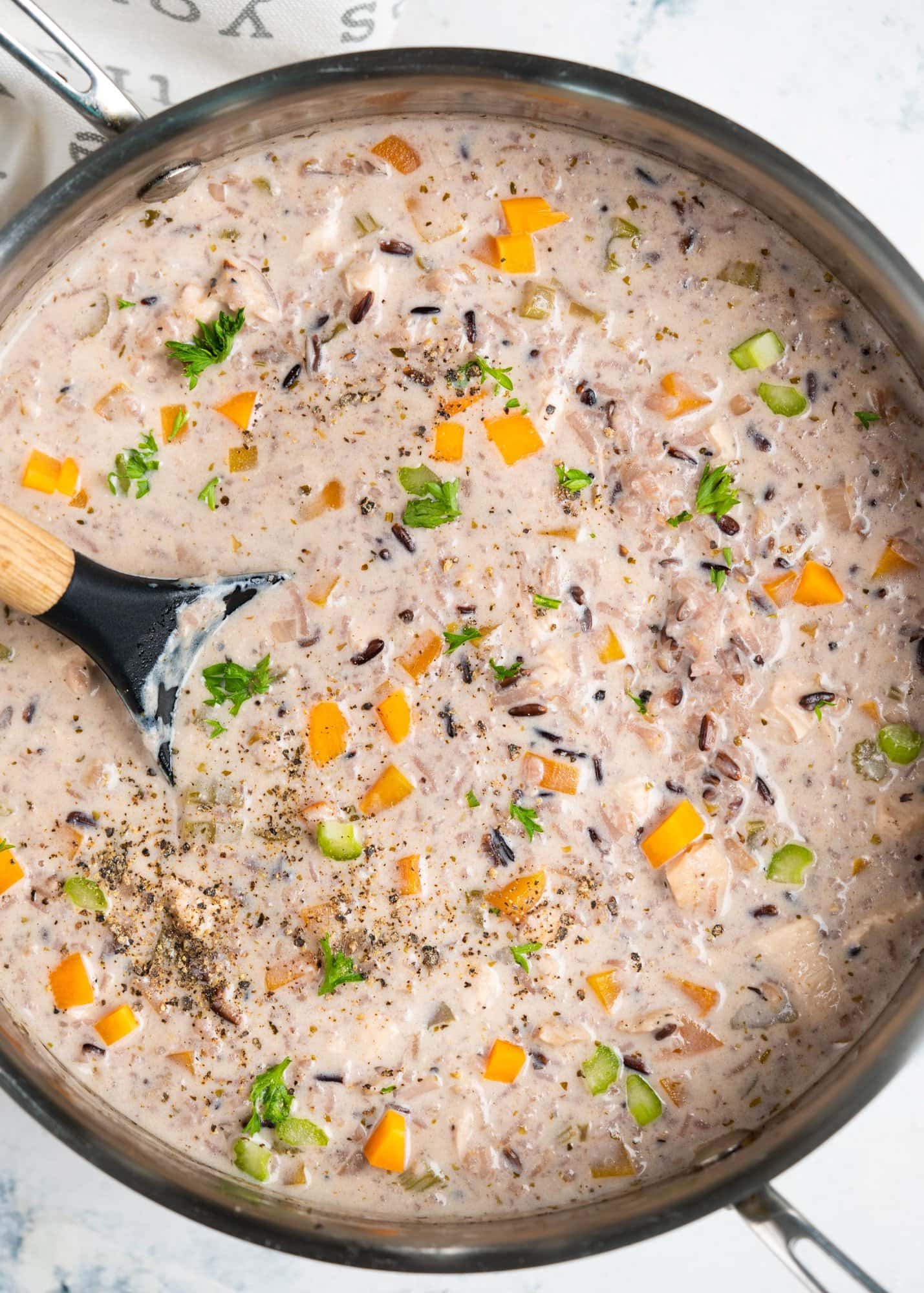 Ingredients
This flavorful and comforting chicken wild rice soup recipe has chicken, rice, aromatics, seasonings like Italian seasoning, and cream.
Chicken – You can use cooked chicken breast or leftover chicken like a rotisserie or grilled chicken. Skinless, boneless chicken breast is the preferred part of the bird for this soup recipe. Boneless chicken thighs will work great, too, and have more flavor. It takes a bit more time and is a good choice if you are not short of time.
Wild rice blend – get a good blend from a nearby store. You can read the choice of grains in each blend variety and choose according to your liking. Wild and brown rice blend is preferred.
Oil – Use a regular neutral oil like seed oil to saute some ingredients. Olive oil has a more robust flavor and affects the taste.
Chopped onion & minced garlic – The usual aromatics used in preparing the base of the soup.
Celery – the herby flavor of the celery elevates the soup.
Carrots – are used as a vegetable in soup. Red pepper can be added. I have not used more vegetables as this soup is starchy enough.
Chicken Stock – forms the flavor base for the soup. Get a good quality chicken stock. Homemade stock or chicken broth will work too.
Bay leaf – a spice used to enhance the aroma and flavor.
Italian seasoning – the mix of spices in Italian seasoning gives the perfect flavor profile for this soup.
Heavy cream – to make the soup more creamy and rich. Half and half is a good substitute.
Salt and pepper to taste
For making roux
Roux is made as a base to thicken the soup and uses –
Butter – to be melted and is the source of fat.
Flour – widely used for thickening sauces and gravies.
Chicken Stock – used for both as additional fat and the flavor to the base. Vegetarians can use vegetable stock.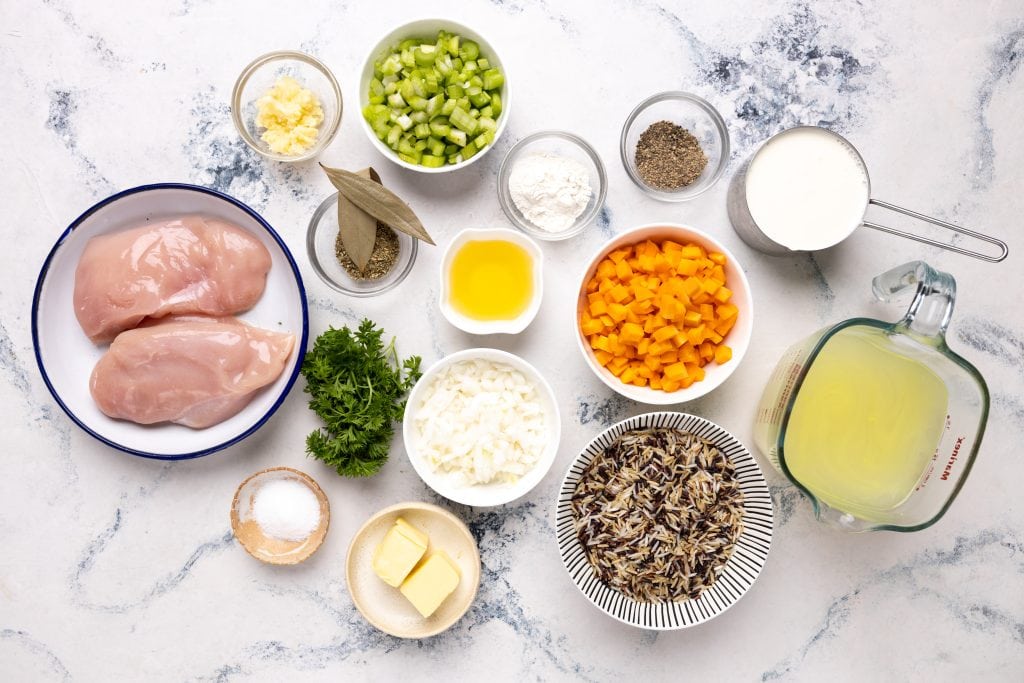 How to make creamy chicken wild rice soup
Cook & Chop Chicken
You can cook skinless, boneless chicken breast or use leftover rotisserie and grilled chicken. To cook chicken breast, heat butter in a pan after seasoning it with salt and pepper. Lay the chicken breast for 4 minutes on one side. Watch the bottom end turn white, which confirms that the side is cooked.
Flip the breast piece and cook it again for another 4 minutes. Watch for similar whiteness to know when it is done. Take the chicken out and chop it into tiny pieces.
You may also shred the chicken with a fork. Make sure to make tiny pieces, so you get other things in a soup in a spoonful.
Your work becomes relatively easy if you chop leftover cooked or grilled chicken.
Make the base of the soup
To the same carousel, add more butter. Add onion, celery, and carrot. Saute them until the onion turns slightly pink. Add minced garlic and saute for another minute until it loses its raw smell. Now, sprinkle salt and pepper as per your taste and tolerance.
You can add chicken stock, bay leaf, and Italian seasoning. Bring it to a boil, stir and then add the rice blend. Let it cook at high heat for 10 minutes and simmer for 30 minutes.
Make a roux
While the rice cooks, heat a pan and melt butter in it. Add an equal amount of all-purpose flour as butter, and start whisking. You should pour the chicken stock slowly while you whisk. It should form a smooth paste, and you are done. The roux can be slightly dark depending on how long you have cooked it.
Add roux to soup
Add the roux to the soup, followed by the cream. Whisk it well so the cream and roux mix with the soup.
Add the chicken now. We are adding the chicken towards the end as we do not want to overcook it and make it dry and tough. Let it cook for another 10 minutes, and you are done.
Sprinkle with chopped celery and serve.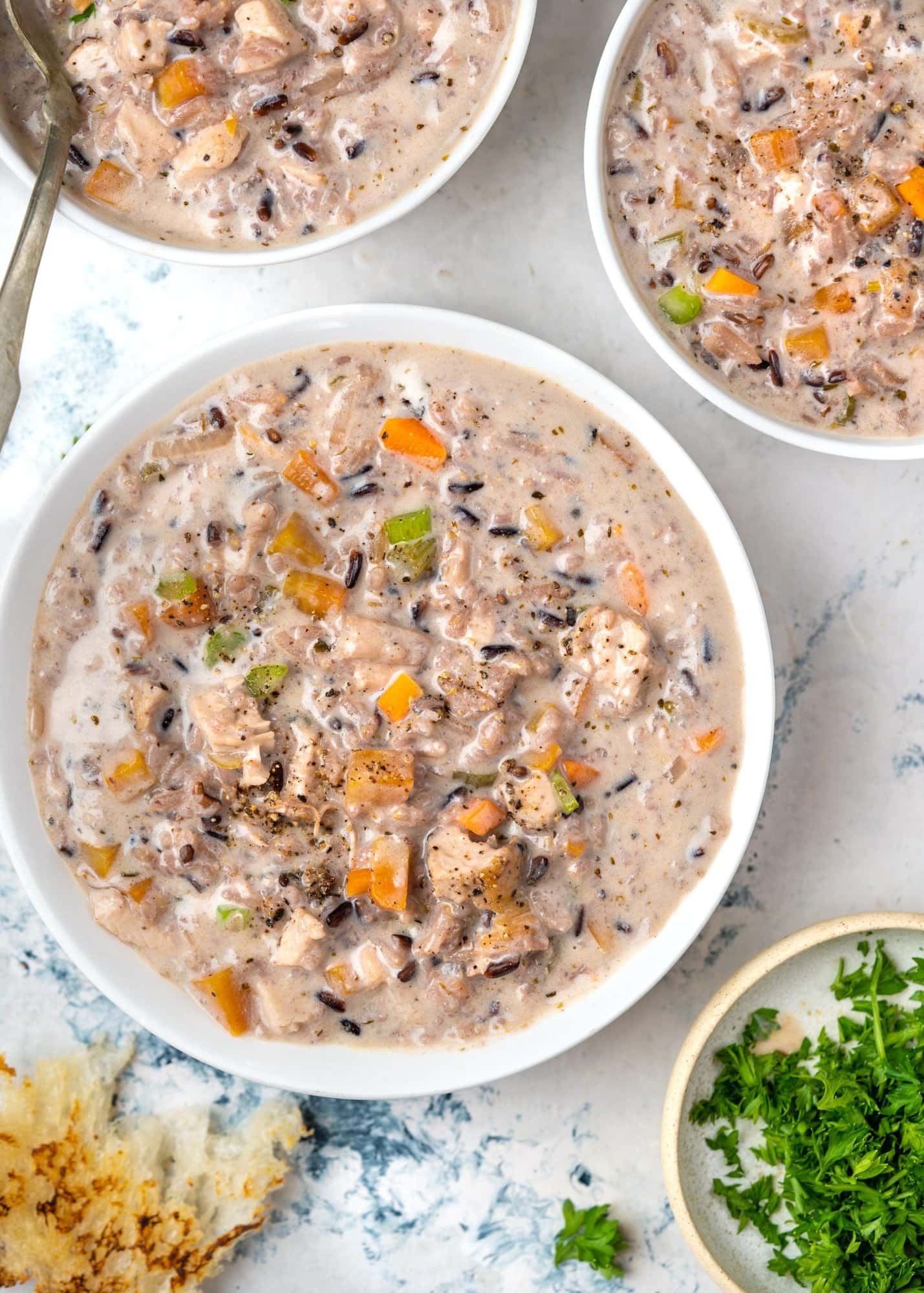 Can we freeze this chicken rice soup?
This soup does not freeze well. The rice in the soup absorbs all the liquid and swells. What you will see is an enormous mass of jelly-like rice dishes. Reheating it will not fix it.
You can store it in the refrigerator for 3 days in an air-tight container. Reheat it in the microwave or casserole for a minute until you see the soup bubbling. Serve it hot.
Serve with wild rice chicken soup
This soup with chicken and wild rice is the whole deal and a whole meal. It is so full of flavor that you can quickly finish big bowls. You may pair it with a green leafy salad at best and a glass of good wine.
Other Soup Recipes
Slow Cooker Mexican Chicken Soup
Sweet Corn Chicken Soup (Instant Pot and Stove Top)
Thai Chicken Coconut Soup (Tom Kha soup)
Creamy Chicken Tortellini Soup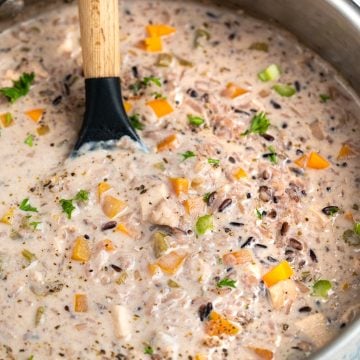 Chicken Wild rice Soup
This soup is made with a wild rice blend, chicken, and lots of vegetables. Wild rice makes the soup creamy and also gives an earthy aroma. A really filling and aromatic soup for cold days.
Ingredients
400 grams Chicken
1 cup Wild rice blend
2 tablespoon Oil
½ Onion, chopped
1 tablespoon Garlic, minced
2 stalks Celery
2 Carrots
6-7 cups Chicken Stock
1 Bay leaf
1 teaspoon Italian Seasoning
1 cup Heavy Cream
salt and pepper to taste
For making Roux
2 tablespoon Butter
2 tablspoon Flour
1 cup Chicken Stock
Instructions
Cooking Chicken
If using cooked chicken breast, this section. Season chicken breast with salt and pepper.

Heat oil in a dutch oven and cook seasoned chicken breast for 4-5 minutes on each side. Keep it covered for 10 minutes. When the chicken is easy to handle, chop the chicken breast.
Instruction for Soup
Wash wild rice under a running tap, until the water runs clean. Drain in a colander.

In the same dutch oven used for cooking chicken, heat the rest of the oil. Add chopped onion, celery, and carrot. Saute for 2-3 minutes until everything has softened. Stir in the garlic and saute for another minute.

Add 6 cups chicken stock, rice, salt, pepper, Italian seasoning, and bay leaf to the dutch oven. Give everything a good stir. Cover and let the rice cook.

Stir the soup every 10 minutes to prevent it from sticking to the bottom. at the end of 35 minutes, check the rice doneness by pressing in between 2 fingers. If you still feel the hard grain at the center, let it cook for another 10 minutes. If the mixture is too thick, add leftover stock to it.
Making roux
While the rice is about to be cooked through, heat butter in another pan. Add flour and cook for a minute until the raw smell is gone.

Slowly add chicken stock and whisk it well to avoid any lump.
Finale stage of cooking soup
When the rice is completely cooked reduce heat. Add chopped chicken, roux, and heavy cream to the pot. Stir well. Let everything simmer for 5 minutes.

Serve warm with fresh parsley on top.
Nutrition
Serving: 1serving | Calories: 562kcal | Carbohydrates: 34g | Protein: 25g | Fat: 37g | Saturated Fat: 16g | Polyunsaturated Fat: 5g | Monounsaturated Fat: 13g | Trans Fat: 0.2g | Cholesterol: 113mg | Sodium: 515mg | Potassium: 678mg | Fiber: 2g | Sugar: 7g | Vitamin A: 4264IU | Vitamin C: 4mg | Calcium: 63mg | Iron: 2mg