Garlic Parmesan Mushroom Zoodles
This post may include affiliate links that earn us a small commission.
This 15 minutes Garlic Parmesan Mushroom Zoodles is one pan and six ingredients. A delicious low-carb dinner for the entire family.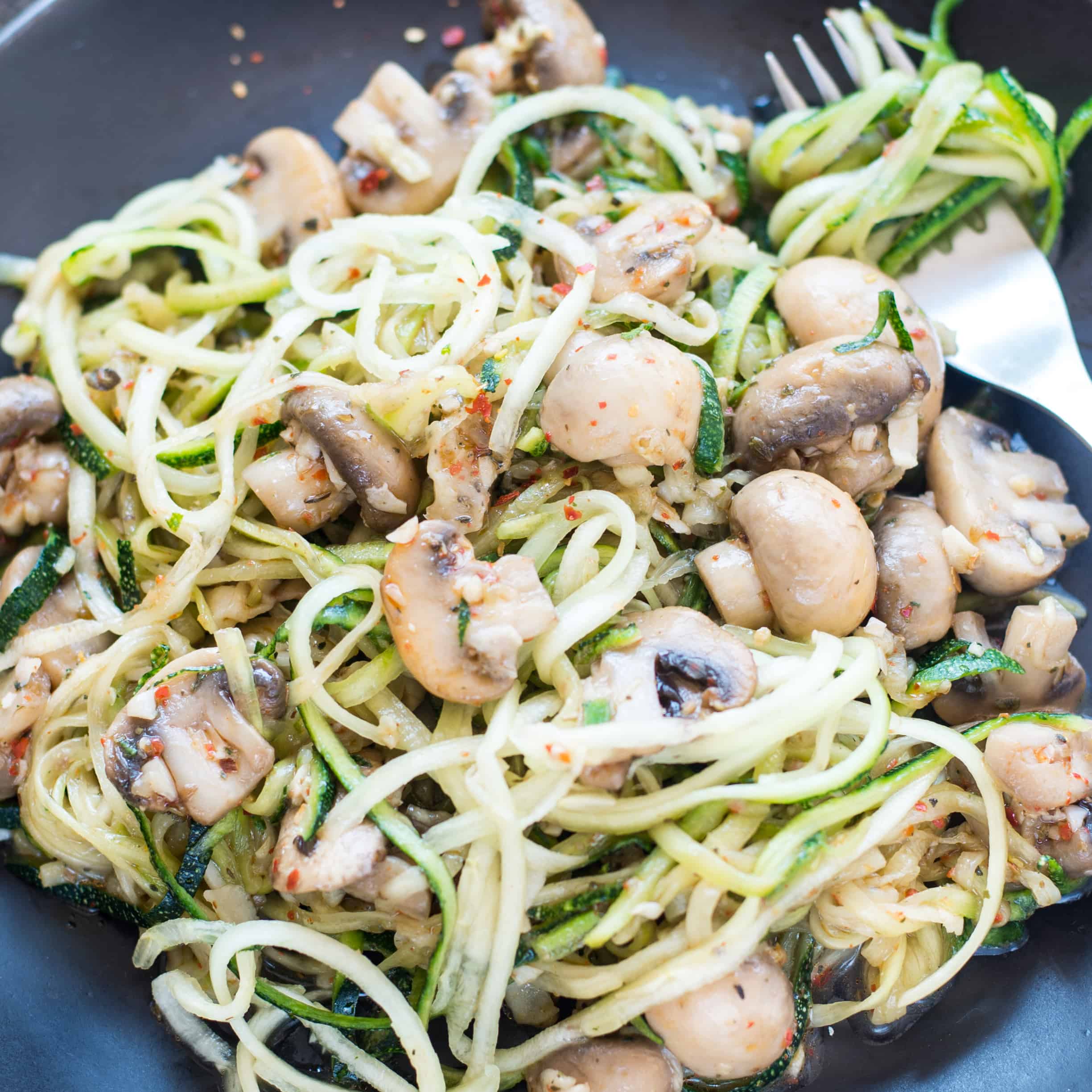 In my previous post, Zucchini Coconut Flour Pancakes, I had told you that I have been using zucchini a lot. And I meant it. This vegetable is a must when I go for my weekly shopping. And I have been trying different recipes with this vegetable.
Flavours In Your Inbox
Subscribe for recipes straight to your inbox
Do you know 100 grams zucchini has is just 16 calories with 3.35 grams of carbs? (Source: Fatsecret) . This veggie is loaded with dietary fiber and Vitamin C. If you are on a weight loss regime or want to lower your carb intake, zucchini is a blessing. It is readily available and not that expensive too.
In one of the popular recipes using zucchini, you will find Zoodles. Zoodles recipes are all over Pinterest. My kitchen cupboard is already filled with appliances. There is hardly any space left for a new tool.
Finally, after a lot of hesitation got this small handy Spiralizer. I am pretty happy with this one. I have been using this quite a lot. My little one loves having cucumber and carrot noodles.
A spiralizer is a handy tool in your kitchen. If you are interested in meal preps, this fits the bill perfectly. You can use this to make and store bags of spiralized zucchini, cucumber, carrots, beetroot, cabbage, etc. These are very handy to churn up a quick recipe.
You may also look at my other zucchini recipes – Zucchini Banana Bread, Zucchini Stir Fry or Zucchini, mushroom, and red bell pepper bread.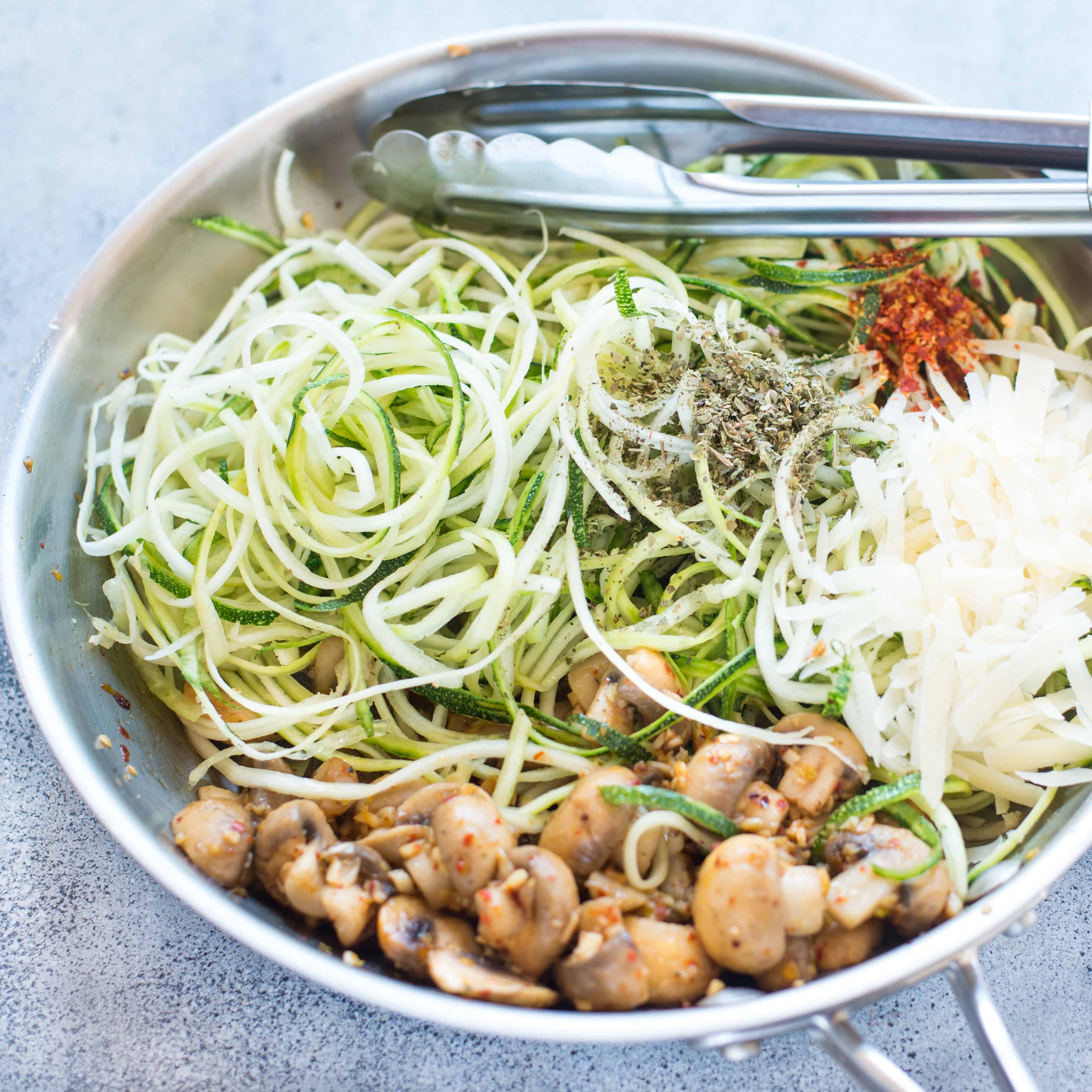 Ingredients
Zucchini – Use fresh small to medium-sized zucchini's that are firm but tender with shiny skin.
Button Mushrooms – I have used button mushrooms as this stir-fry is a quick recipe. You can use cremini mushrooms too.
Garlic – The go-to flavor bomb.
Parmesan cheese – A hard cheese thats grated and melts on top of the dish.
Italian seasoning – A mixture of herbs to give you the perfect italian flavors.
Red chilli flakes – Added for some heat as desire.
Olive oil – Use extra virgin oil olive oil. This is perfect for the classic italian flavor for a quick recipe.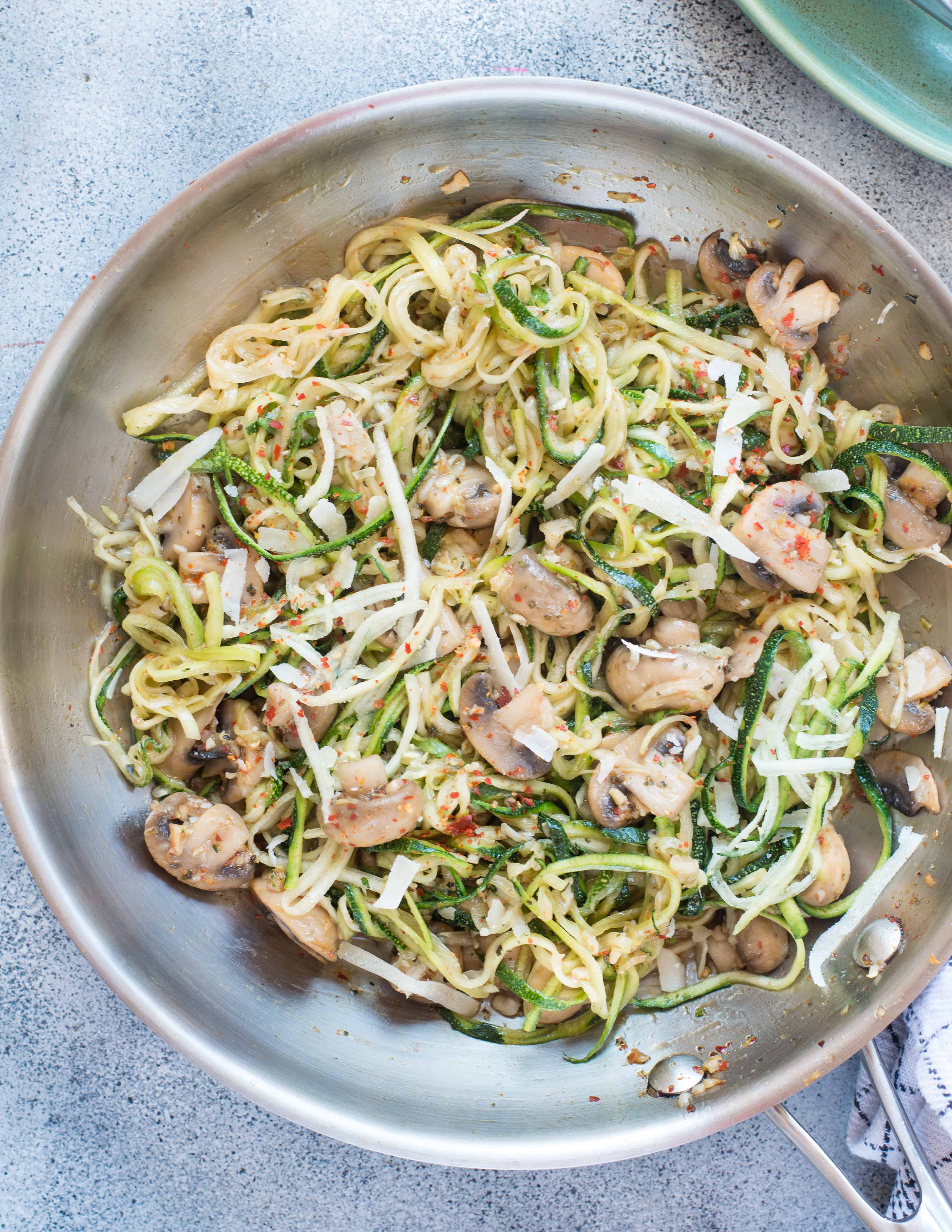 How to make
Use a spiralizer to create fresh zoodles of zucchini. You need not strip and throw away the skin.
You should salt your zoodles. This helps in draining out the moisture. Salt it and leave it out for some time. Then drain the excess liquid.
Cook the mushrooms first. Saute them in olive oil until they get caramelized and appear brown. Add minced garlic and saute them again for a minute until it loses the raw smell of garlic.
Time to add the seasoning and chili flakes and mix everything well.
You can switch off the flame now while adding the zoodles. Put grated parmesan on top.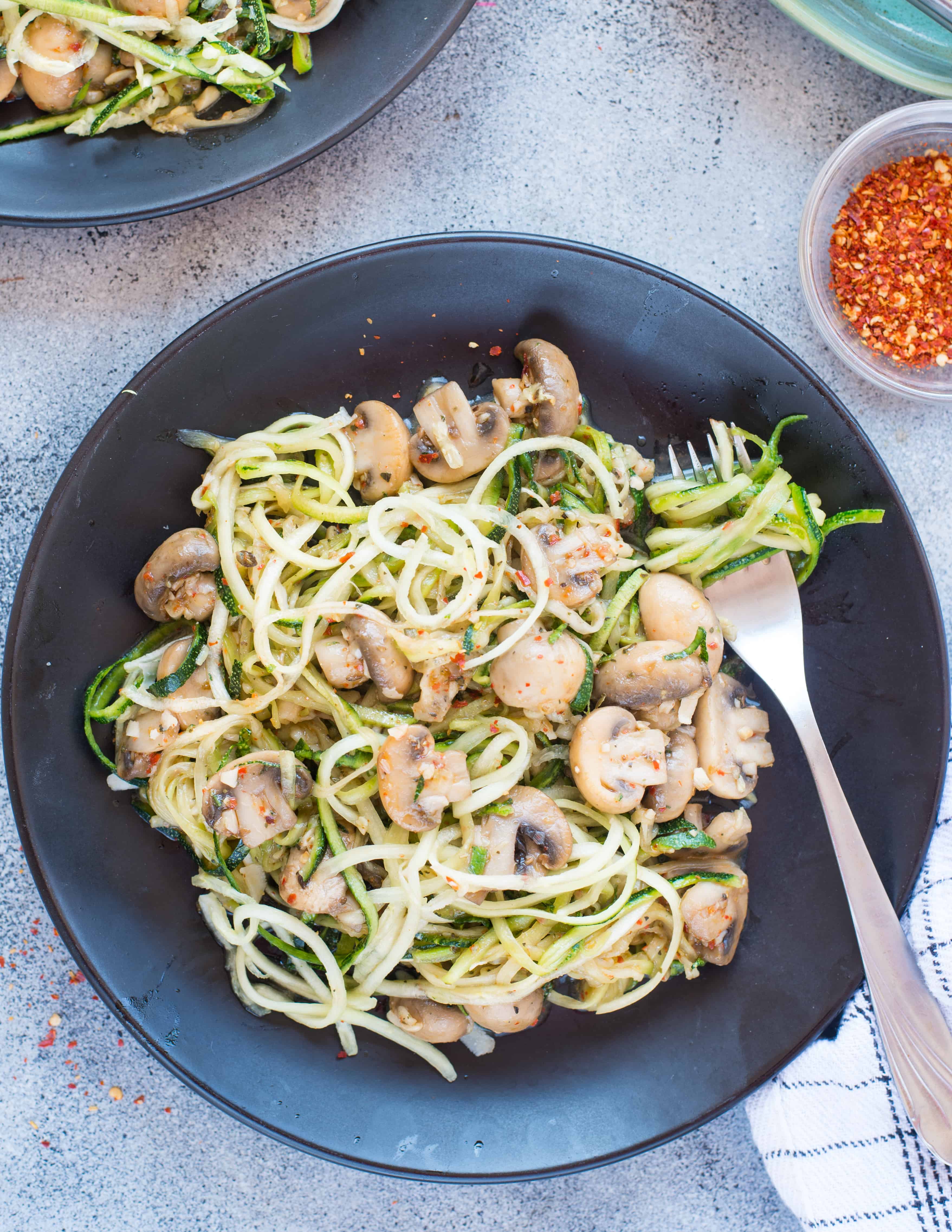 Store
You can safely store your spiralized zoodles in a separate bag or container for up to 5 days in the refrigerator.
I would not suggest storing the tossed zucchini with mushrooms, and all as this will turn soggy and would not taste the same later.
Serve With
Zoodles being a low carb meal, you can serve this with any grilled or sauteed meat or veggies:
Easy Grilled Chicken with Buttermilk Marinade
Tandoori Chicken (Oven & Stove Top)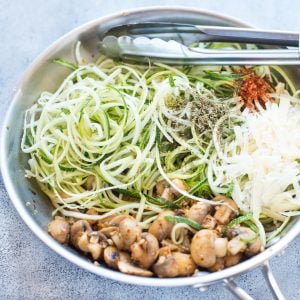 GARLIC PARMESAN MUSHROOM ZOODLES
This 15 minutes Garlic Parmesan Mushroom Zoodles is one pan and just 6 ingredients. A delicious low carb dinner for the entire family.
Ingredients
3 cups fresh Zoodles (from 1 large Zucchini)
250 grams button mushroom Sliced
2 tbsp extra virgin olive oil
1 tbsp Minced garlic
2 tspn italian seasoning
1 tspn Red chili flakes
½ cup Parmesan cheese gratted
Instructions
Heat olive oil in a pan

Add sliced mushrooms. Cook till the mushroom is caremelized.

Add minced garlic. Cook for another 1 minutes.

Add italian seasoning, red chili flakes. Mix everything well.

Switch of the flame. Add zoodles and gratted parmesan.

Toss everything well.
Notes
If you cook zoodles for a long time it starts releasing water. So to keep them crispy, I switched off the flame then tossed the zoodles.
Nutrition
Serving: 100g | Calories: 159kcal | Carbohydrates: 9g | Protein: 8g | Fat: 11g | Saturated Fat: 3g | Cholesterol: 8mg | Sodium: 222mg | Potassium: 673mg | Fiber: 2g | Sugar: 5g | Vitamin A: 525IU | Vitamin C: 33.7mg | Calcium: 188mg | Iron: 1.3mg