This post may include affiliate links that earn us a small commission.
This flavor-packed Zucchini Stir Fry gets ready in 20 mins. Make this super quick stir fry with Onion, Garlic, Zucchini tossed in a simple sauce.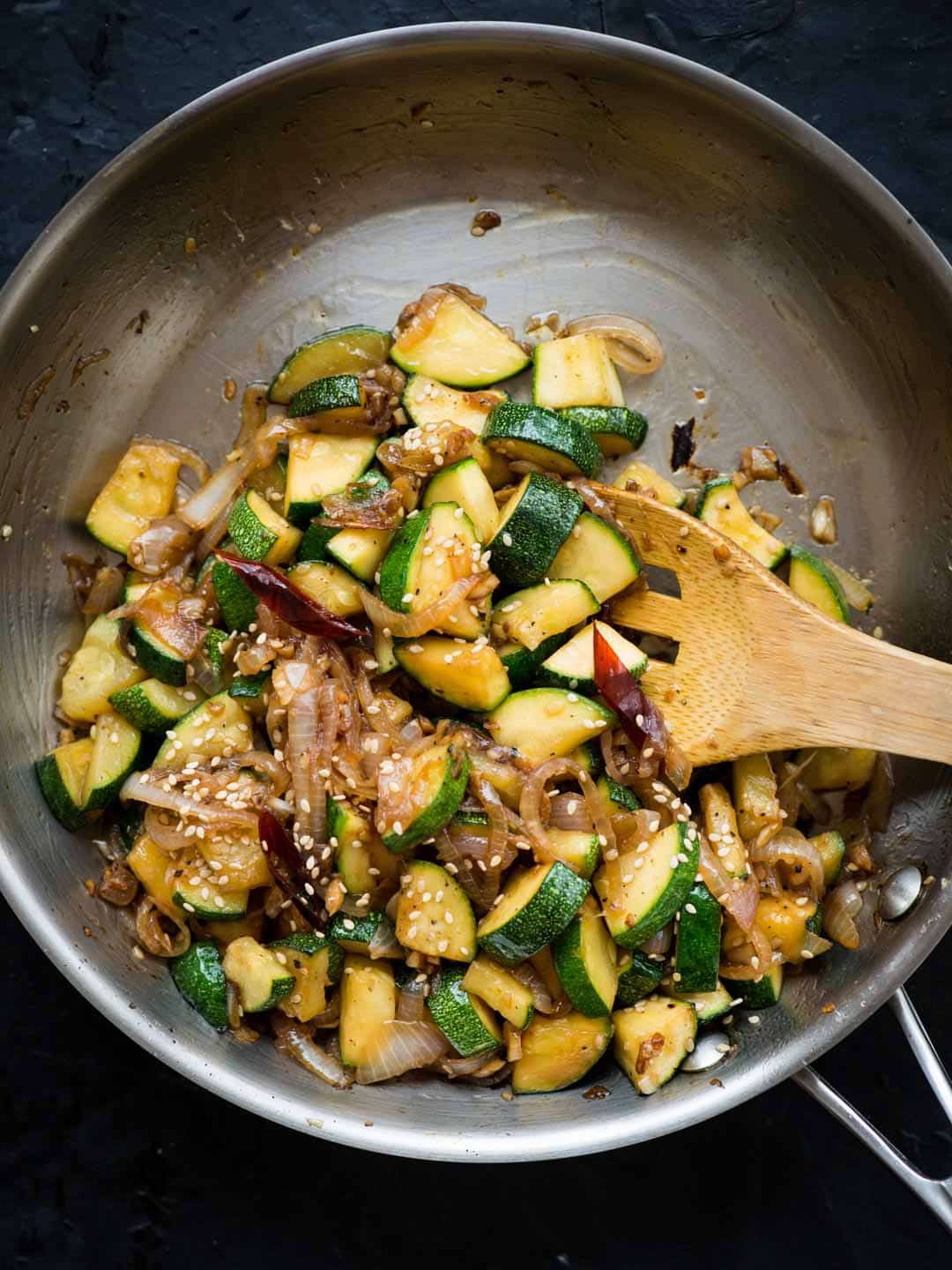 This Zucchini Stir fry is a brilliant way to turn humble Zucchinis into a take-out style stir fry in almost no time. Serve this stir fry on rice for a complete meal. Caramelized onions, garlic, tender yet Crispy Zucchinis tossed with Soy and Oyster sauce. Then there is toasted sesame seeds and sesame oil to finish up the dish.
Flavours In Your Inbox
Subscribe for recipes straight to your inbox
A quick stir fry happens in our house very frequently. Mostly it is chicken along with some veggies tossed in sauce. Stir-fries are a breeze to make and a perfect way to turn a boring meal interesting.
This time I had a couple of Zucchinis in the refrigerator that needed to be used before we leave for vacation. And this stir fry happened.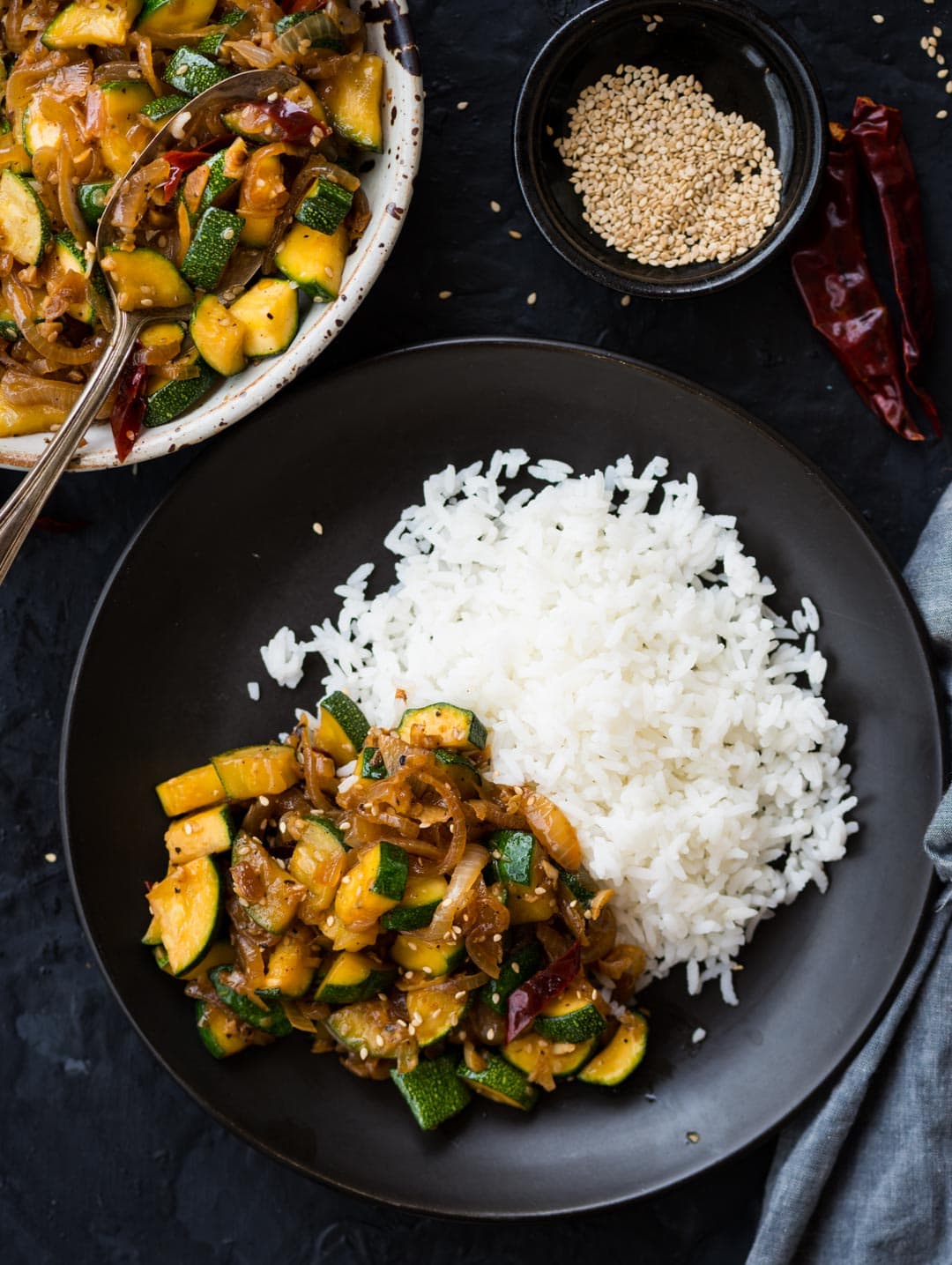 Ingredients For Zucchini Stir Fry
All you need is a handful of ingredients mostly pantry staple for this recipe. Saying that you can also swap half of the Zucchini with other vegetables like broccoli, carrot, peppers. But let's stick to Zucchini because after all, it is Zucchini stir fry.
Onion
Garlic
Zucchini
Dried red chillies
Soy Sauce
Oyster Sauce
Toasted sesame seeds
Toasted Sesame Oil
Salt and Pepper
Helpful tips
For that matter, zucchini or any stir fry, there are a few tips that are helpful.
Stir-fries are meant to be super quick. So the first step while making any stir fry is to do the prep before starting with the cooking. Finish off all the cleaning and chopping ahead. Keep the rest of the ingredients like sauce, salt and pepper reachable.
Zucchini needs to firm and fresh.
Zucchini pieces should not be too thick or too thin.
Stir fry needs really high heat and things need to be done really quick. A wok or a wide pan works best in this case.
Caramelizing onion adds sweetness to the stir fry. So brown it until it softens and starts to brown.
Don't overcook the zucchini. Soft and soggy Zucchini is
Red chilli adds smokiness but you can skip if you don't have it.

Other Zucchini Recipes you might like
Garlic Parmesan Mushroom Zoodles
Oven Roasted Vegetables With Chicken
Coconut Flour Pancakes With Zucchini
Zucchini, mushroom, and red bell pepper bread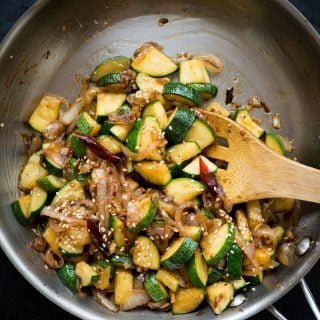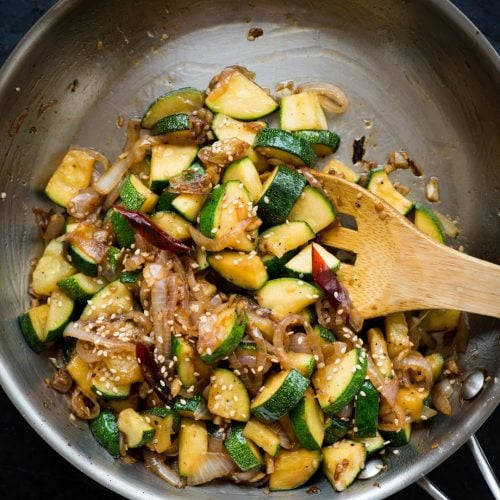 Zucchini Stir Fry
This zucchini recipe is going to be your favourite for sure. Quick Chinese inspired Zucchini stir-fry takes less than 20 minutes to make. Watch the recipe video above to find it how easy it is.
Ingredients
2 medium Zucchini Fresh and firm
2 medium Onion sliced
1 tablespoon Garlic minced
2 teaspoon Cooking Oil
1 dry red chilli
1.5 tablespoon Soy Sauce low sodium
2 teaspoon Oyster Sauce
2 tablespoon Toasted Sesame Seeds
½ teaspoon Toasted Sesame Oil
salt and pepper
Instructions
Pour oil to a wok or a pan. Once hot add dry red chilli if using.

When the red chilli is smokey hot, add sliced onion.

Saute onion until it is soft and translucent.

Add minced garlic. Stir until aromatic and no more raw smell is there.

Add chopped Zucchini. Stir fry on high heat for 2-3 minutes.

Add Soy sauce, Oyster Sauce, salt and pepper. Toss everything and mix well.

Stir fry for another 2-3 minutes. When the zucchini is coated well with the sauce and small brown blisters start appearing.

Sprinkle toasted sesame seeds and toasted sesame oil. Mix everything well.
Notes
For glutenfree version use tamari or Coconut aminos instead of Soy sauce.
Soy Sauce and Oyster sauce already contains salt. So add salt accordingly.
Add a dash of hot sauce for an extra kick. 
Recipe Video with step by step instruction just above the recipe.  
Nutrition
Serving: 100g | Calories: 78kcal | Carbohydrates: 11g | Protein: 3g | Fat: 3g | Saturated Fat: 1g | Sodium: 286mg | Potassium: 502mg | Fiber: 3g | Sugar: 6g | Vitamin A: 325IU | Vitamin C: 33.6mg | Calcium: 42mg | Iron: 0.8mg