This Saucy Chicken Asparagus Stir fry Noodles with succulent pieces of chicken and crunchy asparagus is bursting with Asian flavours. This 30-minute Rice Noodles Stir Fry is going to be a perfect weeknight dinner.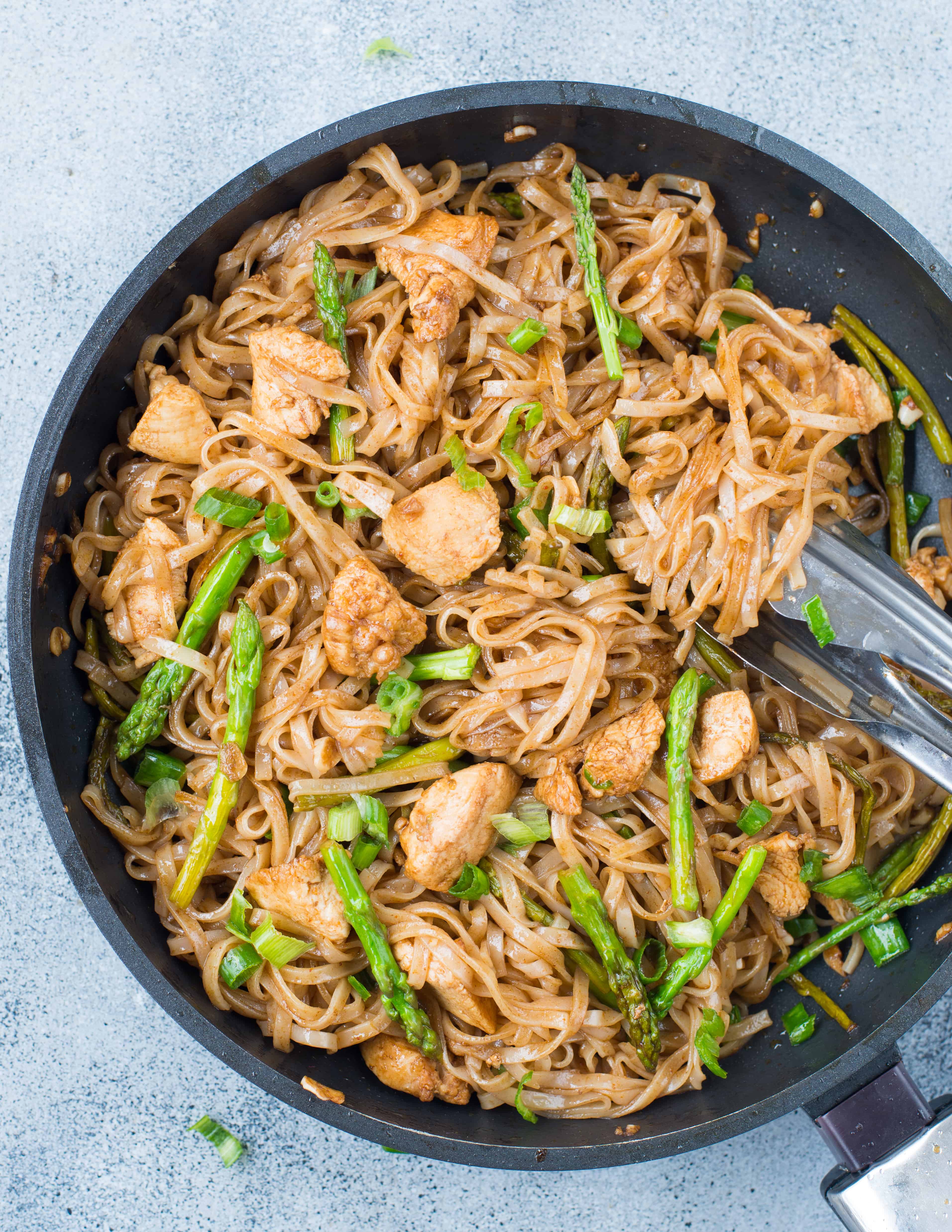 If you talk about quick meals then the first thing that comes to mind is Asian style Stir fries. Once you do all the preparation, you barely need 15 minutes to cook the entire dish.
Chicken Stir Fry is my go-to recipe most of the time. I don't really follow any particular recipe for my Chicken Stir fry.  A sweet, spicy and salty stir fry sauce with chicken and any available vegetables in the refrigerator works for me.  I serve it along with rice or noodles.  This Chinese Five Spice Ginger Chicken is one of our favourite stir fries.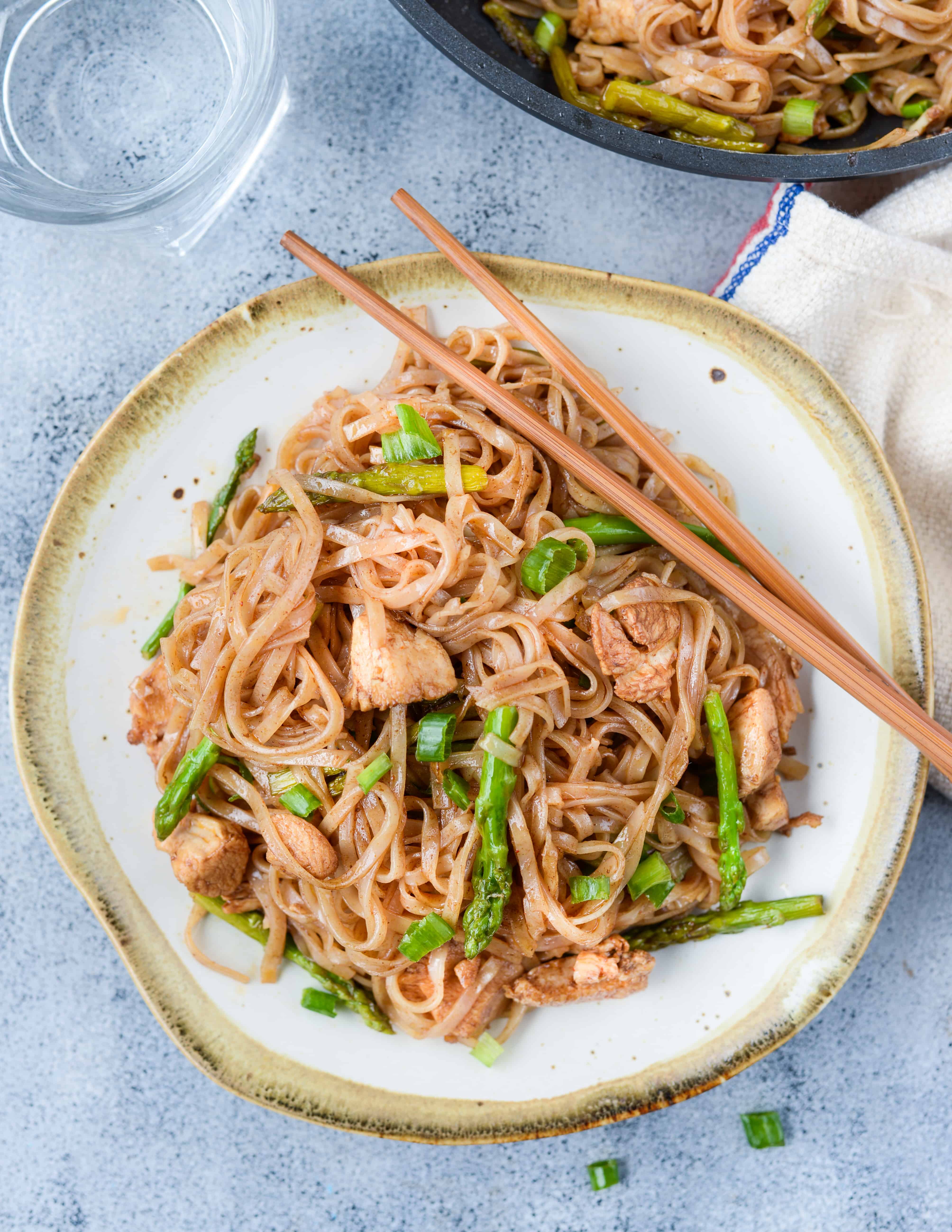 I had some Rice Noodles at home. Actually, this is the second time I made this Rice Noodle Stir Fry. Made this about a month ago. The sauce was freaking good. It was sweet, spicy with the delicate flavour of fish sauce.
A few days back when I was wondering what to do with the remaining noodles, Husband was like why don't you do that sweet and spicy sauce noodles. It definitely took me some time to recall it.  Rest all it took is 15 minutes to put the dinner on the table.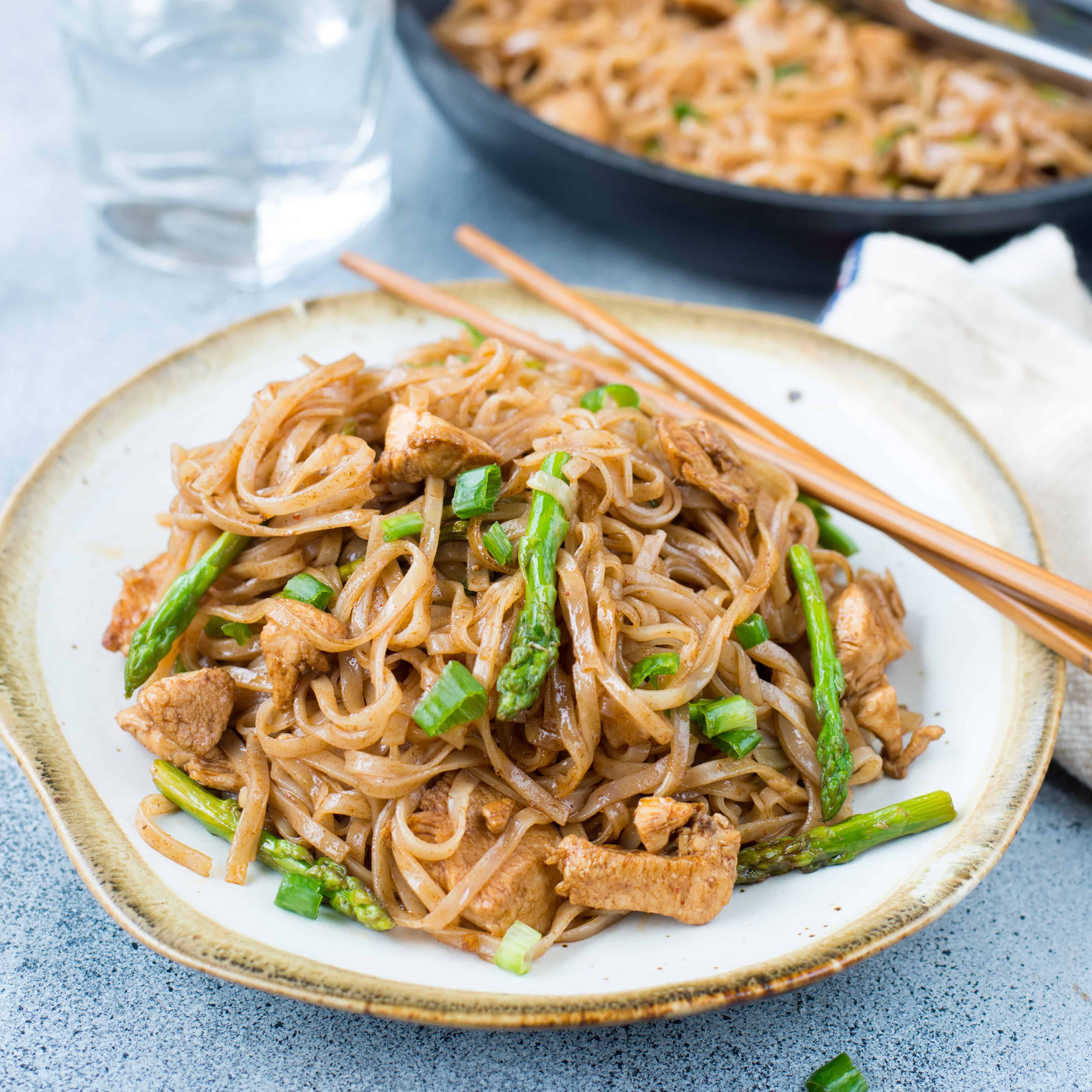 You could just about use any noodles in this recipe. I like Wide Rice Noodles, because it is gluten free, doesn't need cooking and soaks up the sauce really nicely.  I really love to make this Butternut Squash Tofu Thai Curry on a cozy winter night and serve on top of Rice Noodles.
CHICKEN ASPARAGUS STIR FRY NOODLES RECIPE VIDEO
Making Chicken Asparagus Stir fry Noodles Recipe is fairly simple.
Start with preparing the vegetables. I have added only Asparagus but you can add broccoli, peppers and snow peas as well. Use fresh veggies to have the crunch in every bite.
Then you can make the stir fry sauce before you start cooking by adding Sriracha, Soy Sauce and brown sugar. Or as shown in the above video you keep all the sauce ready and add directly to the pan.
Cook the noodles as per package instruction. I soaked the noodles in hot water for 15-20 minutes.
While rice noodle is getting soaked, heat a pan add oil. Add chicken. Stir for 2 minutes.
Then add minced garlic. Followed by whatever veggies you are using.
Add sauce and then drained soaked noodles. Mix well.
Season with fish sauce and salt if required.
I would suggest serving this Chicken Asparagus Stir fry Noodles immediately, else the noodles would soak up all the sauce in no time.
As asparagus is in season now, you must try this Lemon Herb Chicken, Asparagus, & Mushroom Skillet is fresh, healthy and low carb dinner made in one pan in under 30 minutes. The buttery lemon herb sauce is flavourful and delicious.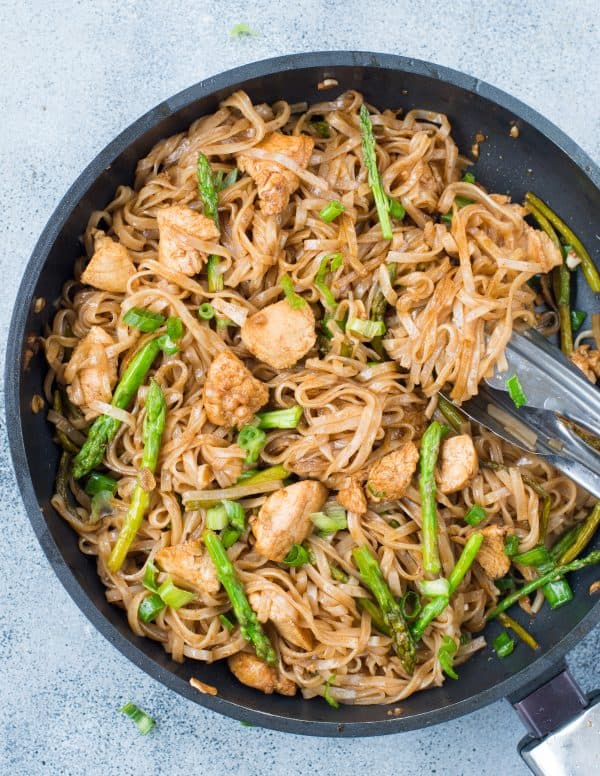 | | |
| --- | --- |
| | |
Soak rice noodles in warm water for 15-20 minutes/as per package instruction.

In a pan or wok heat oil.

Add chicken pieces. Fry for 30 Seconds.

Add minced garlic. Stir for 30 seconds.

Then add asparagus followed by hot red sauce, soy sauce and brown sugar.

This fish sauce is gluten free, doesn't have any added water, or preservatives.

Toss everything well on high heat, until the noodles is coated well.

Sprinkle chopped Green Onion.