This post may include affiliate links that earn us a small commission.
The best way to use your leftover ham and make it into a creamy, cheesy, and rich one-pot dish along with crusty golden brown topping to serve your family an easy dinner. Make ham casserole from scratch without canned soup and make a flavorful sauce at home.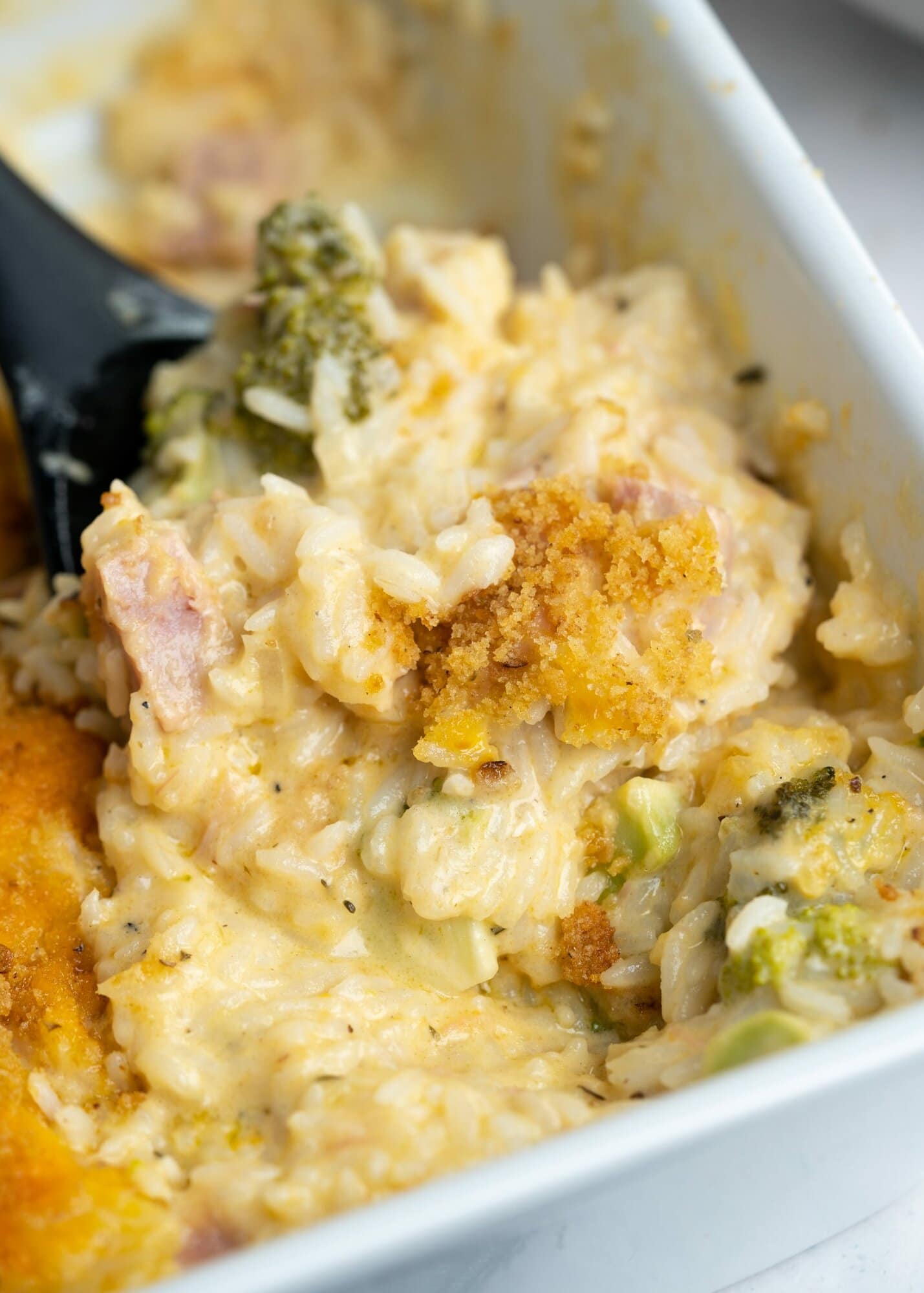 Casserole dinners are quite the trend nowadays. It's everyone's favorite family dinner and a boon for busy homemakers. A typical casserole dinner has a protein, a starch (like rice), some vegetables (often chopped small), and a binding agent like a roux, and is complimented with cheese.
As the name suggests, this leftover ham casserole has ham, rice, and broccoli for vegetables, Roux as the binding agent with sour cream, and cheddar cheese.
I love one-pot dinners. If you can make it in a pot, pan, or casserole, it does not matter. This recipe also needs a Dutch oven to saute the aromatics and make the sauce; everything is then transferred to the casserole and baked.
The convenience stands out for me and is a fantastic time & effort saver when you have to make dinner at the end of busy workdays. It's easy to dump all ingredients into a casserole and bake it, and second, you have fewer things to clean too. It can work on a stove and an oven, and an eye-pleasing one is good enough to serve on the table.
There is an easier way to make a casserole by using canned soup, which indeed makes it fast, but it lacks the flavor the sauce you make at home has. It has a much greater flavor, and you end with a delicious and rich sauce in the casserole.
I have been making a lot of casserole dishes and repeating many of them. I have added those recipes to the blog. You can check out them here – Potato Breakfast Casserole With Bacon, Stovetop Chicken Broccoli Rice Casserole, Easy Breakfast Casserole With Bread, and Quinoa Chicken Broccoli Casserole.
Roux
An essential part of making a casserole is getting the Roux right. Roux is a common technique to impart creaminess and thickness to a soup, gravy, or casserole. It needs patience and care and is made of a few essential ingredients.
Roux is equal parts flour and fat (usually butter), cooked together to thicken sauces and gravy. The measurements are simple and stay the same no matter the purpose you use the Roux for.
The technique is what matters, which involves continuous whisking of the flour with the butter while the mixture cooks. Allowing it to cook for a long time produces a darker color, which suits some dishes Roux is used in or supports.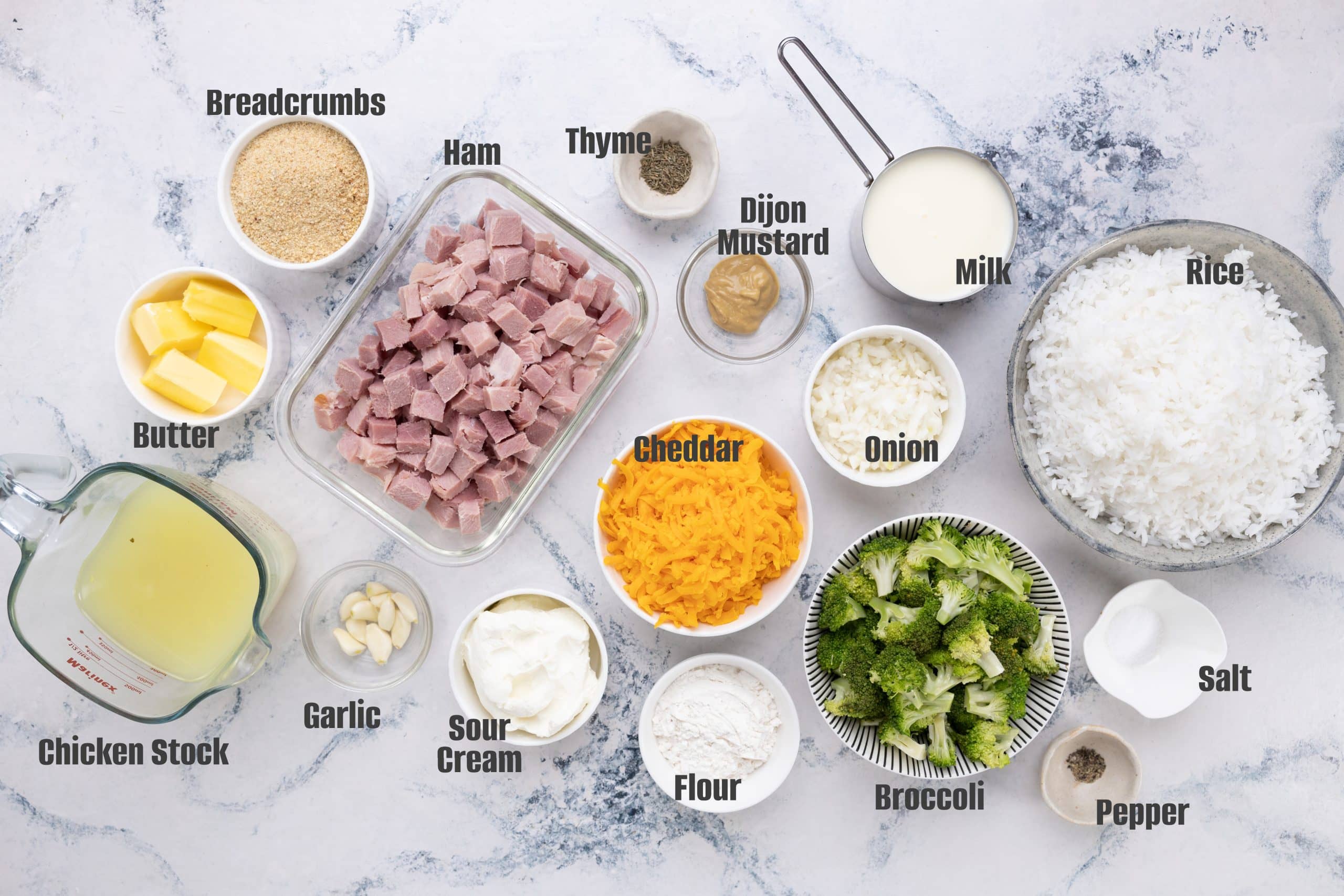 Ingredients
Diced ham – The size of diced ham is between chopped and minced ham. It works perfectly with rice and other vegetables chopped into small sizes. If you have a more considerable ham portion, you can dice it into 1/4-inch-sized pieces. Store-bought diced ham is fully cooked, comes in different-sized packaging, and is readily available in nearby stores.
Broccoli – I like to add broccoli in dishes like this, where it comes bite-sized and engulfed with all that yumminess from the rest of the ingredients, and my daughter cannot complain :). You can also have carrots or cauliflower too.
Rice – Any medium or long-grain rice will work. It acts as a form of starch. Brown rice or short-grain rice will be mushy and sticky and is best avoided.
Chicken stock – is added to the Roux and improves the base flavor of the sauce.
Diced onion and minced garlic – the usual aromatics you shall find in most of my recipes that provide aroma and strengthen the flavor base of the dish.
Milk & sour cream – add creaminess to the dish.
Cheese – Mostly, it is shredded cheddar, but you may use any aged cheese like reggiano or gouda.
Thyme – gives that fresh, herby flavor.
Dijon mustard – gives that sharp and spicy note that pairs very well with cheesy and meaty dishes.
Salt & pepper to taste
To make Roux
All-purpose flour – used commonly to make a roux and thicken gravies and soups.
Butter – the source of fat that gets bound with flour.
Breadcrumb topping
Panko breadcrumbs – are the best and provide a lighter crust than regular breadcrumbs since they absorb less oil.
Butter – is used to mix with the breadcrumbs. This mixture will be topped over the casserole.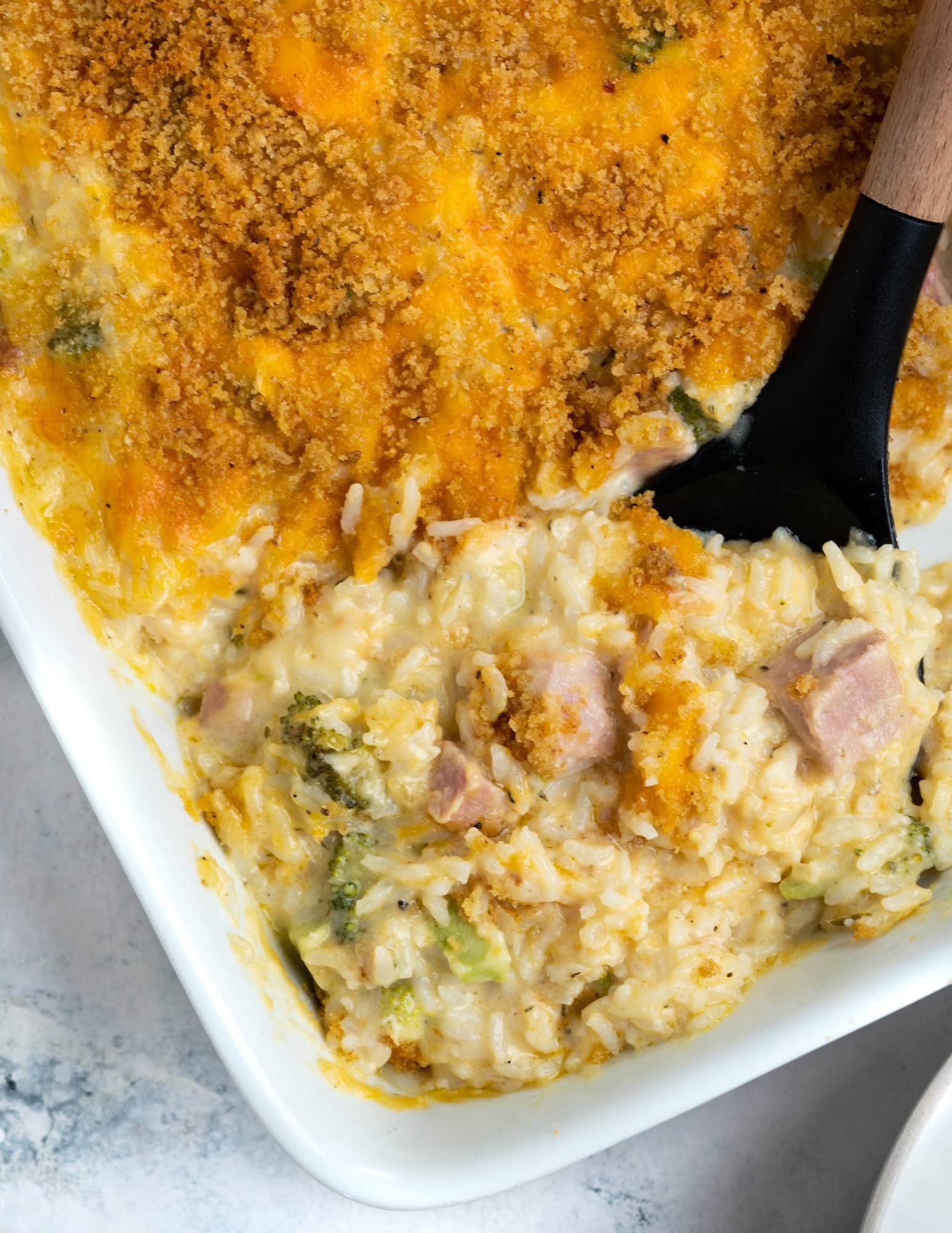 How to make a baked casserole with leftover ham
Prep
Preheat oven to 400°F. You need to chop the vegetables like broccoli. Leftover rice will work very well. If you need to, cook rice at the same time while you make the sauce.
Saute aromatics
Heat butter in a Dutch oven and saute minced garlic for 30 seconds until it loses its raw smell and smells aromatic. Add diced onion and saute for a couple of minutes until it becomes soft and translucent.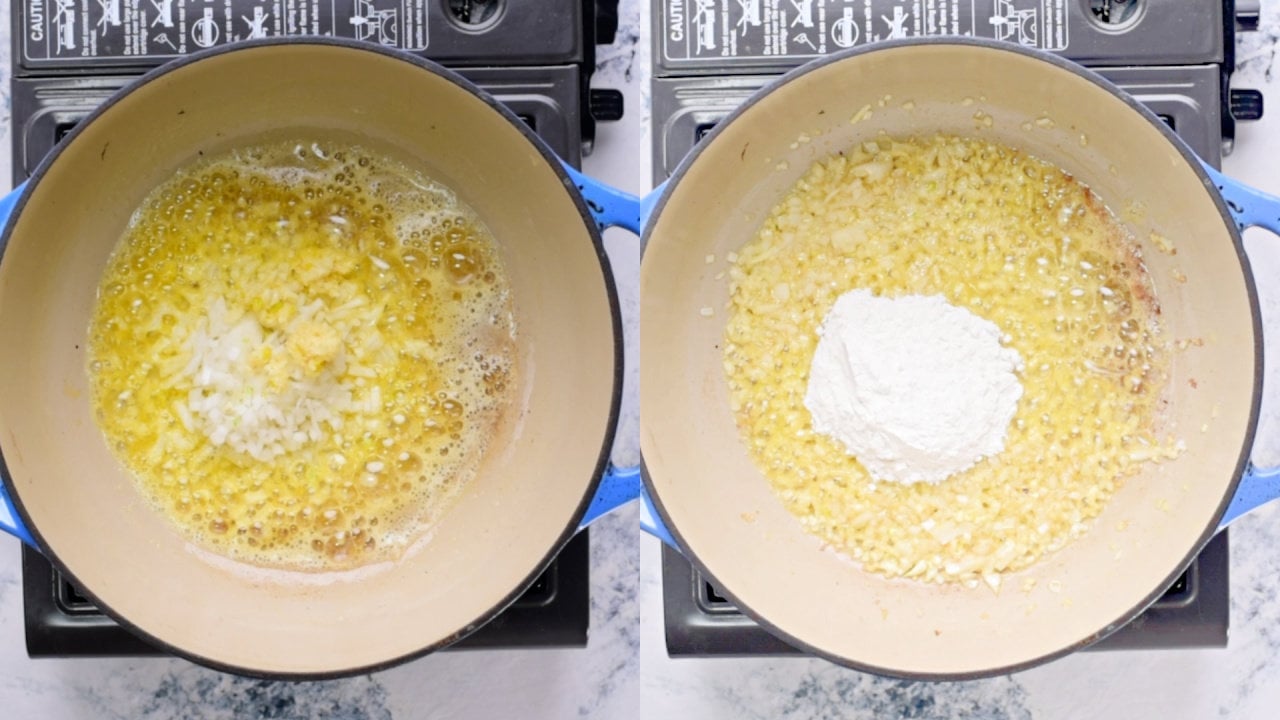 Make the Roux
Start adding flour and stir it slowly, taking care not to burn the flour. You will have the Roux formed. Roux will help thicken the sauce, which we shall make in the next step.
Cook the sauce
Next, slowly stir in the chicken stock and ensure no lumps are formed. Stir in milk to make a smooth and creamy mixture.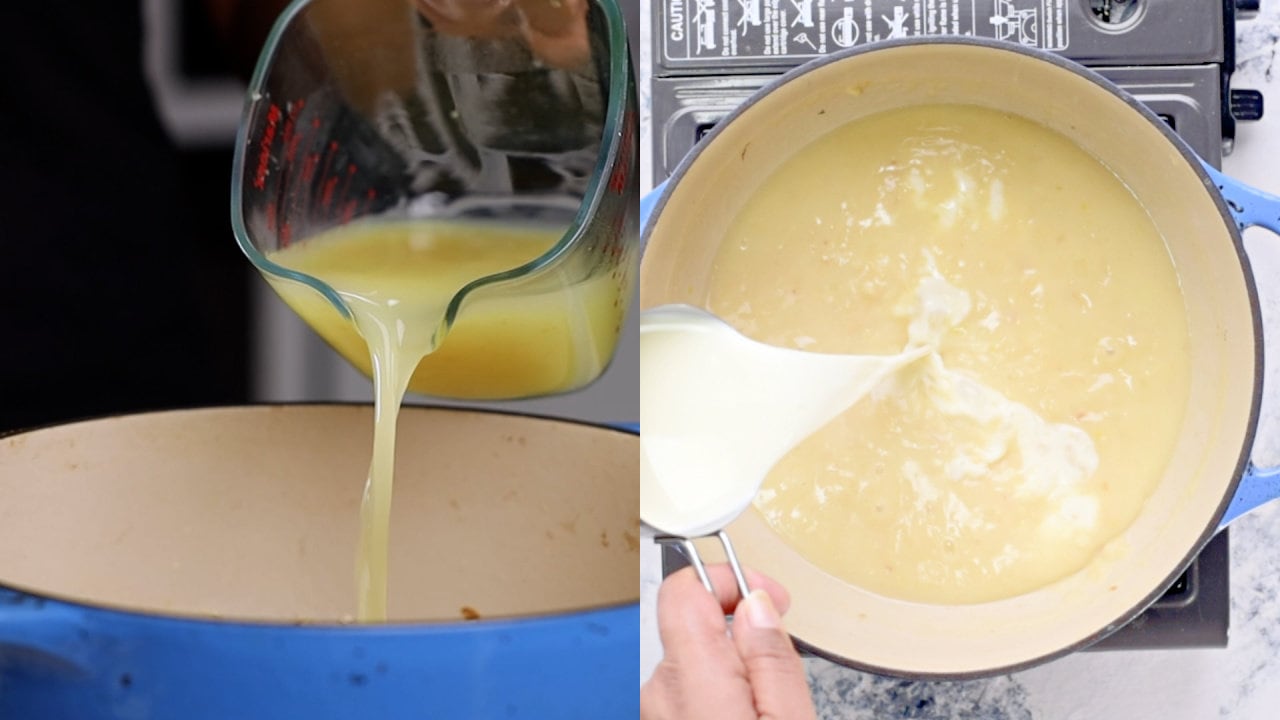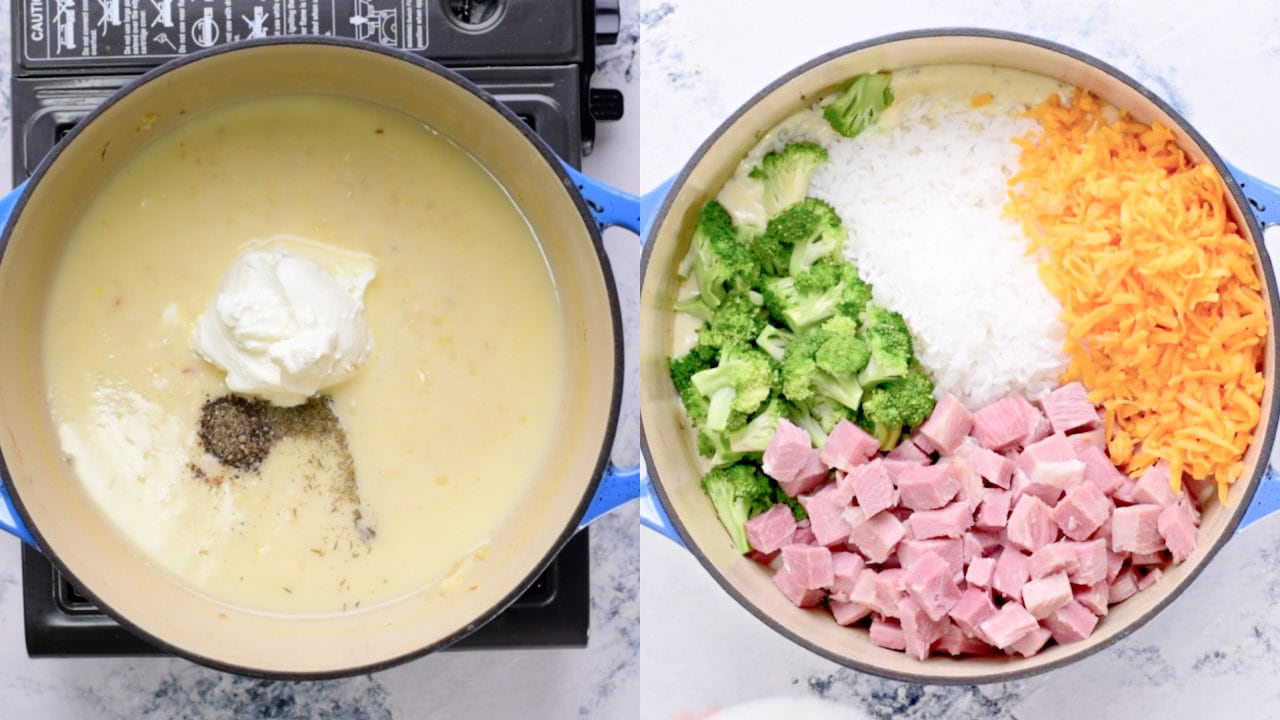 Add the other ingredients like Dijon mustard, thyme, pepper, salt, and sour cream. Whish everything well, and you should see the sauce made to your desired consistency.
Add cooked rice, blanched broccoli, diced ham, and 2 cups of shredded cheese to the sauce. Note – we are saving 1 cup of shredded cheese for later.
Bake in the oven
Shift the mixture to a baking dish. Sprinkle the remaining cup of cheese on top. Melt the remaining butter and pour it into a small bowl. Add panko breadcrumbs to it and mix. Sprinkle the breadcrumb mixture evenly all over the cheese.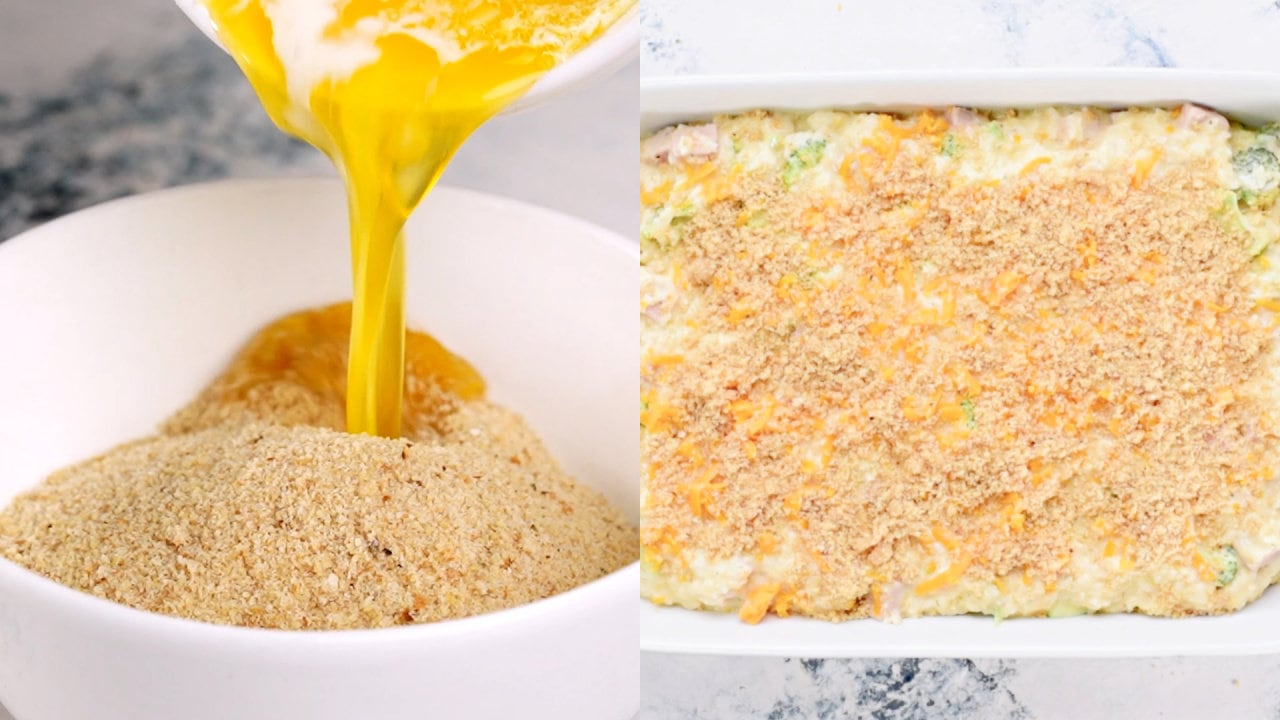 Bake for 30-35 minutes, until the breadcrumb topping, appears golden brown and crispy. The cheese should bubble through the surface.
Serve it in spoonfuls from one corner.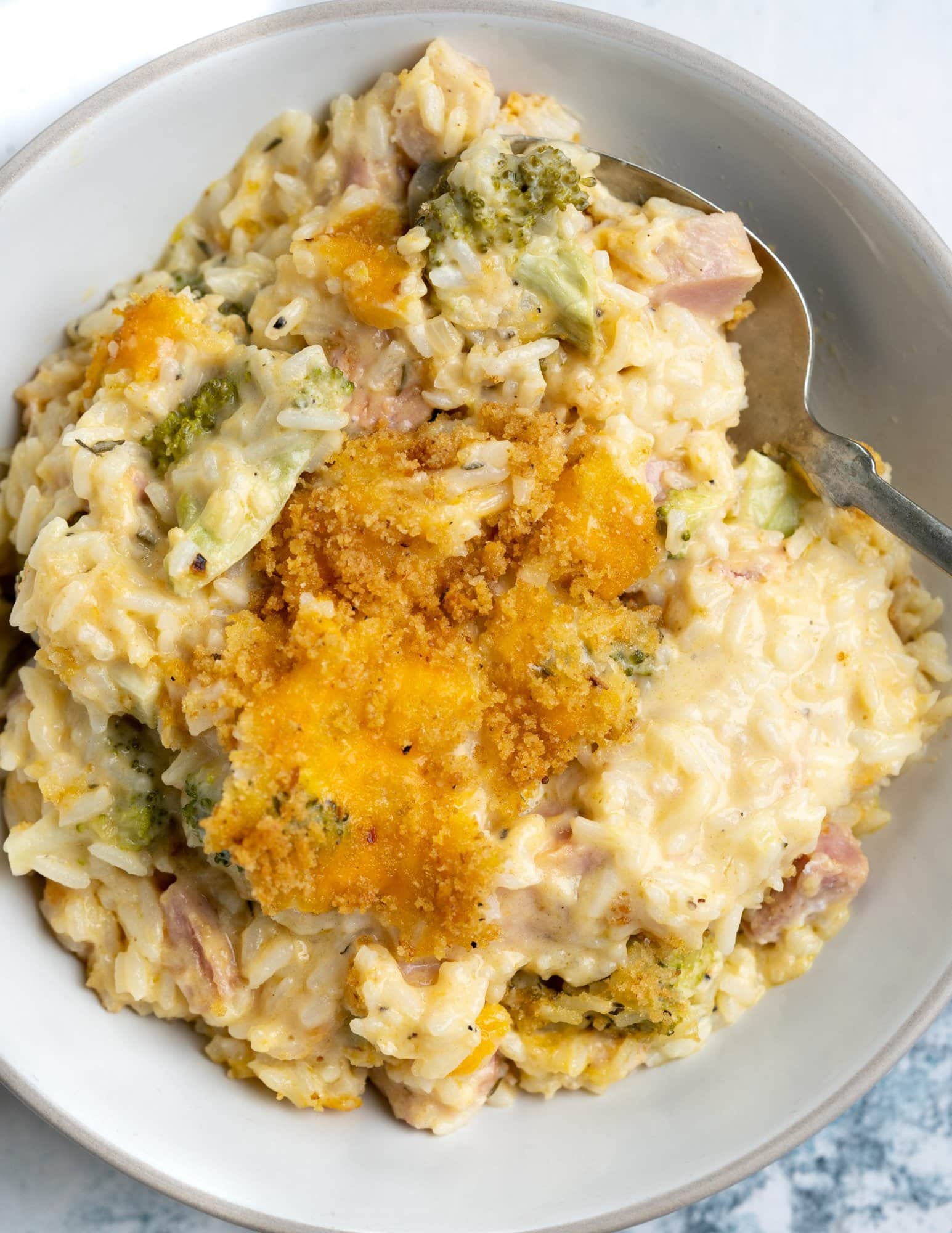 How to store
If you plan to finish the ham casserole in a few days, you can refrigerate it for up to 4 days in an air-tight container or wrap it with foil.
Otherwise, you can quickly freeze it for up to 3 months until it retains its flavors. Wrap it in foil, making a double layer, ensuring there is no gap to have a freezer burn.
From the fridge, shift it to the refrigerator from the previous night. The next day, you can reheat portions or the whole casserole itself. Put the casserole in a hot oven and let it heat for 10-20 minutes until the cheese is bubbling again. For slices, shift it to another baking tray and heat it similarly for 10 minutes.
Serve with ham casserole
With a one-pot dish like ham casserole, which has everything in it – from proteins and starch to greens, you hardly need anything else. But if you insist, you can serve it with greens or salads. Some salad suggestions are – Fall Roasted Sweet Potato Salad, Cucumber Strawberry Salad, Mediterranean Chickpea Salad, and Lemon Dill Potato Salad( No Mayo).
Flavours In Your Inbox
Subscribe for recipes straight to your inbox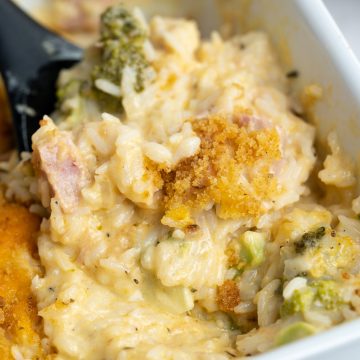 Leftover Ham casserole
One of the best ways to use up any Leftover Ham is to make this creamy rice and broccoli casserole. Make it from scratch without any canned soup mix.
Ingredients
2 cups diced ham
3 cups cooked rice
1 medium head broccoli
1 cup chicken stock
⅓ cup butter
⅓ cup all-purpose flour
½ onion
½ tablespoon garlic
½ teaspoon thyme
1.5 cups milk
1 teaspoon dijon
½ cup sour cream
3 cups sharp cheddar shredded divided
salt & pepper to taste
Breadcrumb topping
½ cup panko breadcrumb
2 tablespoon butter melted
Instructions
Melt butter in a dutch oven. Saute garlic and chopped onion until fragrant for about 2 minutes.

Pre-heat oven to 400ºF

Add flour and saute for a minute. Take care not to burn the flour.

Slowly stir in the chicken stock to avoid any lumps. Then stir in milk to make a smooth mixture.

Add in dijon mixture, thyme, pepper, salt, and sour cream. Whisk well.

To the creamy sauce, add cooked rice, blanched broccoli, diced ham, and 2 cups of shredded cheese ( reserve 1 cup for later).

Shift the mixture to a 9X13 baking dish. Sprinkle the remaining shredded cheese.

In a small bowl, mix breadcrumbs and melted butter.

Sprinkle breadcrumb topping all over the cheese. Bake for 30-35 minutes, until the breadcrumb topping is crispy and brown and the cheese underneath is bubbly.
Nutrition
Calories: 657kcal | Carbohydrates: 45g | Protein: 29g | Fat: 41g | Saturated Fat: 23g | Polyunsaturated Fat: 2g | Monounsaturated Fat: 9g | Trans Fat: 1g | Cholesterol: 133mg | Sodium: 1086mg | Potassium: 547mg | Fiber: 4g | Sugar: 7g | Vitamin A: 1856IU | Vitamin C: 92mg | Calcium: 568mg | Iron: 2mg