This post may include affiliate links that earn us a small commission.
Creamy Chicken broccoli pasta is a comforting dinner recipe, that everyone loves in the family. The rich creamy garlic parmesan sauce is made with butter, flour, heavy cream, and parmesan cheese.
What's better than a Chicken Broccoli pasta in a creamy sauce? This is what I call a well-balanced dinner.
Flavours In Your Inbox
Subscribe for recipes straight to your inbox
Almost a one-pot recipe that has protein, veggies, and carbs. Rich creamy sauce with garlic parmesan flavour will convince even kids to eat that not-so-loved broccoli. Another favorite pasta recipe on our dinner menu.
Though the original recipe is rich and indulgent, there is definitely room for customization. If the sauce is too rich for you or makes you feel guilty about the extra calorie, then you can read in the tips section for options.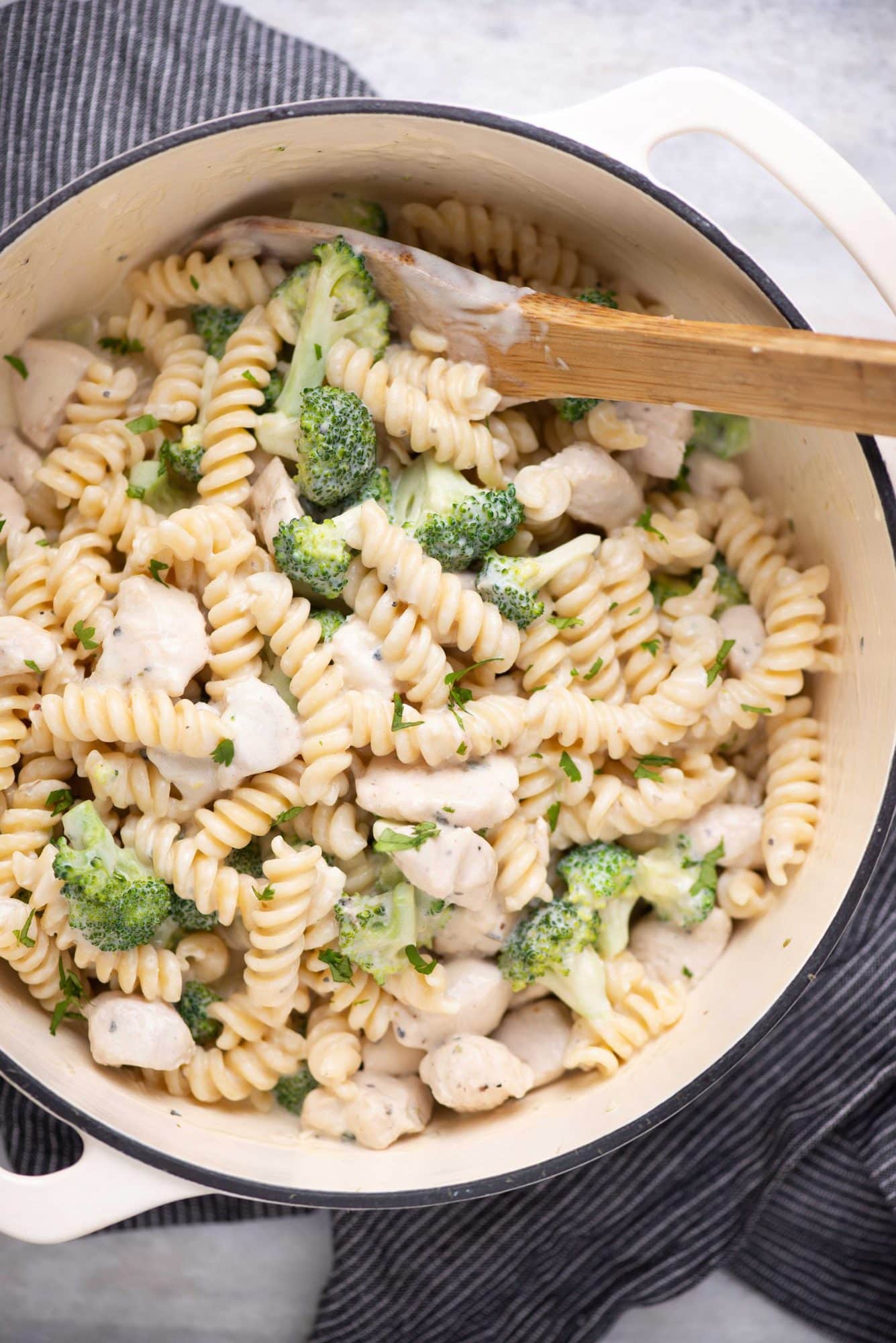 Ingredients
Simple easily available ingredients, so that you don't have to make a run to the store.
Pasta – I have used fusilli pasta in this recipe. The thick creamy sauce kind of hides in between those spirals and every bite feels extra juicy. You can use any shape of short pasta here. Short pasta, bite-sized pieces of chicken, and broccoli make it easy to eat. But if you must use long pasta, then that's fine too.
Boneless Chicken Breast– Cut into bite-sized 1-inch pieces. Chicken thighs will not go well with the rich sauce.
Broccoli – Broccoli cut into florets. Once cut into florets, blanch them in boiling water for 60 seconds, followed by a quick ice bath. Blanching helps to partially cook the florets and also removes any impurities.
Olive Oil – To cook the chicken.
Butter – Well, the heart of the sauce. I would say don't cut back on the butter.
Flour– To thicken the sauce.
Seasonings – Italian seasoning or mixed herb seasoning, pepper, and salt.
Heavy cream
Parmesan cheese– If the butter is the soul, parmesan cheese is the heart of this sauce. Lots of freshly grated parmesan cheese. No bottled or pre-shredded cheese here. Freshly grated good quality parmesan cheese is the game-changer.
Nutmeg– Just a tiny pinch, as this is very intense.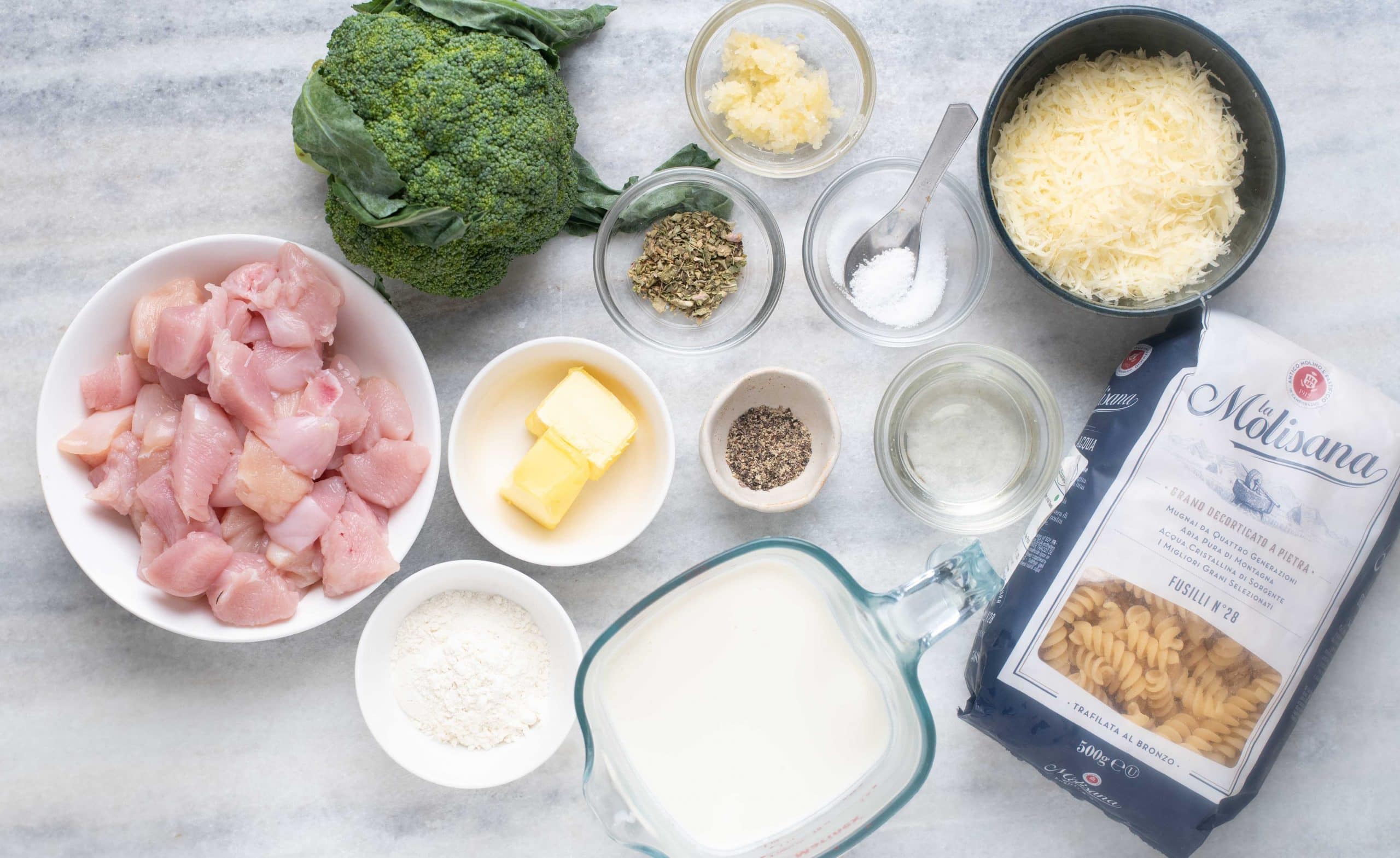 Steps to make Chicken Broccoli Pasta
Cook Pasta – Add dried pasta to well-salted boiling water. Cook till al-dente. Reserve 1- 1.5 cups of water. Drain and keep aside.
Cook Chicken breast – Season Chicken breast pieces and cook just until done. It should no longer be pink.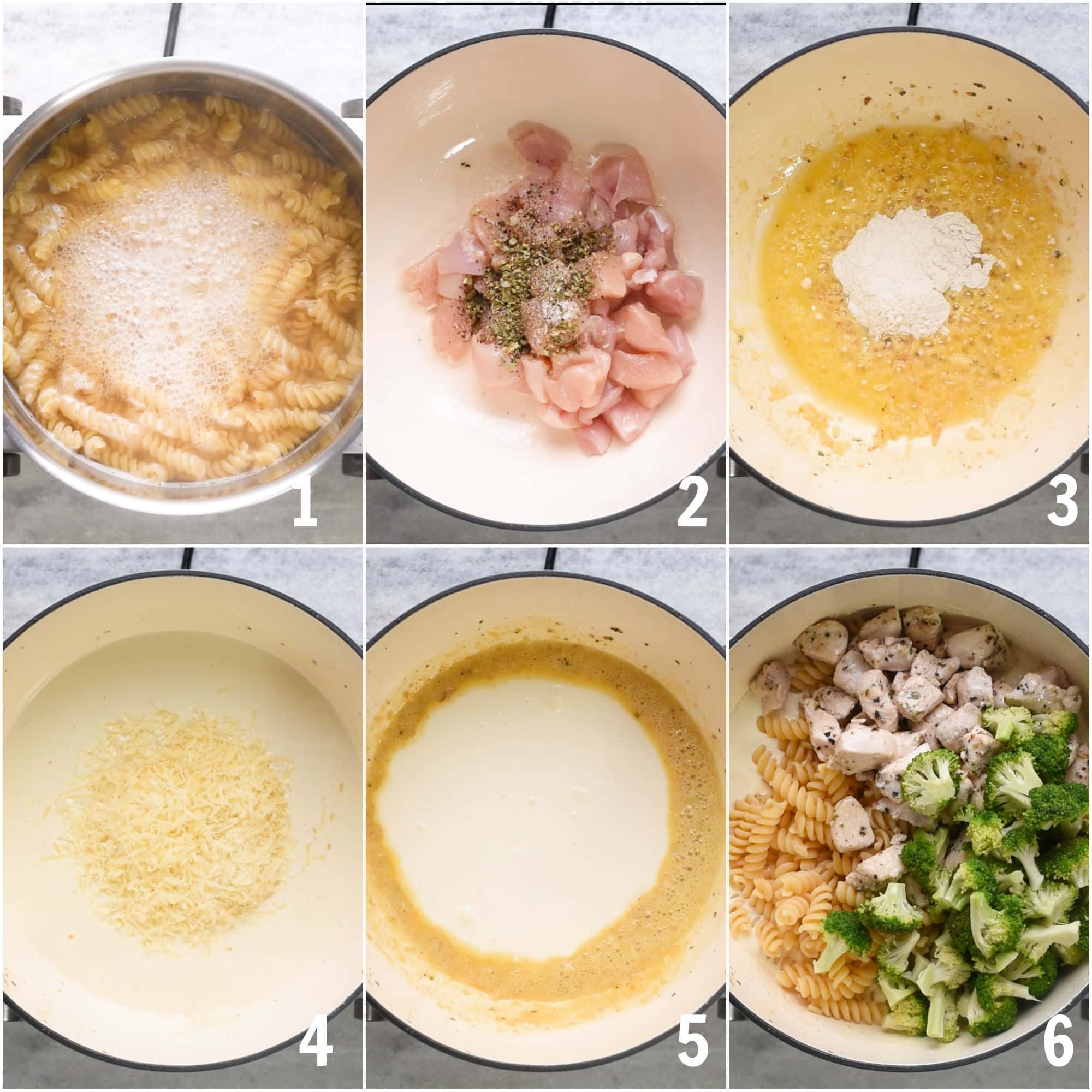 Make Garlic Parmesan Sauce – Melt butter and saute minced garlic until aromatic. Add flour and saute until the raw smell is gone. Then add cream, pasta water and make a smooth lump-free sauce.
Final step – Add parmesan cheese followed by broccoli, chicken and cooked pasta. Sprinkle nutmeg. Mix well and Chicken Broccoli pasta is ready !!
Tips to make it easy
With a bit of planning and multitasking you can put this dish on the dinner table in less than 30 minutes. Bring a pot of water to boil while you do the prep. After you add the pasta to cook, put another pan on the stove and start with cooking chicken.
After the chicken is cooked, remove as much as brown bit from the pan. Else with the brown bits in the pan, the sauce will not look white and smooth.
Salt the pasta cooking water generously, there is nothing worse than under seasoned pasta. But while adding salt to the final pasta dish, keep in mind that the chicken , cheese and pasta cooking water has already salt in it. So, i prefer checking the seasoning at the end and add more salt if required.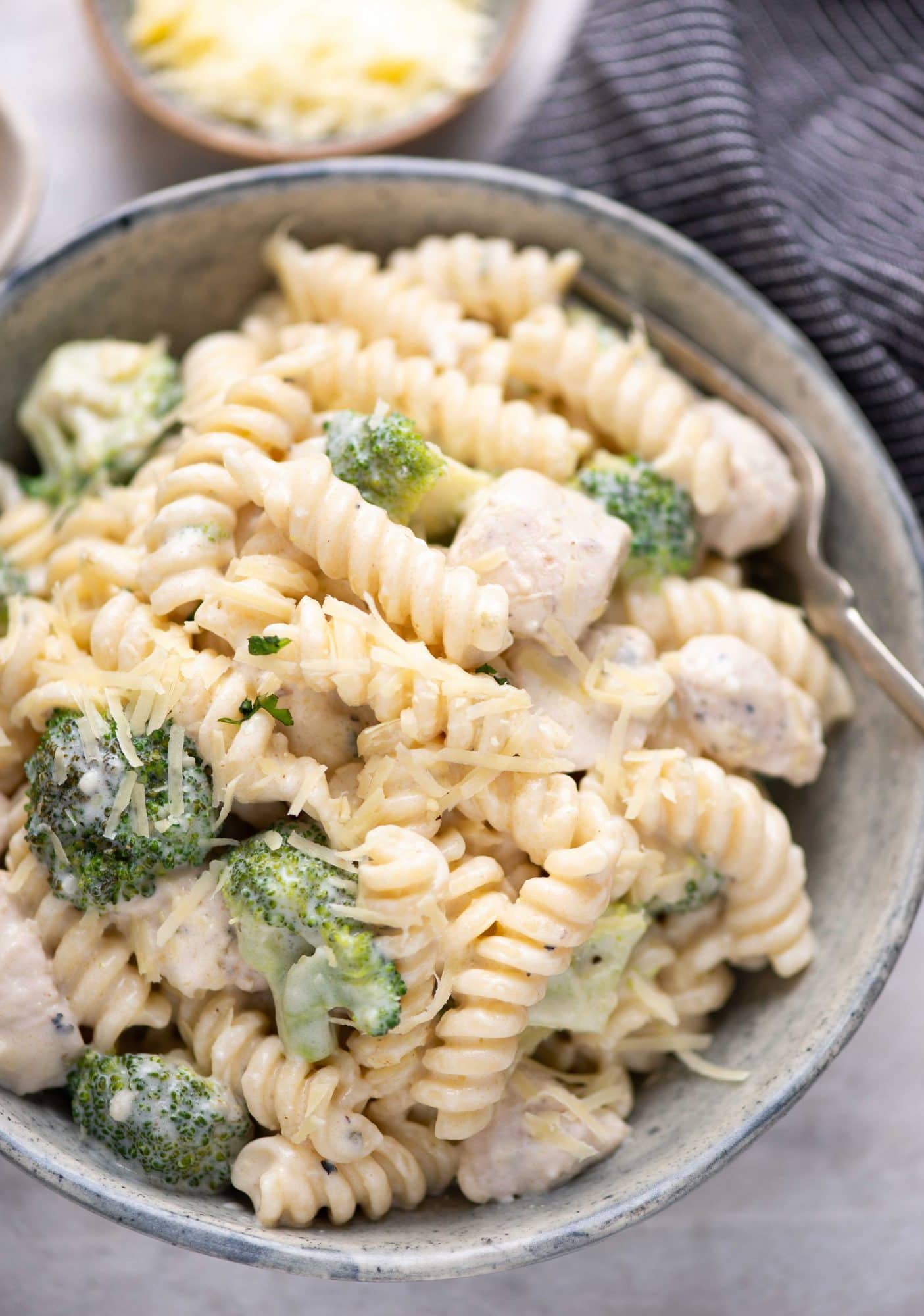 More Pasta Recipes perfect for dinner
Garlic Cream Cheese Shell Pasta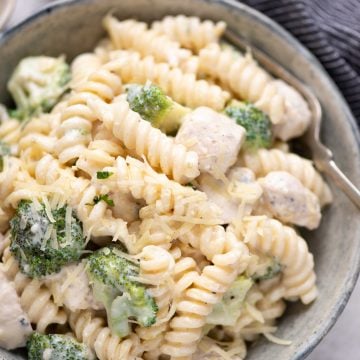 Chicken Broccoli Pasta in Alfredo Pasta
Chicken, blanched Broccoli florets and cooked pasta are tossed in a classic alfredo sauce. It is really comforting dish and a perfect family dinner.
Ingredients
250 grams Uncooked Pasta
1 head Broccoli
300 grams Boneless Chicken breast
2 tablespoon Olive Oil
½ teaspoon Salt
½ teaspoon Pepper
1 teaspoon Italian Seasoning
2 tablespoon Butter
½ tablespoon minced Garlic
2 tablespoon Flour
1.5 cup Heavy Cream
1.5 cup Pasta Cooking Water
1 cup fresh parmesan cheese
pinch of nutmeg
Instructions
Cook Pasta
Cook pasta as per package instruction. Make sure the water is seasoned well with salt.

Reserve 1 cup of pasta cooking water to use later.
Making Chicken Broccoli Pasta
Cut broccoli to florets. Blanch them in boiling salted water for 1 minute and immediately put them in iced water. Drain and keep aside.

In a skillet or a dutch oven heat olive oil. Add chicken, salt, pepper and Italian seasoning.

Saute for 4-5 minutes. Take it out and keep it aside.

To the same pan add butter and minced garlic. Saute until the garlic is aromatic.

Add flour and saute for another minute until the raw smell of flour is gone. . Make sure the flour doesn't turn brown else it would change the taste and colour of the sauce.

Slowly add heavy cream with one hand while continuously stirring with the other hand to avoid any lump.

Add 1 cup pasta water(from a total of 1.5 cup), parmesan cheese. Mix to form a smooth sauce.

Add cooked pasta, chicken and broccoli florets. Sprinkle nutmeg.

Mix everything well. If required add more pasta water to get the desired consistency.

Serve with more parmesan cheese sprinkled on top.
Notes
As pasta cooking water, chicken and parmesan cheese have already salt in it, I didn't add any more salt. You can check the seasoning towards the end and adjust it. 
Nutrition
Serving: 1serving | Calories: 721kcal | Carbohydrates: 50g | Protein: 32g | Fat: 45g | Saturated Fat: 24g | Polyunsaturated Fat: 2g | Monounsaturated Fat: 15g | Trans Fat: 1g | Cholesterol: 162mg | Sodium: 733mg | Potassium: 797mg | Fiber: 5g | Sugar: 4g | Vitamin A: 2122IU | Vitamin C: 110mg | Calcium: 357mg | Iron: 2mg