Italian Parmesan Peppercorn Dressing
This post may include affiliate links that earn us a small commission.
Italian parmesan peppercorn dressing is creamy with a little tang from lemon juice, greek yogurt, and freshly cracked peppercorn, giving a fresh spicy kick.
The best creamy dressings have a pairing of two or more complementing flavours. Take the creaminess from the mayo and Greek yogurt, 'tartness' from the parmesan cheese and lemon juice, and 'spicy flavour' from the peppercorns and garlic, and you get a WINNER dressing.
Flavours In Your Inbox
Subscribe for recipes straight to your inbox
Parmesan-Reggiano cheese has a nutty and sharp savory taste which I like in this dressing. Freshly grated parmesan is so better in terms of flavour compared to store-bought powders.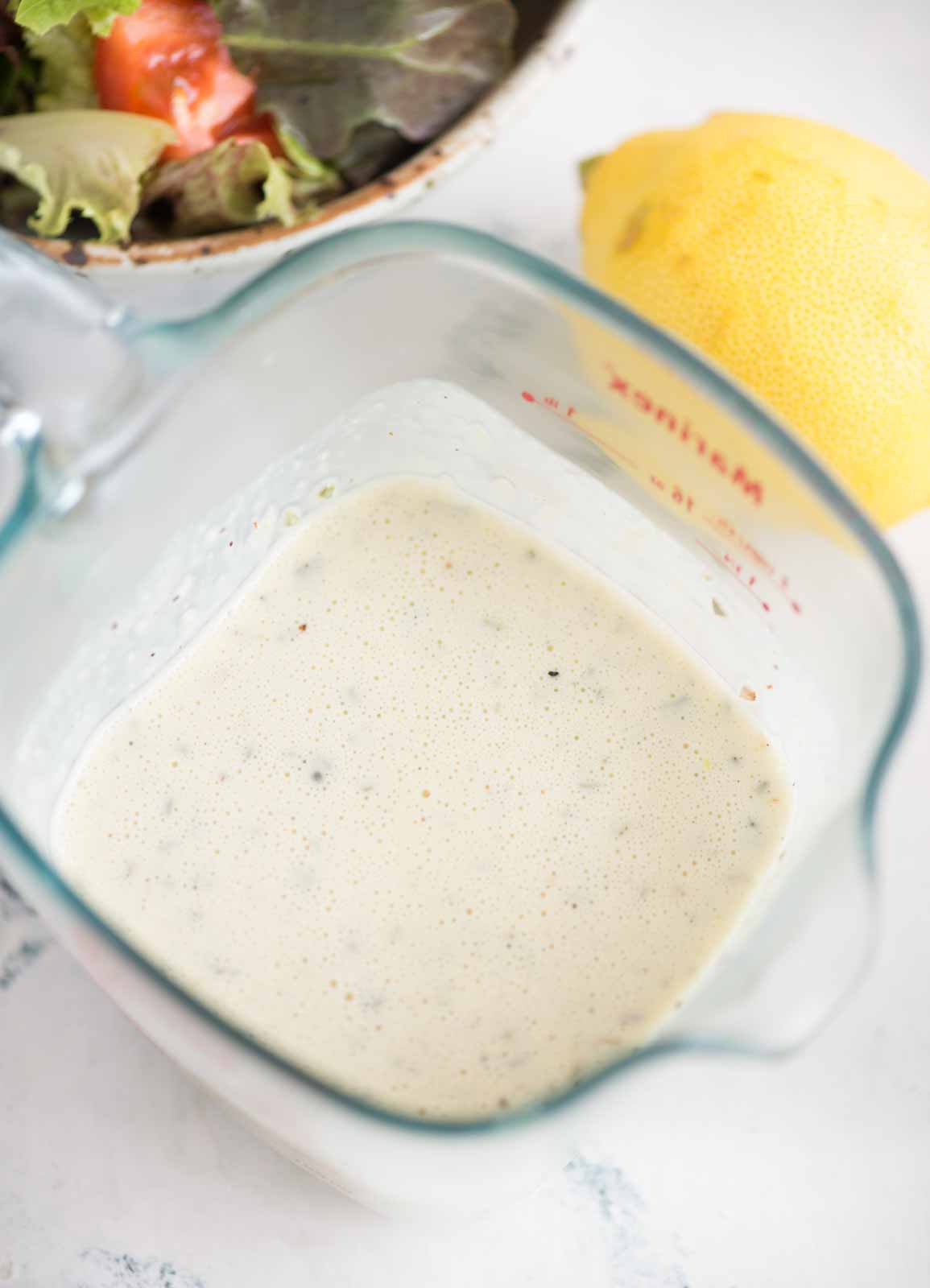 This dressing is an all-rounder – you will be surprised at the number of salads you can add this to. Salads which demand a creamy dressing will be perfectly suited for this versatile dressing.
We love homemade salad dressings rather than store-bought ones. The control over the quality of ingredients sways our choice towards homemade ones. You can make this homemade dressing with common ingredients present in the pantry or refrigerator.
And you can also avoid the ill effects of preservatives and chemicals added to bottled dressings to increase their shelf-life. This dressing is so easy to make; you can whisk them up whenever you desire which takes hardly five minutes.
This dressing recipe has calories from mayo, cheese, and yoghurt. I want to add here that you are adding all fresh ingredients to this homemade salad.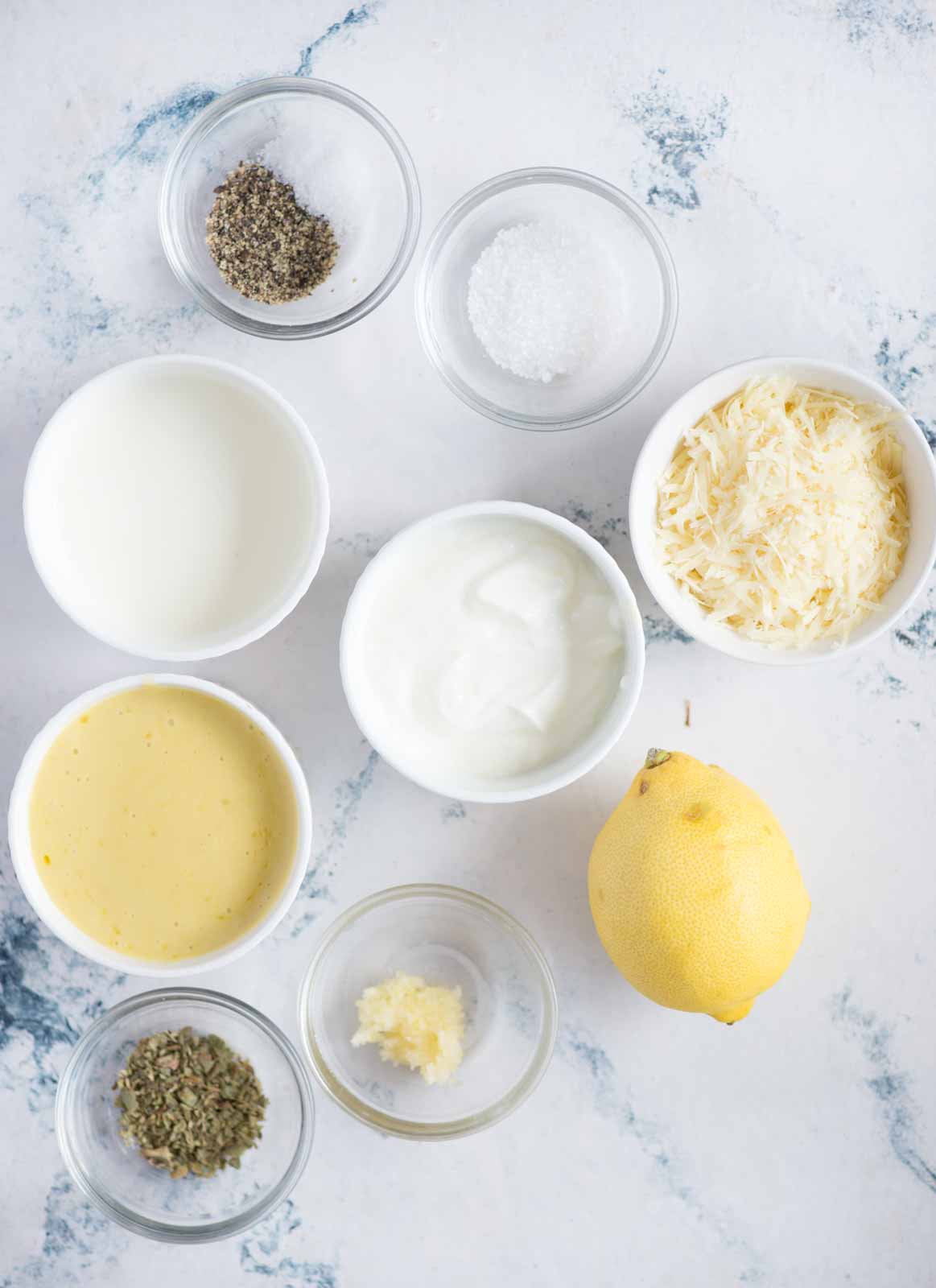 Ingredients
Mayo – Mayonnaise gives the body to the dressing.
Greek Yoghurt – Yoghurt to provide creaminess to the dressing. You can also substitue with sour cream.
Parmesan cheese – Get a good quality parmesan which should have a strong and savory taste. Poor quality of parmesan tastes bitter.
Lemon Juice – This gives the tartness to balance the savory and creaminess of the cheese and mayo. You can substitute this with white wine vinegar.
Pepper – Pepper should be freshly cracked. This add some heat to the dressing and balances the palette.
Minced Garlic – My favorite ingredient. Gives the extra oomph in terms of flavour.
Sugar and Salt – to bring balance with little sweetness and salt to make all the other flavours sing.
Buttermilk (Optional) – If you would like to thin out the dressing, add buttermilk and mix until you get the desired thinness.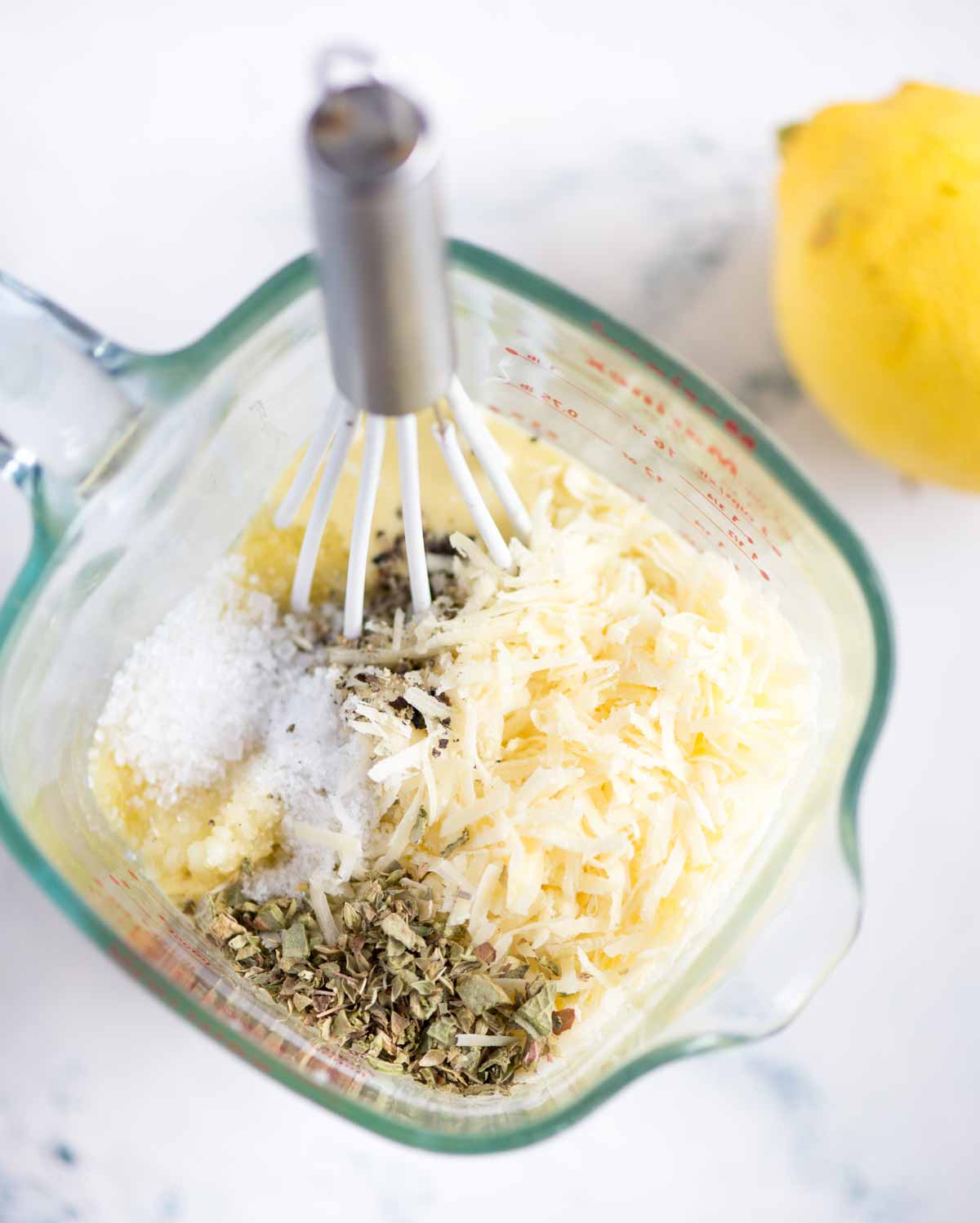 How to prepare dressing
This is a super easy dressing to make. All you need is a blender or mixer. The maximum time (a few minutes) is taken in grating the parmesan cheese.
Prepare all the ingredients as per the measurements in the recipe.
Take a block of parmesan and grate it with a grater.
Either put them all in the blender and mix it or You can also whisk it.
The final mixture should look creamy.
Refrigerate it for a couple of hours to let the flavours blend and enhance the dressing.
Use it as a dressing to make a creamy salad.
Serve with
Add this dressing to any salad with lots of fresh vegetables. Serve a salad with this dressing with any meat or veg stir fry dishes or You can look at the following dishes for inspiration.
Storage
This dressing can be stored in a tight jar for up to 3 days in the refrigerator.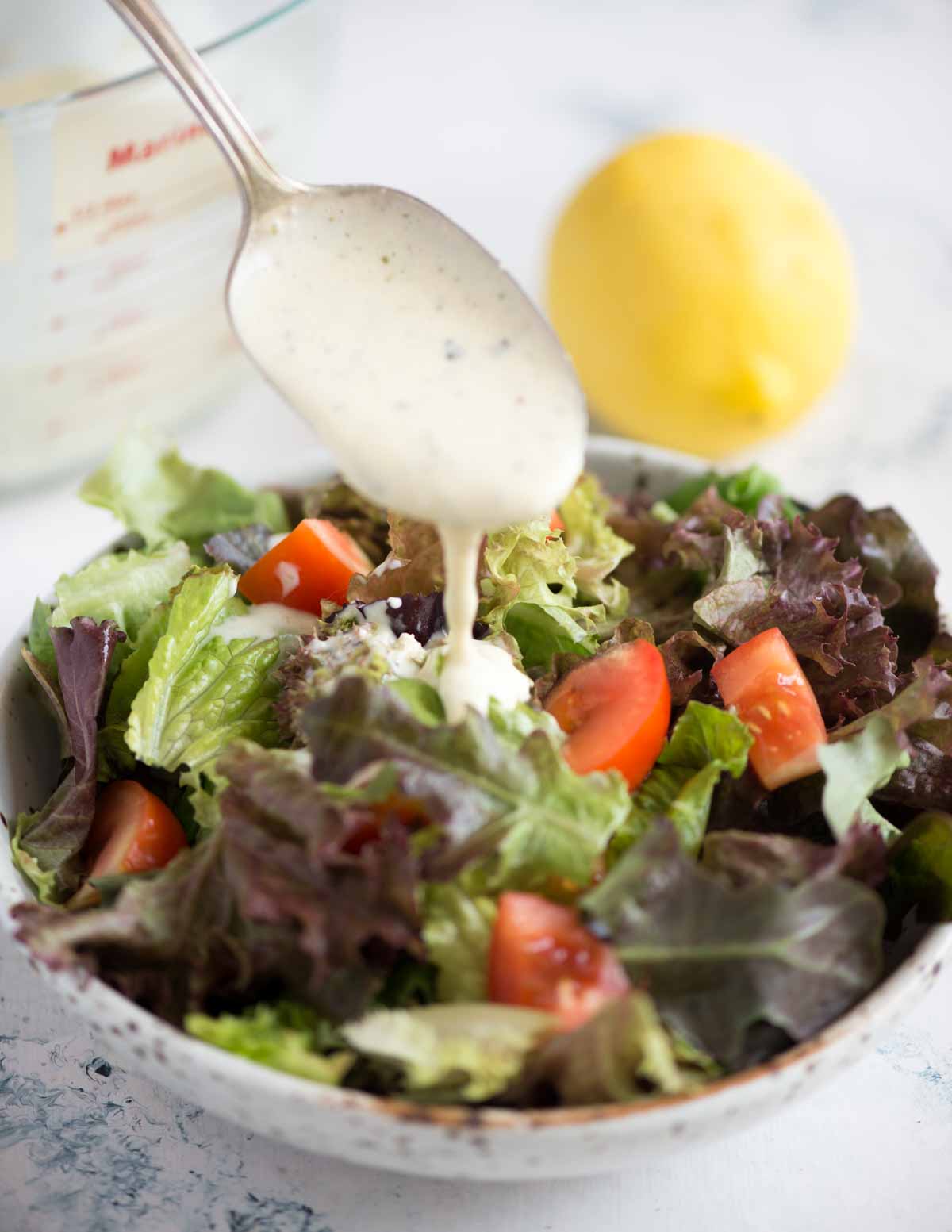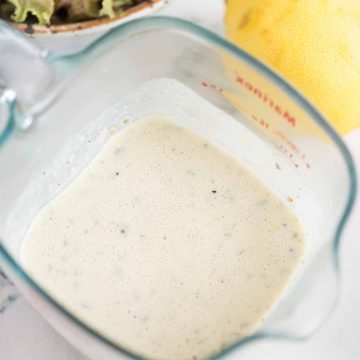 Creamy Parmesan Peppercorn Dressing
Creamy Parmesan dressing is really easy to make. Freshly grated parmesan cheese mixed with mayo, greek yoghurt, garlic, freshly squeezed lemon juice and peppercorn. Toss some fresh garden salad with this dressing or use it for pasta salads, it is quite versatile.
Ingredients
½ cup Mayo
½ cup Greek Yoghurt
¼ cup Freshly Grated Parmesan Cheese
1 tablespoon Fresh Lemon Juice
1 teaspoon Minced Garlic
1 teaspoon Sugar
½ teaspoon Salt
½ teaspoon Freshly Cracked Pepper (can be increased up to 1 teaspoon)
Instructions
In a glass jar(with lid), blender or a container add all the ingredients and mix well until it looks creamy.

Use it on a fresh green garden salad or pasta salad or serve as a dip.
Notes
Use freshly grated parmesan cheese. Bottled or packaged cheese are often tossed in flour, which when added to the dressing gives a wired taste. 
You can also use sour cream instead of greek youghurt. 
This stays well up to 3 days in the refrigerator. 
Nutrition
Serving: 1cup | Calories: 643kcal | Carbohydrates: 7g | Protein: 14g | Fat: 62g | Saturated Fat: 12g | Polyunsaturated Fat: 33g | Monounsaturated Fat: 14g | Trans Fat: 1g | Cholesterol: 47mg | Sodium: 1547mg | Potassium: 41mg | Fiber: 1g | Sugar: 7g | Vitamin A: 223IU | Vitamin C: 4mg | Calcium: 293mg | Iron: 1mg