This post may include affiliate links that earn us a small commission.
This olive oil cake is fluffy, spongy, and moist – all the things that a good cake should be. With a zesty lemon flavour added to the depth and richness of olive oil, this cake is all about freshness.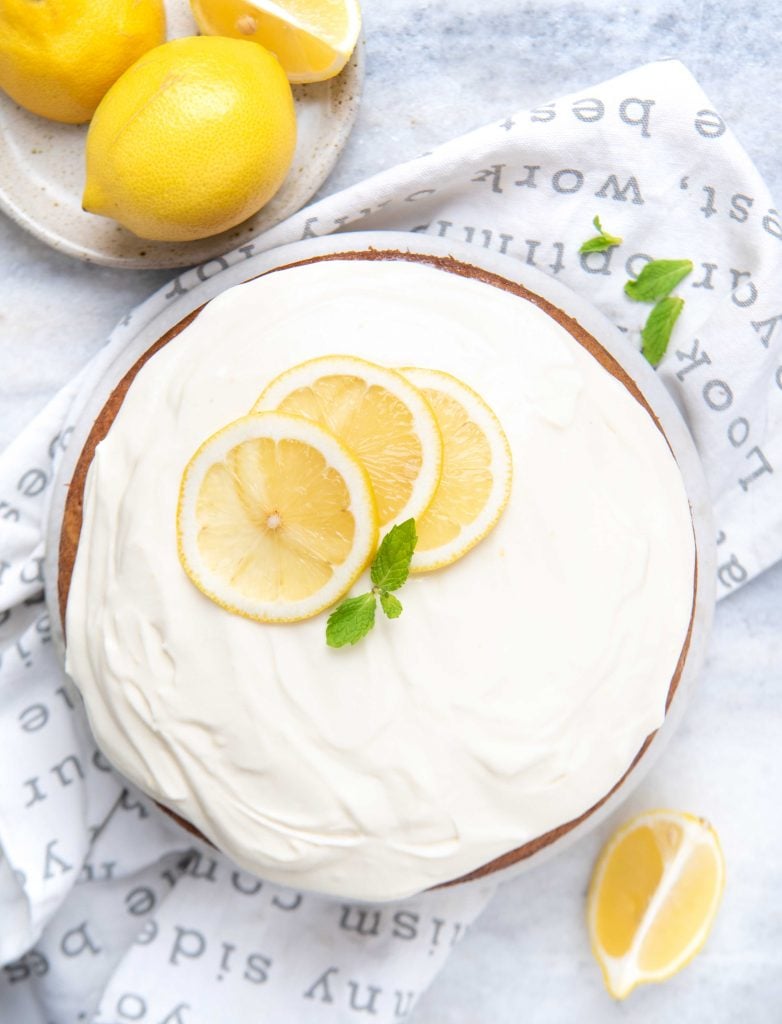 With subtle Lemon flavour, this Lemon Olive Oil cake is an easy, one-bowl recipe. The batter comes together in a matter of minutes. Olive oil makes the cake light and it easily stays moist for a few days. This cake has fresh lemon zest and lemon juice, for a deep lemon flavour.
Flavours In Your Inbox
Subscribe for recipes straight to your inbox
It is topped with sweet and tangy cream cheese frosting. The cake tastes amazing as it is without any added topping, but in case you want to make it for a special occasion, then this cream cheese frosting pairs really well.
Ingredients
You need only 9 ingredients for this Lemon Cake recipe.
Extra Virgin Olive Oil
Eggs
Sugar
All purpose flour
Milk
Lemon juice
Lemon Zest
Baking Powder
Baking Soda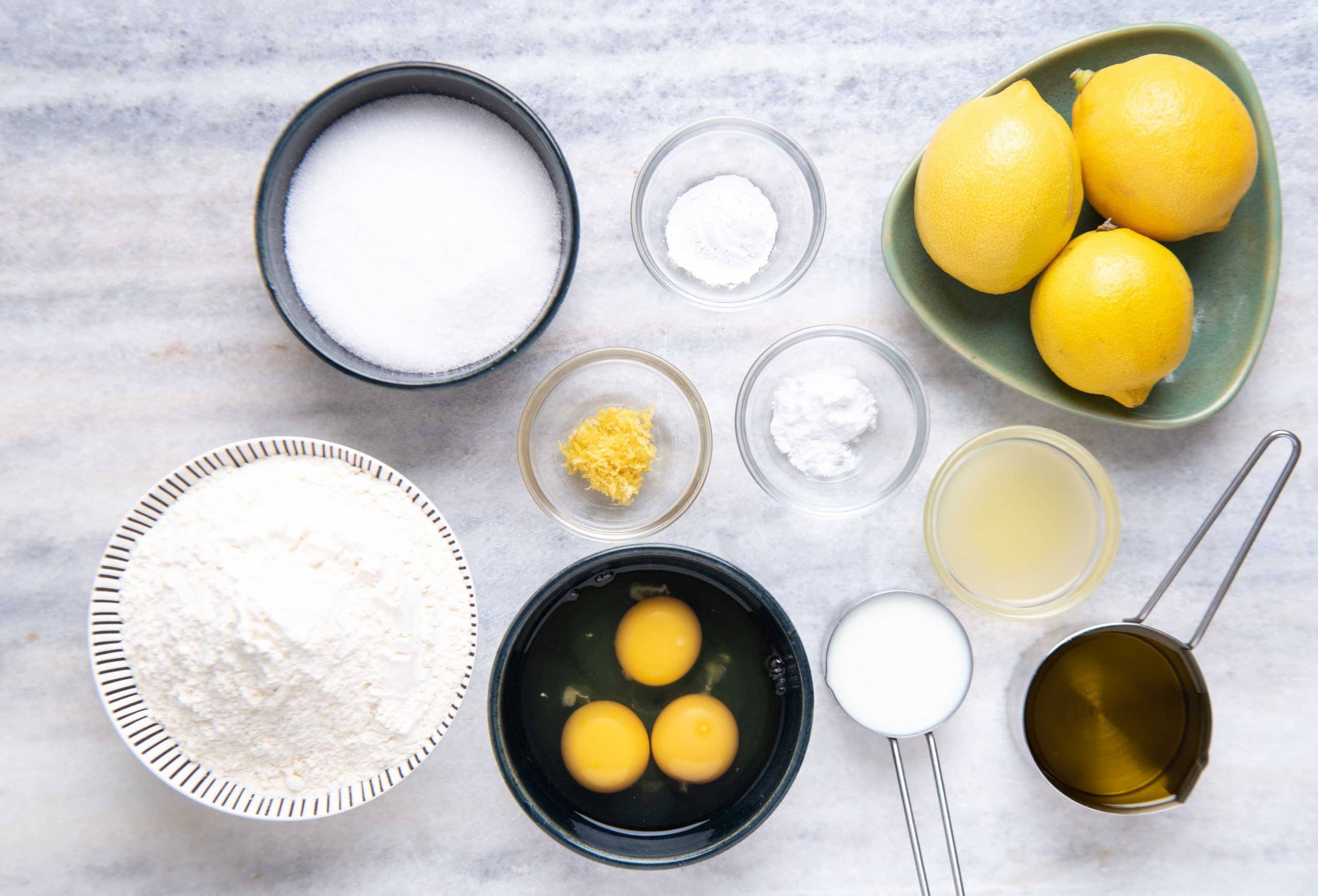 Can I use Olive oil in Lemon cake?
With all the goodness that olive oil brings, can it be used for baking? Absolutely. The healthiest oil can be used in many baking recipes instead of butter.
In fact, Olive oil adds a wonderfully subtle flavour to cakes, brownies, cookies and other baked stuff. It is an excellent substitute for butter if you are conscious of your health.
Though butter brings the typical flavour to baked goods that we know of, it is also high in saturated fats. So too much butter is not good for us.
Olive oil is rich in Monosaturated fats i.e. good cholesterol and if cholesterol is something that worries you, you might prefer baking with Olive oil.
Olive oil can be a substitute for butter in any baking recipe that calls for melted butter. In fact, you can also substitute olive oil for other vegetable oils.
Use the best type of olive oil
How do you select a good olive oil?
Always make sure to use very high quality Extra virgin olive oil when you get it off the self. That should have a subtle taste and would work well with the rest of the ingredients.
An inferior oil would give a much more pungent taste and you would feel it while tasting the cake. It would not let flavours of other ingredients be felt in the cake.
Extra-virgin olive oils produced via cold-pressed methods are the best. They are not blends but are of a singular origin of olives which are cold-pressed to produce a dark colour liquid with enhanced flavours.
How much of Olive Oil?
Olive oil as a substitute for butter can be used in the ratio of 3:4 i.e. use 3 parts of olive oil to substitute for 4 parts of butter.
Olive oil is a much more viscous liquid and so it requires less quantity to gel well to the batter than butter would.
How to make Lemon Cake with Olive Oil
The process to make this Lemon cake really easy and quick. All you need is a bowl and a whisk.
1. Let's start by making the wet mixture. Whisk together castor sugar and Olive Oil. Then add eggs and whisk until it forms a smooth mixture.

2. Then shift together flour, baking powder and baking soda. Add fresh Lemon zest. Mix well. The batter will look thick compared to the regular cake batter.

3. Next add milk and freshly squeezed lemon Juice. Mix just until everything is incorporated. Avoid over mixing the batter.

Once you mix milk and lemon juice into the batter, the cake batter will loosen a bit and also will look light and airy. This is because the baking soda and lemon juice react together.
Shift the batter to a parchment-lined baking tin. Tap to release any air bubbles. Then bake in a pre heated oven until a took pick comes out clean.

Look at this perfectly golden brown, flat-topped Lemon Cake. If you fancy a cake with frosting make a quick cream cheese frosting ( recipe in the recipe card) or just top this cake with some icing sugar when it is completely cooled down.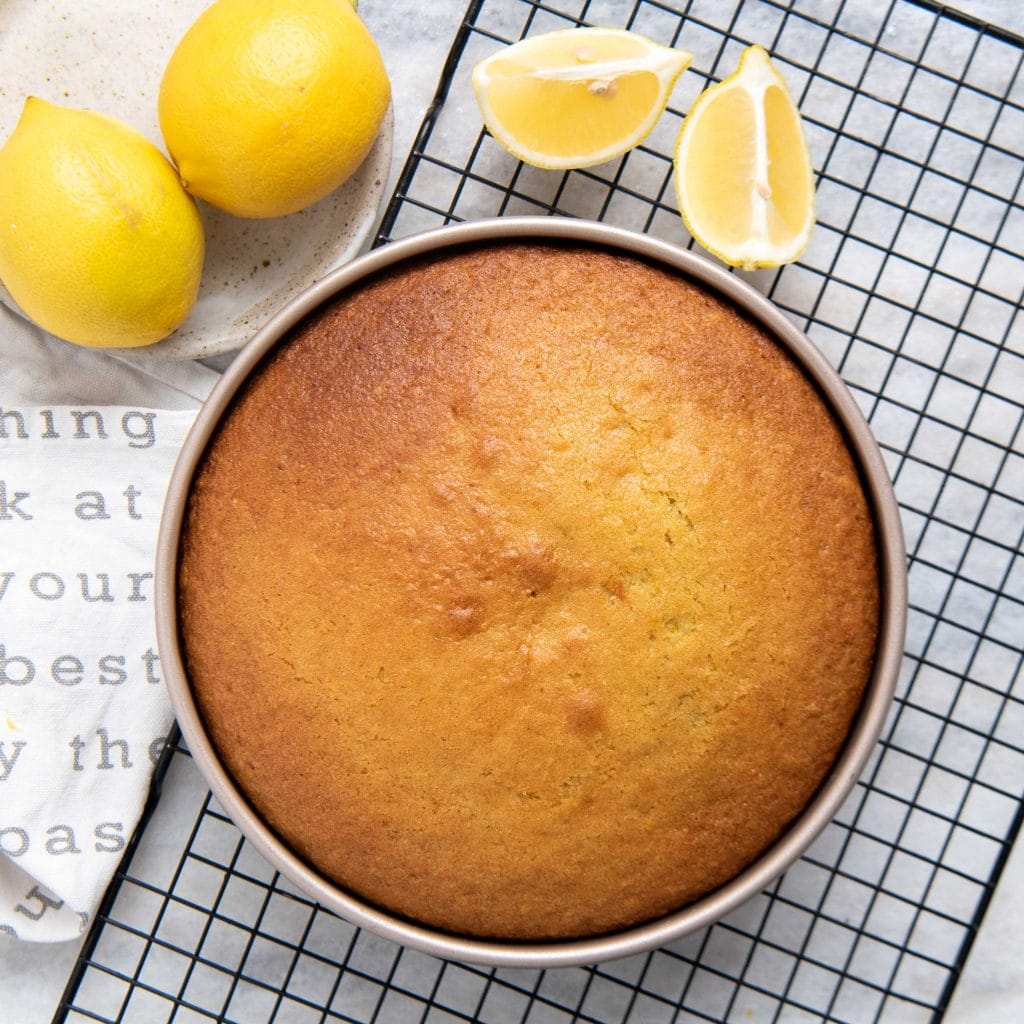 Helpful Tips For Perfect Lemon Olive Oil Cake
Use a high quality Extra virgin olive oil. How do you choose a good olive oil? Use as good a one that you can get. Look for good brands in your local store. A good olive oil that you would drizzle in your salads is a good one for this recipe.
Use castor sugar, as it dissolves easily. If the sugar granules are large, then first measure the required amount of sugar and pulse in a fod processor to break it down to small granules.
Use only fresh lemon juice not bottled or refrigirated ones.
While zesting the lemon use a microplaner and only zest the yellow part. The white part of the lemon skin tastes bitter.
Its important to shift the dry ingredients before adding it to the wet mixture.
Avoid over mixing the dough.
Always line the tin with parchment paper.
Once baked, let the cake rest in the tin for 10 minutes. Then carefully remove from the tin and let it cool completely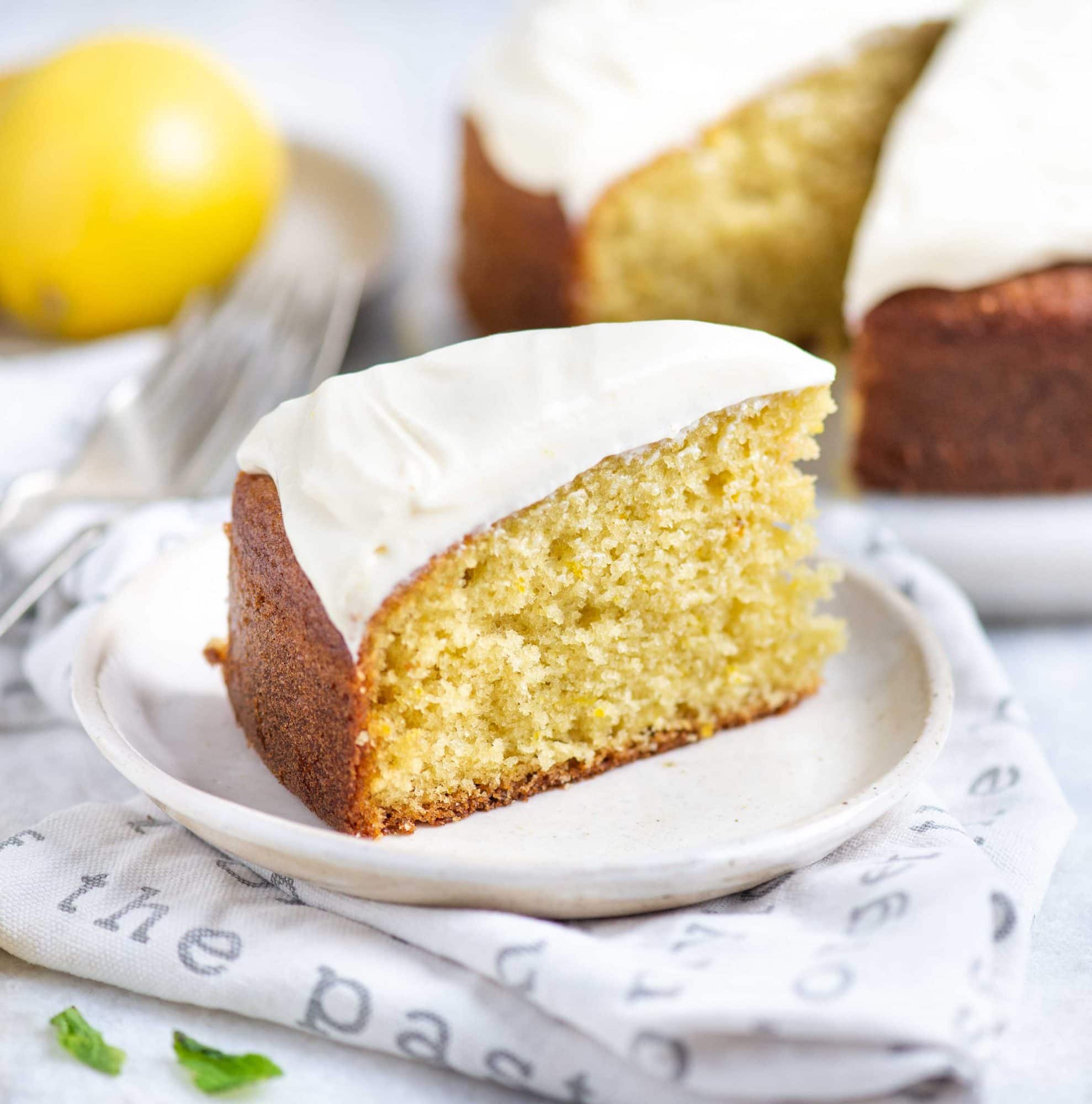 Other cake recipes you may like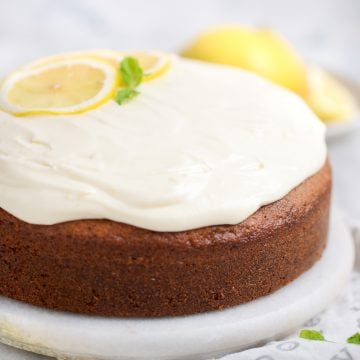 Lemon Olive Oil Cake
Moist and light Lemon Olive Oil Cake is an easy one bowl recipe that anyone can make. Packed with fresh Lemon flavour and is finished with a sweet and tangy Cream cheese frosting.
Ingredients
Lemon Olive Oil Cake
150 ml Extra Virgin Olive Oil
¾ cup Castor Sugar
3 eggs (at room temperature)
2 cups All purpose Flour
1 teaspoon Baking powder
1 teaspoon Baking Soda
2 tablespoon fresh lemon zest
3 tablespoon fresh Lemon Juice
½ cup milk (use full fat)
Cream Cheese Frosting
¼ cup unsalted butter at room temperature
200 grams Cream cheese cold
3-4 cups Sifted Icing sugar
2 teaspoon fresh Lemon Juice
2 teaspoon Fresh Lemon Zest
Instructions
Lemon Olive Oil Cake Recipe
Pre-heat oven to 180 C / 350 F. Line an 8 inch round cake tin with parchment paper.

In a big mixing bowl add castor sugar and olive oil. Mix well.

Add eggs and whisk until everything is incorporated well.

Sift together flour, baking powder and baking soda. Add it to the wet mixture prepared above along with the fresh lemon zest. Mix just until the dry ingredients are incorporated. Small traces of flour is fine.

Add milk and lemon juice. Mix again to form a smooth batter. Don't overmix. The batter should look airy and fluffy at this point.

Shift the batter to the prepared tin, bake at 180 C for 35-40 minutes or when it passes the toothpick test.

Take the cake out of the oven. Let it rest in the tin for 10 minutes.

Remove the cake from the tin and let it cool down completely on a wired rack before frosting it.
Lemon Cream Cheese Frosting
Whisk softened butter for about 1 minute, until light and fluffy.

Add blocks of cold cream cheese, lemon zest and lemon juice. Whisk for another 2 minutes until the mixture looks light and fluffy. Scrap the bottom of the bowl in between.

Add sifted icing sugar one cup at a time. Whisk until the sugar is completely incorporated ( when you rub a bit of the frosting in between your finger you should not be feeling any icing sugar granules).

Scrap the bottom of the pan with a spatula and add another cup of sugar. Repeat the above step.

Repeat the above two steps until the desired consistency is achieved or all the sugar is incorporated.

You might not need all 4 cups of sugar here. Stop adding when the frosting looks smooth, glossy and of spreadable consistency.

Spread the frosting on the completely cooled cake.
For step by step, recipe watch the video below. Detailed tips in the post above.
Nutrition
Serving: 1serving | Calories: 511kcal | Carbohydrates: 72g | Protein: 6g | Fat: 23g | Saturated Fat: 9g | Polyunsaturated Fat: 2g | Monounsaturated Fat: 11g | Trans Fat: 1g | Cholesterol: 84mg | Sodium: 198mg | Potassium: 129mg | Fiber: 1g | Sugar: 51g | Vitamin A: 492IU | Vitamin C: 2mg | Calcium: 57mg | Iron: 2mg