Crispy Baked Chicken Tenders
This post may include affiliate links that earn us a small commission.
These Oven baked Chicken tenders are as crispy as deep-fried ones, well seasoned and the chicken is perfectly tender. The trick is coating marinated chicken in a mixture of breadcrumbs, flour, baking powder, and seasoning and baking on a wired rack.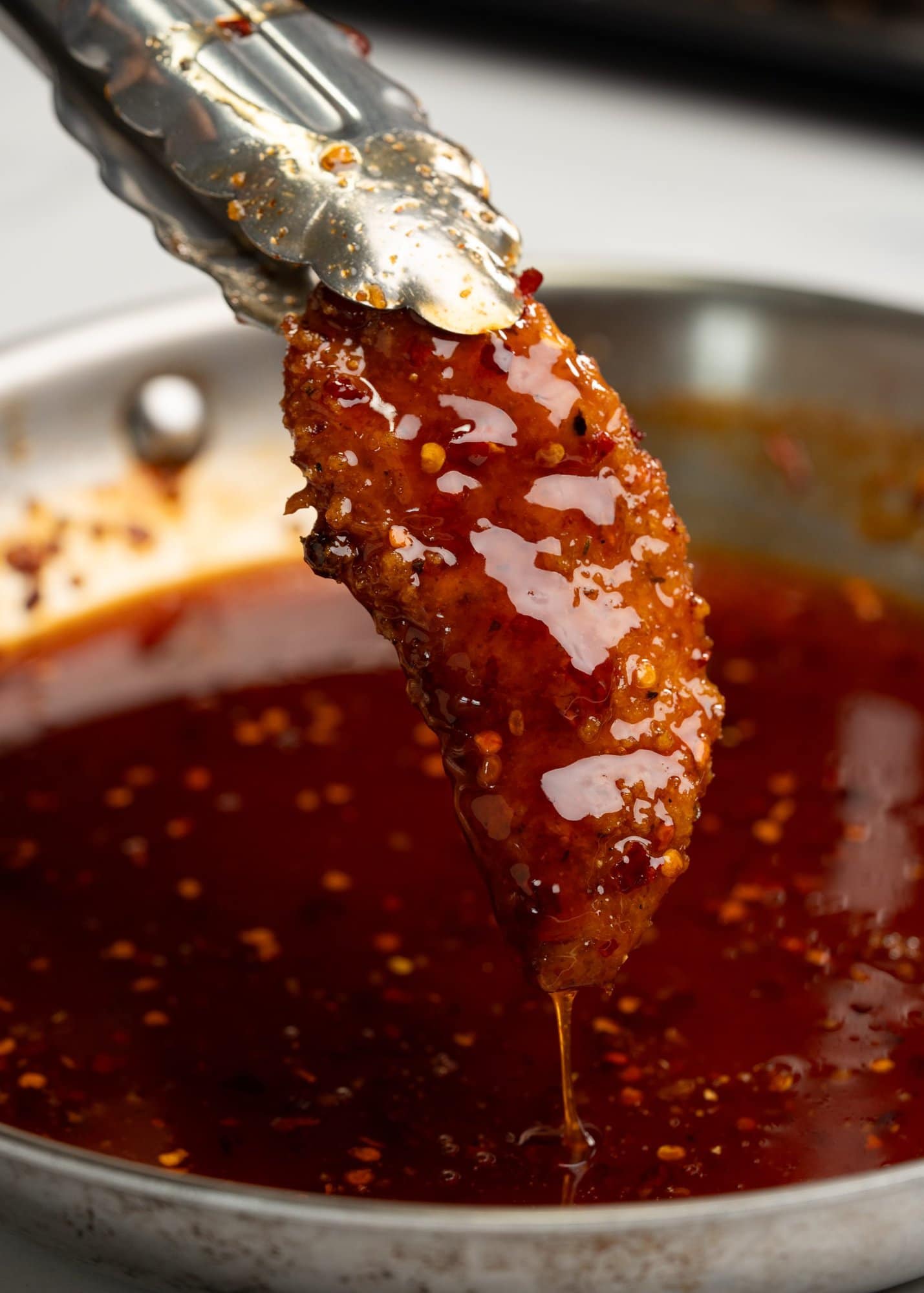 Your search for perfectly crispy oven-baked chicken tender ends here. After multiple trials, I have got you a foolproof recipe for baked chicken tenders that are super easy to make, kid-friendly, and way healthier than the deep-fried version.
Flavours In Your Inbox
Subscribe for recipes straight to your inbox
The breadcrumb coating is crispy, well-seasoned, and not too thick. Chicken tenders are also juicy and perfectly cooked. Instead of following the traditional breading technique (which didn't yield good enough crispiness anyways), I took these Baked Chicken nugget recipes as a reference here.
While these baked chicken tenders are just delicious as it is, I have tossed them in a hot honey glaze. Off course you can serve the hot honey sauce as a dipping sauce.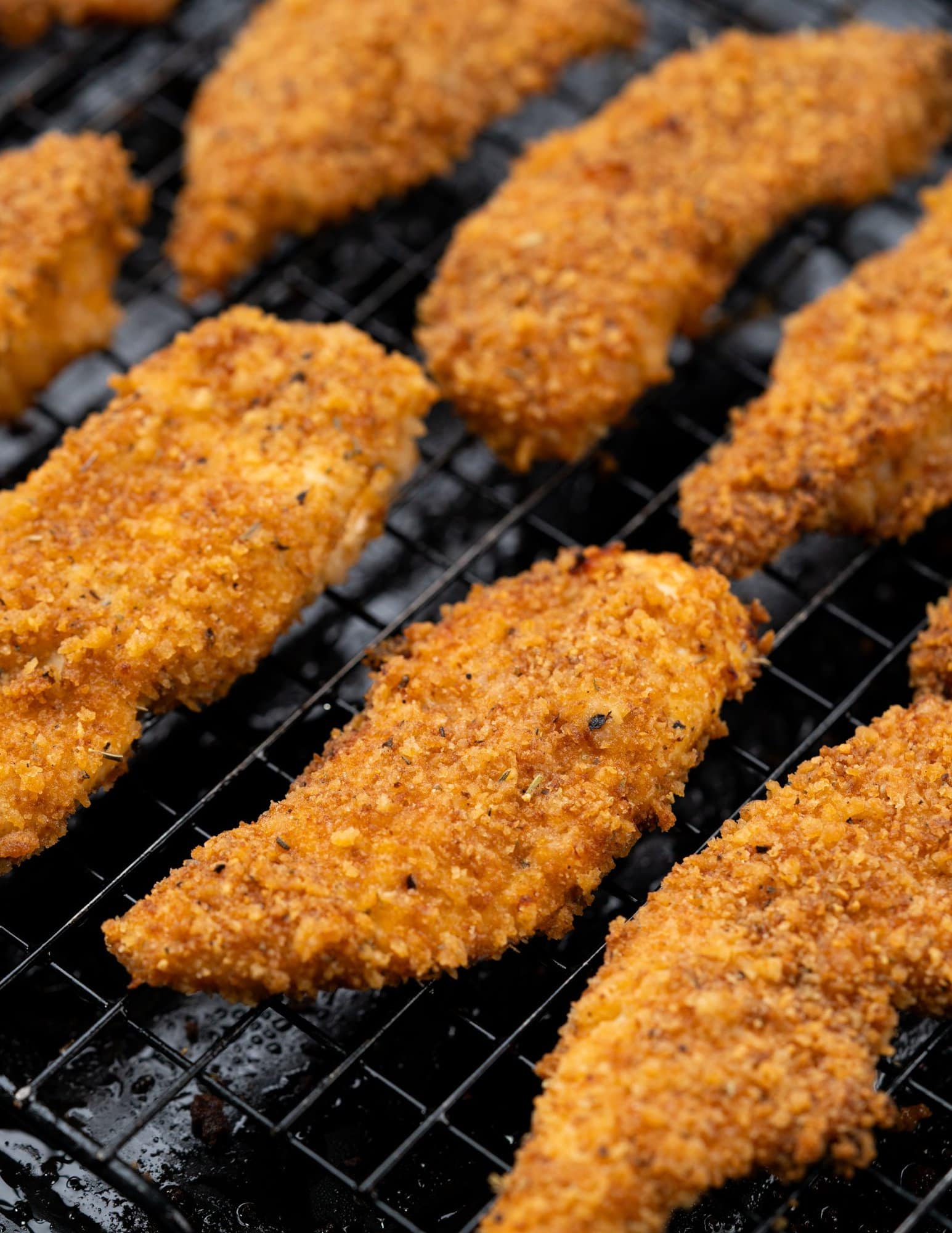 What are chicken tenders?
Chicken tenders are the strip of meat loosely attached to the underside of chicken breasts. They are more tender than chicken breast, hence the name.
You might find chicken tender sold separately in supermarkets or you can ask for it at your local butcher. But don't worry if you can't get hold of chicken tenders, cut boneless chicken tenders into thin strips and use them instead( as I have shown below).
Ingredients for Crispy Baked Chicken Tenders
Chicken Tenders – Chicken tenders or boneless chicken breast cut into strips. First using a meat mallet, pound the chicken to an even thickness, then cut it into thin chicken tender-like strips.
First Marination – Full-fat Mayo and Sriracha. Mayo helps to keep chicken moist and tender. Sriracha in the marination adds heat and also seasons the chicken.
Crispy breadcrumb coating- Panko breadcrumbs, flour, garlic powder, onion powder, Italian seasoning, salt and pepper.
Hot honey sauce – Honey, sriracha, chili flakes, and salt.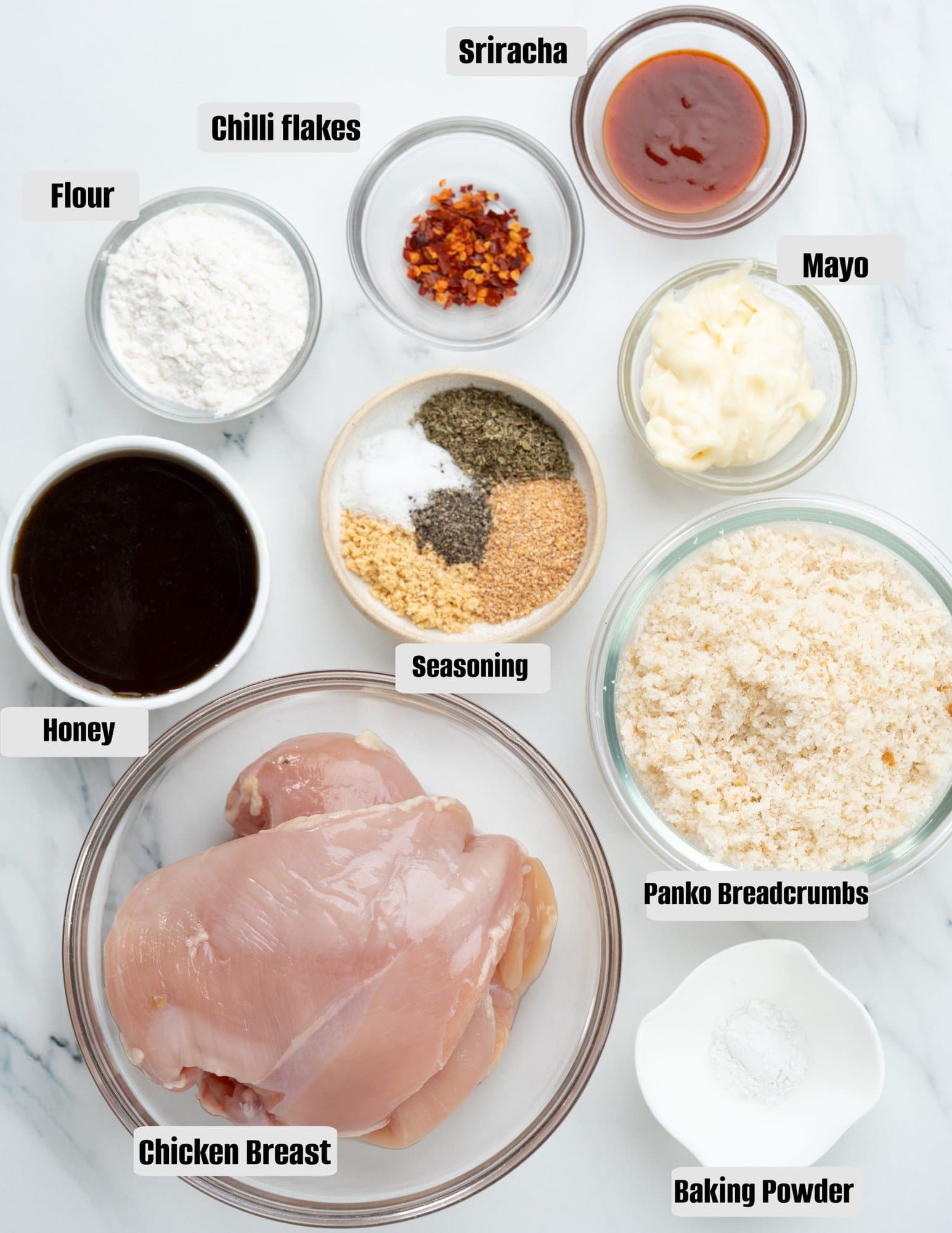 How to Make Baked Chicken Tenders?
Before we get into the step-by-step instruction, let's talk about the chicken marination and breadcrumb coating that is different from the rest of the baked chicken tender recipe.
Instead of going for flour-egg wash coating, this recipe calls for a two-step process that is less messy and gives the best result. For deep frying, the flour-egg wash coating works the best, but when I tried the same technique in this recipe the chicken didn't turn out crispy, and also the flour remained slightly raw.
Mayo and sriracha marination tenderizes the chicken and helps them to keep moist. Sriracha also seasons the chicken, instead of keeping it bland.
if using chicken breast, pound chicken to uniform thickness and then cut into thin strips.
The second step is to marinate the chicken in Mayo and sriracha. Rest the chicken for at least 20 minutes up to 24 hours.
Toast the breadcrumb until it is slightly golden brown in color. Toasting breadcrumb before coating, not only makes the chicken extra crispy but also gives a lovely golden brown color to the baked chicken tenders.
Make the dry mixture by adding toasted breadcrumb, flour, baking powder, and seasoning. Though the quantity of flour is very less, it helps give a uniform coating to the chicken. Baking powder is another ingredient that helps with crispiness.
Coat the marinated tenders well with breadcrumb mixture then arrange it on a wired rack and bake.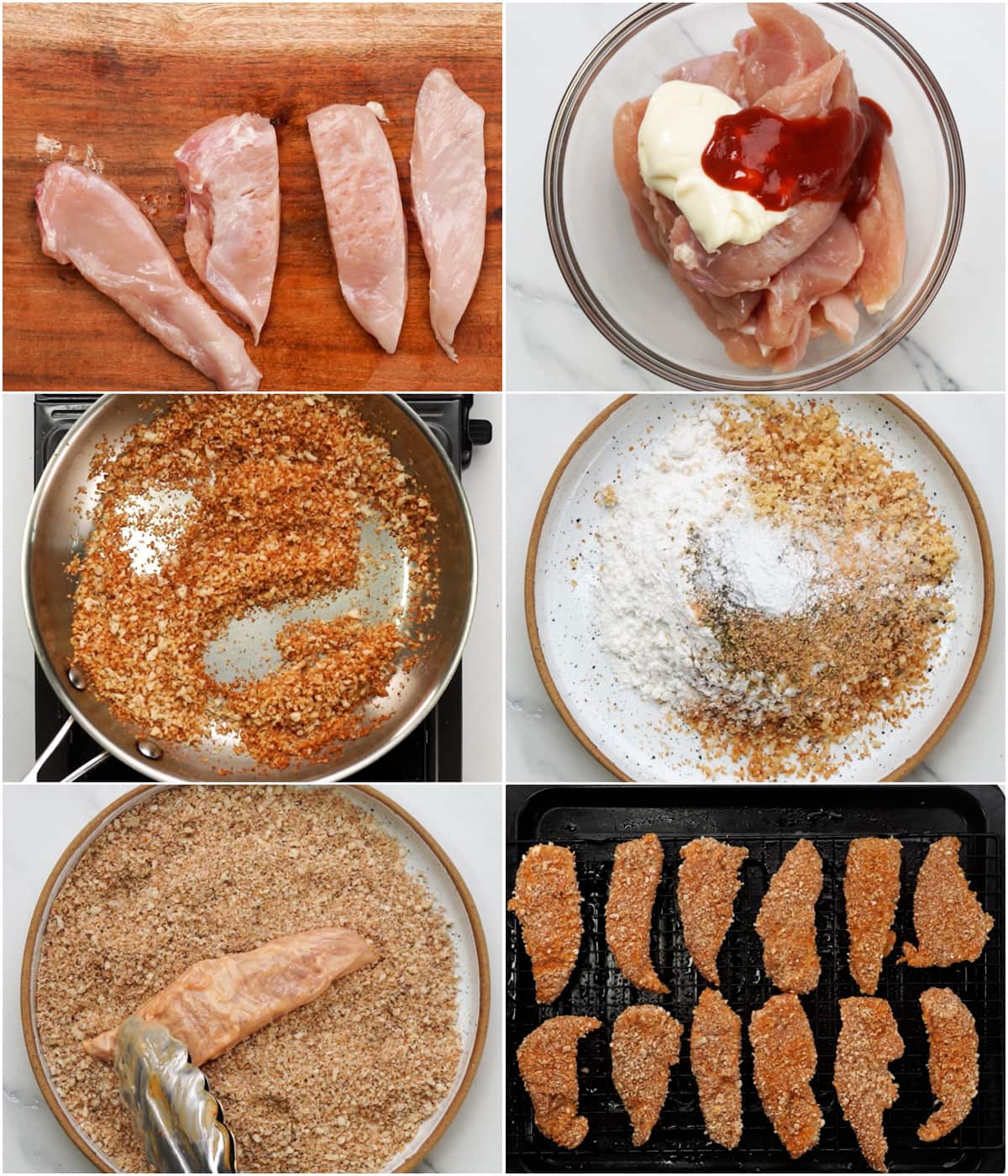 How to bake chicken tenders in the oven?
Arrange a wire rack on top of a baking tray. Spray the rack generously with a non stick spray ( this is important as it prevents the chicken from sticking). Arrange chicken spaced little apart. Then lightly spray them with a cooking oil spray (optional, but it is still better than deep frying).
Why do we place chicken on a wired rack while baking? – While testing I noticed, if coated chicken paced directly on the baking tray and baked, the part touching the tray doesn't crisp up. Insted it get steamed and stays soggy.
When placed on a wired rack, the hot air circulates underneath the chiken making it crispy. And also no need of flipping the chicken in between.
How long do you cook chicken tenders at 400°f (200°c)?
In an conventional oven, bake chicken tenders in the oven 10-12 minutes at 400 F / 200 C . If the chicken is too thick, 1-2 minutes more that's all, else the chicken will turn dry.
Tip: if the chicken was refregirated, make sure you bring to room temperature before baking for it to cook evenly.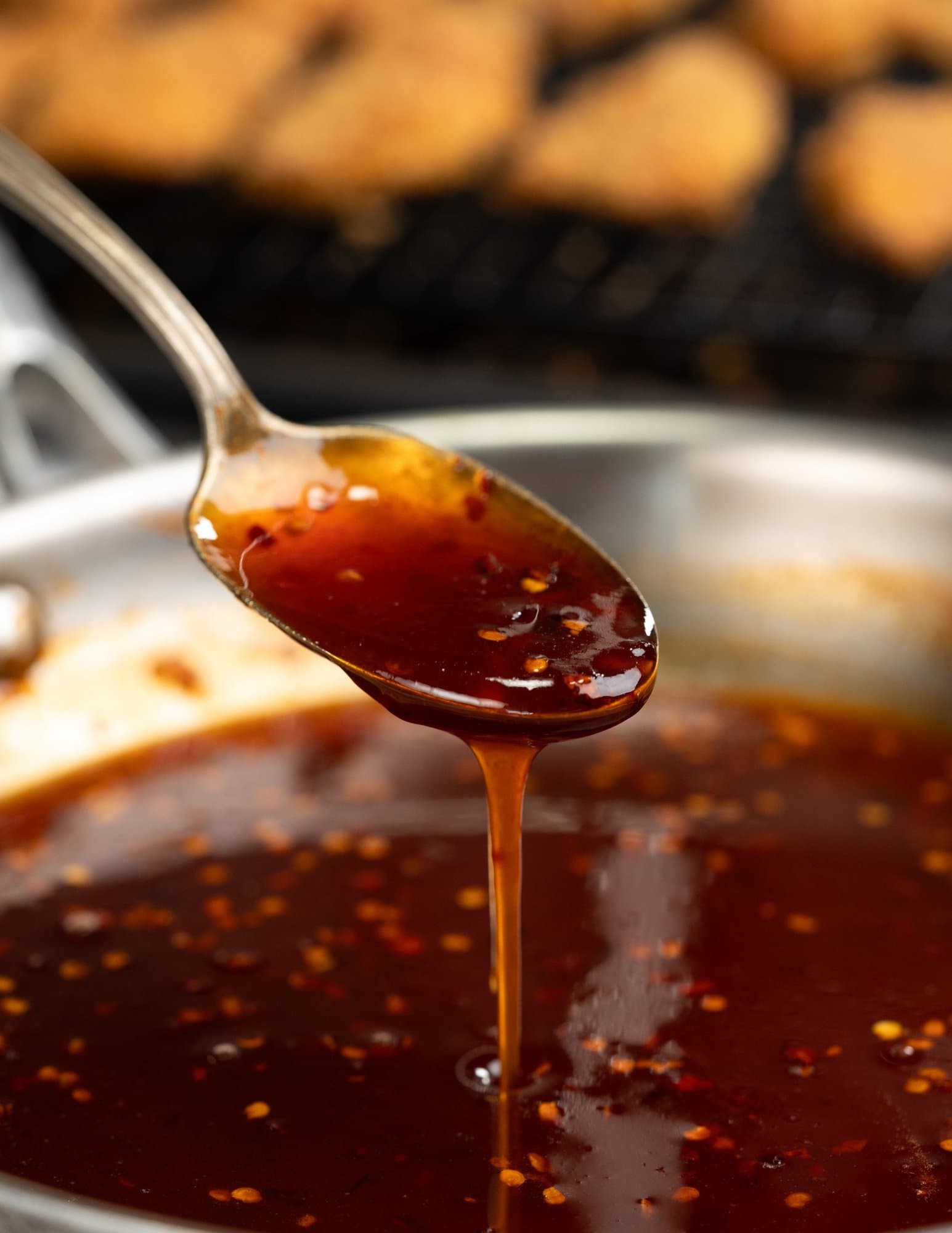 Hot honey sauce recipe
Chicken tenders can be served with a varity of dipping sauces. This hot honey sauce is sweet, spicy and goes really well with the crispy chicken. While the chicken is baking, mix honey, sriracha, chilli flakes and salt. Bring everything to a simmer for 6-7 minutes. The sauce will thicken a bit and thicken further while cooling down.
More chicken tender recipes
Love crispy chicken ? then give these recipe a try Air fryer Chicken breast , cripsy fried chicken tenders, Baked chicken nuggets, Cornflakes chicken .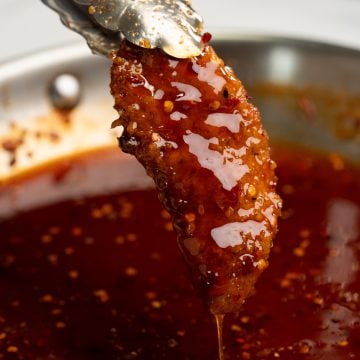 Oven baked chicken tenders
Chicken tenders baked in oven can tender on the inside while crispy on the outside. Instead of traditional breading technique, first marinate chicken mayo and sriracha to tenderise it then coat with a mixture of breadcrumbs, flour and spices.
Ingredients
500 grams Boneless chicken breast
2 tablespoons Mayo
2-3 tablespoons Sriracha
For crispy bread coating
2 teaspoons Oil
¾ cup Panko breadcrumbs
2 tbalspoon Flour
1 teaspoon Baking powder
1 teaspoon Garlic powder
½ teaspoon Onion Powder
1 teaspoon Italian Seasoning
1 teaspoon Salt
¼ teaspoon Pepper
Hot Honey Glaze
½ cup Honey
1 tablespoons Sriracha (adjust per taste)
½ teaspoon Red pepper flakes
¼ teaspoon Salt
Instructions
Use a meat mallet to pound the thickest part of the chicken and bring to even thickness. Cut chicken breast into 1.5-inch – 2-inch wide stripes ( size resembling to chicken tenderloins). Alternatively you can use chicken tenderloins from the supermarket.

Marinate chicken with mayo and sriracha for 30 minutes.

While the chicken is marinating, heat 2 teaspoons of oil in a skillet. Toast breadcrumbs until it light golden brown in colour.

To the cooled down breadcrumbs, add flour, baking powder and rest of the ingredients and mix.

Preheat oven to 400 F / 200 C . Place a grill rack on baking tray and spray the grill rack generously with a nonstick spray ( This is to prevent chicken tender from sticking).

Coat chicken tenders evenly by pressing against the breadcrumb mixture. Shake off extra breading and arrange on the prepared grilled rack.

Spray the coated chicken tenders with a nonstick spray. Bake it for 15 minutes. If the chicken is slightly on thicker side bake it for 20 minutes.
Making Hot Honey Sauce/Glaze
While chicken is in the oven, add honey, sriracha, chili flakes and salt to a sauce pan. Bring to a low bubble and cook in low heat for 2-3 minutes for the sauce to thicken a bit. Take of the flame and let it cool down a bit.
Serving
You can either coat the crispy baked chicken tenders with the glaze or serve it on the side.
Nutrition
Serving: 1serving | Calories: 332kcal | Carbohydrates: 40g | Protein: 23g | Fat: 9g | Saturated Fat: 1g | Polyunsaturated Fat: 4g | Monounsaturated Fat: 3g | Trans Fat: 0.03g | Cholesterol: 66mg | Sodium: 1080mg | Potassium: 523mg | Fiber: 1g | Sugar: 29g | Vitamin A: 110IU | Vitamin C: 9mg | Calcium: 63mg | Iron: 1mg