Baked Crispy Chicken Nuggets
This post may include affiliate links that earn us a small commission.
These are the best Chicken Nuggets you will make at home. Healthy because they are baked not fried, juicy, perfectly crispy on the outside. You need basic pantry ingredients for this recipe and the result is just outstanding.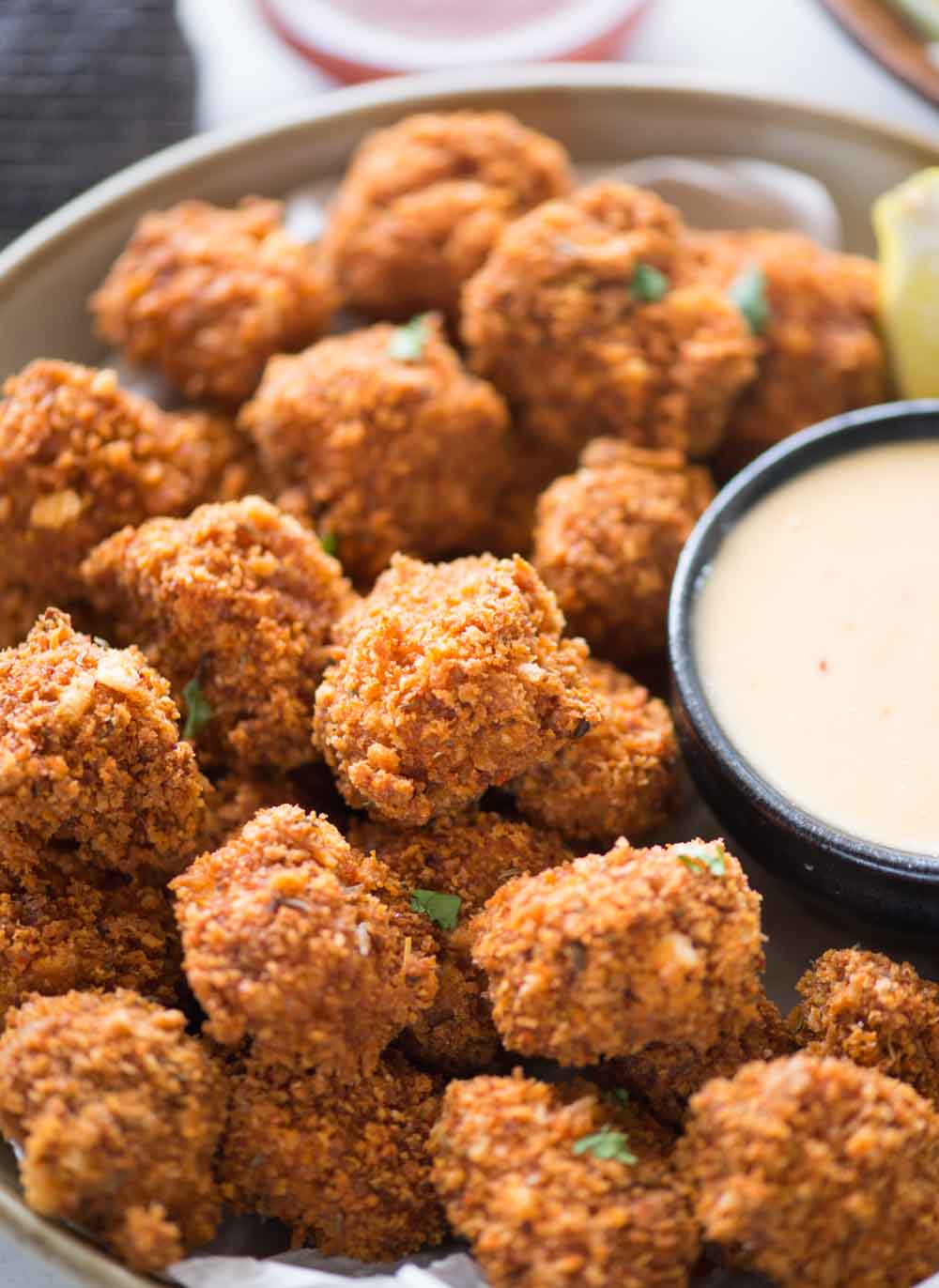 Crispy Chicken Nuggets, kids or adult everyone loves these. Completely made from scratch and baked, so it is a healthier version. Tender pieces of chicken with a crispy bread coating tastes delicious when dipped in honey mustard sauce or ketchup. There can't be better finger food for the kids or to feed a crowd.
Flavours In Your Inbox
Subscribe for recipes straight to your inbox
It is always easy to pick a packet of nuggets from the frozen section but trust me I have never fancied those packaged nuggets. The store brought nuggets are tasteless and bland. Whereas when you make them at home you have all the control. You know what you are giving your kid is real food, not some chemical loaded stuff.
Baked Not Fried
These are seriously the best nuggets you will make at home. What I love about this recipe is, it is very easy to make. Marinate chicken in buttermilk and then coat in seasoned breadcrumb mixture. Simple right??
I have been trying the nugget recipe for quite some time now. There are a number of ways you can make nuggets, but the outcome differs in every method.
Dip chicken breast in egg, followed by flour, coat breadcrumbs and bake. In this method, I found Chicken was not that juicy and often became dry.
Another method I tried was marinating chicken in buttermilk brine and then coat with flour. The chicken turned out to be really juicy, but it wasn't crispy at all. The flour coating remained raw at places.
What worked is chicken marinated in a buttermilk brine and then dipped in a seasoned breadcrumbs flour mixture. But I wasn't 100% happy.
Find out in the next section, what worked and I was 100% happy with the result.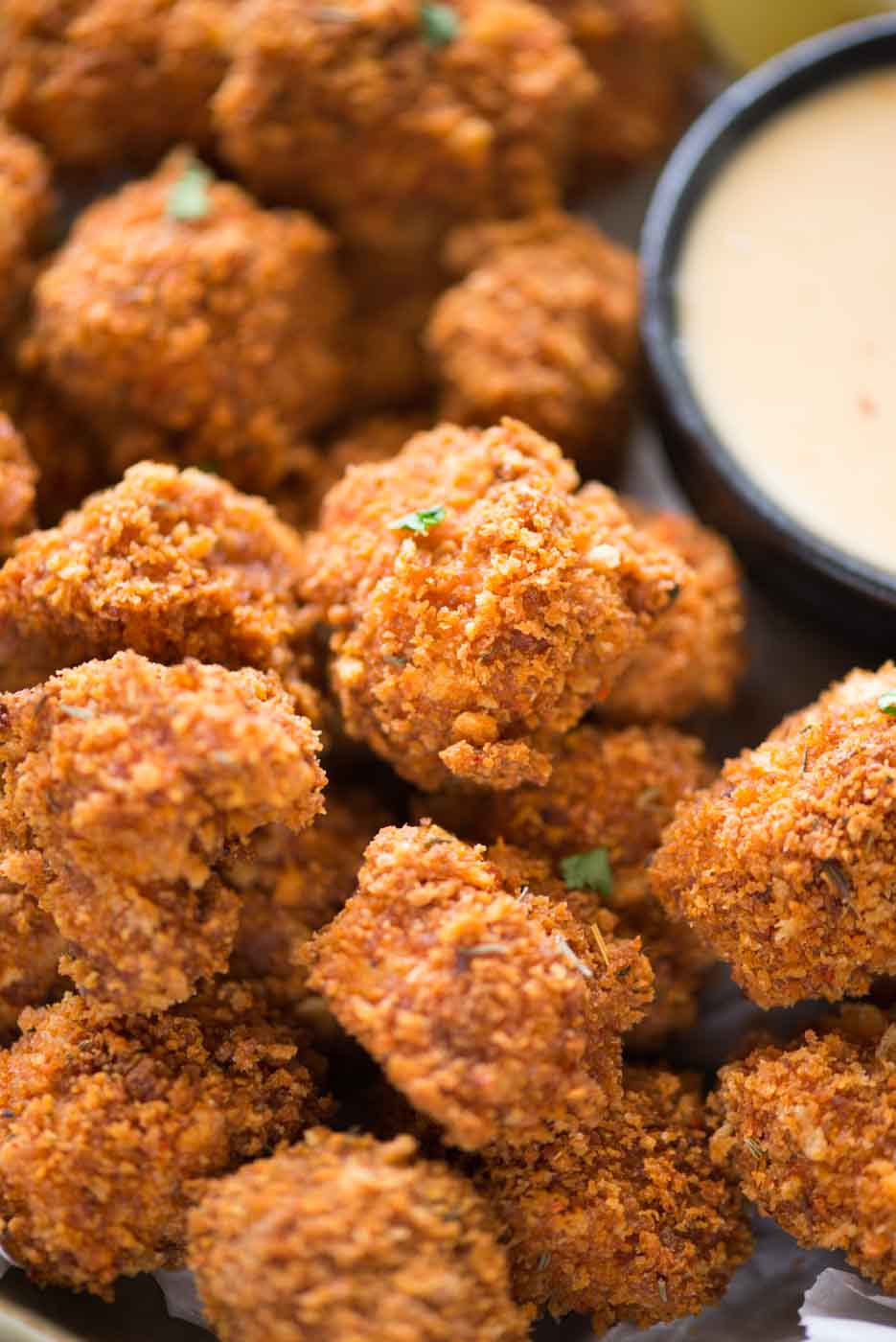 How To Make Crispy Chicken Nuggets
I have tried a number of recipes before this. One thing I am certain is that You can never have the baked version as good as the fried ones. But, It's worth trading for the taste because of the obvious health benefits of baked version. Here is how to get perfectly crisp Chicken Nuggets.
Chicken Breast– Chicken breast is the best cut for this recipe. Cut chicken into bite-sized pieces. You don't have to hold a scale and cut into equal-sized pieces. Just make sure all the pieces are of the same size for even cooking.
Buttermilk Brine– Seasoned with a little salt, pepper and paprika, Buttermilk brine makes sure the Chicken remains juicy and seasoned. You can brine the chicken up to 24 hours. I have kept the buttermilk lightly seasoned so that the chicken will sign through.
Toasting Panko Breadcrumbs– Toasting breadcrumb before coating chicken is a real game-changer. Toast panko bread crumbs in oil until crunchy and brown. You can do this either on the stovetop or in the oven.
Egg– Fried Chicken recipe calls for dipping chicken in flour then egg and followed by breadcrumb coating. I hate this entire process of dipping in multiple bowls, after a few rounds the entire thing becomes a mess. And I always end up with lot of waste. But egg plays an important role. To minimize the waste and make things less messy, I add an egg to the buttermilk brine. So no multiple bowl dipping business. Take chicken out of the brine and dry coat.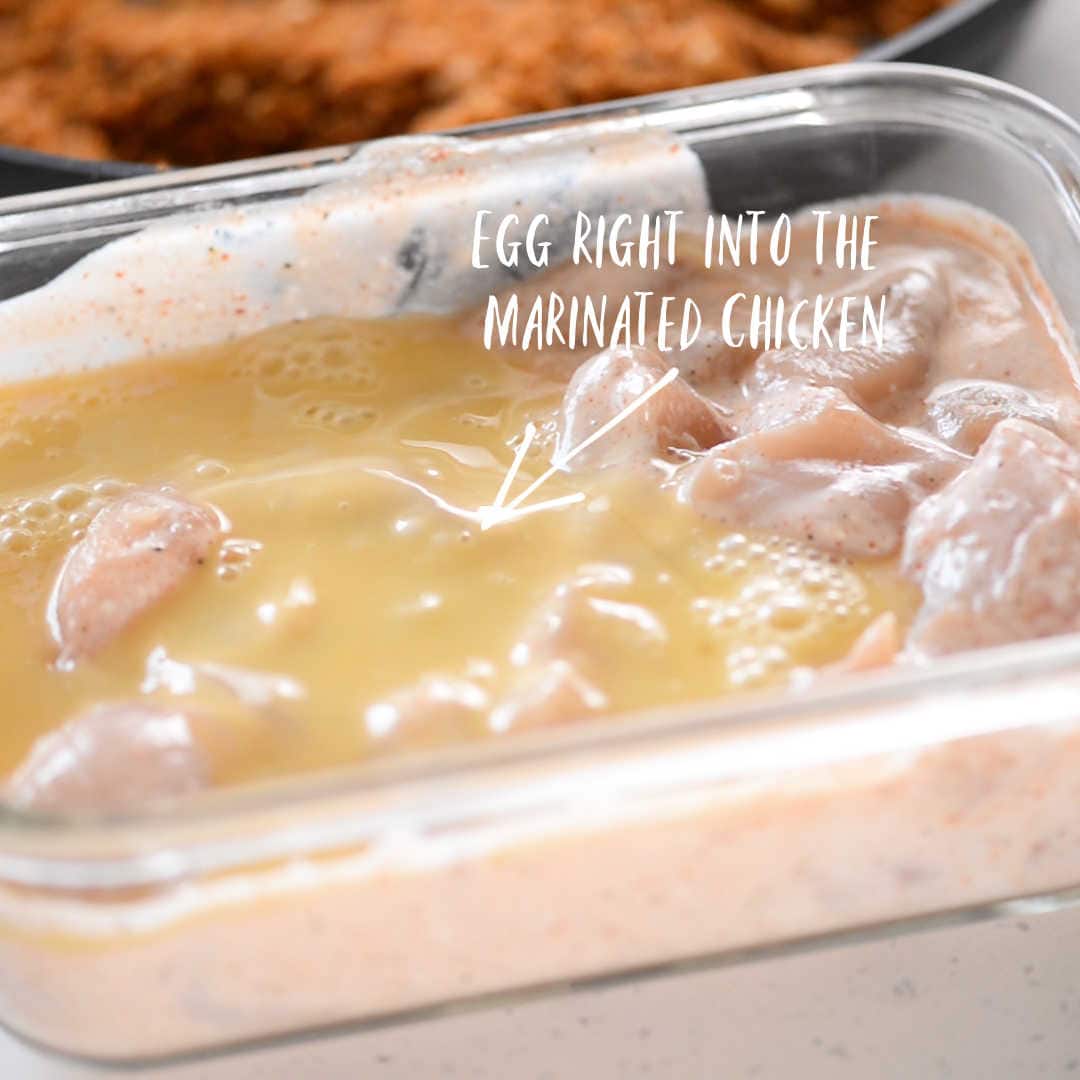 Breadcrumb and Flour mixture– Mix of breadcrumb and flour works the best.
Seasoning– I like to keep the seasoning minimal. There is garlic powder, onion powder, thyme, salt, pepper, paprika, cayenne. The brine is seasoned with just salt, pepper and paprika. Rest of the seasoning goes into the outer bread coating.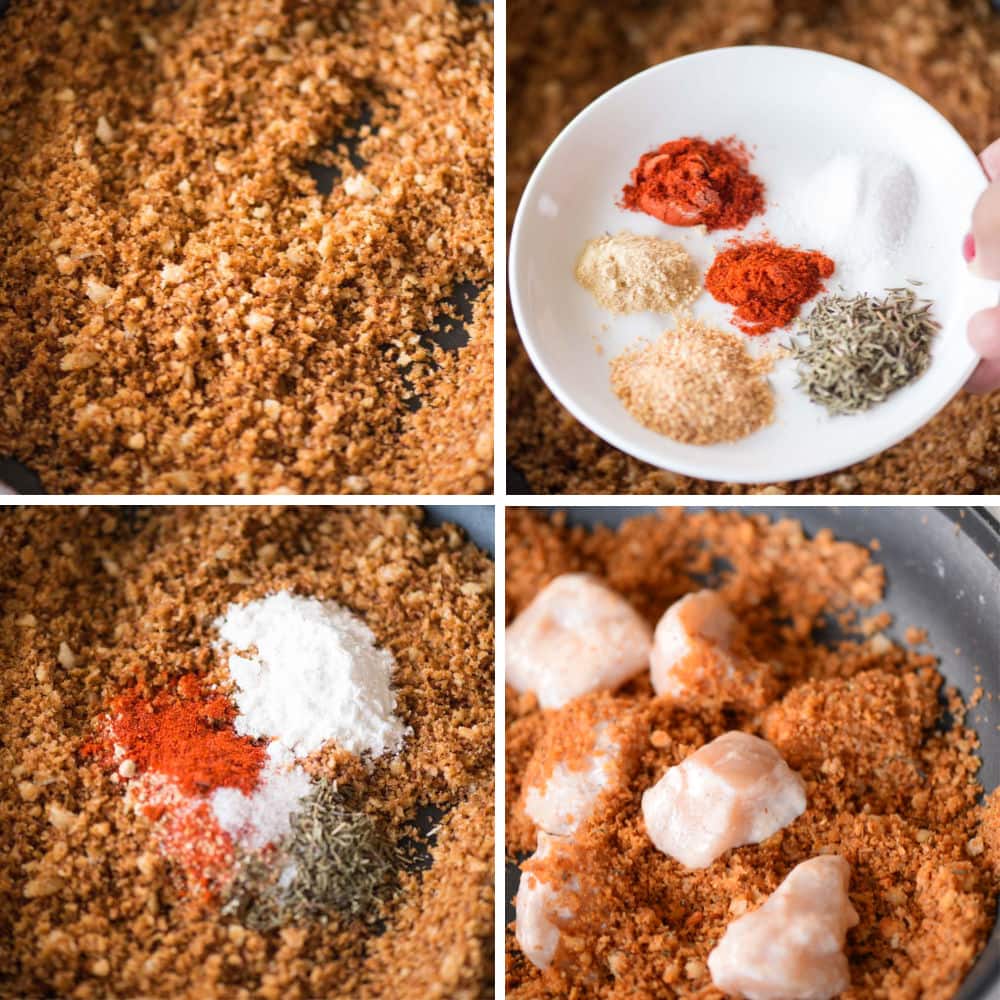 Can We Use Chicken Thighs?
I would definitely prefer Chicken breast all the time, but yes you can use CHicken thighs as well. The baking time would increase a bit more.
Can it be made Gluten-Free?
For a gluten-free version, use gluten-free breadcrumbs and corn starch.
Can we Air Fry Chicken Nuggets?
Air frying is a great alternative. I love how crispy these Chicken wings turn out every time I make them. So air frying the coated chicken nuggets works too. It should take roughly about 10-12 minutes in the air fryer.
Serving suggestion
Good old ketchup, Honey Mustard Sauce or BBQ Sauce is a perfect pairing. You can also serve these with SWEET CHILLI SAUCE or Creamy AVOCADO DIP for a change.
Serve any light salad (like this ITALIAN SALAD) or Coleslaw (for example this APPLE COLESLAW) on the side for a perfect meal.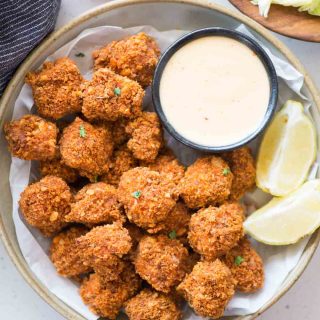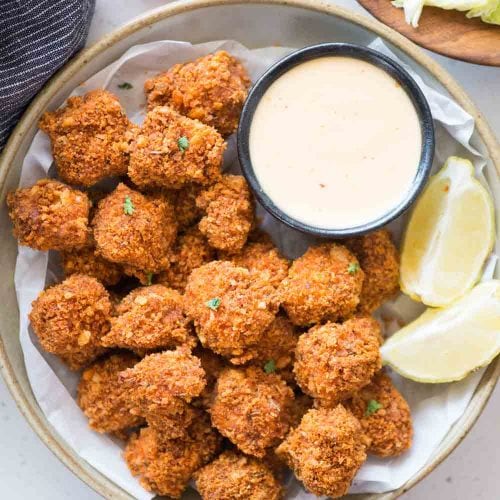 Baked Chicken Nuggets
These are the best Chicken Nuggets you will make at home. Healthy because they are baked, juicy, perfectly crispy on the outside. You need basic pantry ingredients for this recipe and the result is just outstanding. 
Ingredients
1 pound Boneless Chicken Breast
For Buttermilk Brine
¾ cup Buttermilk
½ teaspoon Salt
¼ teaspoon Pepper
¼ teaspoon Paprika
1 egg (to be added later)
For Breadcrumb Coating
2.5 cup Panko Breadcrumbs
2 tablespoon Oil
2 tablespoon Flour
½ teaspoon Dried Thyme ref note 1
¾ teaspoon Garlic Powder
½ teaspoon Onion Powder
¼ teaspoon Cayenne pepper
½ teaspoon Paprika
¼ teaspoon Salt
Instructions
Cut chicken breast into bite-sized pieces. Try to keep all the pieces of the same size, for even cooking.

In a bowl add buttermilk, salt, pepper, paprika. Whisk it well. Add chicken pieces and mix it well. Cover and let it marinate for at least 1 hour (up to 24 hours) in the refrigerator.

Meanwhile, heat oil in a pan. Add breadcrumbs and toast it until it is crispy and nicely browned. Keep stirring it to prevent it from burning.

When the breadcrumbs cooled down a little bit, add all the spices, flower. Mix well and keep aside until use.

Preheat oven to 375 degrees F (190 Degree Celcius). Set a large wire rack on a baking sheet.

Take the marinated chicken out of the refrigerator. Let it sit on the kitchen counter and come down to room temperature.

Add beaten egg to the marinated chicken and mix everything.

Spread breadcrumb flour mixture in a tray.

Take a few pieces of chicken at a time and arrange it in a single layer.

Using a fork toss chicken pieces and coat well with breadcrumb mixture. ( Watch video after the recipe to see how to coat chicken pieces without making your hands dirty)

Arrange the coated chicken pieces on the prepared wired rack spaced little apart.

Bake for 12-15 minutes until it is crispy, cooked through and inside temp reaches 165 degrees F.
Notes
Replace thyme with dried Oregano or parsley. 
Nutrition
Serving: 1serving | Calories: 401kcal | Carbohydrates: 33g | Protein: 32g | Fat: 15g | Saturated Fat: 3g | Cholesterol: 118mg | Sodium: 906mg | Potassium: 569mg | Fiber: 2g | Sugar: 5g | Vitamin A: 352IU | Vitamin C: 1mg | Calcium: 132mg | Iron: 3mg