This post may include affiliate links that earn us a small commission.
Rich creamy coleslaw in this classic coleslaw has the perfect balance between sweet and sour. Enjoy this modern coleslaw as an everyday side dish to complement the meaty mains.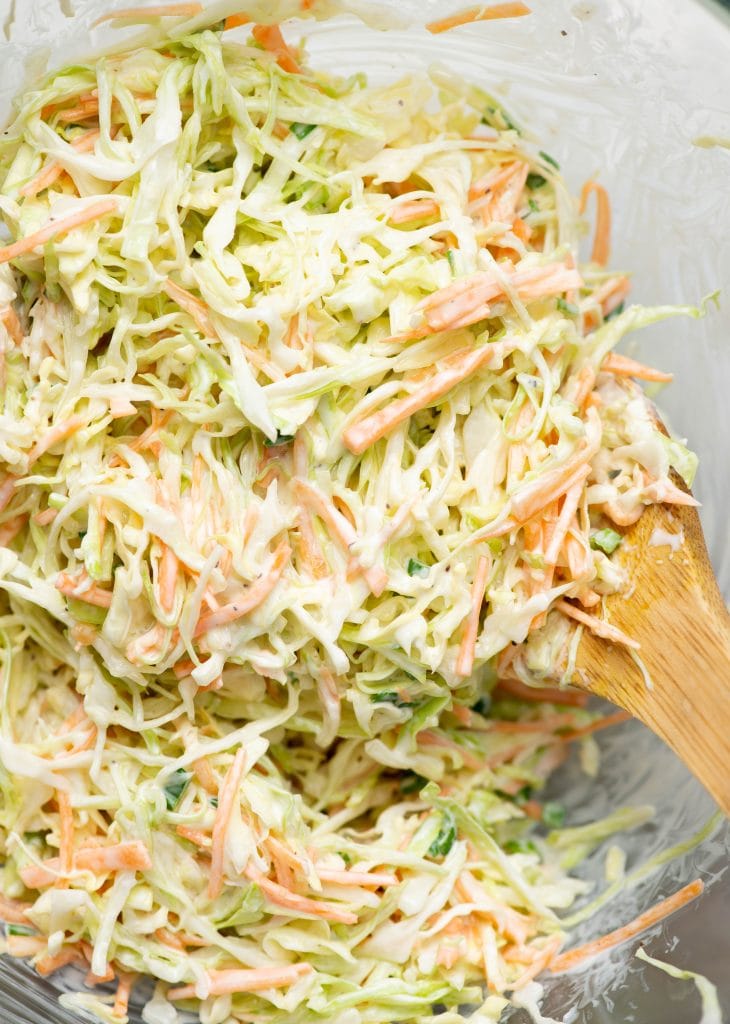 What is coleslaw
I first had coleslaw at a nearby KFC store and I still remember having liked it then a lot. It was creamy, cool and a perfect balance between sweet and sour. I then knew I had to make this side dish at home.
Flavours In Your Inbox
Subscribe for recipes straight to your inbox
Creamy Apple Slaw With Cranberries is the first slaw I had made. It is more on a sweet and fruity palate. I am also a salad girl and you can check all the other salads below.
Coleslaw as it is eaten everywhere is a modern dish. Thanks to the Dutch for having come out with such a simple but enjoyable recipe with a history of more than a hundred years. Coleslaw originated from the word 'Kool sha' meaning 'Cabbage Salad' and is now known as coleslaw the world over.
It has been adopted in every fast-food chain, from eateries to fine dining restaurants. Why shouldn't it be? There is no fixed recipe and each region has adapted this to its own ingredient availability and taste.
Many variations include meat, veggies, and fruits. Though mostly it is green cabbage, many regional recipes use another color like purple cabbage coleslaw or a mix of all colors of cabbage. Onions are used in many variations and so too are carrots, bell peppers. Yes, fruits like pineapples, apples are used too to add a sweet element to the coleslaw.
This recipe keeps it simple and with a few ingredients makes a deliciously cool and creamy starter coleslaw.
Coleslaw dressings
What is coleslaw dressing made of? Coleslaw dressing is made of Mayo – which gives it its characteristic creamy body, cream or yogurt, apple cider vinegar, celery salt, pepper, and sugar. Some dressing recipes do not call for Mayo but are either vinaigrette-based or have sour cream.
Coleslaw dressings differ from each region like the ingredients for the coleslaw. I have used Greek yogurt in this recipe instead of cream but you may use full-fat cream instead. There is also buttermilk coleslaw and vinaigrette coleslaw made in many places.
Adding the dressing to raw crunchy shredded cabbage allows it to lose a lot of water. It can make your coleslaw soggy. So, use more than enough dressing folks. The leaked water is going to make the thick dressing water down to the right consistency.
Also, the acid in the vinegar or lemon juice helps break the cabbage. The cabbage wilts and softens in due time losing its crunchiness.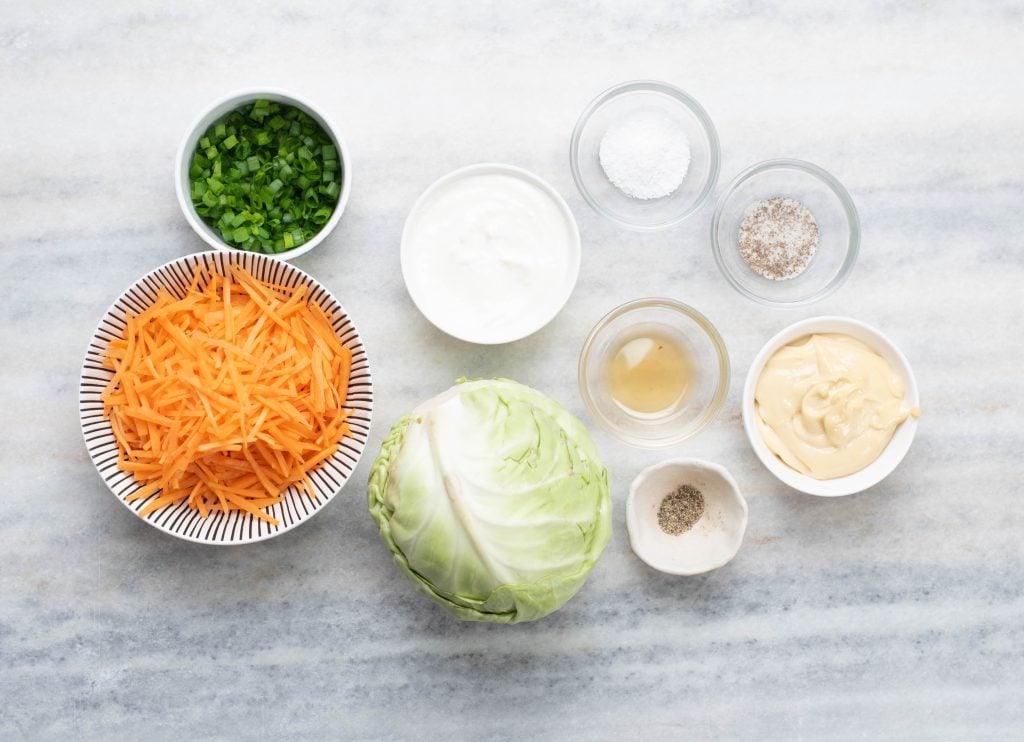 Ingredients
Shredded Cabbage – To make the coleslaw colorful, use differently colored cabbage like green, purple or red cabbage. Shred it with a Food processor, Slicer or even a sharp knife. You can even buy pre-shredded cabbage from a local store.
We need the below ingredients to make the creamy, fresh dressing:
Mayonnaise – Buy a good mayo from nearby stores. You can easily make this it at home too. I am soon going to post on how to make this yourself from scratch to get delicious creamy and thick mayo.
Greek yogurt – you may also use sour cream instead. Go for the full fat version in this. Yogurt or cream helps keep the dressing thicker.
Apple Cider vinegar – The acid in the dressing. Gives the sourness and acts on the cabbage.
Celery Salt – It is seasoned salt and is used to provide better flavor than regular white salt.
Pepper – a little of pepper to balance the sweet and sour.
Sugar – helps in balancing the sourness and from the coleslaw tasting bitter.

How to make coleslaw from scratch
Prepare the dressing: Get all the ingredients required for the dressing together. Mix them together in a bowl and whisk for a short while until they mix.
Shred the cabbage: Shred all the cabbage using either in a food processor or use a slicer to shred it into long thin pieces.
Toss with the dressing: Now pour the dressing all over the shredded cabbage and toss them well until the creamy dressing coats the cabbage well.
Let it rest: The most important step is to let the coleslaw rest for up to 2 hours in the refrigerator. Give it time to let the acid in the dressing work on the cabbage. The cabbage will lose water and it will thin down the thick dressing. The cabbage will also wilt and lose its crispiness and the entire salad will taste delicious.
Tips
Coleslaw mix is widely availabe in stores. It is prepackaged with a mix of different cabbage shredded. It may have shredded carrots too. For convenience, you can safely use the coleslaw mix which should be good for 2 servings.
Adding Greek yogurt reduces the amount of mayo necessary for the dressing. Not only it keeps the dressing thick, it is way more healthy than mayo. To start with, it has a fraction of calories and fat that mayo has.
Add yogurt or cream, if you want to reduce mayo and make a healthier dressing for coleslaw.
Keep the dressing thick to start with. It will water down later when mixed with the cabbage.
Give the coleslaw time. The cabbage will slowly wilt and become soft. The extra moisture from the cabbage releases and thins down the thick rich dressing a bit. This resting time not just removes the crunchiness of the cabbage but reduces the dressing to the right consistency.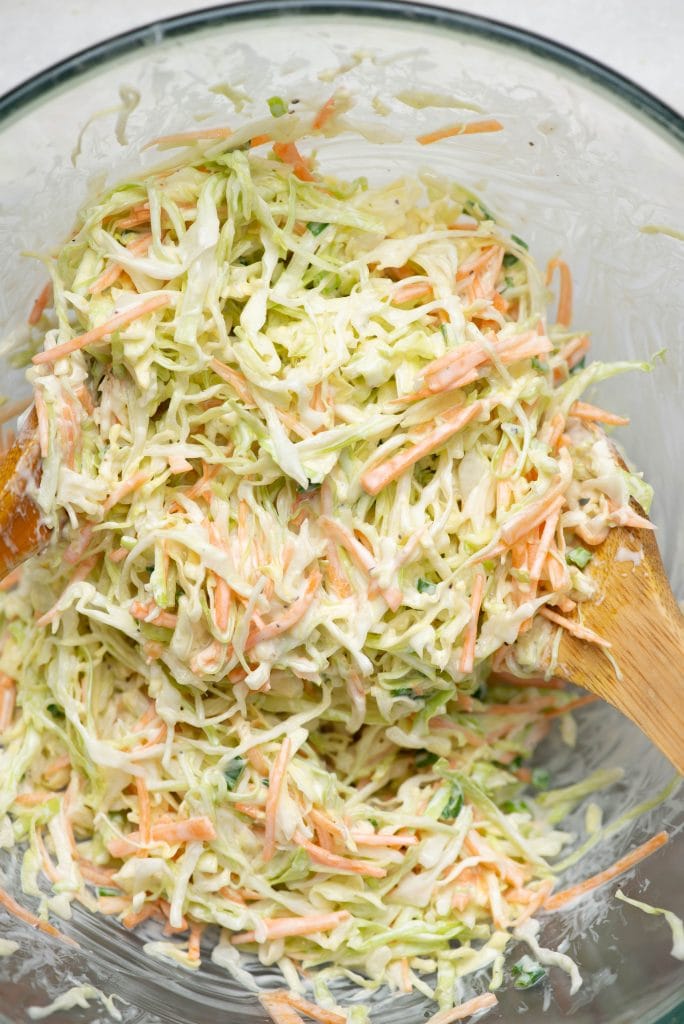 Frequently Asked Questions
Why does my coleslaw become watery?
You may have used less dressing. Cabbage when mixed with any acid like the vinegar in the dressing, releases water. The released water tends to thin out the dressing.
The mayo and yogurt-based dressing used in this recipe are thick. Use the dressing generously while mixing with the coleslaw. It can then handle the extra liquid from the wilting cabbage and yet be creamy.
How to make coleslaw healthy?
A rich creamy dressing makes the coleslaw delicious. If you do not want mayo, you can just use the yogurt with full-fat Greek yogurt. This way, you avoid the fat from the mayo yet have the creaminess from the yogurt.
Should coleslaw be crunchy?
No. Coleslaw should not be like a raw, crunch salad. It should be soft and creamy with the rich dressing with the cabbage. Allowing the coleslaw to rest helps the cabbage to wilt and become soft.
Store
To increase the shelf-life, refrigerate the coleslaw. Store it in an air-tight container for up to 5 days in the fridge. Do not freeze the coleslaw.
Serve With
Serve this coleslaw with burgers, sandwiches, or other meaty mains like Baked Honey Garlic Chicken Wings, Mushroom Spinach Stuffed Chicken Breast, Tandoori Chicken (Oven & Stove Top), Grilled Teriyaki Chicken, or Easy Grilled Chicken with Buttermilk Marinade.
Other Salads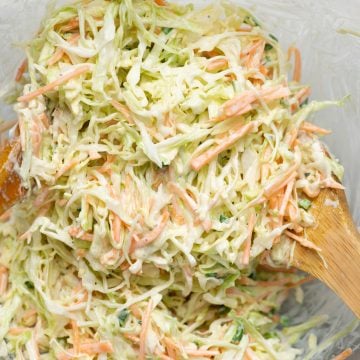 Classic Coleslaw
Rich creamy coleslaw in this classic coleslaw has the perfect balance between sweet and sour. Enjoy this modern coleslaw as an everyday side dish to complement the meaty mains.
Ingredients
400 grams Shredded Cabbage about 4-5 cups
2 medium Carrots about 1.5 -2 cups
⅓ cup chopped Green onion
For Coleslaw Dressing
⅓ cup Mayo
⅓ cup Greek yogurt
2 tespoon Apple cider vinegar
2 teaspoon Sugar
½ teaspoon Celery salt
¼ teaspoon pepper
Instructions
Using a food processor or sharp knife shred cabbage and carrots to thin juliennes.

To make the dressing – add all the ingredients to a bowl, mix well.

Add dressing to the veggies, add green onion. Mix everything well and cover. Let it rest in the refrigerator for 1-2 hours.

Then serve.
Notes
You can substitute 1-2 cups of cabbage with shredded purple cabbage.
Nutrition
Serving: 1serving | Calories: 182kcal | Carbohydrates: 12g | Protein: 3g | Fat: 14g | Saturated Fat: 2g | Polyunsaturated Fat: 8g | Monounsaturated Fat: 3g | Trans Fat: 1g | Cholesterol: 9mg | Sodium: 454mg | Potassium: 297mg | Fiber: 3g | Sugar: 8g | Vitamin A: 5207IU | Vitamin C: 38mg | Calcium: 71mg | Iron: 1mg