This post may include affiliate links that earn us a small commission.
Amazing Grilled Chicken warps loaded with juicy chicken, veggies, cheese and a spicy mayo sauce. Easy to put together, perfectly fits in the lunch box and is fun to eat.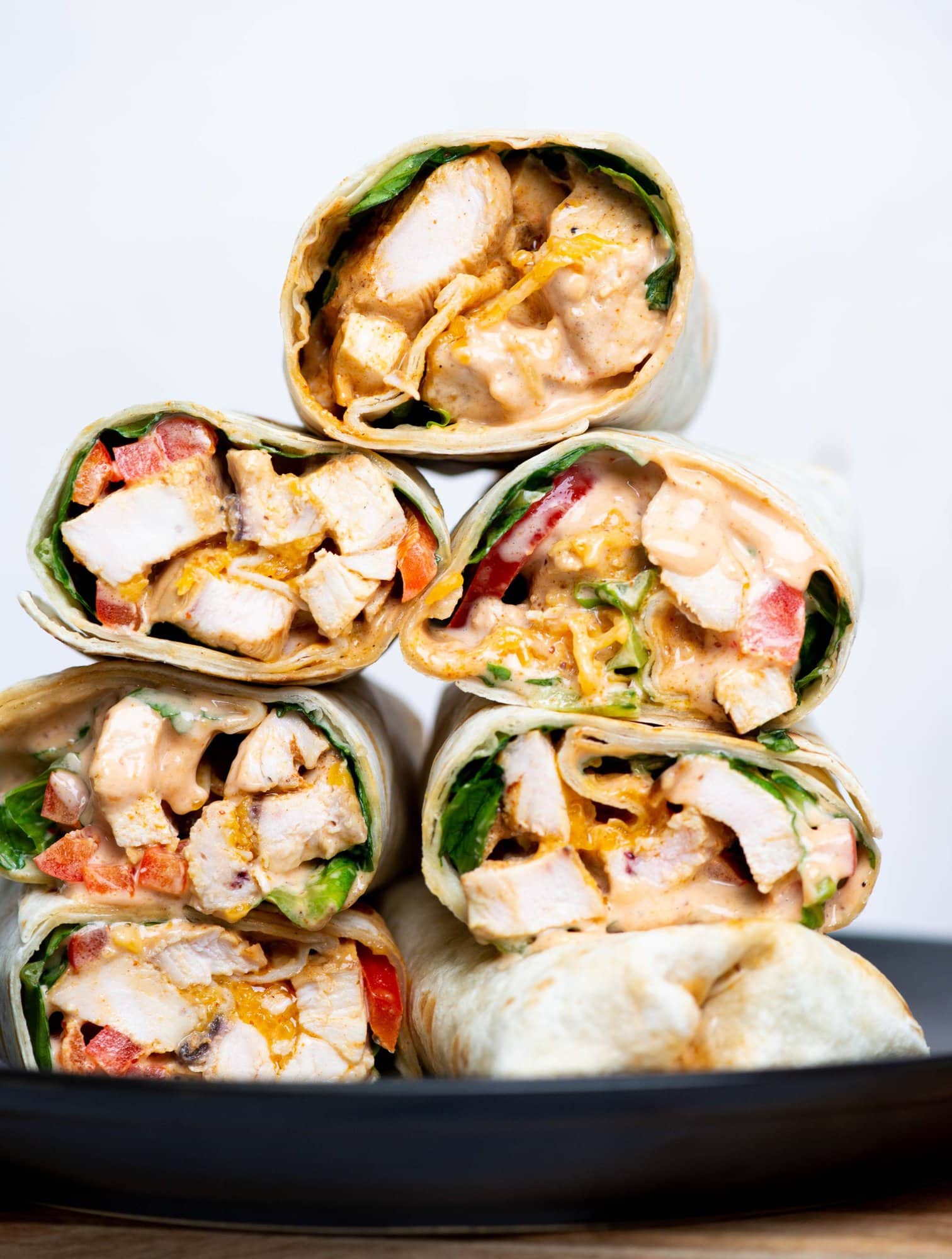 Grilled chicken, lettuce, peppers, and cheese drizzle some spicy mayo dressing in a flour tortilla, to make a delicious grilled chicken wrap.
Flavours In Your Inbox
Subscribe for recipes straight to your inbox
Grilled Chicken Wraps are always fun to eat. It is definitely more convenient to it than a sandwich. I love the idea of a meal in a bowl or a wrap. It is easy to put together, meal prep, or pack in a lunch box. This an ideal meal during summer, when you
I feel chicken wraps are also a healthier option when made at home. It has protein, greens, you can also add veggies like avocado, peppers etc.
What you'll need?
Chicken breast– Boneless chicken breast cut into thin fillets. Chicken breast is lean meat and also cooks faster. If you are short of time you can also use store-bought rotisserie chicken.
Seasoning– Basic dry rub for the chicken breast. Garlic powder, onion powder, paprika, salt, pepper, lemon juice and olive oil.
Tortilla – You could use flour tortilla, corn, wheat or even flatbread. You can also use low-carb tortillas.
Veggies – lettuce like Romanian or butterhead lettuce. You can add red bell pepper, and avocados as well.
Cheese – Shredded cheddar cheese or mozzarella would also work.
Sauce– Spicy mayo dressing creamy, spicy, sweet and slightly tangy. You need Mayo, Ketchup, Sriracha and lemon juice. You can also use Ranch dressing or any other creamy dressing instead.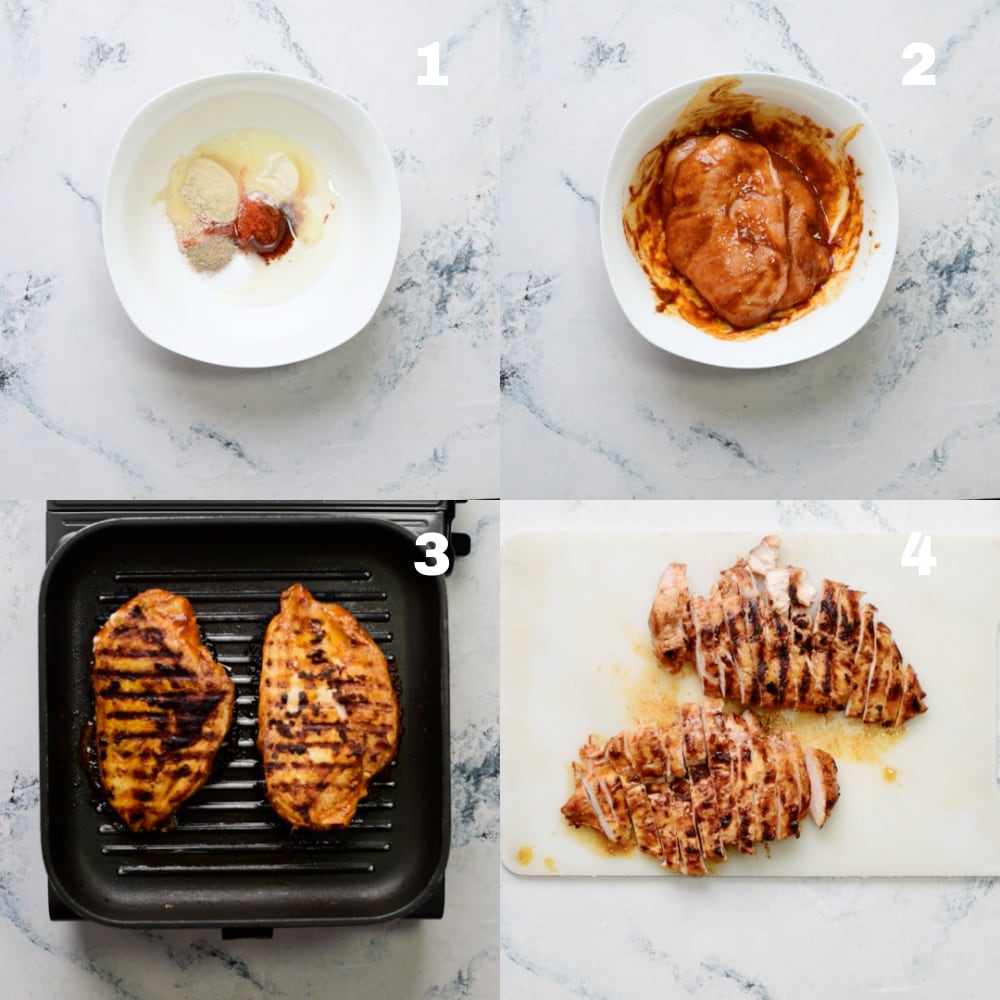 How To Make Grilled Chicken Wrap?
Begin with marinating Chicken breast in the dry rub seasoning. If the breast is too thick, flatten it to uniform thickness before marinating.
Grill chicken on a griddled pan on both sides. Cover and rest for 10 mins. When it has cooled down completely, chop it into small cubes or into slices.
Try my buttermilk marinated Grilled Chicken breast recipe as an alternative for the chicken filling.
While the chicken is resting, make the dressing by mixing mayo, tomato ketchup and sriracha.
Time to roll the wraps. Top it with lettuce, peppers, grilled chicken, and drizzle generously with mayo dressing. Sprinkle cheese and fold the tortillas.
Fold 1 to 2 inches (from the left and right side) inwards. Then roll the bottom over the filling. Start rolling the wrap over the filling, pushing the filling inwards as you roll.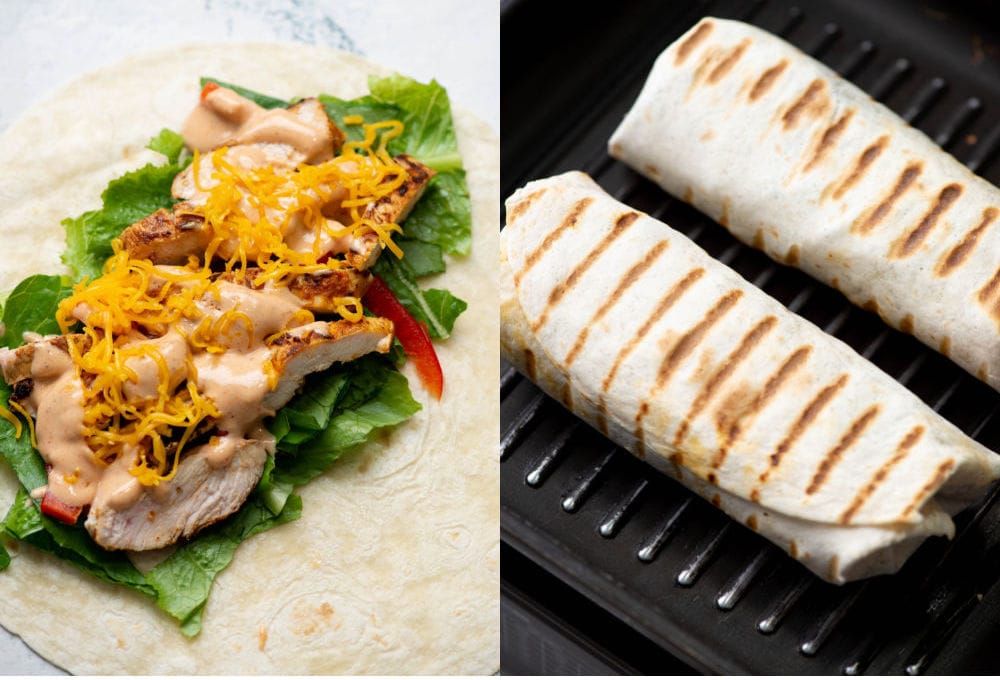 Assembling Chicken Wrap
Place tortilla wrap. Top it with lettuce wrap, followed by chicken, bell pepper. Drizzle some mayo sauce and top it with shredded cheese.
Seal the tortilla on both the side and tightly roll it to warp.
Cook both sides of the wrap on a hot grill pan.
Wrap a piece of foil and serve.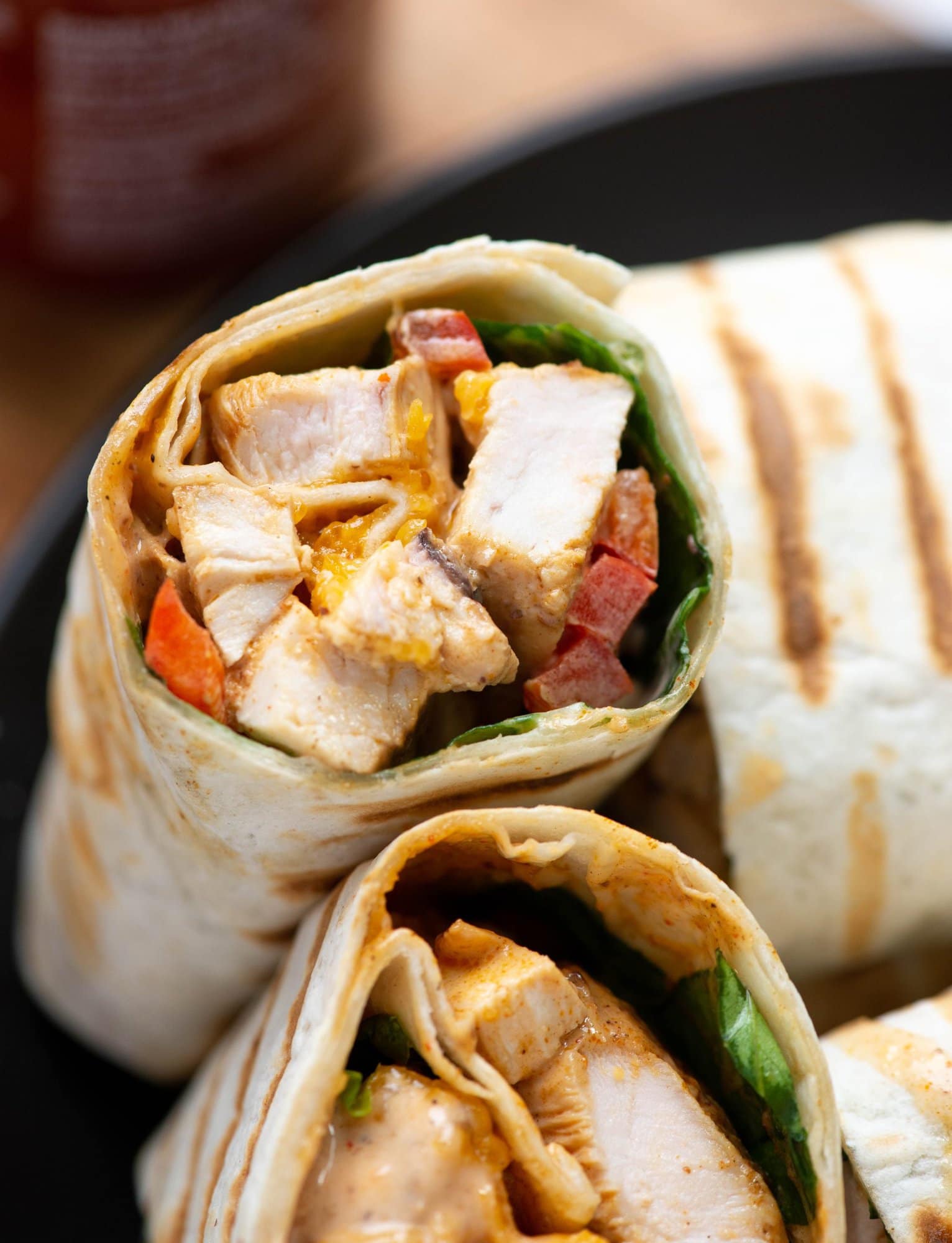 Storage and Prep Ahead
You can store the wrap individually wrapped in foil. Keep it in an air-tight container for up to 3 days.
To store the wraps, here are a few points to take care of.
Make sure that the chicken is cooled down completely before adding it to the wrap. Else the juices from the grilled chicken will make the wrap soggy.
The lettuce should be dry. In case there are water droplets, pat it dry with a kitchen towel.
if storing the wraps, make sure they are completely cooled down, else it will steam, in turn, make the wrap soggy.
This Middle eastern Chicken shawarma , Buffalo Chicken Wraps, Spicy Chickpea Veggie Wrap are a few variations to try, if you love wraps.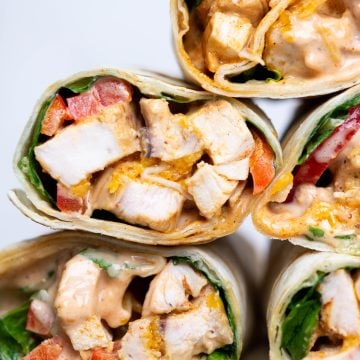 Grilled Chicken Wrap
spicy mayo sauce. Easy to put together, perfectly fits in the lunch box and is fun to eat.
Ingredients
4 tortillas
2 medium Chicken Breast (500 grams)
4 cups Romanian or butterhead lettuce leaves roughly torn
1 red bell pepper sliced thin
1.5 cup shredded cheddar or mozzarella
Seasoning for Chicken
2 teaspoon Garlic powder
1 teaspoon Onion powder
1 teaspoon Paprika
2 tablespoon Lemon Juice
2 Olive oil
1 teaspoon Salt
½ teaspoon Pepper adjust as per taste
For Mayo Sauce
¾ cup Mayo
2 tablespoon Ketchup
1 teaspoon Sriracha adjust as per your spice tolerance
1 teaspoon Lemon juice
Instructions
To make Mayo Sauce, mix Mayo, Ketchup, Sriracha and Lemon Juice. Keep aside.

If the chicken breasts are too large, cut them into thin cutlets. Use a meat mallet or rolling pin to even out the thick portions.
To grill chicken
Mix Garlic powder, Onion Powder, paprika, salt, pepper, lemon juice and olive oil. Coat chicken well in the marinade.

If you have time you can rest the chicken in the marinade for a few hours. Else heat a grill pan.

Cook Chicken for 3 minutes on one side undisturbed, then flip and cook for another 2 minutes.

Keep cooked chicken covered for 10 minutes, then cut into slices.
To Assemble Chicken Wrap
Place a tortilla on a chopping board.

Add Lettuce leaves, chicken, peppers. Drizzle dressing and top it with cheddar cheese.

Seal both the sides and roll it tightly (watch the video for How to roll)

Heat a grill pan. Cook the wrap on both sides until you see light grill marks for about 1 minute on each sides.
Nutrition
Serving: 1wrap | Calories: 716kcal | Carbohydrates: 24g | Protein: 39g | Fat: 51g | Saturated Fat: 15g | Polyunsaturated Fat: 20g | Monounsaturated Fat: 13g | Trans Fat: 1g | Cholesterol: 134mg | Sodium: 1549mg | Potassium: 765mg | Fiber: 3g | Sugar: 6g | Vitamin A: 5799IU | Vitamin C: 46mg | Calcium: 371mg | Iron: 3mg