Spicy Chickpea Veggie Wrap
This post may include affiliate links that earn us a small commission.
This Veggie wrap with hummus, crispy spicy chickpeas, and an array of veggies is far from boring. This is not only protein-rich, filling but also tastes delicious.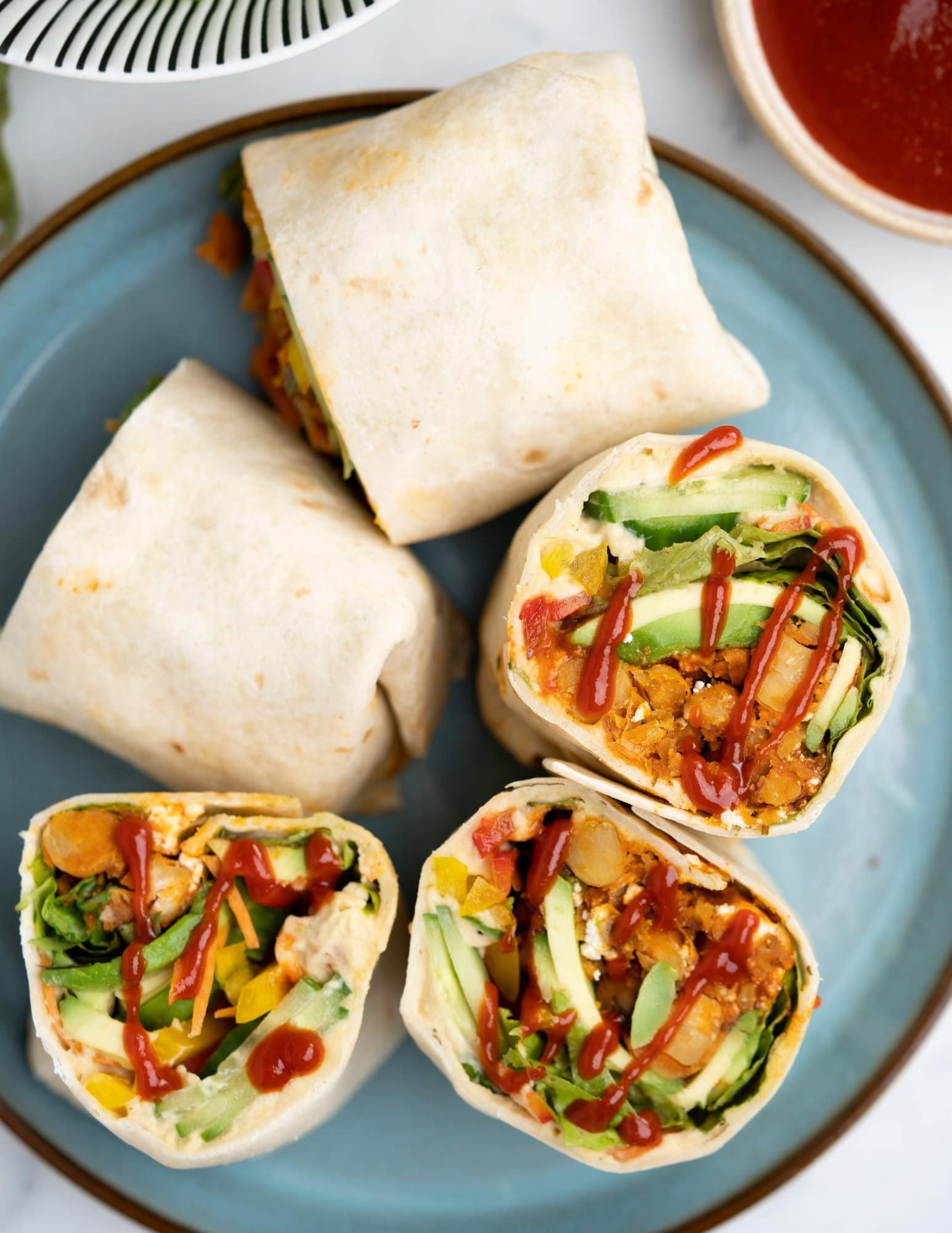 Looking for ideas to incorporate more veggies in your diet that are not a salad or a stir fry? Well, this veggie wrap will change your mind. Layered with creamy hummus, spicy crispy chickpea, lettuce, colorful veggies, and a generous sprinkle of creamy feta cheese.
Most wraps, especially veggie wraps turn out to be dry and not very filling. On the other hand, this chickpea hummus wrap filling is creamy because of hummus, avocados, and also creamy feta. Because hummus and chickpeas are protein-rich, these wraps are filling and will really take care of your hunger.
Flavours In Your Inbox
Subscribe for recipes straight to your inbox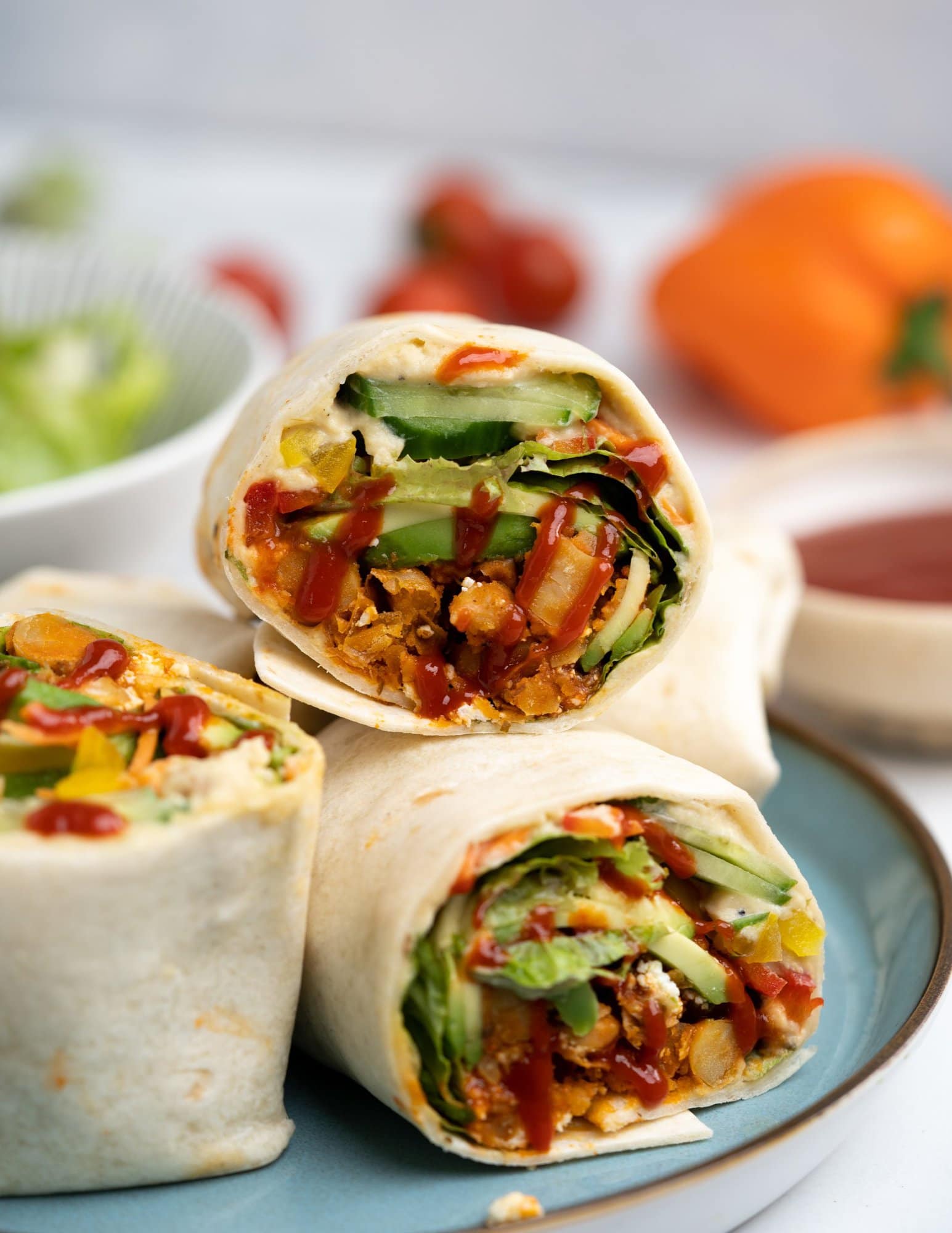 Ingredients for Veggie Wrap (with different filling ideas)
I absolutely love how versatile and customizable these wraps are. You can keep experimenting and use different combinations of veggies to keep it interesting.
Tortilla wrap – regular flour tortilla, wheat, gluten-free, or any flavored variety. anything will work. 10-inch or larger tortillas are ideal for wraps.
Hummus– Homemade or store-brought as per what you have in hand. Try flavored hummus like this sweet potato hummus or other options available. Make sure the hummus is flavourful. A creamy cheese spread also is a great alternative.
Chickpea– makes the wrap filling. Cooked chickpeas or canned ones, drained well.
Lettuce– assorted salad lettuce is what I have used. Spinach, any other lettuce, or kale are a few options to consider.
Veggies – I have used carrots, peppers, and carrots. Cut into thin slices and juliennes so that the wrap holds the filling better. Add sundried tomatoes, and olives to give a Mediterranean twist to the wraps. Edamame, bean sprouts, radish, and zucchini work too.
Avocado
Spices – to season the chickpeas. There is garlic powder, onion powder, oregano, smoked paprika, salt, and pepper.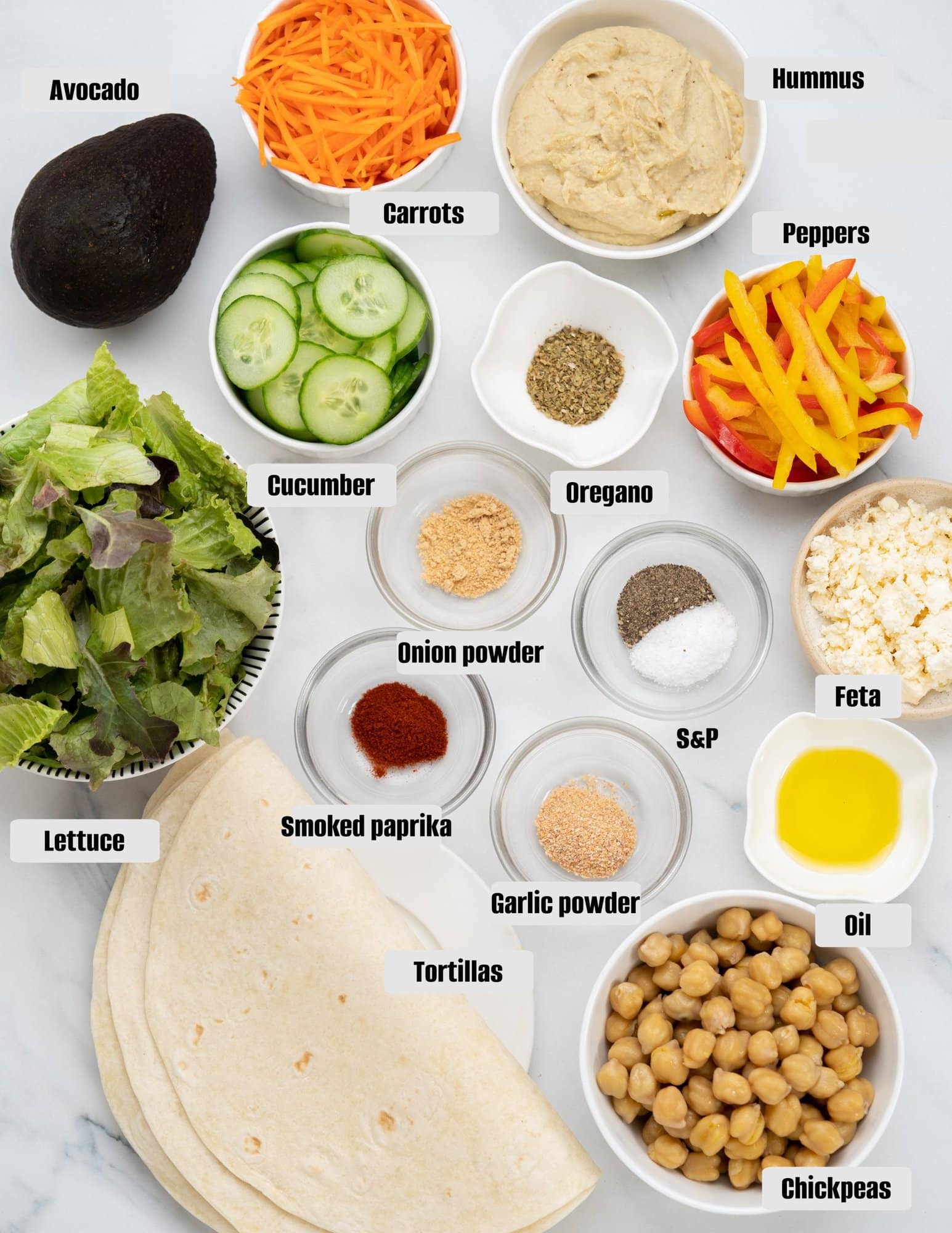 How to make Veggie wrap (step-by-step folding instruction)
Key to a perfect veggie wrap is a good ratio between the creamy spread and veggies, and how well the wrap is holding together the filling.
With only hummus and veggies, the wrap will taste bland. So We are making a quick chickpea filling that is spicy and smoky. Cook chickpeas along with spices in a cast iron pan. Then gently smash a few chickpeas, so that the chickpeas hold together inside the wrap.
Warm the tortilla and spread 2-3 tablespoons of hummus. Spread generously leaving 1/2 inch space around the edges.
Layer the rest of the veggies in the lower 1/3rd of the tortilla. Top it with spicy chickpea, feta, and sriracha.
Fold 1 to 2 inches (from the left and right side) inwards. Then roll the bottom over the filling. Start rolling the wrap over the filling, pushing the filling inwards as you roll.
While eating, you can warm the wraps until you see the grill mark.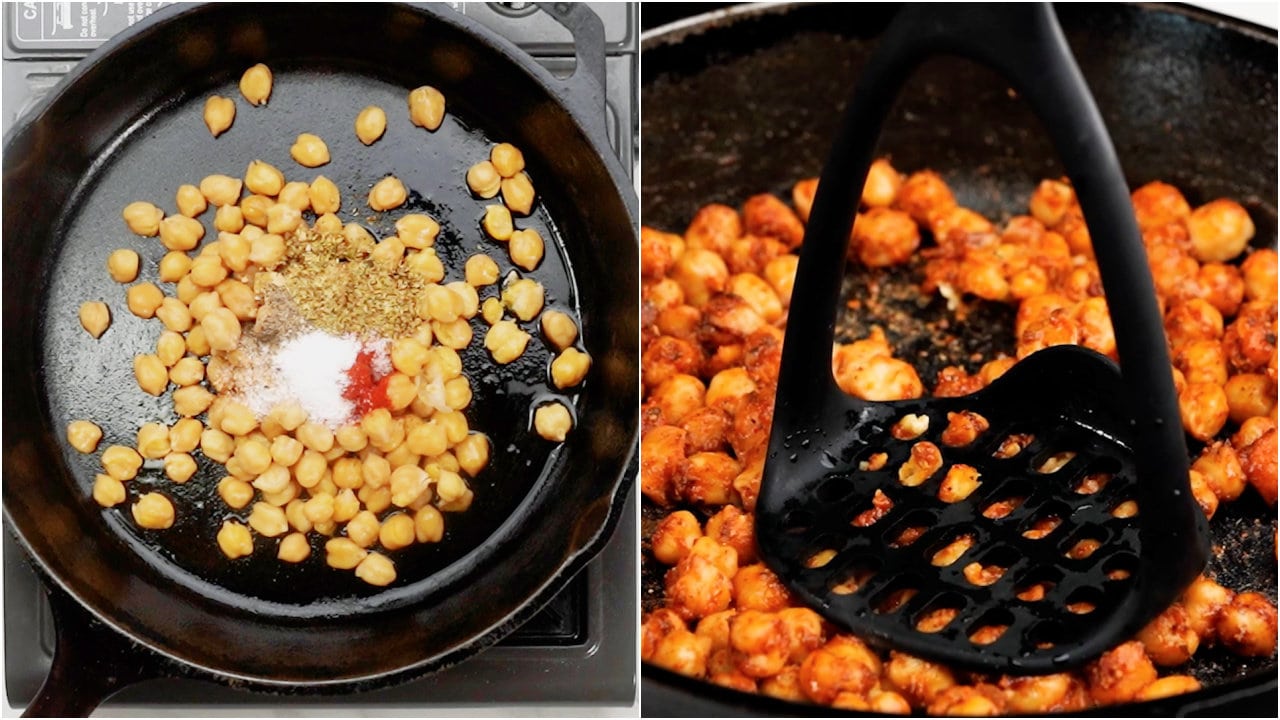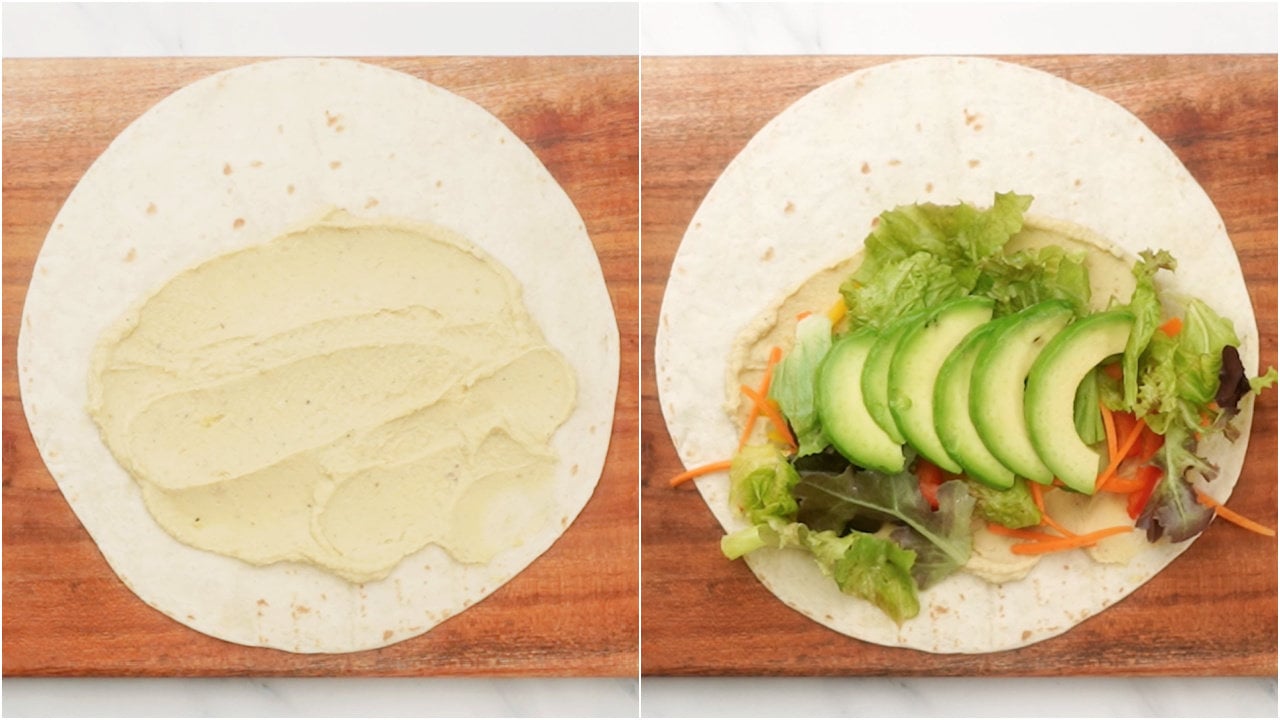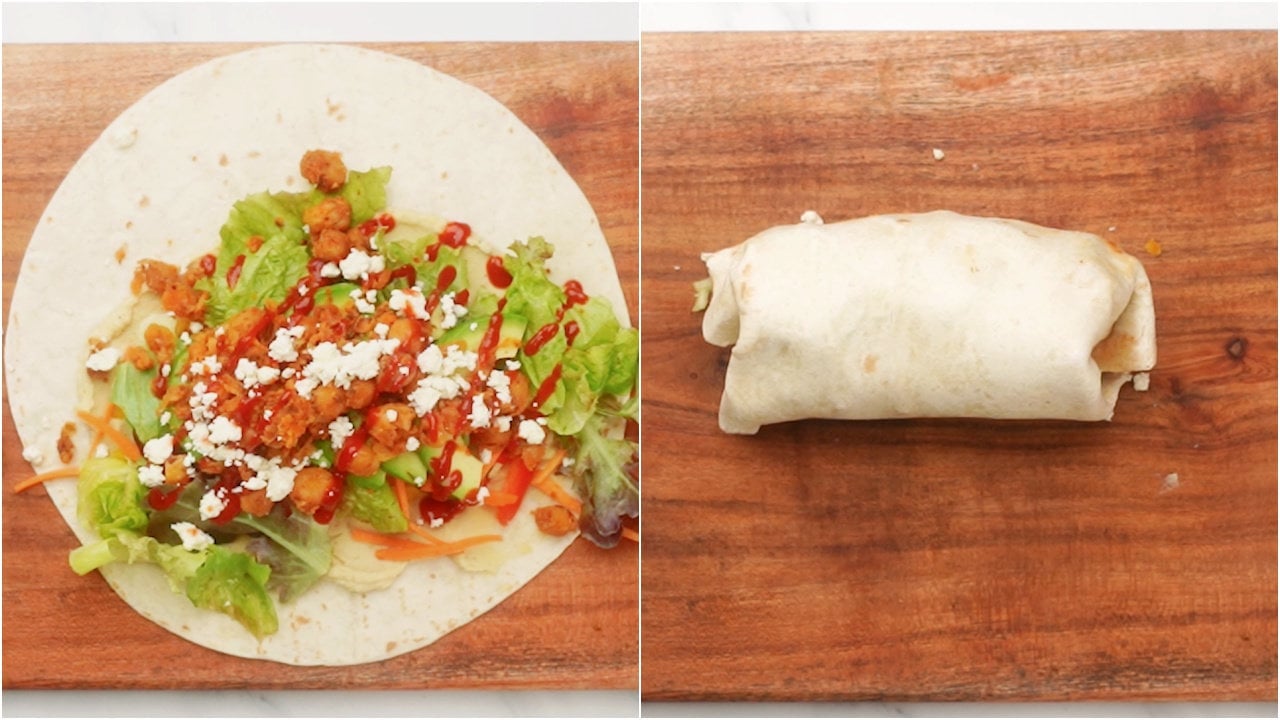 Tips & make-ahead instructions
Use large tortillas– preferably 10 inches to hold enough veggies and the wrap would be filling. It is also easier to roll the wrap.
Hummus needs to be a thick and spreadable consistency. If too thin, the wrap will turn soggy.
Salad leaves or any veggies- make sure they are drained of water really well. Also, a few veggies like tomatoes might release a lot of liquids and turn the wrap soggy.
It might be tempting to add more veggies, but it's better to stick to 3-4 veggies max that go well together. Also don't overdo the stuffing, else it will be difficult to fold, also chances of breaking.
Are veggie wraps healthy and good for weight loss? Veggie wraps are definitely a good source of protein, carbs, and fiber. Homemade wraps are healthier than store-bought ones. it doesn't contain any artificial ingredients.
Whether wraps are for weight loss or not, depends on a lot of factors. You can customize the wraps depending on your calorie requirements.
Can it be made ahead?
Wraps are great for lunch on the go. You can do the meal prep and store the wraps in airtight containers for up to 3 days. Individually roll each wrap with food-grade wax paper or parchment paper. And also make sure you use veggies that are not soft or release water upon storage.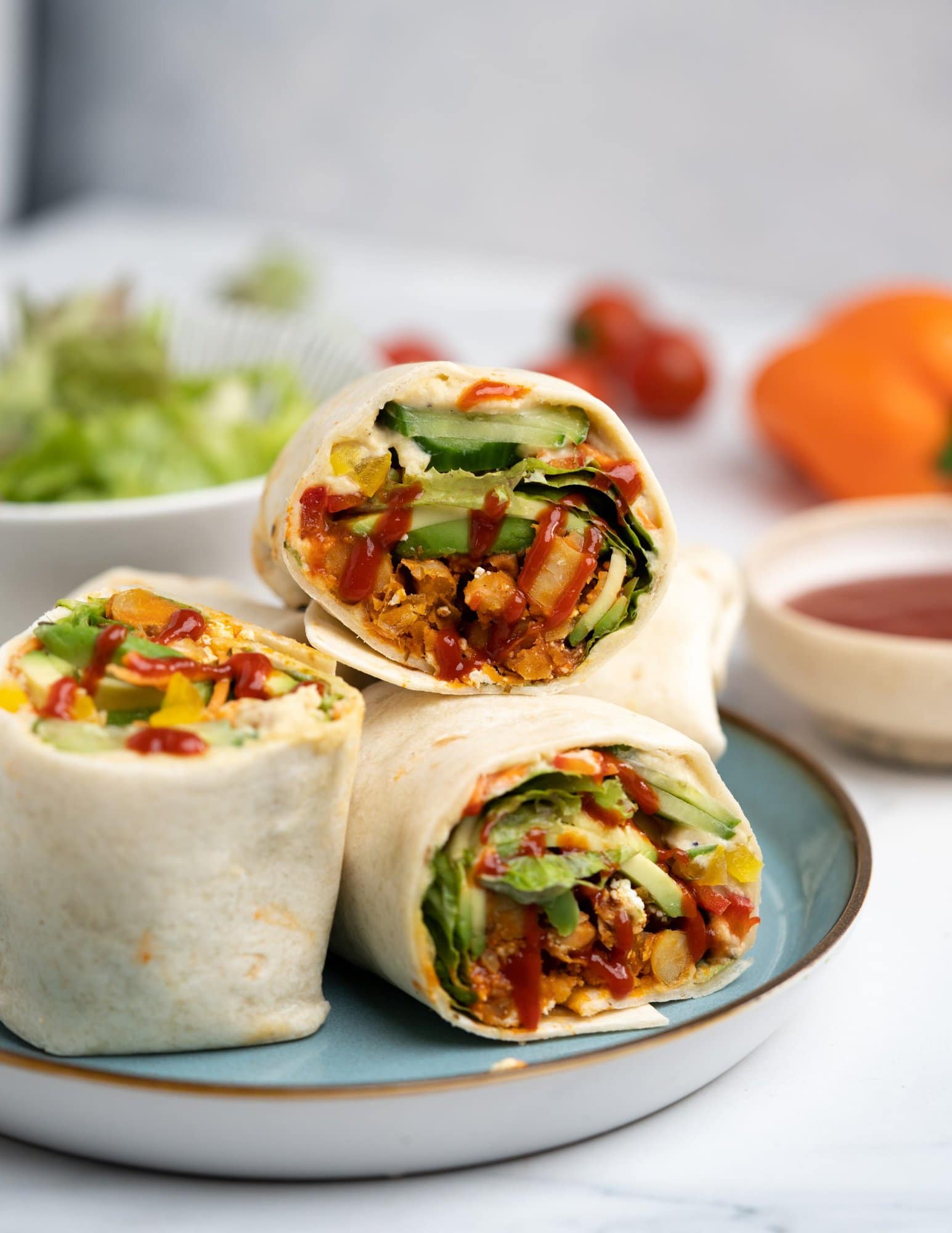 More wraps and quick lunch ideas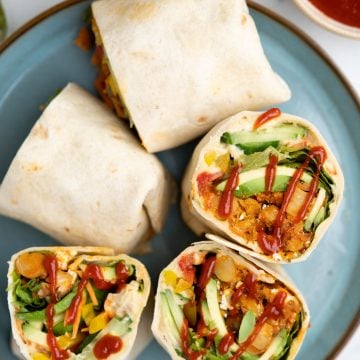 Chickpea Veggie Wrap
Layered with creamy hummus, spicy crispy chickpea, lettuce, colorful veggies, and a generous sprinkle of creamy feta cheese.
Ingredients
4 large flour tortilla
⅔ cup hummus
1 cup chickpea cooked,soft
1.5 – 2 cups lettuce leaves roughly chopped
1 avocado peeled seed removed, thinly sliced
½ cup carrot shredded
½ English cucumber sliced
½ cup pepper
⅓ cup feta
freshly ground black pepper to taste
2 tablespoons olive oil
Spice mix for chickpeas
½ teaspoon Garlic powder
½ teaspoon Onion powder
½ teaspoon Paprika
½ teaspoon Oregano
salt and pepper to taste
Instructions
Heat 2 tablespoons oil in a skillet. Add chickpeas and all the spices mentioned under spice mix. Mix well and cook for 3-4 minutes on low heat. Smash a few chcikpeas with the back of a spoon. Add 1-2 tablespoons water.

With a potato masher or back of a spoon smash few chickpeas. Take out from the pan and keep it to cool.
Assembling Veggie Wrap and folding
Warm the flour tortillas on a skillet or directly on flame. This makes the tortillas soft and easy to fold.

Spread 2 tablespoons hummus at the centre. Layer cucumber slices, pepper, carrots. Then top it with lettuce, sliced avocados, 2 tablespoons chickpeas and sprinkle feta at the end.

Fold 1 to 2 inches (from left and right side) inwards. Then roll the bottom over the filling. Start rolling the wrap over the filling, pushing the filling inwards as you roll.

If eating later, roll the wrap with parchment paper and store it in fridge in an airtight container. Else heat on both sides until you see brown spots and enjoy it right away.
Nutrition
Serving: 1serving | Calories: 506kcal | Carbohydrates: 62g | Protein: 17g | Fat: 26g | Saturated Fat: 6g | Polyunsaturated Fat: 5g | Monounsaturated Fat: 13g | Cholesterol: 11mg | Sodium: 568mg | Potassium: 1189mg | Fiber: 19g | Sugar: 6g | Vitamin A: 9720IU | Vitamin C: 24mg | Calcium: 327mg | Iron: 8mg