Mushroom Spinach Stuffed Chicken Breast
This post may include affiliate links that earn us a small commission.
Stuffed Chicken breast is a fun way to cook chicken breast. In this recipe, we stuff them with a mixture of cheese, roasted mushrooms, and spinach and then bake for an incredible Chicken dinner.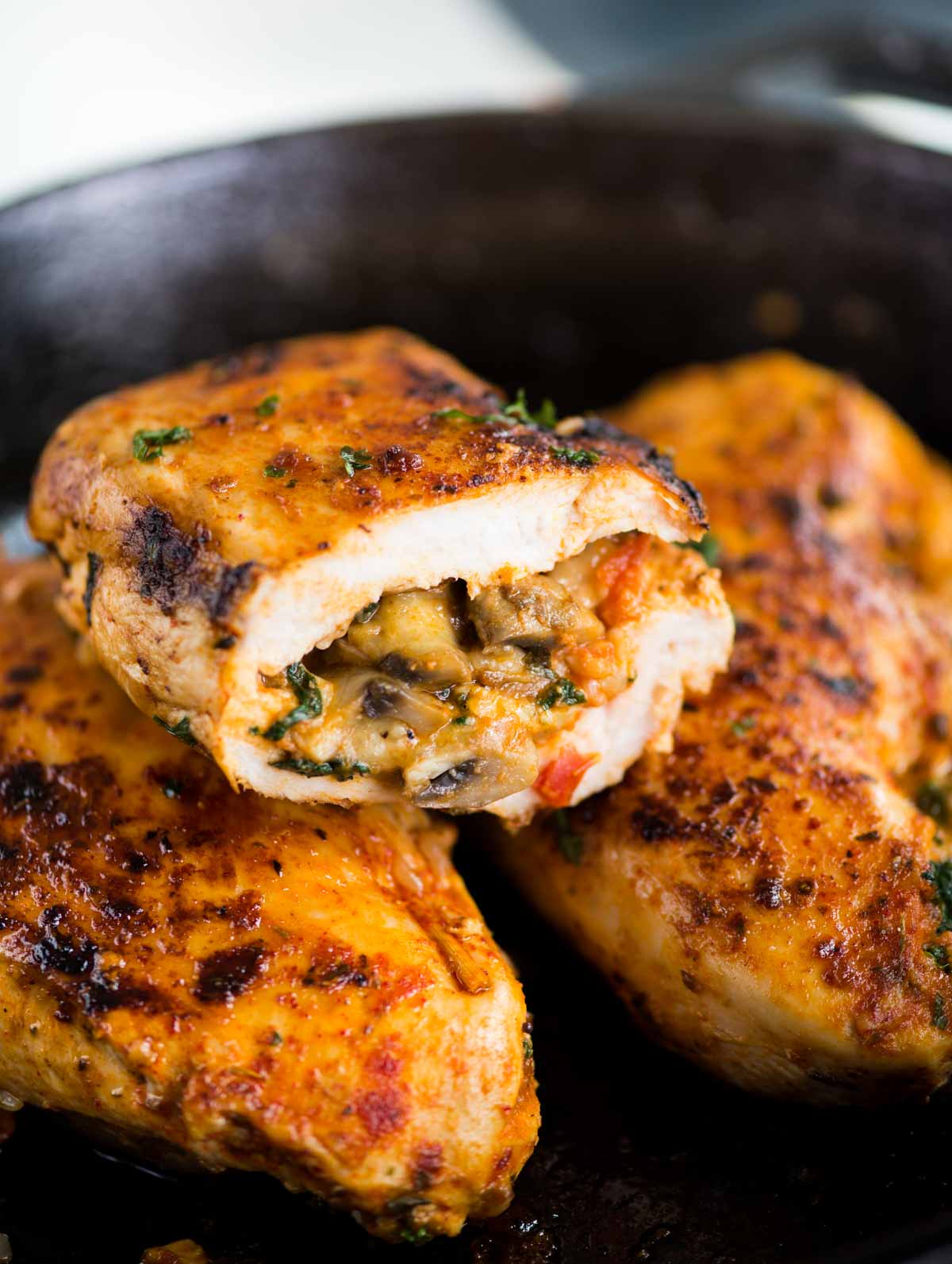 I can think of no reason why have I not shared this incredible Stuffed Chicken Recipe here before. Chicken, mushroom, and cheese together work so well. To up the flavor game, there is a layer of marinara sauce in it. When the chicken gets cooked, it also creates a buttery pan juice in the skillet.
Flavours In Your Inbox
Subscribe for recipes straight to your inbox
This is so easy to make with a handful of pantry ingredients. And You just can't hide the excitement of cutting it and watching the delicious cheesy stuffing oozing out. We are taking classic chicken and giving it a gourmet twist.
I have tried this twist again but with a different filling – a fajita stuffing inside chicken breasts. Get a dose of Mexican flavors with gooey cheese in these Fajita Stuffed Chicken Breasts.
There are so many ways you can use spinach. I have used it in soups – Red Lentil Soup With Spinach & Healthy Spinach Soup, in pasta – Creamy Spinach Pasta, as a wonderful filling in Spinach Corn Sandwich – Video recipe, a delicious appetizer – Creamy spinach stuffed portobello mushrooms and there is a very popular Indian curry – Palak Matar Curry ( Spinach and Green Peas Curry).
About mushroom-spinach stuffing
The filling is mouth-watering and combines the earthy goodness of mushrooms with the fresh leafy vibrancy of spinach. Sauteed with other aromatics and seasonings gives it a depth of flavor and filling worth sinking your teeth into.
Mushroom has a rich umami essence while spinach has a soft and light taste. The tangy flavors from the marinara sauce and the richness of the cheese blend compliments and make the stuffing whole with a balance of flavors and tastes.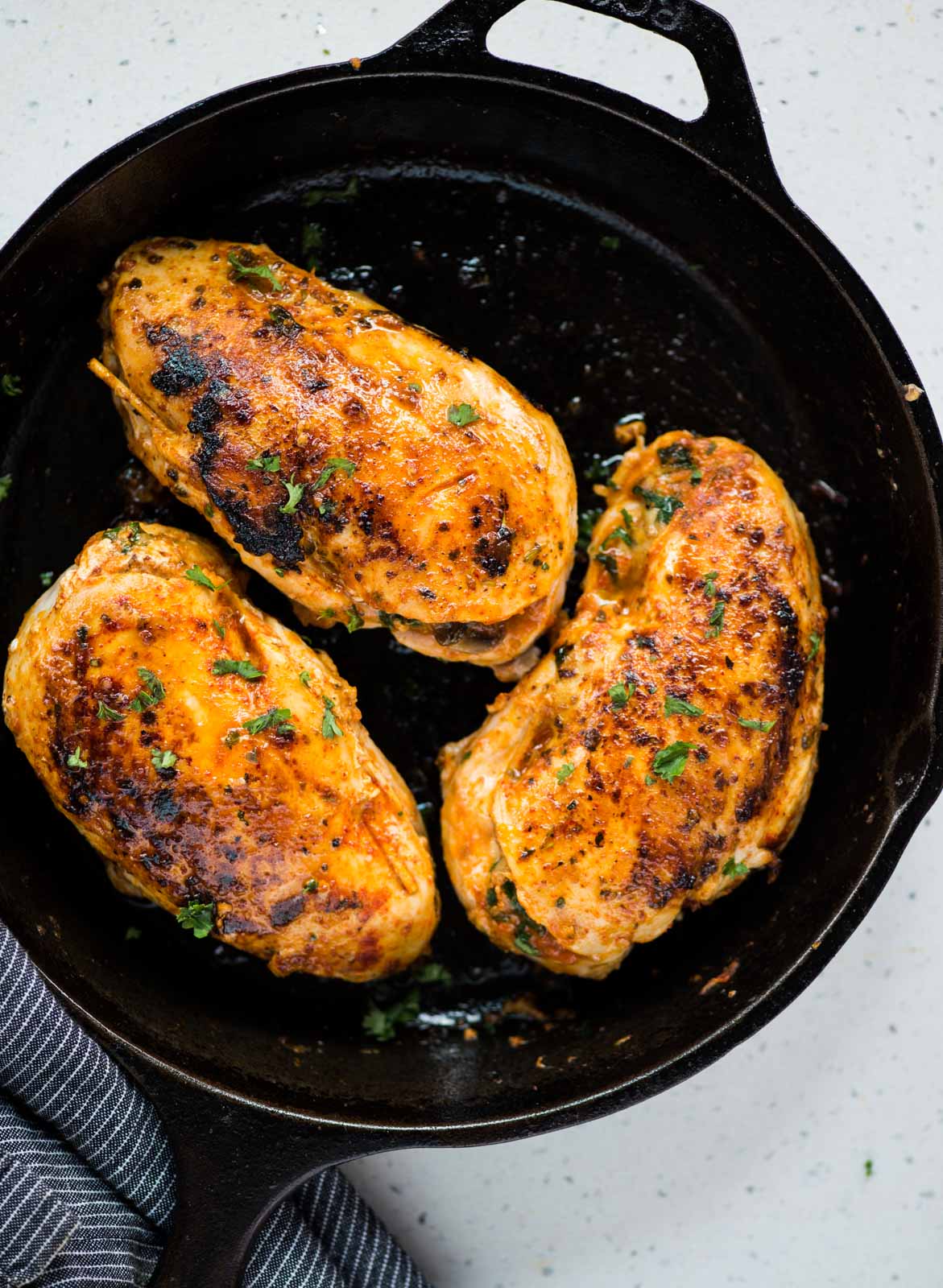 Ingredients You Need
I love how versatile this recipe is. What to put in stuffed chicken breast is totally up to you. Below is the list of ingredients you need for this recipe. All these work together beautifully and compliments the flavor.
Chicken Breast: Well, Obviously 🙂
Marinara Sauce: A good quality marinara sauce. It has to be a little thick so that it doesn't ooze out while stuffing.
Mushroom: Button mushroom sliced and then roasted until crispy. Using raw mushrooms in the stuffing will release moisture to the stuffing when cooked. And also roasted mushroom is more flavourful.
Cheese: A mix of shredded mozzarella and Parmesan. You could use only Mozzarella.
Spinach: Baby spinach is preferred as it doesn't taste as bitter when it wilts. Blanch spinach, drain well, and chop. Alternatively, use frozen Spinach.
Seasoning: To season the chicken, so that it doesn't taste bland.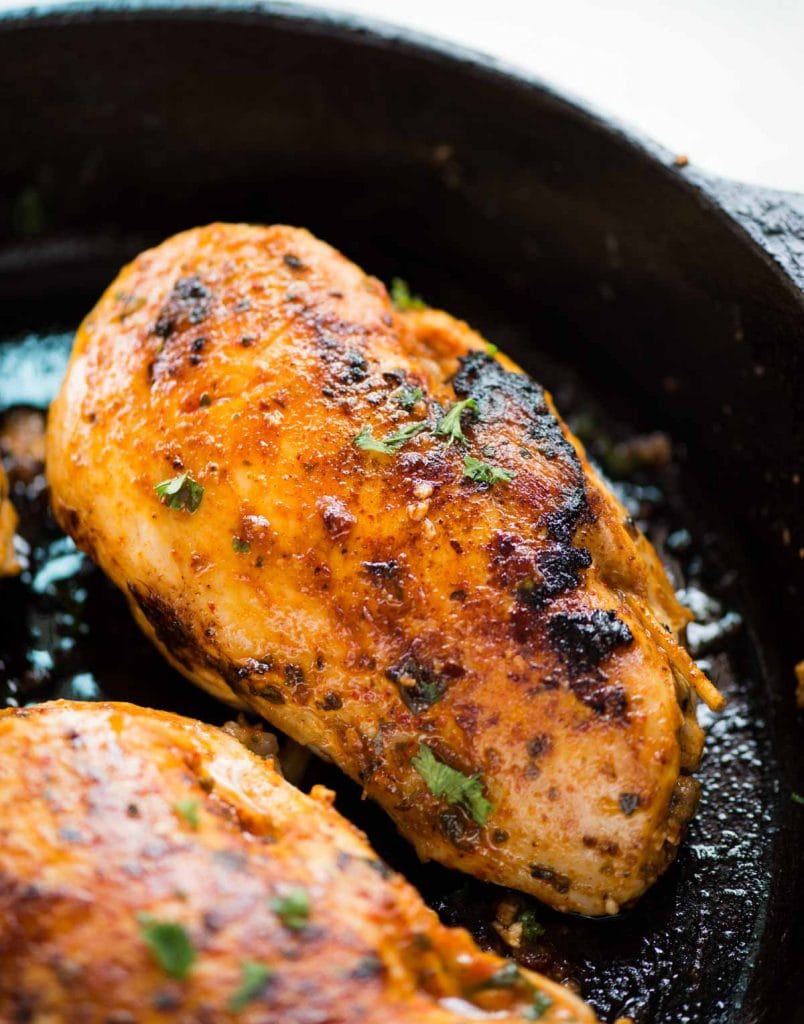 How to make
Prep the Stuffing – Start with the mushroom cheese stuffing. It is important to cook the mushroom well and also to squeeze as much liquid as possible from the spinach.
Butterfly the chicken – Next is to butterfly the chicken. Use a sharp knife to cut it horizontally(lengthwise). Don't cut the chicken all the way through. Place your hand on the chicken breast to hold it and move the knife to slice it halfway through. Refer to the recipe video after the recipe instructions to see how to cut the chicken for stuffing.
Fill stuffing – Fill the stuffing and seal the edges with a toothpick.
Cook – Cook on a hot skillet for a couple of minutes on both sides and put it in the oven until it is cooked through. Use a kitchen thermometer to check the internal temperature of the thickest part of the breast. Check for a reading of 165 °F.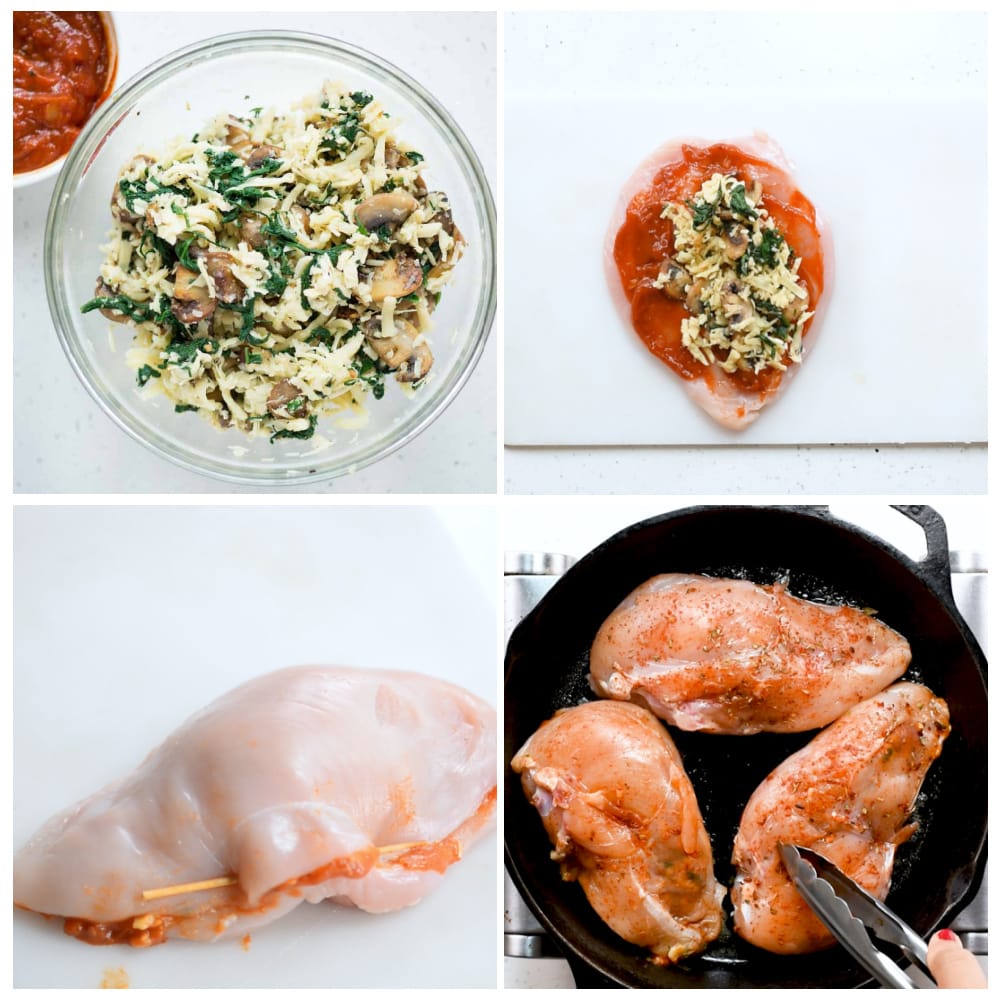 How long to cook Stuffed Chicken Breast
We are cooking stuffed chicken breast in two steps in this recipe. First is searing in a hot cast iron skillet and then finishing it off in the oven.
Searing chicken for 2 minutes on each side until little brown spots appear. Then bake in the preheated oven for about 15 minutes.
The baking time also depends on the thickness of the chicken breast. It is done when the thickest part of the chicken breast registers 165 degrees.
Storage instruction
Stuffed chicken breasts stay well for up to 4 days in the refrigerator. Use an air-tight container and keep the stuffed breasts horizontally to prevent the stuffing from spilling out.
Reheat it in a microwave for a few seconds or so. You need to treat the reheating gently since breasts can get dry if heated high. You do not have to bake it again but can also warm it in a preheated oven at a lower temperature. This allows the cheese to melt and become gooey again while preserving the moisture inside keeping the chicken juicy.
Serving Suggestion
Stuffed Chicken breast with cheese, mushroom, and spinach can be a meal in itself. I prefer a light green salad or maybe pasta salad or some rice.
More Chicken Recipes
Creamy Pesto Chicken – Whip up a quick and tasty Pesto Chicken with a creamy sauce in under 30 minutes. Add pasta for a delightful dinner in a flash!
Oven-Baked BBQ Chicken – Experience the ultimate summer grilling vibes with my Oven-Baked BBQ Chicken – sweet, smokey, and perfectly juicy.
Grilled Chicken – Indulge in juicy and flavorful Grilled Chicken with Buttermilk Marinade – a quick and easy recipe.
Chicken Fricasse – Indulge in the ultimate French chicken dinner: a comforting stew-like dish with bone-in chicken, veggies, and a creamy, flavor-packed sauce.
Chicken Paprikash – Chicken Paprikash is a traditional Hungarian stew featuring tender chicken pieces simmered in a creamy and flavorful paprika sauce.
Parmesan Crusted Chicken – A 15-minute low-carb chicken dinner with moist chicken coated in mayo, crispy parmesan breading, and pan-fried to perfection.
Creamy Honey Mustard Chicken Tenders – Crispy and juicy chicken tenders in an incredible honey mustard sauce.
Crispy Chicken – Experience the ultimate blend of texture and flavor where the crunch of cornflakes meets juicy, perfectly seasoned chicken.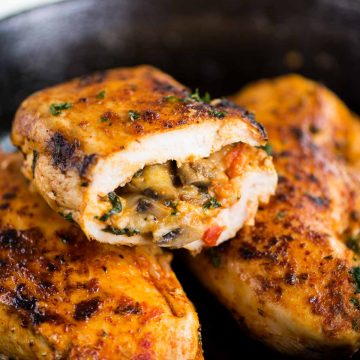 Mushroom Stuffed Chicken breast
Stuffed with a mixture of Cheese, roasted mushroom, and spinach and then baked for an incredible Chicken dinner. Chicken, mushroom, cheese together works so well. To up the flavor game, there is a layer of marinara sauce in it. When the chicken gets cooked, it also creates a buttery pan juice in the skillet.
Print
Pin
Rate
Servings: 4
Calories: 312kcal
Ingredients
4 large Boneless Skinless Chicken Breast
1 tablespoon Butter
½ teaspoon Paprika
2 teaspoon Italian Seasoning
1 teaspoon Salt (or adjust as per taste)
For Cheese Mushroom Stuffing
1 tablespoon Butter
200 grams Mushroom Sliced
½ tablespoon minced Garlic
1 cup Shredded Mozzarella
¼ cup Shredded Parmesan
⅓ cup frozen Spinach well drained
½ cup Marinara Sauce
salt and pepper to taste
Instructions
Make the Cheese Mushroom Stuffing
Heat butter in a skillet. Add sliced mushroom. Cook until it has softened (for about 5 minutes)

Add minced garlic to the mushroom and cook further until mushroom is nicely browned and no liquid in the pan. Let the mushroom cool a bit.

In a bowl add Mozzarella, parmesan, cooled roasted mushroom, well-drained spinach,a pinch of pepper and mix well.
Cutting the Chicken breast
Pat dry Chicken breast with a kitchen towel.

Using a sharp knife cut the chicken lengthwise halfway through, taking care not to cut it till the end. Cut it open flat.
Stuffing Chicken
Spread 1 tablespoon of marinara sauce.

Spoon 2 heaping tablespoon of cheese mushroom stuffing. Slightly press it.

Cover the chicken and using a toothpick seal the edges.

Mix paprika, Italian seasoning, and salt. Season both sides of stuffed Chicken breast well.
Cooking Stuffed Chicken Breast
Heat 1 tablespoon of butter in a heavy ovenproof Cast Iron Skillet.

Sear Chicken breast for 2 minutes on each side.

Bake in a pre-heated oven at 400 degrees F for 15 minutes or until the thickest part of the chicken reaches 165 degrees.

Remove the toothpick, let the chicken rest for 5 minutes before serving.
Nutrition
Serving: 1g | Calories: 312kcal | Carbohydrates: 5g | Protein: 35g | Fat: 17g | Saturated Fat: 9g | Cholesterol: 114mg | Sodium: 1216mg | Potassium: 767mg | Fiber: 2g | Sugar: 3g | Vitamin A: 2989IU | Vitamin C: 6mg | Calcium: 250mg | Iron: 2mg