Fajita Stuffed Chicken Breast
This post may include affiliate links that earn us a small commission.
Fajita-stuffed Chicken breast is a different take on Chicken fajitas. Chicken breast is stuffed with caramelized and crunchy peppers, onions, Mexican seasoning, and cheese, and then baked to perfection.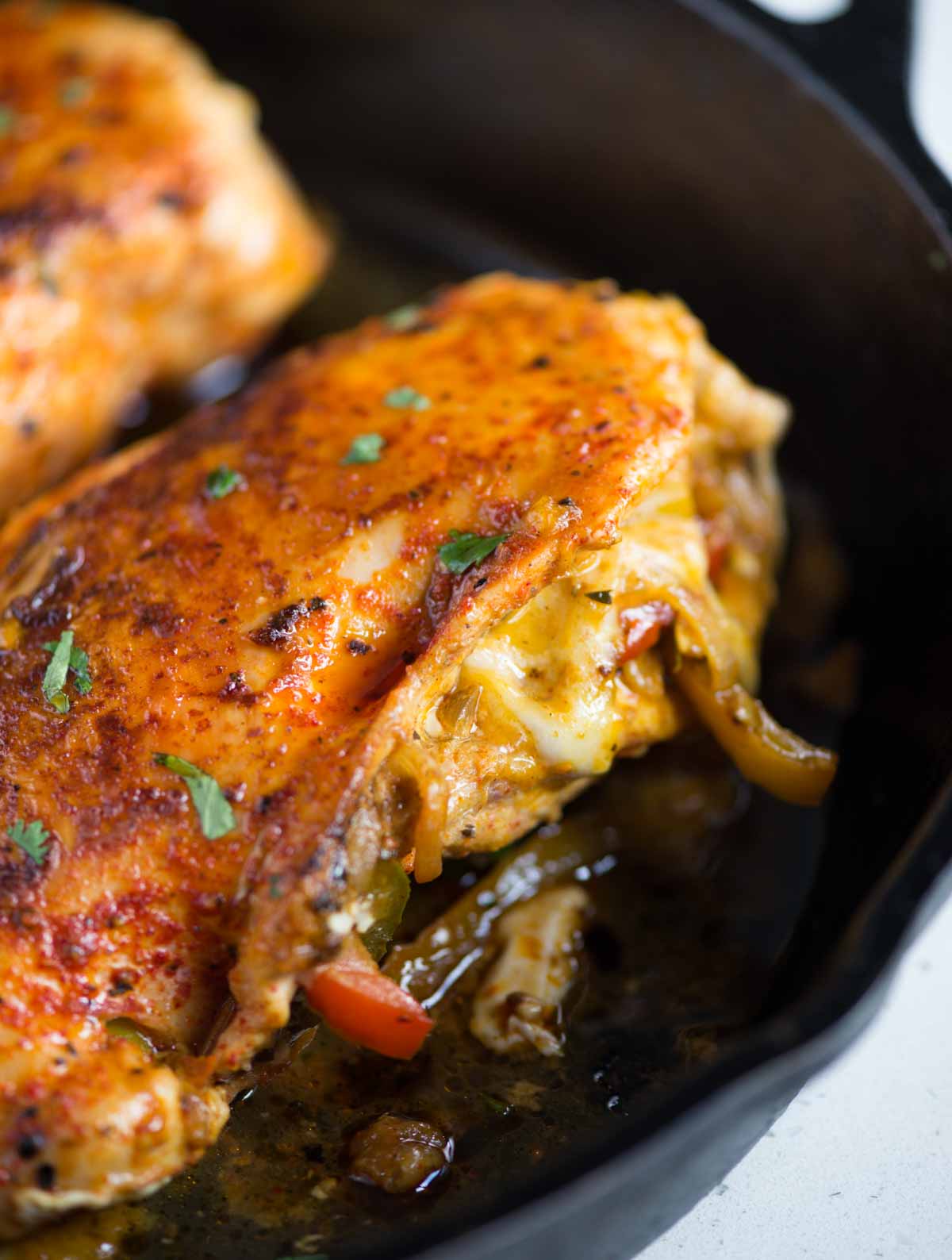 Love Chicken fajitas? Are you tired of regular chicken recipes? Then you are going to love this twist on that classic Tex-Mex dish. You will find the vibrant and sizzling flavors of fajitas along with melted cheese stuffed inside juicy chicken breasts.
Flavours In Your Inbox
Subscribe for recipes straight to your inbox
Instead of cooking the chicken along with everything else, we caramelize the peppers and onions with fajita seasoning and stuff them with cheese inside the chicken breasts. Sear them on a skillet, and then bake until done.
Now that's a twist with a lot of chicken to show off at your parties. The chicken breast gets a nice golden crust from the sear, and it has a cheesy core with fajita flavors. You cannot hide your excitement while cutting the breast and the cheesy-stuffing oozes out. Plus, this recipe is low-carb and healthy if you ignore the cheese 😉
With endless possibilities for stuffing chicken breasts, it is a bit difficult to choose a favorite topping. This Fajita stuffing has a Mexican twist and is a new favorite. We also love these mushroom-stuffed chicken breasts; the stuffing tastes like pizza topping. Spinach stuffing is another classic.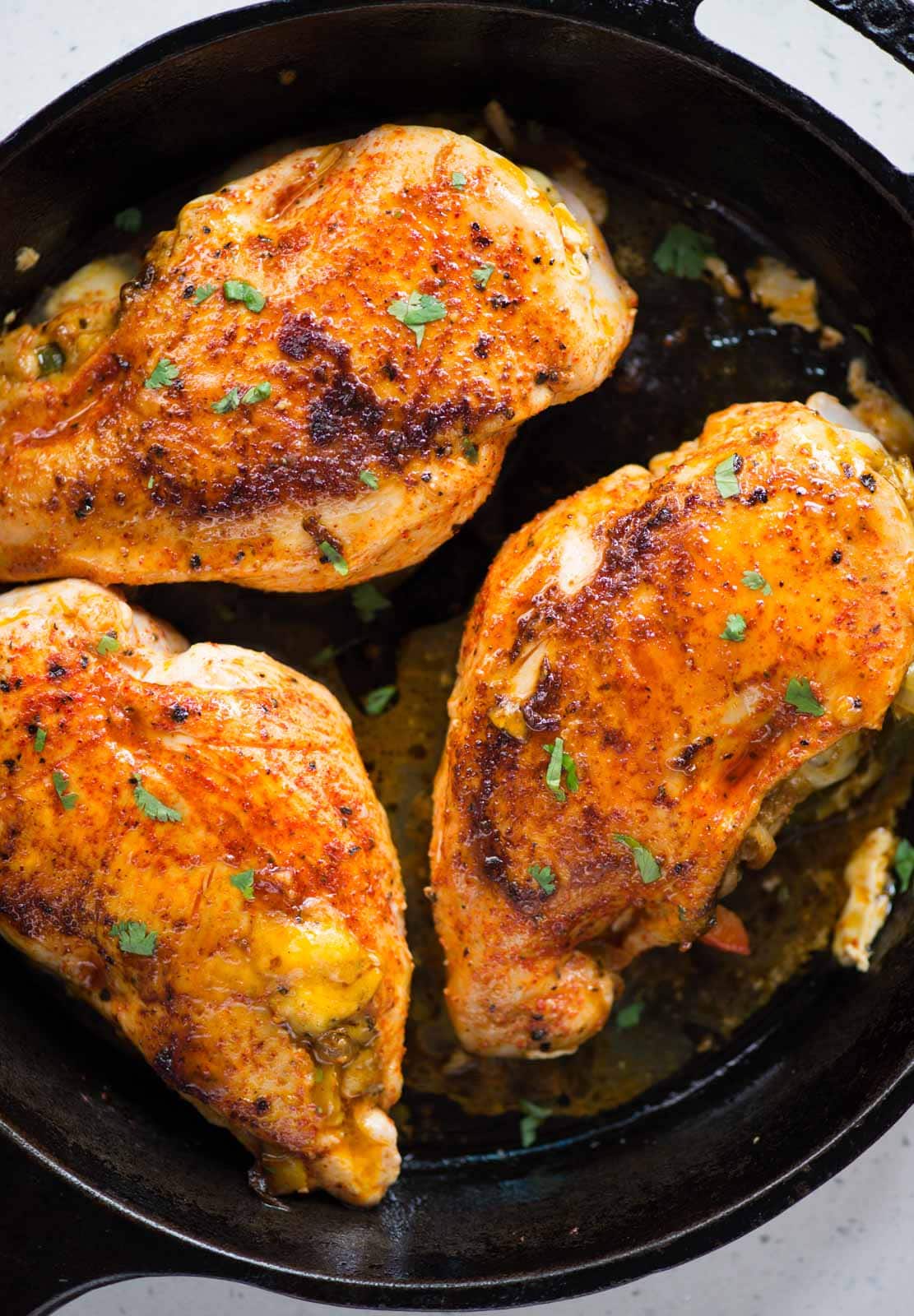 Fajita flavors
Let's talk about what makes the flavors of fajitas so tempting. Fajita seasoning has a blend of spices and herbs that appeal to your palate. It has a nice balance of earthy, zesty, smoky, and tangy flavors.
The seasoning mix has cumin for its earthy warmth, heat from chili powder, smoky undertones from paprika, aroma from garlic and onion powder, and herby flavors from oregano. At last, salt and pepper to balance everything.
There are good store-bought Fajita seasoning mixes, but you can also make them easily at home. There are no fancy ingredients here, and you might already have most of them at home. The freshness and intensity of the homemade spice mix have no equal.
Undoubtedly used in fajitas, it would be a shame not to use such a fine and delicate seasoning mix for just that. Use it as a marinade for any protein by combining it with soy sauce, olive oil, and lime juice. Or sprinkle it over roasted veggies or grilled meats for more depth of flavor.
Want to make the stuffing a bit more hot, spicy and flavorful? Throw-in extra onions and peppers. To make the chicken more flavorful, sprinkle some more of the pepper and paprika on both sides and rub.
Ingredients you need
This recipe calls for a few ingredients, and that makes it worth repeating.
Boneless Chicken Breast: A boneless chicken breast that is big and thick enough to make a pocket horizontally
Seasoning: Just salt, pepper, and paprika to season the chickens on both sides.
Colored Peppers: Red, yellow, and green bell peppers thinly sliced lengthwise.
Onions: are sliced, and sauteed with peppers to caramelize them.
Fajita Seasoning: Good-quality fajita seasoning; in case you don't have fajita seasoning, you can use Taco Seasoning as well.
Cheese: I have used a blend of sharp and mild cheddar. You can use Mexican-blend cheese as well.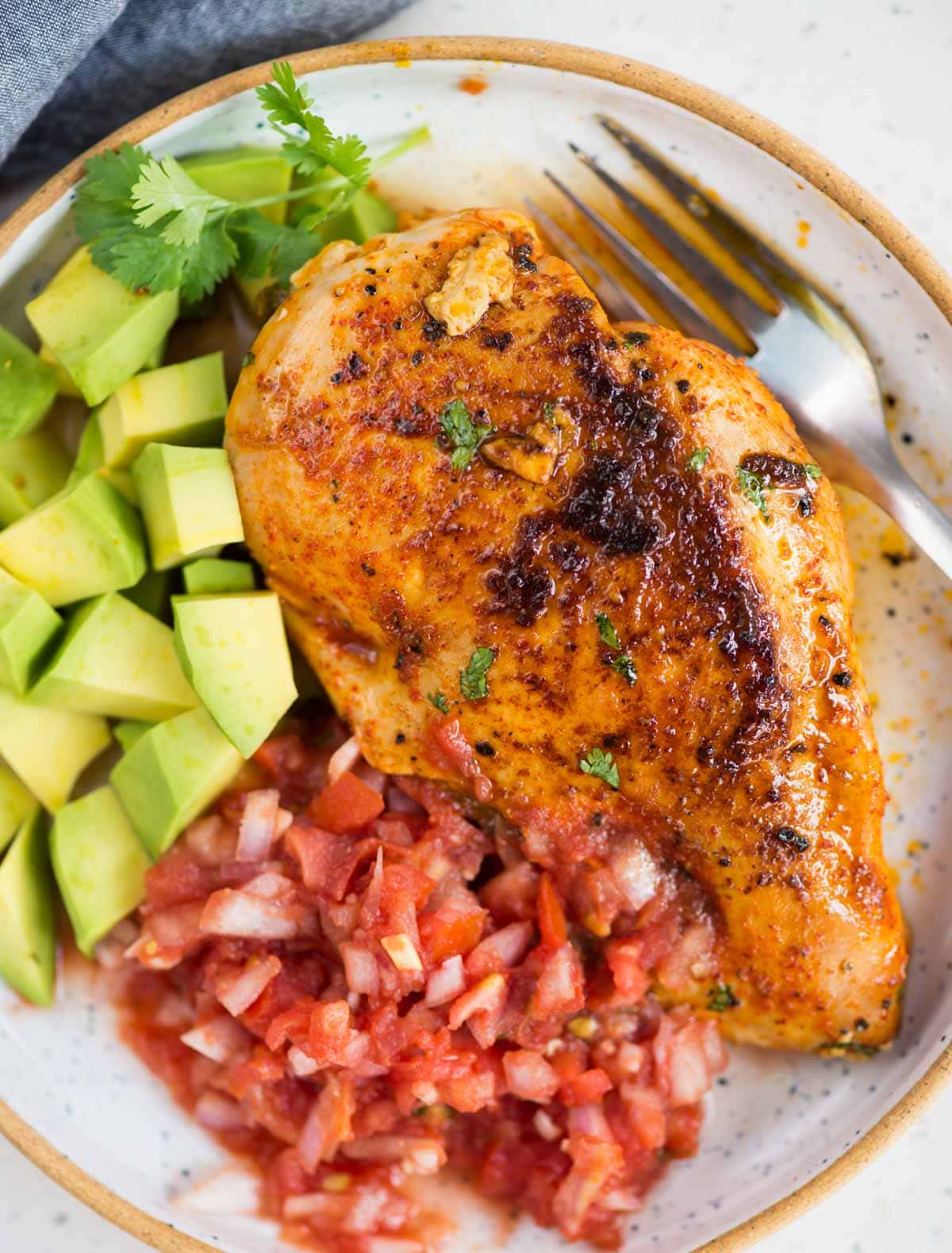 How to make fajita-stuffed chicken
There are basically four steps: make the stuffing, stuff the chicken breasts, sear them for a while, and bake them.
Step 1: Prepare the stuffing
Start with making the fajita stuffing. On a hot skillet, preferabley a cast-iron pan, stir-fry the sliced onion and peppers. We are basically looking for nice charred effects. So a cast-iron skillet and high heat are what you need. Make sure there is still crunch to the onion and peppers, these will get further cooked.

Step 2: Stuff the chicken breasts
Prepare the chicken for stuffing. There are a couple of ways you can prepare chicken for the stuffing.
The first way is to make a little pocket in the middle. Using a sharp knife, start from the thickest part of the chicken and cut lengthwise downward, making a small pocket in the middle.
Another way is to butterfly the chicken, as shown below. Refer to the video in the recipe to see how to butterfly the chicken.
Stuff it generously with the stuffing and cheese. The cheese just oozes out a little bit once it is baked, and it is absolutely fine.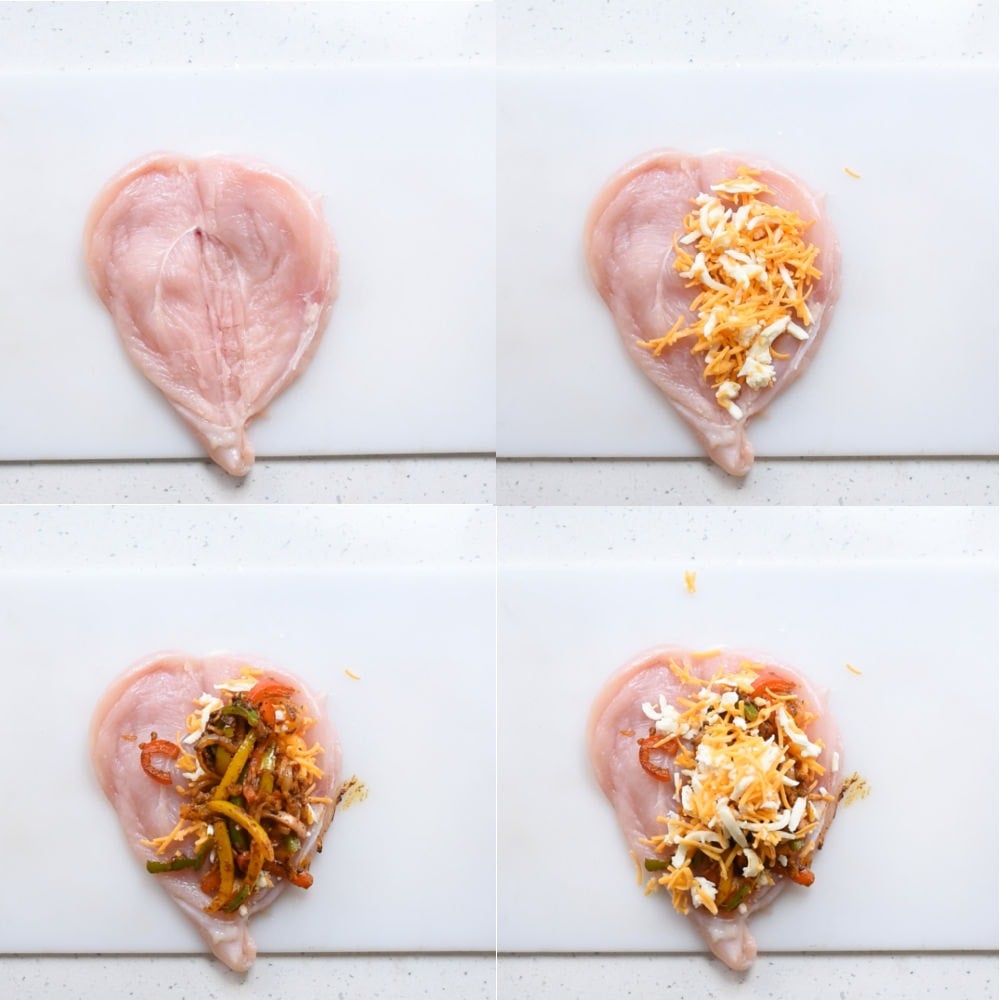 Step 3: Sear chicken breast
Before baking the stuffed chicken breast, we are going to sear it for 2 minutes on each side to caramelize it. It forms a wonderful golden-brown crust on the surface. A nice crust adds a layer of texture and compliments the juicy chicken underneath and cheesy stuffing.

Step 4: Bake chicken breasts in the oven
Move the skillet to a preheated oven and bake for 15 minutes. To check for doneness, check the thickest part of the breast with a kitchen thermometer reading of 165 °F.
How long does it take to cook Chicken?
The chicken breast we are using in these stuffed chicken recipes needs to be thick and large so that it will be easy to create a pocket. So it would take around 25–30 minutes to bake.
We are searing the chicken on each side for 2 minutes and then popping it into the oven. The internal temperature of the chicken in the thickest part should be 165 °F. Once it is cooked, let it rest for 5–6 minutes before cutting it down.
Storing baked chicken breasts
Baked chicken breasts can be easily stored in the refrigerator for up to 4 days. Store them in an air-tight container horizontally as we do not want the stuffing to spill out.
Reheat it in a microwave for a few seconds or so. You need to treat the reheating gently since breasts can get dry if heated high. You do not have to bake it again but can also warm it in a preheated oven at a lower temperature. This allows the cheese to melt and become gooey again, while preserving the moisture inside keeping the chicken juicy.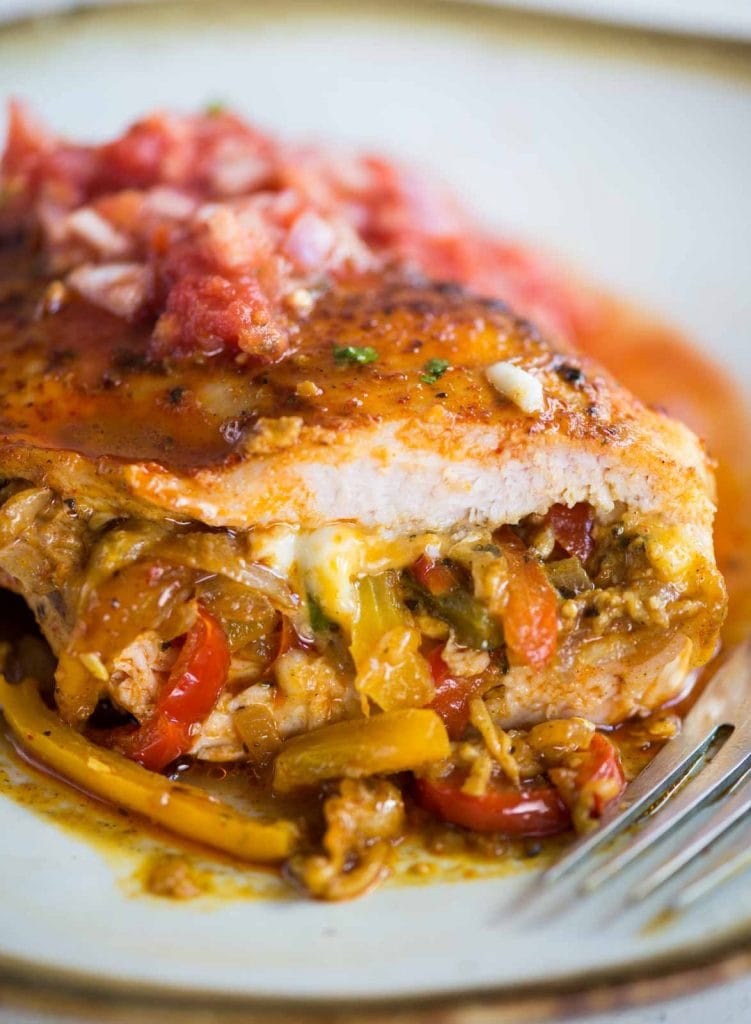 Serve with
There are options to pair with these stuffed and baked chicken breasts with Fajita flavors.
More chicken recipes
Creamy pesto chicken – Whip up a quick and tasty Pesto Chicken with a creamy sauce in under 30 minutes. Add pasta for a delightful dinner in a flash!
Oven-baked BBQ chicken – Experience the ultimate summer grilling vibes with my Oven Baked BBQ Chicken – sweet, smokey, and perfectly juicy.
Grilled chicken – Indulge in juicy and flavorful Grilled Chicken with Buttermilk Marinade – a quick and easy recipe.
Chicken Fricasse – Indulge in the ultimate French chicken dinner: a comforting stew-like dish with bone-in chicken, veggies, and a creamy, flavor-packed sauce.
Chicken Paprikash – Chicken Paprikash is a traditional Hungarian stew featuring tender chicken pieces simmered in a creamy and flavorful paprika sauce.
Honey Lemon Chicken – Is juicy, zesty, and ready in under 15 minutes, offering a healthier twist on the classic dish!
Crispy Chicken – Experience the ultimate blend of texture and flavor where the crunch of cornflakes meets juicy, perfectly seasoned chicken.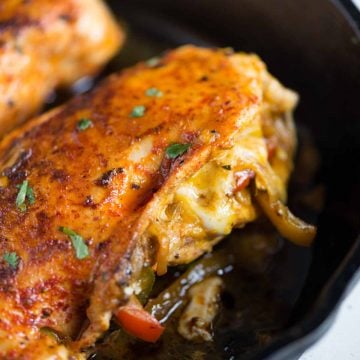 Fajita Stuffed Chicken Breast
Fajita Stuffed Chicken breast is a different take on Chicken Fajita. Chicken breast is stuffed with Caramelized and crunchy peppers, onion, Mexican seasoning, and cheese, then baked to perfection.
Equipment
1 Cast iron skillet To saute and make the fajita stuffing as well as sear the stuffed chicken breasts.
1 Oven To bake the stuffed chicken breasts after searing them.
1 Knife To chop and slice the vegetables.
Ingredients
3 large Chicken Breast boneless and skinless
1 tablespoon Butter
1 teaspoon Olive Oil
1 teaspoon salt
1 teaspoon Paprika
¼ teaspoon pepper
For Fajita Stuffing
1 tablespoon oil
1.5 cup Assorted colored peppers cut lengthwise
1 large Onion sliced
2.5 Tablespoon Fajita seasoning
1 cup shredded Cheddar cheese (or Mexican blend Cheese)
Instructions
To make Fajita Stuffing
Heat oil in a cast-iron skillet. Add peppers and onion. Toss it in high heat for 2 minutes until you see small charred marks and veggies start to sweat. The veggies need to be crunchy.

Add fajita seasoning, mix everything well and cook for another 30 seconds. Let the stuffing cool
Cutting the Chicken breast
Pat dry Chicken breast with a kitchen towel.

Using a sharp knife cut the chicken lengthwise halfway through, taking care not to cut it till the end. Cut it open flat.
Stuffing Chicken
Spread 1 tablespoon shredded cheese on one half. Top it with 2 tablespoons of Fajita stuffing.

Top it with 2 tablespoons of cheese.

Cover one half of the chicken and push the stuffing inside with the help of your hand so that the stuffing is tightly packed.

 Using a toothpick seal the edges.

In a small bowl mix salt, pepper and paprika. Season both sides of the stuffed chicken breast.
Cooking Stuffed Chicken Breast
Heat oil and butter in an oven-safe cast iron skillet.

Sear Chicken breast for 2 minutes on each side.

Bake in a pre-heated oven at 400 degrees F for 15 minutes or until the thickest part of the chicken reaches 165 degrees.

Remove the toothpick, let the chicken rest for 5 minutes before serving.
Nutrition
Serving: 1g | Calories: 488kcal | Carbohydrates: 10g | Protein: 59g | Fat: 22g | Saturated Fat: 12g | Cholesterol: 194mg | Sodium: 1310mg | Potassium: 1119mg | Fiber: 3g | Sugar: 6g | Vitamin A: 3223IU | Vitamin C: 102mg | Calcium: 300mg | Iron: 2mg