This post may include affiliate links that earn us a small commission.
Mexican rice is packed with tomato flavor and is a perfect side dish to complete any Mexican meal. Having been cooking rice for many years, I am going to share all the tips to make this Mexican rice nice and fluffy.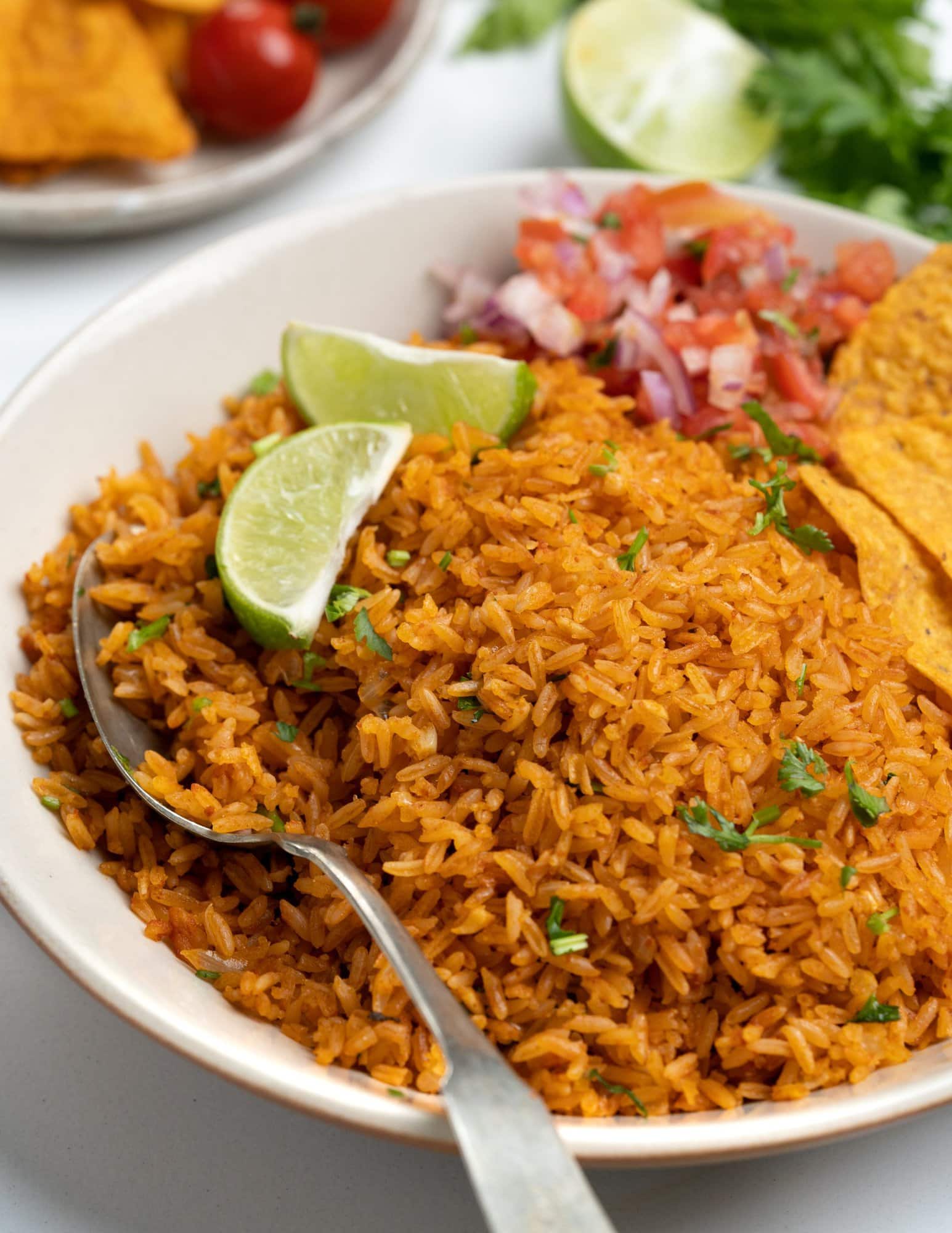 This Mexican rice is easy to make with authentic flavors. You might find a lot of variations on the internet, but this recipe is fool-proof because no way you can make mistake in this case.
Flavours In Your Inbox
Subscribe for recipes straight to your inbox
Along with a bursting tomato flavor, it has garlic, roasted ground cumin, and oregano. A handful of cilantro and a good squeeze of lime juice while serving will make it taste like the one you get in your favorite Mexican restaurant.
Let's begin with the Ingredients you need for Mexican Rice
Rice – Long-grain white rice yields fluffy and light grains, that don't stick together. Long grain Basmati rice will work but it might overpower the rest of the subtle spices used. You can also use brown rice, but the texture will be entirely different. You might also need to adjust the amount of water and cooking time as per package instructions.
Tomato Paste – I have found using tomato paste gives the most intense tomato flavor. Other recipes call for canned tomatoes or fresh tomatoes.
While testing the recipe I realized that, in the case of canned tomatoes depending on the brands the amount of liquid content might vary. When the liquid and rice ratio varies, rice might also turn out to be either mushy or undercooked. So using tomato paste is always foolproof because no way you can mess up the water: rice ratio.
For a more intense tomato flavor, you can also add tomato bullion while adding the stock.
Stock- Chicken stock for best flavor. Use low sodium stock to control the amount of salt. You can always add more salt as per your taste in the dish.
Aromatics- Onion and garlic. Cilantro is a must and can't be substituted.
Spices – Cumin, paprika, and oregano go well in Mexican cuisine.
Oil – Any neutral flavored oil.
Variation- Along with tomato paste, you can add 1-2 ripe chopped tomatoes. You can also add chopped red pepper, chopped carrots, or even green peas.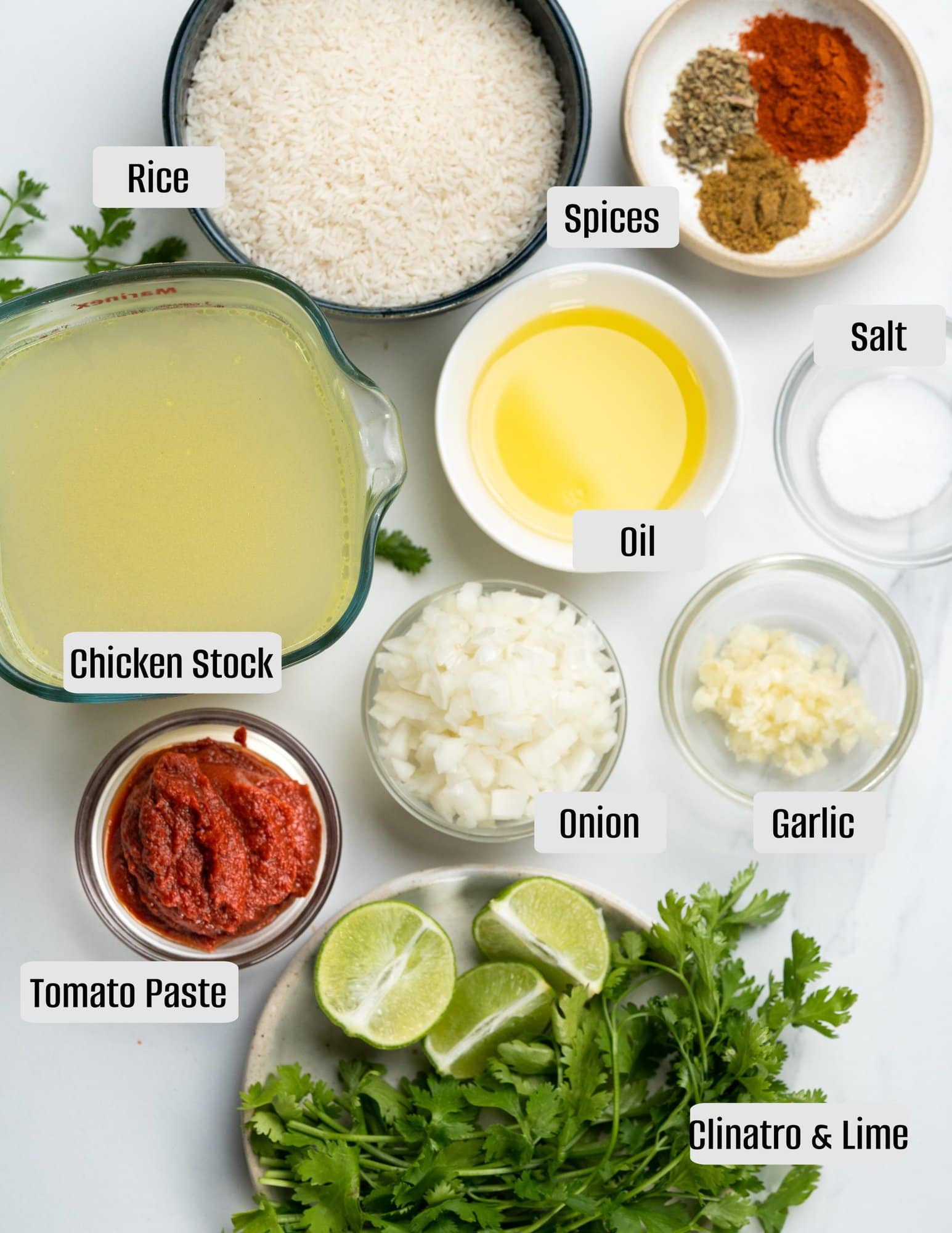 How to make the Best Mexican rice
Toast Rice
Toast the rice to keep the rice grains separate and fluffy. Toasting rice is not something we follow in most of the recipes, but toasting really elevates the flavor and also when toasted in oil it prevents rice from getting sticky.
Add rice to hot oil and toast until the rice changes color. Rice grains should have a light golden aroma and a nutty aroma.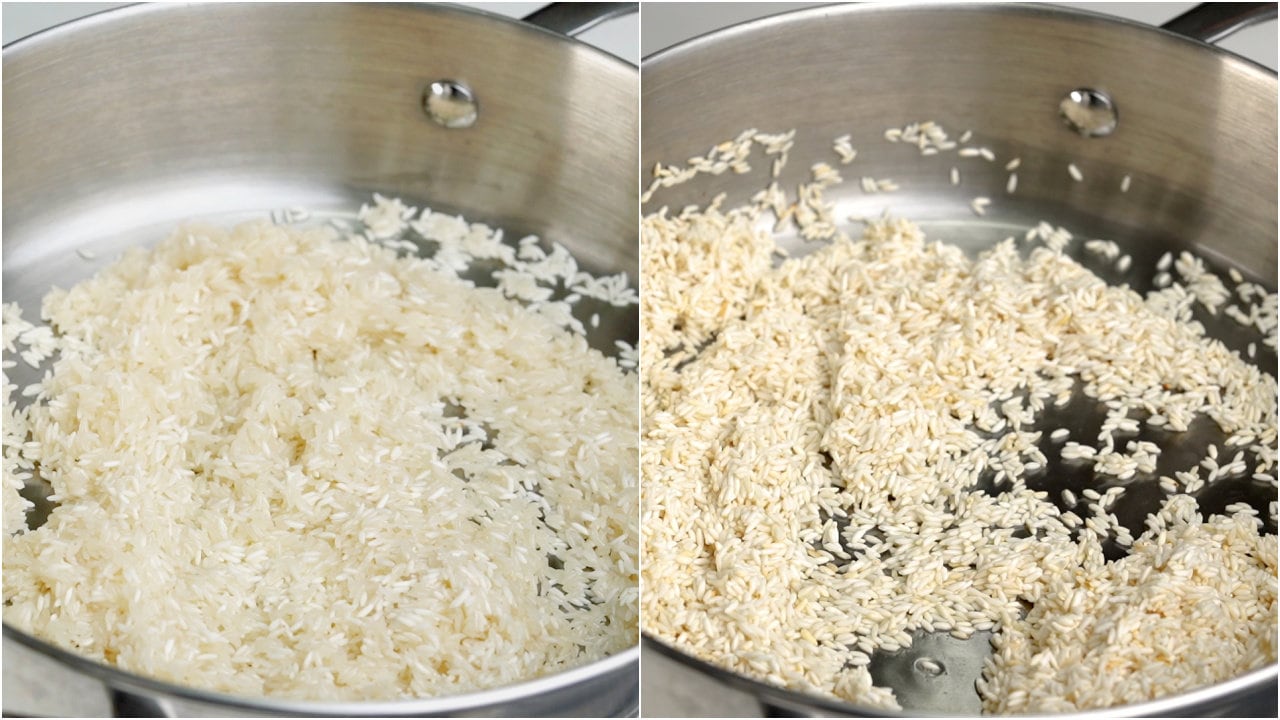 To maximize the flavor – saute aromatics
Toasting rice is the first step. Next, saute the aromatics well before adding water. Saute onion and garlic well until the onion has softened and the garlic no more smells raw.
Sauteing tomato paste and the rest of the spices enhance the overall flavor. Also when the tomato is slightly caramelized it adds depth. These few extra steps are worth the time. You can also add a chopped tomato at this stage for a burst of freshness.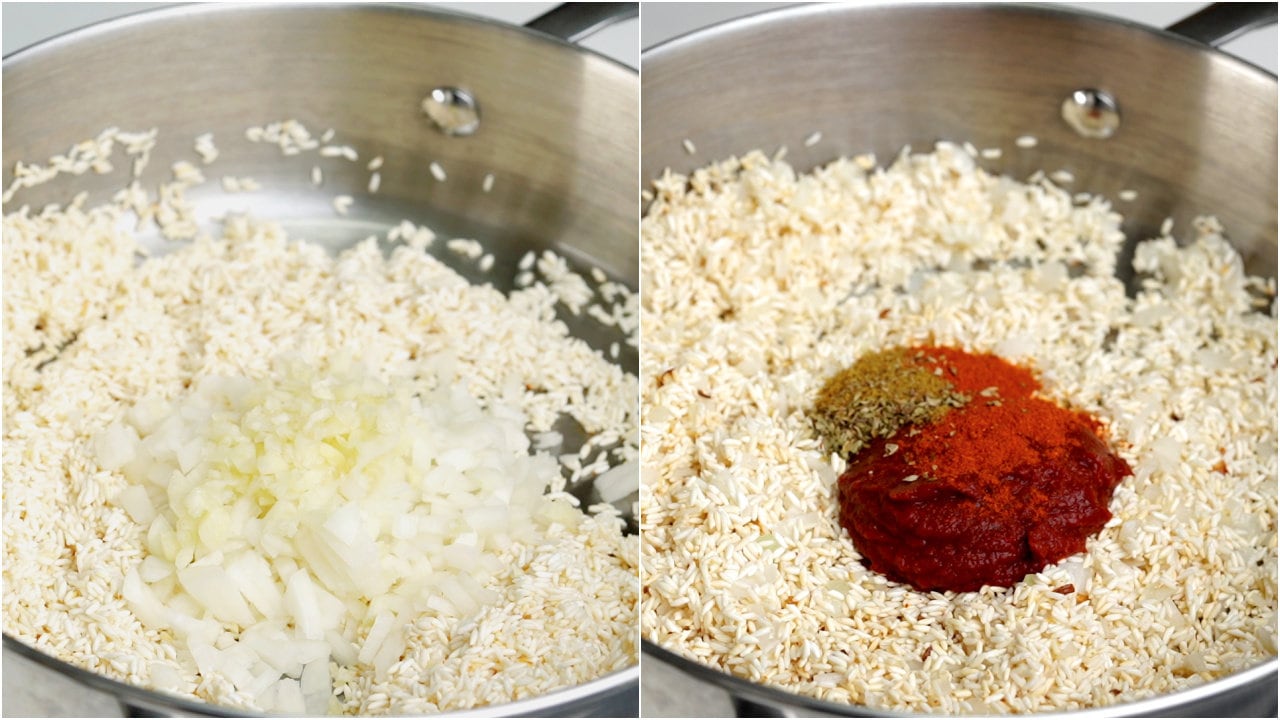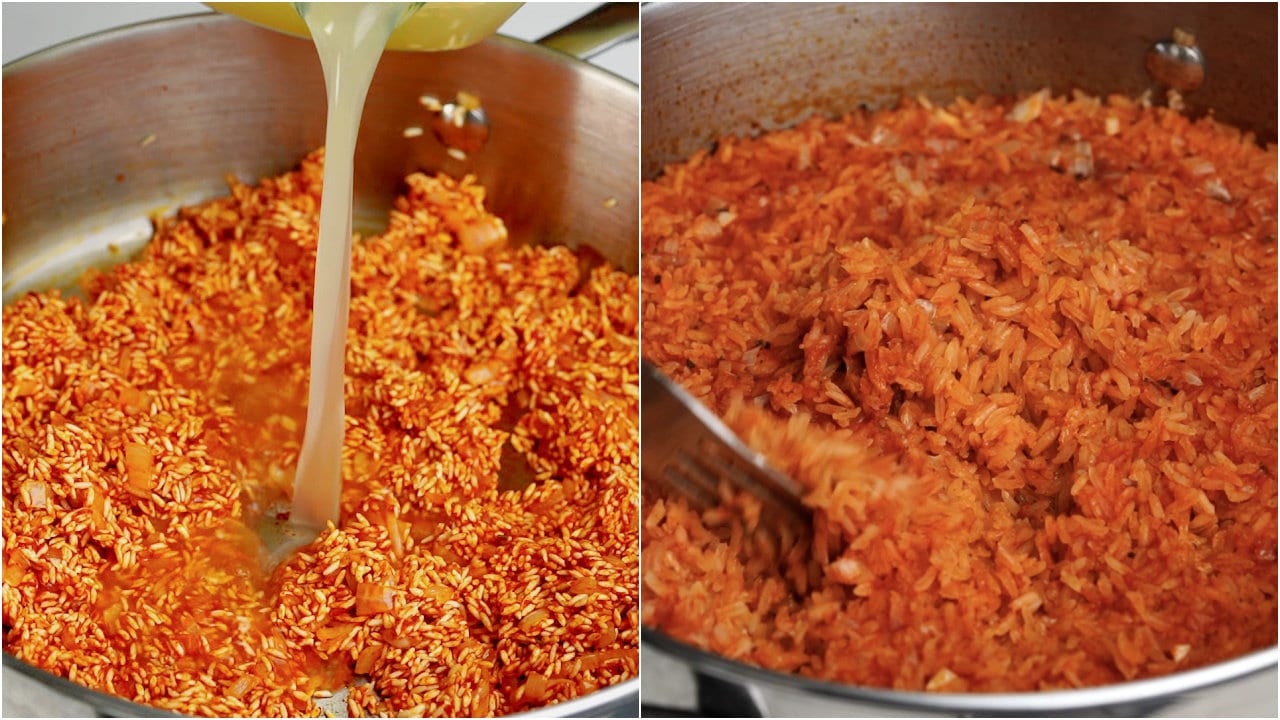 The last but important step – add warm stock & fluff the rice
Always add warm stock(liquid) to the rice while cooking. Adding cold stock will drop the pan temperature suddenly and it will take time to come to a boil. Adding warm water not only shortens the cooking time but also makes rice fluffy.
After adding stock, check the seasoning once. Add salt and pepper accordingly. When the rice comes to a low boil, simmer and cook for 20 minutes or until the water is completely absorbed.
Once the rice is done, let it rest for another 10-15 minutes for it to settle. Resting is important for any rice recipe. Then gently fluff the rice with a slotted spoon or fork
Storing leftover
Like any other rice dish, the leftovers can be stored in an air-tight container up to 3 days. Can be reheated in a microwave while serving.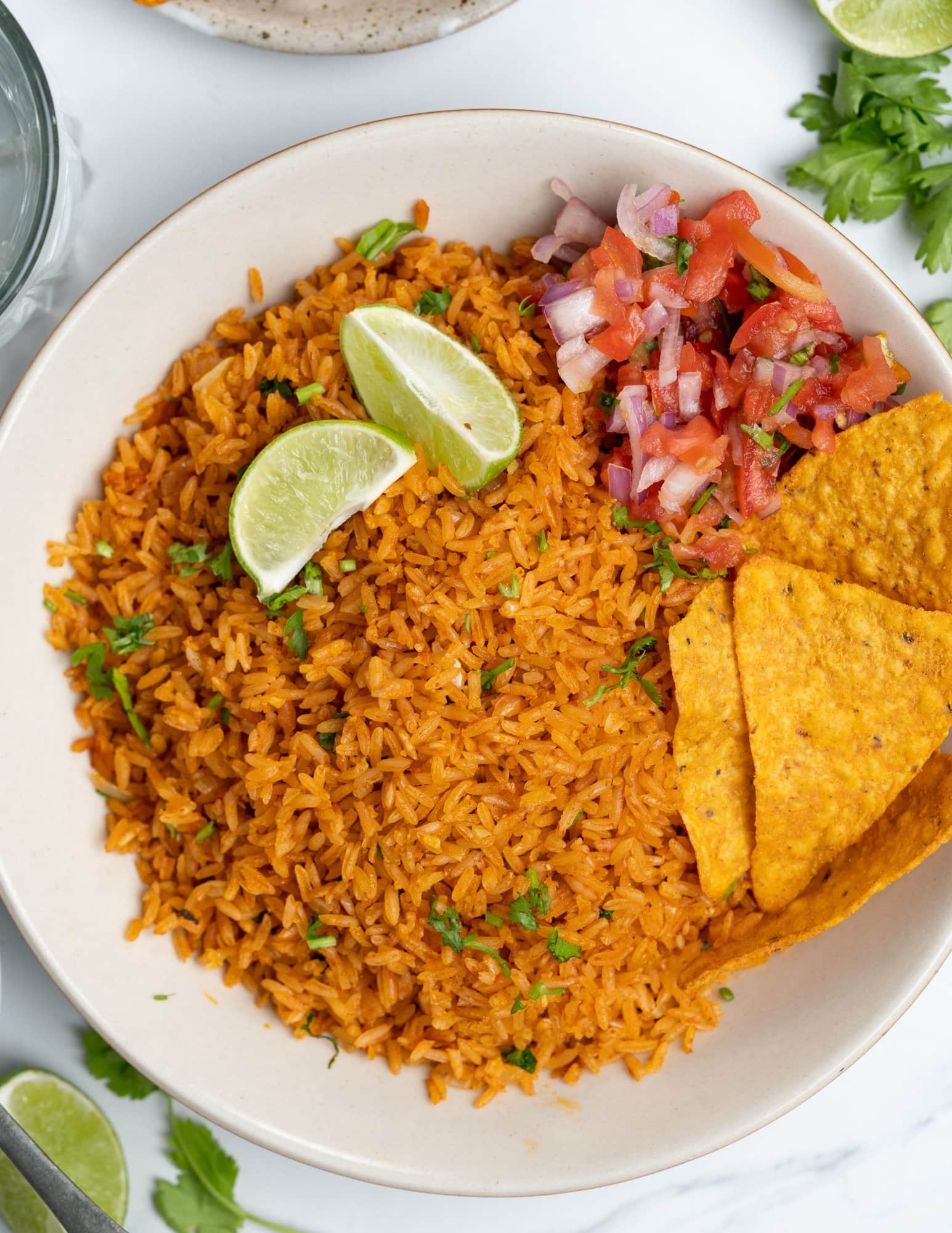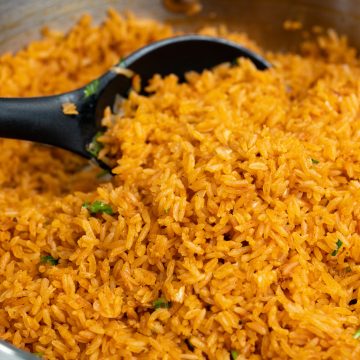 Mexican Rice
Perfectly seasoned and fluffy Mexican rice is a side dish. Toasting rice and using tomato paste is the secret to this flavourful Mexican rice.
Ingredients
1 cup rice
2 cups Stock
2 tablespoon oil
3 tablespoon Tomato paste
½ Onion chopped
½ tablespoon Garlic
½ teaspoon Cumin powder
½ teaspoon Oregano
½ teaspoon Chilli powder
salt to taste
Instructions
Wash rice in enough water by gently rubbing the grains with your finger. Repeat the process for 2-3 times until the washing liquid runs clear. Drain the rice in a colander and press to drain extra water. Let the rice drain well for about 20 minutes.

Heat oil in a dutch oven or heavy bottom pan. When the oil is hot, add drained rice and saute on medium-high heat. Keep stirring frequently, until the grains are lightly toasted, 4 to 5 minutes. Make sure to scrape the bottom of the pan, so the rice does not burn.

When the rice is evenly toasted and smells nutty. Reduce the heat, add onion and garlic. Saute again for a minute for the onion to get softened.

Next, add tomato paste, paprika, ground cumin, and oregano. Saute on low heat for about a minute, stirring continuously and scraping the bottom of the pan to prevent it from burning.

Add warm chicken stock, stir once, and check the seasoning. Add salt and pepper as per taste. Increase the heat and let it come to a low boil. Then simmer, cover, and cook for about 18-20 minutes.

When all the water has been evaporated ( slightly tilt the pan to see if any residual water at the bottom of the pan), switch off the flame. Let it rest(covered) undisturbed for 10 minutes.

Gently fluff with a fork or slotted spoon. Serve.
Nutrition
Serving: 1serving | Calories: 170kcal | Carbohydrates: 29g | Protein: 3g | Fat: 5g | Saturated Fat: 0.4g | Polyunsaturated Fat: 1g | Monounsaturated Fat: 3g | Trans Fat: 0.02g | Sodium: 382mg | Potassium: 141mg | Fiber: 1g | Sugar: 2g | Vitamin A: 343IU | Vitamin C: 3mg | Calcium: 20mg | Iron: 1mg