This post may include affiliate links that earn us a small commission.
Egg fried rice – Nice fluffy rice, scrambled egg, crunchy vegetables; this restaurant-style fried rice is easy and can be made in less than 20 minutes.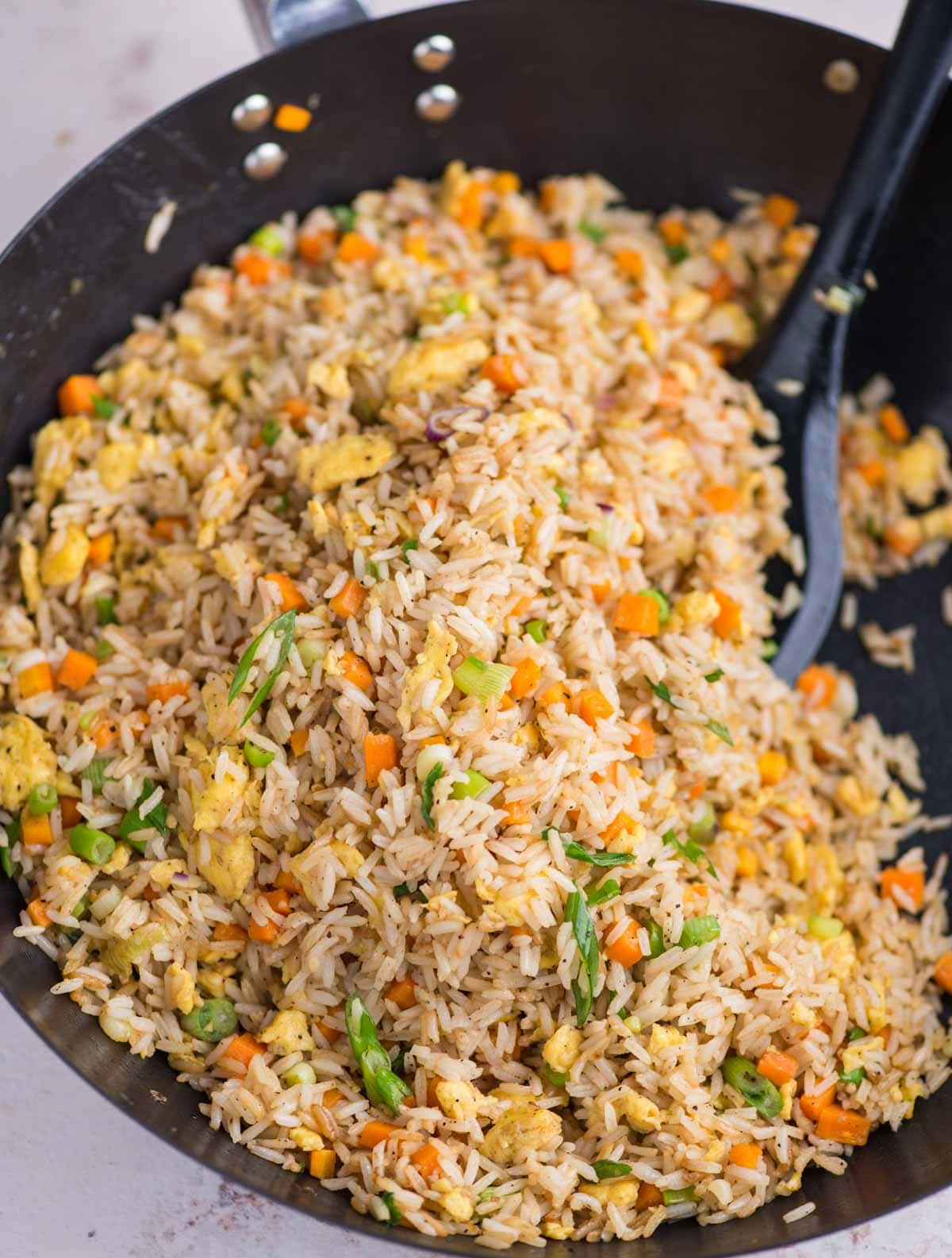 What's better than making a bowl of takeout-style egg-fried rice that is wholesome, easy to make, and incredibly delicious. This dish is a complete meal as it has carbs and proteins and is also loaded with fibre-rich veggies.
Flavours In Your Inbox
Subscribe for recipes straight to your inbox
The best way to use day-old rice or make a quick meal on a busy day, I cook egg-fried rice quite often at home. Though a meal in itself, we love it with Chilli Chicken Dry, Chicken 65, Sticky Korean Chicken.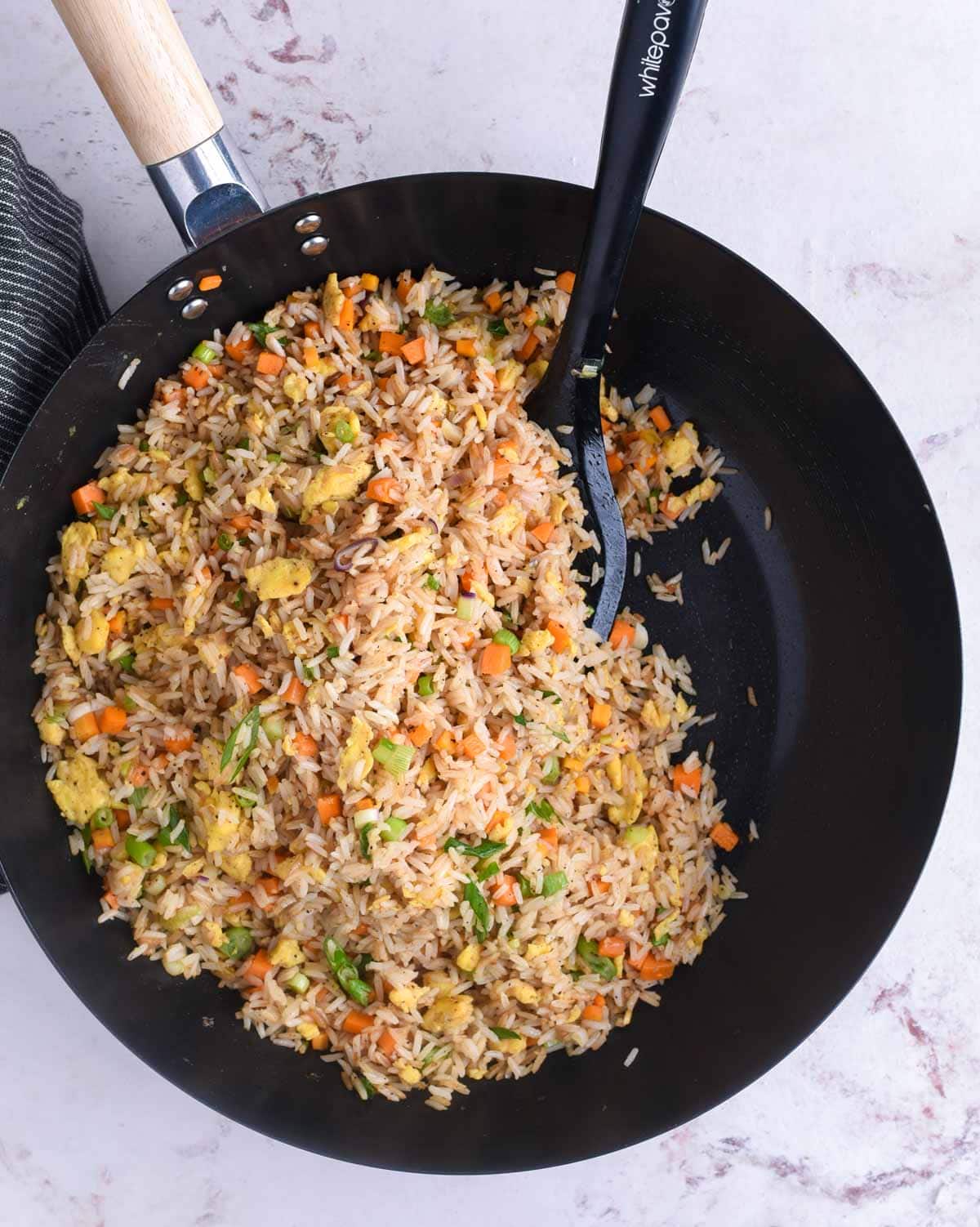 Making Chinese Egg Fried Rice at Home
If you have leftover rice(or you can deliberately make some extra rice and refrigerate), making this fried rice is not only quick but also way healthier than take-out.
I always find the restaurant versions are greasy and barely any veggies. Making at home also gives you the flexibility to adjust the recipe as per your taste or what you have in hand.
Rice: A day or two old short-grain rice is perfect here. The fried rice would be fluffy. Freshly cooked rice, if used, results in a mushy sticky fried rice. However, if you don't have day-old rice, then you can also use fresh rice. After cooking, rice spread it into a large baking dish, separate the grains. Let it come to room temperature, then pop it in the refrigerator for 2 hours.
Eggs: I have used three eggs in this recipe, but you can use more if you prefer.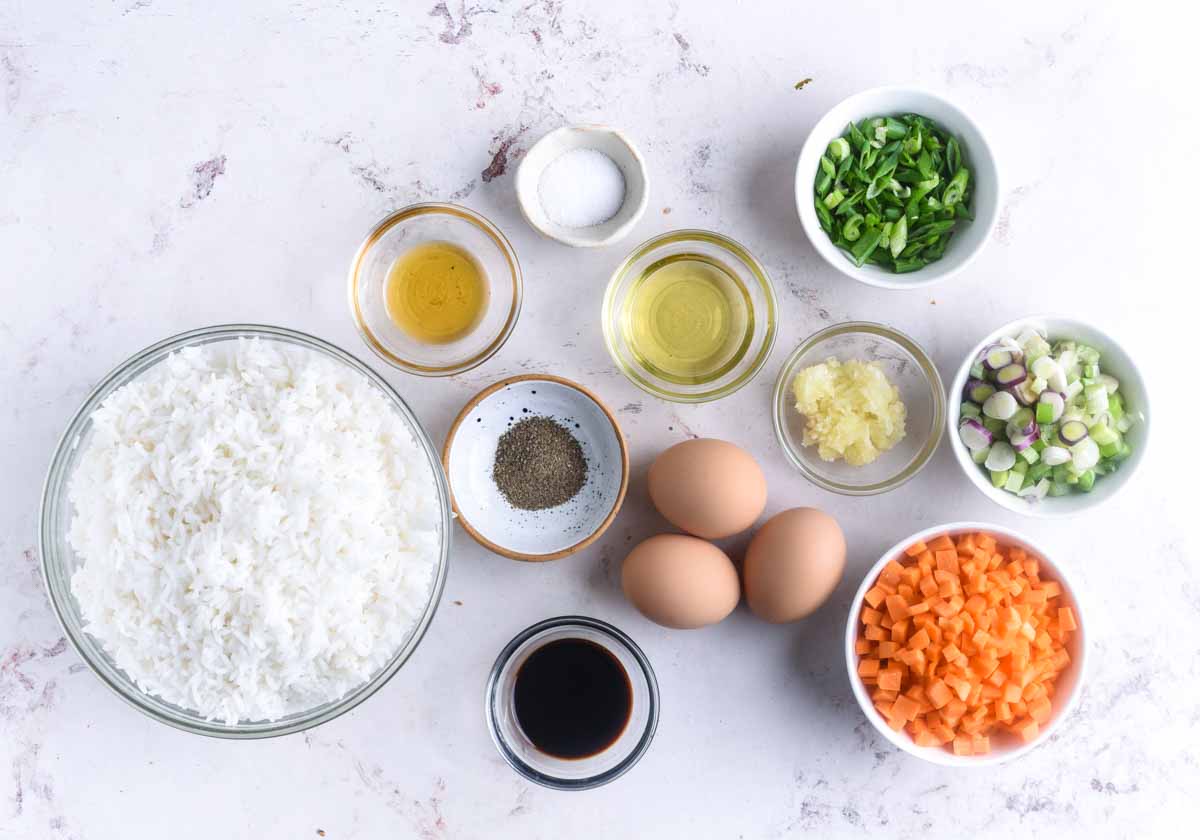 Vegetables: The best part. You have a lot of options. I like to keep it simple, so limit to 2-3 kinds of vegetables. You could use carrots, green beans, corn, bell pepper, cabbage. Add whatever vegetable you have on hand, or you prefer. There is also green onion for garnishing.
Aromatics: Minced garlic, Soy sauce. I also like to add a dash of sesame oil at the end for an authentic flavor. You can also add a dash of rice vinegar, but it is optional.


Helpful Tips for a restaurant-style Fried Rice
The first and the most important thing is to use a day-old or completely cold rice. The rice should be fluffy and not overcooked.
Make sure you cut the veggies to a similar size for even cooking.
If adding a variety of vegetables, then first adds the tough veggies like carrot, beans first let it cook then add relatively softer veggies.
Cook the eggs are just until done. It should still look soft, creamy, and fluffy. Overcooking eggs will make them dry and rubbery.
Looking for that restaurant-style fried rice with a smoky flavor, try using a wok. If you make stir-fries frequently then it is a good idea to invest in a wok. Tossing in high heat gives a smokey flavor to the dish.
As with any other stir fry recipes, do the prep work ahead and keep everything ready. It will take less than 1o minutes to toss everything in a wok.
After adding the rice, toss everything on really high heat. HEAT is the key.
Try not to overcook the veggies. Veggies should be tender yet have a crunch to them.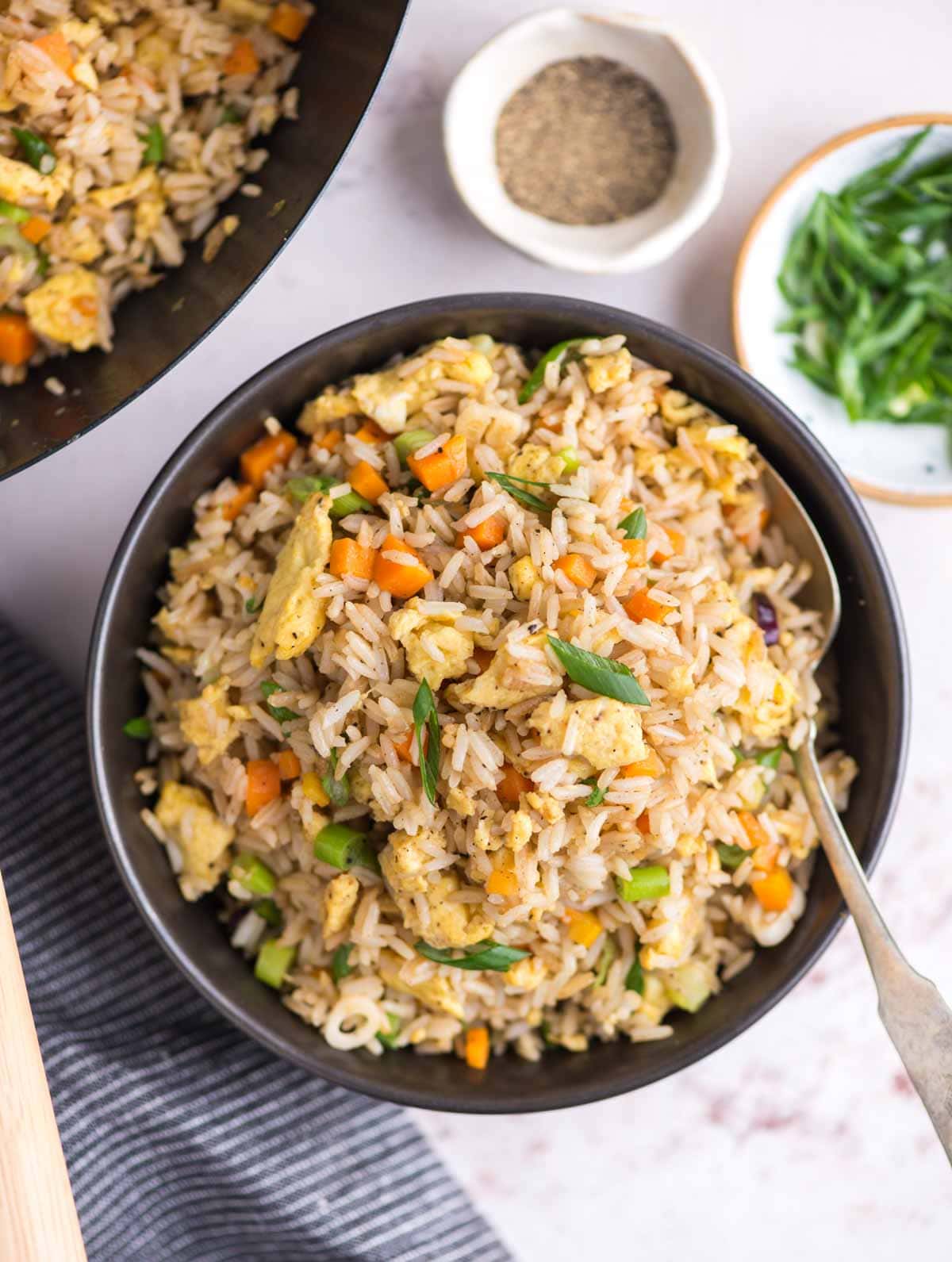 What about leftovers? Can we reheat?
Egg fried rice tasted perfect even the next day. For leftovers, store them in an airtight container for up to 2 days in the refrigerator. You can reheat in a microwave or, as I prefer, toss again in a lightly greased Wok until evenly heated.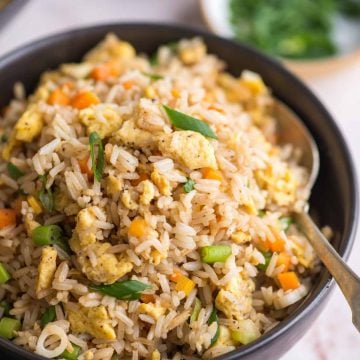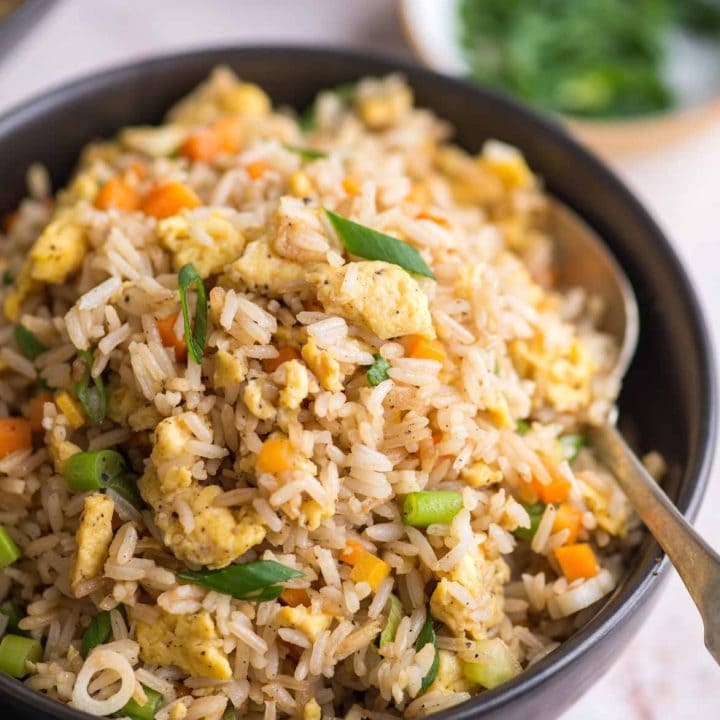 Best Egg fried Rice recipe
Making egg fried rice at home is easy and tastes as good as the restaurant version. One of the best ways to use any leftover rice, completely versatile and can be customized depending on what you have in hand.
Ingredients
4 cups day-old cold white rice (ref note 1)
3 tablespoon Vegetable Oil
4 large eggs
½ cup white parts of green onion
1 cup carrots diced
2-3 cloves garlic minced about 1 tablespoon
2 tablespoon Soy sauce
1-2 teaspoon Sesame oil
salt and pepper taste
green onion to garnish.
Instructions
Season eggs with salt and pepper. Whisk well.

Heat 1 tablespoon of oil in a wok. Add eggs and cook just until set. The cooked eggs should still look soft, slightly creamy. Remove and keep aside.

Heat the rest of the oil. When the wok/skillet is really hot, add white parts of the green onion, carrot. Stir fry for 2-3 minutes on medium-high heat.

Add minced garlic and cook for another minute until the raw smell is gone.

Add rice, salt, and pepper. Mix and toss for 1 minute on high heat.

Add scrambled eggs, green onions, sesame oil. Add soy sauce around the edges (watch video).

Toss on high heat for 2-3 minutes. It is ok if the rice looks slightly toasted here and there.

Serve with more green onions and sriracha on top.
Nutrition
Serving: 1g | Calories: 383kcal | Carbohydrates: 50g | Protein: 11g | Fat: 16g | Saturated Fat: 10g | Trans Fat: 1g | Cholesterol: 140mg | Sodium: 582mg | Potassium: 269mg | Fiber: 2g | Sugar: 2g | Vitamin A: 5673IU | Vitamin C: 5mg | Calcium: 61mg | Iron: 1mg