Creamy Honey Mustard Chicken Tenders
This post may include affiliate links that earn us a small commission.
Crispy Chicken tenders in a creamy Honey mustard sauce is a quick midweek meal that takes less than 30 mins to whip up. Chicken is juicy with a crispy outer coating and simmered in a incredible honey mustard sauce that everyone will love.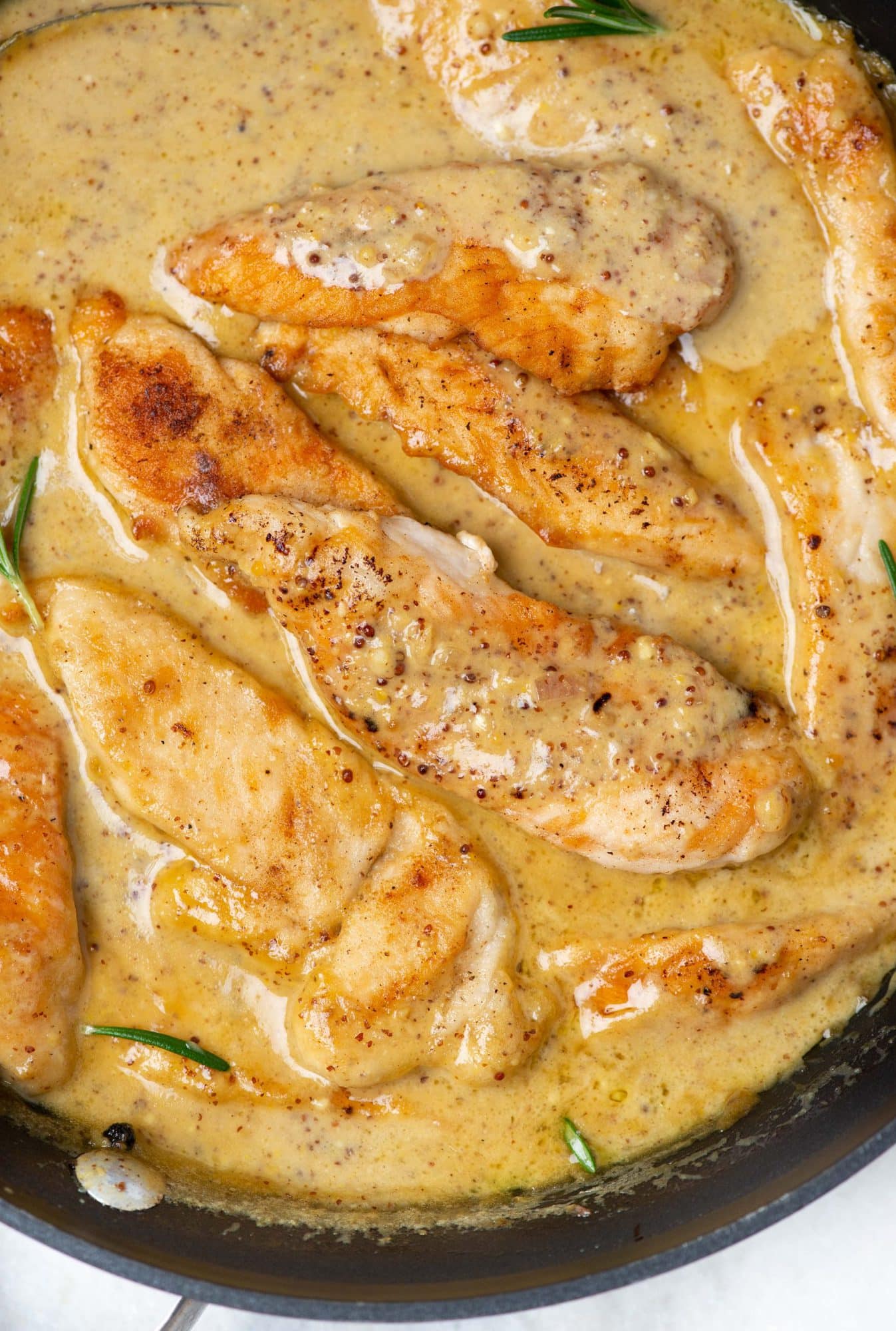 Creamy Honey mustard Chicken Tender Recipe
Chicken tenders are always easy and quick to cook. If you love it crispy then make these fried chicken tenders or make Honey Mustard chicken tenders recipe are just perfect for dinner.
Flavours In Your Inbox
Subscribe for recipes straight to your inbox
The honey mustard sauce is creamy, sweet and hint of pungent flavour from mustard. It is beautifully balanced, rich and finger licking good.
What are Chicken Tenders?
As the name says, chicken tenders are the most tender part of the chicken. These are not same as chicken breast. Chicken tenders are the part underneath Chicken breast and attached to it. So each chicken has two tenders. Tenders are realy quick to cook, even faster than chicken breast. They come in thin strips/filets, so no need of cutting. You can use as it it.
You will easily find chicken tenders sold in your local store. So in your next visit, grab a packet of chicken tenders and make this honey mustard chicken tender recipe.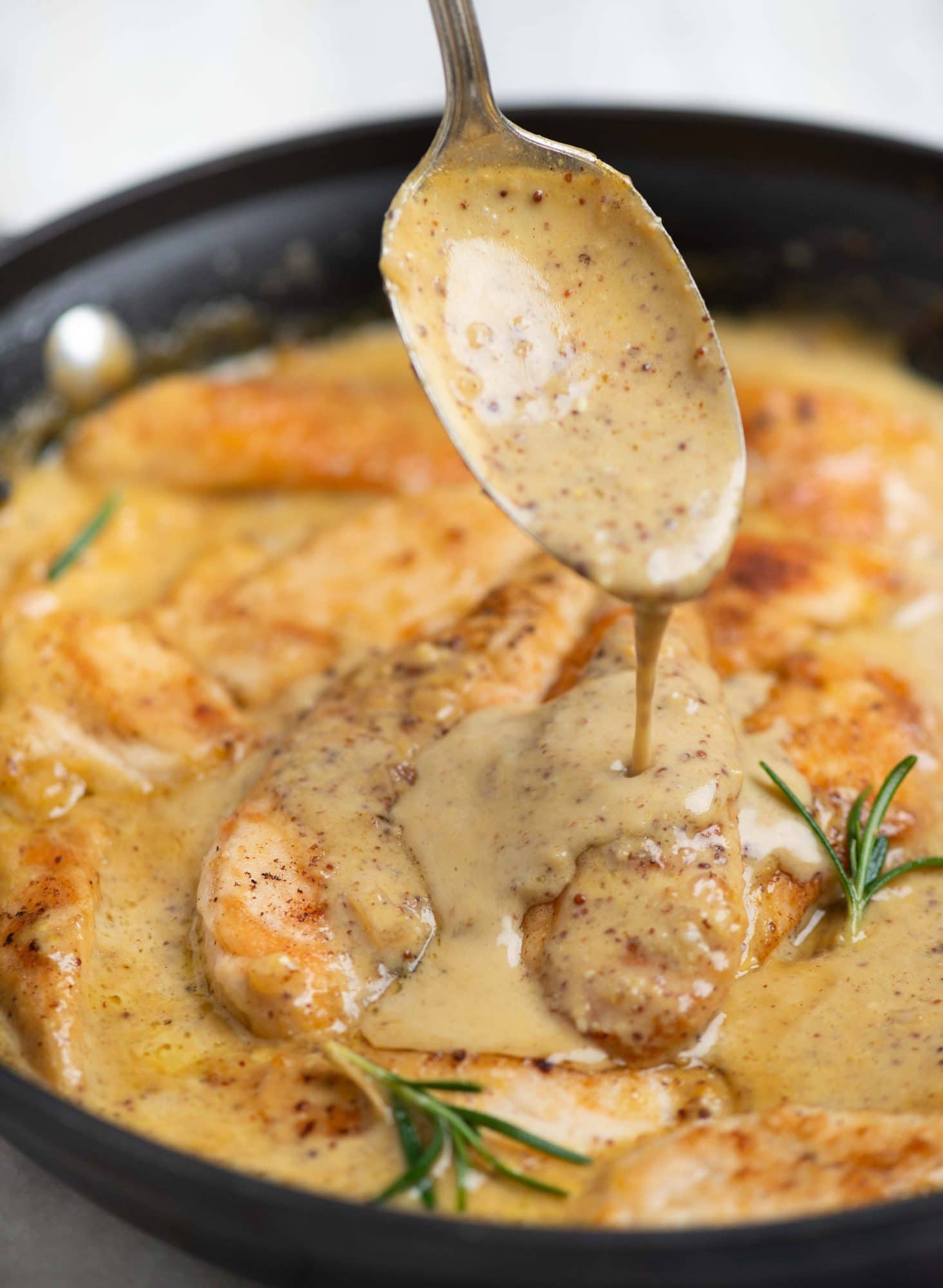 Ingredients you need
Chicken tenders- Use fresh or frozen. If frozen bring it to room temeperature. You can also use thin strips of chicken breast instead.
Flour – All purpose flour to coat the tenders.
Butter and Oil-
Shallots- Finley minced shallots. You can also skip it, if you prefer.
Garlic- Fresh minced garlic.
Chicken stock – Substitute with vegetable stock.
Heavy Cream – For a rich creamy sauce. don't substitute it with low fat cream or half and half
Whole grain Mustard, Dijon Mustard– two types of mustrad for a robust mustard flavour. Whole grain mustard also give some texture.
Honey– to balance the pungentness of mustard.
Rosemary – For some reason i feel rosemary is one of those herbs that compliments all the flavours in the honey mustard sauce.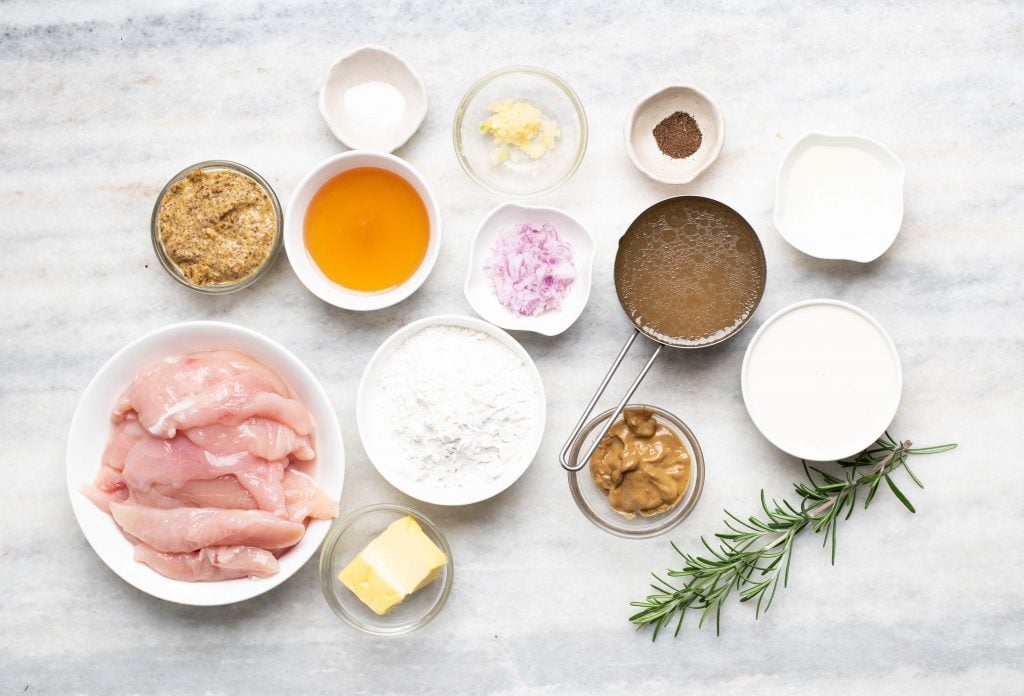 Steps to make Chicken Tenders in a creamy Honey Mustard Sauce
Start with coating chicken tenders with flour mixture. Then cook on both the sides in butter until crispy and nice crust is formed. Because of the crust, the sauce clings better.
The flour coating need not be thick, else the extra flour would go into the sauce and make it thick.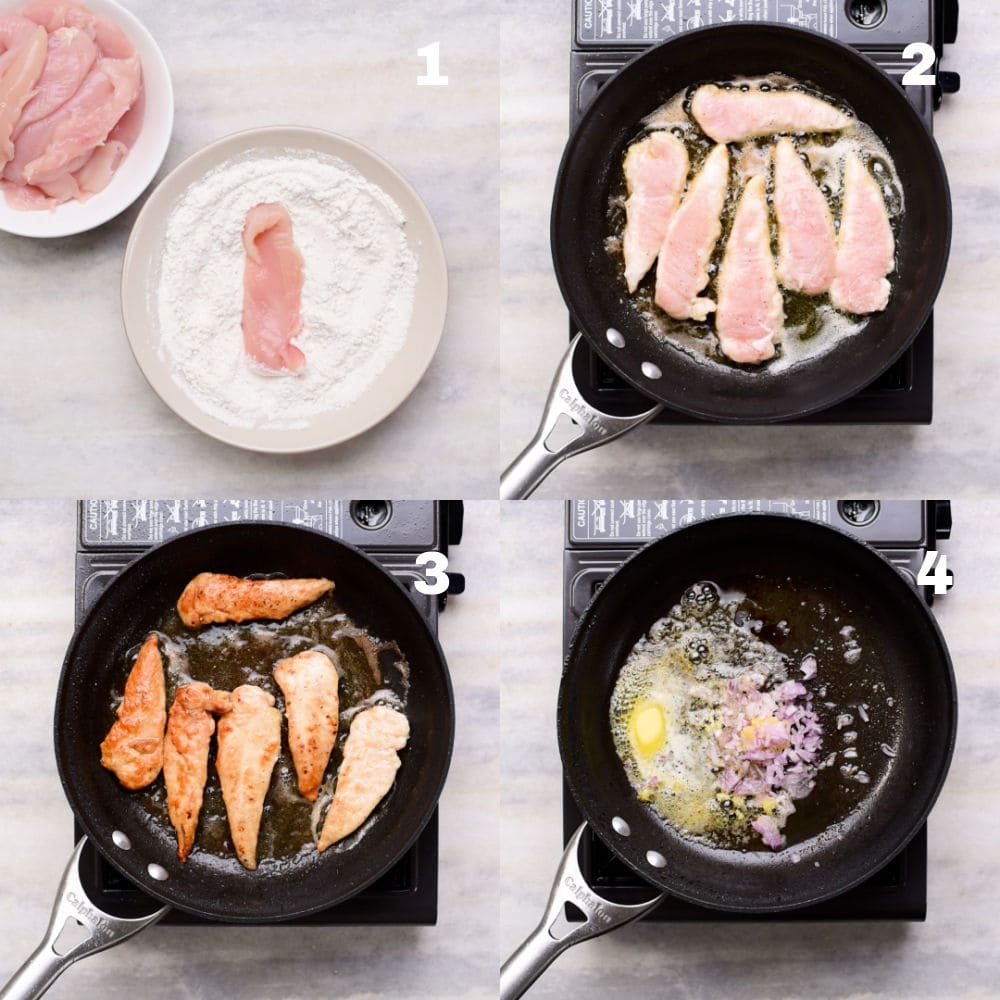 To make Honey Mustard Sauce
To the sauce saute garlic and shallots in butter until soft and aromatic. Then to the pan add stock, dijon mustard, whole mustard, Honey, rosemary. Mix well.
Then lower the heat, slowly whishk the heavy cream. Let it simmer for 2-3 minutes.
Then add cooked chicken tenders, simmer for another 2 minutes. And Honey Mustard Chicken Tender is ready to serve.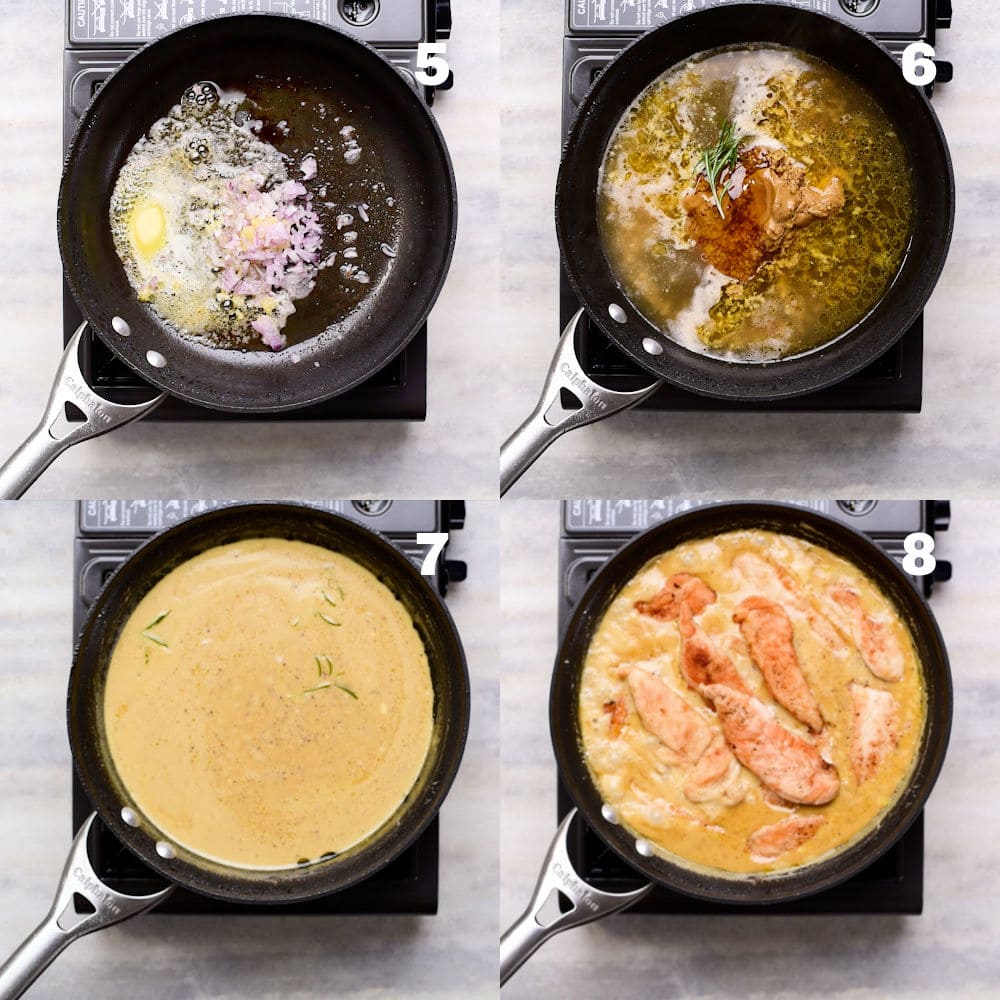 Helpful Tips
Make sure the chicken tenders are at room temperature. Else the chikcen will not get cooked evenely.
Shake off extra flour from the chicken. The chicken should have a very thin coat of flour.
Chicken tenders takes very less time to cook. Overcooking will make chicken dry.
I will not reccomned substituing heavy cream with half and hlaf or low fat version.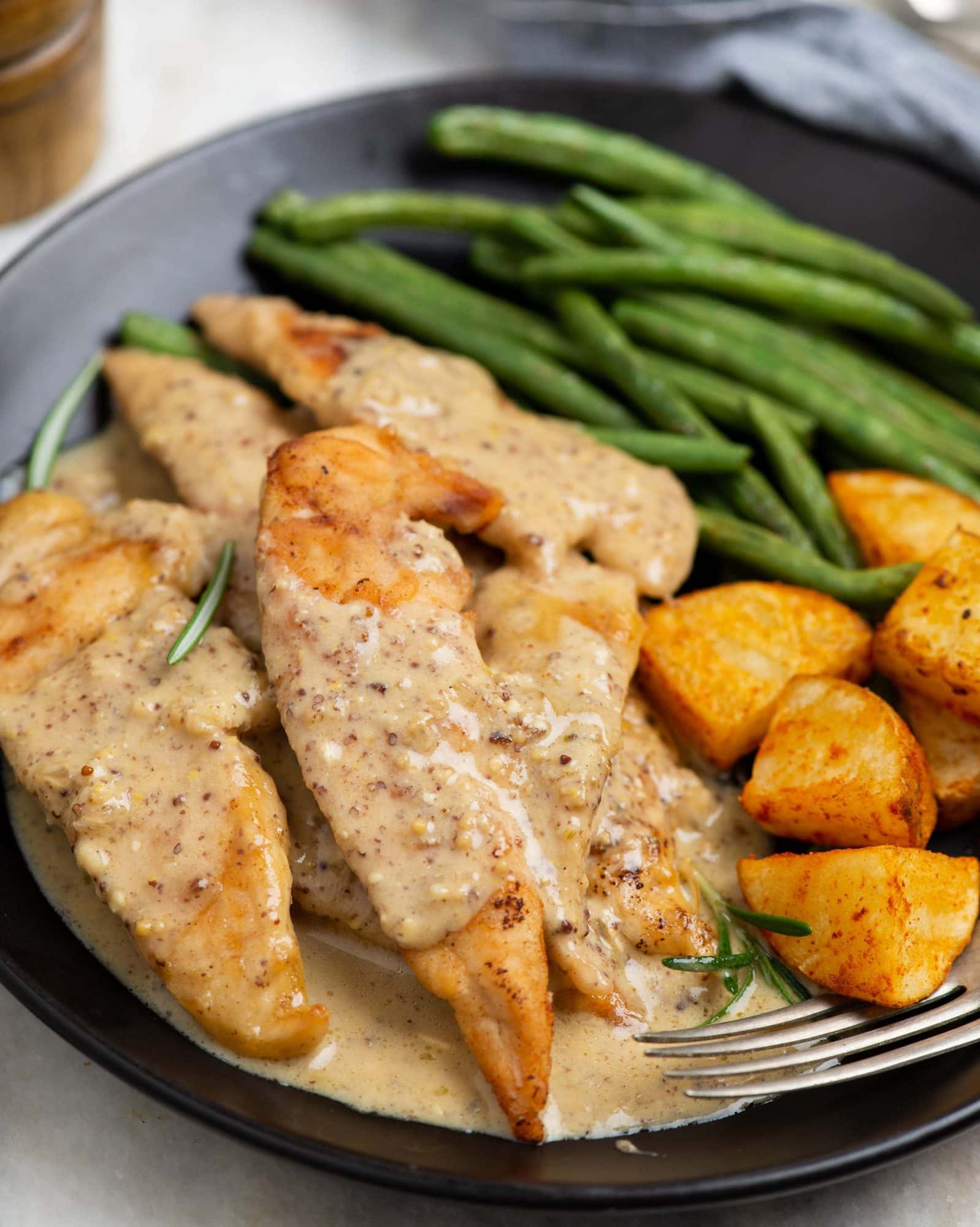 Serving suggestion
Serve these honey mustard chicken tenders with a fresh green salad, roasted broccoli, mashed potatoes or baked potato wedges.
More Chicken Dinner Recipe
Honey Soy Baked Chicken Drumstick
Oven Baked Creamy Chicken Thighs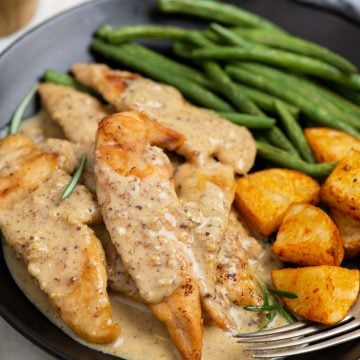 Chicken tender with Honey Mustard Sauce
Chicken tenders coated in flour and cooked for a crispy crust. Then simmered in a creamy honey mustard sauce. This is a delicious chicken dinner recipe for the busy working days.
Ingredients
450 grams Chicken tenders (1 pound)
⅓ cup Flour
½ teaspoon Salt
¼ teaspoon Pepper
2 tablespoon Butter
1 teaspoon Oilve oil
For Honey mustard Sauce
1 tablespoon Butter
2 tablespoon Minced shallots
1 teaspoon Garlic
¾ cup Chicken stock
⅓ cup Heavy Cream
2 tablespoon Dijon Mustard
2 tablespoon Whole grain mustard
⅓ cup Honey
1 sprig Fresh Rosemary
Instructions
In a shallow dish mix flour, salt and pepper.

Coat chicken tenders with flour on both the sides. Shake off extra flour.

Melt 2 tablespoon butter and oil in a skillet.

Place coated chicken tenders on the hot skillet and cook for 2 minutes. Flip and cook for another 2 minutes. ( ref note 1)

To the same skillet, add rest of the butter. Add shallots and garlic. Saute until the shallots are softened and garlic is aromatic.

Add stock, whole grain mustard, dijon mustard, honey and rosemary. Whisk well.

Lower the heat, add slowly add heavy cream. Mix well. Check salt and add if required. (ref note 2)

Simmer the sauce for 2-3 minutes. When the sauce starts to thicken, add chicken tenders. Pour sauce over chicken. Simmer for 2 minutes.

Serve with roasted greens or mashed potato.
Notes
 Cook chicken in batches. Don't over crowd the pan, else the crust will not crisp up. 
After the cream is added, check for salt. The mustard, chicken stock has salt in it. So it is best to check for the seasoning at the end. I have added about 1/4 teaspoon of salt at the end. 
If using low fat cream or half and half, It might curdle. So best is to use high fat Heavy whipping cream.
Nutrition
Serving: 1serving | Calories: 423kcal | Carbohydrates: 35g | Protein: 27g | Fat: 20g | Saturated Fat: 11g | Polyunsaturated Fat: 1g | Monounsaturated Fat: 6g | Trans Fat: 1g | Cholesterol: 123mg | Sodium: 740mg | Potassium: 532mg | Fiber: 1g | Sugar: 24g | Vitamin A: 601IU | Vitamin C: 2mg | Calcium: 37mg | Iron: 1mg