This post may include affiliate links that earn us a small commission.
Rice noodles tossed in a creamy nutty Peanut butter sauce are perfect for a tasty and easy lunch or dinner. These spicy peanut noodles are packed with Asian flavour and can easily be loaded with veggies and protein of your choice.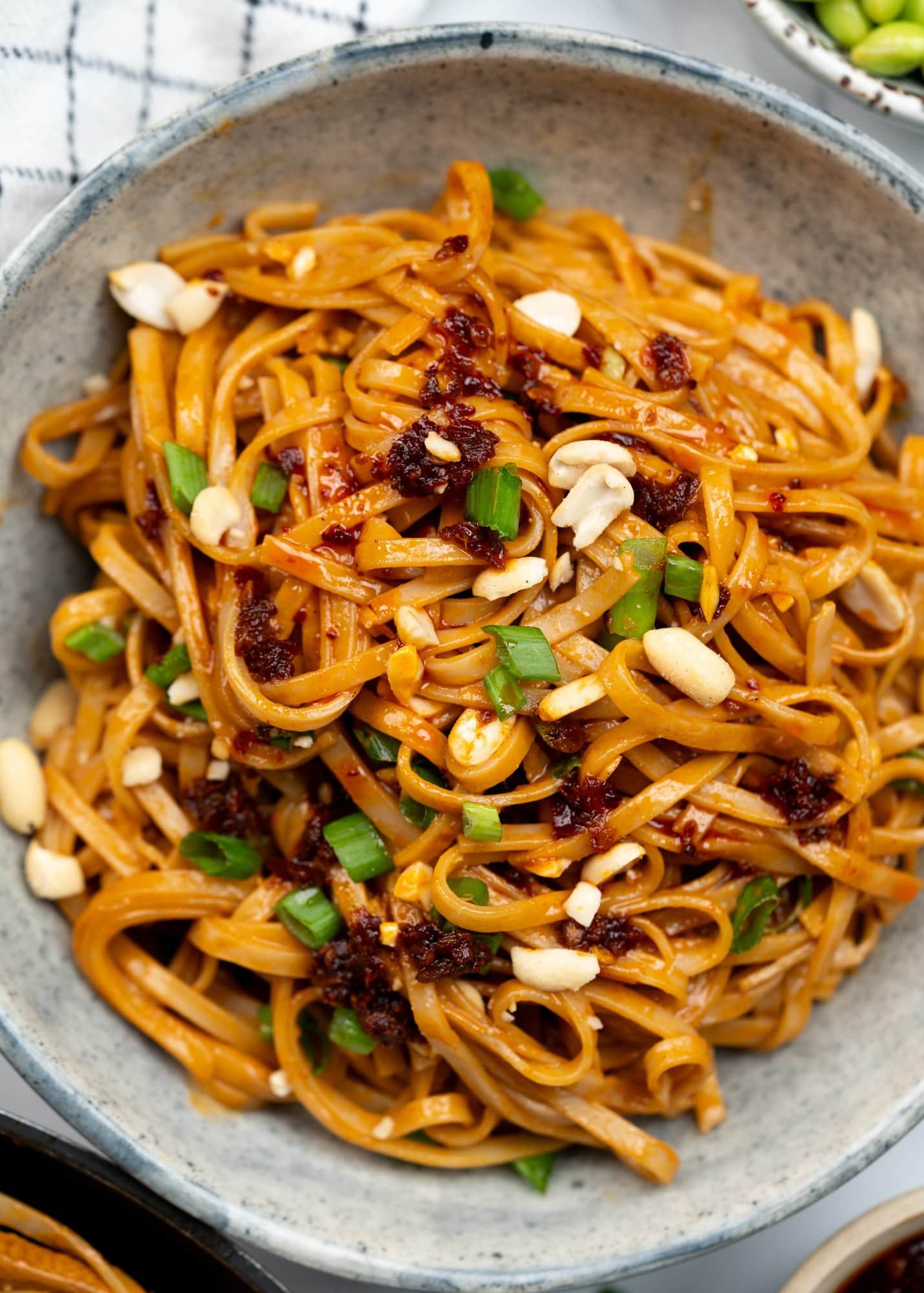 Peanut butter noodles are savory, nutty and have the right hint of heat from sriracha. This is one of those back-pocket recipes you can whip up in no time on busy days. You can add extra protein and veggies to this to bulk it up and make it a whole meal. These noodles are super versatile that way.
Flavours In Your Inbox
Subscribe for recipes straight to your inbox
Without any doubt, Noodles are one of the go-to ingredients for making a quick meal. You will always have a packet of noodles or ramen in the pantry. It takes less than 10 minutes to cook it. All you need is a flavor-packed sauce to make a devour-worthy meal out of it. When you have a bowl of saucy, chewy, and spicy noodles, who is gonna complain if you make it more than once a week?
Reasons you will make these Peanut noodles on rotation
It is gluten-free and can also be made vegan with a few substitutions.
You would need less than 15 minutes to make it with minimal effort( almost no chopping).
This recipe is versatile and also customizable. You can add veggies and protein of your choice to make it more filling.
These peanut noodles will satisfy your Asian take-out dinner craving for sure.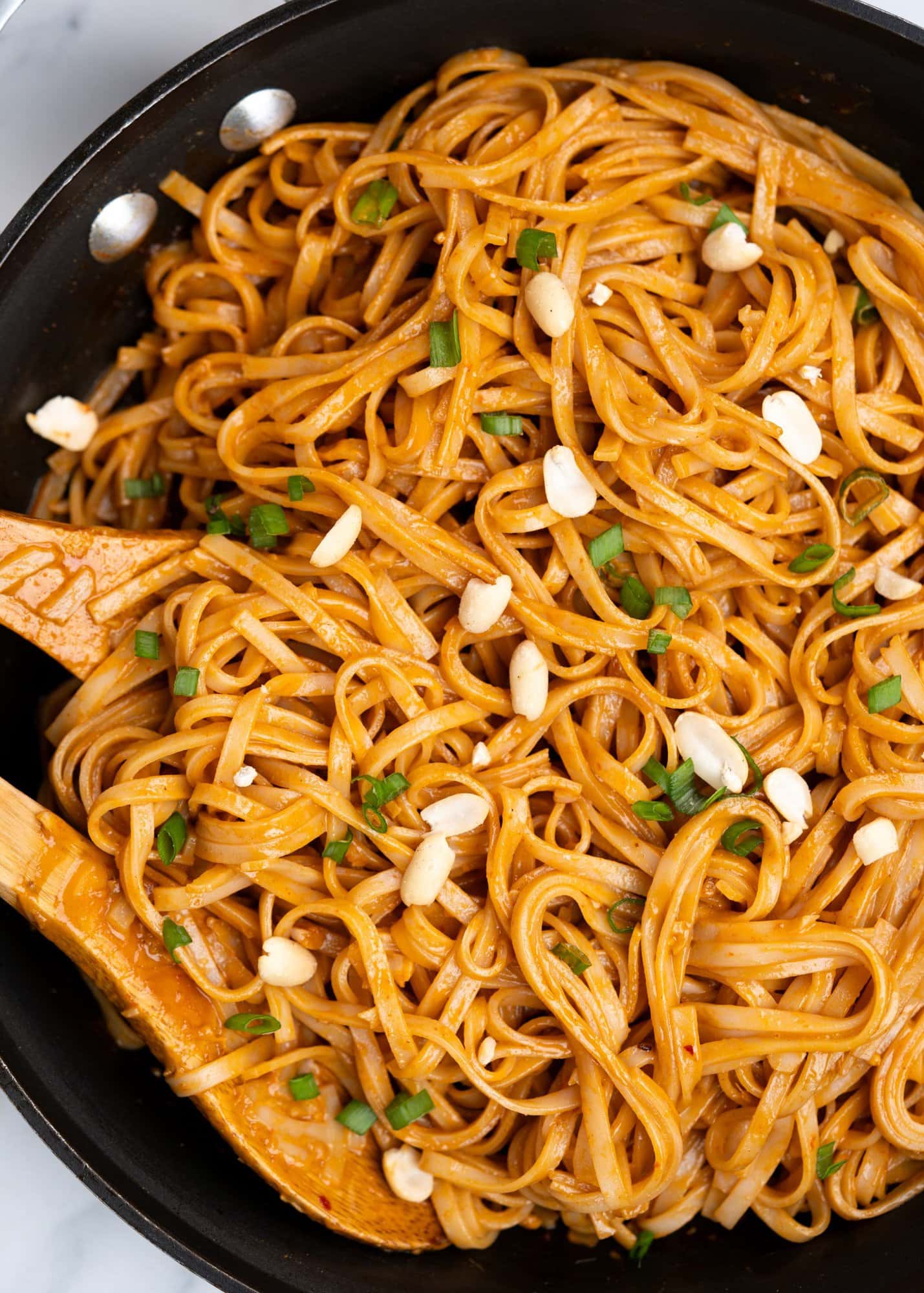 Ingredients for Peanut Butter Noodles
If you make Asian recipes, then I am sure most of the ingredients listed below are already in your pantry.
Rice noodles– Rice noodles are gluten-free and chewy when cooked, hence my go-to preference. These noodles are of medium thickness and hold the sauce well. Almost any Asian variety will work (udon noodles, rice vermicelli, or soba noodles). Pasta like spaghetti and Linguine is also a great substitute. Not a fan of instant ramen noodles in this recipe, as with the creamy rich peanut sauce the ramen turns gloopy.
Ginger and garlic
Peanut butter – Natural unsweetened peanut butter either creamy or crunchy (made with 100% peanut). The sweetened peanut butter will work in a pinch. In that case, skip brown sugar.
Sriracha – adds spiciness. Use any hot sauce instead.
Soy sauce- I have used both low-sodium soy sauce and dark soy sauce. Dark soy gives a lovely depth of flavor, sweetness, and also color. Substitute dark soy sauce with regular soy sauce, in case you don't have dark soy sauce.
Brown sugar – Balances the sauce and brings out the flavor.
Rice vinegar
Oil – any neutral oil
Green onion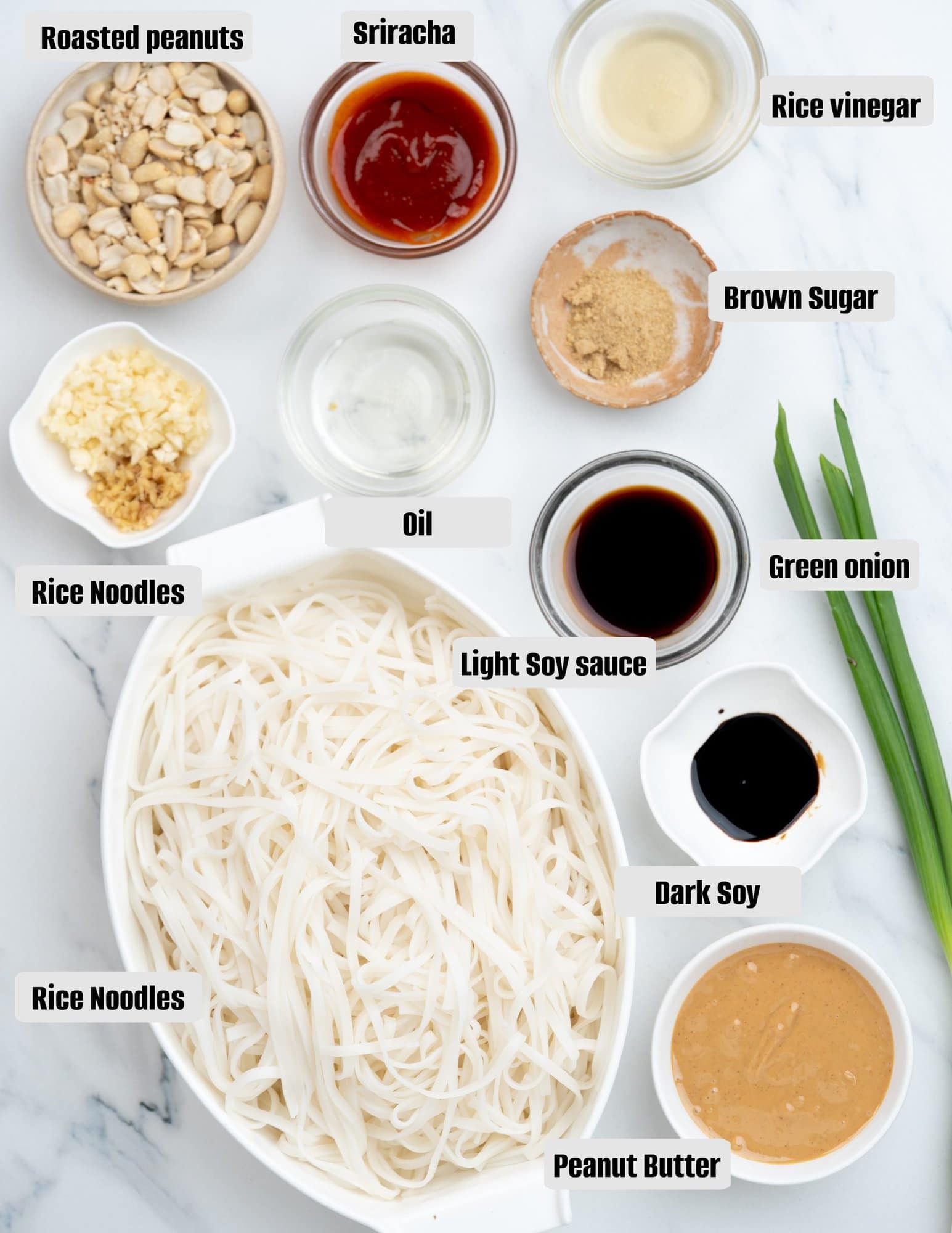 Peanut Noodles – step by step (How to make)
Cook noodles – Bring a large pot of water to a boil, season it with salt, and cook the noodles as per package instructions. Drain and keep aside.
Make Spicy Peanut Sauce – While the noodles are getting cooked, add all the ingredients for spicy peanut butter sauce and whisk. If the peanut butter is thick, first add a couple of tablespoons of warm water to thin it out.
Saute aromatics– Saute ginger and garlic in oil for 1 minute.
Mix- Add cooked rice noodles to the skillet along with the prepared peanut sauce. Toss it well. You can add a couple of tablespoons of water for easy and even mixing,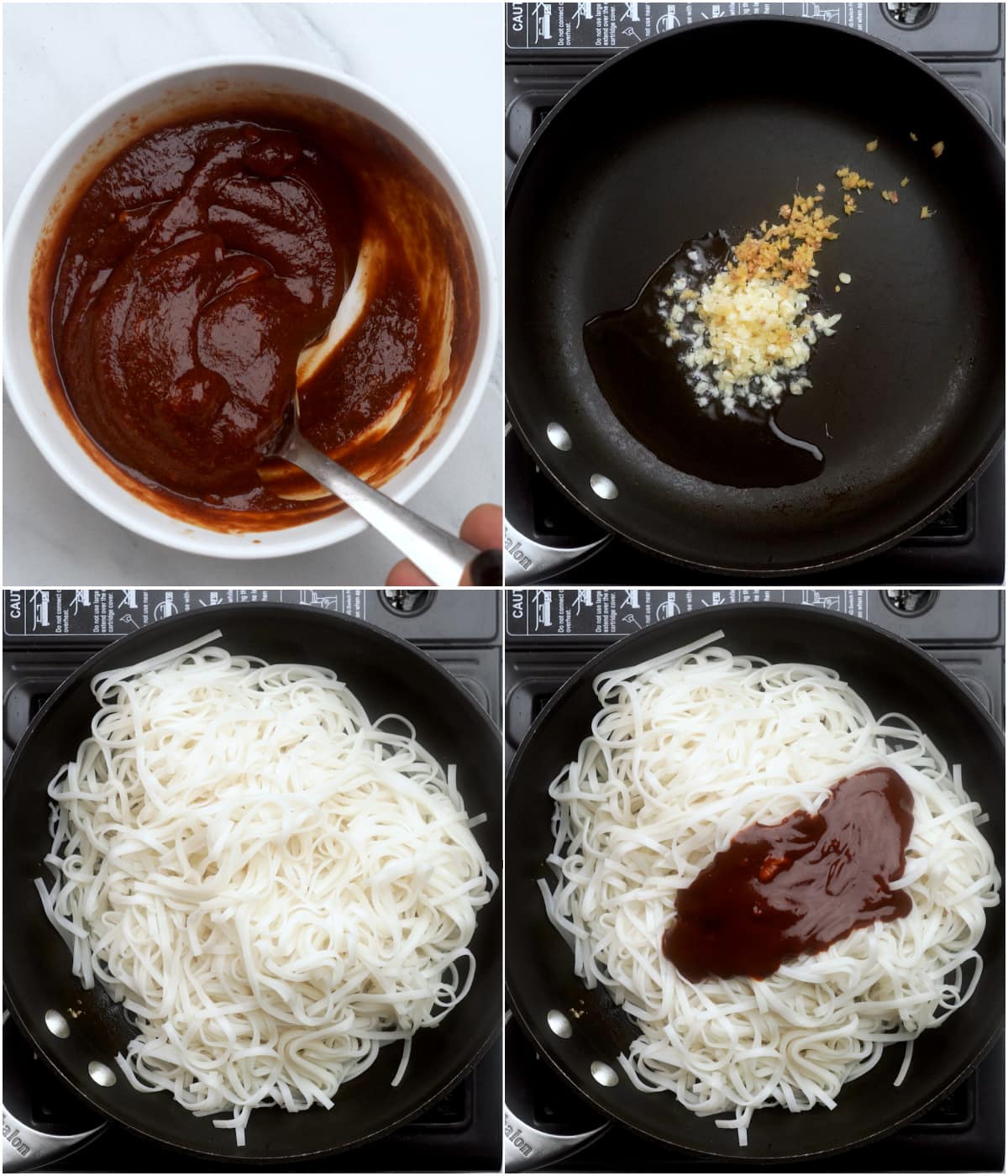 Variations and topping ideas
To make the peanut noodles completely vegan and gluten-free, use rice/gluten-free noodles. Substitute soy sauce with coconut aminos or tamari.
Add the cooked tofu, chicken, or shrimp for protein. Veggies like cabbage, carrot, red bell pepper, snow peas, and edamame are also a great addition.
For a Thai twist, add a teaspoon of fish sauce to the sauce.
Would you like to go nut-free? then substitute peanut butter with almond butter.
These saucy peanut noodles can be paired with varieties of crunchy and fresh toppings. Salted roasted peanuts, chili oil crisp, fresh cilantro, green onions, or even fried eggs are a few of the toppings you can pair the noodles with.
You can serve these noodles warm, at room temperature, or even cold.
How to store
These peanut noodles can be stored in an airtight container in the fridge for 3-4 days. Noodles tend to soak liquid and dry out, so while reheating add 1-2 tablespoons of water, toss and then reheat.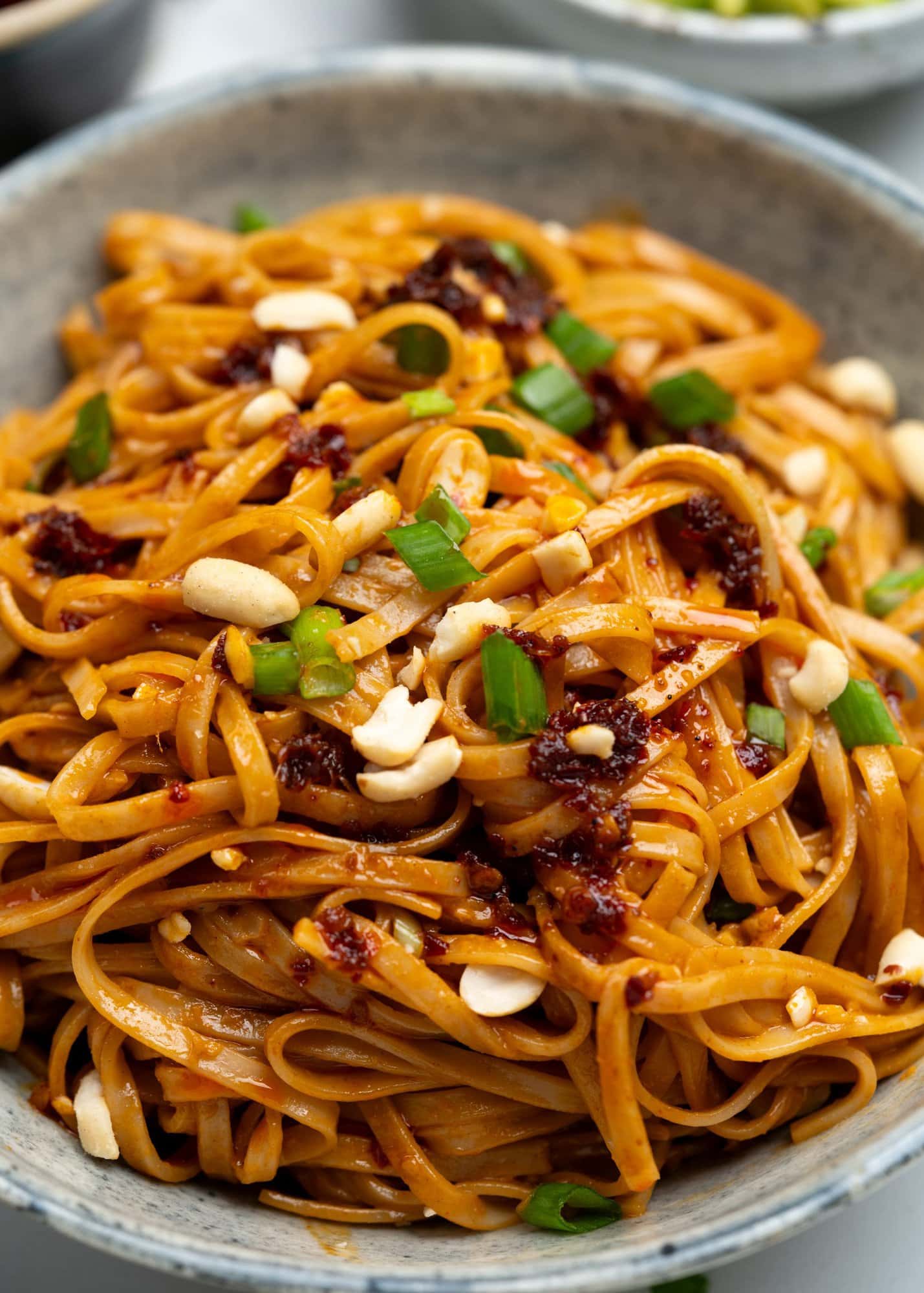 More Quick dinner recipes
Garlic Mushroom Spaghetti with Bacon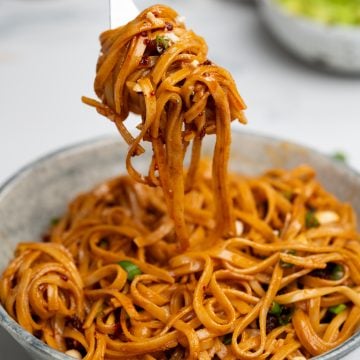 Spicy Peanut butter noodles
In this peanut sauce rich peanut butter is balanced with soy, sriracha, and rice vinegar. Double the amount of sauce to make these peanut butter noodles saucy and delicious.
Ingredients
200 grams rice noodles
2 tablespoon oil
1 tablespoon garlic
1 teaspoon ginger
½ teaspoon salt
Peanut Sauce
¼ cup natural peanut butter
1 tablespoons sriracha ref note 1
1 tablespoon soy sauce
2 teaspoon dark soy sauce
1.5 tablespoon brown sugar
½ tablespoon rice wine vinegar
¼ cup warm water
Toppings
⅓ cup roasted salted peanuts ( roughly crushed)
⅓ cup green onion for garnishing
chilli oil for topping (optional)
Instructions
In a bowl, add creamy peanut butter, sriracha, light soy sauce, dark soy sauce, brown sugar, rice wine vinegar, and warm water. Mix well until creamy.

Cook rice noodles as per package instructions. Darin and keep aside.

Heat oil in a skillet. Saute minced garlic and ginger for 1 minute on low heat until the raw smell is gone.

Add cooked rice noodles and pour over the peanut sauce. Season it with salt. Toss well to coat the noodles evenly with sauce. Add a couple of tablespoons of water if the noodles feel dry and difficult to toss. ( noodles tend to soak liquid overtime)

Serve and top with crushed salted peanuts, chopped green onion and more sriracha or chilli oil.
Notes
Start with 1 tablespoon of sriracha. Taste the sauce and add 1/2 tablespoons more as per taste. The sauce should be nutty, spicy, and a bit sweet.  
Nutrition
Serving: 1serving | Calories: 642kcal | Carbohydrates: 84g | Protein: 14g | Fat: 29g | Saturated Fat: 4g | Polyunsaturated Fat: 8g | Monounsaturated Fat: 15g | Trans Fat: 0.04g | Sodium: 1431mg | Potassium: 358mg | Fiber: 4g | Sugar: 7g | Vitamin A: 122IU | Vitamin C: 9mg | Calcium: 66mg | Iron: 2mg