30-minute Cherry Tomato Pasta
This post may include affiliate links that earn us a small commission.
Cherry tomato pasta and garlic are cooked together to make refreshing pasta sauce. A simple yet flavourful summer pasta is ready in under 30 minutes.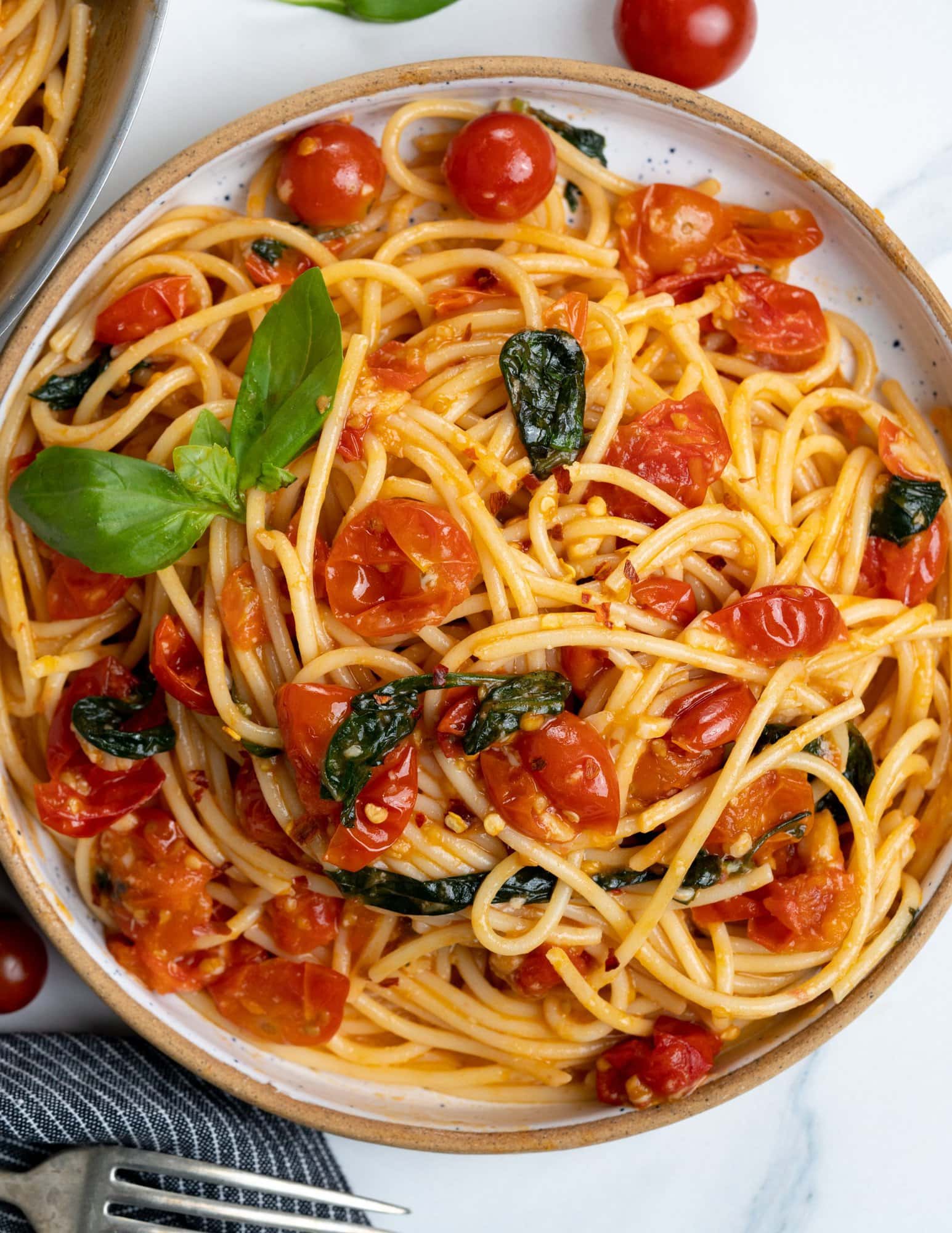 This pasta recipe has easily available spaghetti and a bright red, flavorful tomato sauce made from ripe cherry tomatoes. With a few simple everyday ingredients, you can make a simple yet fulfilling dinner for family and friends with minimal effort.
Flavours In Your Inbox
Subscribe for recipes straight to your inbox
This simple recipe is packed with classic Italian flavors from Olive oil, garlic, red pepper flakes, basil, and cherry tomatoes. The instructions can be summarized as – cooking the sauce and tossing the spaghetti.
Eaten in moderation, pasta made with cherry tomato sauce is healthy, keeps you lean, improves the health of internal organs, and provides energy from the carbohydrates it packs.
This can be a finished dish and a fulfilling meal by itself. This recipe can also be a base, and you can use something like chicken or shrimp to make a balanced meal with protein. Check out my Cherry Tomato Pasta with Shrimp recipe.
Spaghetti is slender long noodles that have become the most popular pasta. It is inexpensive, easy to make, and made of only – Duram wheat and water. It is a cheap yet versatile pasta that can be paired with sauces with different flavors.
Among other pasta, picking which with a fork might seem skillful to people, spaghetti, as produced by modern companies, is not slippery and comes off the plate easily. It makes an excellent base for various sauces and is easy to make and serve on the dining table for many occasions. 
I have made a few pasta recipes with tomatoes with slight variation – Sun-dried Tomato Pasta is one with sun-dried tomatoes, Creamy Tomato Tortellini Soup is a tomato base, but in a soup with tortellini as pasta.
Cherry tomatoes Vs. Regular tomatoes
Cherry tomatoes are an excellent substitute for regular tomatoes as they pack a more intense flavor, are smaller, and last longer in the refrigerator. Cherry tomatoes vary from regular tomatoes in appearance and slightly in taste but have the same nutrition profile. While regular tomatoes are bigger and often oval, cherry tomatoes, as their name suggests, are smaller, have a round shape, and look like cherries.
They look bright red and are often sweeter or milder (in sourness and tartness) than regular ones. For recipes, cherry tomatoes work well if you need a slightly sweeter taste profile. Regular tomatoes are great for the slightly sour or tart taste you need in many recipes.
Ripe cherry tomatoes are also good for snacking or included in salads or fruit bowls. Technically, it's seen as a vegetable but is a fruit.
Cherry tomatoes have a similar nutritional profile to regular tomatoes, with a few vitamins and antioxidants higher and maybe slightly lesser in other counts. Like regular ones, they still boast high health benefits packing a good amount of vitamins, minerals, and antioxidants with befitting skin, bone, and overall health.
These are abundantly available and are easy to grow with good exposure to sun and water, producing a bounty. You can find them in nearby vegetable and grocery stores, farmers' markets, and gourmet garden produce.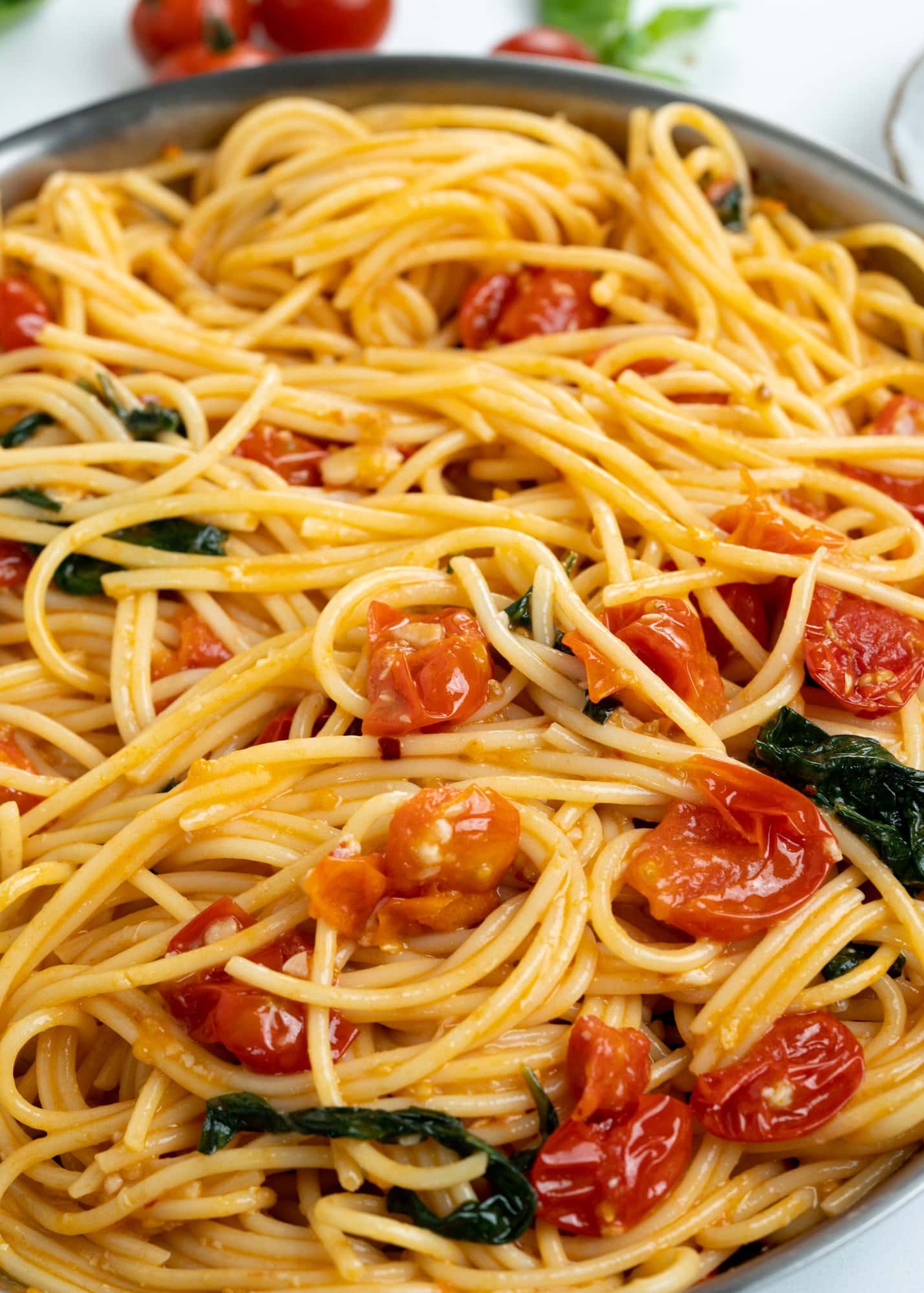 Ingredients
Spaghetti – is available in most grocery stores and supermarkets. You must cook it al dente before adding it to the cooked sauce.
Cherry tomatoes – bright red tomatoes add color, a hint of sweetness, and a little sourness.
Extra-virgin olive oil – has a flavor and is healthy and a ubiquitous choice while making Italian dishes.
Garlic cloves– are my favorite choice of aromatic to give an earthy flavor to the sauce. Use chopped or sliced garlic cloves.
Red pepper flakes – are made from various combinations of chilis and add a note of heat.
Fresh herbs – add a herby aroma and flavor. I have used fresh basil leaves. You may also substitute with chopped parsley.
Salt – to bring balance to the flavor palette.
Sugar – a little sugar to balance the tartness of tomatoes.
Parmesan cheese – to make the sauce thick and cheesy.
How to make Cherry Tomato Pasta
Making cherry tomato pasta is easy and quick, as you can finish cooking in under 30 minutes.
Cook spaghetti al dente
In a large pot, bring water to a boil. To the boiling water, add salt generously. In the salted water, drop the spaghetti bunch and let it cook 'al dente' – which means firm to the bite. Follow the manufacturer's instructions and timings to cook the pasta.
Pasta water has flavor, and we will use it later. We need to reserve 1 cup of pasta water for the sauce. Drain the remaining water using a sleeve.
Saute aromatics
Heat a large skillet. Saute chopped garlic and red pepper flakes in hot olive oil for a minute. Garlic should lose its raw smell but not burn. Cooking red pepper flakes in oil enhances the spice and ups the heat.
Note: Flavor molecules of spices are fat-soluble and are not water-soluble. This means they dissolve in fat like olive oil; hence, the oil carries the spice flavor compounds while making the base for a sauce or gravy.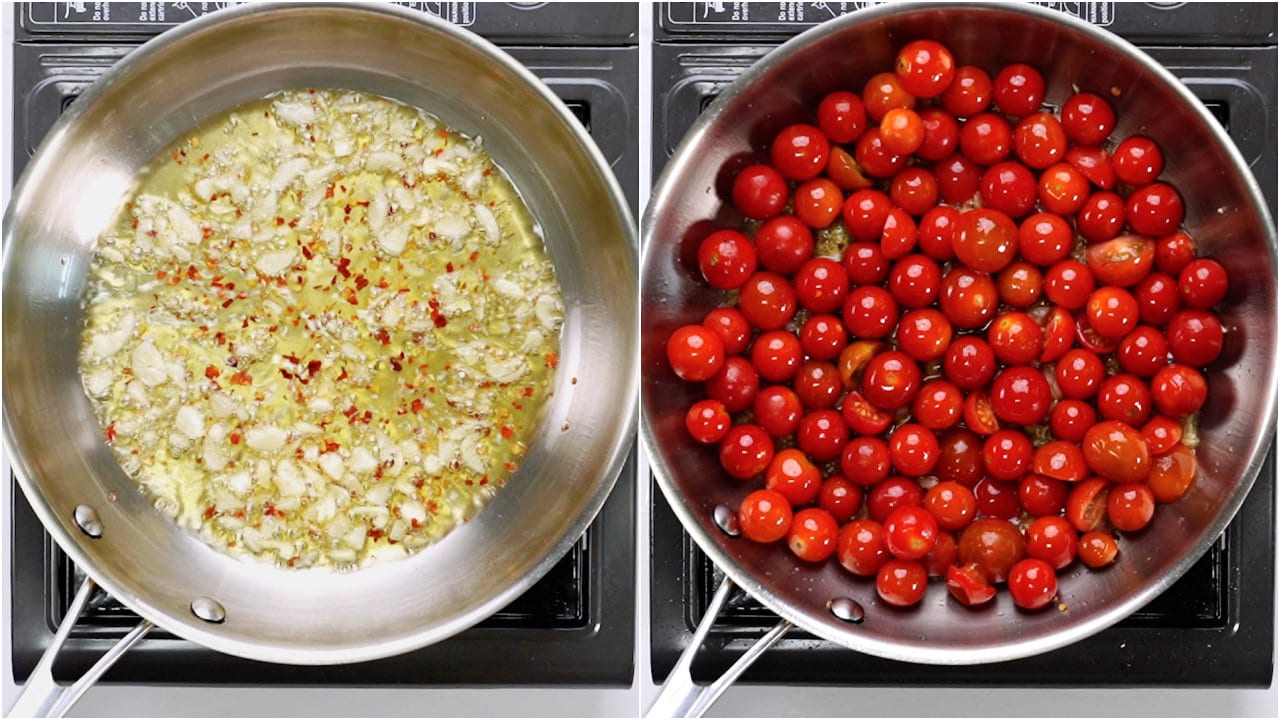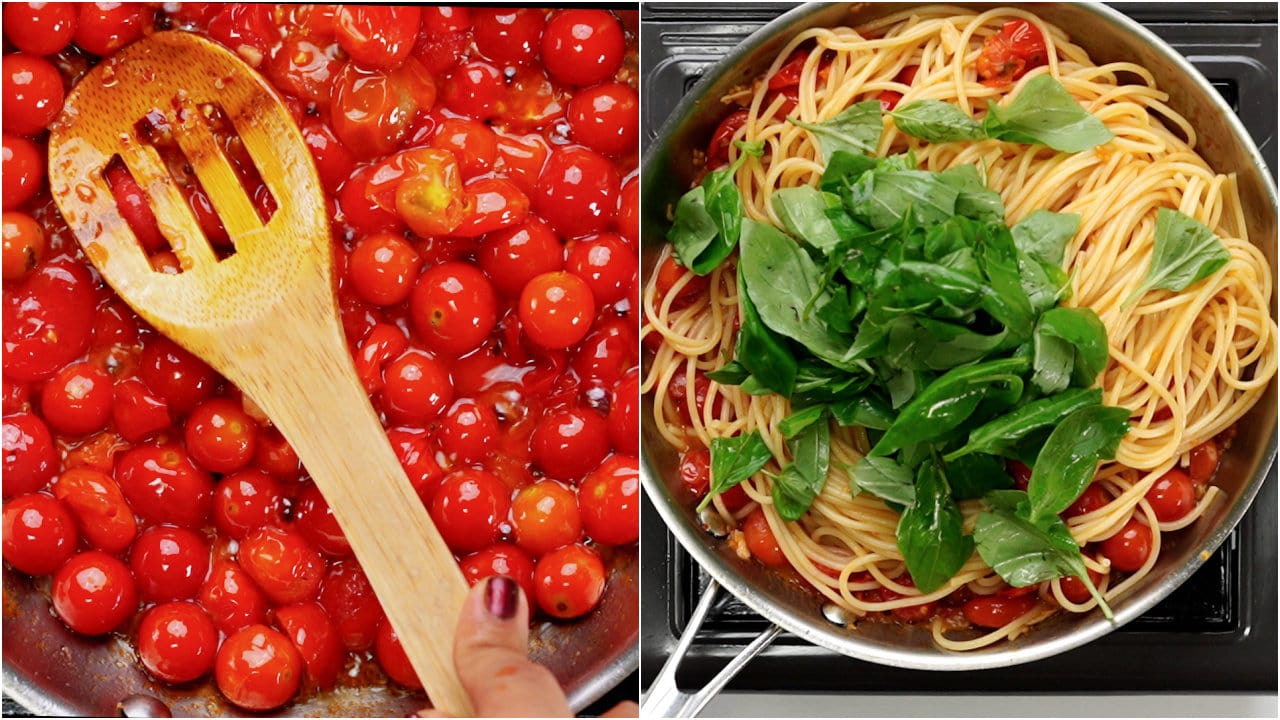 Form base of the sauce
Add cherry tomatoes next and cook them on medium heat. When they soften, season them with salt. Salt brings out the water from them, making them mushier. Crush them with the back of a spatula to form a pulp. Some tomatoes will burst and splatter, so maintain a safe distance the rest of the time while the tomatoes cook. The entire cooking time will take 8-10 minutes to form a thick sauce.
Add the reserved pasta water and let it simmer to a bubble. Add sugar, mix the sauce, and taste it. Remember, the pasta water was salted, so to avoid the sauce becoming salty, taste and add salt if required.
Add cooked pasta
Remember, the pasta was already cooked earlier. We need to add the cooked spaghetti and toss it well so it gets coated with the tomato sauce. Take the pan/skillet off the heat.
Sprinkle fresh basil and shredded parmesan on top. Mix it once and serve with a glass of wine.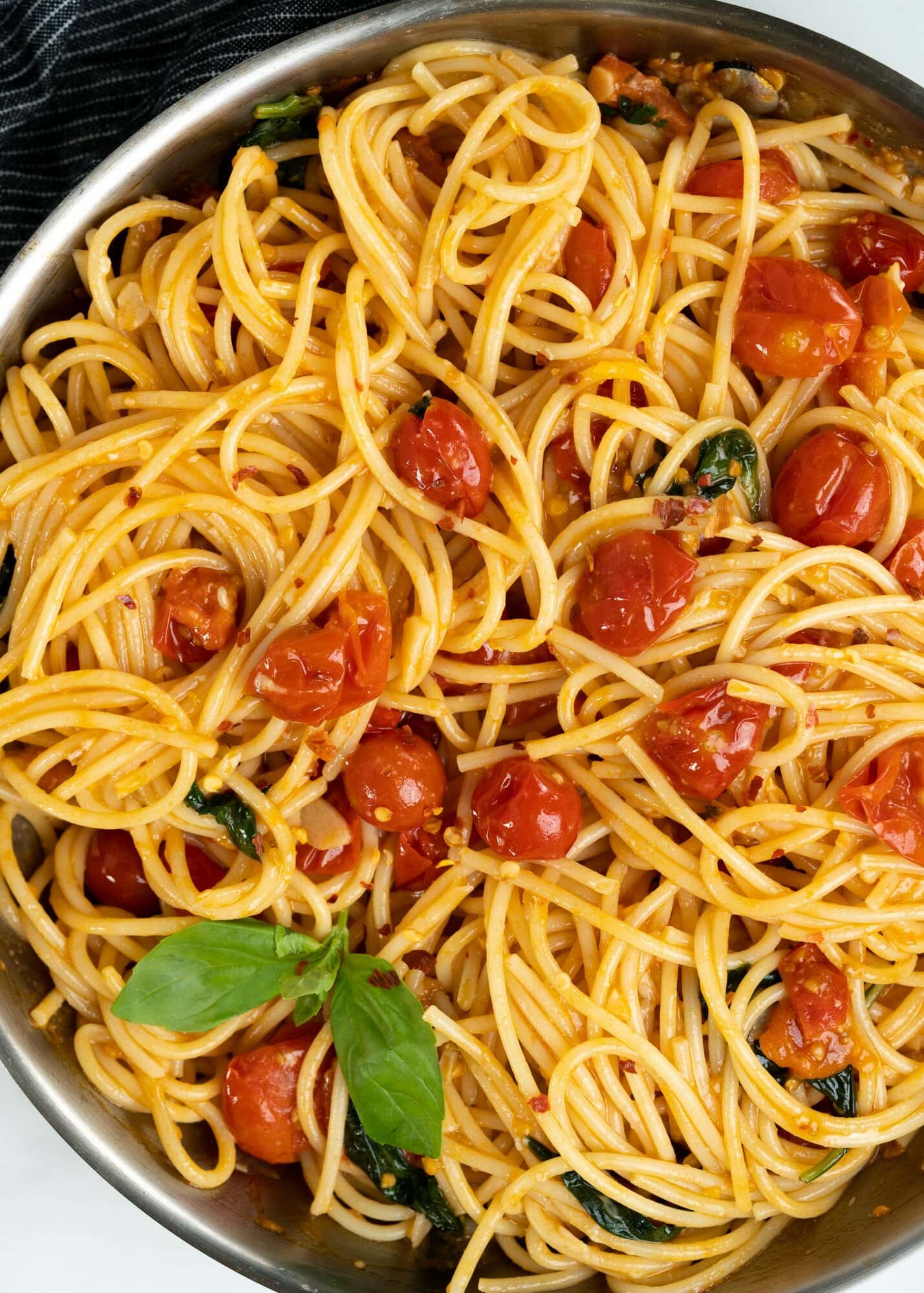 Store
If you plan to have the cooked pasta with sauce within a day or two, store them in an airtight container in the refrigerator. The pasta will soak up the flavors of the sauce and taste better. You can reheat them in the microwave.
Storing the cooked pasta and sauce separately is recommended for longer periods. Cooked pasta can be rinsed with cold water to stop cooking instantly and stored for up to a week.
Cooked tomato sauce can be stored in the refrigerator for up to 4 days. To reheat the sauce, use a skillet, add a splash of water or reserved pasta water, and bring it to a bubble. Add the cooked pasta and toss well.
Serve with
Pasta with tomato sauce is a popular Italian dish that is a meal or can be paired with various side dishes.
Other pasta
Pesto Pasta Salad – Bold flavors from fresh handmade pesto mixed with cherry tomatoes, rocket leaves, pine nuts, and bocconcini cheese.
Spicy Mushroom Chicken Pasta – Pasta with mushroom and chicken in a rich garlicky tomato sauce is creamy and has a perfect hint of spice.
Roasted Butternut Squash Pasta – Butternut Squash, onion, garlic, and herbs are roasted and blended to make a creamy pasta sauce. Top with crunchy breadcrumbs.
Chicken Bacon Ranch Pasta – Ranch seasoning and bacon add flavors to another creamy and cheesy sauce.
Pasta Alla Norma (Eggplant pasta) – Classic Italian dish made with traditional flavors but has a healthy twist – baked eggplants.
One-Pot Lemon Pasta – Refreshing, delicious lemony, creamy sauce tossed with spaghetti.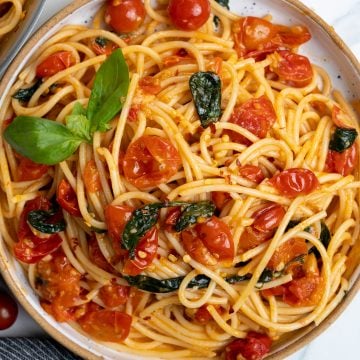 Summer Cherry Tomato Pasta
Cherry tomato pasta and garlic are cooked together to make refreshing pasta sauce. A simple yet flavourful summer pasta is ready in under 20 minutes.
Ingredients
250 grams spaghetti
400 grams cherry tomatoes about 2½ lb.
⅓ cup extra-virgin olive oil plus more for drizzling
6 garlic cloves chopped
½ tsp. crushed red pepper flakes
1 cup basil
½ tsp. salt plus more
large Pinch of sugar optional
⅓ cup finely grated Parmesan
Instructions
Cook spaghetti in water until al-dente. Drain using a sleeve and reserve 1 cup of pasta water.

Cut a few cherry tomatoes into halves and keep the rest whole.

Heat olive oil in a large pan. Add chopped garlic and chili flake. Cook it on low heat for 1 minute until the oil is aromatic but the garlic is not browned.

Add cherry tomatoes to the pan. Cook on medium heat. When the whole tomatoes soften, season with 1/2 teaspoon of salt. Smash whole cherry tomatoes with the back of a spatula to burst them open. ( Caution: few tomatoes might burst open and splatter. So be careful and maintain distance)

Cherry tomatoes might have cooked at the end of 8-10 minutes and made a thick sauce. Add 1/2 cup of reserved pasta cooking water, cook for a minute, and let the cherry tomato sauce comes to a slow bubble.

Add sugar and more salt if required ( remember pasta cooking water does have salt in it). Lower the heat, and cook spaghetti. Toss well to coat the pasta well with the sauce.

Take the pan off the heat. Add roughly torn fresh Italian basil and parmesan. Toss well to mix.
Notes
Sugar is optional. It is added to balance the sourness of tomatoes.
Nutrition
Serving: 1serving | Calories: 450kcal | Carbohydrates: 53g | Protein: 13g | Fat: 21g | Saturated Fat: 4g | Polyunsaturated Fat: 2g | Monounsaturated Fat: 14g | Cholesterol: 6mg | Sodium: 627mg | Potassium: 401mg | Fiber: 3g | Sugar: 4g | Vitamin A: 871IU | Vitamin C: 25mg | Calcium: 142mg | Iron: 2mg