Sun-dried tomato pasta brings a creamy and cheesy pasta with flavor from sun-dried tomatoes, cheese, garlic, and basil for a quick dinner in under 30 minutes.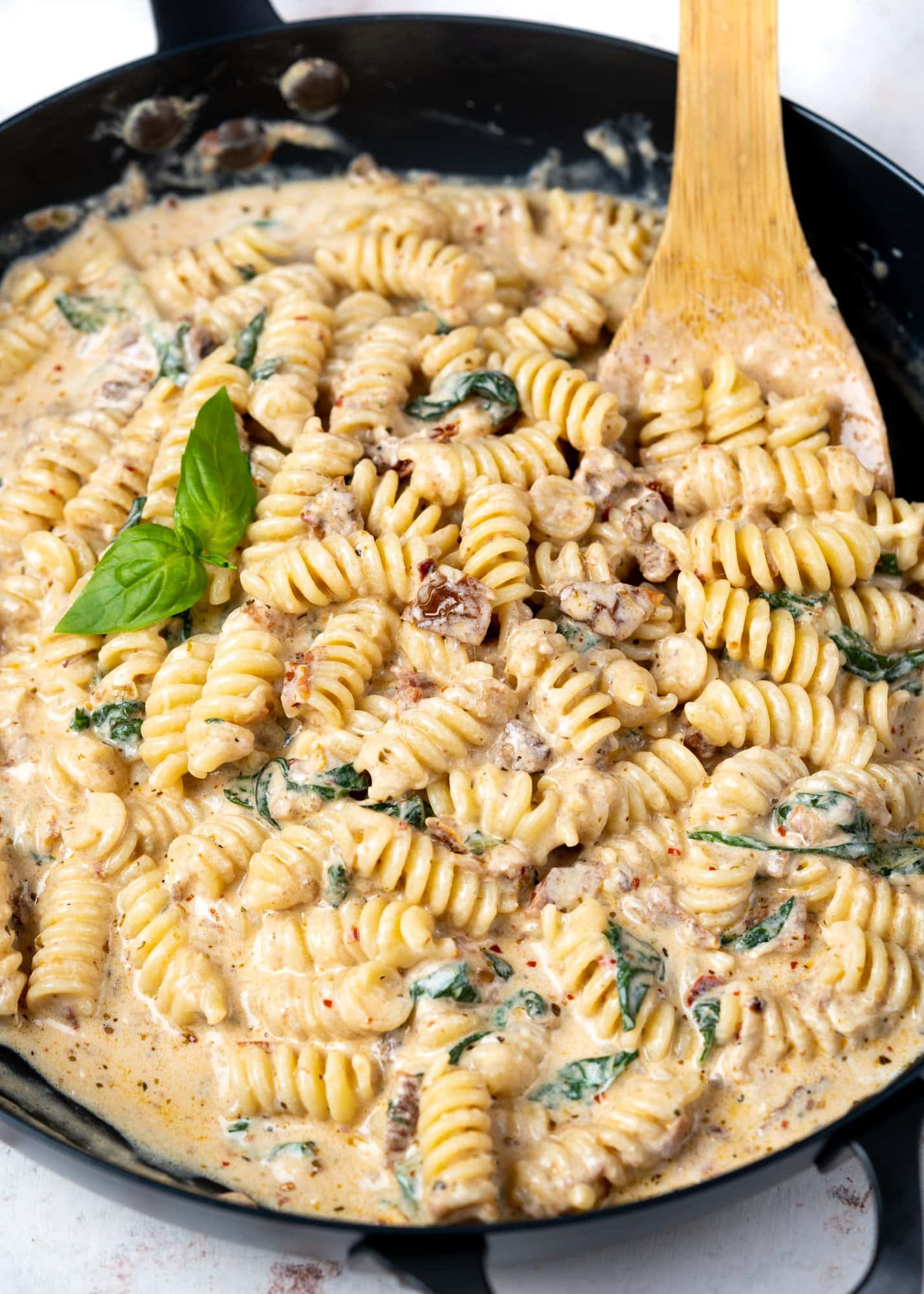 Ever since I got this jar of sun-dried tomatoes, I have wanted to use it to make something. What better than making pasta with sundried tomatoes? If you want to make your normal pasta interesting, boost them up with the flavor of sundried tomatoes.
Sun-dried tomatoes may look wrinkled, shrunk, and dull, but make no mistake; these little things are dense with the flavor of tomatoes. They also pack most of the nutritional value, like anti-oxidants and vitamins, and can be used as a snack.
They are an excellent substitute for tomatoes for making pasta sauce as these tiny ones can bring a more intense flavor than ripe tomatoes. The best thing about them is you can keep them in your pantry for a long time - they last much longer than tomatoes.
Another variation of tomato sauce that uses cherry tomatoes is 30-minutes Cherry Tomato Pasta, a simple Italian pasta with spaghetti. The sauce has flavors from cherry tomatoes, garlic, and parsley. Using this recipe as a base, you can add shrimp or other meat, like in Cherry Tomato Pasta with Shrimp.
Why this creamy sun-dried tomato pasta recipe works
This recipe brings a flavorful pasta made with sun-dried tomatoes as a clever substitute for tomatoes and cheese and cream to create -
A sun-dried tomato sauce that is creamy and rich with two different kinds of cheese and cream.
An intense flavor from sun-dried tomatoes, which you will love for its flavor and convenience.
A different take on regular tomato pasta, with similar pantry staples
You can bring a quick and convenient family dinner in 30 minutes.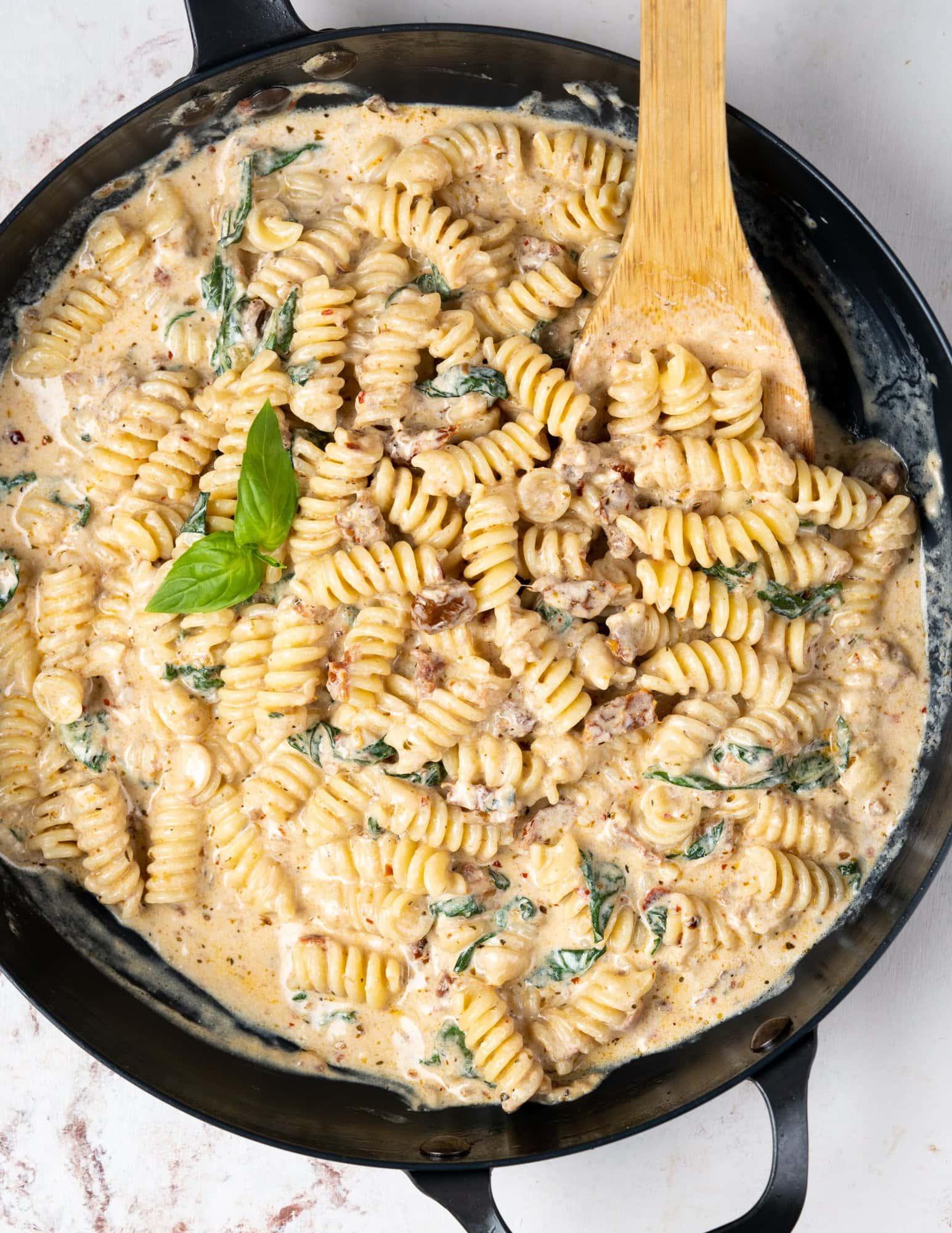 About sun-dried tomatoes
As their name suggests, sun-dried tomatoes are made by drying them out in the sun. They lose 80-90% of their liquid content and form this chewy, wrinkled shape and are deep red. Their flavor is quite intense and, as such, is used sparingly in dishes.
Started by clever Italians in the first millennia, tomatoes were salted and dried under the sun to preserve the fruit. This helped preserve the flavor in a form easily stored and used during winter when fresh produce was difficult to avail.
These are often seen in jars - in oil or are dry-packed. I have got one packed in oil. Dried tomatoes have been soaked in oil here, so when you add them to a dish, you add a bit more oil that will seep from them.
Mind you, the oil packed in the jars is full of flavor and can be used for sautéing like it's done here or drizzled over salads.
Ingredients
This section covers details of the ingredients used and the reason behind making this creamy, cheesy pasta with a twist.
Pasta - I have used penne pasta. In this recipe, any pasta will work. Choose your favorite ones or the ones you have in the pantry.
Sun-dried tomatoes - If you are using ones in oil in a jar, drain the oil and use them.
Heavy cream - is used to thicken the sauce and make it creamy.
Mozzarella cheese - melts well when cooked in the sauce and gives that rich cheesy taste.
Parmesan cheese - is shredded and mixed with mozzarella in the sauce to give that incredible depth of flavor. Top pasta with more parmesan cheese while serving.
Balsamic Vinegar - a teaspoon of balsamic vinegar helps brighten the flavors and adds a hint of sweetness. You may substitute this with lemon juice.
Minced Garlic - freshly minced garlic adds flavor to the sauce and takes it to the next level.
Chopped Onion - commonly paired with garlic to make the flavor base.
Red pepper flakes- for that little bit, to balance the rest of the flavors. Add more if you can handle it.
Salt - as per taste. Remember to add enough salt to the pasta while cooking it. Later taste and sprinkle it while cooking the sauce. Sun-dried tomatoes are salty too.
Oil - Use the oil from the sundried tomato jar, as it is flavorful.
Fresh Italian basil - Roughly tear fresh Italian basil. Parsley is another good substitute.
You may also include sauteed mushrooms, spinach, or cooked chicken as a variation of this recipe and enhance this as you like.
How to make - Instructions and Tips
Cook pasta Al-Dante
The first step is to cook the pasta. To do so, follow the package instructions for the pasta to cook 'al dente.' Al Dente means to cook it so it remains firm and holds its shape.
This usually involves boiling water and adding the pasta to a large pot to cook for the recommended time. Add enough salt while cooking the pasta.
Recommended not to rinse the pasta in cold water before you cook it. Rinsing washes off the valuable starch on the pasta, which helps the sauce stick to the pasta.
When the pasta is done, reserve some water for later use. Pasta water is full of starch and would help later if you feel the pasta sauce is too thick.
Sauté sun-dried tomatoes
Sundried tomatoes pack an intense tomato flavor. Chop into small pieces as larger pieces tend to be chewy (You may not see those tiny bits clearly in all that creamy and cheesy sauce 🙂 ). When you sauté them in oil, it releases some flavor to the oil. Here, we sauté them with onion and garlic.
Preferably, use a large skillet to saute and make the sauce. You will have to add the cooked pasta later to this skillet.
Add oil from the sun-dried tomato jar to a hot pan and heat it over medium heat. Add sundried tomatoes, garlic, and onions. Sauté them for a minute until the onions become translucent.
Next, add Italian seasoning and red pepper powder to the pan. Sprinkle a pinch of salt. Keep in mind that the Cheese and pasta water we will add to make sauce has salt in it.
Mix everything and cook for another couple of minutes until it smells fragrant.
White wine, cream & cheese
Add dry white wine. Cook it down until it has reduced to less than half.
Reduce heat. Add heavy cream, reserved pasta water, mozzarella, and parmesan. Simmer sauce for about 30 seconds. Don't let the sauce come to a boil.
Add pasta & serve
Add cooked pasta and chopped basil to the pan and toss everything well.
Garnish with some more shredded parmesan and chopped fresh basil leaves.
Serve in a bowl & Enjoy!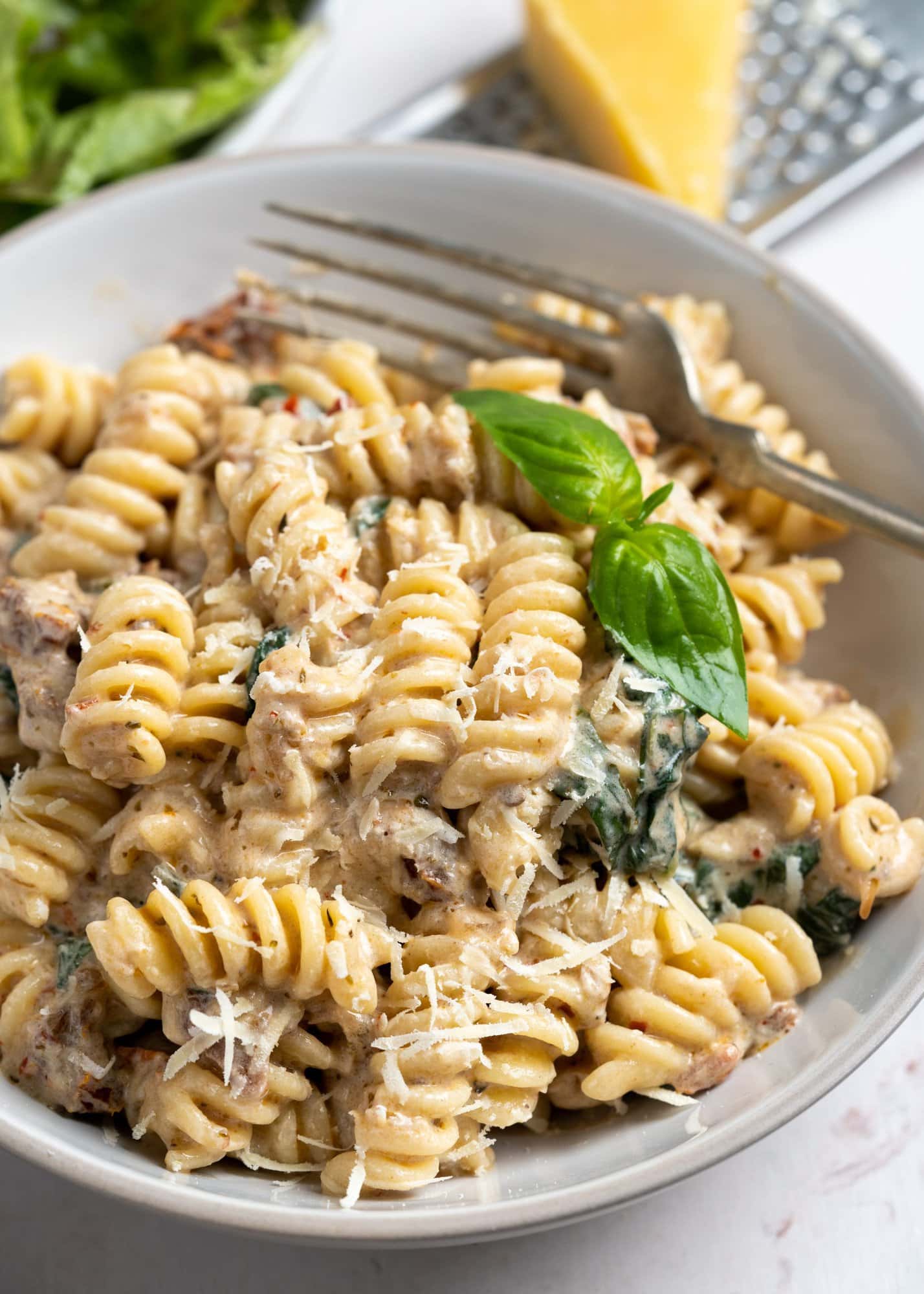 Store
Like most pasta, you can store this pasta with sun-dried tomatoes in the refrigerator for 4-5 days. Use an airtight container to refrigerate it.
This pasta sauce cannot be frozen since it contains cream and cheese. These two ingredients do not do well when frozen. The cream has a tendency to split when frozen and reheated.
Serve With
This pasta works great as a whole dish by itself. You may compliment it with some bread like this - garlic bread or light salads to supplement a fiber intake.
You can pair it with your favorite wine and enjoy.
📖 Recipe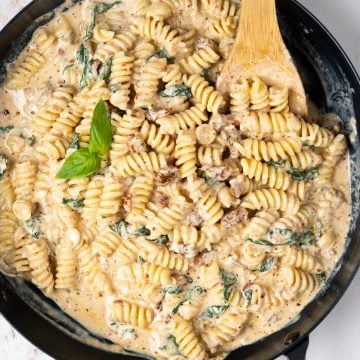 Ingredients
250

grams

Dried Pasta

1

tablespoon

Butter

1

tablespoon

Oil From Sun dried Tomatos

½

onion

Onion

finely chopped

1

tablespoon

Garlic

minced

⅓

cup

Sundried tomato

Chopped

½

cup

Dry White wine

1

teasppon

Balsamic Vinegar

¼

teaspoon

Red pepper flakes

1

teaspoon

Italian Seasoning

1

cup

heavy cream

⅓

cup

Mozzarella cheese

⅓

cup

Parmesan

½

cup

Basil leaves
Instructions
Cook pasta in enough salted water until al dente. Reserve 1 cup of pasta cooking water.

Heat oil from the sun-dried tomato and butter in a skillet.

Saute chopped onion and garlic for about 1 minute until onions have softened.

Add chopped sundried tomatoes and saute for about 1 minute.

Stir in the wine and let everything cook until the wine has almost reduced to less than half. There should not be any alcohol smell.

Add balsamic vinegar, Italian seasoning, and red pepper flakes. Mix.

Reduce the heat, add heavy cream, ½ cup of pasta water, shredded mozzarella, and parmesan cheese. Mix well and simmer for 30 seconds.

Switch off the flame. Add chopped basil and cooked pasta to the sauce. Toss until the pasta is coated with the sauce.

Adjust the consistency by adding more pasta water to the sauce.
Nutrition
Serving:
1
serving
|
Calories:
641
kcal
|
Carbohydrates:
70
g
|
Protein:
23
g
|
Fat:
31
g
|
Saturated Fat:
19
g
|
Polyunsaturated Fat:
2
g
|
Monounsaturated Fat:
8
g
|
Trans Fat:
0.1
g
|
Cholesterol:
88
mg
|
Sodium:
271
mg
|
Potassium:
1336
mg
|
Fiber:
14
g
|
Sugar:
8
g
|
Vitamin A:
1428
IU
|
Vitamin C:
5
mg
|
Calcium:
878
mg
|
Iron:
29
mg