This post may include affiliate links that earn us a small commission.
This chicken Parmesan pasta has all-time favorite Chicken Parmesan and pasta combined in one dish. An easy one-pot dinner recipe that takes 30 minutes to make and needs minimal cleanup.
Parmesan Crusted Chicken is another quick recipe for dinner that we absolutely love.
Flavours In Your Inbox
Subscribe for recipes straight to your inbox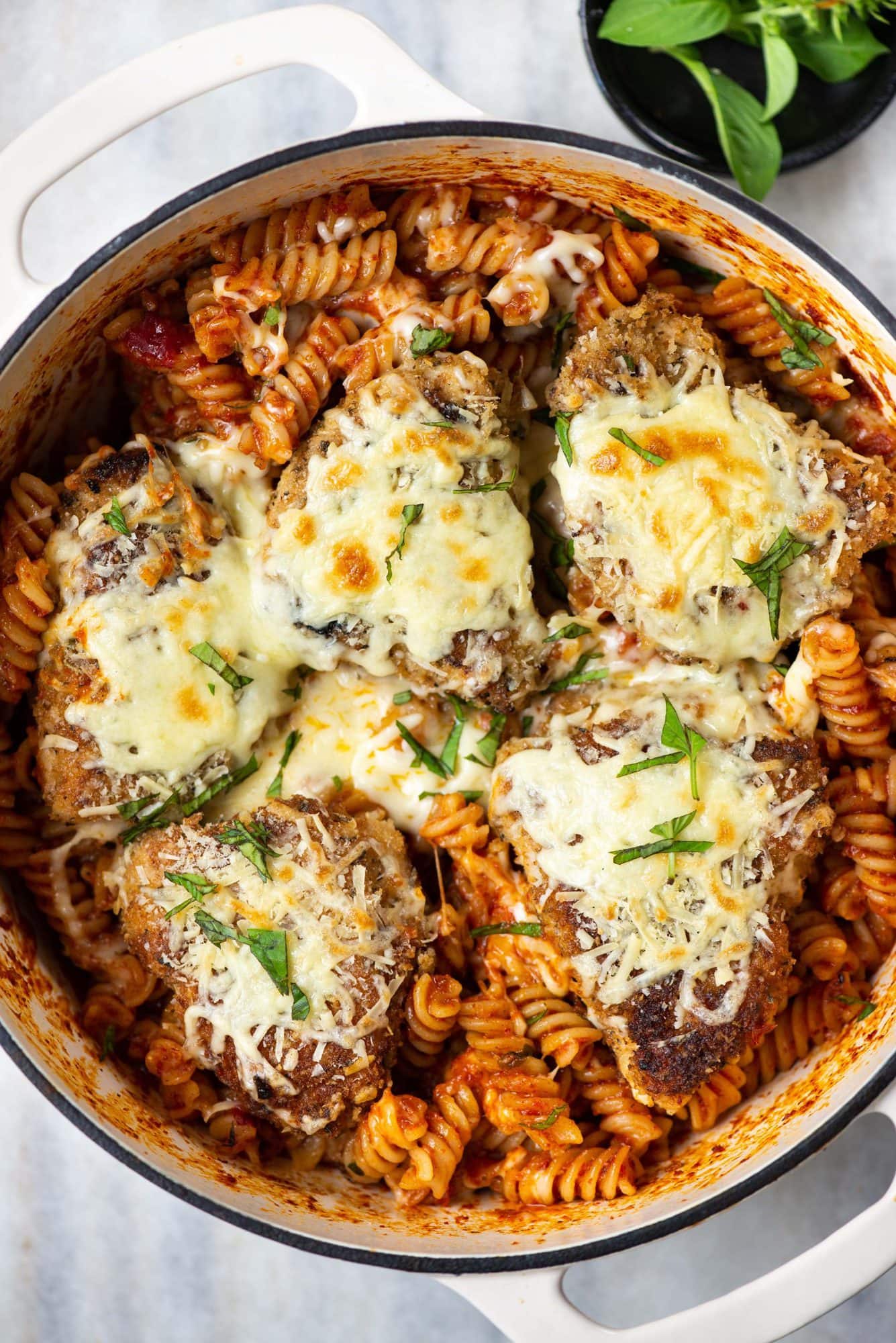 One-pot dishes are always the best. This recipe has pasta topped with the classic Chicken Parmesan. The pasta is saucy and packed with tomato flavor. Chicken has a crispy Parmesan coating and is topped with a good amount of cheese.
Chicken parmesan is one of the most beloved recipes in the world. Also known as Chicken Parm, is crispy chicken cutlets coated with seasoned parmesan cheese and breadcrumb. Then topped with marinara sauce and lots of cheese. It is usually served with pasta. But this recipe brings together two dishes and is cooked together.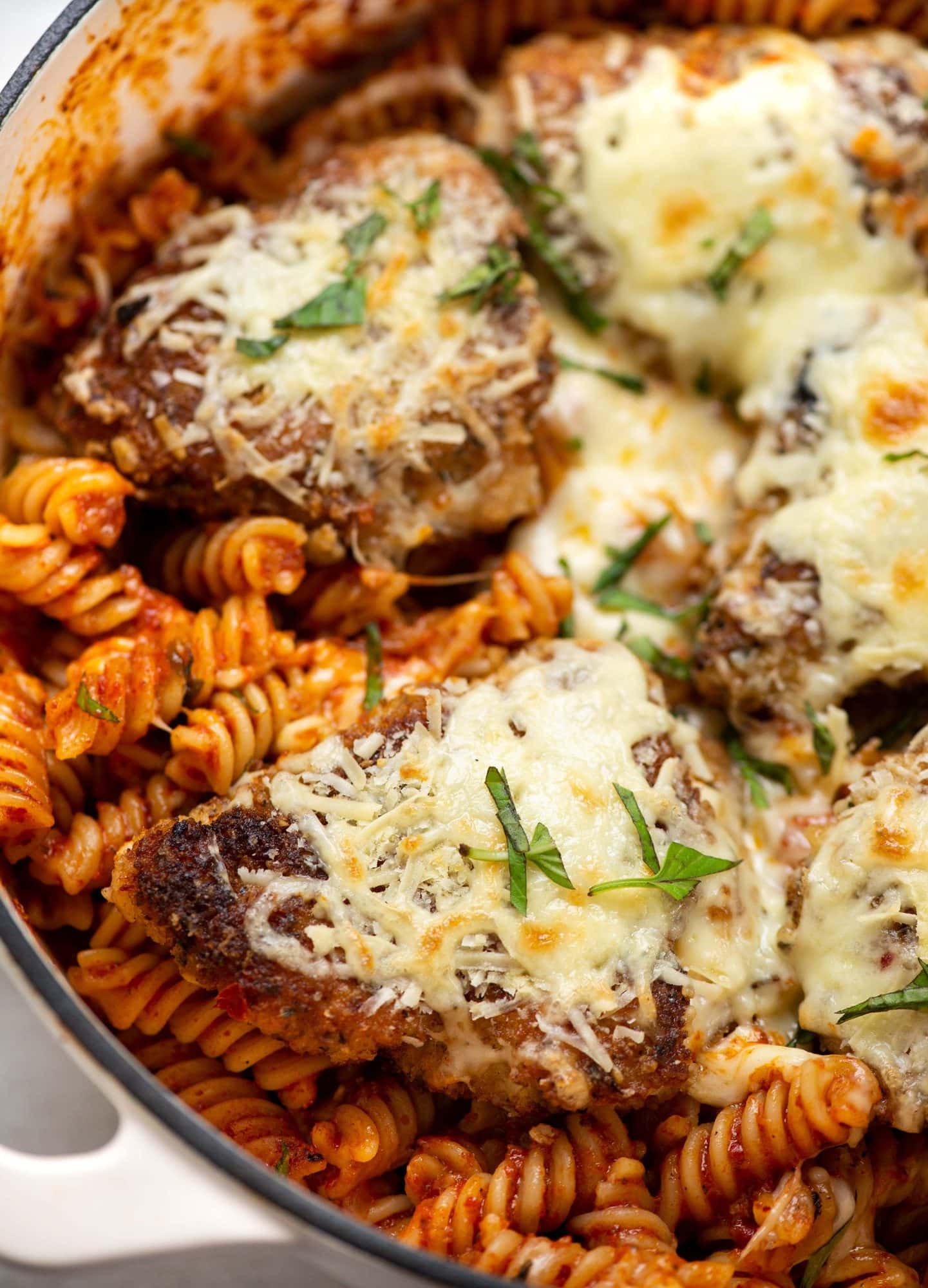 Ingredients
The list of ingredients for Chicken Parmesan Pasta might seem exhaustive but these are mostly pantry staples.
Boneless Chicken breast
Dried pasta
Parmesan Cheese
Italian breadcrumb
All-purpose flour
Garlic powder, Italian seasoning
Butter, Olive oil
Onion, garlic
Marinara Sauce
Mozzarella cheese, Parmesan Cheese
Fresh Italian basil
Steps to Make Chicken Parmesan Pasta
For Crispy Chicken Parmesan
We are using boneless chicken breast. Cut chicken into fillet-size. Using a meat mallet beat chicken to a uniform thickness. I have cut the fillets in half so that it fits better in the pan.
Mix bread crumbs, Parmesan cheese, flour, Italian seasoning, garlic powder, and salt to taste. This combination of breading gives the best crispy chicken. The egg coating on the chicken helps the bread stick evenly to the chicken.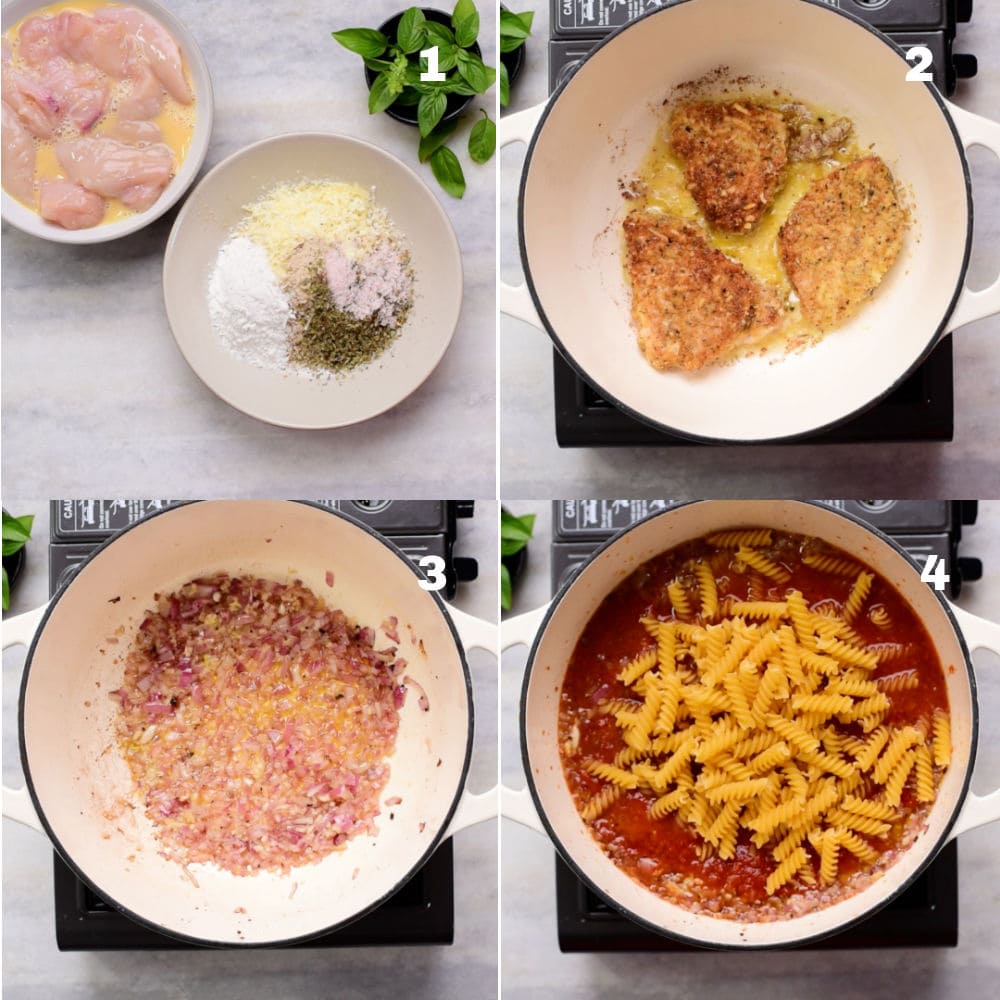 To make Pasta
It is a simple pasta recipe with marinara sauce. Saute some onion in olive oil. Then add marinara sauce, stock, and dried pasta. Cover and cook. Use the best quality of marinara sauce because it is the tomato sauce that brings together the entire dish.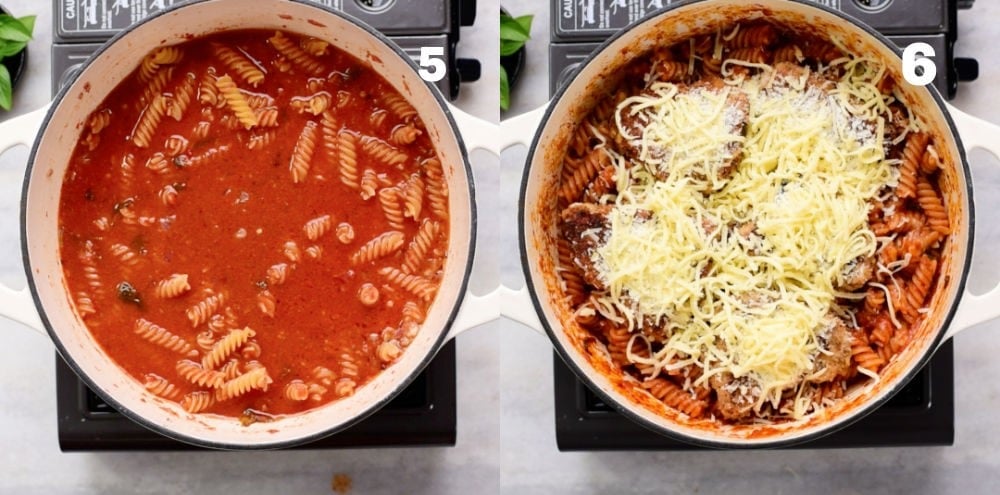 Serving suggestion
It is a complete meal in itself, with sauce, and tomato pasta topped with crispy Chicken parmesan. So you can serve this as it. Sometimes I serve some roasted broccoli or a simple salad. You can also serve some garlic bread alongside.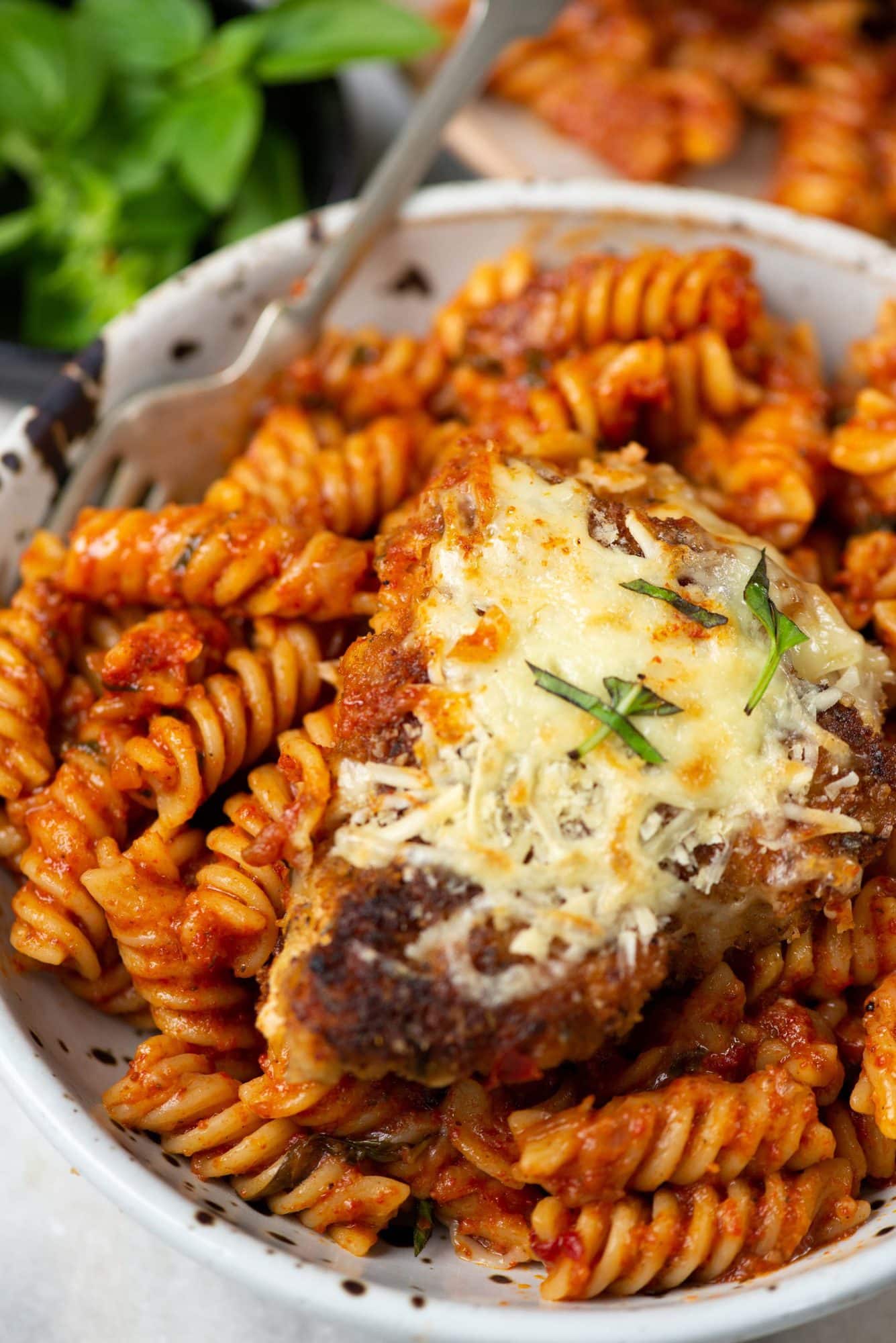 More pasta recipes…
Pappardelle with Italian sausage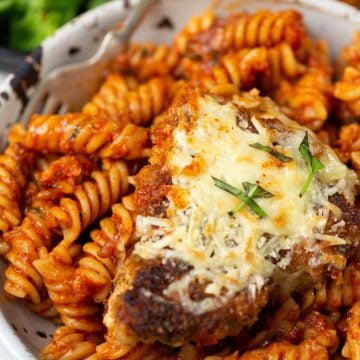 One Pot Chicken Parmesan Pasta
This is a one-pot dinner recipe that has tomato-based saucy pasta, crispy chicken parmesan and is topped with gooey cheese. You would find all the classic Chicken parm flavours in this casserole.
Ingredients
For Crispy Chicken Parmesan
2 tablespoon Oilve oil
2 large Boneless Chicken Breast
¼ cup Shredded Parmesan Cheese
¼ cup Panko Breadcrumbs
2 tablespoon Flour
½ teaspoon Garlic powder
1 tablespoon Italian seasoning
For Pasta
500 grams Dried pasta 16 oz
24 oz Marinara Sauce
2 tablespoon Butter
1 small Onion
2 cups Chicken Stock
1 cup Mozzarella
½ cup Parmesan
Instructions
To Make Crispy Chicken Parmesan
Cut chicken breast horizontally to two halves into fillets. Flatten the thick parts of the fillets to uniform thickness using a meat mallet. I have halved the fillets , so that it fits well in the pan.

Add one beaten egg to the chicken. In another bowl mix breadcrumbs, parmesan cheese, flour, Italian seasoning, garlic powder and salt to taste.

Take chicken fillets, shake off the extra egg and then coat breading mixture on both sides by gently pressing the chicken. Shake off extra breading.

In a dutch oven, heat olive oil. Add 3-4 breaded fillets at a time to the dutch oven (without crowding the pan). Cook each side for 3-4 minutes until crispy.

Add more oil if required and cook the rest of the breaded chicken and keep aside.
To make Pasta
Melt more butter in the same dutch oven. Add finely chopped onion and saute until soft.

Next, add marinara sauce, chicken stock and dried pasta. Mix it well. Cover and cook for 8-10 minutes until the pasta is cooked through.

After the pasta is cooked , if it looks too dry add 1/2 cup of chicken stock to loosen it a bit.

Top pasta with crispy parmesan chicken in a single layer.

Sprinkle shredded parmesan cheese and Mozzarella on top. Broil for 3-4 minutes until the cheese has melted and looks bubbly.

Garnish with fresh basil and serve.
Nutrition
Serving: 1serving | Calories: 614kcal | Carbohydrates: 77g | Protein: 40g | Fat: 16g | Saturated Fat: 8g | Polyunsaturated Fat: 1g | Monounsaturated Fat: 4g | Trans Fat: 1g | Cholesterol: 84mg | Sodium: 1171mg | Potassium: 978mg | Fiber: 5g | Sugar: 9g | Vitamin A: 857IU | Vitamin C: 10mg | Calcium: 290mg | Iron: 3mg