This post may include affiliate links that earn us a small commission.
An everyday soup that is comforting, healthy, and versatile. I need to say that this vegetable soup is both delicious and convenient. Since you can change the vegetables to get a different flavor and taste each time, there is a lot you can do with homemade vegetable soup.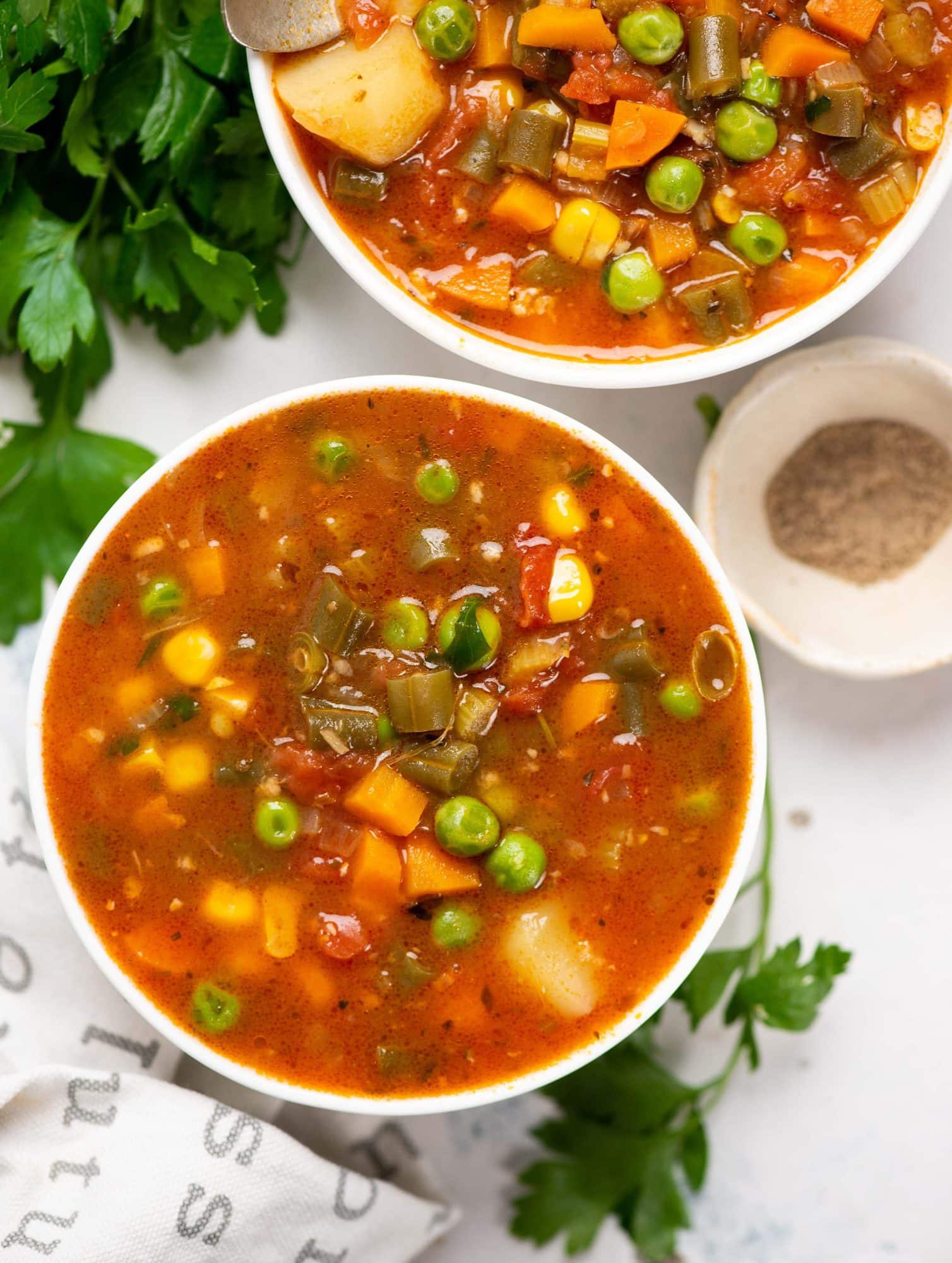 Have a few vegetables in the pantry and wondering what to do with them. This soup is your savior.
Flavours In Your Inbox
Subscribe for recipes straight to your inbox
I have used a readily available list of vegetables like potatoes, carrots, beans, and peas. You may add a few others or change them to your liking. Notice the flavor and how well the vegetables go when added to the soup.
There is just a very brief sautéing of the onions and garlic and, later, a light stir of the veggies that is required. Doing this helps in improving the overall flavor of the soup. The veggies are stirred lightly enough to cook them and add flavor to the sauteed onion and garlic.
If you are looking for vegetable soup recipes, have a look at these – Creamy Instant Pot Vegetable Soup, Vegetable Lentil Soup, and Cauliflower Potato Soup. I also have some delicious lentils soups – Red Lentil Soup With Spinach, Vegetable Lentil Soup and Curried Red Lentil Soup.
Vegetable soup is healthy
Vegetable soup is super healthy. You can change it to make dairy-free or gluten-free by skipping few ingredients. Since the soup is just simmered for a bit of time and not boiled, the veggies and the body of the soup are rich with nutrients, and they still hold their shape. The stock adds its bit to the soup as well.
A warm and comforting soup with vegetables of your choice is what you need on cold winter nights. Delicious and at the same time healthy.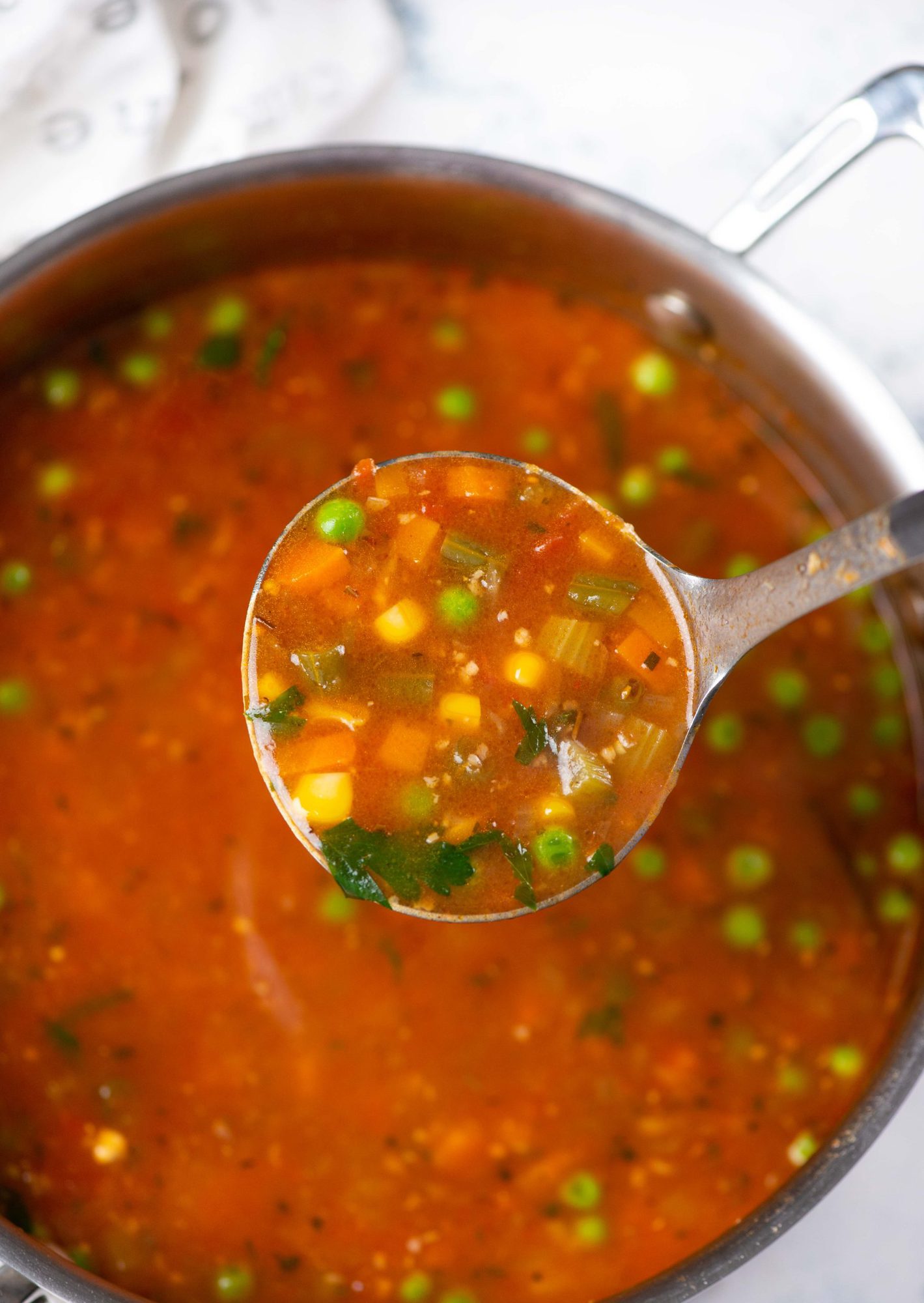 Ingredients
Vegetables – I have added these vegetables – Baby potatoes, carrots, green beans, and green peas. You can use other vegetables like white beans, chickpeas or zucchini. Just make sure that the cooking time of the vegetables you select is more or less equal. Else, you might have to cook some much earlier or separately.
Crushed tomatoes – Add flavor and adds to the body of the soup.
Diced onion and Minced garlic – Used to sauté to get great flavor.
Vegetable Stock – provides the body to the soup. Vegetable broth is also an option but stock is preferred as it has a richer body and is more flavorful.
Spices & Herbs – Rosemary, basil, oregano, bay leaf, and celery.
Butter – used with oil to saute onions and garlic. Has better flavor than sauteing with just oil.
Oil – You may use olive oil or regular cooking oil for sautéing the veggies.
Salt & Pepper – You have to be slightly generous with salt and pepper to bring the flavors out.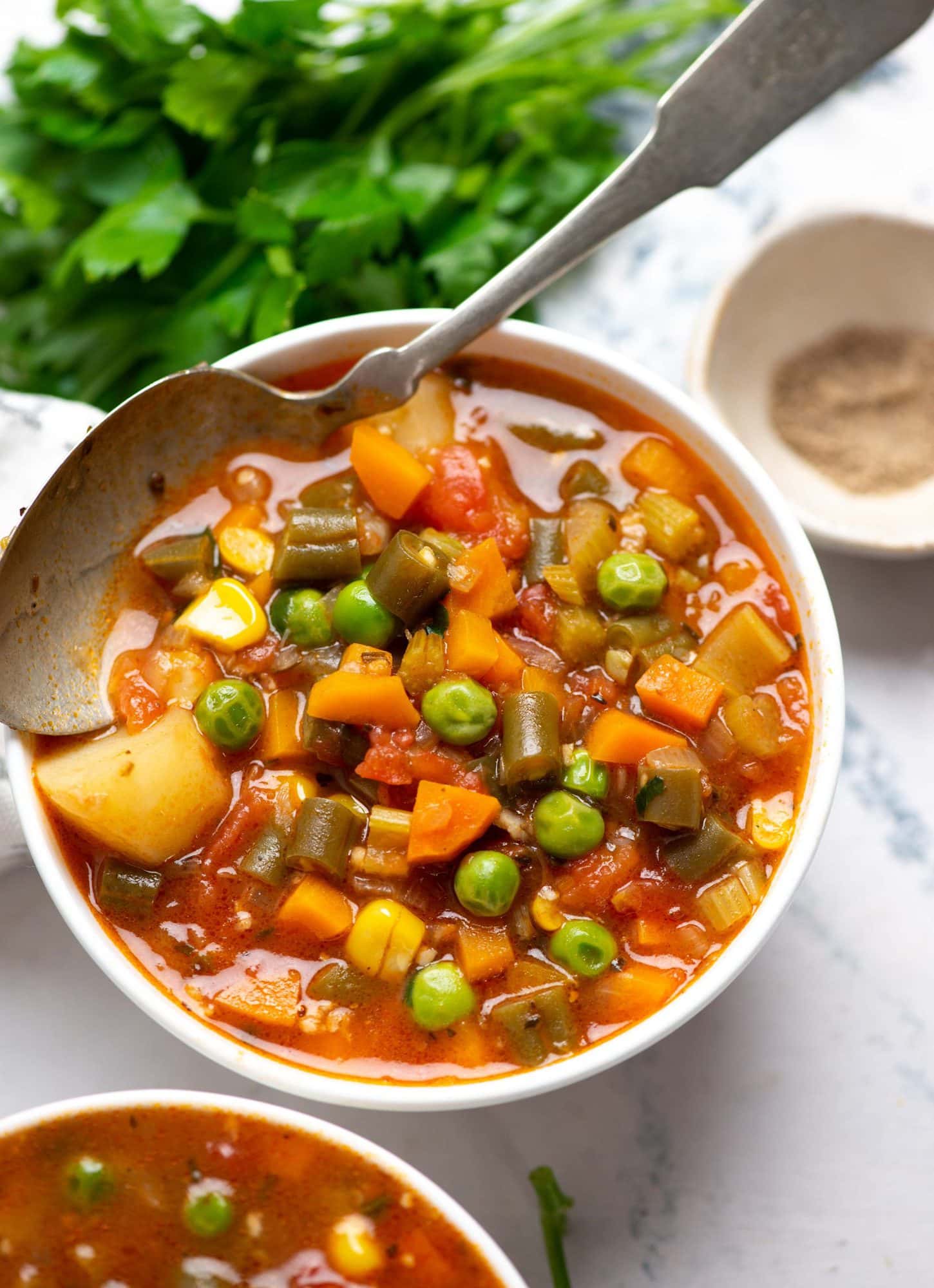 How to make vegetable soup at home
Vegetable soup is a super quick recipe. A vital step to getting flavor into the soup is to sauté the spices properly. The spices' aroma is added to the soup when you cook the vegetables.
The rest of the steps are easy to follow.
Saute onions
Melt butter and oil in a pan over medium heat. When the oil is hot, add onions and other spices and sauté them. Watch out for the onions to turn a tad pink and soft.
Cook Veggies
Cook potatoes next in a dutch oven or pot, and you can check if they are done with a fork or pick. If they come out cleanly after pricking, then the potatoes are done.
Add the other veggies along with flour and mix them.
Tip – If you are adding a variety of vegetables, keep in mind that different veggies have different cooking time. Cooking all of them for the same time might leave some uncooked. If that's the case, take some of the vegetables which need more time and cook them separately. You may pressure cook them to that fast.
If you have frozen veggies, can use them directly and no need to thaw them.
Add Stock
Add the vegetable stock and spices and bring it to a boil. Reduce flame and let it simmer for 10 minutes. You should add green peas at the end and switch off the flame. The peas will get cooked in the heat of the soup. This is the best way to cook soft peas. They will turn chewy if you let them cook too much on the flame.
You can squeeze a bit of lemon juice, which brightens up the flavors of the soup.
Sprinkle with basil leaves for aroma. You may also use parsley or thyme.
Store
You can store this veggie soup in the refrigerator for four days. It tastes great on the second day as it absorbs all the flavors and seems settled. Do so in air-tight containers. You can also freeze it for weeks.
If you plan to freeze it, I recommend not adding the stock to the stirred veggies and freezing them separately. At the time of serving, take out and defrost them, add the stock later, and simmer it for 15 minutes.
Serve With
You can serve this some crusty bread or garlicky even, as a full meal. Nothing like scooping the soup with some sourdough bread. Crackers also go well with this soup.
Other Healthy Soup Recipes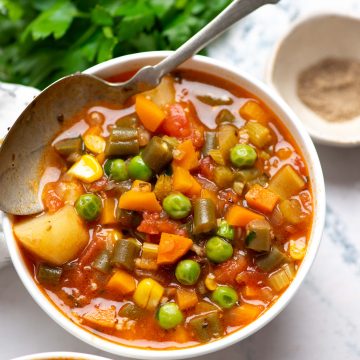 Vegetable Soup
An everyday soup that is comforting, healthy, and versatile. Need to say that this vegetable soup is both delicious and convenient. Since you can change the vegetables to get a different flavor and taste each time, there is a lot you can do with vegetable soup.
Ingredients
2 tablespoon Butter
1 tablespoon Oil
1 bay leaf
1 medium Onion diced
1 tablespoon Garlic
2 stalks Celery
250 grams Baby Potatoes peeled and halved
2 Carrots
1 cup Green beans
2 tablespoon All purpose flour
14 oz Crushed Tomato (ref note 3)
8 cups Vegetable Stock
½ teaspoon sugar (ref note 1)
1 cup Green peas
1 cup Corn
2 sprig Rosemary chopped
½ teaspoon Oregano
½ teaspoon Basil
salt and pepper to taste
Instructions
Melt butter and oil. Add Onion, garlic, celery, bay leaf, and chopped rosemary. Saute a minute until aromatic.

Add potatoes, mix and cover. Cook for 10 minutes until the potatoes are cooked through.

Add green beans, carrot and flour. Mix and cook for a minute. Scarp the bottom of the pot to release any stuck flour.

Add tomato, stock, dried oregano, dried basil and sugar. Mix and simmer for 10 minutes.

Add green peas and switch off the flame.
Notes
Sugar is to balance the tartness of tomatoes. You can add up to 1 teaspoon of sugar. 
You can use a bag of frozen mixed pre-cut veggies. 
 Use 4-5 large fresh plum tomatoes instead. Make sure the tomatoes are really ripe. Blanch and peel the skin of the tomatoes, chop and add. 
Nutrition
Serving: 1serving | Calories: 204kcal | Carbohydrates: 33g | Protein: 5g | Fat: 7g | Saturated Fat: 3g | Polyunsaturated Fat: 1g | Monounsaturated Fat: 3g | Trans Fat: 1g | Cholesterol: 10mg | Sodium: 1405mg | Potassium: 661mg | Fiber: 6g | Sugar: 11g | Vitamin A: 4769IU | Vitamin C: 31mg | Calcium: 64mg | Iron: 2mg