This post may include affiliate links that earn us a small commission.
Vegetable Lentil Soup with an array of vegetables is a filling one-pot vegan meal. Made with Lentils, Zucchini, Carrot, and celery, this soup is loaded with plant-based protein and fiber.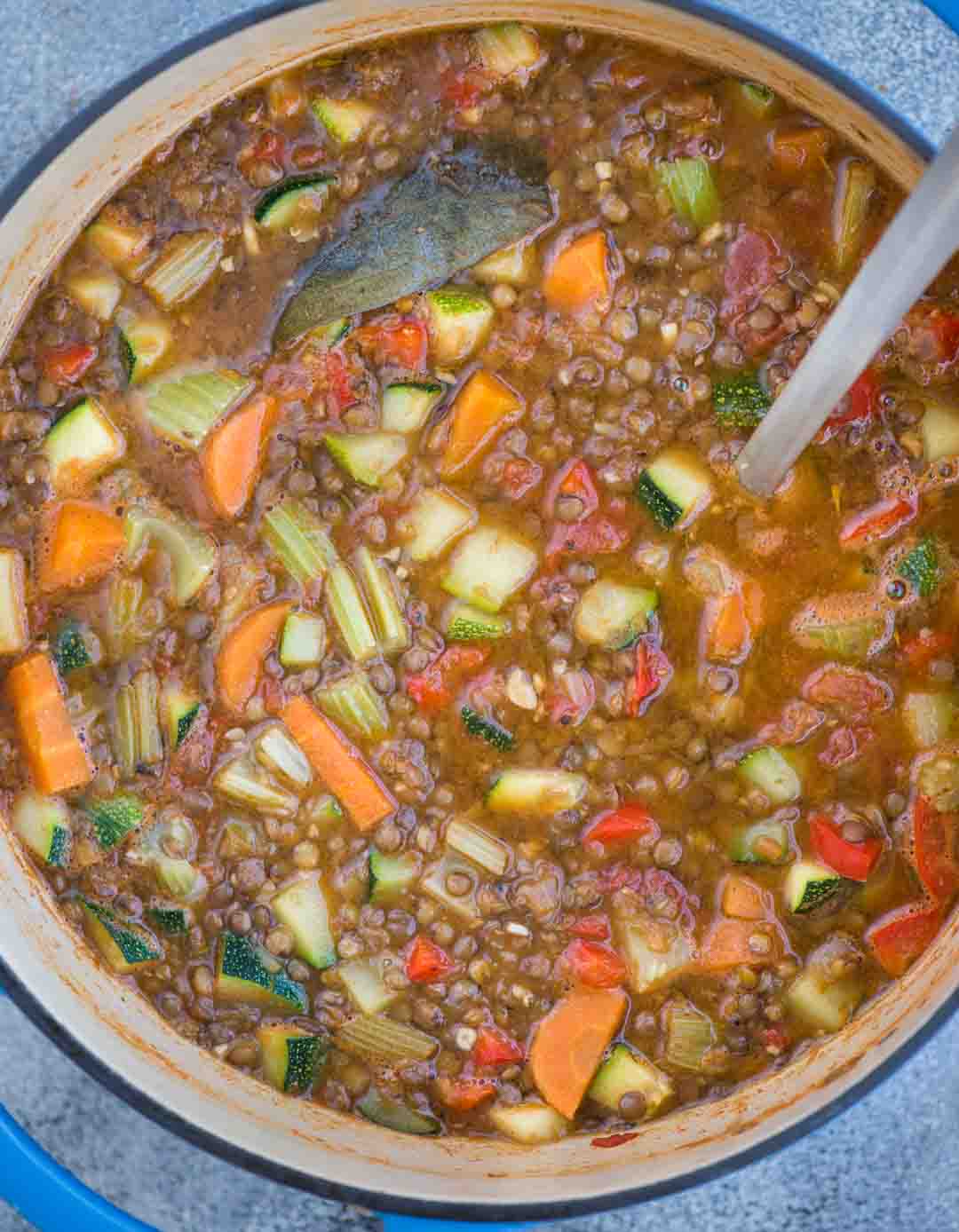 Thick and hearty vegetable lentil soup is a winter staple at home. Chunky vegetables, tomato-based broth, spices, this soup is kind of soul-soothing. You might not find many soup recipes that have so many vegetables and also high on protein and fibre at the same time. This soup is vegan and gluten-free as well. The flavours are just spot on with warm spices.
Flavours In Your Inbox
Subscribe for recipes straight to your inbox
When the weather gets cold, most of the times our go-to meal is a bowl of soup. I always try to make the soup more nutritious and filling. One of the best ways to increase the healthy factor is to add lots of seasonal vegetables.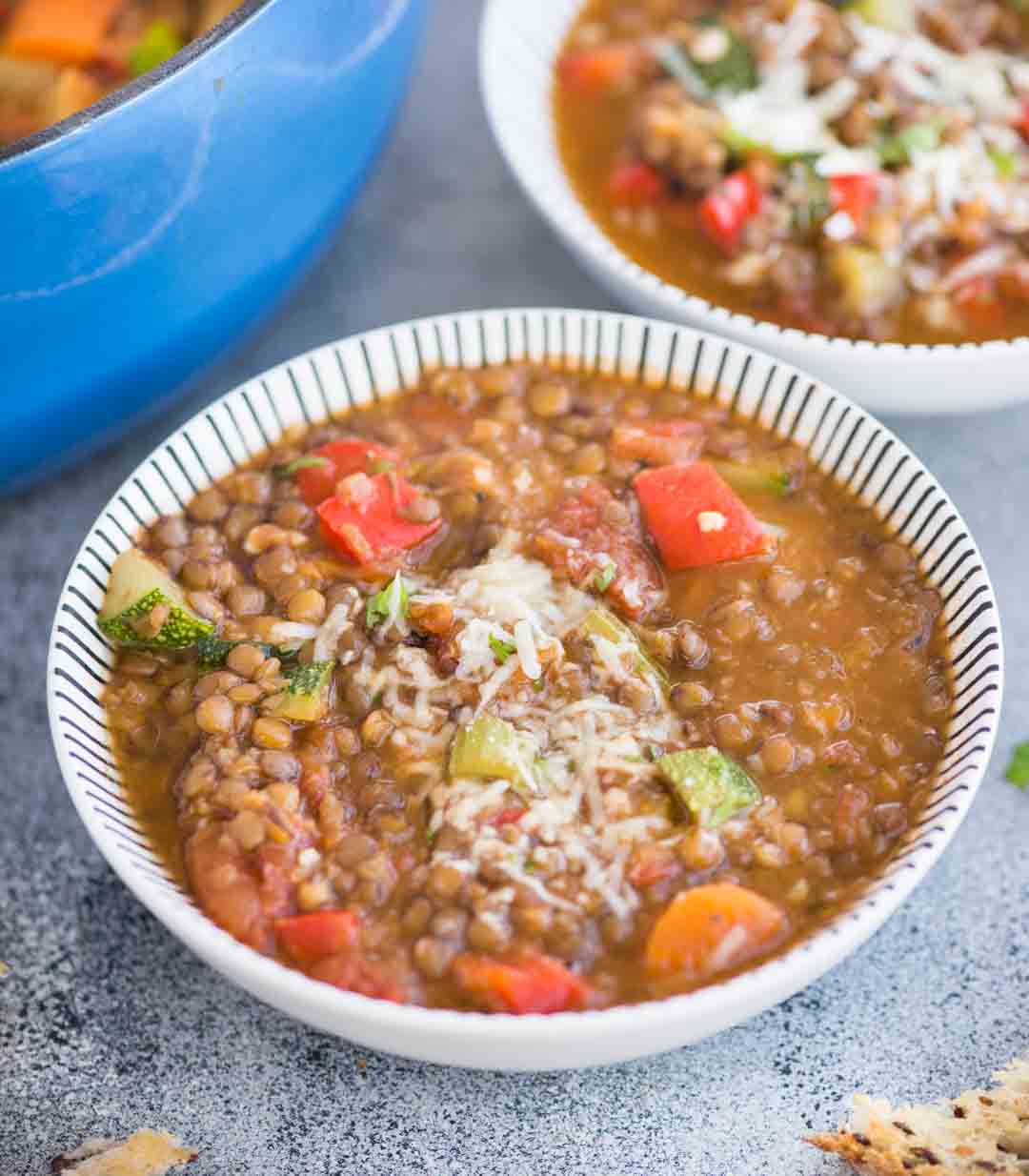 How To Cook Lentils perfectly on Stovetop?
Cooking Lentils on the stovetop is quite easy. But to fasten the cooking process and for perfect tender lentils here is a small tip.
While cooking lentils on the stovetop, do not add sour ingredients like tomatoes along with the lentils. Tomatoes toughen the outer layer of the lentil. So when a recipe calls for tomatoes, always add the tomatoes halfway through, when lentils are partially cooked.  For example, in this recipe after sauteing onion and aromatics, lentil and stock are added to the pot. Only after the lentil is cooked partially, tomato is being added and cooked further until lentil is tender and soft.                                                                                                                  The above stop is helpful when we are cooking the lentils on the stovetop.
While cooking with lentils, before you start with the cooking always rinse the lentils, drain water and keep it aside. While you do the other prep work for the recipe the lentils get soaked in the liquid and the outer shell softens, hence fastens the cooking.
Add warm stock to the lentils. It is optional, but I have seen adding warm stock to lentils always gives me a better result.
Ingredients for making Vegan Lentil Soup
Lentils – I love to use brown or green lentils in this recipe, as they hold the shape once cooked and gives a texture to the soup. The cooking time might vary depending on the kind of lentil you use. Green lentil needs a little more time than Brown lentils to cook.
Aromatics – Onion, garlic, bay leaf, celery and Italian seasoning. Sauteing the aromatics in oil enhances the flavour. I would strongly recommend this additional step.
Vegetables – This Lentil Soup has a good amount of vegetable. There is Carrot, Red pepper and Zucchini. You can also add potatoes, sweet potatoes to it. I like to add a combination of 3-4 veggies, not more. Greens like Spinach or Kale can also be added.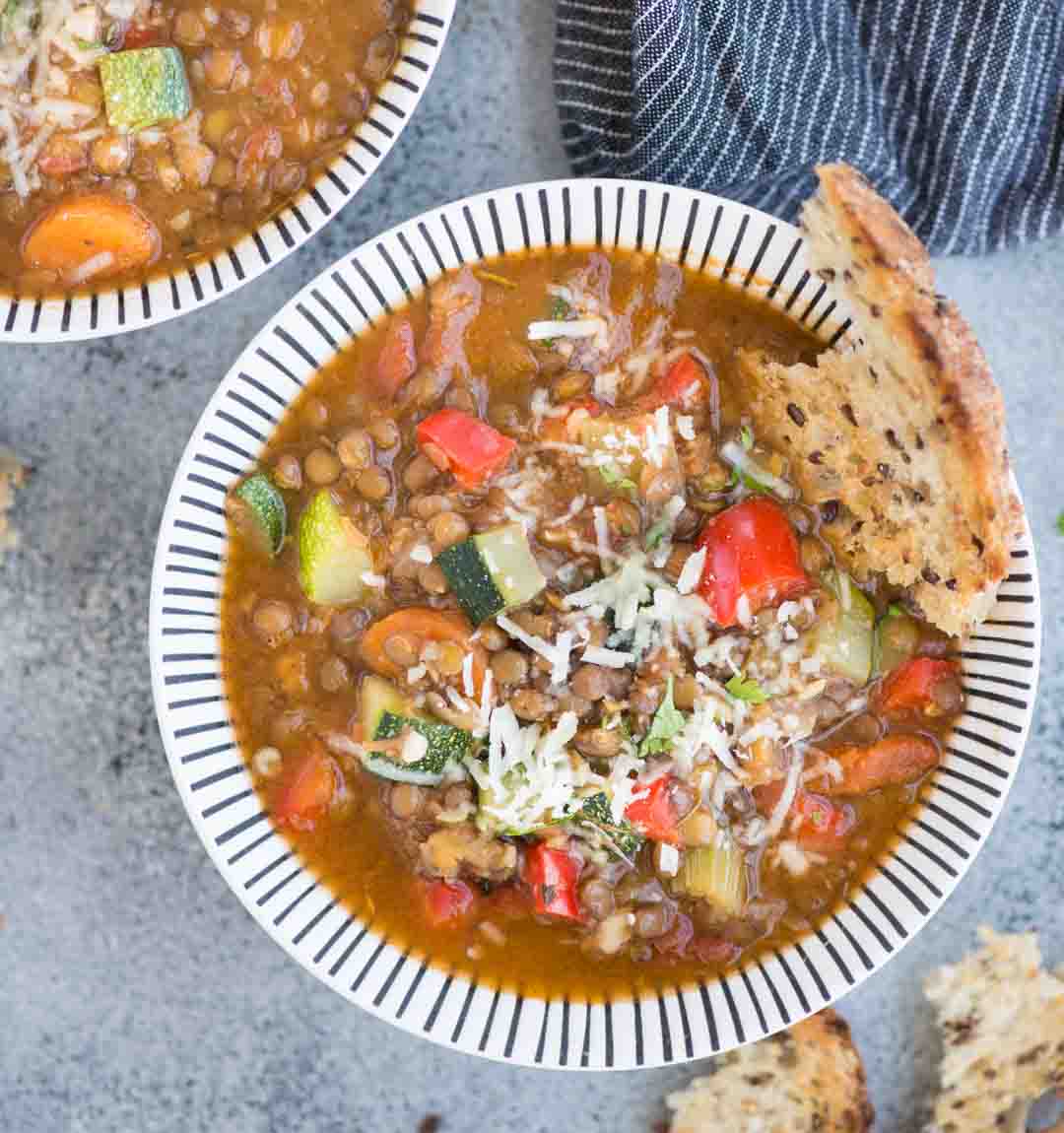 To Make Crockpot Lentil Soup
Cooking soup long and slow in a slow cooker gives amazing flavour to the soup. Set the slow cooker before you leave to work and come back home to a simmering pot of soup.
To make Lentil soup in a Slow Cooker you can either dump all the ingredients to the slow cooker. You can also saute chopped onion, garlic, Celery in oil for 2-3 minutes. Then add the onion-garlic mixture to the slow cooker along with the rest of the ingredients. Sauteing helps in developing flavor.
Cook on low for 8-9 hours or on high for 5-6 hours. At the end using an immersion blender, pulse for a few times to get a thick and creamy consistency.
More Healthy Soup Recipes…
Creamy Cauliflower Potato Soup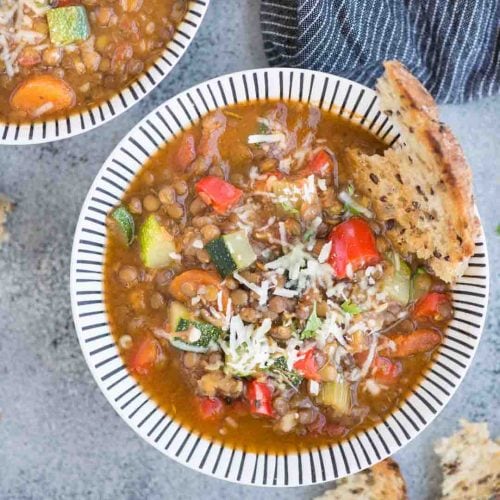 Vegetable Lentil Soup
Vegetable Lentil Soup with array load of vegetables is a filling one-pot vegan meal. Made with Lentils, Zucchini, Carrot, Celery, this soup is loaded with plant-based protein and fibre.
Ingredients
2 tablespoon Olive oil
1 medium Onion Chopped
1 tablespoon Garlic Minced
2 stalks Celery
1 cup Brown lentils (ref notes 1)
2 bay leaves
2 Carrots Chopped
1 can tomato 14 oz
2 teaspoon Italian seasoning
4-5 cups Vegetable stock
1 Red bell pepper
1 medium Zucchini Cut into cubes
½ teaspoon salt and Pepper each
Instructions
Rinse the lentil, drain water and keep aside.

Heat oil a heavy bottom soup pot. Add minced garlic followed by chopped Onion. Saute for a minute.

Add bay leaf, chopped celery, Chopped Carrot. Saute 1 -2 minutes, until the mixture is aromatic.

Stir in rinsed lentil and 2 cups warm stock to the pot. Add Italian seasoning, salt and pepper.

Once the mixture comes to a boil, lower the heat and cover. Let it cook covered for 30 minutes.

After 30 minutes, the lentil would have almost half cooked. Stir in tomatoes, zucchini, and chopped red pepper. Mix well.

At this point check the consistency and add 2-3 cups of more stock as required.

Cover and let it cook for another 10-12 minutes.

At the end of cooking, the lentils would have are cooked and are soft and tender,

With the back of the spoon smash the soup (or use a hand-held blender and pulse it a couple of times) . This step is to make the soup thick and creamy without adding any cream or thickening agent. Instead, you can also use an immersion blender and pulse it a few times.
Notes
For the lentils to cook faster, soak lentils  for 3-4 hours or overnight. 
Nutrition
Serving: 100g | Calories: 195kcal | Carbohydrates: 28g | Protein: 9g | Fat: 5g | Saturated Fat: 1g | Sodium: 658mg | Potassium: 568mg | Fiber: 12g | Sugar: 6g | Vitamin A: 4501IU | Vitamin C: 36mg | Calcium: 52mg | Iron: 3mg