This post may include affiliate links that earn us a small commission.
These buttery Crunchy homemade croutons are going to be a game-changer for your soups and salads. Easy to make, tastes amazing and can be made in different flavours.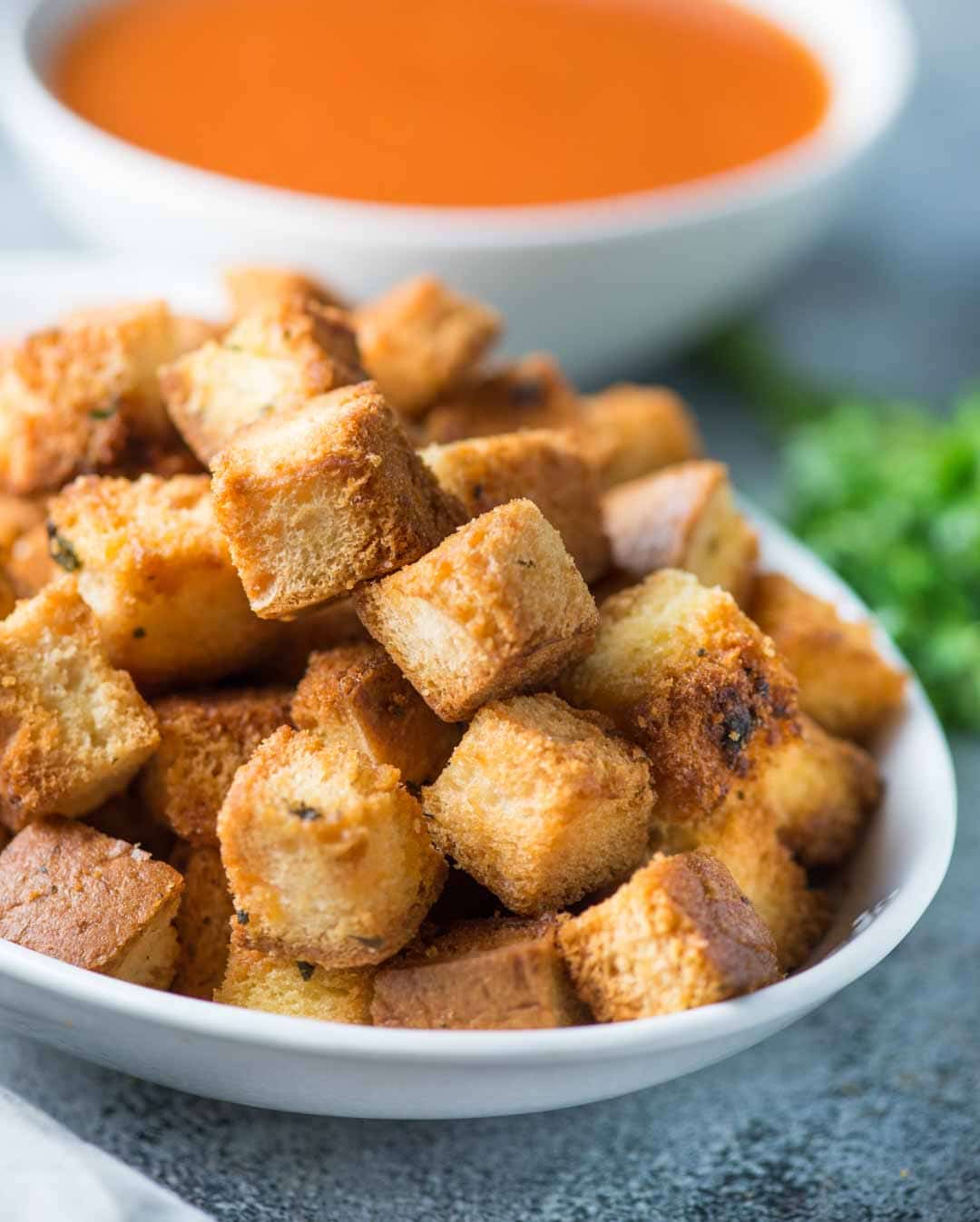 Flavours In Your Inbox
Subscribe for recipes straight to your inbox
While it is always convenient to lift a bag of croutons from the store, Homemade Croutons will always win the game.  You don't need to have any special cooking skills to bake a batch of this crunchy goodness. Once you make croutons at home, you will never go back to the packed one for sure.
All you need is a loaf of bread, butter, oil, salt. Rest it is up to you how you want to flavour it with like garlic, herb or even cheese. Soups, Salads tastes better when you use homemade croutons. I have always felt store-bought croutons lacks flavour, feels dry and stale. And because it doesn't take more than 15 minutes to make, most of the time I make crouton at home.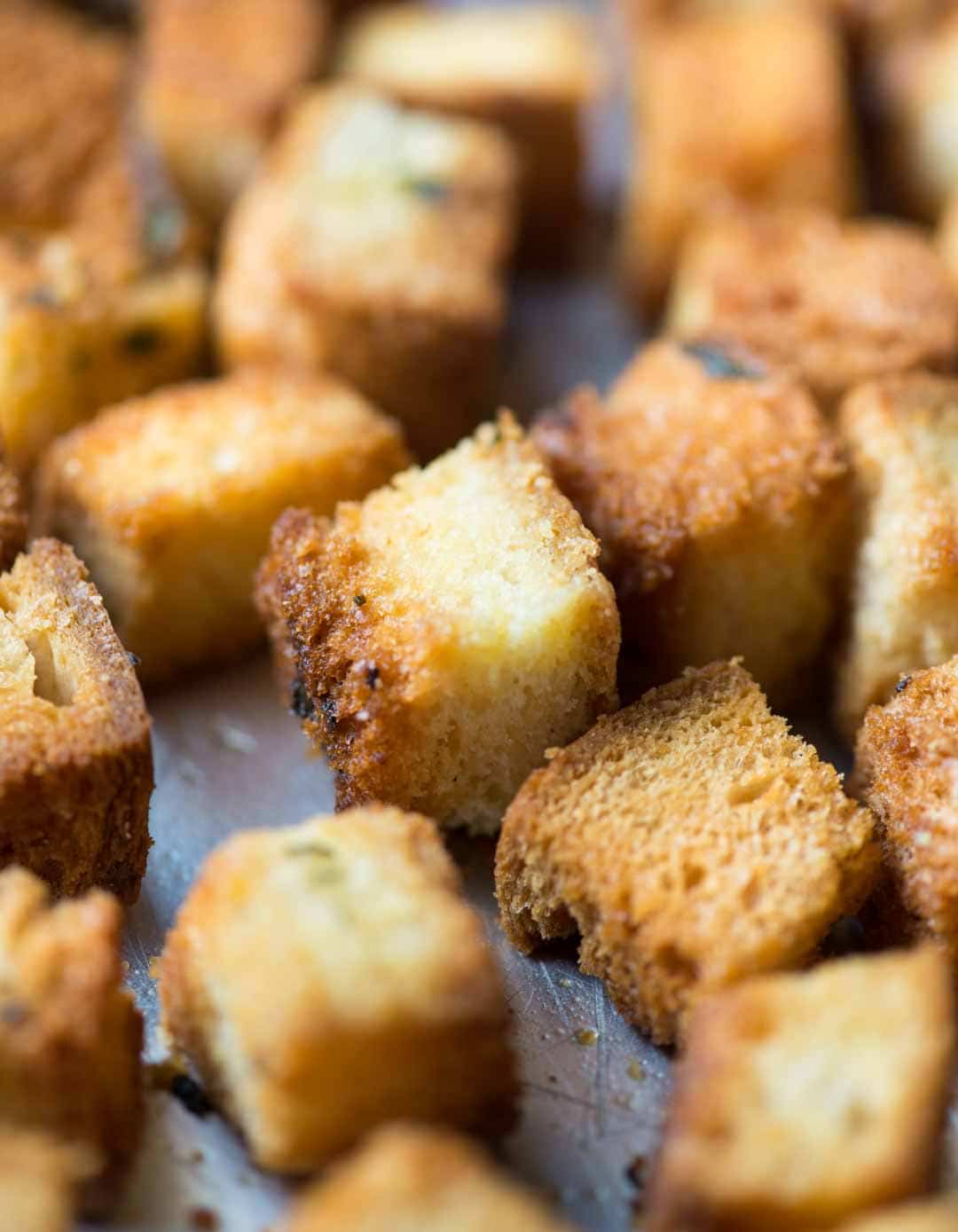 What Do You Need To Make Homemade Croutons?
Bread- For best result use crusty bread like French bread, Sourdough etc. But any other bread will work here too. I have used a regular while loaf of bread in this recipe. A day or two old bread works really well here. So next time if you have half a loaf of bread, Croutons are your answer. You can also use gluten-free bread for making croutons.
Butter/Oil – Personally I like to use a mix of both for a robust flavour. You can use only olive oil if you wish.
Salt – Depending on the kind of bread you are using, the salt quantity will vary but salt is a must to balance the flavours.
Garlic – I prefer using garlic powder because it blends well with oil and distributes evenly. Fresh garlic, on the other hand, tends to burn and doesn't distribute evenly.
Herbs – Go with any fresh herbs available in hands like rosemary, oregano, parsley or thyme. I have used chopped fresh parsley in this recipe. Mixed Italian herbs also work great.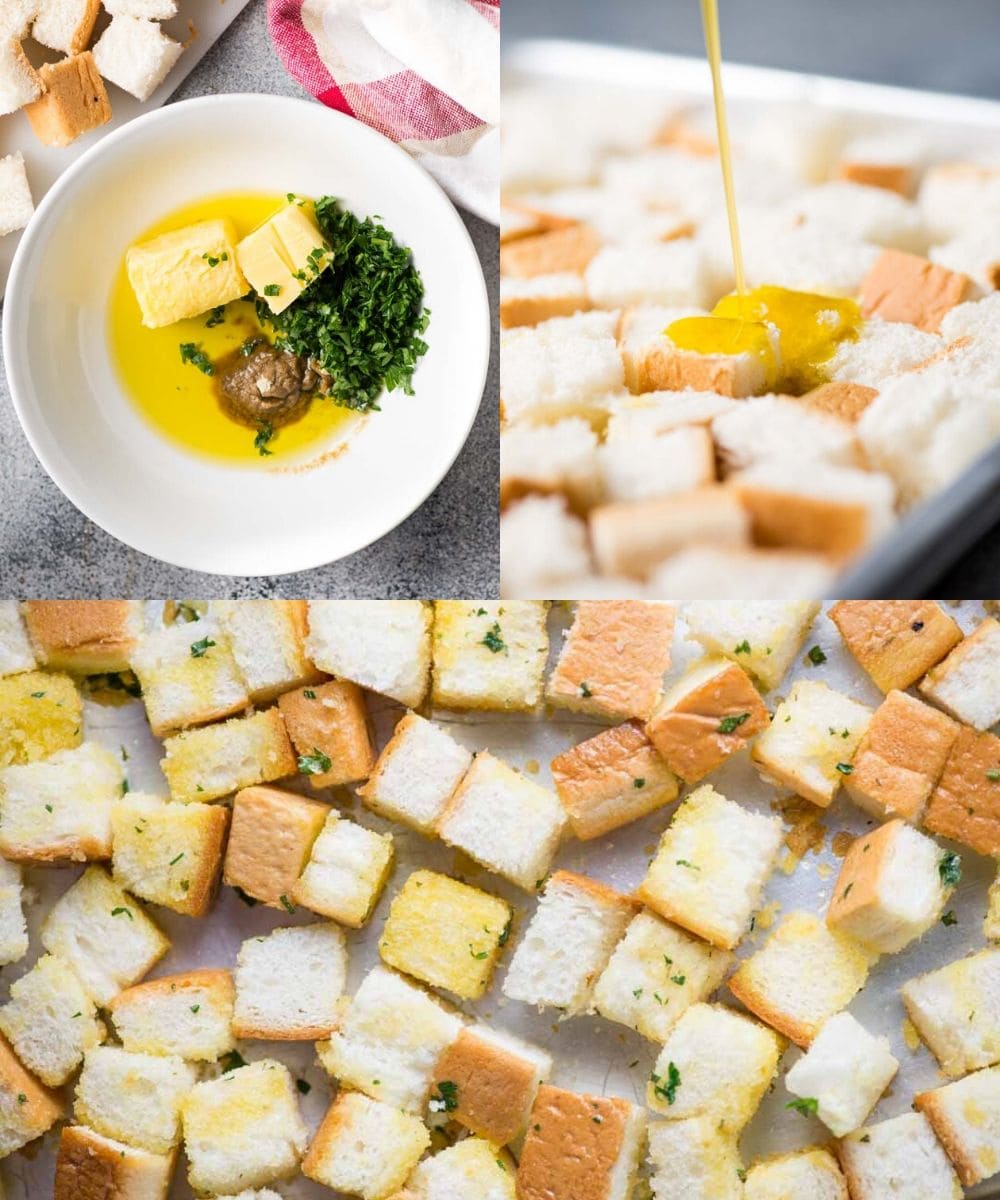 How To Make Croutons?
The version I am going to share here is made in the Oven. So first pre-heat the oven and then start with the prep.
If you are a perfectionist then use a loaf knife and cube bread to 3/4 inch cubes. Else just tear bread using hands to small pieces. Either way, keep the bread pieces of similar size for even cooking.
In another bowl mix melted butter, olive oil, garlic powder, fresh chopped herb. By mixing all the ingredients separately and pouring it over cubed bread ensures even distribution.
If you add salt to the olive oil and butter mixture, it doesn't mix and settles down in the bowl. Instead what I do is, after pouring oil and butter mix on bread cubes, sprinkle salt evenly. And then toss bread cubes until it is well coated.
Spread seasoned bread cubes in a baking pan. Avoid crowding the pan, else it would result in steam and croutons will not get crispy evenly.
Bake for 15 to 20 minutes, tossing in between for even browning. Remove from the oven and let cool completely.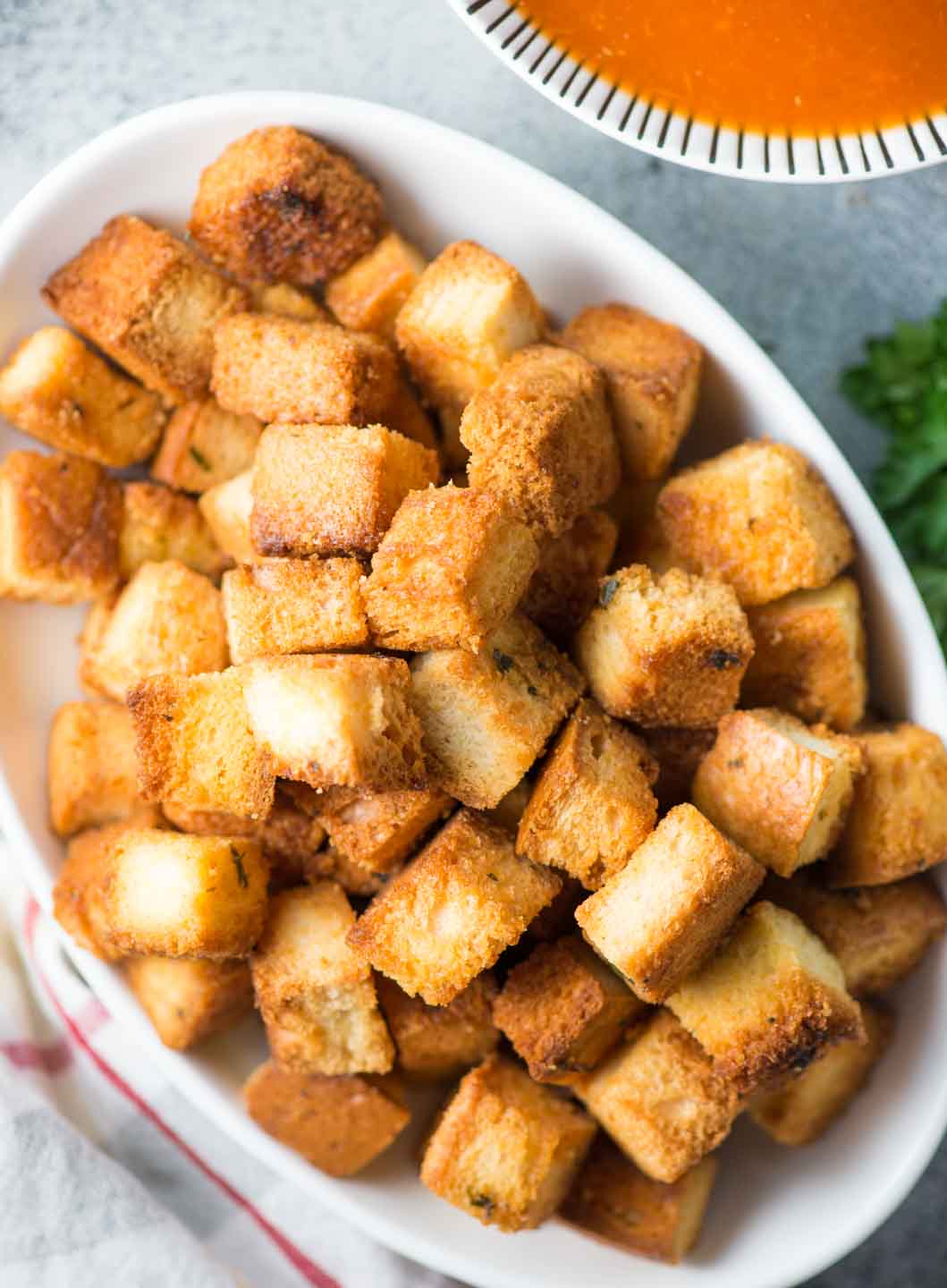 How To Store Homemade Crouton?
Freshly baked croutons disappear in no time the moment it comes out of the oven. If you managed to save some croutons then they easily can be stored in an airtight container for up to 8-10 days.
Serving Suggestion
Serve croutons on soups like CREAMY SPINACH SOUP or CREAMY TOMATO BISQUE. Add it to Cesar salads, Panzarella salads.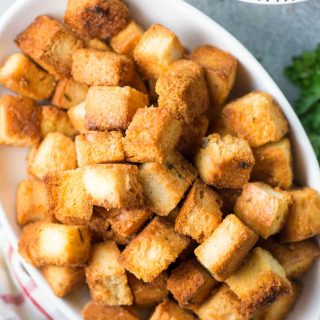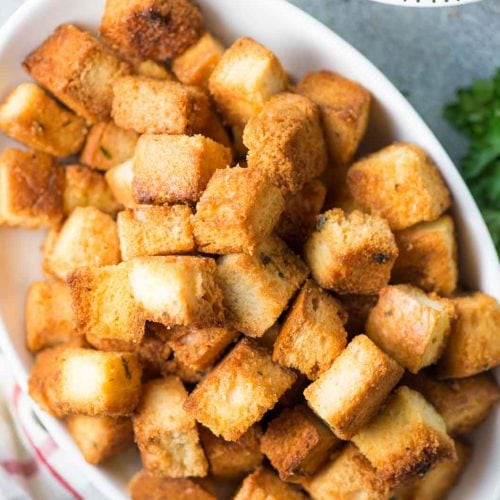 Croutons
These buttery Crunchy homemade croutons are going to be a game changer for your soups and salads. Easy to make, tastes amazing and can be made in different flavours. 
Ingredients
10 ounce Bread cubed to 3/4 inch (4-5 cups)
2 tablespoon Olive Oil
2 tablespoon Melted unsalted butter
1 tablespoon Parsley Finely chopped
1 teaspoon Garlic Powder
½ teaspoon Kosher Salt
Instructions
Preheat oven to 375 degrees F. Line a large baking sheet with parchment paper.



In a bowl mix olive oil, melted butter, garlic powder, Parsely.

Drizzle bread cubes with the above mixture, sprinkle salt. Toss everything until bread cubes are coated well.

Arrange seasoned bread cubes on the prepared baking sheet. Make sure the pan is not very crowded.

Bake for 15-20 minutes. Stir in between for even cooking.
Nutrition
Serving: 100g | Calories: 306kcal | Carbohydrates: 36g | Protein: 8g | Fat: 15g | Saturated Fat: 5g | Cholesterol: 15mg | Sodium: 660mg | Potassium: 138mg | Fiber: 3g | Sugar: 4g | Vitamin A: 259IU | Vitamin C: 1mg | Calcium: 98mg | Iron: 3mg