This post may include affiliate links that earn us a small commission.
This recipe is the quickest and easiest way to make Garlic Bread. Cheesy, garlic-y deliciousness with crunchy edges is perfect to pair with pasta, dunk into soups, or serve as a side dish.
Cheesy Garlic Bread
A warm slice of cheesy garlic bread straight out of the oven with gooey cheese – you will always ask for more. One of our favorite garlic bread to make and it is really easy to put together. It is not greasy, has a nice garlic flavor, and just the right amount of cheese for an amazing cheese pull.
Flavours In Your Inbox
Subscribe for recipes straight to your inbox
Pair perfectly well with soups and stews, serve alongside pasta or a salad to make a complete meal. Kids would love it as after-school snacks.
It is my go-to recipe when guests show up unannounced because it comes together effortlessly. Most of the ingredients are easily available. And after making this bread a couple of times, you can easily memorize the recipe.
What you need for Cheesy Garlic Bread
French loaf – Fresh French loaves are readily available in neighborhood bakeries. Cut in half lengthwise for the bread to be showing.
Butter – Salted butter at the room. It should be of spreadable consistency. I don't use unsalted butter, as when you add salt to unsalted butter, it doesn't really mix and distribute well.
Garlic – Fresh garlic paste for the best flavor. Use a Microplane zester to grate or mince it finely, add a pinch of salt, and press with the back of the knife to make a paste.
Herbs – I have used dried basil and oregano. For garnishing fresh parsley.
Cheese – I have used mozzarella cheese. You can also use a mix of cheddar and Mozzarella or colby jack and mozzarella.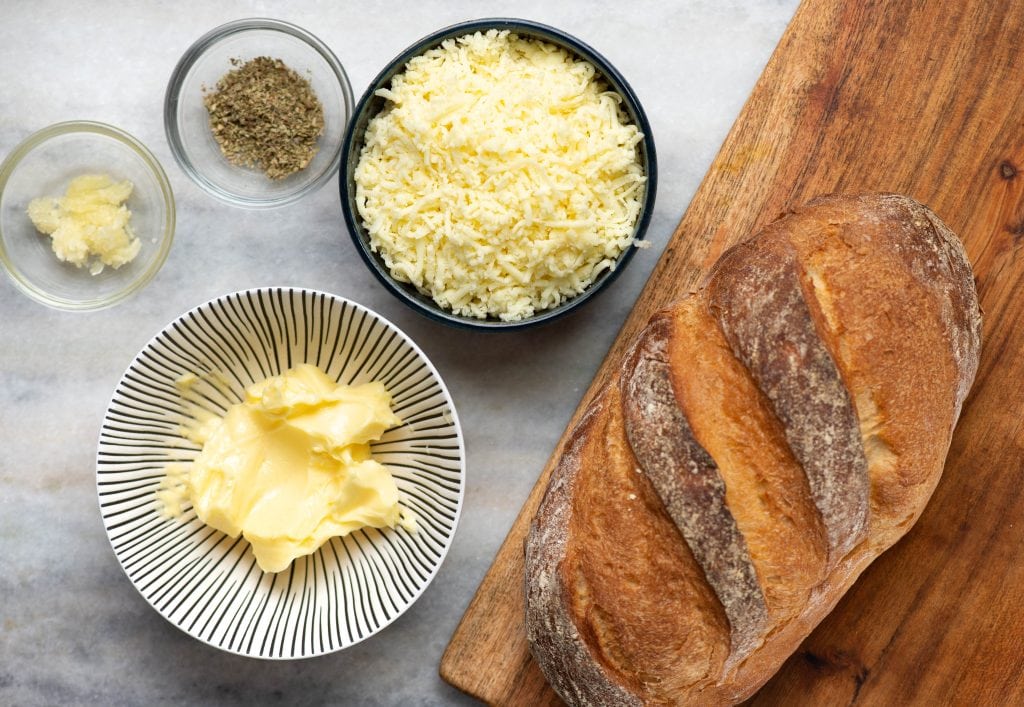 How to soften butter quickly?
Making this garlic bread is quick only when you have all the ingredients ready. What if you forgot to bring butter to room temperature? So here are a few hacks that will quicken the process of softening the butter.
Cut butter into small 1/2 inch cubes and keep it on the kitchen counter.
A bit messy, but to soften the butter fast you can also grate the butter.
Add hot water to a glass, keep it for 1-2 minutes. Throw water and quickly cover a stick of butter with the warm glass. The heat from the cup will bring butter to room temperature quickly.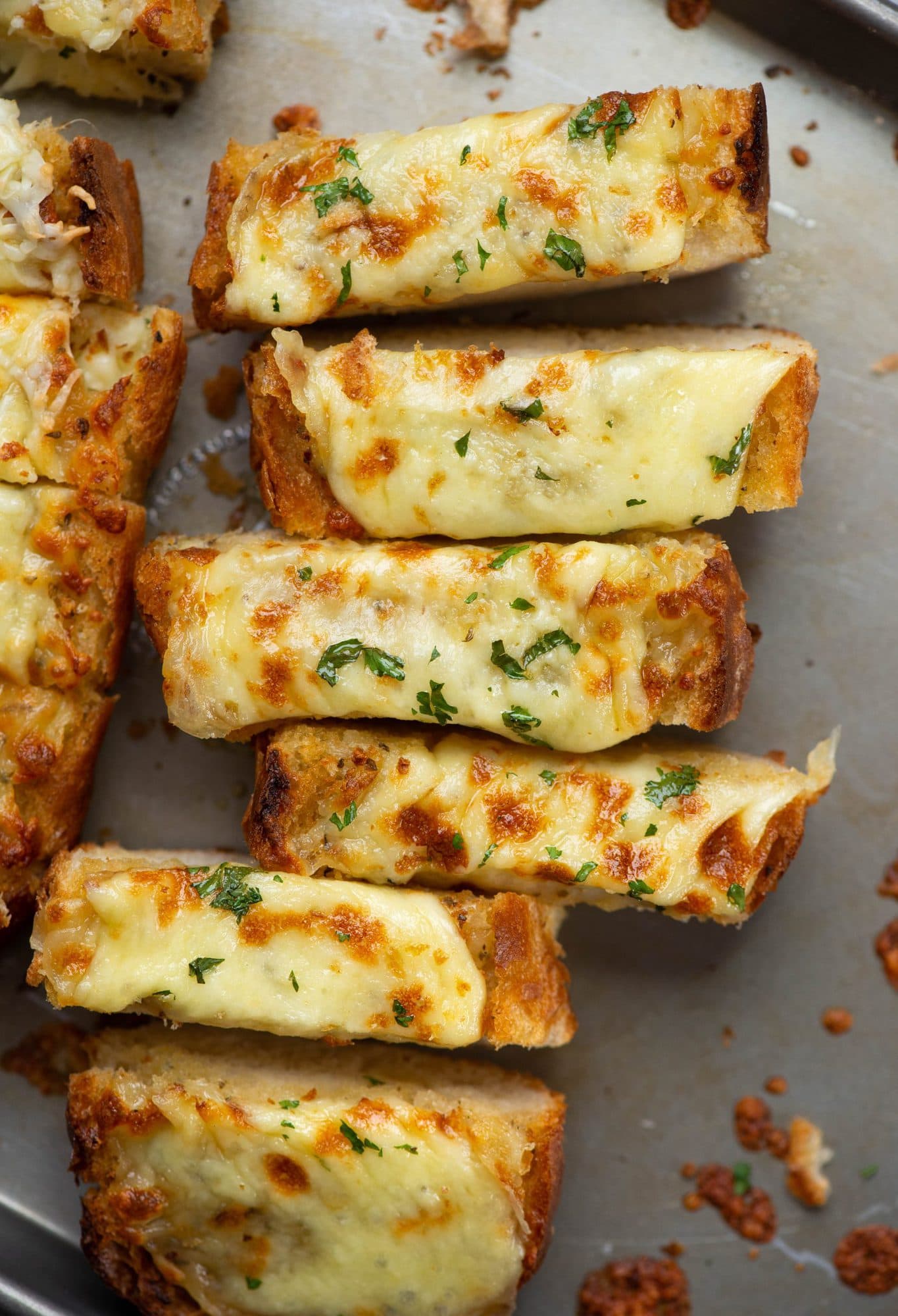 Why not use melted butter?
Using melted butter is easy and faster than waiting for the butter to come to room temperature. But when you add garlic paste and seasoning to melted butter, its kind of settles down at the bottom. When you spread the butter, the seasoning doesn't get distributed evenly. After trying both the methods, I found using softened butter ensures an even spread of the seasoning.
Steps to make Garlic Bread
Make Garlic Butter – Start with making the garlic butter, To room temperature soft butter mix garlic and herbs. You can keep this garlic butter for a few days in the refrigerator. If you prefer your bread less buttery, substitute half the butter with olive oil.
Cut Bread lengthwise – Cut bread loaf lengthwise. Use a serrated bread knife.
Spread butter on both the bread. And bake for 8 minutes. Then remove it from the oven. You would see the sides of the bread will look crispy. The final and the best part of the recipe is all off course cheese. Perfectly gooey, with little brown spots here and there.
Sprinkle grated cheese – After removing from the oven, sprinkle cheese on top (be generous, the more the better). Then broil it for 2-3 minutes until you see a little brown spot on top and the cheese starts to bubble.
Why not spread butter, sprinkle cheese all at once, and bake?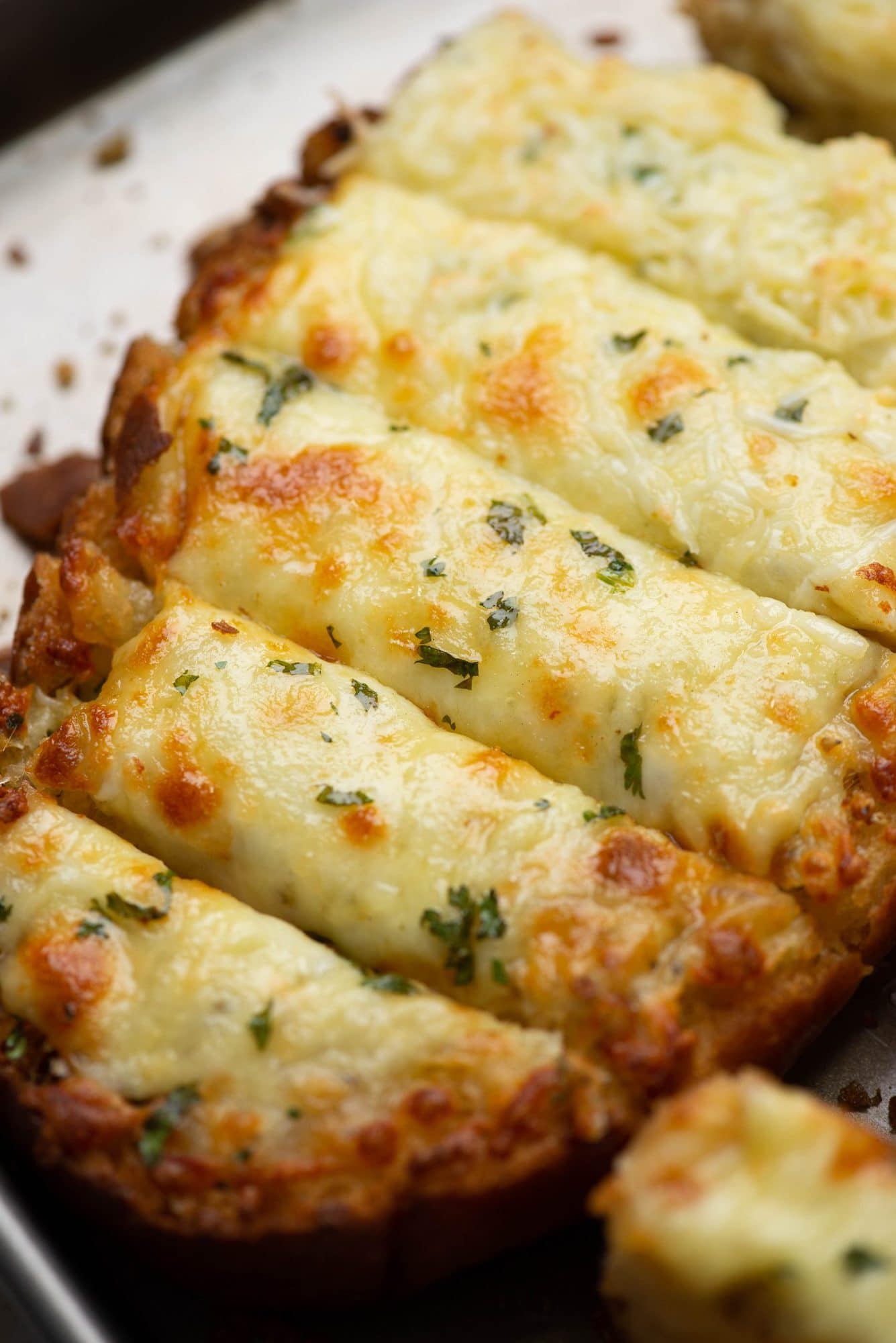 Make ahead and Storing Tips
This recipe takes barely 20 minutes to make. But if you want to prep it ahead, with this 2 step method of making garlic bread, you can do half of the recipe in advance. Spread garlic butter and bake it. Wrap in foil and refrigerate for a couple of days. When you would like to serve, sprinkle shredded cheese and broil for 3-4 minutes ( a little longer than usual)
Garlic bread is best served right out of the oven when the cheese is warm and melty. You can definitely store it in the refrigerator. Before serving, wrap it in aluminum foil and bake it for 4-5 minutes.
The best pairing for garlic bread
Garlic bread pairs well with a lot of dishes. Best to dunk in Soups , serve with pastas or just serve it as a snack.
Creamy Chicken Tortelleni Soup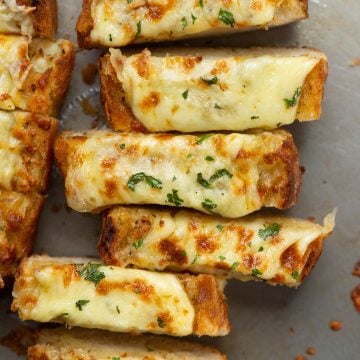 Baked Cheesy Garlic Bread
Spread flavourful garlic bread on the bread and bake the french loaf. Then sprinkle cheese of your choice and finish it off by broiling it for 2-3 minutes for the best garlic bread in the world.
Ingredients
1 loaf French bread
⅓ cup Salted Butter at room temperature
1 tablespoon Minced Garlic
2 teaspoon Italian Seasoning
2 cups Shredded Mozzarella Cheese
Instructions
Preheat oven to 400 degrees. Cut French bread loaf lengthwise into half.

Place the halves cut side up on a baking tray.

In a small bowl mix room temperature softened butter, minced garlic, Italian seasoning. The mixture should be of spreadable consistency.

Spread butter mixture evenly on both the loaf. Bake in the pre-heated oven for 9-10 mins.

Remove bread from the oven carefully, evenly sprinkle shredded cheese on both the bread.

Broil for 2-3 minutes on the top rack of the oven, until cheese has melted and bubbly.

Sprinkle fresh chopped parsley on top. Slice and serve.
Nutrition
Serving: 1slice | Calories: 154kcal | Carbohydrates: 14g | Protein: 6g | Fat: 8g | Saturated Fat: 5g | Polyunsaturated Fat: 1g | Monounsaturated Fat: 2g | Trans Fat: 1g | Cholesterol: 23mg | Sodium: 287mg | Potassium: 46mg | Fiber: 1g | Sugar: 1g | Vitamin A: 227IU | Vitamin C: 1mg | Calcium: 91mg | Iron: 1mg