Spicy Mushroom Chicken Pasta
This post may include affiliate links that earn us a small commission.
This spicy chicken pasta in a rich garlicky tomato sauce is creamy and has a perfect hint of spice. Roasted mushrooms and juicy chicken breast makes this Chicken pasta a filling meal on its own.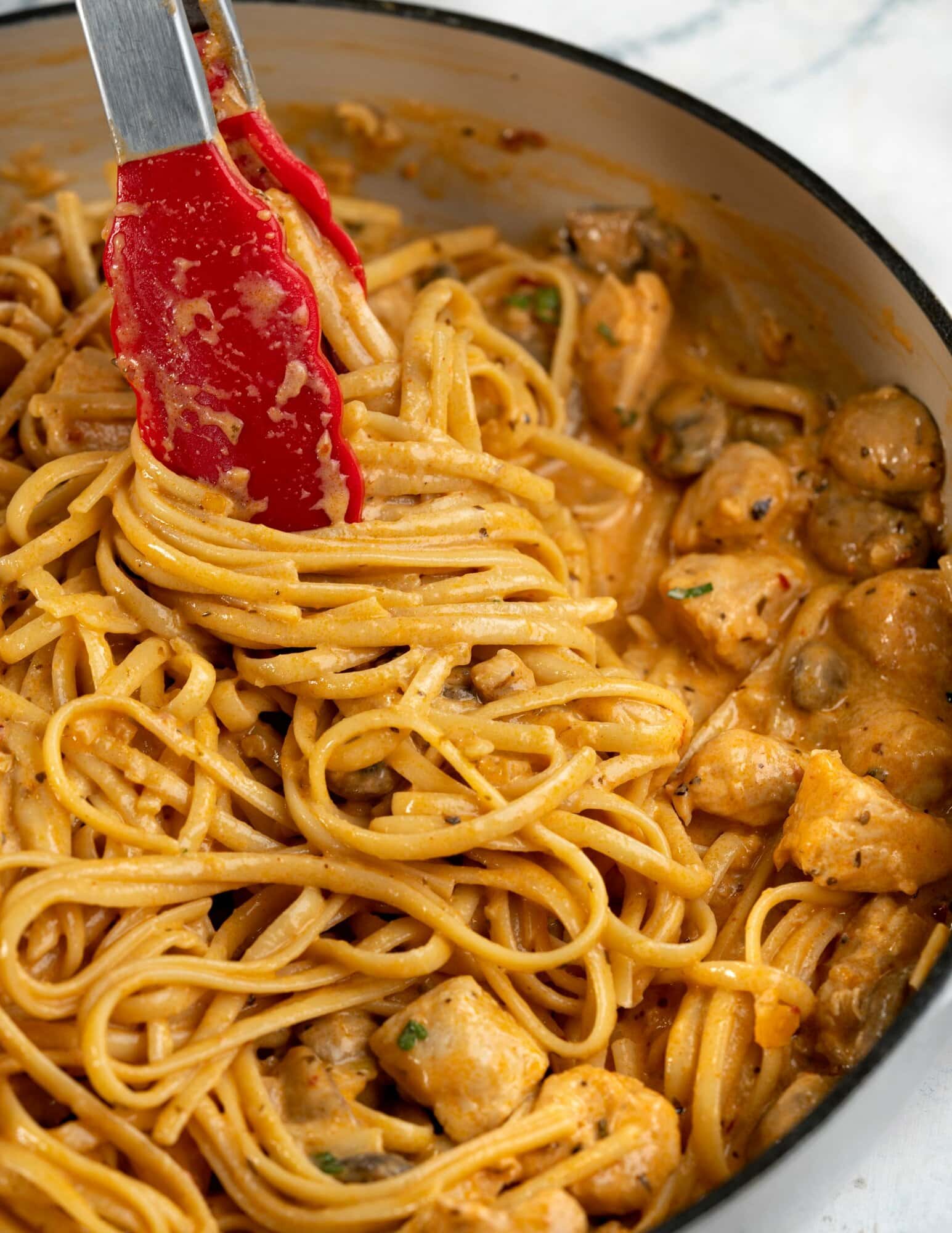 Pasta in a rich spicy tomato sauce, tender chicken, and roasted mushroom pieces. With bold flavors, this Spicy Chicken Pasta with mushrooms is a new favorite in the house. I mean what's there not to like about it? It's an easy and delicious dinner recipe, that the whole family is gonna love and keeps coming back for more.
Flavours In Your Inbox
Subscribe for recipes straight to your inbox
This is not overly spice if you are worried about the level of spiciness. Red chili flake is just enough to add a kick to the dish and smoked paprika is for flavor. You can always adjust the amount of chili as per your taste, but just don't eliminate it entirely. If you are looking for an Easy Instant Pot version, here is an easy one-pot Instant Pot Chicken Pasta that is similar to this recipe.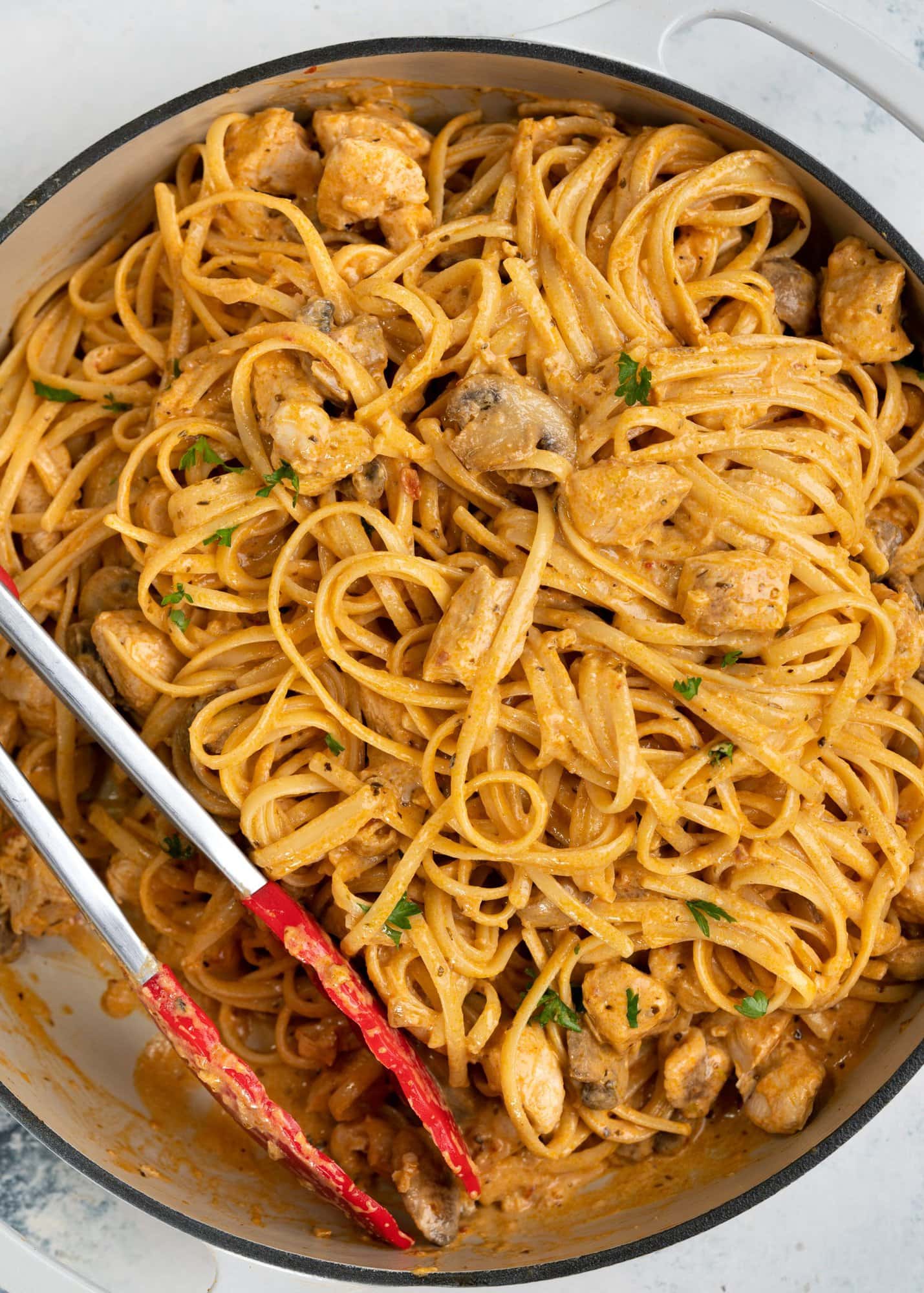 Ingredients
Pasta – I have used linguine here. Use can use spaghetti or any other shaped pasta instead.
Chicken –Boneless chicken breast cut into 1-inch cubes. I prefer lean chicken breast in recipes that have a rich creamy sauce. But you can use also chicken thighs if you have them in hand.
Mushroom – Button mushrooms cut into half ( large ones cut into quarters).
Tomato Sauce – Also called tomato passata. Diced or crushed tomato doesn't yield a smooth creamy sauce.
Seasoning – Chilli flakes, smoked paprika, and Italian seasoning for flavor.
Onion & Garlic – Aromatics. You can skip Onion if you don't like them, but garlic is a must.
Olive oil and butter
Heavy cream
Parmesan cheese – freshly grated parmesan cheese from a block. I would stay away from the pre-shredded / bottled ones.
Variation – Chopped Red bell pepper, spinach, and Kale can also be added to the pasta to make it rich in fiber and filling.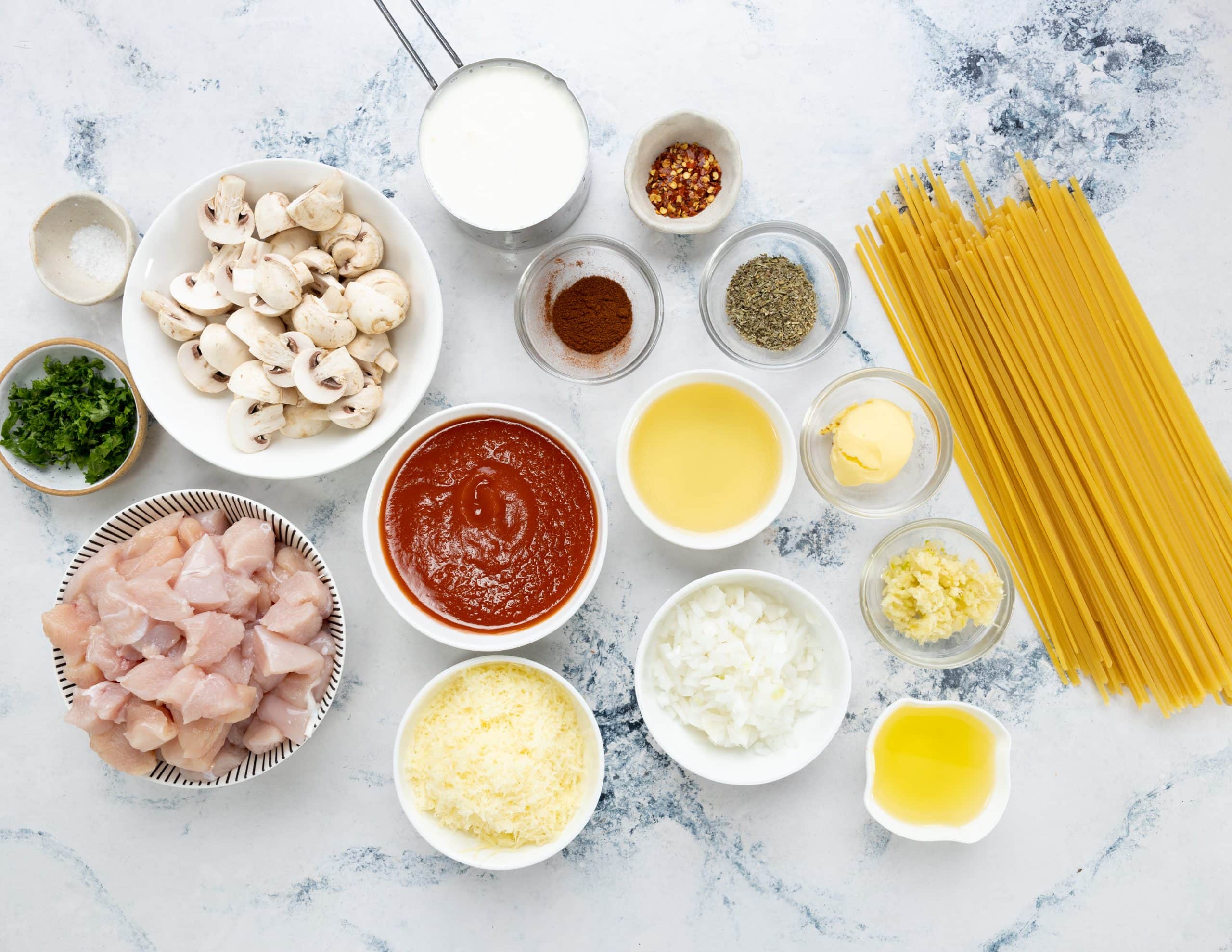 Steps to make Spicy Chicken Pasta with Mushroom
Heat a large skillet ( preferably 12 inches for easy tossing).
Caramelize Mushroom- Heat oil and cook mushrooms in a single layer undisturbed for 4-5 minutes on medium-high heat, flip, and season with a pinch of salt and pepper. Cook further until it is evenly caramelized. Remove from the skillet
Cook Chicken Breast – For the chicken to cook evenly, try to keep bring the chicken to room temperature. Add diced chicken cubes to the same pan, and season with smoked paprika and salt. Cook on high for 4-5 minutes until you see small brown spots. It is ok if the chicken is not cooked through, a little bit of pink here and it is absolutely fine. It will cook further after removing from the pan and also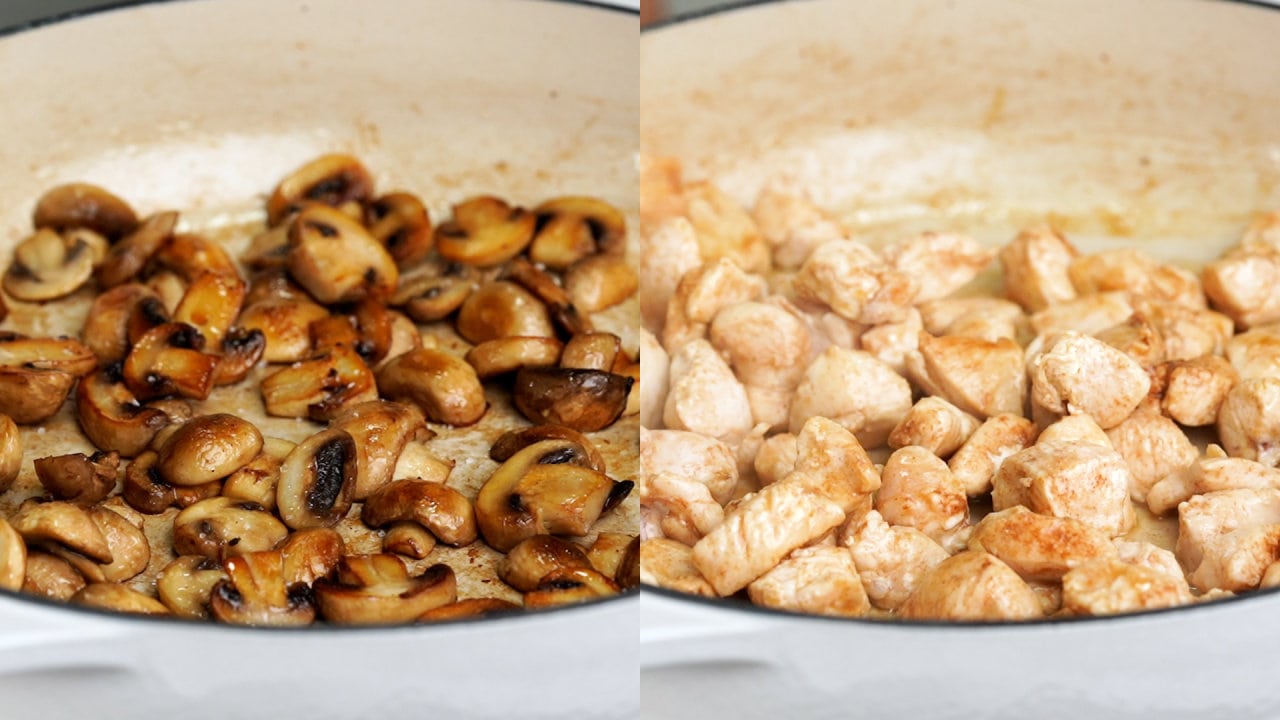 Start with boiling a pot of water for the pasta. While the water comes to a boil, will start making the tomato sauce.
Without cleaning the pan(don't waste the flavourful brown bits stuck to the pan), saute onion and garlic until aromatic. Then add tomato sauce, Italian seasoning, and chili flakes.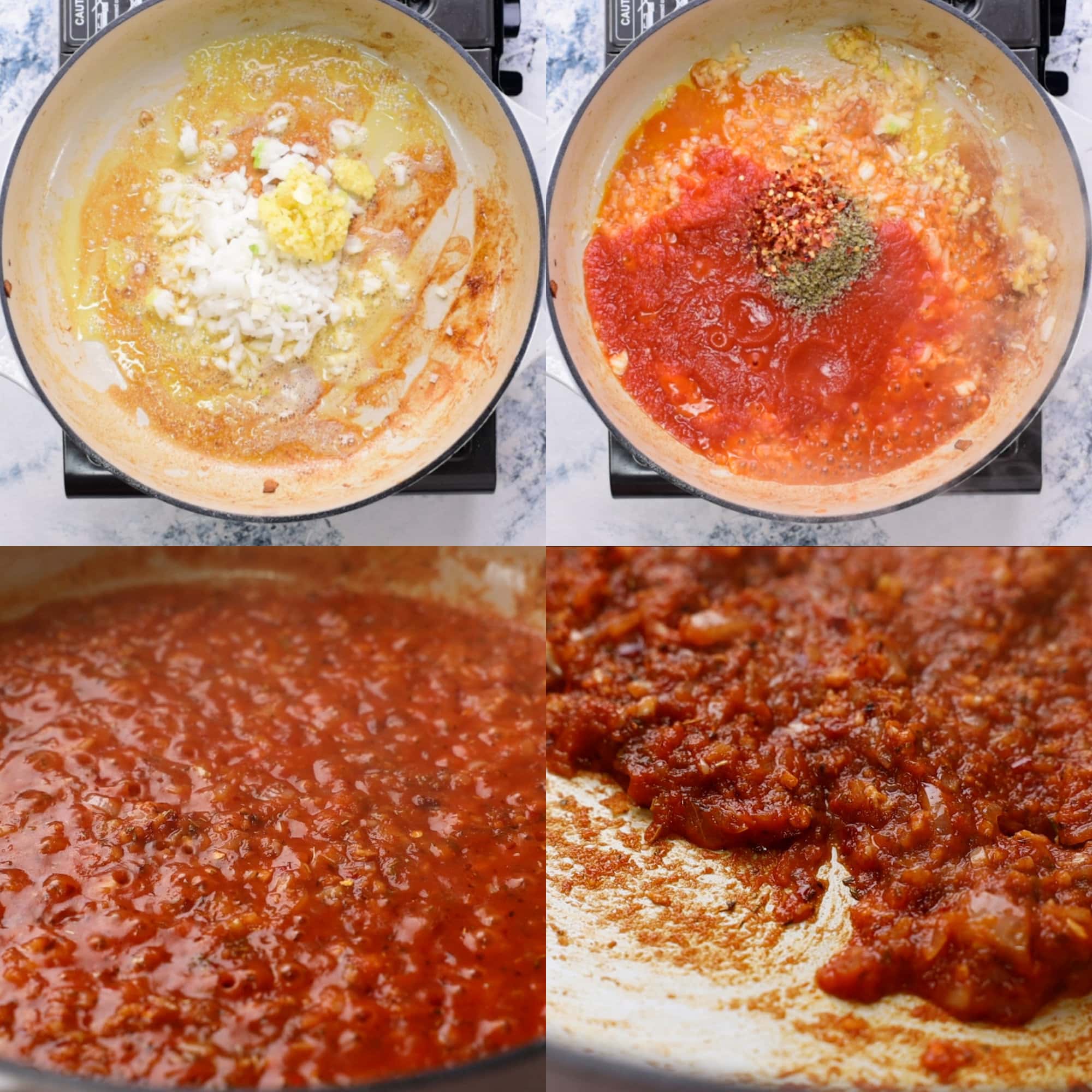 After adding the tomato sauce, cook it down until it has reduced to half and everything comes together as a thick mixture. Cooking down the tomato sauce and caramelizing it makes a huge difference in the sauce. It adds depth of flavor and sweetness to the sauce.
By now the pasta water would have come to a boil, season well with salt and add dried pasta. Let the pasta cook.
Once the tomato sauce is cooked down, add white wine and cook until it has evaporated ( you can no more smell the alcohol).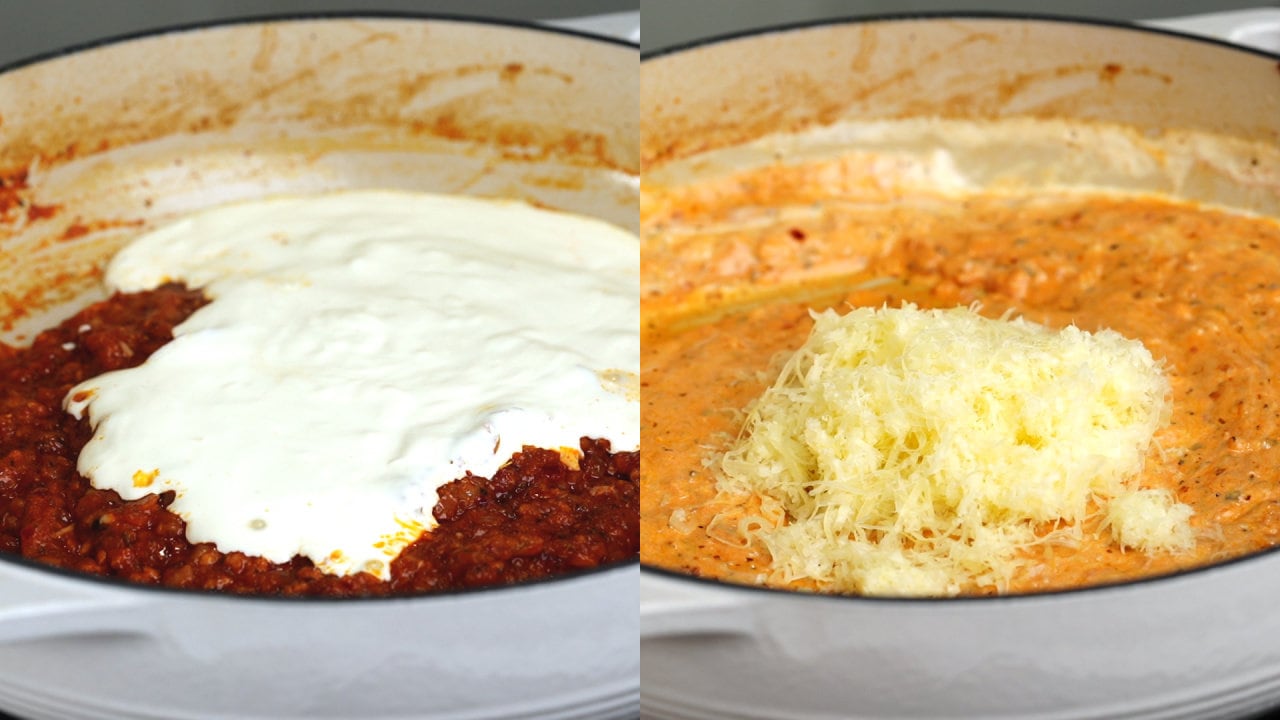 Lower heat. Stir in the heavy cream and freshly grated cheese. Add cooked pasta, mushroom, and chicken back to the pan. Add about 1 cup of pasta cooking water to adjust the consistency of the sauce. Let everything cook for about 1-2 minutes.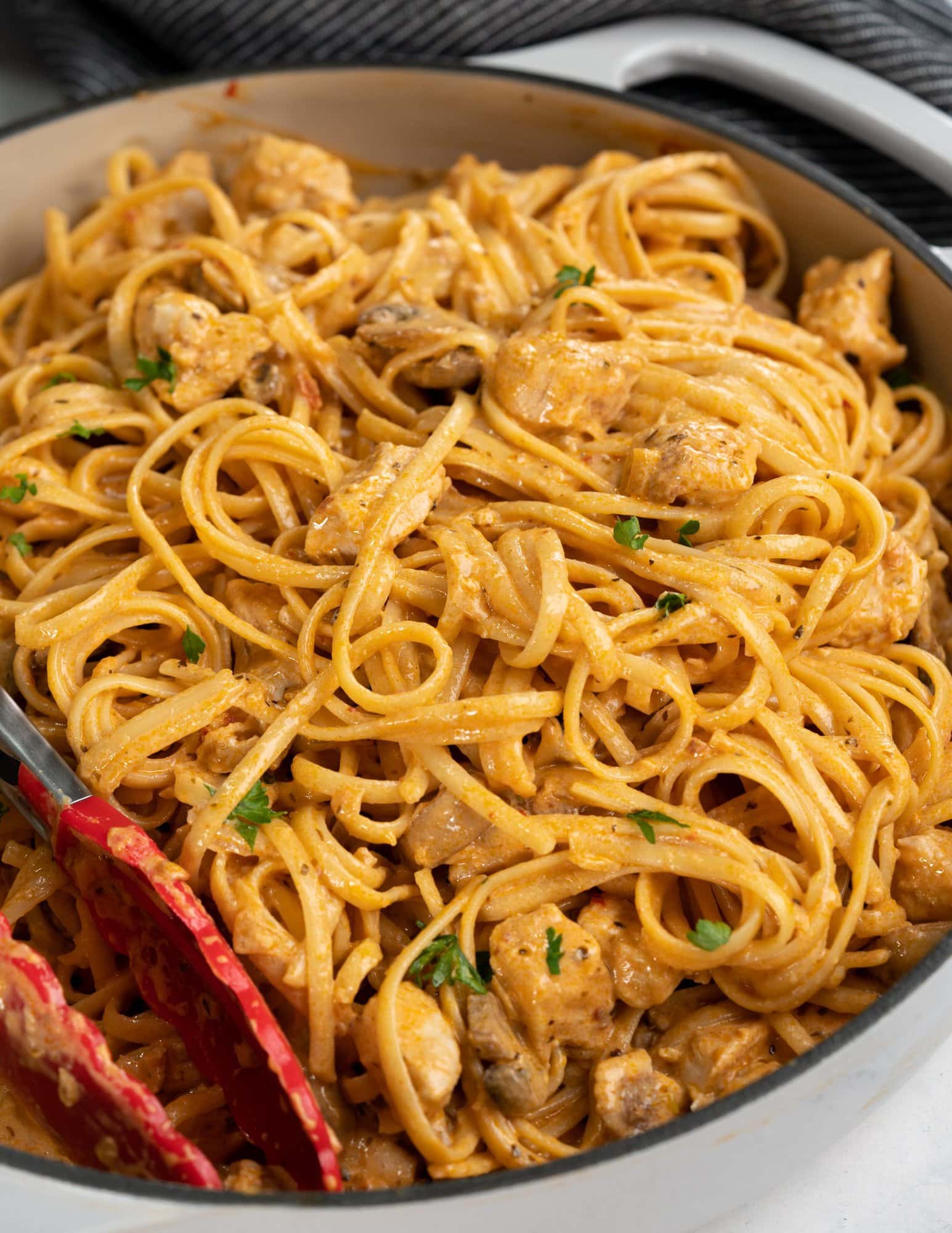 Serving and storing suggestion – Spicy Chicken Pasta
This pasta is a meal in itself with a good balance of carbs, protein, and veggies(you can add more veggies of your choice). I love a slice of crusty bread or focaccia on the side. This cheesy garlic bread would make this an indulgent meal.
Also can pair it with a fresh green salad , Arugula Salad
Leftovers can be stored in an airtight container for up to 3 days in the refrigerator. The pasta might soak up all the sauce when refrigerated. So while reheating in a microwave, add a splash of chicken stock/water to adjust the consistency.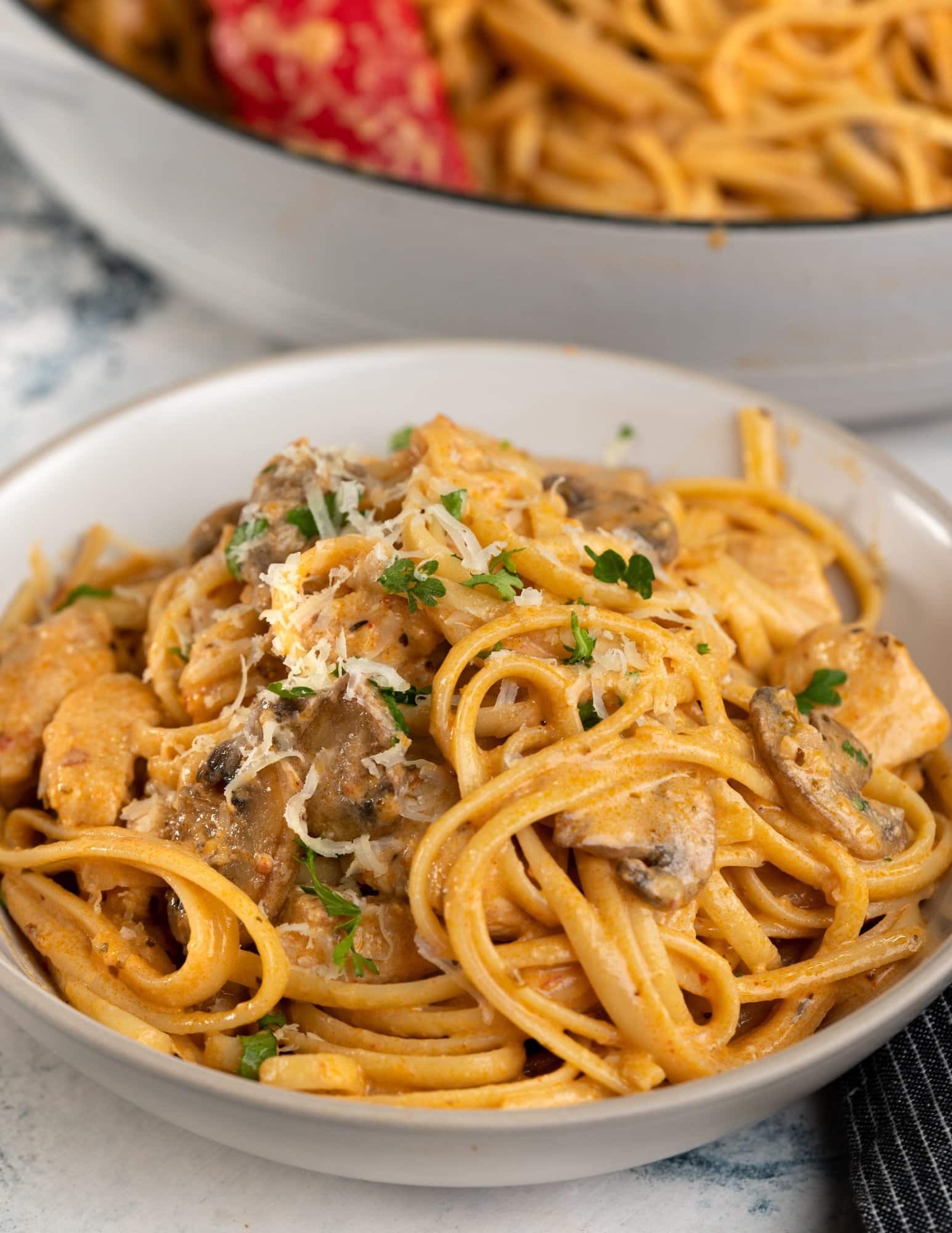 More Pasta recipe for Dinner
Salmon Pasta in creamy lemon Sauce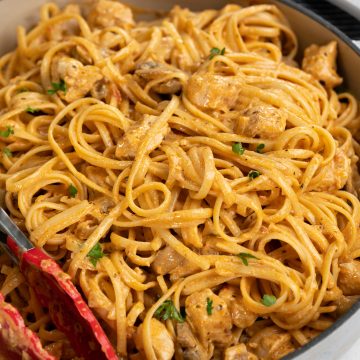 Spicy Mushroom Chicken Pasta
Linguine pasta is tossed in a creamy spicy tomato sauce. There is caramelized mushrooms, juicy chicken pieces, and lots of parmesan cheese to make the pasta delicious.
Ingredients
250 grams Dry Linguine
500 grams Boneless chicken breast
400 grams Mushroom
1 teaspoon Smoked Paprika
3 tablespoon Olive oil
1.5 tablespoon Butter
½ Onion, chopped
1 tablespoon Garlic
1.5 cups Tomato Puree (passata)
1 teaspoon Red pepper Flakes
1 teaspoon Italian Seasoning
⅓ cup Dry White wine
1 cup Heavy cream
¾ cup Parmesan Cheese
Instructions
Clean mushrooms using a damp kitchen towel. Cut into halves.

Bring a large pot of water to a boil.

While the pasta water is boiling, Heat a large skillet. Add 2 tablespoons olive oil. Add mushroom to the skillet. Cook undisturbed for 4-5 minutes. Flip and cook for another 3-4 minutes until the mushroom is browned. Remove from the skillet and keep aside.

To the same skillet add one more tablespoon of oil. Once hot add chicken breast pieces. Season with smoked paprika and salt. Cook for 5-6 minutes. Chicken should no longer look pink and cooked through. Remove and keep covered.

Now the water must have come to a boil. Season it with salt. Cook until pasta is al dente. Reserve 1 cup of pasta cooking water to be used later. Drain pasta and keep aside.

In the same skillet used above, melt butter. Saute onion and garlic for about a minute.

Add tomato puree, Italian seasoning, and red pepper flakes. Cook on medium-low heat for about 4-5 minutes. The tomato puree should be reduced by almost half and the mixture should look thick. Reducing tomato puree adds depth of flavour to the sauce.

Stir in the white wine and cook until the wine has reduced and you can smell no more alcohol. It should take about 2 minutes.

Lower the heat and stir in the heavy cream and parmesan cheese.

Add drained cooked pasta, cooked mushroom, and chicken back to the skillet. Add half of the pasta cooking water. Toss everything well. Add more pasta water if required to adjust the consistency.

Serve & enjoy !!
Nutrition
Serving: 1serving | Calories: 678kcal | Carbohydrates: 47g | Protein: 38g | Fat: 37g | Saturated Fat: 18g | Polyunsaturated Fat: 3g | Monounsaturated Fat: 13g | Trans Fat: 0.1g | Cholesterol: 137mg | Sodium: 760mg | Potassium: 1049mg | Fiber: 4g | Sugar: 7g | Vitamin A: 1586IU | Vitamin C: 9mg | Calcium: 245mg | Iron: 3mg