Time to lift your chocolate chip cookies game to the next level. These brown butter chocolate chip cookies are perfectly chewy and soft with the nutty brown butter.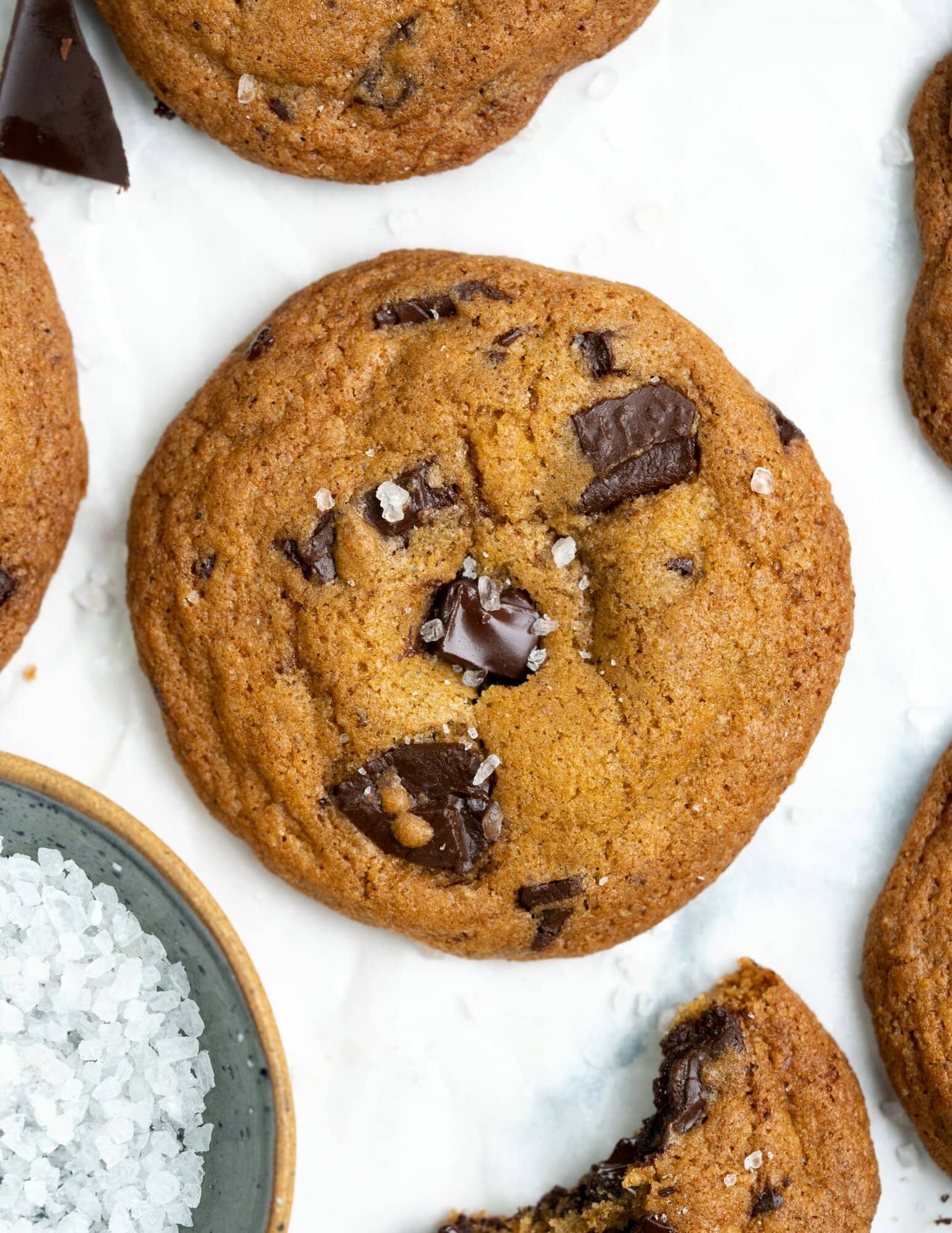 I bet these brown butter chocolate chip cookies are going to be your new favorite cookies. These are soft, chewy, and slightly crispy around the edges. Loaded with dark chocolate chunks and brown butter gives that nutty, caramel taste. Sprinkle some flakey sea salt to round up all the flavors. Ohh !!! it's heavenly.
These cookies are easy to make. Getting those perfect cookies that are not cakey or thick needs the right ingredients in the correct proportion. And here is a foolproof recipe with a few helpful tips to get your favorite bakery-style cookies every single time.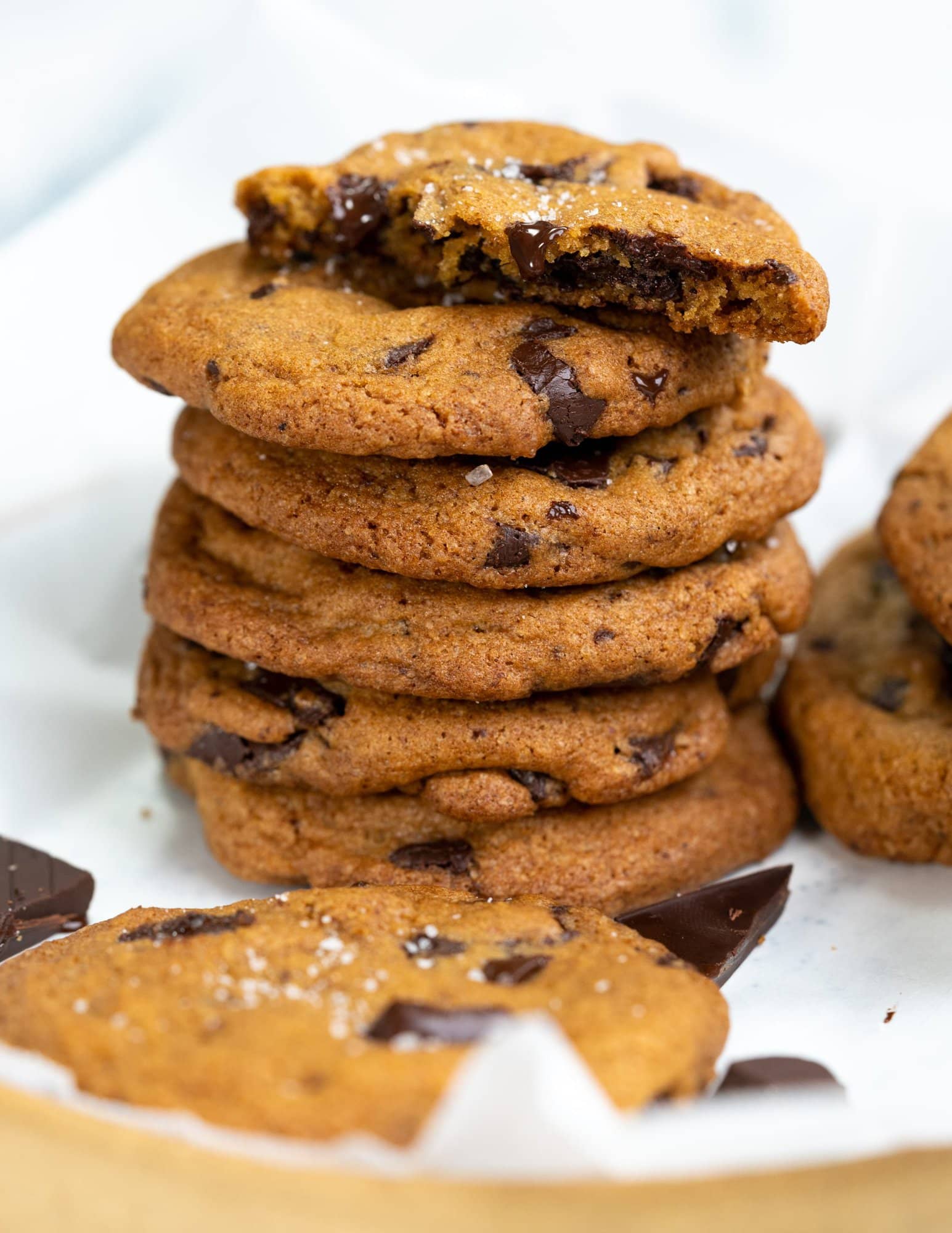 Ingredients for Brown Butter Chocolate Chip Cookies
Below is the list of ingredients you would need to make these cookies.
Butter - Good quality unsalted butter
Flour - Regular all-purpose flour
Sugar - We need both light and regular brown sugar. Brown sugar contributes to chewiness and also gives tender crumbs.
Eggs
Real Vanilla Extract
Baking soda
Baking Powder
Salt
Good Quality Dark Chocolate / Chocolate chip - I love big chunks of chocolate in my cookies. You can use dark chocolate chips as well.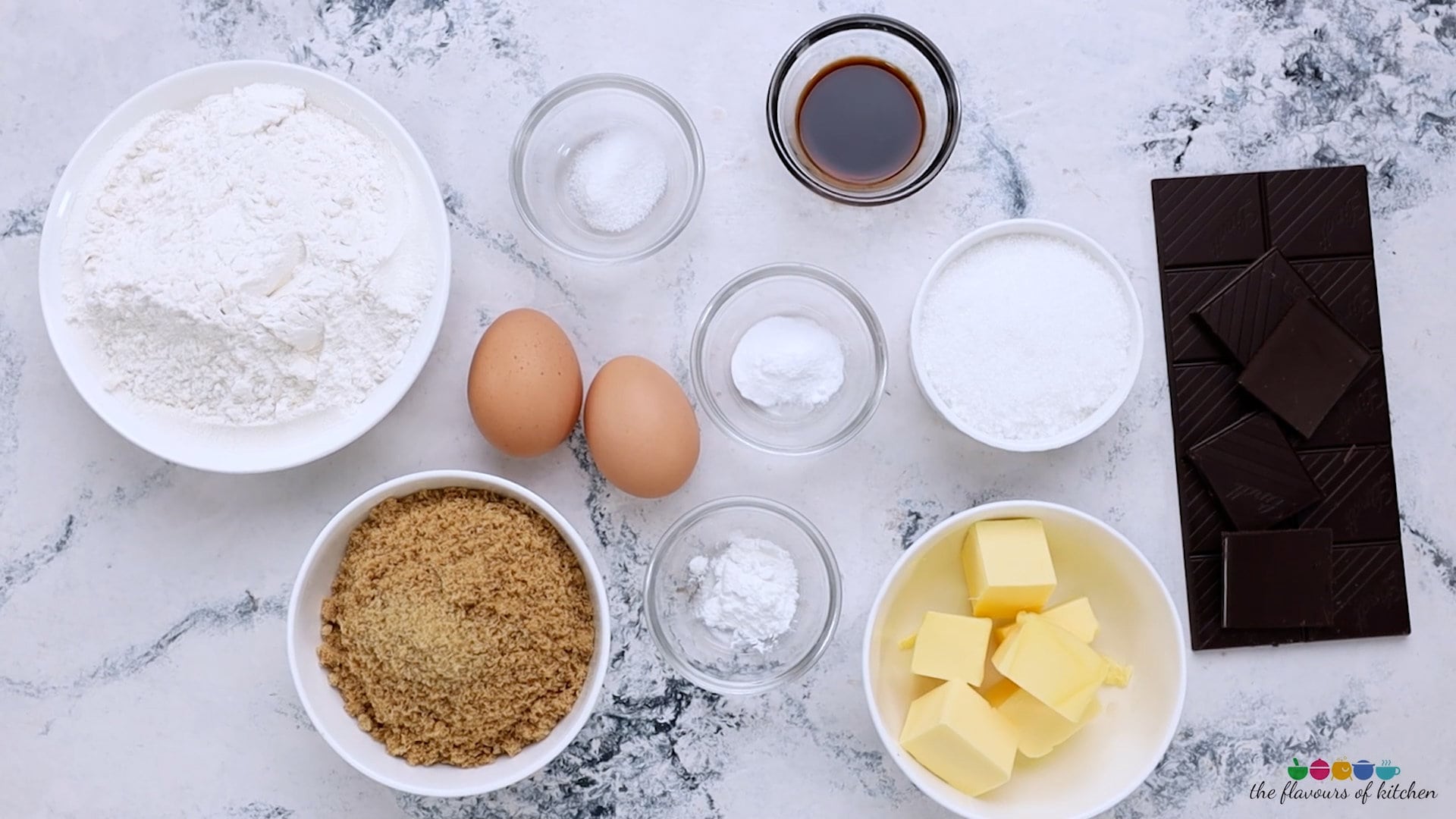 Steps to make Brown Butter Chocolate chip cookies
This recipe is like any regular Chocolate chip cookie recipe with just an extra step of browning butter.
Step 1 - Browning butter - One of the important steps here. Browning butter to the right stage is crucial here. The toasty butterscotch smell of brown butter is irresistible.
Browning butter is easy. It barely takes 7-8 minutes(if the butter is directly from the refrigerator, it might take 10 minutes). Cut butter into small cubes for even melting. Use a heavy bottom saucepan to avoid rapid heating of butter.
Swirl the butter a couple of times for even heating. Once the butter starts to foam, reduce the heat and keep swirling once in a while. After 6 minutes keep a close eye and don't walk away. You will see small particles settle down. These are nothing but milk solids. When the butter looks light brown in color and you get a sweet toasty, nutty smell, it is done. It might be tempting to cook the butter a little more, but it's time to take off the heat. Even after taking off the heat, the butter will continue cooking a little more.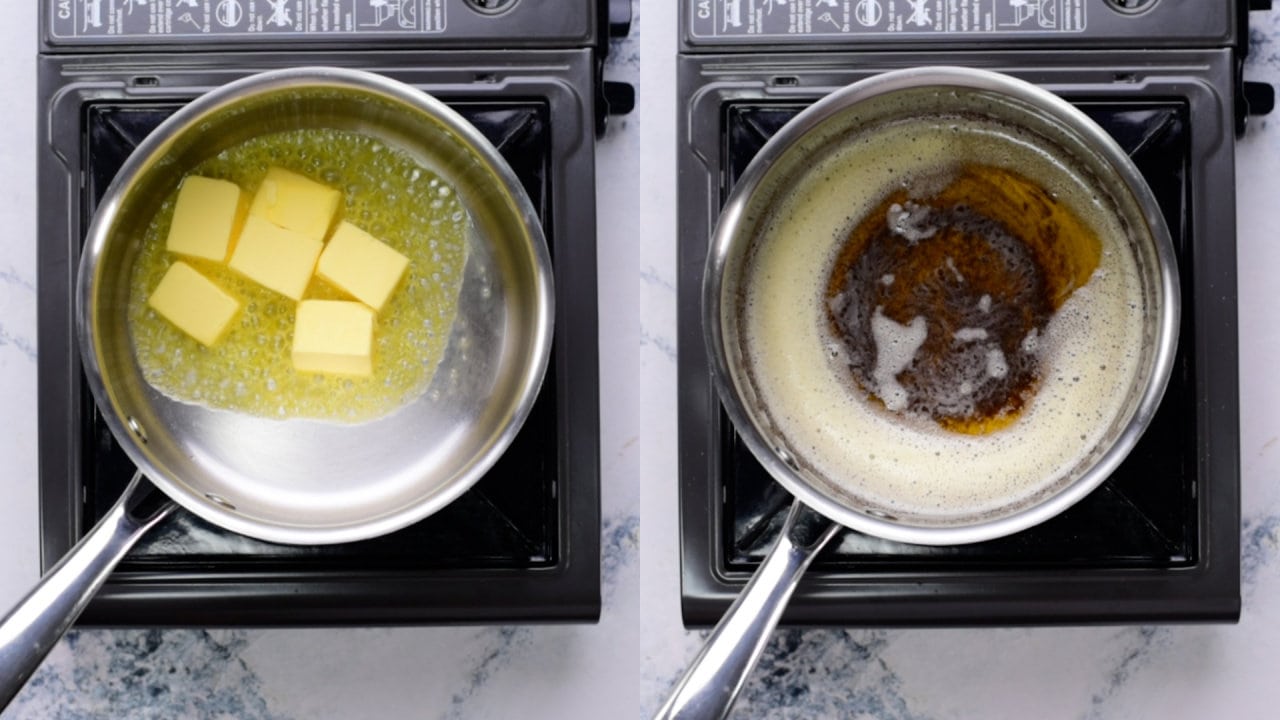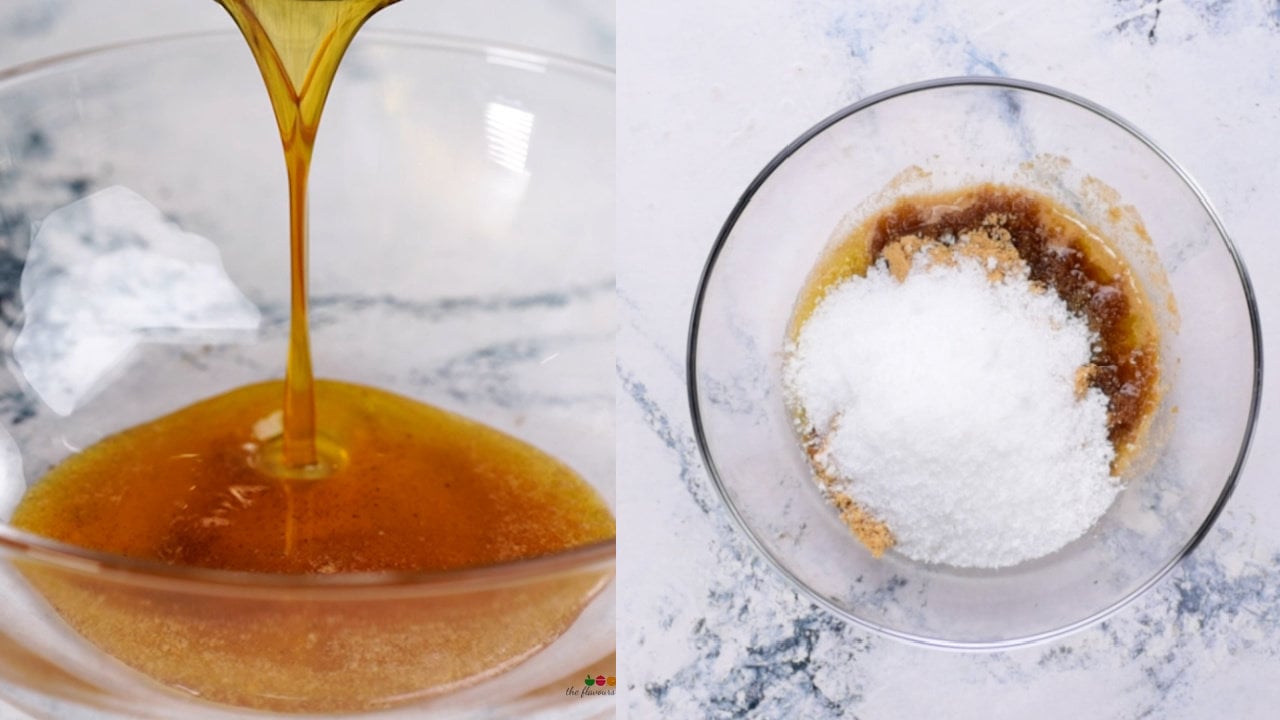 Step 2- Making Dough - Transfer the brown butter to a mixing bowl along with all the brown particles. Use a rubber spatula to scrap all the liquid ( to avoid wastage). Let it cool down completely. Then add both white and brown sugar, and whisk it really well.
Add egg and vanilla extract, and whisk well. Sieve dry ingredients to the wet mixture and mix. Then mix the dry chocolate chunks.
Chill the dough for 30 minutes. Then shape using a cookie scoop and bake until done.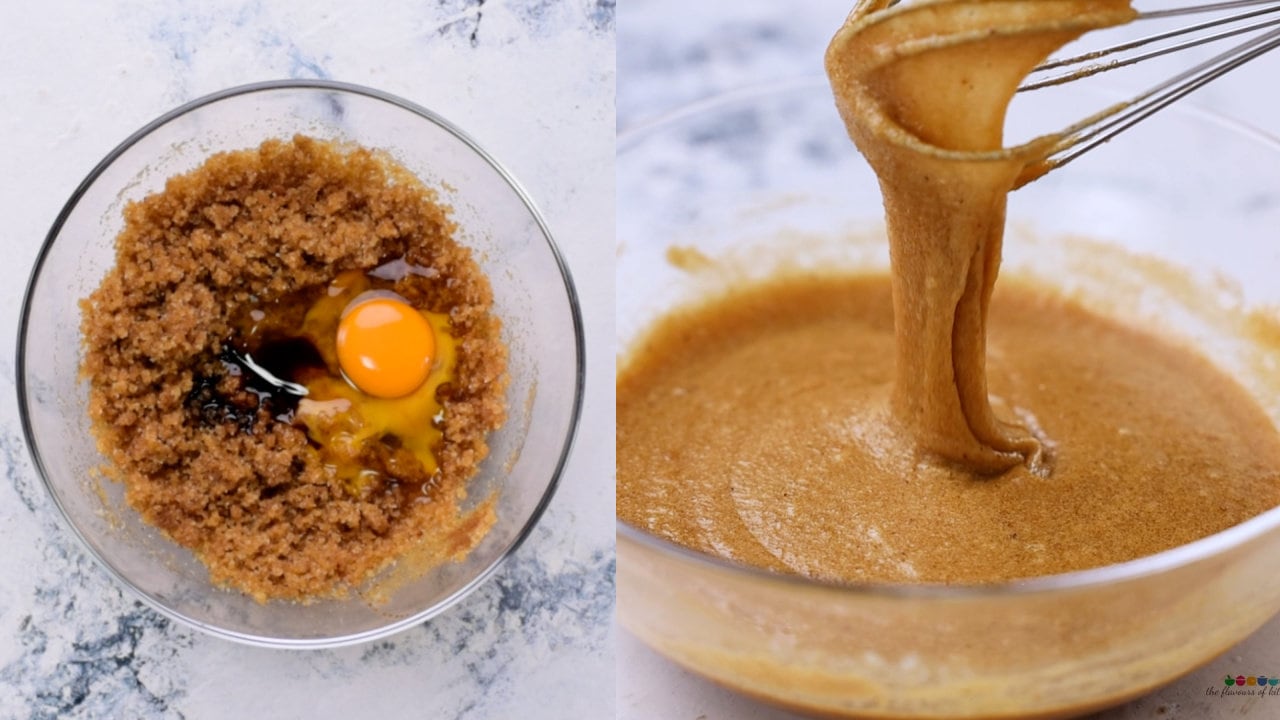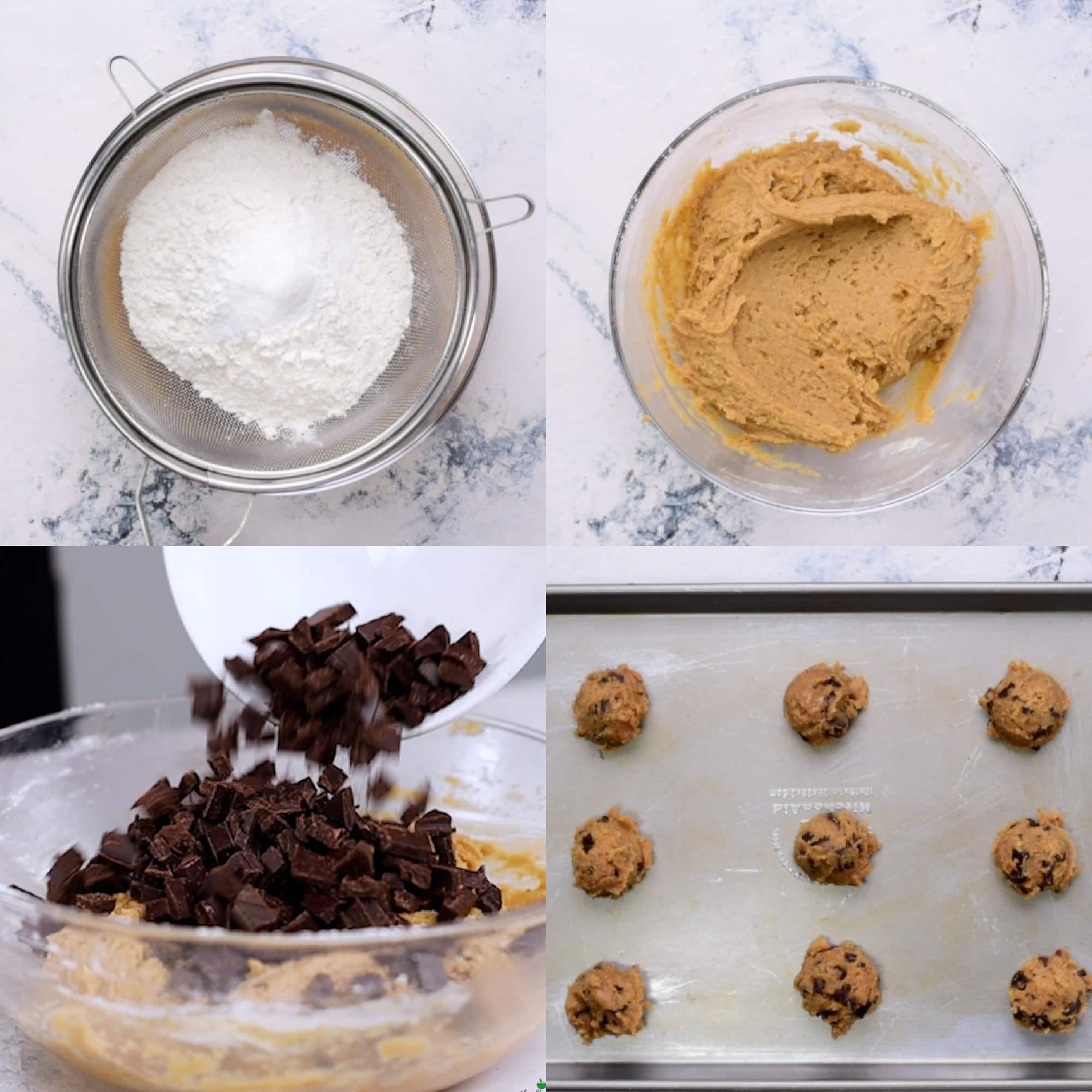 Tips for perfect Chewy Cookies
Measure the Ingredients - While cup measurements are correct, when it comes to baking I always prefer measuring the flour using a kitchen scale. Else spoon the flour into the measuring cup and level it with a knife for the right amount.
Use room temperature Ingredients- It goes without saying that all the ingredients need to be at room temperature. Especially eggs. To quickly bring the eggs to room temperature, place them in a bowl of lukewarm water for 5-10 minutes. Also, bring brown butter to room temperature before adding sugar.
Mix well - Mix sugar and butter really well before adding eggs. After adding eggs and vanilla extract, whisk well until the sugar is almost dissolved and the mixture is creamy.
Don't over-mix after adding the flour. Use a rubber spatula to scrub any dry bits of flour and fold the mixture just until mixed. Again 'Do Not Over Mix'.
Chilling Dough- This recipe doesn't need long chillin' hours. 30 minutes in the refrigerator is enough for the flour to absorb moisture and the flavors to develop.
Don't substitute - This recipe will not work if any one of the ingredients is substituted.
Avoid overbaking - It might be tempting to overbake the cookie. For cookies with a soft, chewy center, it's important to bake just until the edges are set and the center is still soft. Cookies will bake further even after taking it out of the oven. If baked longer, they will turn out crispy when cooled down.
Don't skip salt - Salt in cookies ?? Well, salt is as important as sugar in baked goodies. Salt gives a more rounded flavour, so don't skip it. Sprinkling sea salt flakes on top is optional, but I would strongly recommend it.
Use Cookies Scoop - To get equally shaped and round cookies best to use a medium cookie scoop to portion the dough.
Always try a test batch - No matter how perfect the recipe might be, always bake a test batch of 1-2 cookies. Every oven is different, and so are the ingredients used in a recipe. Bake a test batch to find out the right temperature and time. If the cookies are spreading too much, chill the dough a little longer. If the cookies are not spreading, slightly flatten the dough balls with the back of a spatula before baking.
Can you freeze cookies?
Like any other cookies, you can freeze the cookies doughs or bake cookies safely in the freezer. And you will have warm baked cookies ready, whenever the craving kicks in.
Freezing cookie dough - I prefer making a large batch of cookie dough and freezing it to use later. The best way to freeze cookie dough is first to portion the dough using a cookie scoop, place it on a cookie sheet, and cover it loosely with plastic wrap(to avoid freezer burn) . Place the cookie sheet in for about 1 hour in the freezer. Once the cookie balls have hardened, pop them in a freezer-safe zip lock bag and freeze for up to 3 months.
While baking, take out the required amount of dough balls, rest them on the kitchen counter for about 1 hour then bake as per instruction. You might have to adjust the baking time in this case.
Freezing baked Cookies - Stack baked cookies in a single layer in a freezer-safe airtight container. You might use a layer of parchment paper in between if stacking in multiple layers to avoid cookies getting stuck. Microwave the cookies briefly until soft and gooey.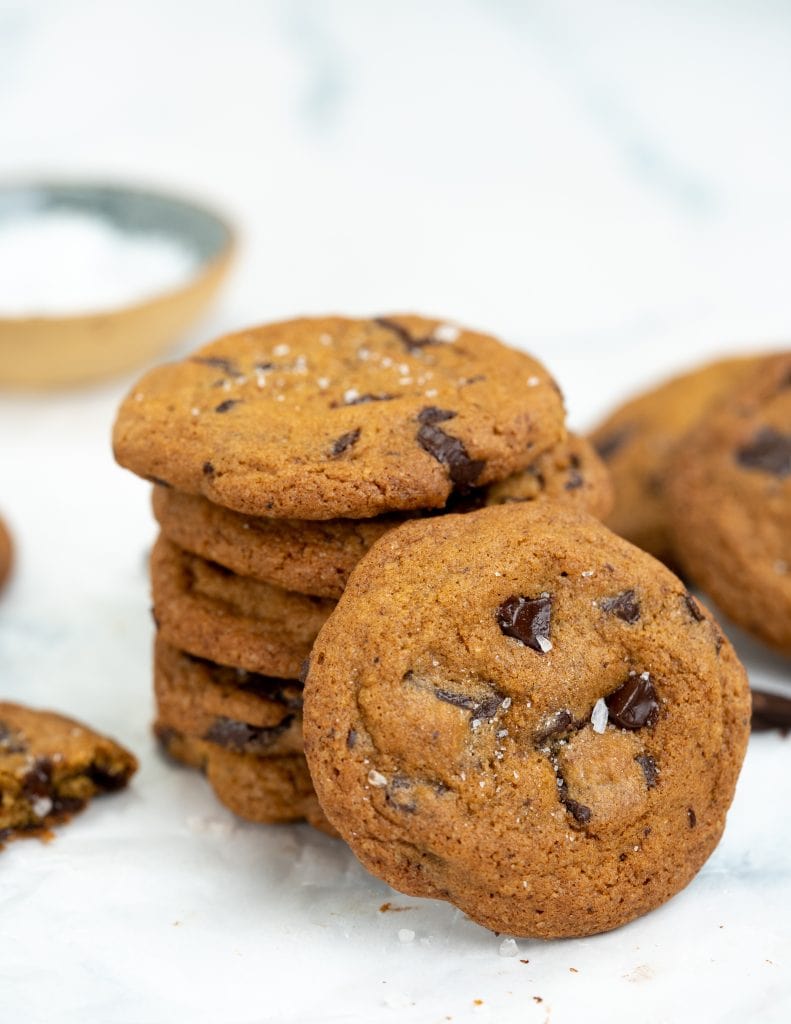 More Cookie Recipes to try...
Flourless Peanut Butter Cookies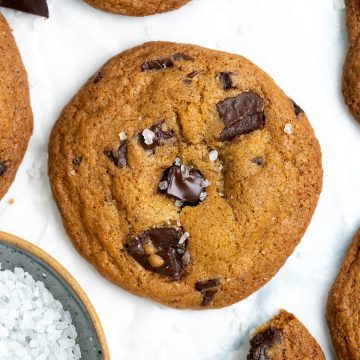 Brown Butter Chocolate Chip Cookies
Time to lift your chocolate chip cookies game to the next level. These brown butter chocolate chip cookies are perfectly chewy and soft with the nutty brown butter.
Print
Pin
Rate
Ingredients
130

grams

Butter

1

cup

Light Brown Sugar

(160 grams)

½

cup

White castor sugar

(114 grams)

1

large

Egg

2

teaspoon

Vanilla extract

2

cups

All purpose Flour

(240 grams)

1

teaspoon

Baking Soda

1

teaspoon

Salt

1

teaspoon

Cornstarch

2

cups

Semi sweet / Dark Chocolate chips or chocolate chunks
Instructions
Cut butter into small cubes. Melt butter in a heavy bottom saucepan on medium heat until the butter begins to foam. Swirl the pan a couple of times for the butter to heat evenly. After 5 minutes, keep a close eye and don't move away. When the butter turns light brown in color and smells sweet and nutty like caramel swirl it once and take off the heat. The butter will burn in no time, so keep a close eye towards the end.

Shift brown butter to a mixing bowl. Scarp all the butter and any brown bits using a rubber spatula. Let the butter cool down and come to room temperature.

To brown butter add brown and white sugar and whisk until combined. Add egg, and vanilla extract. Beat well until the mixture is creamy and the sugar has dissolved completely.

Sift together flour, baking soda, cornstarch, and salt. Add dry ingredient mix to the wet mixture. Using a spatula fold in the mixture until no dry bits of flour is remaining. Scarp the bottom of the bowl for an even mixture. Don't over-mix.

Fold in the chocolate chunks. Loosely cover the bowl with a plastic wrap and chill the dough for 30 minutes.

Meanwhile, preheat oven to 350°F. Line a baking sheet with parchment paper.

Use a medium cookie scoop (about 2 tablespoons) to scoop the cookie dough out into balls, placing them 2 inches apart on the prepared sheet. Bake for 10-11 minutes*. The edges should be set and center of the cookies should still be soft.

Let the cookies rest on the baking sheet for 10 minutes ( immediately shifting the might break the cookies) then shift them to a cooling rack to cool down further.

For freezing instruction, refer post.
Nutrition
Serving:
1
cookie
|
Calories:
262
kcal
|
Carbohydrates:
35
g
|
Protein:
3
g
|
Fat:
13
g
|
Saturated Fat:
7
g
|
Polyunsaturated Fat:
1
g
|
Monounsaturated Fat:
4
g
|
Trans Fat:
0.2
g
|
Cholesterol:
24
mg
|
Sodium:
222
mg
|
Potassium:
136
mg
|
Fiber:
2
g
|
Sugar:
22
g
|
Vitamin A:
185
IU
|
Calcium:
25
mg
|
Iron:
2
mg