This post may include affiliate links that earn us a small commission.
Tomato Eggs is one of the quickest egg recipes that you can make after scrambled eggs. Lightly seasoned with soy sauce and sesame oil, this savory tomato egg stir fry pairs well with rice.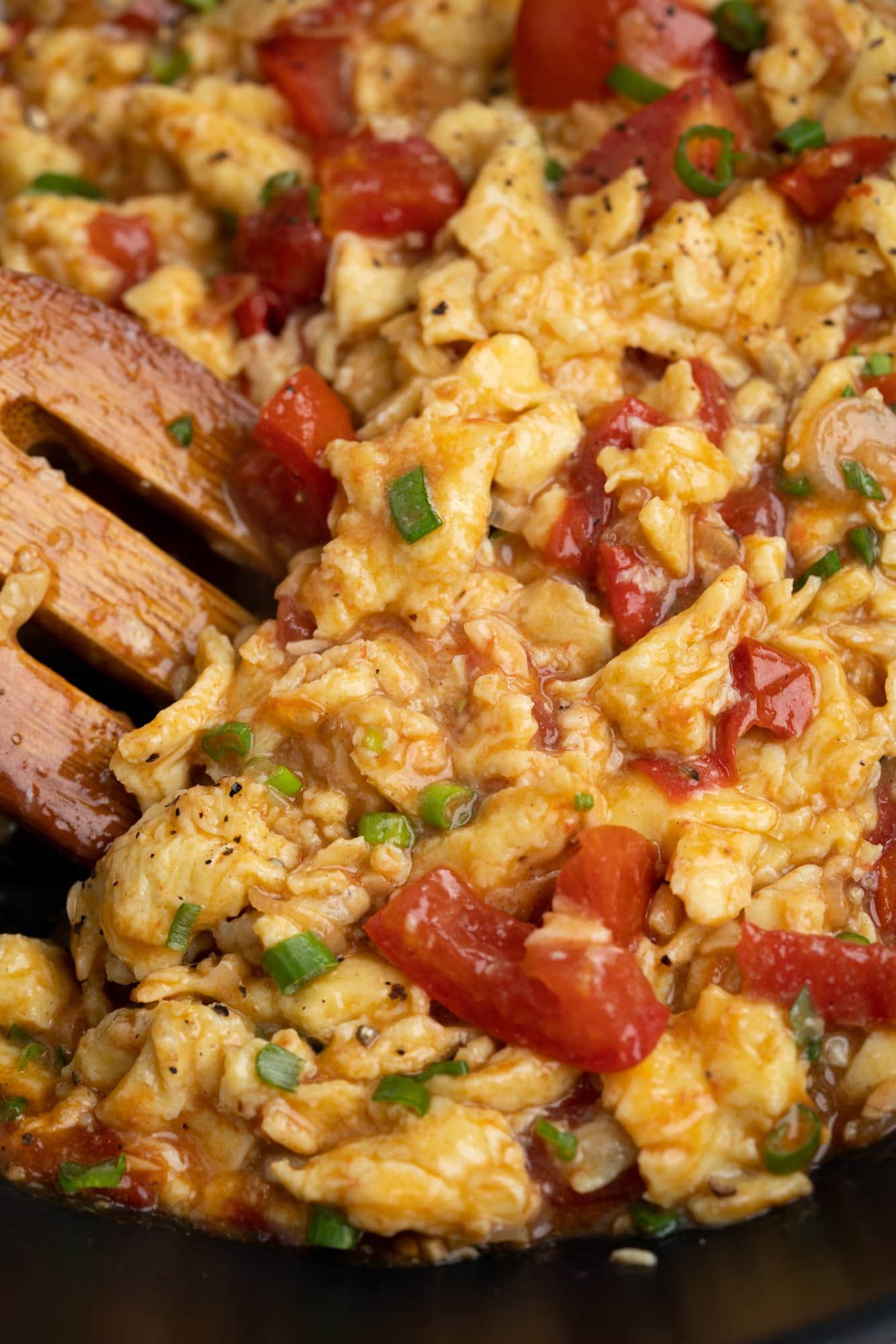 Tomato Egg Stir Fry
Tomato Egg stir fry is a classic Chinese dish. Soft scrambled egg is tossed with ripe tomato wedges, then seasoned with soy sauce & sesame oil for a flavor-packed dish. Served alongside a bowl of steamed rice, this tomato egg is a satisfying meal and easy to put together.
Flavours In Your Inbox
Subscribe for recipes straight to your inbox
In China, every family has their own version of this recipe. You can play around with the seasoning and make this as per the availability of the ingredients. After scrambled eggs, this is one of my favorite way to have eggs. Not only with rice, but I also serve this with toast for breakfast.
Tomato Egg Stir Fry Ingredients
This popular Chinese dish has a few variations in terms of the flavoring used. Each family has their own version. But this recipe is simple enough to make and takes just 10 minutes. Keep the following ingredients ready when you are ready to cook.
Tomatoes- Fresh ripe tomatoes are the best. The sweet and sour tomatoes that you get in abundance during summer. Cut into medium size pieces or wedges, so that they hold the shape even after cooking. You can also use ripe cherry/grape tomatoes if that's what you have in hand.
Eggs- Large eggs, preferably organic ones.
Soy sauce – All-purpose or light soy sauce. Alternatively, you can also use Oyster sauce.
Garlic- Many recipes don't call for garlic, but garlic is flavor. You can also add ginger juliennes instead of garlic or along with garlic.
Salt, pepper, and Sugar – Just a pinch of sugar to balance the tartness of tomatoes.
Sesame oil- Sesame oil towards the end is great in Asian stir-fries. You can skip it if you want.
Green onion- For garnishing. And to use up the white part, saute it along with garlic.
Cornstarch– Adding cornstarch slurry towards the end kind of holds the dish and makes it saucy.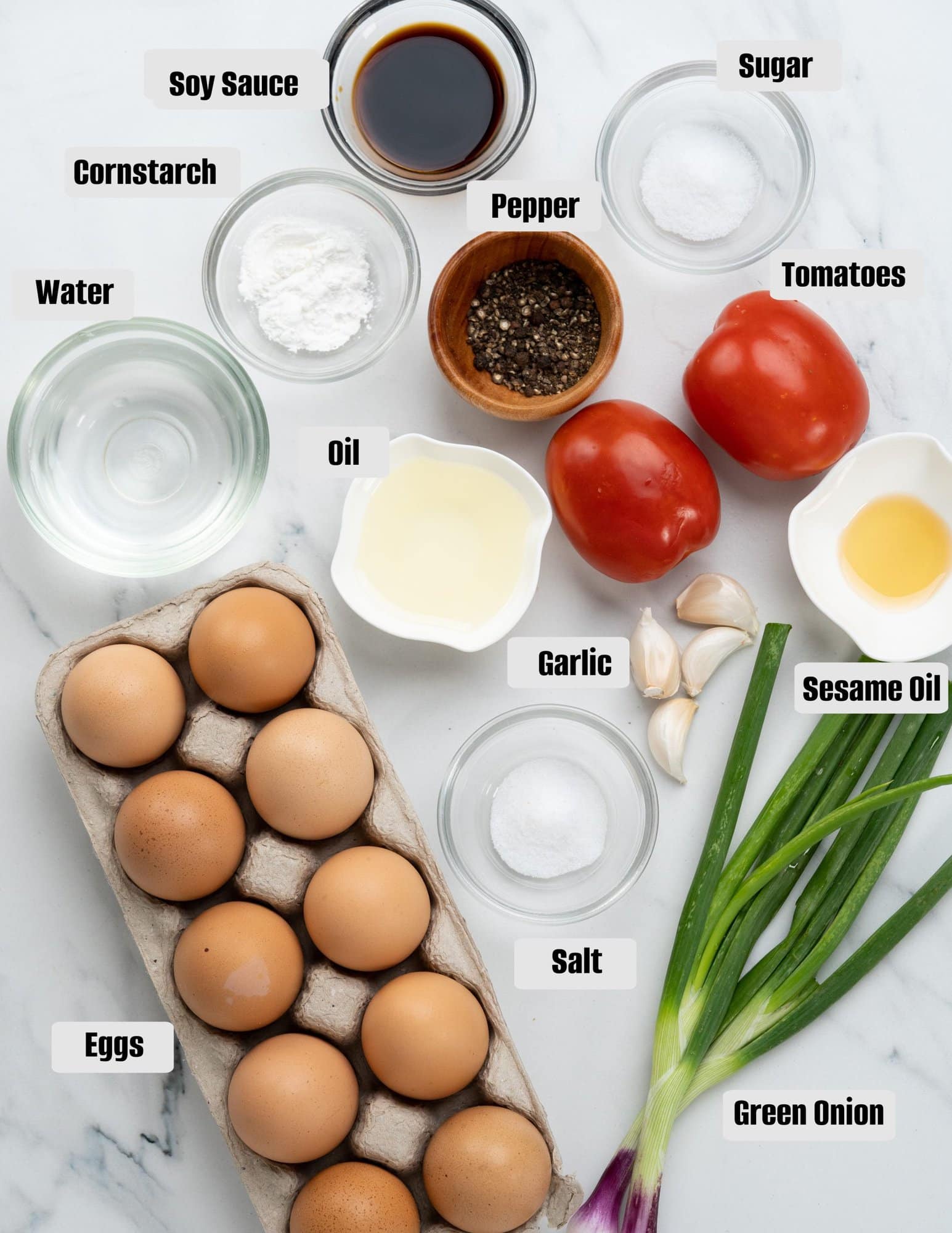 How to make Tomato Egg Stir Fry
As any other stir fries go, keep everything measured and ready on the counter before you start cooking.
Make scrambled egg – Season eggs with salt and pepper. Beat until frothy. Cook eggs, and keep them a little undercooked (creamy). These will cook further when added back to the pan along with tomatoes.
After you add the eggs, let it settle around the edges, then push the mixture towards the center allowing uncooked eggs to move towards the edges. Break any bigger pieces with the spatula.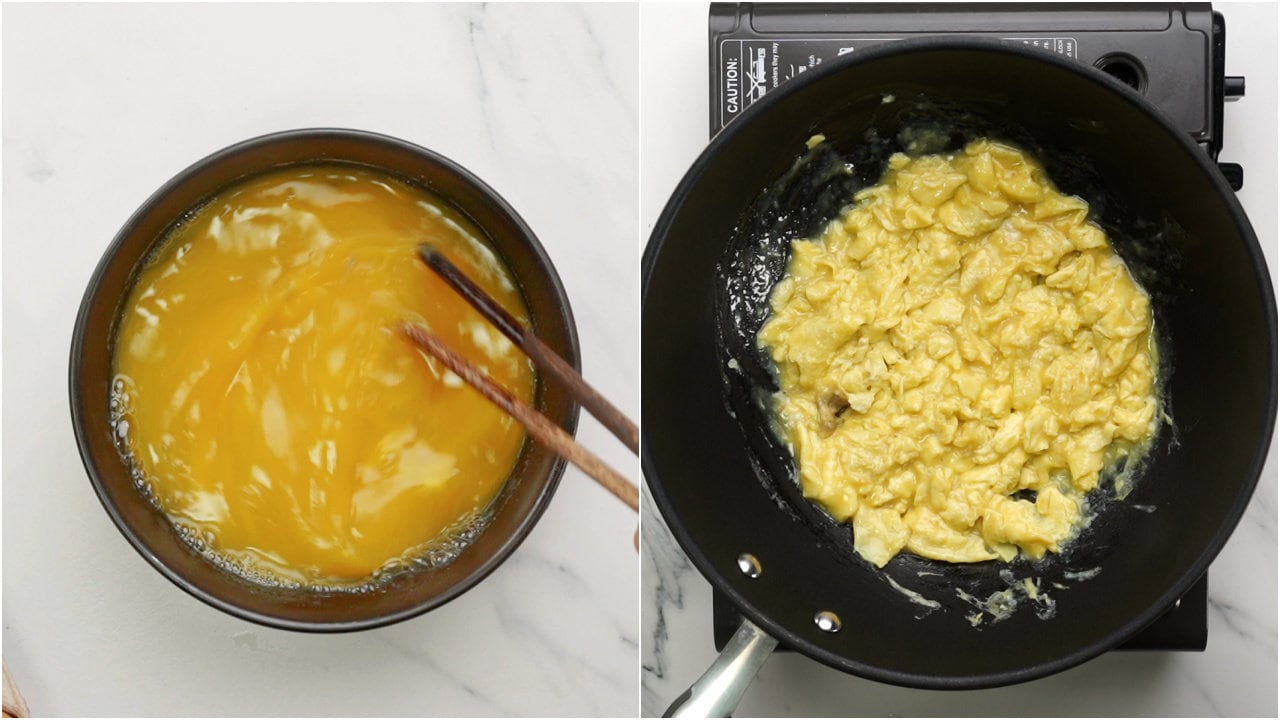 Cook the Tomatoes – Transfer the cooked egg from the pan, and wipe it with a kitchen tissue. Saute garlic and the white part of the green onion(if using) until aromatic. Add Tomato wedges, and sprinkle with a pinch of salt.
Tomatoes when cooked will naturally release liquid. For a little more sauce, add 1/3 cup water, soy sauce, and sugar. Tomatoes should be just tender but not completely mushy. Keep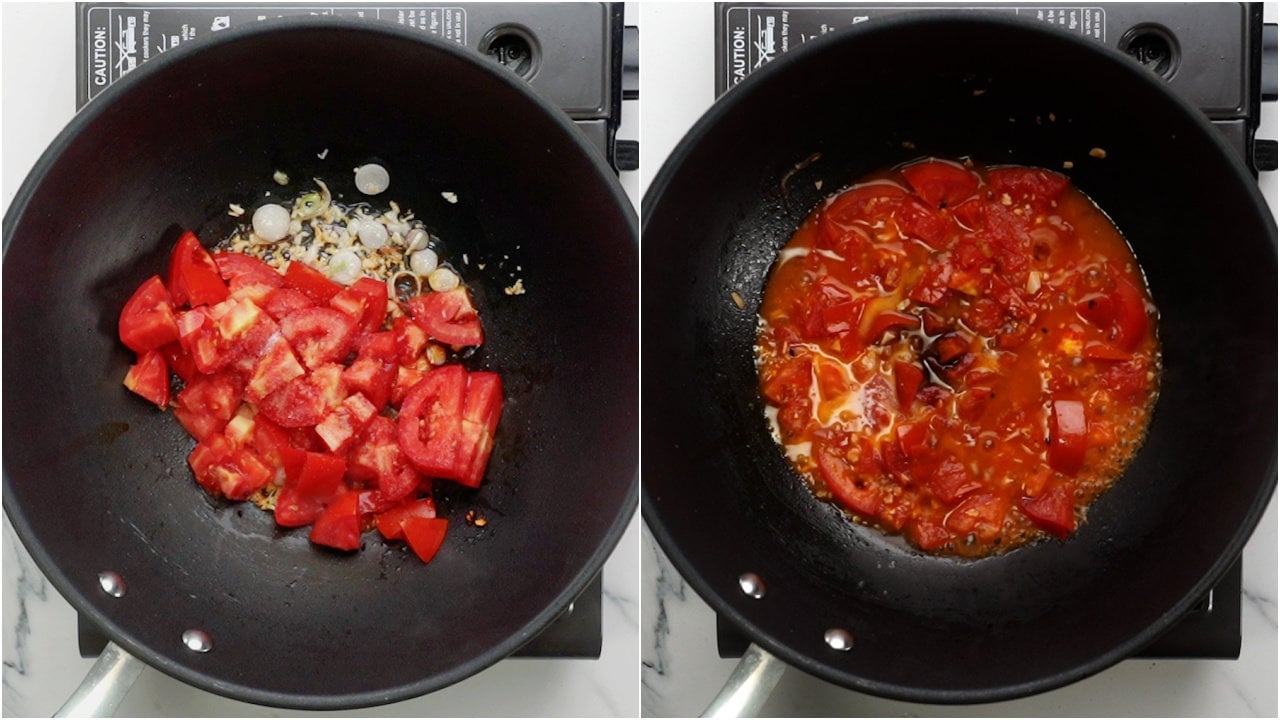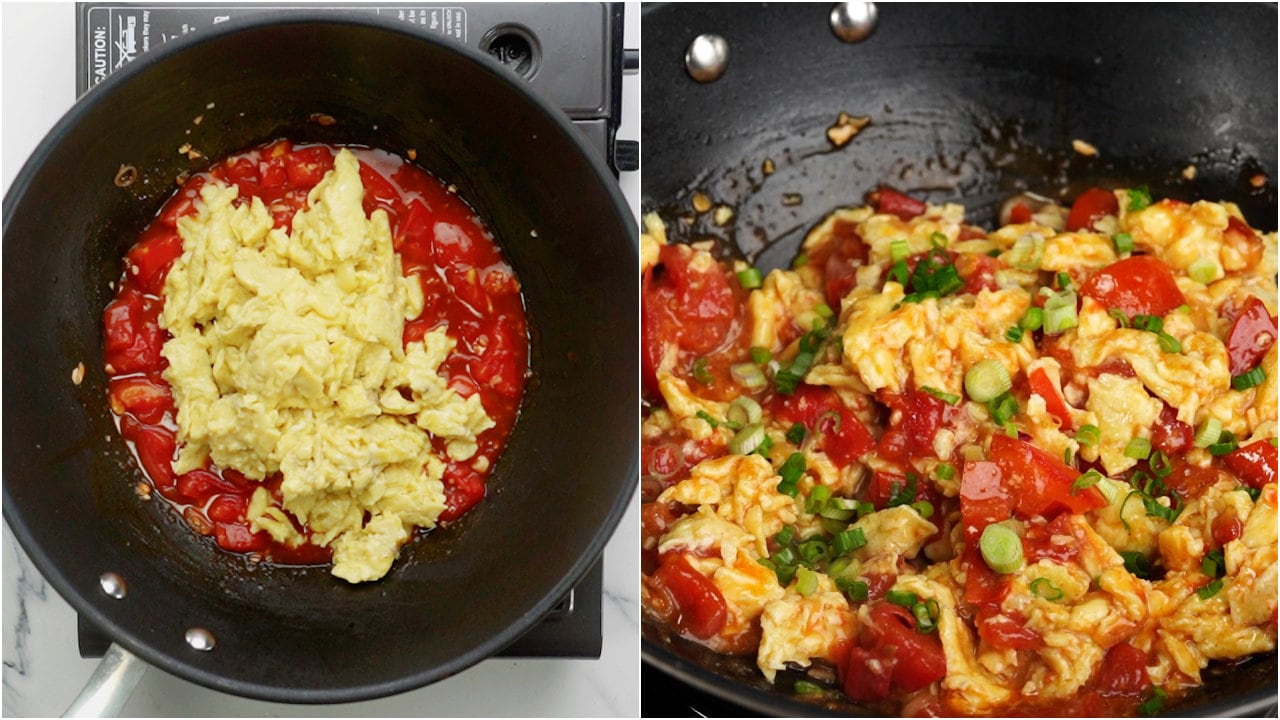 Tips and tricks for perfect Tomato eggs
Use fresh ripe tomatoes for the best flavor. Canned tomatoes don't cut a deal for this recipe.
For the creamiest eggs, while scrambling the eggs, cook on low- medium heat. Keep it a little underdone. Later when added to the tomatoes, it will cook further to the right doneness.
Use a large nonstick skillet/pan for ease of use and cleaning.
While the original version is fairly simple and straightforward, you can have your variations as mentioned above. I like to keep it simple, letting the tomato & eggs sign.
Serving & storage
Tomato egg stir fry has soft scrambled eggs and juicy soft tomatoes. It is saucy enough to pair with white steamed rice. This can also be served alongside other main dishes. I would really want you to try this on sourdough toast. Not a traditional way of serving but it tastes incredible.
This tastes great while it is hot out of the stove and served right away. In case of leftovers, you can store in an airtight container for 1-2 days. When stored in the refrigerator, it might thicken further because of the cornstarch. So while reheating add a few teaspoons of water to loosen it up.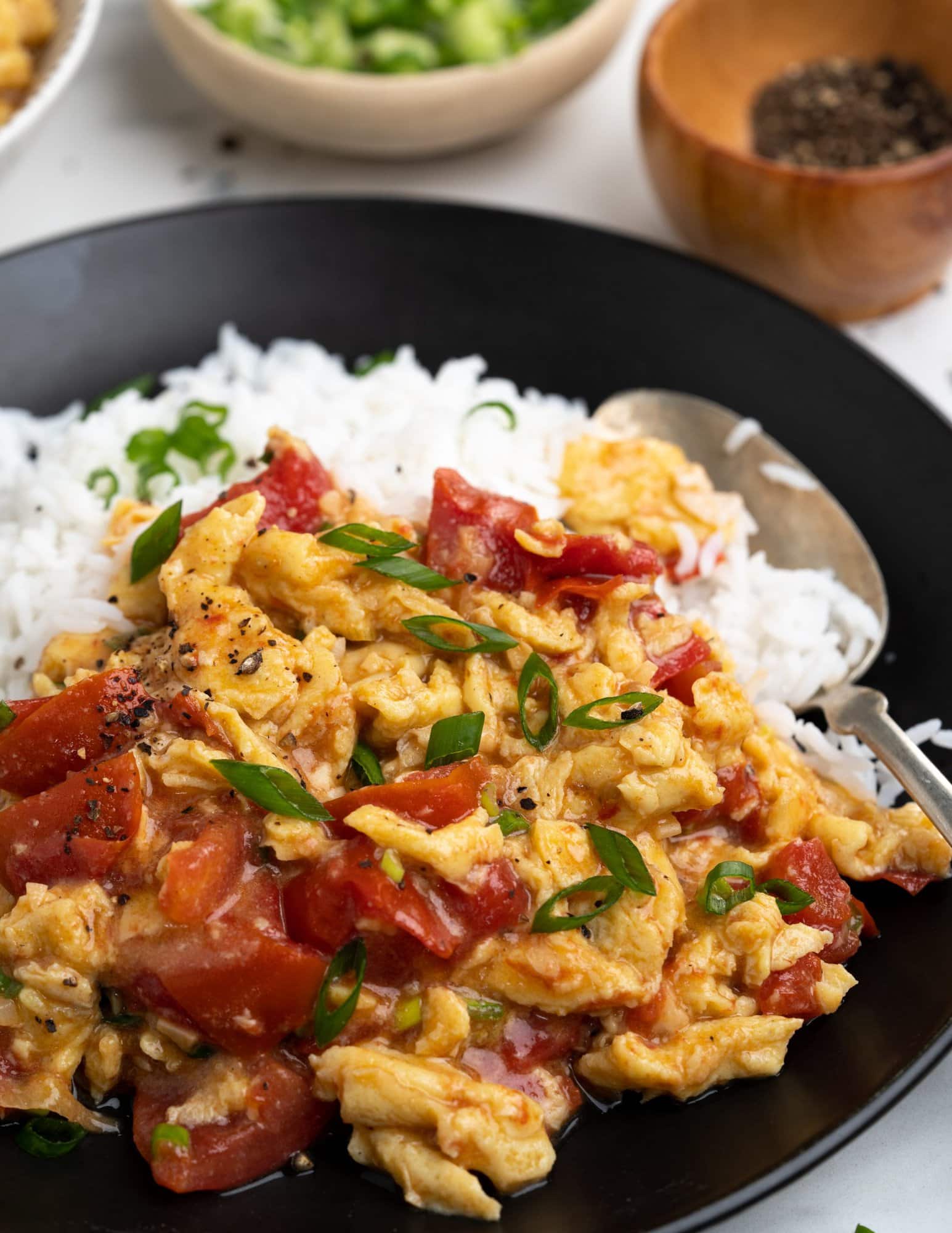 More stir-fry recipes…
Sweet Chilli Shrimp Shrimp Stir Fry – Love seafood stir fry? this shrimp stir fry is loaded with colorful veggies. The stir-fry sauce is sweet and spicy.
Thai Cashew Chicken Stir Fry – Thai Cashew Chicken Stir Fry – super quick Chicken Stir fry recipe is packed with Thai flavors with the added crunch of perfectly roasted Cashews. 
Chicken in Chinese Garlic Sauce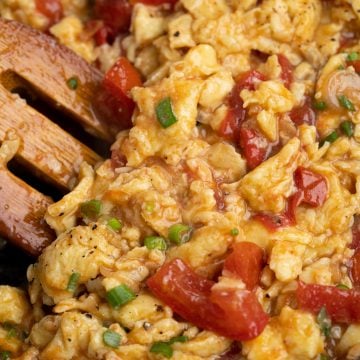 Tomato Eggs
A classic stir fry, this tomato egg stir fry has Chinese flavours. Sweet slightly tart tomatoes are cooked until it has stew like consistency and then scrambled egg is added to it.
Ingredients
6 large eggs
¾ teaspoon salt
pepper to taste
2 tabelspoons Neutral oil
3 cloves garlic minced
2 green onion chopped white and green part divided
2 medium-sized tomatoes cut into 8 wedges
1 tablespoon all purpose soy sauce
½ teaspoon sugar (ref note 1)
⅓ cup water
1 teaspoon sesame oil
1 teaspoon Cornstarch mixed with 2 tablespoon water
Instructions
Break eggs. Add salt and pepper, beat until it looks forthy.

Heat 1 tablespoon of oil in a large wok or non-stick skillet. Add eggs to the pan. Reduce the heat to low-medium. Once the side starts to settle around the edges, push it toward the center. Break any bigger chunks of egg. It should take around 3 minutes. The egg should look creamy and slightly underdone is fine ( as it will cook later when added to tomatoes).

Remove eggs from the wok and keep aside. Clean the wok and add the rest of the oil.

Saute garlic and white parts of the green onions for 30 seconds.

Add tomato wedges along with its juices to the wok. Mix 1/4th teaspoon of salt, cover, and let it cook for 2 minutes.

When the tomatoes have softened but still holding their shape, add water and sugar to it and mix.

Lower the flame and stir in the cornflour slurry, soy sauce. let the mixture simmer for 30 seconds. It should thicken slightly.

Switch off the flame. Add scrambled egg, green onion, and sesame oil. Toss everything well.

Serve hot with steamed rice.
Notes
 Adjust the amount of sugar, depending on how tart the tomatoes are. 
 We are adding sugar twice once to the eggs and second to the tomatoes. And also soy sauce has salt in it. 
Nutrition
Serving: 1serving | Calories: 171kcal | Carbohydrates: 6g | Protein: 13g | Fat: 11g | Saturated Fat: 3g | Polyunsaturated Fat: 2g | Monounsaturated Fat: 4g | Trans Fat: 0.04g | Cholesterol: 327mg | Sodium: 1047mg | Potassium: 341mg | Fiber: 1g | Sugar: 3g | Vitamin A: 1159IU | Vitamin C: 12mg | Calcium: 65mg | Iron: 2mg