Shakshuka Recipe (with feta)
This post may include affiliate links that earn us a small commission.
This Middle Eastern-inspired Shakshuka recipe has eggs gently poached in a spiced tomato and bell pepper sauce. A popular savory breakfast recipe that is one pan and comes together really quickly.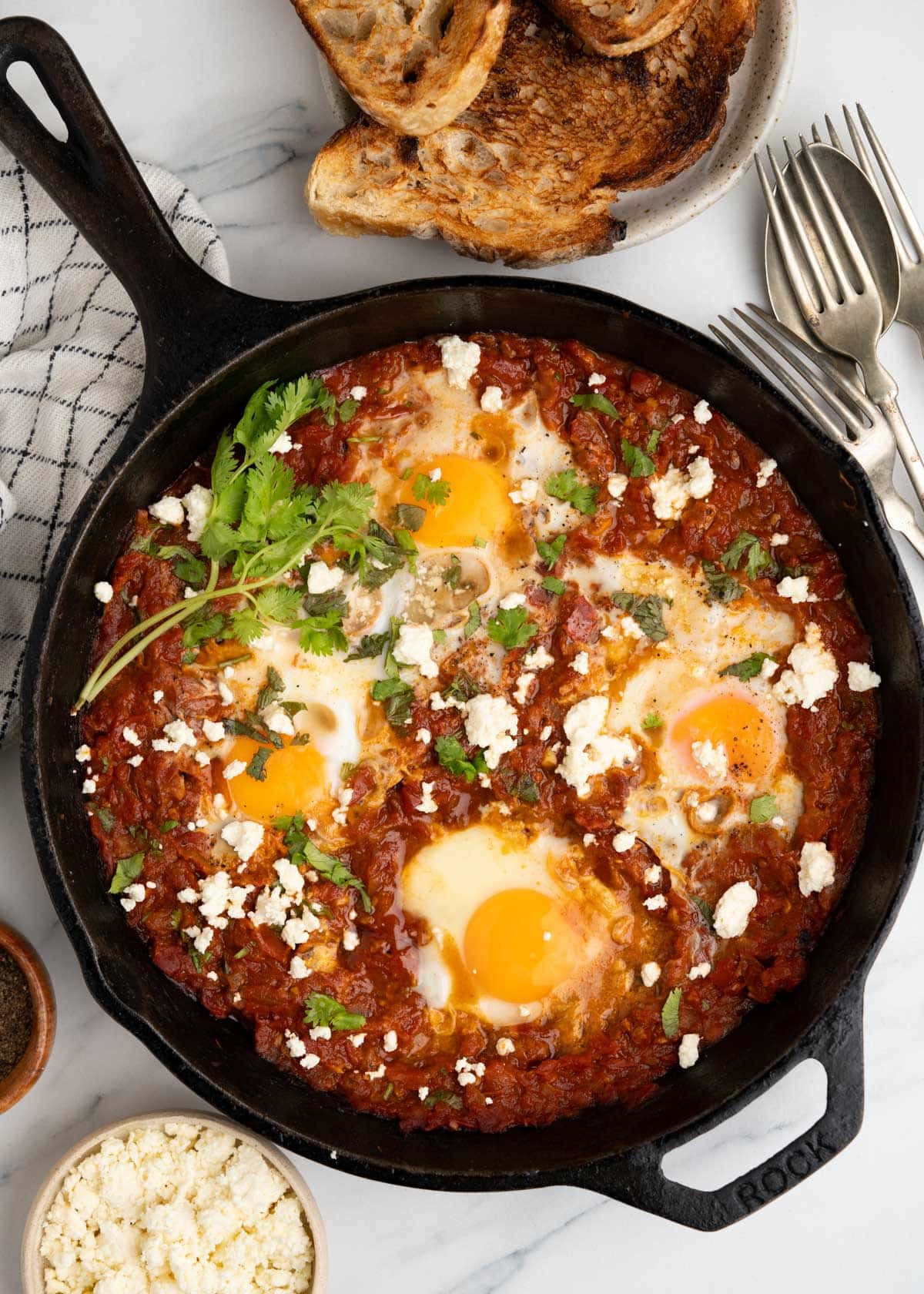 Shakshuka
Pronounced as 'Shak-SHOO-kah', this breakfast dish is of North African origin but is also widely popular in Middles-east and beyond. Eggs are gently simmered in a chunky spicy tomato bell pepper sauce until the desired doneness and served with crusty bread. The tomato sauce is flavored with onion, garlic, and warm spices such as cumin, paprika, etc.
I have always been a savory breakfast person. So Shakshuka makes an appearance quite often at home, with different variations. I love to scoop the runny yolk with chunky tomato sauce with a piece of crusty bread. Though it is served as a breakfast, I wouldn't mind having it for brunch, lunch, or dinner for that matter.
Flavours In Your Inbox
Subscribe for recipes straight to your inbox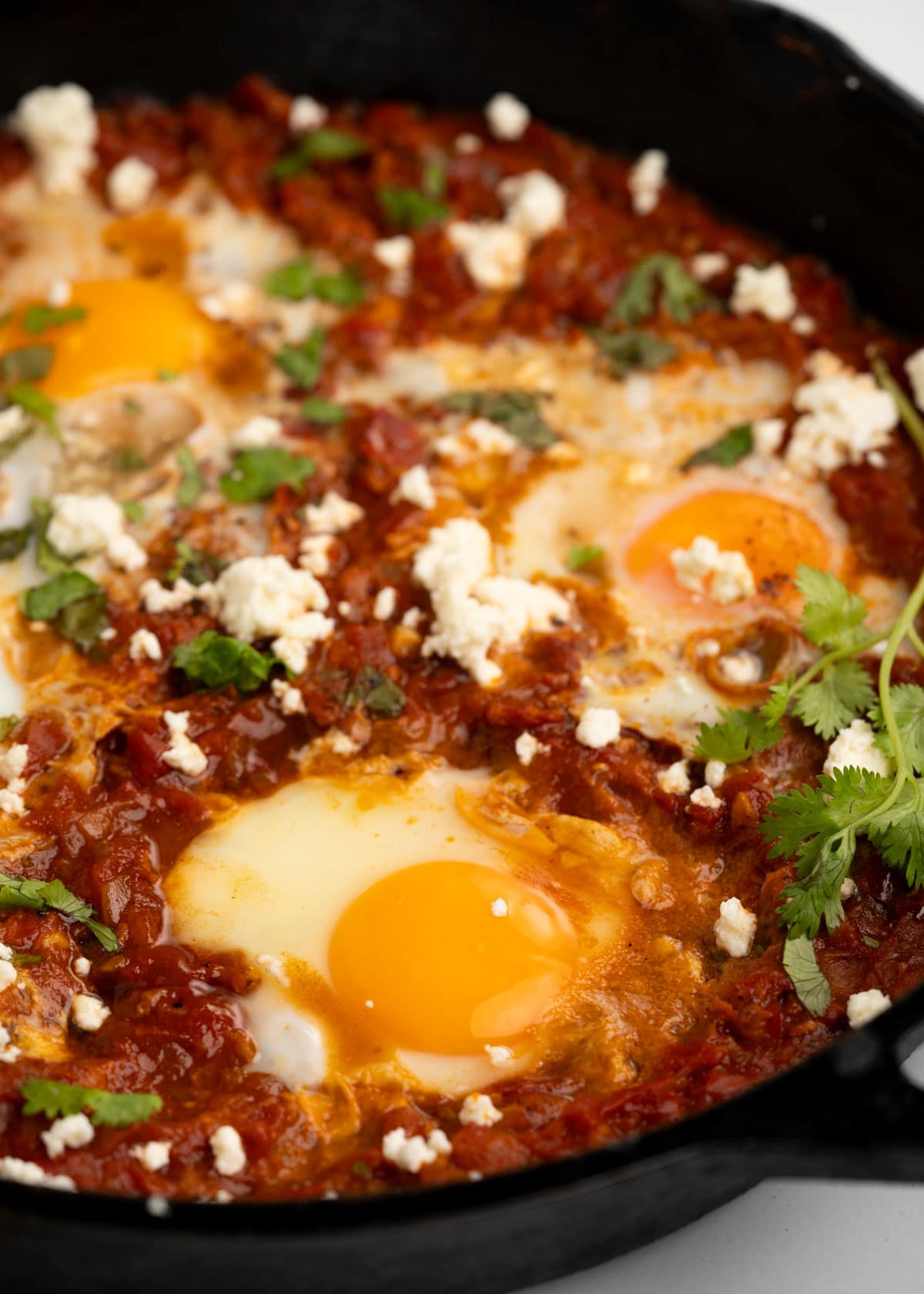 Ingredients you need for Shakshuka
While there are different variations of shakshuka, this one is a basic recipe. You can play around and introduce different spices, veggies, or meat as you wish.
Egg- Free range, preferably organic eggs.
Tomatoes- In season fresh vine ripe tomatoes are the best. They are sweet with the right amount of tartness. But canned tomatoes also work. Canned tomatoes are convenient to use and also reduce the cooking time. To intensify the tomato flavor, I have also added tomato paste. It adds sweetness.
Roasted bell pepper- Just red bell pepper should do but I love the smokiness roasted red pepper gives. You can add fresh chopped red/green bell pepper as well.
Onion and garlic – Fresh onion and garlic. Onion and garlic powder won't cut the deal here.
Spices- I have used roasted cumin, smoked paprika, paprika, pepper, and salt.
Oil- Olive oil or any neutral cooking oil. Butter will also work, no big deal.
Feta- Feta to sprinkle on top. You can also use Goat cheese instead.
Variations
While the shakshuka recipe I have shared below tastes amazing as such, there are a number of variations available to try.
Add spinach/kale to make it fiber-rich and more filling.
Play around with spices you can add ground coriander, caraway, red pepper flakes, chili powder, and harissa ( African chili paste).
To bulk up, you can add chopped and cooked sausage, chorizo, etc. Cut into bite-sized pieces and brown before adding to sauteed onion garlic.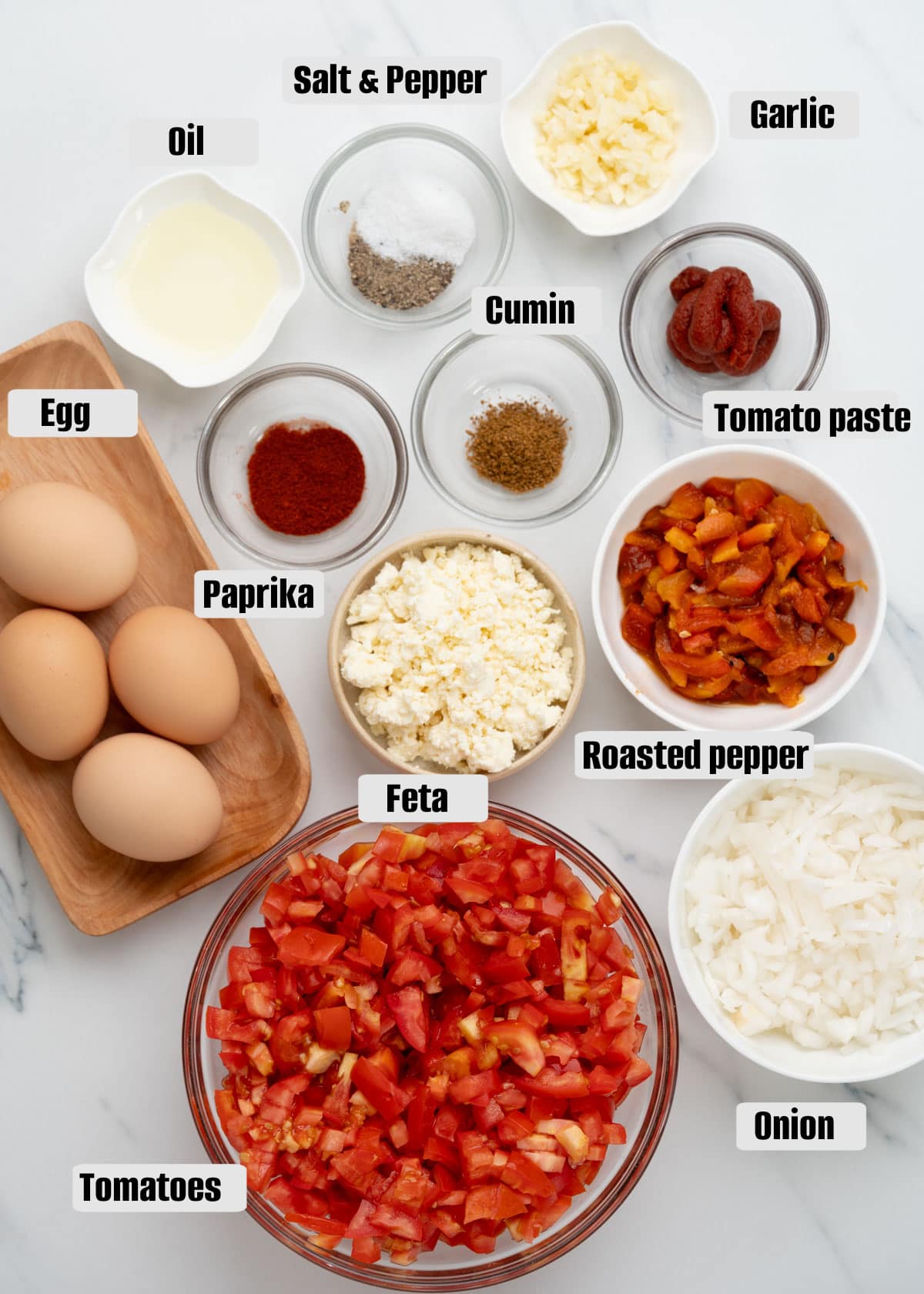 How to make Shakshuka – Step by step
If you are using fresh tomatoes, save all the juices and use it.
Start by sauteing onion and garlic until softened and aromatic. Then add chopped fresh tomatoes along with juices. If using fresh tomatoes, it might take a little longer for the tomatoes to cook and soften. To cook it faster, cover and cook on low heat for the tomatoes to soften.
I always prefer sauteing the spices a bit for the aromatic oils to release. So saute tomato paste and spices for a minute.
Add water for the mixture to be of sauce consistency. Using a spatula make small space in the sauce so that it can hold the eggs. Cover and cook until you get the desired doneness of eggs.
Sprinkle crumbled feta on top while serving.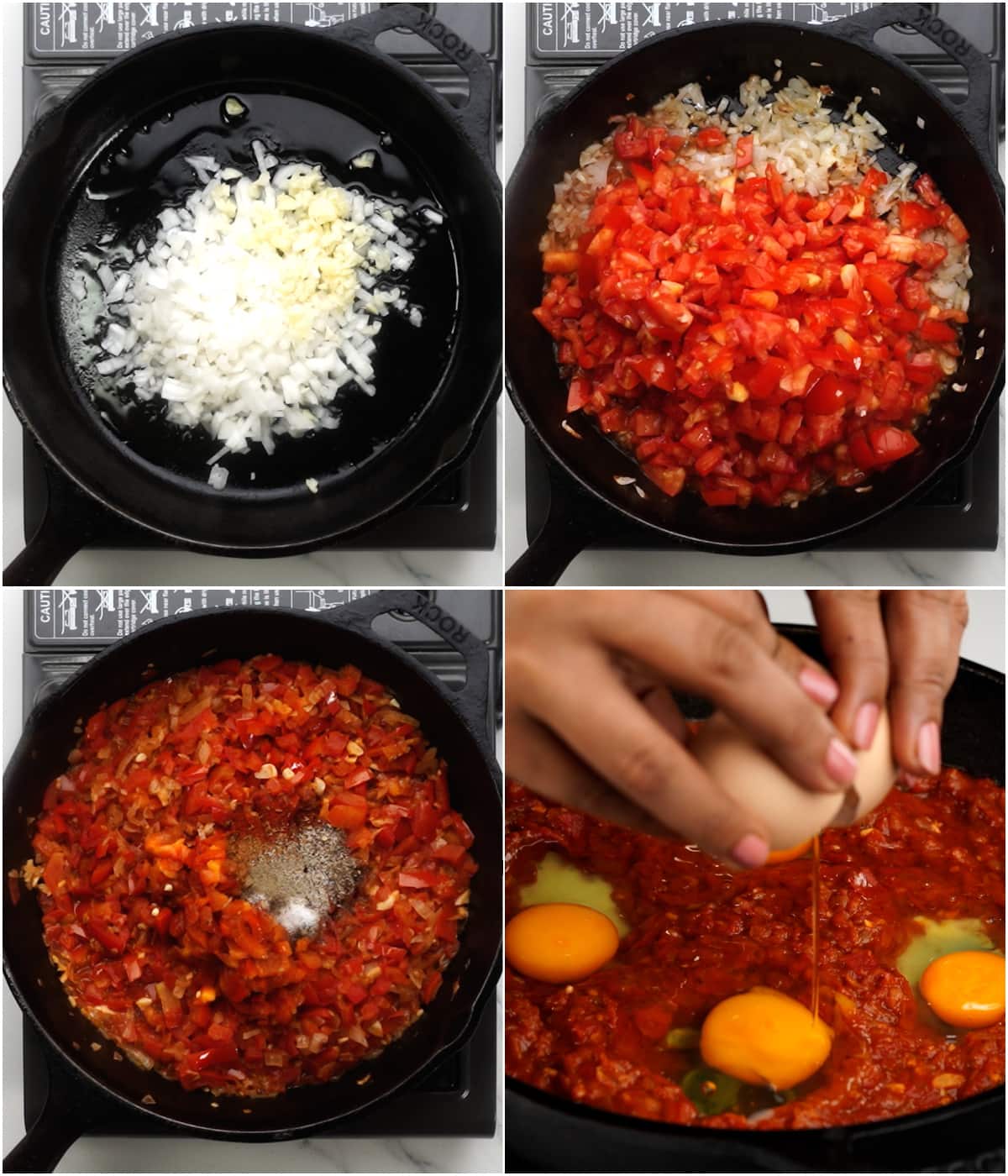 Shakshuka Recipe Tips
This recipe is easy to follow. Follow these tips for a perfect shakshuka.
The sauce consistency need not be smooth. It could be a bit chunky but should be the right consistency. The sauce should be of the right thickness to hold the eggs. Too thin sauce, the eggs will spread.
The skillet should be at least 10 inches wide for enough eggs to hold without overlapping. Also a fitted lid for the skillet, you can cover and cook the eggs.
Make ahead and store instruction
Make ahead– Shakshuka tastes best when served hot and fresh. You can make the tomato sauce ahead of time and keep it refrigerated for 2-3 days. Reheat the tomato sauce in a pan and cook eggs as usual
Storing leftovers – Leftovers can be stored in an airtight container for not more than 2 days. Reheat in a pan. Because it has eggs, it's safe to reheat in a pan instead of in a microwave.
What to serve with Shakshuka?
Shakshuka can be enjoyed for breakfast, brunch, lunch, or even dinner. Pair it with warm toasted bread, sourdough, or pita, or serve it with an assortment of bread. If serving for lunch, serve some grilled meat, and a fresh salad .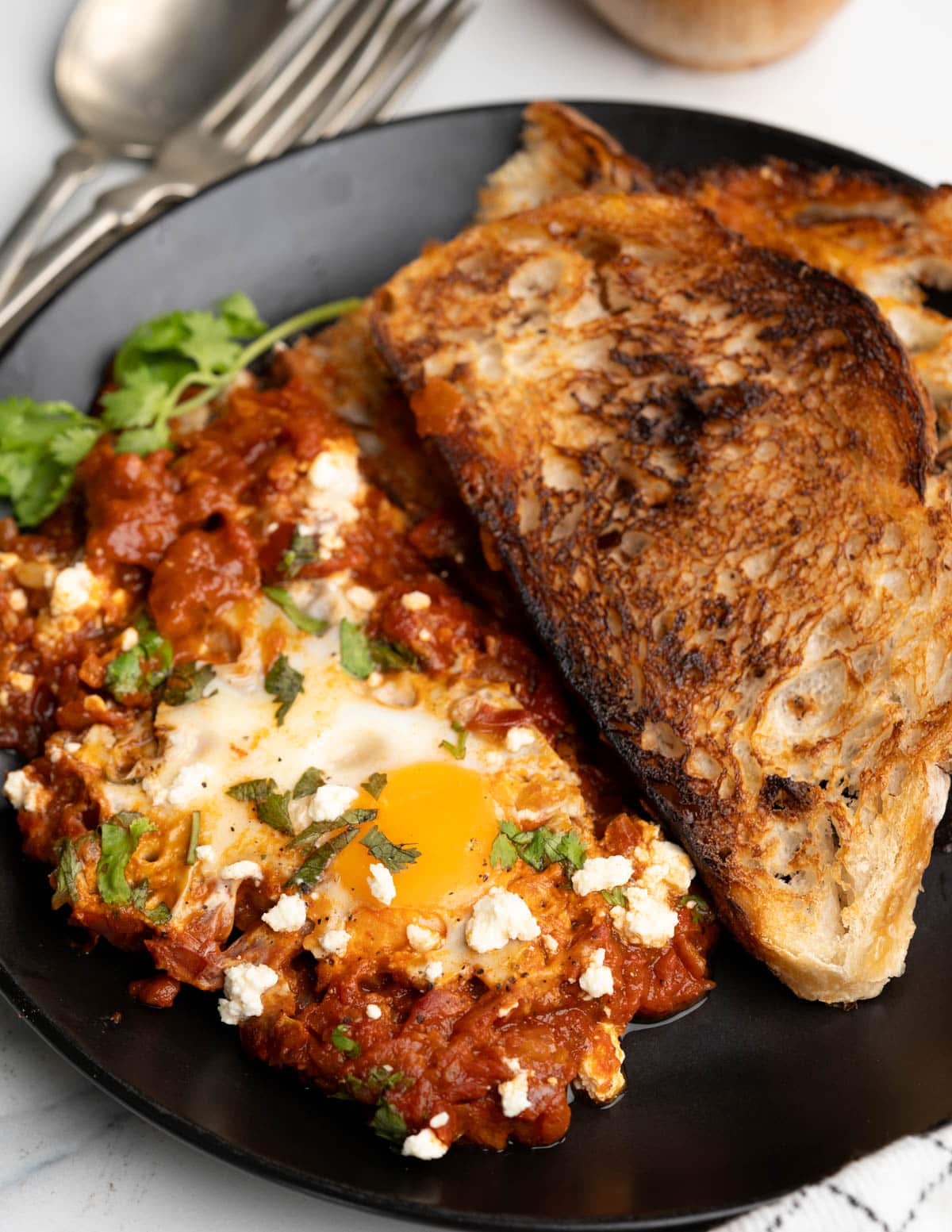 More Breakfast Recipes to Try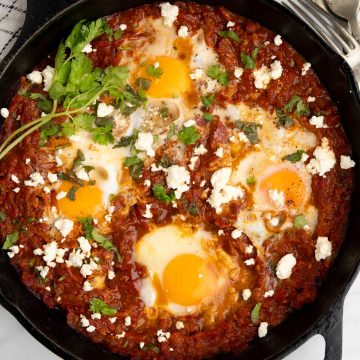 Shakshuka with Feta
Eggs gently simmered in a spiced chunky tomato and red pepper sauce.
Ingredients
2 tablespoons oil
1 medium onion
½ tablespoon garlic
6-7 large plum tomatoes ref note 1
2 tablespoon tomato paste
1 roasted red bell pepper
1 teaspoon cumin
½ teaspoon smoked paprika
½ teaspoon paprika
¼ teaspoon pepper
1 teaspoon salt
4-5 eggs
⅓ cup feta
Instructions
Heat oil in a large skillet. Saute onion and garlic until softened.

Add tomatoes and cook until the tomatoes have softened and the mixture comes together. If using fresh tomatoes, it will take a little longer to come together. Add a pinch of salt for the tomatoes to cook faster.

To the mixture, add roasted red pepper, tomato paste, and spices. Saute for another 1 minute.

Stir in 1/3 cup water(add more or less, to get the desired consistency).

Using a spatula make small 4-5 wells in the mixture. Break eggs in each well. Cover the skillet with a lid and let the eggs cook until the desired doneness.

Sprinkle with crumbed feta and cilantro leaves.
Notes
 Use a 28oz tomato can, if not use fresh tomatoes. 
Nutrition
Serving: 1serving | Calories: 199kcal | Carbohydrates: 10g | Protein: 9g | Fat: 14g | Saturated Fat: 4g | Polyunsaturated Fat: 3g | Monounsaturated Fat: 7g | Trans Fat: 0.04g | Cholesterol: 175mg | Sodium: 983mg | Potassium: 450mg | Fiber: 2g | Sugar: 5g | Vitamin A: 1489IU | Vitamin C: 21mg | Calcium: 117mg | Iron: 2mg