This post may include affiliate links that earn us a small commission.
These moist and tender cinnamon apple muffins are loaded with juicy apples and a crunchy cinnamon sugar topping. The sweetness of apples and the warmth of cinnamon in these muffins feel just like fall.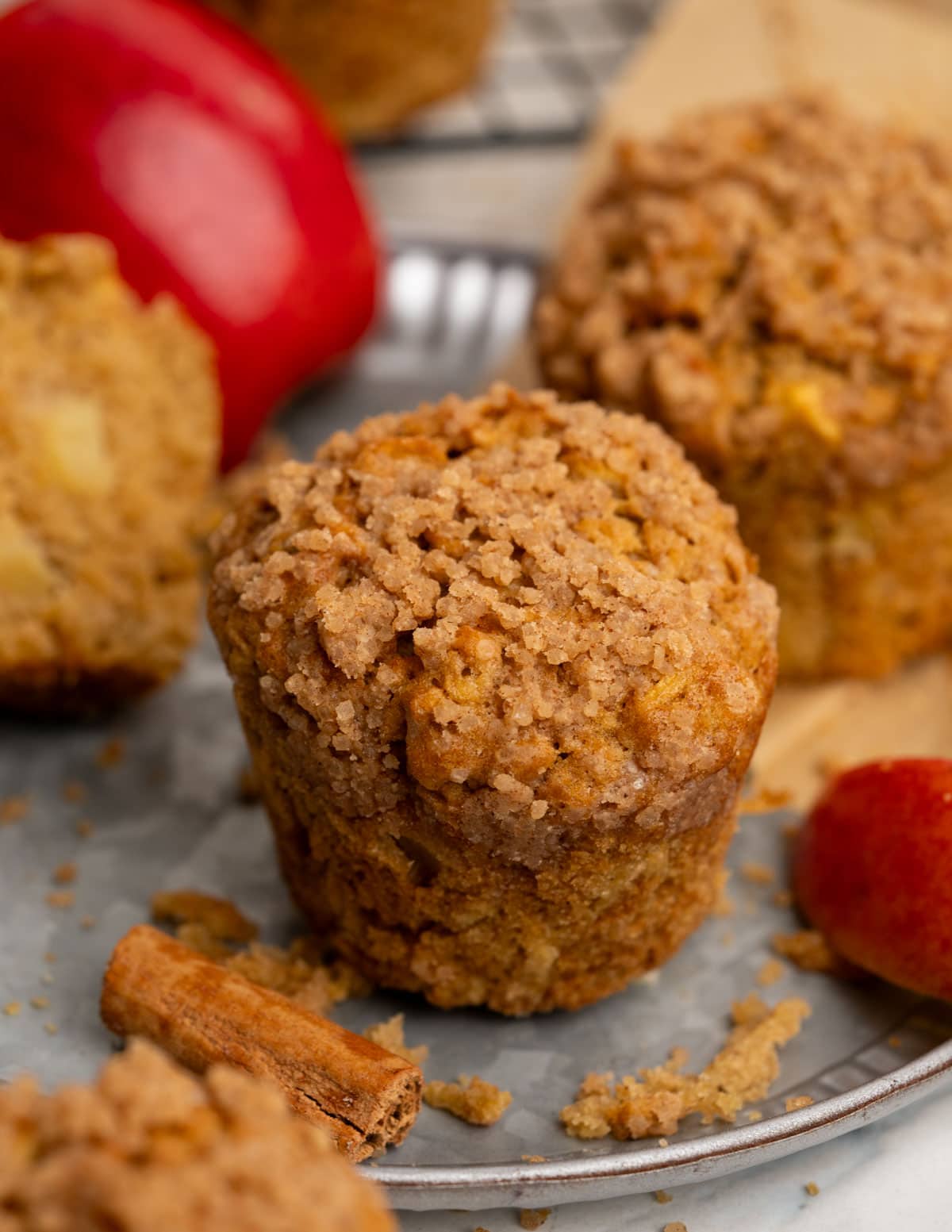 When I say these muffins are loaded with apples, I mean it. It has three generous cups (equal to four apples), both in chunks and grated form. Apples provide a fruity flavor, and the meaty chunks of apple are a bit crisp and naturally sweet.
These muffins are flavored with the warmth of cinnamon and have just the right amount of sweetness. The crumbs in the muffin are tender and moist, thanks to the sour cream in the batter. These muffins are also topped with a crunchy cinnamon sugar topping that adds crunch to every bite.
Flavours In Your Inbox
Subscribe for recipes straight to your inbox
Why will you love cinnamon apple muffins?
Easy muffin batter: an easy one-bowl muffin batter. No creaming is required. Mix all the wet ingredients in a bowl, and shift the dry ingredients right onto the wet mixture. Fold in the batter using a spatula.
A great way to use seasonal apples: These muffins are packed with apples. There are about 4 apples in 12 large muffins, and that is a generous amount, I would say. So get all those juicy apples this fall and make loads of them.
Flavourful, moist, and wholesome: Apart from being loaded with apples and moist, it's also quite filling and works really well as a grab-and-go breakfast.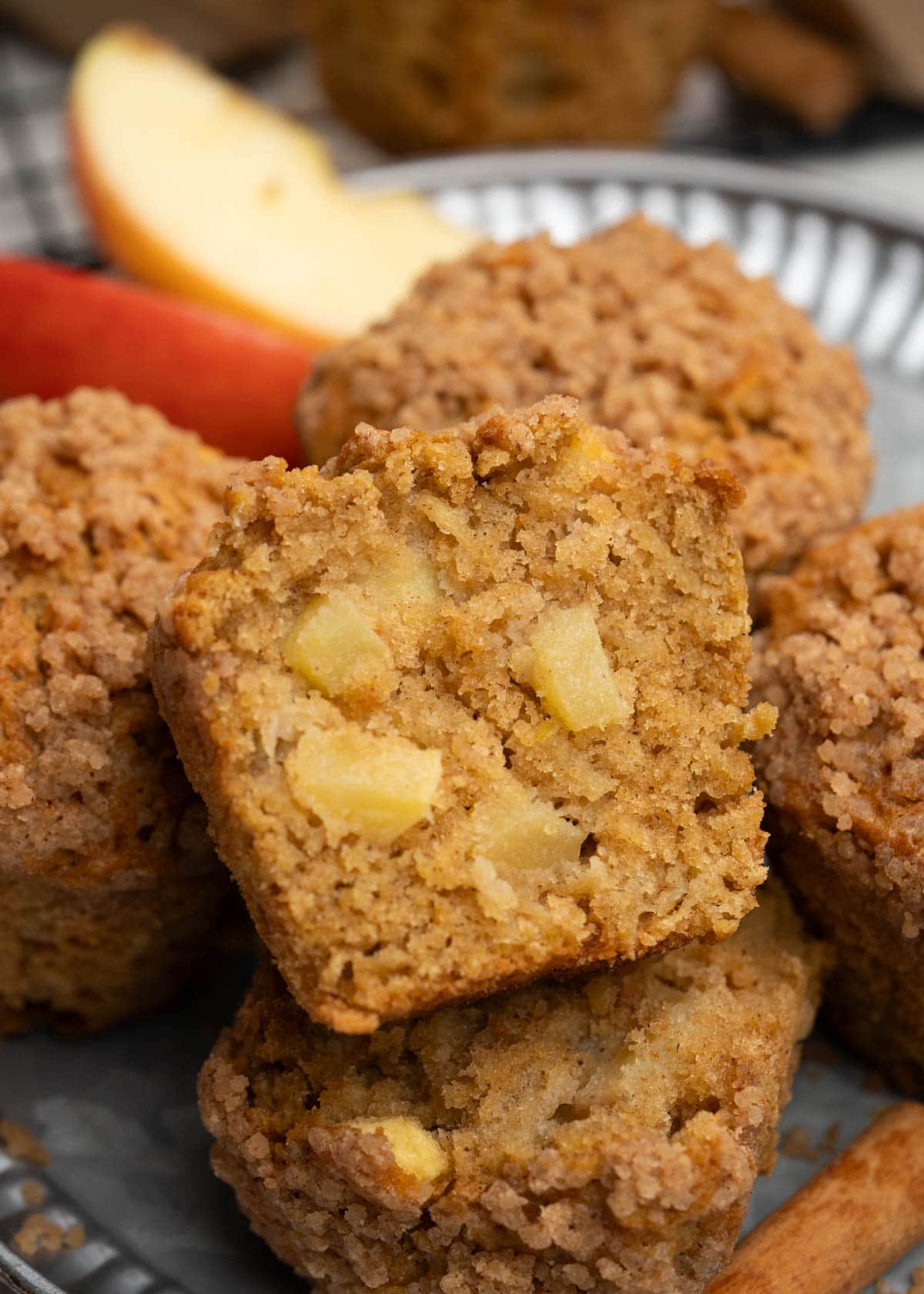 Why are these apple muffins different?
Apart from being moist, loaded with apples, and delicious, what sets apart these muffins are
These muffins have a generous amount of apple. Apple contains a lot of moisture, and when baked, it makes the dough a little gooey around its edges. Also, apple chunks tend to settle down if added in large quantities. So to address these two issues, I have added a mix of both grated and chopped apples. Also, before adding grated apples, squeeze the extra water by placing it in a colander, pressing it, or using a cloth.
Adding grated apples is also a great way to disguise it for someone who doesn't like the fruit.
This recipe contains only 1/4 cup of butter. Because the amount is less, it doesn't make a huge difference in the softness if you use oil or butter. I like butter because it adds richness to the muffins.
The ingredient that makes this ultra-soft is sour cream. I have played with the sour cream and oil/butter ratio. I found more sour cream and less butter keep the muffins moist without making them too greasy.
More muffin recipes
If you love muffins, here are a few more to try. I love the tartness of blueberries. Check out these recipes: One is a homemade classic blueberry muffin, and the other is a delightful combination of bananas – Blueberry Banana Muffin. For yet another grab-and-go breakfast or a sweet treat, try this Chocolate Chip Cherry Breakfast Muffin.
Who says muffins have to be all sweet? In fact, they are a canvas where you can add your own spicy or savory flavors to balance the sweetness. Here is a Mexican Egg Muffin with a savory twist on the classic muffin, filled with Mexican flavors. For a feel of southern comfort, my Cornbread Muffins are a must-try.
Ingredients
To make these easy cinnamon apple muffins, you will need the following ingredients (full quantities in the recipe card below):
Apples – It's important to choose the right kind of apple when it comes to baking with them. Make sure the apples are firm and hold shape while baking. Tart-sweet varietals such as Honey Crisp, Granny Smith, Pink Lady, etc. will work. You can also use a mix of 1–2 varieties.
All-purpose flour – A baker's companion that, along with the apple chunks, forms the base of the muffin.
baking powder and baking soda – Used as leavening agents, help the batter rise and make the muffin light and fluffy.
Sour cream – full-fat sour cream—adds tanginess—another layer to the flavors of the sweet. It also adds moisture, making the muffin crumbs tender and soft. Full-fat yogurt will also work in a pinch.
Butter – Melted and cooled butter adds richness to the butter that you can taste in each bite.
Eggs – Act as a binding agent that helps form the structure with the rest of the ingredients. Added at room temperature.
Brown Sugar – For that extra caramel flavor that compliments the sweetness.
Vanilla extract – Has a stronger flavor than vanilla essence and gives a sweet, floral essence to the batter.
Cinnamon – Is freshly ground for the best flavor, and its spice and warmth balance the sweetness in the muffins. Along with or instead of cinnamon, you can also use allspice and a pinch of nutmeg.
To make the crunchy sugar topping, you would need granulated sugar, flour, cinnamon, and melted butter.
You can also add chopped walnuts or pecans to the muffins for extra crunch.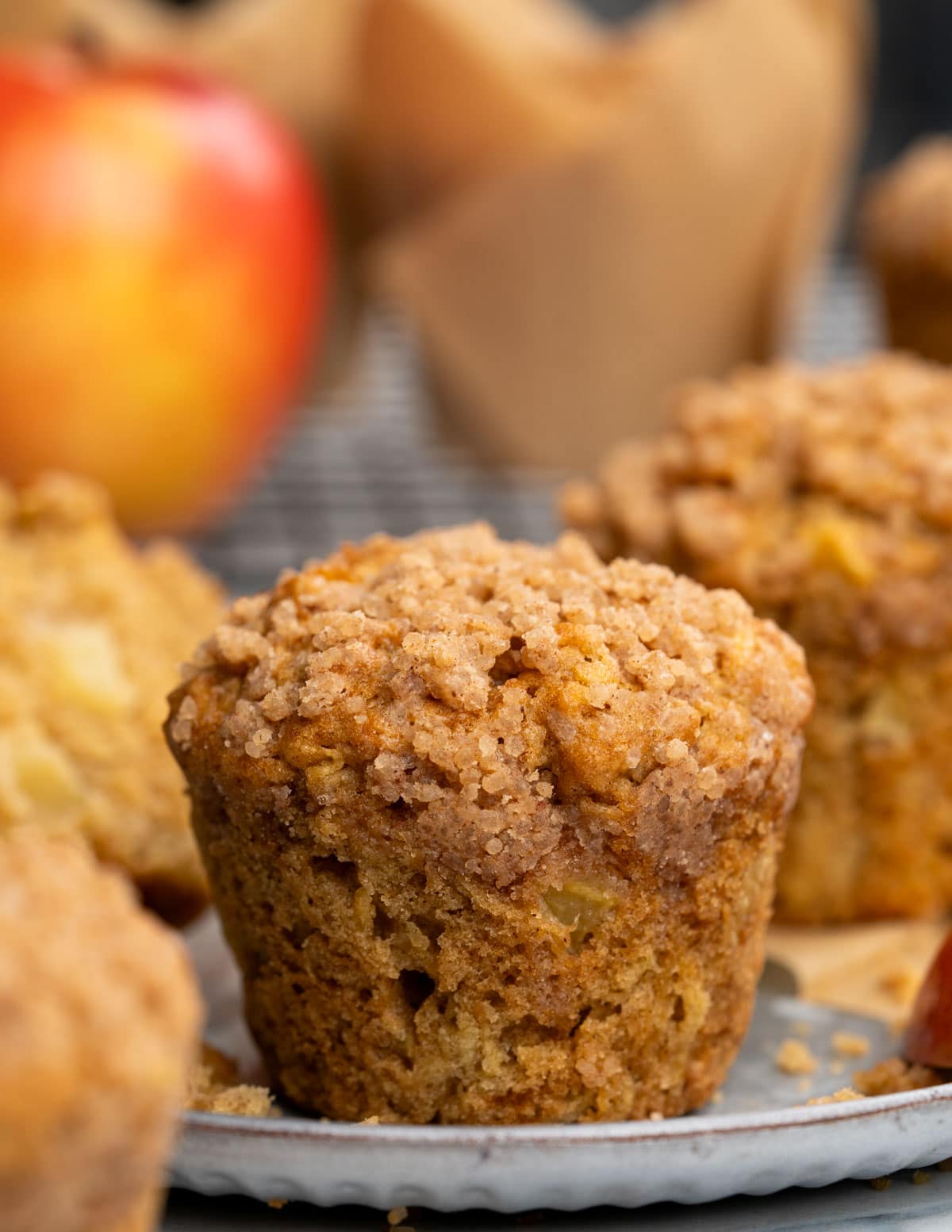 Steps to make the muffins
The batter is like any other muffin batter. You would only require a bowl, a balloon whisk, and a spatula.
Peel the apples. Chop one apple into bite-sized pieces. Grate the rest either using a grater or a food processor. Squeeze the grated apples by pressing them in between your palms, or keep all the grated apples in a cloth and squeeze the liquid. You can also use a colander and press with your hand or the back of a spoon to extract the liquid.
Whisk until creamy: Start by whisking together sour cream, eggs, melted butter, and vanilla extract until it is creamy.
Mix everything. Then, to the wet mixture, add brown sugar, chopped apples, and grated apples. Mix, then stir in the dry mix. You can either use a colander and sift the dry ingredients right into the wet mixture or mix everything in a separate bowl.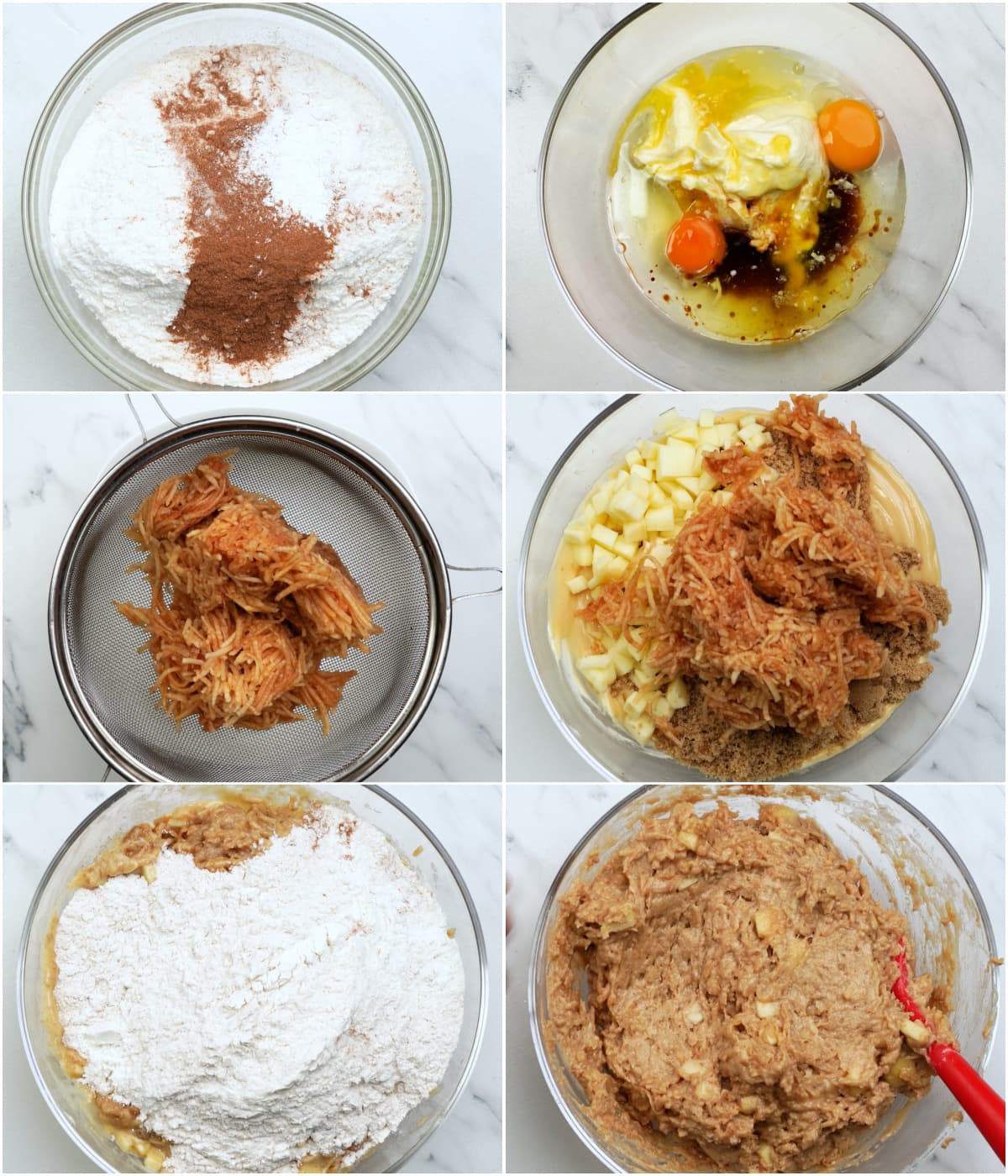 Make crunchy sugar toppings: To make the cinnamon sugar toppings, mix granulated sugar, flour, melted butter, and cinnamon powder in a bowl. The mixture should be slightly crumbly.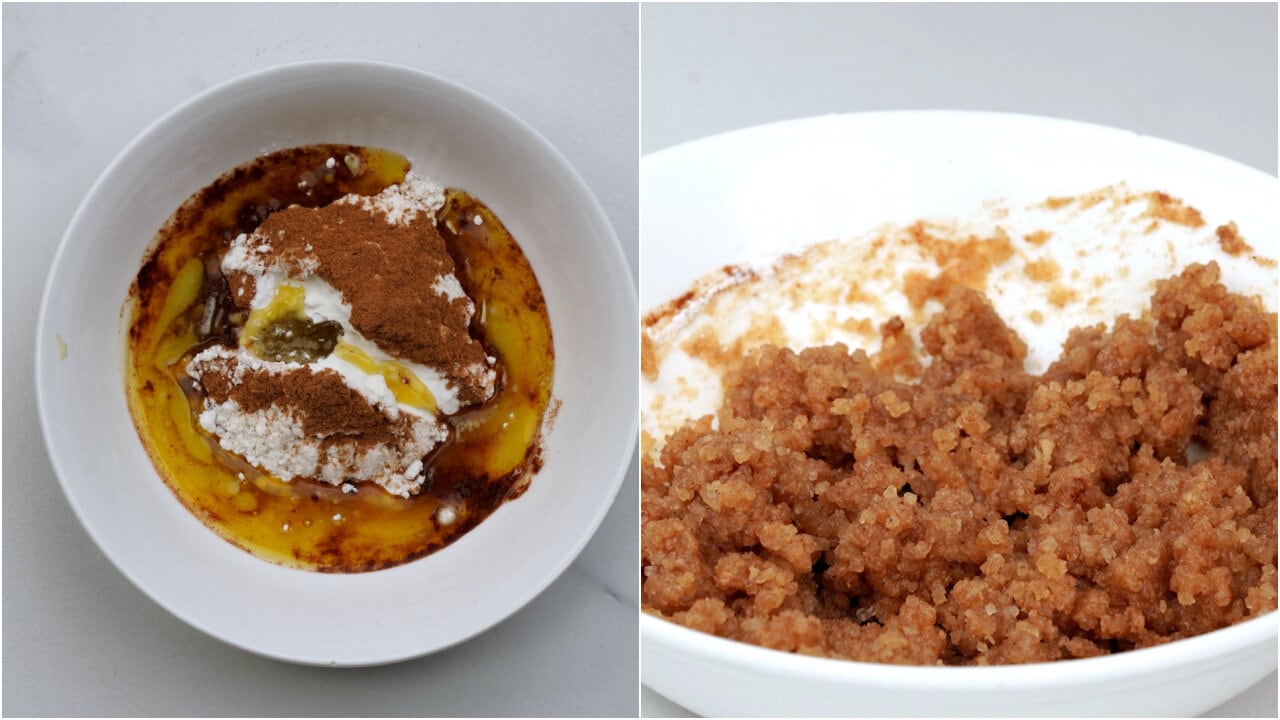 Line with liners: Line a 12-tin muffin pan with muffin or cupcake liners, or spray the inside with nonstick baking spray. Using a large ice cream scoop, spoon enough batter into each mold so they are 3/4 full.
Bake on top rack: Bake in a preheated 375F oven on a rack in the top third of your oven for 20 to 25 minutes, or until a cake tester comes out clean. So easy!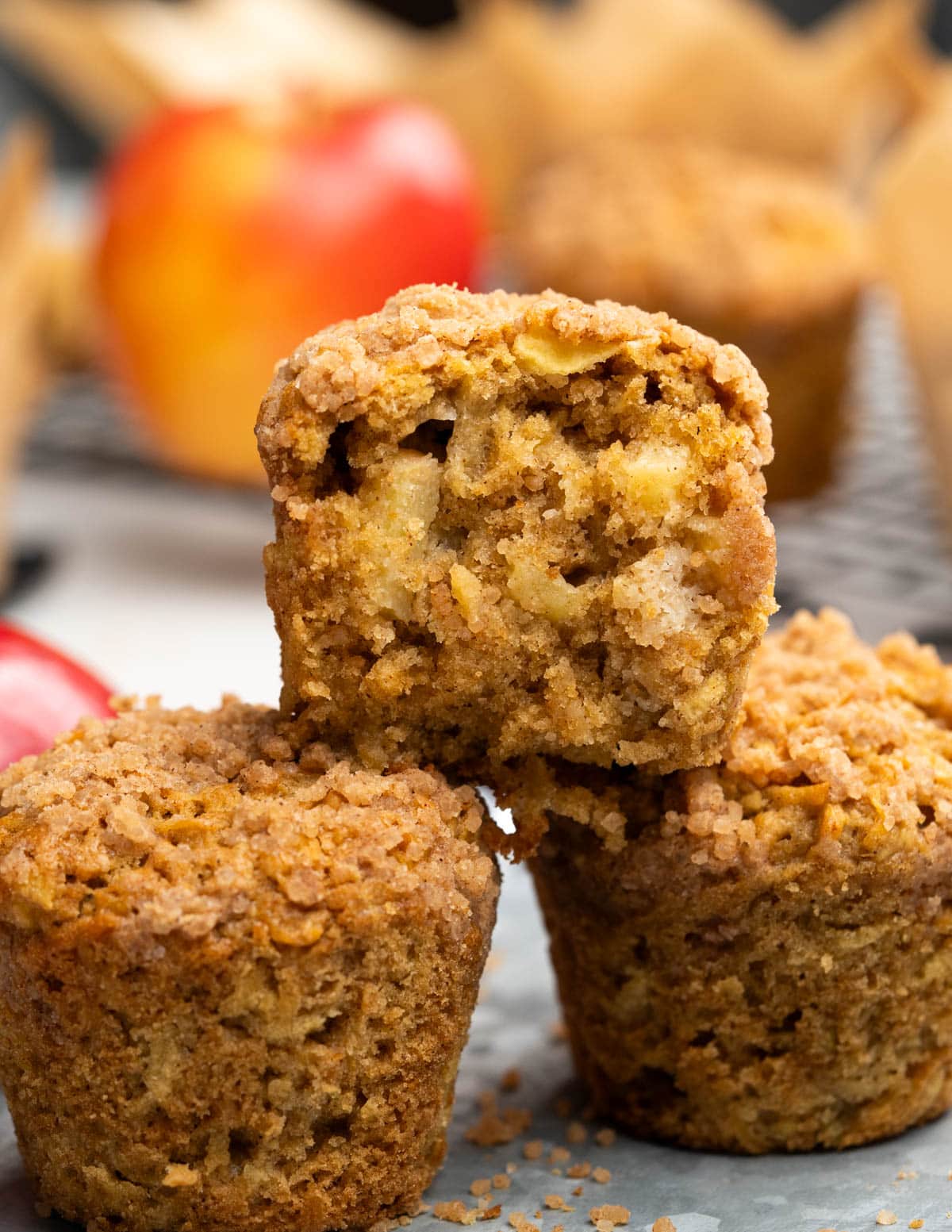 Storage
Keep muffins in a zippered bag or airtight container at room temperature. They should keep for about 4–5 days.
Apple muffins are also perfect for freezing. Once they are completely cooled down, put them in a freezer-friendly container or bag with the date labeled on the bag. They will stay good for a month or so.
You can reheat these muffins in a preheated oven or air fryer. You may also quickly do that in the microwave. Preheat the oven to 350°F (175°C). Wrap the muffins loosely with aluminum foil or a kitchen towel and place them on a baking sheet. Heat them for 2-3 minutes, 5–10 minutes, or 15-20 minutes for room-temperature, refrigerated, or frozen muffins.
For muffins at room temperature or refrigerated, you can quickly reheat them in the microwave in bursts of 15-20 seconds. Check and repeat if required.
More Apple recipes to try
For an abundant and universally loved fruit like apples, we cannot have too many recipes.
Apple cranberry slaw – Enjoy a healthy and easy-to-make apple slaw with crisp apples, cabbage, carrots, tart cranberries, and creamy yogurt dressing in just 10 minutes.
Apple fritters – Perfect for breakfast or dessert; enjoy them dusted with cinnamon sugar, glazed with chocolate sauce, or paired with vanilla ice cream!
Best Apple Crisp – Enjoy the flavors of fall with our classic Apple Crisp recipe, featuring baked apples, warm spices, and a zesty lemon twist, perfect with a scoop of ice cream!
Moist Apple Cake – Indulge in a super moist apple cake packed with fresh apple chunks and walnuts, perfect for your tea-time treat, featuring a delightful hint of cinnamon.
Apple Cinnamon Baked Oatmeal – Enjoy a sweet and healthy breakfast with our easy-baked oatmeal recipe, featuring crunchy apples, cinnamon flavor, and delicious raisin toppings.
Eggless Apple Peanut Butter Microwave Mug Cake – Indulge your sweet cravings instantly with a super moist 2-minute microwave mug cake.
Apple Turnovers with Coffee Glaze – Enjoy warm and comforting Apple Turnovers with flaky puff pastry and spiced apple filling on a chilly day!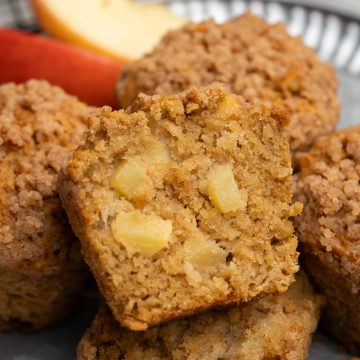 Cinnamon apple muffins
These 12 muffins use up to 4 large apples. Sour cream makes these muffins ultra moist and soft.
Ingredients
2 ¼ cups all-purpose flour
1 ½ teaspoon baking powder
1 teaspoon baking soda
½ teaspoon salt
2 teaspoons cinnamon
2 large eggs room temperature
⅓ cup butter
1 teaspoon vanilla extract
1 brown sugar packed
¾ cup sour cream
Cinnamon Sugar Topping
¼ cup granulated sugar
¼ cup flour
2 tablespoon melted butter
1 teaspoon cinnamon
Instructions
Preheat oven to 375 F.

For cinnamon sugar topping, mix together sugar, flour, butter and cinnamon. Keep it aside.

Shift together flour, baking powder, baking soda, cinnamon, and salt.

Peel and core apples (peeling is optional). Reserve 1 cup of bite-sized apples. Grate the rest of the apples manually by hand of a food processor.

Squeeze grated apple using both hands or in a colander. Discard the liquid. You should get 2 cups of tightly packed grated apples after squeezing the liquid.

In a large mixing bowl whisk together sour cream, eggs, butter, and vanilla extract to a smooth consistency.

Stir in brown sugar, chopped and grated apples to the above mixture.

Add dry ingredients mix to the wet mixture. Mix just until everything is incorporated. Don't over mix.

Use a large ice cream scoop or a spoon to fill the lined muffin liners until they are just above 3/4th filled.

Divide the cinnamon sugar topping among the muffins ( about 1 teaspoon in each).

Bake in the oven on a rack in the top third of your oven for 20 to 25 minutes, or until a cake tester comes out clean.

Remove from the baking tray and let it cool on a wired rack.
Nutrition
Serving: 1serving | Calories: 215kcal | Carbohydrates: 26g | Protein: 4g | Fat: 11g | Saturated Fat: 6g | Polyunsaturated Fat: 1g | Monounsaturated Fat: 3g | Trans Fat: 0.3g | Cholesterol: 54mg | Sodium: 260mg | Potassium: 111mg | Fiber: 1g | Sugar: 5g | Vitamin A: 347IU | Vitamin C: 0.1mg | Calcium: 51mg | Iron: 1mg