This post may include affiliate links that earn us a small commission.
Chili Mac and cheese has the comfort of classic mac and cheese and the robust flavors of chili. It is filling, nutritious, and a true one-pot wonder meal that the whole family will love.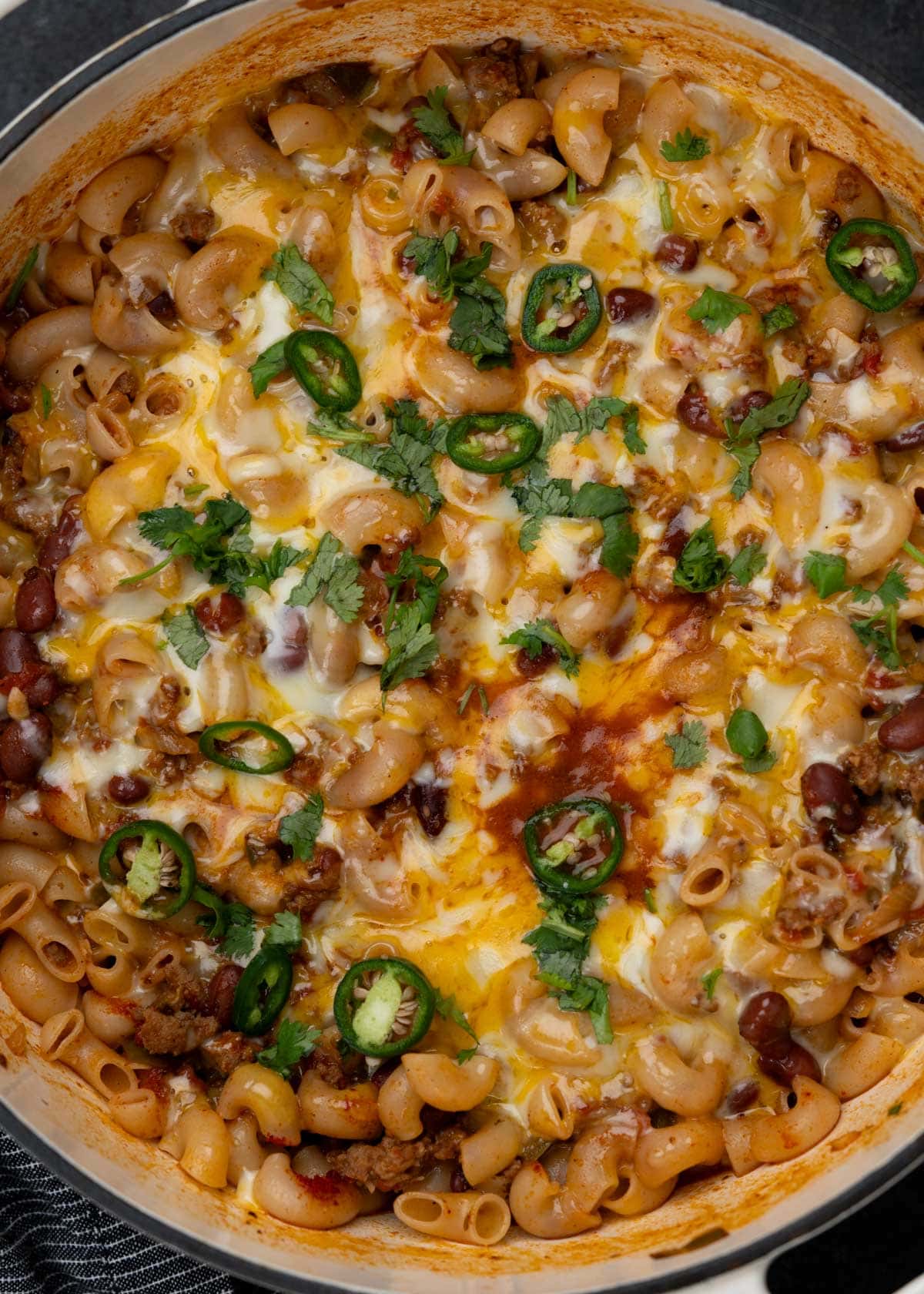 If you are undecided about what to make for dinner – mac and cheese or chili, then this chili mac and cheese is the answer. A one-pot dish loaded with ground beef, beans, and cheesy pasta and has incredible flavors. Made with basic pantry staples, it is an easy and perfect weeknight meal that the whole family would devour.
Unlike other chili mac and cheese recipes out there, it is completely made from scratch. Using fresh ground spices instead of bottled seasoning gives that unbeatable flavor. Dried pasta is cooked along with the chili, so the pasta absorbs all the flavours.
Flavours In Your Inbox
Subscribe for recipes straight to your inbox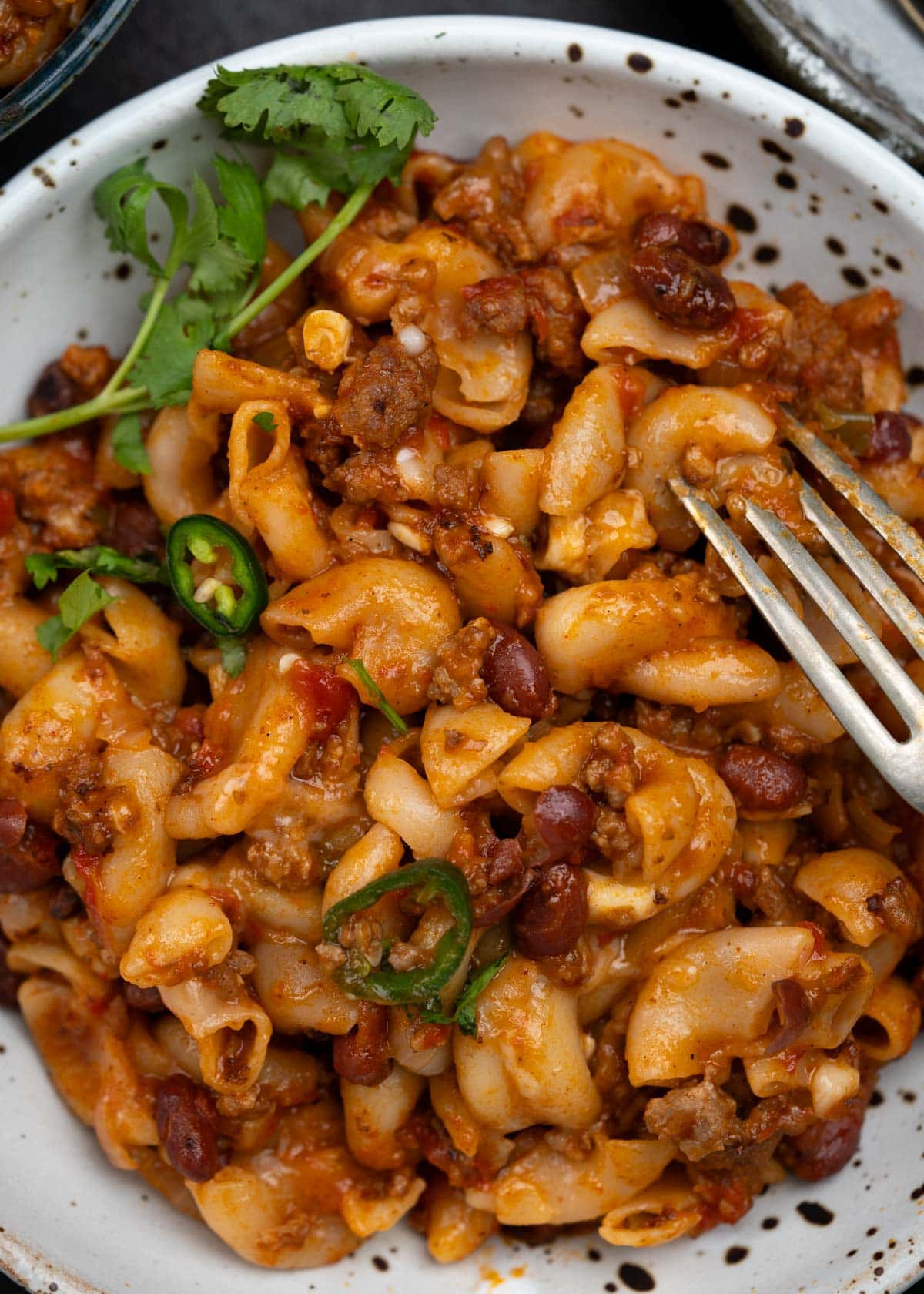 What's in Chili Mac and Cheese
The list of ingredients might seem long, but they are easily available and inexpensive.
Ground beef- Preferably lean ground beef. You can also use ground chicken/turkey.
Macaroni – Macaroni or any short pasta you have on hand.
Onion, garlic, and pepper – Diced onion, minced garlic, and chopped green pepper. You can also use red pepper. If you like to include veggies, chopped carrot is a great choice.
Tomato- Crushed tomato. Also tomato paste for umami and depth of flavour.
Spices and seasoning – Bottled chili seasoning is the easy way out, but I love making my own spice blend. Here we have ground cumin, chili powder, smoked paprika, and oregano. There is brown sugar to balance the tomatoes.
Kidney beans- You can also use a mix of black and red kidney beans.
Chicken stock – low sodium chicken stock.
Beef stock cubes – Optional but I wouldn't miss it.
Worcestershire sauce– Everyone might not have this handy, so you can skip it or add 1 teaspoon soy sauce instead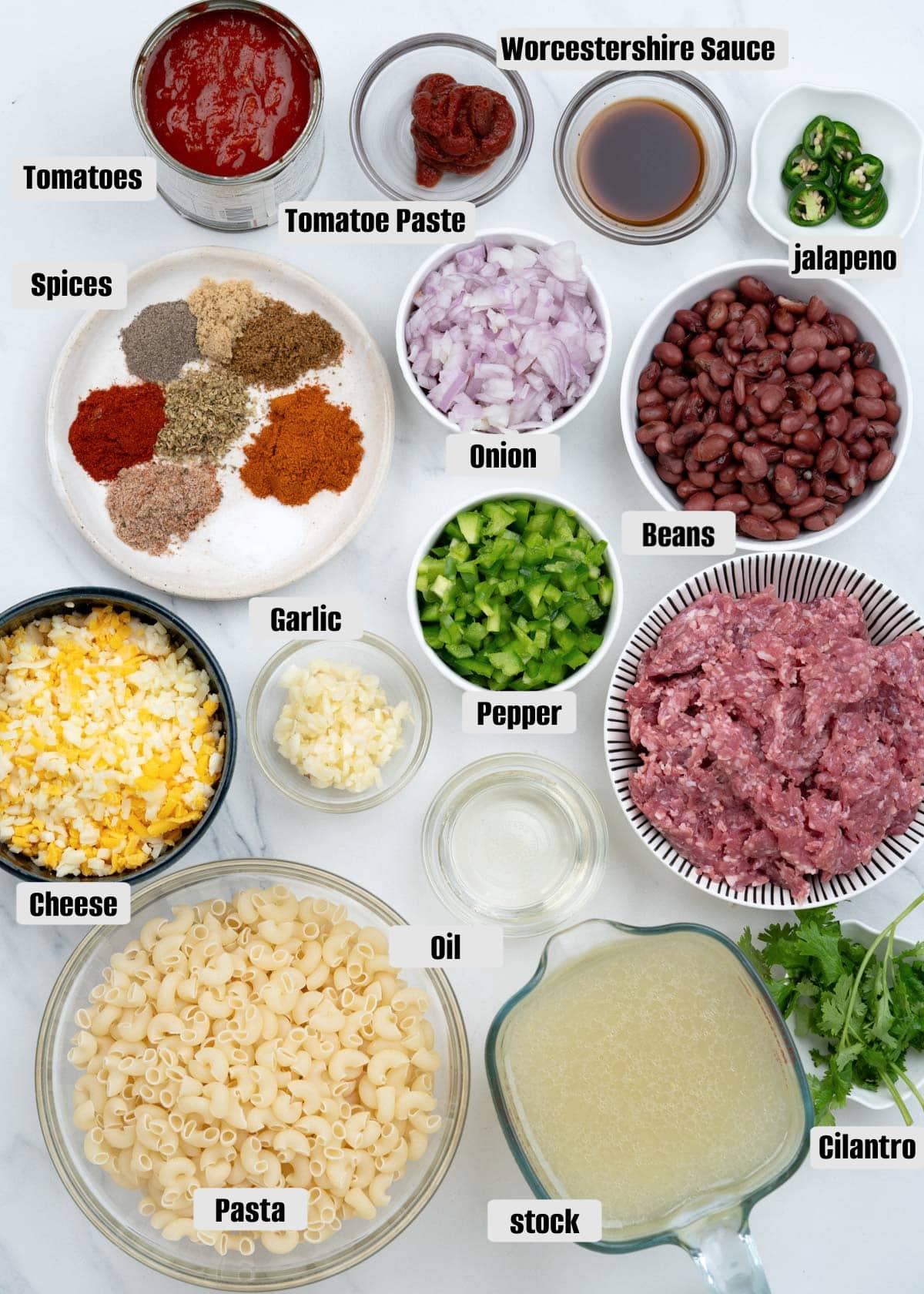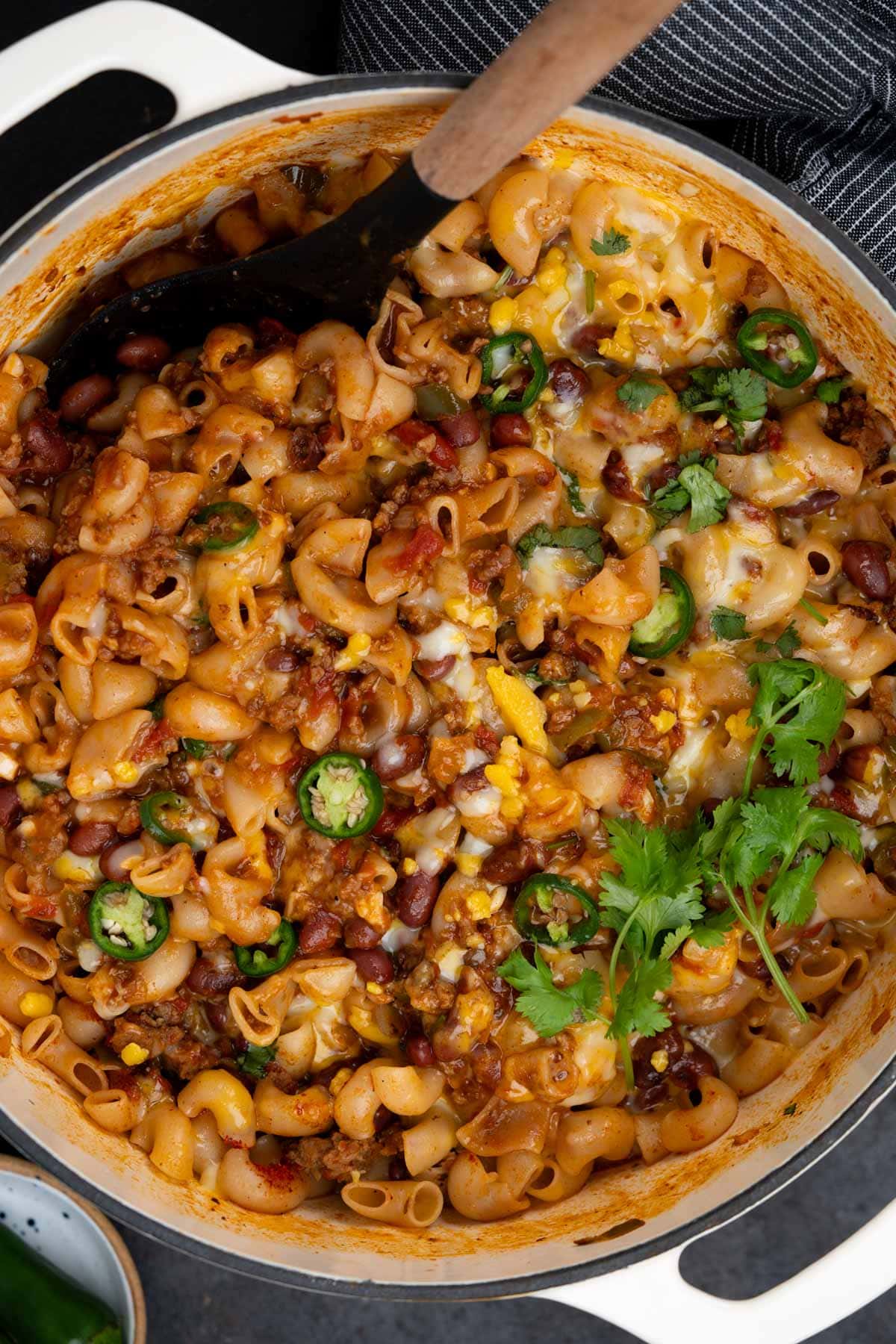 Steps to make Chili Mac and Cheese
Though a 30-minute recipe, you can't beat the flavours and how tasty it is.
Start with browning the beef. If the meat isn't lean, then drain excess fat before adding other ingredients.
Saute onion, garlic, and pepper until the garlic is aromatic.
Then add tomato paste, chilli powder, oregano, cumin, smoked paprika, and pepper. Saute for a minute. Cooking spices in oil releases flavour to the oil. This step is optional, but spending a minute extra in exchange for flavour is totally worth it.
Stir in crushed tomatoes, beans, and chicken stock. Add beef stock cubes, Worcestershire sauce, and sugar if required. If time permits, I would strongly recommend simmering the mixture for 10-15 minutes for the flavours to develop.
Add pasta and cook until the pasta is just cooked through. Cooking the pasta in the same pot also helps thicken the liquid with the pasta starch.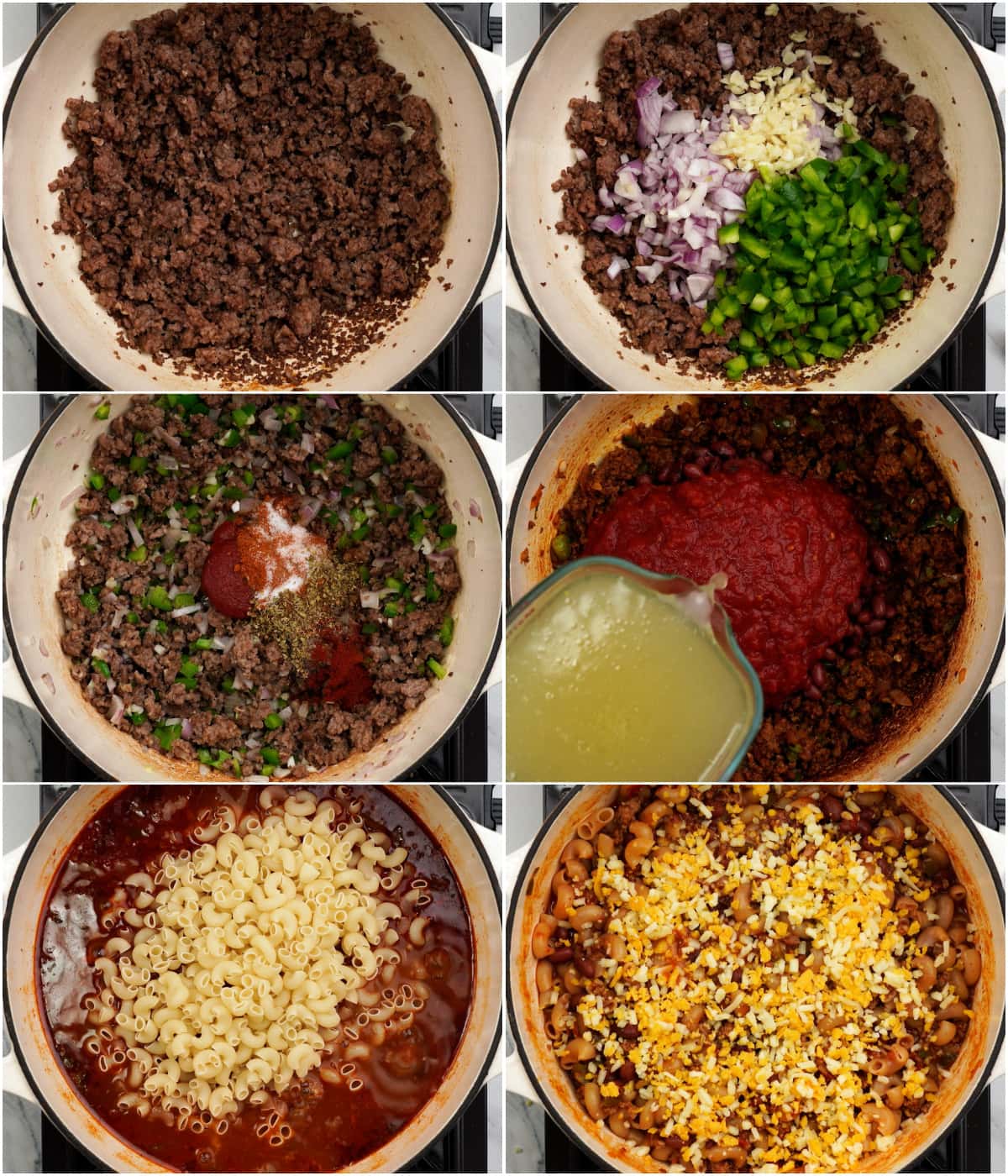 Make ahead and storage
Planning to make it ahead? I would recommend breaking down the recipe into two steps. Make the chili ahead of time ( 1-2 days) and on the day of serving heat the mixture. Add pasta and chili mac and cheese is ready in a matter of 10 minutes.
Can leftover chili mac and cheese be frozen? Leftovers can easily be frozen in an air-tight container for up to 3 months. Make into serving-size portions before freezing. Reheat in a microwave before serving.
Note: Pasta tends to absorb liquid when rested, so while reheating the leftovers add a splash of water to adjust the consistency.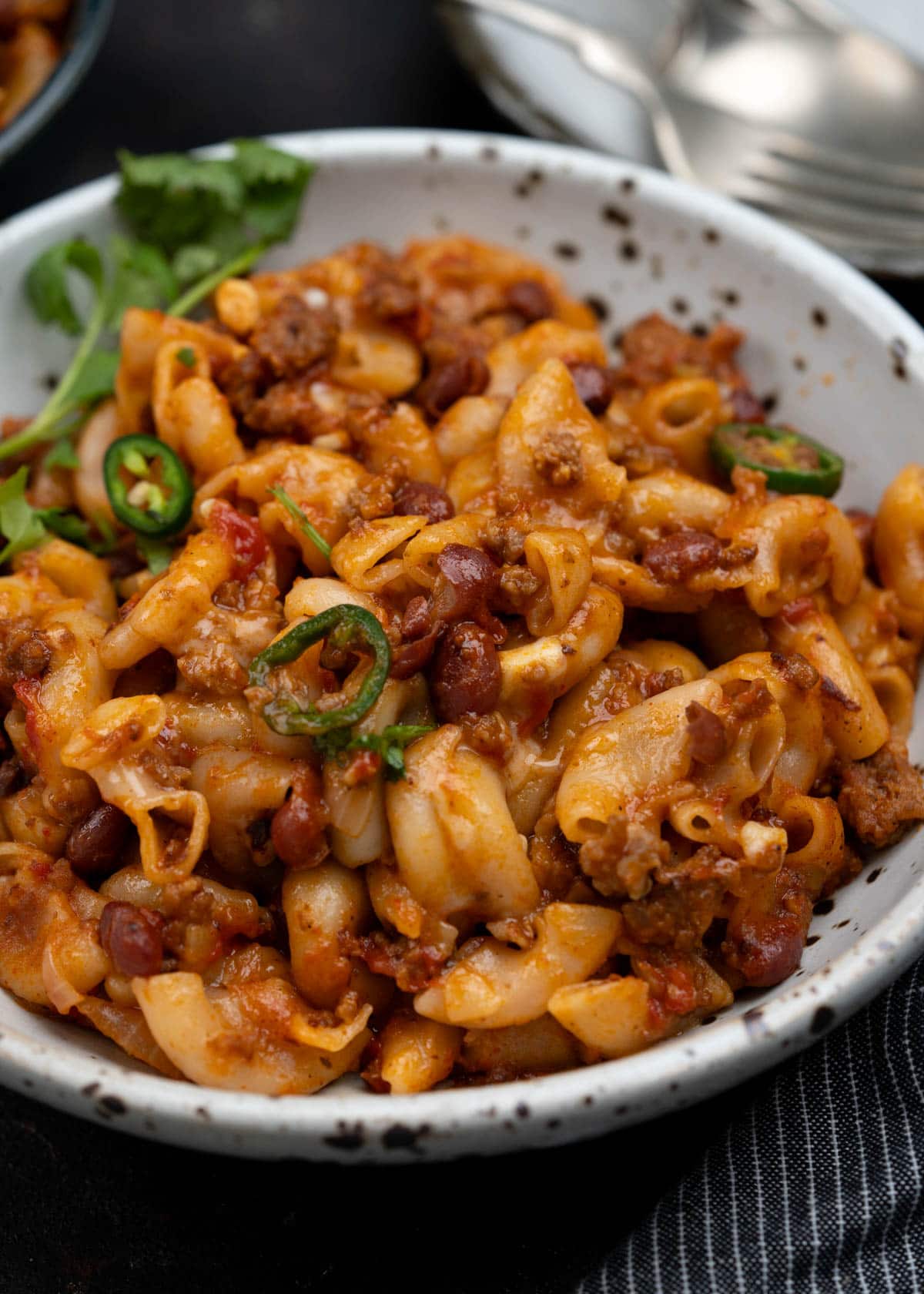 Try these comforting pasta recipes
More Ground beef recipes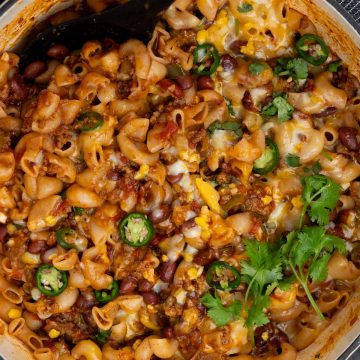 One pot Chili Mac and Cheese
This Chili Mac and cheese has the comfort of a classic mac and cheese , and also the flavours of chili.
Ingredients
2 tablespoon olive oil
500 grams lean ground beef (1 pound)
1 large onion chopped
3-4 cloves garlic minced
1 red/ green bell pepper
3 tablespoon tomato paste
1 teaspoon cumin ground
1 tablespoons chili powder
1 teaspoon smoked paprika
1 teaspoon oregano
½ tsp pepper
1.5 cup kidney beans drained and rinsed
500 grams diced tomatoes (1 can)
3 cups chicken broth low sodium, or beef broth
1.5 tbsp Worcestershire Sauce
1 teaspoon beef stock powder
½ teaspoon brown sugar
1.5 teaspoon salt
10 ounces elbow pasta uncooked
2 cups cheddar cheese shredded
2 tablespoons parsley chopped
Instructions
Heat olive oil in a dutch oven over medium heat. Add ground beef and cook it until no longer pink for about 4-5 minutes. Drain the fat if any.

Stir in chopped onion and garlic. Saute for 3-4 minutes. The meat will brown further.

Next, add tomato pasta, cumin powder, chilli powder, smoked paprika, oregano and pepper. Saute for 1-2 minutes.

Add drained kidney beans, tomatoes, and chicken stock. Give it a mix. Season it with salt, beef stock powder, brown sugar, and Worcestershire Sauce. Stir everything together and bring it to a boil. Turn down the heat to a simmer, cover the pot and cook for about 5-6 minutes. ( ref note – 1)

Remove the lid, give the meat sauce a stir. Stir in elbow pasta, cover, lower the flame and cook for 8-10 minutes. Stir in half way through once, to avoid it getting stuck at the bottom.

When the pasta is al dente, stir in half of the cheese and sprinkle the rest on top. Cover and let it rest for 5-6 minutes.

Garnish with jalapeno slices, cilantro. Serve with more cheese, sour cream etc.
Notes
Simmering the sauce before adding pasta is optional. But if time permits, I would highly suggest simmering, as it develops flavor ( just like meat sauce). 
Nutrition
Serving: 1serving | Calories: 596kcal | Carbohydrates: 58g | Protein: 39g | Fat: 23g | Saturated Fat: 10g | Polyunsaturated Fat: 2g | Monounsaturated Fat: 8g | Trans Fat: 0.3g | Cholesterol: 92mg | Sodium: 1561mg | Potassium: 1024mg | Fiber: 8g | Sugar: 8g | Vitamin A: 1907IU | Vitamin C: 40mg | Calcium: 359mg | Iron: 6mg