Spinach Corn Sandwich – Video recipe
This post may include affiliate links that earn us a small commission.
Spinach Corn Sandwich is a great breakfast and also perfect to pack in kids' lunch boxes. I have been making this sandwich for a couple of years now and we love it a lot. With little alteration to the recipe, you can make the healthier version as well.
Summer vacation is over and kids are back to school. The biggest dilemma we moms face is 'What to pack for a Lunch box ?', of course without compromising the health aspect. And if you have a fussy kid then the challenge just doubles up. You have to be innovative in making food interesting for kids.
Flavours In Your Inbox
Subscribe for recipes straight to your inbox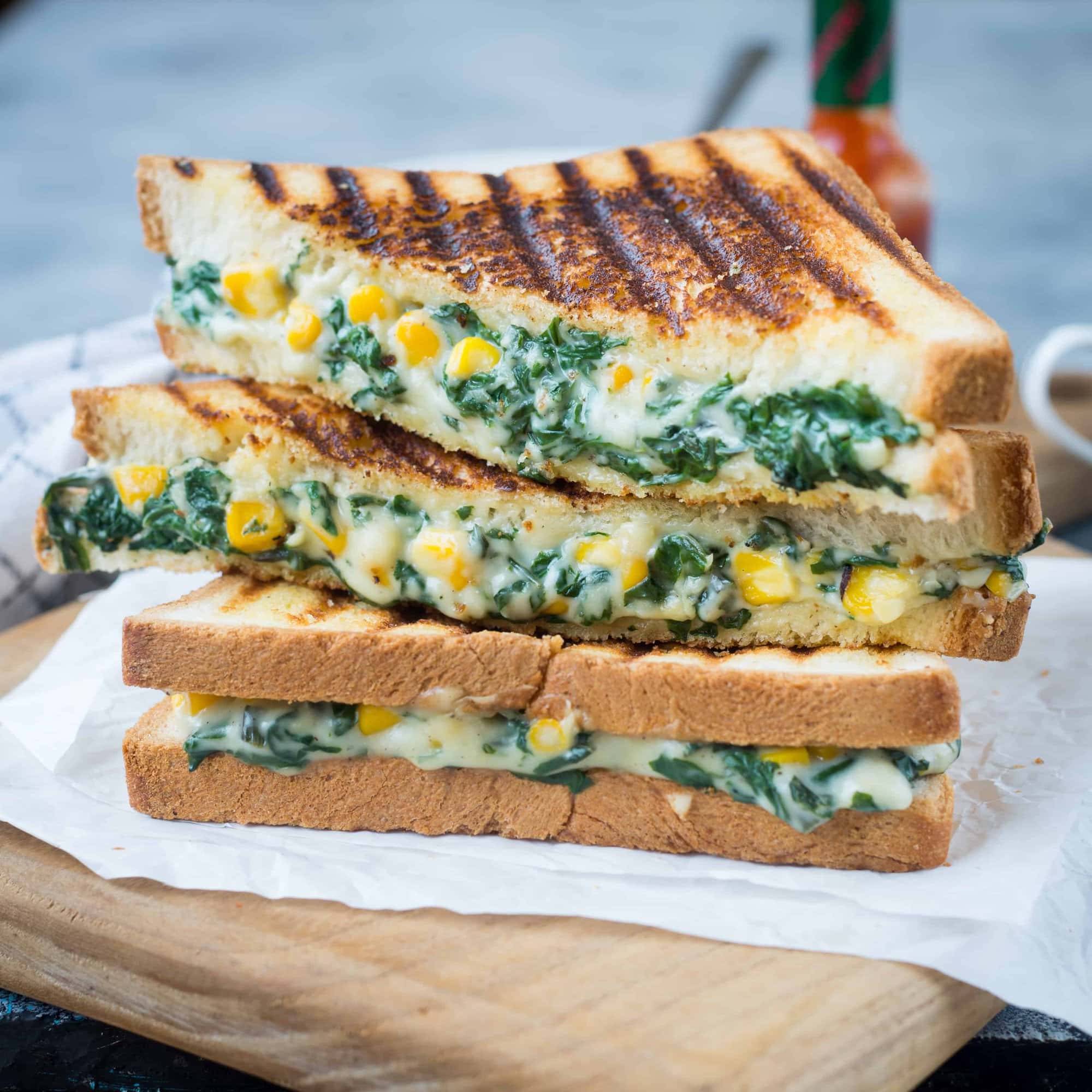 This Spinach Corn Sandwich is a good way to make your kids eat their share of greens. The cheesy sauce is delicious enough to tempt them. You can add other cooked vegetables like carrot, peas, beans. Boiled chicken chunks can also be added to the stuffing.
Want to make it healthy?? No issues. Substitute flour with whole wheat flour, use a mix of oil and butter and reduce the amount of cheese to half. Yet, I can bet you the stuffing will be equally yum.
Other Spinach Recipes
There are so many ways you can use spinach. I have used it soups – Red Lentil Soup With Spinach & Healthy Spinach Soup, used it as a stuffing in chicken – Mushroom Spinach Stuffed Chicken Breast, in pasta like Creamy Spinach Pasta. a delicious appetizer – Creamy spinach stuffed portobello mushrooms and there is a very popular Indian curry – Palak Matar Curry ( Spinach and Green Peas Curry).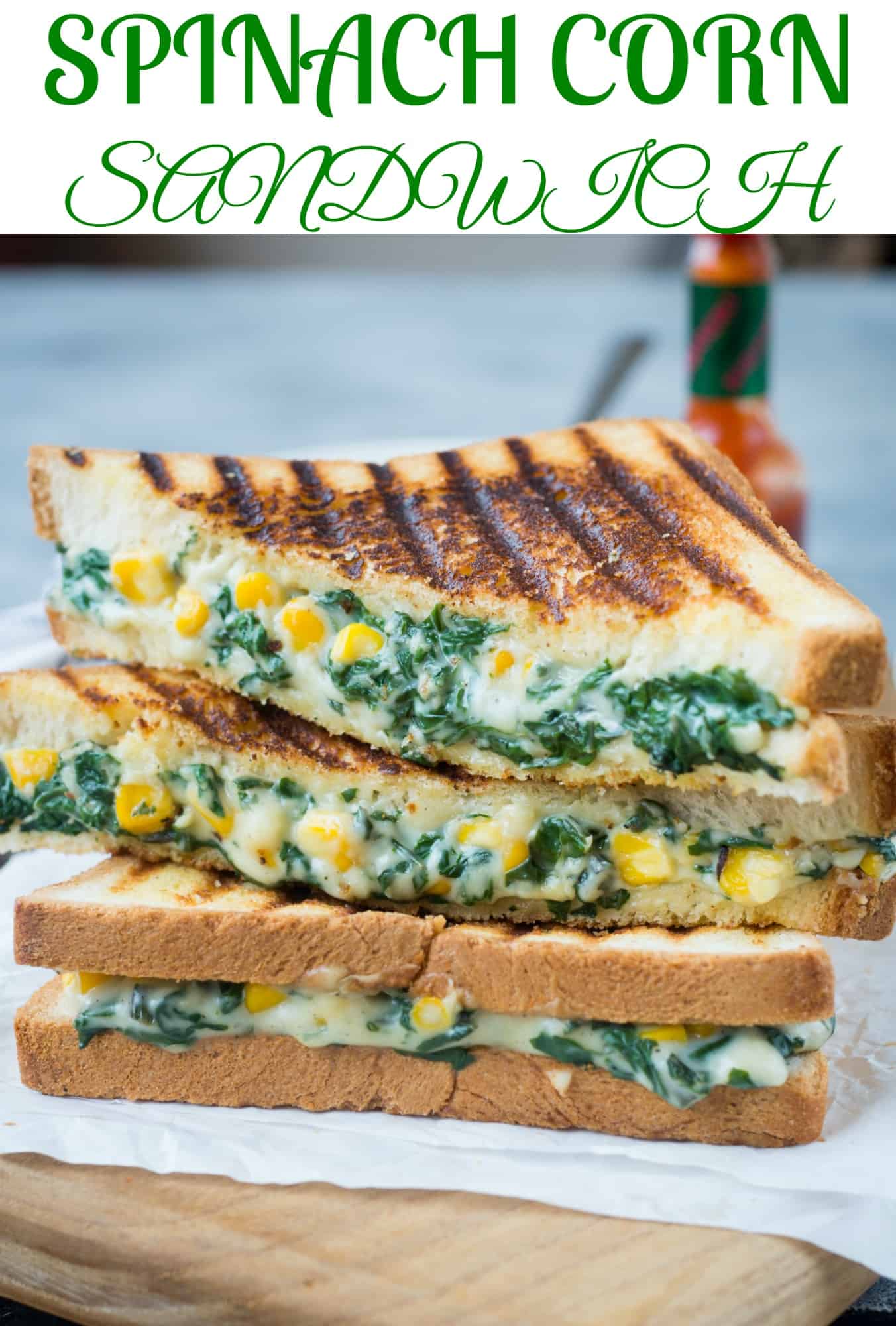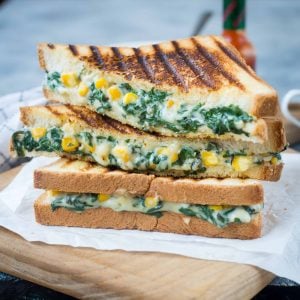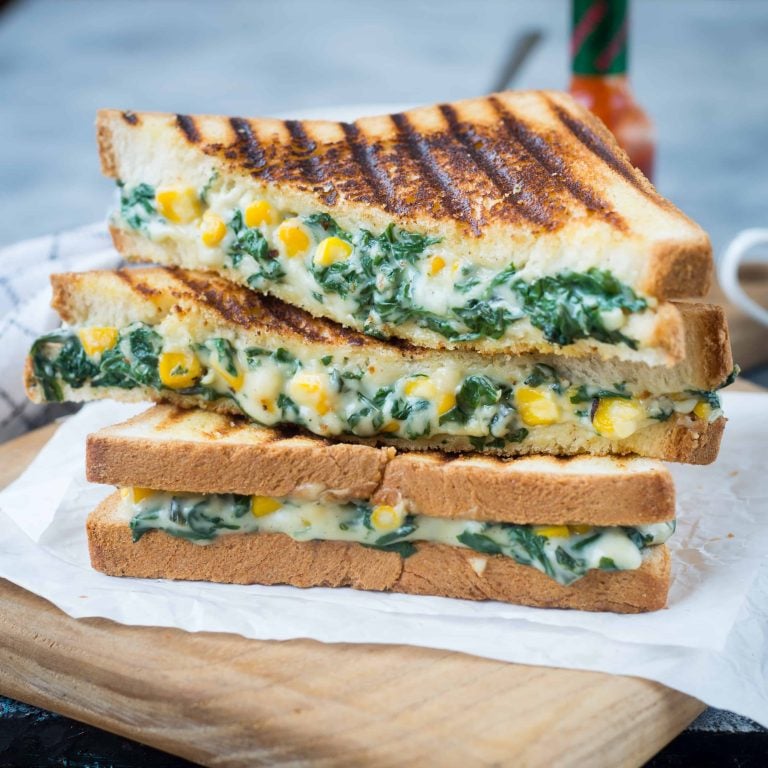 Spinach Corn Sandwich
Spinach Corn Sandwich is a great breakfast and also perfect to pack in kids lunch box. Learn hot to make little alternation to make this healthy.
Ingredients
8 Bread Slices
butter to spread on bread
For Spinach Corn filling
1.5 tbsp cooking butter
1 tbsp all purpose flour/wheat flour
1 cup warm milk (more if the sauce is too thick)
1 cup spinach Cleaned,Blanched and chopped
1 cup corn cooked
½ cup Chesse Gratted
Instructions
Heat a pan. Add butter. Once butter starts to melt add flour. Stir using a spatula for a minute on low-medium heat. (Avoid burning)

Once the raw flavor of the flour is gone, slowly add warm milk. Whisk carefully to make a smooth mixture and avoid any lump.

Add salt and pepper as per taste. ( As cheese also might have salt add salt accordingly). Mix well.

Add boiled spinach and corn kernels. Mix well. Take the pan off the heat.

Add grated cheese. Mix using a spatula till cheese melted and well incorporated.

Spread butter on a bread slice. Turn around. Spoon the Spinach Corn mixture. Top with another bread. Spread butter. Grill on a griddle pan.
Notes
Sometime I add Italian seasoning to the mixture for a variation.
For spicier version you can also sprinkle  some chili flakes after you spoon the filling.
Add any cooked vegetable of your choice.
You can also add cooked pasta to spinach corn filling.